The old-school, standard office chair lets you adjust the seat height or rock the chair. Over long periods, this limited functionality is bad for your back. In contrast, gaming chairs meet ergonomic standards with a trio of adjustable features. But ergonomic office chairs deliver the same (but stricter) support concepts that gaming chairs do. So let's settle the gaming chair vs office chair debate using 2023 seating standards.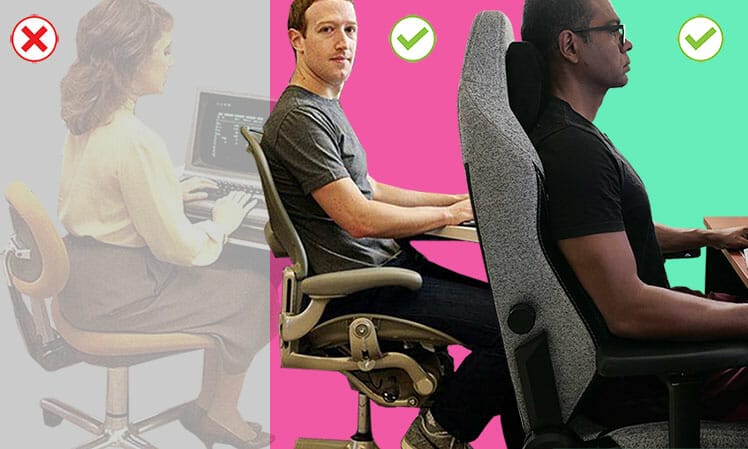 Which is better, a gaming chair or an office chair? Early into 2023, this much is clear:
Standard, non-ergonomic office chairs cause back problems when used for long periods.
Ergonomic office chairs have adjustable arms, lumbar support, and backrest recline angles. This combo supports healthy postures over long periods.
Full-back, racing-style gaming chairs are also ergonomic. These chairs support healthy upright postures plus deeper, more relaxing reclines.
Using institutionally-defined criteria, gaming chairs and ergonomic office chairs both qualify as ergonomically compliant. In obvious contrast, non-adjustable office chairs are not.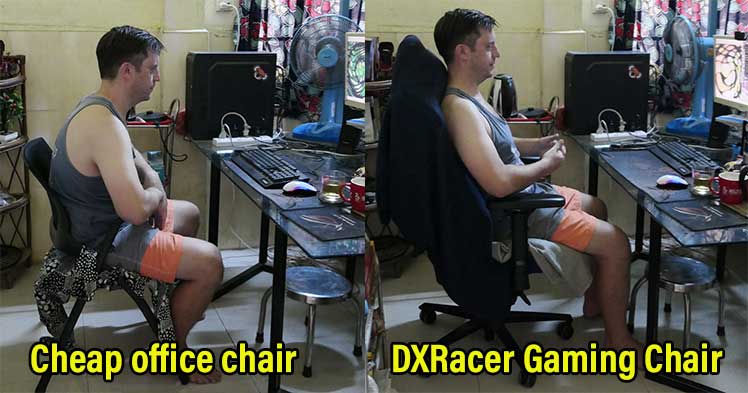 The simplified formula is adjustable lumbar + adjustable arms + reclining backrest = healthy sitting support. Without these components, a user's back muscles must hold their torso up against gravity. But once back muscles tire, slouching sets in.
Here's how the lumbar-powered support concept empowers healthy sitting habits:
Notably, the lumbar-powered support concept has been around since the early 1990s. Circa 2023, this support style is ubiquitous. In fact, with proper technique, any chair with the requisite features can support good posture for long periods.

Therefore, the gaming vs office chair question is more accurately 'ergonomic vs non-ergonomic'. The former supports healthy postures for long periods while sitting. The latter causes health issues.
Gaming Chairs Vs Office Chairs 2023
A consensus on the healthiest way to sit for long periods has been around since the early 1990s. Dynamic neutral postures align the spine to reduce strain on surrounding muscles.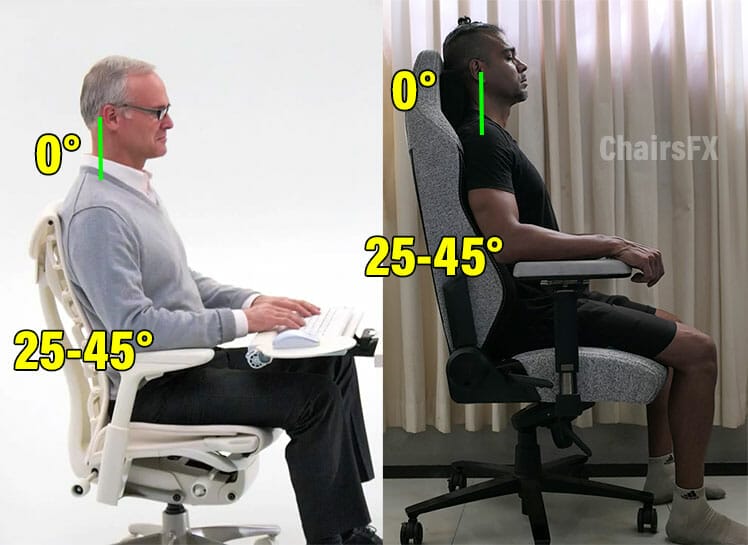 As a result, users can enjoy long periods of comfortable, stress-free computing. A textbook neutral posture yields two angles: a 25-45° lower back curve and a 0° neck tilt.

To support these angles, any chair that qualifies as 'ergonomic' needs three qualities:
Lumbar supported recline: sitting reclined between 90-130° — with a supported lumbar curve — exerts the least spinal disc pressure.
Adjustable arm support: armrests set to the right height offload strain from the neck and shoulders. That reduces disc pressure even more.
Seated movement: frequent position changes keep muscles active while boosting circulation levels. That mitigates the ill effects of sedentary behavior.
In 2023, the standard (non-ergonomic office chair) design is out-of-date. Based on modern musculoskeletal computing challenges, it simply doesn't provide the support that people need. Two other ergonomic options remain on the table:
Ergonomic office chair: strict mid-back neutral support that keeps users upright at all times.
Gaming chair: versatile full-back neutral posture support plus casual lounging options.
Pros And Cons Of Each Seating Type
For full-time computing in the multi-device era, standard office chairs are out of the equation. That leaves two viable ergonomic seating options on the table.

See our Gaming Chair vs Ergonomic Office Chair article for a deep dive into the differences. Find below a quick summary:
Caveat: Healthy Lifestyle > Good Chair
These days, most pro esports teams use gaming chairs. However, many elite squads follow the mantra that healthy, rested players perform better. To that end, the best teams employ nutritionists, mental coaches, and physical therapists.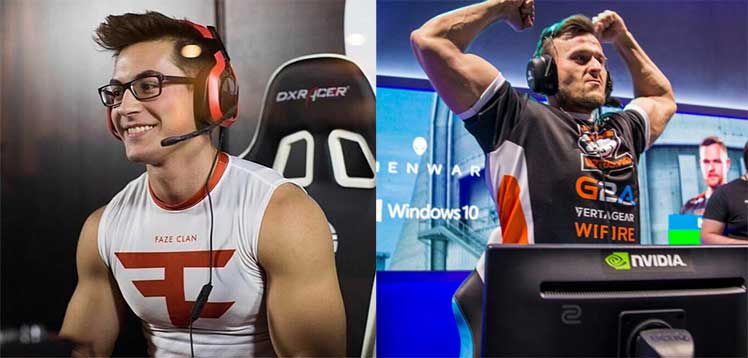 For instance, Dr. Jordan Tsai works with Cloud9, TSM, Evil Geniuses, 100 Thieves, and other top teams. He's also on Secretlab's Ergonomics Advisory Board.
He told ChairsFX that a good chair is the least important factor for productive deskwork. Instead, "A regular range of motion exercises, strengthening, and stretching are all critical."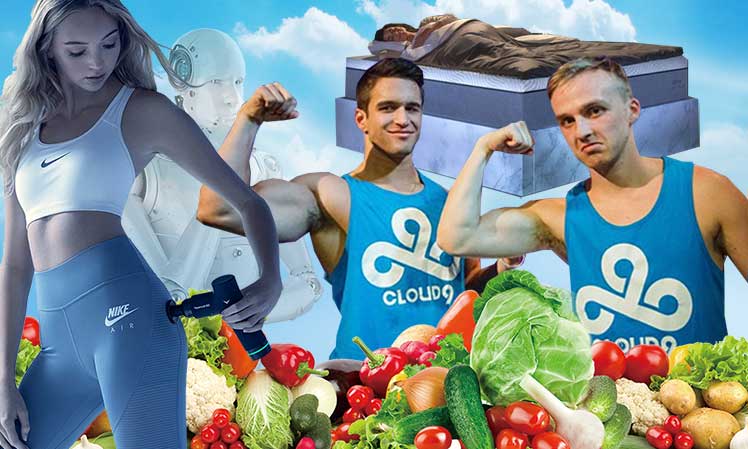 Dr. William Duncan works with both esports pros and traditional athletes. He concurs with Dr. Tsai. "Postural issues typically arise from poor strength and endurance in the postural muscles — not the type of chair.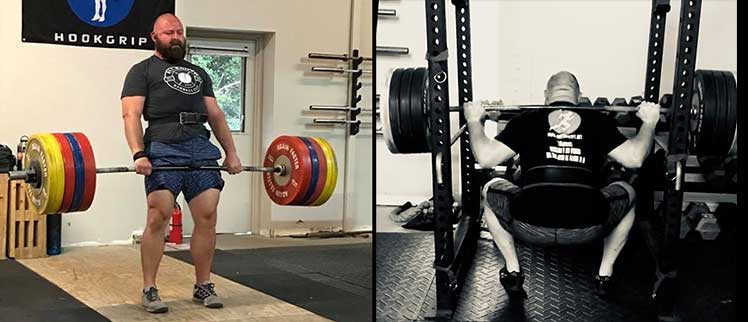 A chair alone cannot fix your issues. If you work on strength & endurance and use a good chair, this will most likely resolve the source of your symptoms and allow you to play longer."
2022 Priorities: Fitness + Posture Beats Technostress
Conclusion
In 2023, dynamic neutral sitting remains the ergonomic standard for healthy computing over long hours. To support this method, ergonomic office chairs and gaming chairs are both great options.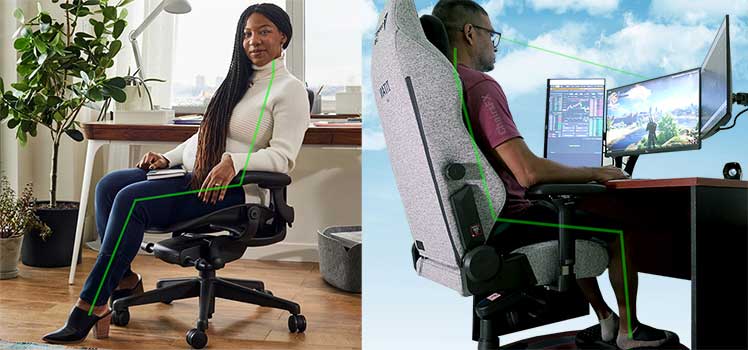 The former works best in conservative workspaces that promote conformity. The latter goes beyond corporate norms with wilder aesthetics and greater functional flexibility.
Meanwhile, an extreme forward neck tilt caused by mobile computing has emerged as a major issue. But at present, most ergonomic support systems for mobile computing are still in the prototype stage.
Luckily, both gaming and ergonomic office chairs provide the means to rehabilitate neck posture by yourself. Simply adhere to strict neutral postures (25-45° back curve + 0° neck tilt) for a couple of days.
That's all the time it takes for muscle memories to adapt. Then, a straight neck will start popping up as a subconscious habit! So which type of seating will best support the typical desk worker in 2023?
Standard office chair: a cheap and reliable option for security guards (and others who only sit for short periods).
Ergonomic office chair: you want straightforward posture support while working at a desk.
Full-back gaming chair: best for obese body types with weak spines. Also ideal for home office workers wanting support for both desk work and relaxation.
To drill down further on the latter two, check this feature:
Gaming Chairs Vs Ergonomic Office Chairs: Flexible Comfort vs Strict Focus Seating
Footnotes