The gaming chair vs office chair debate is easy to settle. By 2023 ergonomic standards, any type of seating that keeps the spine in a healthy alignment is ideal. Gaming chairs and ergonomic office chairs both qualify. In contrast, for biomechanical reasons, standard office chairs cause back pain and fatigue. Millions of desk workers worldwide have already figured this out. With ergonomic support, users gain more energy, sharper focus, and pain-free sitting. Here's your chance to join the party — or get left behind. This article settles the office chair vs gaming chair question for ergonomic beginners.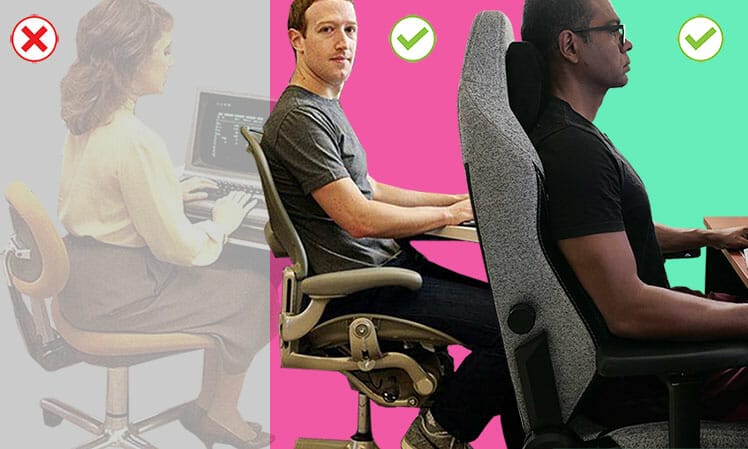 Most people feel exhausted after a long plane flight. Long sitting periods on an ultra-fluffy sofa or standard office chair will also wear you out. NASA discovered the reason for this — in outer space — in 1973.

When relaxed in zero gravity, Skylab astronauts often fell into neutral body postures. These align the spine in a healthy manner to hold the spine upright against gravity. As a result, the upper back muscles can relax — rather than over-exert.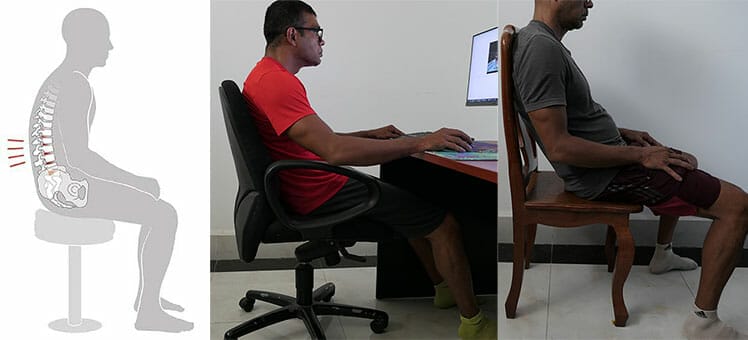 The problem on Earth is a stronger gravitational pull. Standard office chairs hold your buttocks up against gravity, but not your spine. Sitting forces back muscles to work harder. Once they tire, the spine sags into an ugly slouch.
Gaming Chairs Vs Office Chairs 2023
A consensus on the healthiest way to sit for long periods has been around since the early 1990s. Dynamic neutral postures align the spine to reduce strain on surrounding muscles.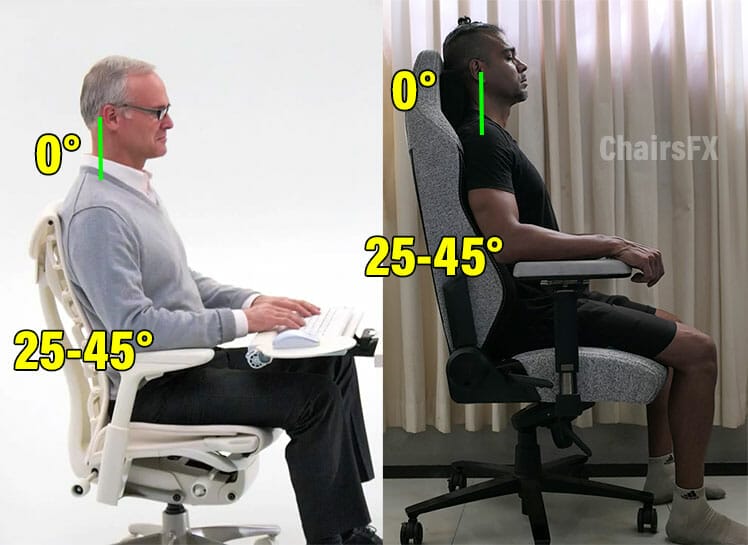 Sitting neutrally, users enjoy long periods of comfortable, stress-free computing. A textbook neutral posture yields two angles: a 25-45° lower back curve and a 0° neck tilt.
To support these angles, any chair that qualifies as 'ergonomic' needs three adjustable components:

Adjustable lumbar support: maintains a healthy lower back curve.
Adjustable armrests: provide extra bracing to hold the torso upright.
Reclining backrest: enables movement and custom back angles. Reclines between 100-130° — with a supported lumbar curve — exert the least spinal disc pressure.
The standard (non-ergonomic) office chair lacks these adjustable components, rendering it outdated for these times. Two other ergonomic options remain viable:
Ergonomic office chair: strict mid-back neutral support that keeps users upright at all times.
Gaming chair: versatile full-back neutral posture support plus casual lounging options.
Pros And Cons Of Each Seating Type
For full-time computing in the multi-device era, standard office chairs are out of the equation. That leaves two viable ergonomic seating options on the table.

See our Gaming Chair vs Ergonomic Office Chair article for a deep dive into the differences. Find below a quick summary:
4 Pillars Of Computing Performance
These days, many top streamers, pro esports players, and even pro chess players rely on ergonomic chairs to help them perform better.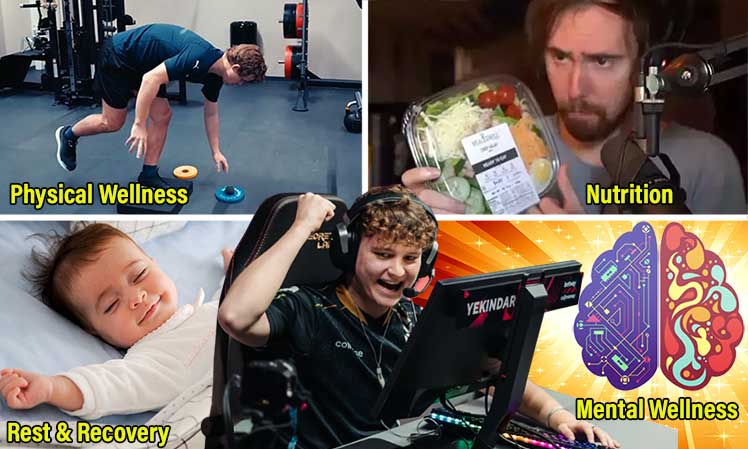 For most, an ergonomic chair doesn't play a starring role, but a secondary one. For instance, esports powerhouse Team Liquid and chess star Magnus Carlsen both use Secretlab Titan gaming chairs.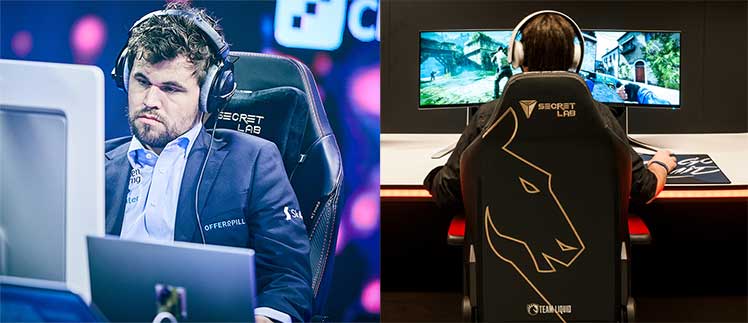 Both also use variations of the four pillars of computing performance. These are:
Nutrition: eating clean foods for consistent energy without sugar crashes.
Rest and Recovery: give the brain enough time to recharge.
Physical Fitness: building stronger core muscles helps athletes sit longer without strain.
Psychological Fitness: forging mental balance to avoid burnout.
As an example, Magnus Carlsen's fitness program centers around cardio and balance exercises. His coach touts cardio as a good way to foster mental endurance. Balance exercises help Magnus develop a strong core.
With good cardio, a strong core, and a Secretlab Titan chair, he's able to use endurance as a weapon to crush his opponents.
4 Pillars Of Computing Performance
Conclusion: Gaming Vs Office Chairs
Standard office chairs are bad for your back. These only let you adjust the seat height or rock the chair. These adjustments are not enough to support healthy deskwork over long periods. Because of this, desk workers worldwide suffer myriad physical and mental problems.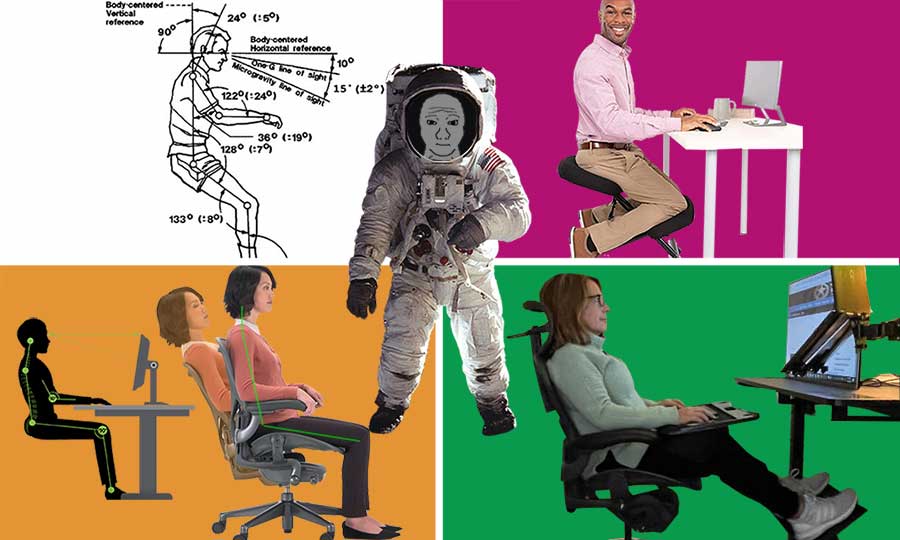 The solution to these problems came to us from outer space in 1973. When sat in neutral postures, the spine maintains a healthy alignment. That allows it to hold the body upright with optimal efficiency.
Here at ChairsFX HQ, I've been using gaming chairs full-time for over 5 years. Along the way, I've also tested out most of the world's best ergonomic office chairs.
Across the board, they all do an exceptional job of supporting neutral postures. Any model with adjustable lumbar + adjustable arms + a reclining backrest can provide the support that you need.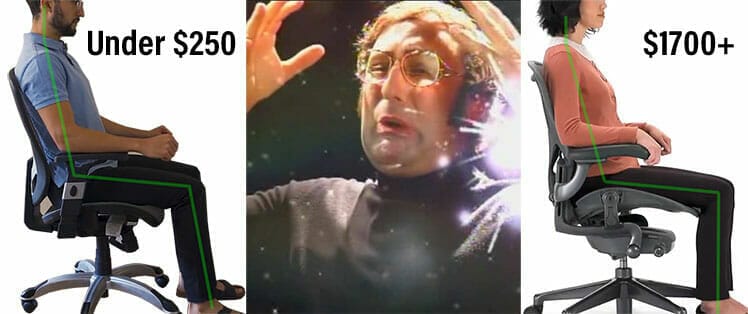 This includes cheaper ergonomic chairs. These typically come with shorter warranties and fewer luxuries — and the same neutral posture support as pricier chairs!
Bottom line: choose whichever type of fully-ergonomic chair makes you feel happy. Then, focus on maintaining neutral postures to give your brain a massive boost.
Gaming Chairs Vs Ergonomic Office Chairs: Flexible vs Strict
Footnotes