Over the past 120 years, three types of seating have emerged to serve specific desk worker needs. Standard office chairs support pencil-pushers. Ergonomic office chairs have adjustable features that better support the use of a keyboard and mouse. Racing-style gaming chairs go beyond the office to support gaming and creative work. This gaming chair vs office chair comparison clarifies the merits of each seating type.
For around 90% of its 200,000-year history, homo sapiens lived athletic hunter-gatherer lifestyles. Then, socio-technological advances made humans progressively more sedentary. In the late 19th century USA, railways, the telephone, and the light bulb emerged.
These changes increased demand for professional, technical, and clerical staff(1). As masses began working at desks, the standard office chair became ubiquitous.

Standard office seating has non-adjustable arms and a fixed backrest angle. You can only rock the seat, lock it, or adjust its height. Effective back support doesn't factor into the build — healthy sitting ergonomics wasn't understood until the 1970s!
Ergonomic office and gaming chairs differ with adjustable features that serve biomechanical ends. The ergonomic magic comes from a tilt-lock backrest recline, adjustable arms, and adjustable lumbar support.
In 2022, most of the world's top streamers and pro esports teams have gone ergonomic. Around 30% use elite ergonomic office chairs like the Herman Miller Aeron or Embody. The rest use racing-style gaming chairs. In that sector, the Secretlab Titan 2022 Series dominates.
Healthy Sitting = Neutral Postures
Circa 2022, dynamic neutral postures remain the ergonomic gold standard for long, healthy computing sessions. This tech landed from outer space in the early 1970s.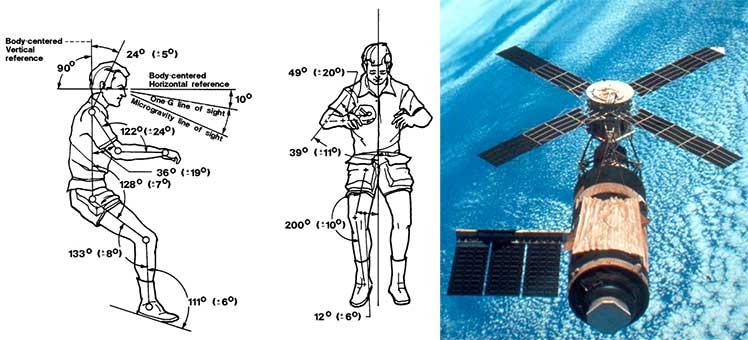 NASA launched Skylab (its first space station) in 1973. Researchers noticed that the astronauts always fell into neutral body postures (NBP) while relaxing(2).
Later, they discovered that neutral postures reduce the body's need to struggle against gravity. That eases musculoskeletal and thereby spinal stress. By the 1980s, NASA had documented NBP standards for all future spacecraft.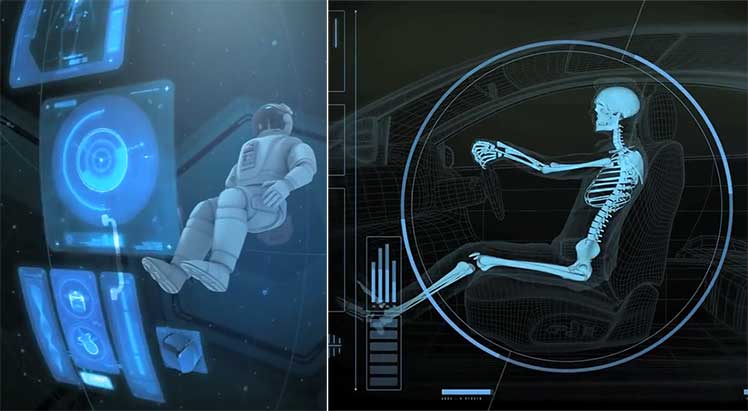 That sparked a deluge of research into healthy sitting parameters for car seats and desk chairs. In less than a decade, a coherent formula had solidified(3). Summary:
Lumbar supported recline: sitting reclined between 90-130° — with a supported lumbar curve — exerts the least spinal disc pressure.
Adjustable arm support: armrests set to the right height offloads strain from the neck and shoulders. That reduces disc pressure even more.
Seated movement: frequent position changes keep muscles active while boosting circulation levels. That mitigates the ill effects of sedentary behavior.
By the early 1990s, office computing had become ubiquitous. Then, ergonomists used NBP concepts to power the rise of the ergonomic office chair. A decade later, pro esports popularized computing for non-office needs.

That sparked the rise of the racing-style gaming chair. Like the ergonomic office chair, it was designed to support neutral postures.
Gaming Chairs Vs Office Chairs 2022
In 2022, desk workers have three seating options:
Standard office chair: cheap and rugged with no adjustable back support features.
Ergonomic office chair: adjustable parts meet neutral sitting guidelines. Conservative styling and a limited recline keeps users in formal, upright positions.
Gaming chair: also meet neutral guidelines with flashier aesthetics, deeper recline ranges, and better extendability.
Standard Office Chair
When office chairs became ubiquitous in the early 1900s, knowledge about healthy sitting biomechanics was non-existent. As a result, these chairs are designed to be cheap and durable, rather than supportive.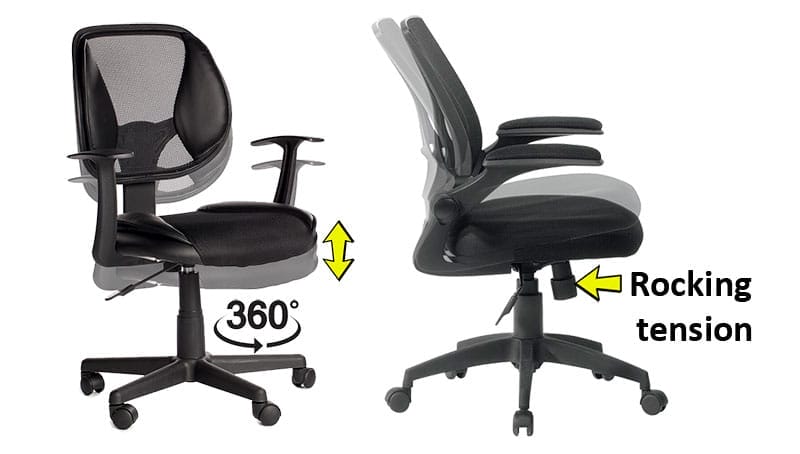 They have non-adjustable armrests (if any), no adjustable lumbar support, and a backrest that doesn't recline. You can only adjust the seat height and engage a rocking function.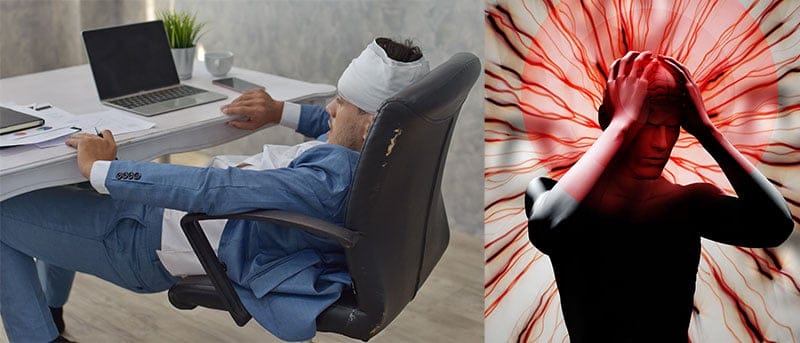 When neutral posture biomechanics emerged in the 1970s, the problems with this type of seating became apparent.
Health Problems Caused By Unsupported Sitting
In a healthy standing position, the lower back curves inward with a 25-45° angle. Sitting up straight without ergonomic support flattens that curve by half. Then, back muscles must work harder to hold the spine upright.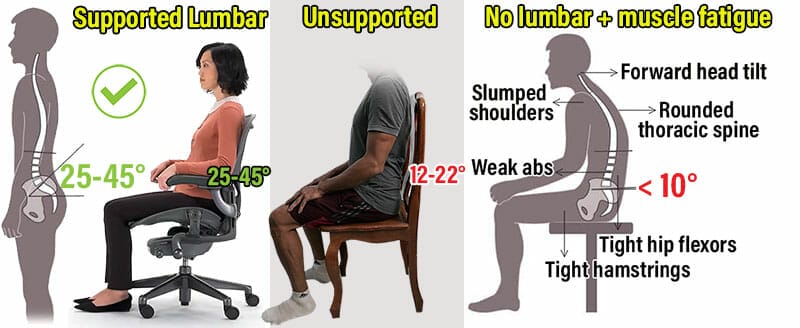 When muscles tire, the body falls into a slouch. That flattens the curve even further. A flattened lumbar curve places severe strain on lower spinal discs(4). That, in turn, pressures the tendons, muscles, and skeletal systems.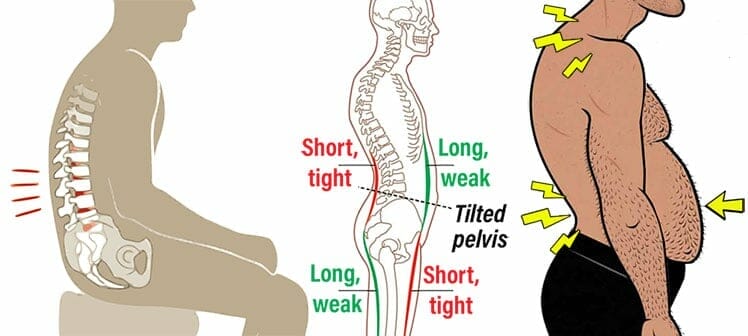 Pressure builds up until musculoskeletal disorders (MSDs) emerge. These days, around 22% of the global population (1.7 billion) suffers from MSDs.
Predictably, lower back pain is the leading cause of disability in 160 countries(6). Other common MSDs:
Chronic fatigue: a misaligned spine drains energy by forcing muscles to work harder.
Migraines: forward head posture stresses neck muscles until pain explodes in the brain.
Wrist disorders: 4 million Americans suffer from carpal tunnel syndrome.
Neck pain: the fourth-leading cause of disability in America.
Shoulder pain: causes around 4.5 million USA doctor visits per year and $3 billion in health costs.
Ergonomic Office Chair
The ergonomic office chair arose in the early 90s in response to the rise of personal computing. 'Ergonomic' means 'adjustable'. These chairs stack adjustable features on top of a standard office chair build.

These features support desktop computer users into neutral sitting positions. A reclining backrest and lumbar support keep the spine aligned. Adjustable armrests raise arms to the height of a keyboard and mouse. This combination takes massive pressure off the spine.
Reclining backrest: angles between 100-130° reduce pressure in the lower spine.
Adjustable lumbar support: maintains a healthy lower back curve.
Adjustable armrests: absorbs arm weight, reducing neck and shoulder strain.
The mainstream ergonomic era kicked off when Herman Miller released the Aeron chair in 1994. Soon after its release, it became the seat of choice for Silicon Valley CEOs.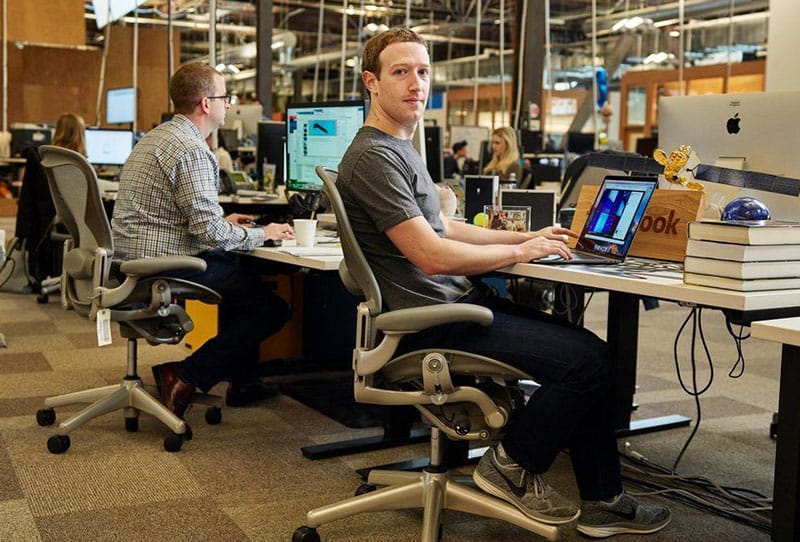 That inspired a wave of Aeron clones with similar ergonomic features. Thus began the rise of the ergonomic office chair industry.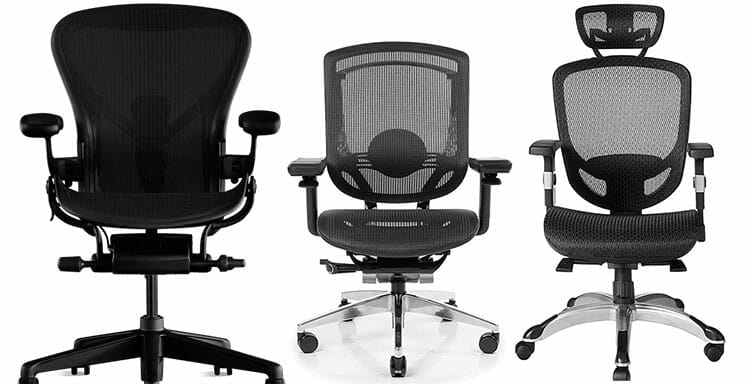 Today, you can see the Aeron's influence in many popular ergonomic office chair designs. All fit professional office worker needs like a glove.
Ergonomic Office Chair Advantages
Ergonomic office chairs let users sit for long periods with a healthy lower back curve. Dr. Roger Sperry (Nobel-winning brain researcher) famously explained the link between good posture and high energy levels:
"The more mechanically distorted a person is, the less energy available for thinking, metabolism, and healing."(7) The reverse is also true. Sitting properly in a good ergonomic chair takes massive pressure off of the back, neck, and upper body.
It also opens up the rib cage, boosting oxygen levels by up to 30%. That enables faster processing in the prefrontal cortex (cognitive control center). This makes workers more alert and energetic, with a higher level of brain activity(8).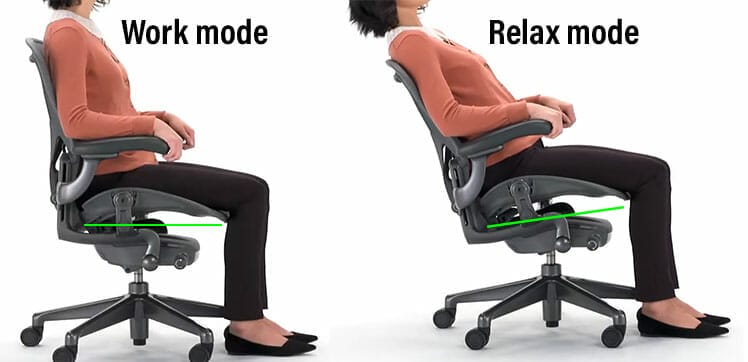 Keeping staff locked in healthy upright positions also has an aesthetic effect. A typical ergonomic office chair has a mid-back design with a limited recline range.
This makes it impossible for users to kick back into deep relaxation. Instead, they're forced to sit in crisp professional positions all day long — a manager's dream!
Racing-Style Gaming Chair
A series of events in 1990s-era South Korea led to a new style of computing. In 1997, the South Korean economy collapsed. Meanwhile, a national broadband internet rollout was in progress. In 1998, Blizzard Entertainment released Starcraft, a tactical strategy game.
Hordes of overeducated, underemployed Korean youth flocked to LAN gaming centers to play. This marked the rise of the pro esports industry — and the need for a new type of seating.
Both gamers and office workers spend long periods sitting. However, gamer computer usage is more diverse. Beyond video gameplay, it includes long bouts of socializing plus passive activities like watching others play.
Ergonomic Seating For Video Game Players
In 2006, the world's first racing-style gaming chair made its debut. In 2022, most gaming chairs still follow the original design concept:
A typical gaming chair stacks a padded bucket seat on top of a 5-point base with wheels. A tall backrest provides full-back support, while adjustable pillows keep the spine in alignment.

Each build uses the same support principles as ergonomic office chairs. The lumbar pillow + reclining backrest aligns the spine. Armrests relieve neck and shoulder muscles.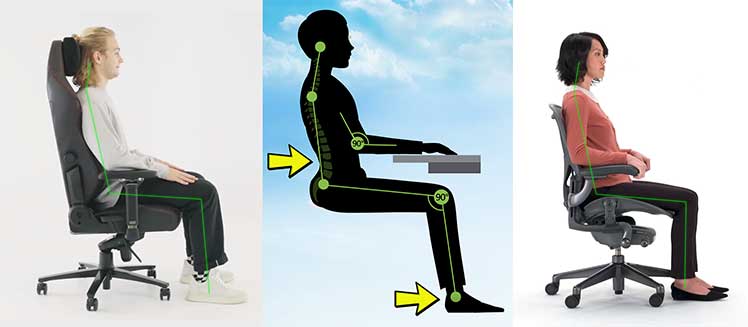 As with ergonomic office chairs, the point of these features is to support dynamic neutral postures. That's why neutral sitting postures look the same in both ergonomic office chairs and gaming ones.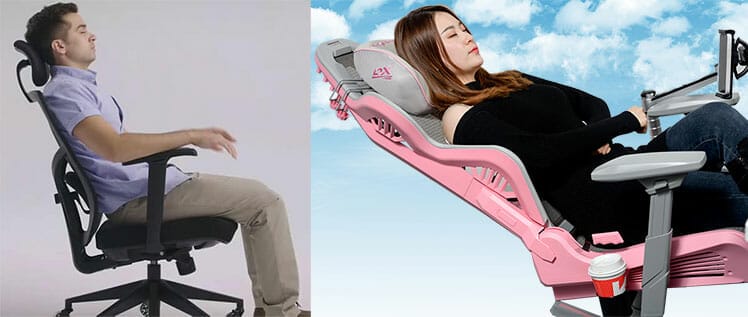 Gaming chair summary: like other ergonomic chairs, gaming seats support neutral postures for desktop computing. They also go beyond office norms by supporting social computing, passive activities, and even napping!
Key Gaming Vs Office Chair Differences
Standard office chairs are non-ergonomic and thus bad for the back. Ergonomic office chairs have adjustable features that support neutral sitting positions.
These negate back problems and enhance desk worker productivity. Gaming chairs also support neutral postures, but with a more casual, flexible approach. Over the long term, these differences deliver a wild variety of outcomes. Here's a summary:
Most Comfortable
Your 'most comfortable' sitting position depends on your habits. The body adjusts to its most frequently held positions. If you spend long periods sitting a certain way, muscles will adopt new patterns(9).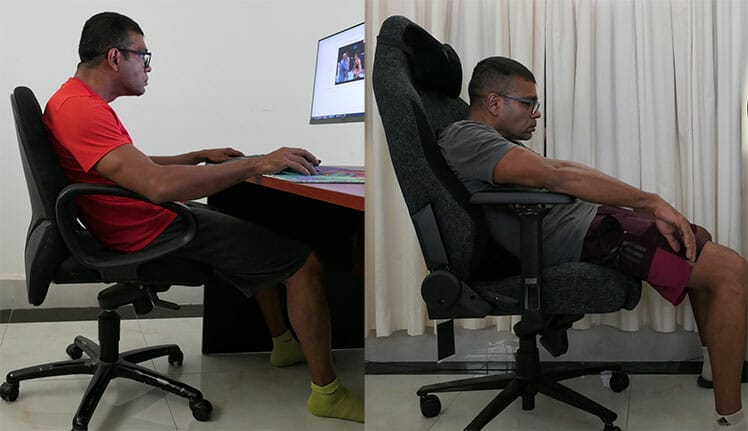 Then, the body's fascia system will also adapt. These become your most comfortable sitting positions. If you're used to sitting with a flat lower back curve, that will become your go-to in any type of chair.
Using muscular adaptation, it's possible to train your body to feel most comfortable in neutral positions — while playing video games!
For instance, I started using a gaming chair with terrible posture. Then, it felt most comfortable to curl my feet under the seat. It took a stiff, awkward week for my muscles to adapt to a neutral style. Then, it became easy — and comfortable!
Summary: your most comfortable position is the one you're accustomed to. By 'training' muscles, it's possible to make neutral postures your most comfortable. That will boost energy levels, reduce back pain, and make long bouts of sitting a healthy treat.
Best For The Back
The Steelcase Gesture and Herman Miller Embody rank among the world's best ergonomic chairs. Both have ultra-adaptive backrests that respond to the slightest micromovements. But if neutral sitting support is the priority, none does it better than the Herman Miller Aeron.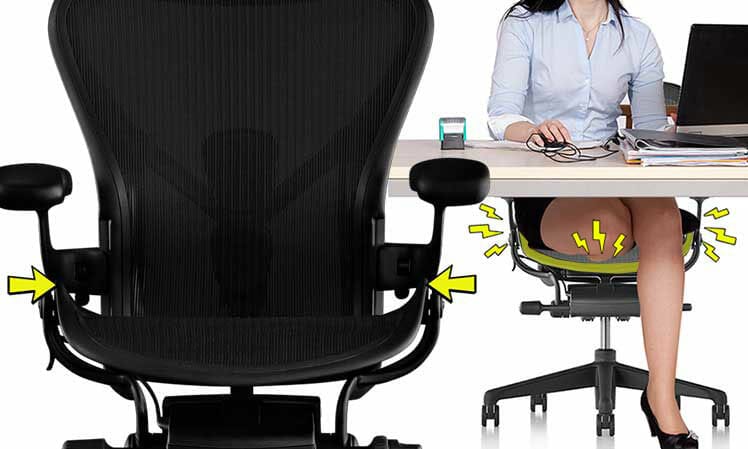 The key feature that guarantees good posture is the seat. It's a breathable, adaptive mesh pan lined with hard-bladed edges. These make it unpleasant to put one foot up (or both). That leaves sitting with both feet planted as the only comfortable position.
To support dynamic postures, a fully-loaded Aeron also has a Tilt Limiter with Seat Angle. This lets you tilt the seat, recline the backrest, and rock the chair. You can also combine the seat and backrest into a synchronous tilt.
Sync-tilt angles the seat up when you lean back; leaning forward tilts it down. This feature wards off sedentary risks by keeping muscles active and circulation robust.
Summary: the Aeron forces you to sit with planted feet and a straight back. Then, its other features kick in to float you through a range of fluid, dynamic neutral postures. If you try to slouch in this chair, it won't let you!
Aeron Downsides
The Aeron isn't for everyone. First, depending on the configuration, it costs between $1195 and $2195. Second, its super-strict sitting style might feel too restrictive when working from home.

Sitting with feet planted and a limited recline all the time works fine for an 8-hour office shift. Those wanting all-day support while working from home might find it stifling.
Pricing Variations
The best high-end ergonomic office chairs include the Herman Miller Aeron, Embody, and Steelcase Gesture chairs. All cost over $1000 and come with 12-year warranties.

In comparison, the best premium gaming chairs cost between $399 to $670 with warranty protection of 2-5 years. Meanwhile, the only basic (non-ergonomic) office chairs worth buying cost less than $200.
Aesthetics
Both standard and ergonomic office chairs are designed for corporate environments. Most come in conservative neutral colors with limited recline ranges and mid-back designs. In an office, mid-back chairs make it easier for managers to monitor staff while they work.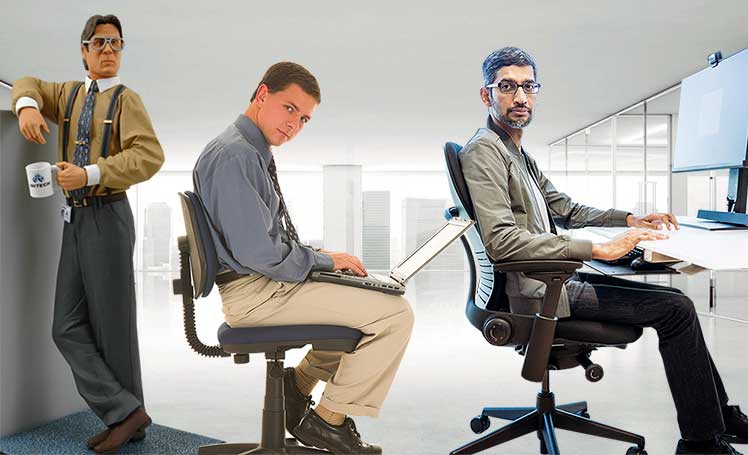 On the flip side, gaming chairs provide neutral sitting support beyond the confines of office norms. Tall backrests provide full-back support.
Beyond cradling your entire spine, this provides a brilliant privacy shield against prying eyes. As well, gaming chairs come in both muted and wild color schemes.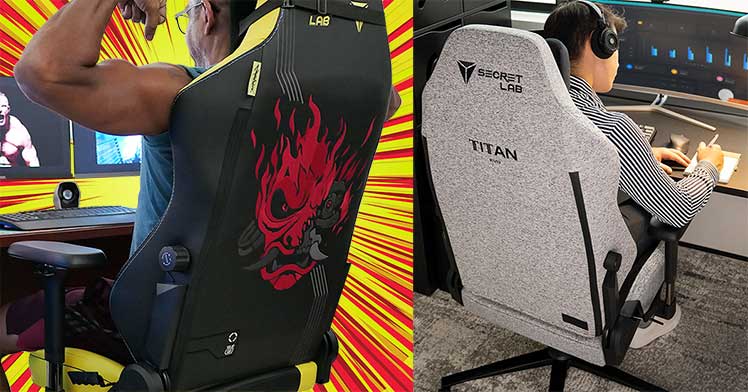 If using one in an office, choose a conservative style to blend in with the crowd. If working from home, there's no limit. You can choose bright color schemes, striking embroidered ones, soft pastels, and plenty more.
Best For Happiness
The Herman Miller Aeron is one of the best ergonomic office chairs money can buy. Its sharp corporate styling and strict posture support convey a sense of prestige. In an office setting, it might make you feel happy.
In comparison, the Secretlab Titan 2022 Series supports neutral postures with more flexibility and style. First, its flat, wide seat encourages movement. You can sit with planted feet, one foot up, or even cross-legged.
This freedom delivers delightful all-day support for work, play, and even naps. Second, Titan chairs also tickle the pleasure zone with a choice of 43+ styles.
Beyond conservative office styles, there are colorful tributes to popular video games, movie stars, and TV shows.
Titan Downside
While the Aeron forces you to sit straight, the Titan gives you a choice. The problem is that sitting willy-nilly too often can develop unhealthy muscle patterns. Then, it might become more comfortable sitting with poor posture rather than upright!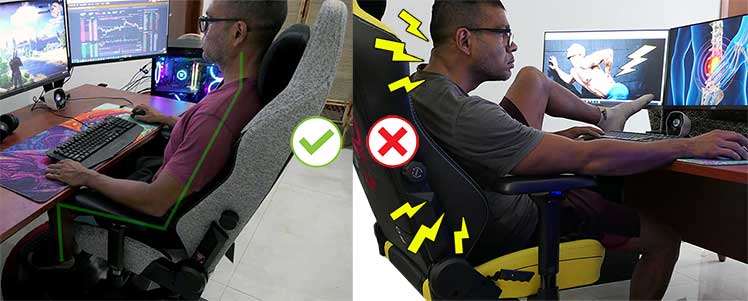 This freewheeling style is like walking a tightrope. If your discipline falls off, a spinal disc disaster awaits. On the other hand, with discipline, this gives you good sitting habits plus the freedom to sit as you like!
Summary: ergonomic office chairs provide good back support. Gaming chairs do the same with more versatile all-day sitting support. They also come in a wider range of styles that gives users more aesthetic pleasure. As a result, a gaming chair is more likely to make you feel 'happy' while working at a desk.
Caveat: Healthy Lifestyle > Good Chair
These days, most pro esports teams use gaming chairs. However, many elite squads follow the mantra that healthy, rested players perform better. To that end, the best teams employ nutritionists, mental coaches, and physical therapists.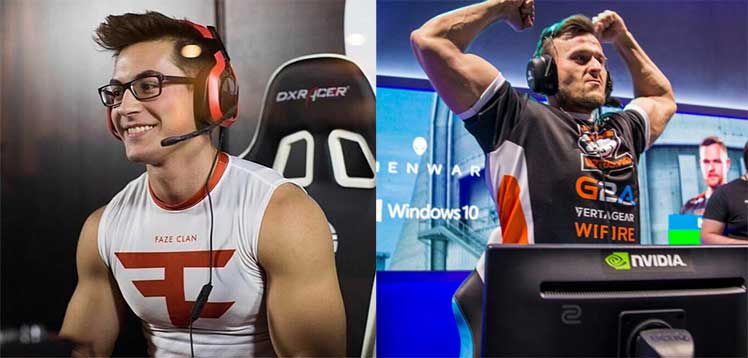 For instance, Dr. Jordan Tsai works with Cloud9, TSM, Evil Geniuses, 100 Thieves, and other top teams. He's also on Secretlab's Ergonomics Advisory Board.
He told ChairsFX that a good chair is the least important factor for productive deskwork. Instead, "A regular range of motion exercises, strengthening, and stretching are all critical."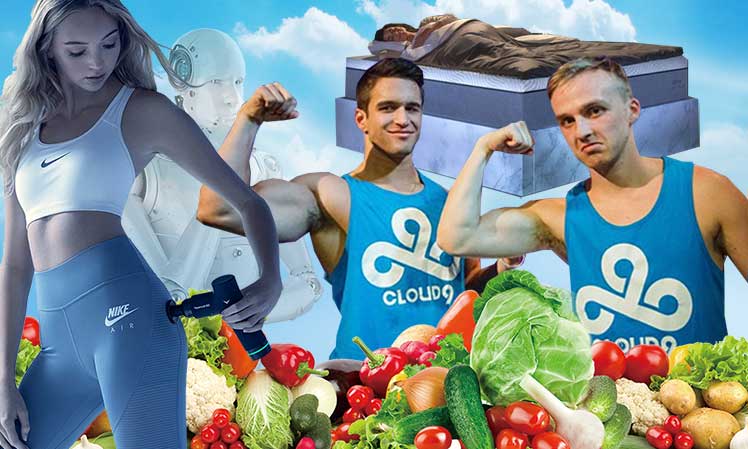 Dr. William Duncan works with both esports pros and traditional athletes. He concurs with Dr. Tsai. "Postural issues typically arise from poor strength and endurance in the postural muscles — not the type of chair.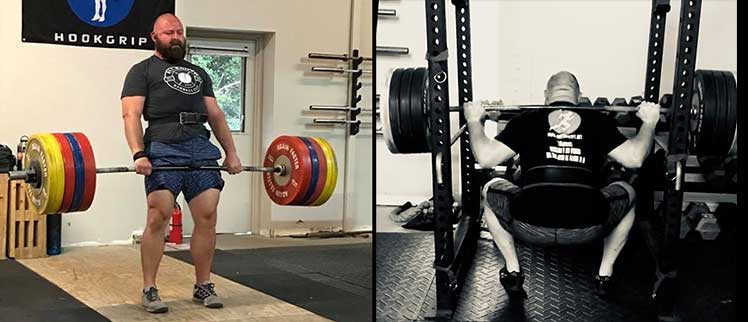 A chair alone cannot fix your issues. If you work on strength & endurance and use a good chair, this will most likely resolve the source of your symptoms and allow you to play longer."
2022 Priorities: Fitness + Posture Beats Technostress
Testimonial: Gaming Chair Fitness Impact
Esports doctors advise physical fitness to enhance your time at a desk. In my experience, the reverse happened — using a gaming chair kickstarted a new passion!
When I bought my first gaming chair back in 2017, I had chronic lethargy, anterior pelvic tilt, and a beer belly. Using a cheap office chair, I always felt exhausted after a day of sitting. Once I learned about neutral sitting in a gaming chair, that changed.

After a day of work, I had too much energy to sit still. As a result, I started going to the gym to burn off the excess. With stronger muscles, sitting in neutral postures became even easier.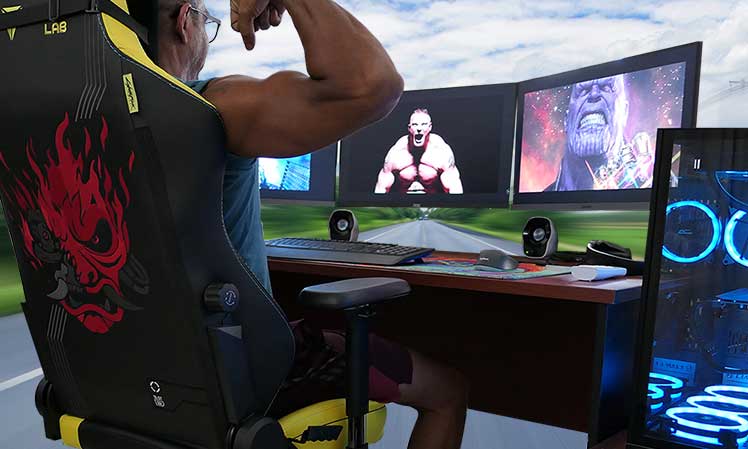 That left more energy on the table to put into computing, working out, eating clean, and sleeping well. These days, I'm in the best shape of my life and more productive than ever — despite sitting 10+ hours every day. My first Youtube testimonial from 2018 tells the exact same story!
Conclusion
In 2022, dynamic neutral sitting remains the ergonomic standard for healthy computing over long hours. To support this method, ergonomic office chairs and gaming chairs are both great options.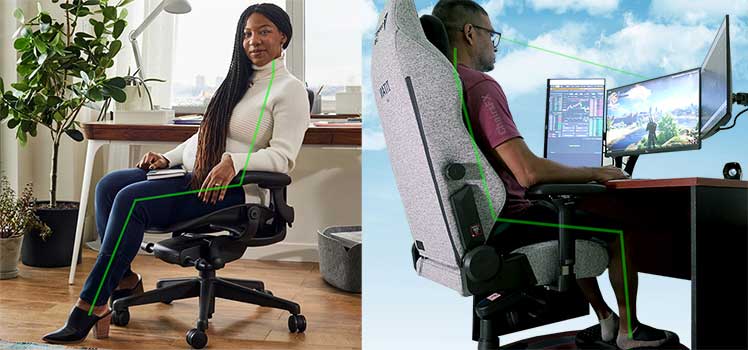 The former works best in conservative workspaces that promote conformity. The latter goes beyond corporate norms with wilder aesthetics and greater functional flexibility. One forces you to sit straight; the other adds napping and chillout postures to the menu.
Caveat: a good chair is just one part of a healthy deskwork routine. In fact, the latest Handbook Of Human Factors and Ergonomics touts new standards in workplace environment design.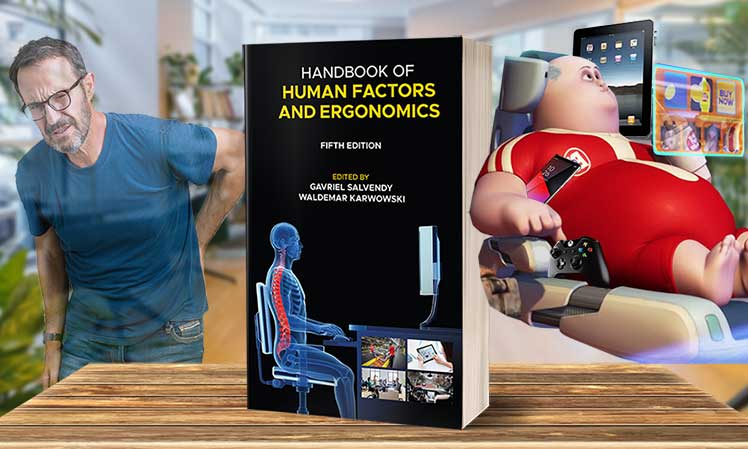 As a fully-digital world emerges, support for multi-device computing takes precedence. Effective computing at a desk becomes secondary. Instead, ergonomists must plan for two types of technostress:
Physical technostress: expanded use of laptops, tablets, and smartphones will increase musculoskeletal disorder risks.
Mental technostress: cognitive overload from using too many apps or gadgets at once.
The best physical technostress alleviant of our time is some type of ergonomic chair. The best mental technostress solution has existed for 200,000 years. Thanks to esports performance optimization, this brings us full circle — back to the dominant lifestyle in human history.
To boost computing performance, start with good nutrition, exercise, and sleep. Then, add an ergonomic chair to support your body into dynamic neutral positions. Combined, these tactics will supercharge your health, happiness, and computing performance.
That leaves gaming chairs vs ergonomic office chairs as the only question left. Which type is better for your needs? Find out here:
Gaming Chairs Vs Ergonomic Office Chairs
Footnotes