Every desk needs a chair. Traditional office chairs are the cheapest and most popular option. The problem is that over long periods of sitting, classic office chairs have limits. PC gaming chairs address those limits with simple but effective ergonomic features. This article compares gaming chairs vs office chairs. Learn the benefits of each type to find the perfect computing chair for your needs.
Gaming chairs and office chairs share a few basic features. Both have casters, 360° swivel, armrests, and a padded seat and backrest. Both also let you adjust the seat height, rock the chair and adjust the rocking tension.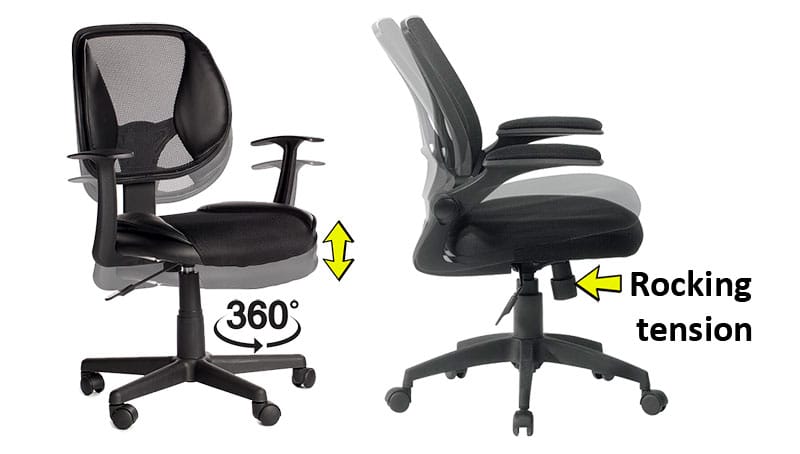 Side-by-side, there are striking visual differences. Classic office chairs have clean, simple, mid-back designs. In contrast, gaming chairs have high backs and bold, colorful styles.
Beyond the flashy looks, gaming chairs also differ with several comfort-enhancing ergonomic features. Those include a reclining backrest, adjustable lumbar support, and adjustable armrests.
Gaming Chair vs Office Chair comparison
A traditional office chair comes with a fixed backrest and fixed armrests. These features force users into static sitting positions. As a result, when you get tired in an office chair, your body must adjust. In a gaming chair, the chair adjusts to support the body.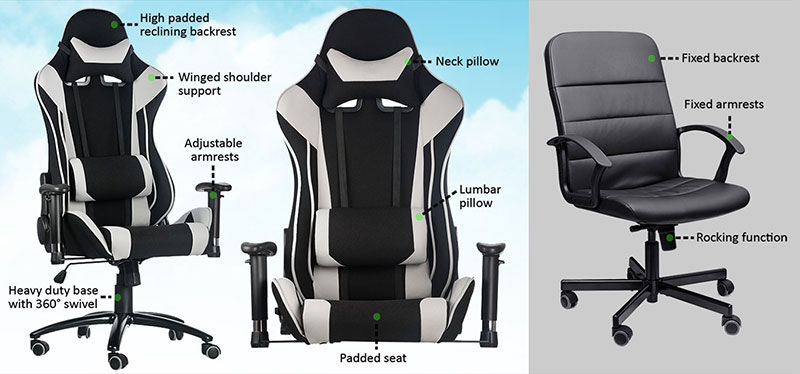 A tall backrest with recline functionality supports the back. Attached lumbar and head pillows adjust to support the spine's natural curves. Adjustable armrests sync the chair with your desk to support the arms and wrists. Combined, these features support a healthy and fluid sitting posture. Keep reading to learn how.
Comfort
Over short periods of sitting, traditional office chairs are more comfortable. That's because for most people, office chair features are familiar and easy to use.
Testing one out is a simple process. First, check the padding of the seat and sturdiness of the frame. Then, lean into the backrest to get a sense of the back support. After that, test the height adjuster and rocking functions.
If you only plan to sit in the chair a few hours per day, those tests should be enough to assess the quality of the chair. But for longer periods of sitting, the best way to test a chair is by using it. After a few days of full-time use, many find it hard to stay comfortable in a traditional office chair.
When users start twisting and fidgeting in their office chairs, the body adapts. It starts to use less efficient patterns of stretching and muscle contraction. Over time, slouching becomes more comfortable, while sitting up straight becomes strenuous.
Gaming chairs differ by adapting to the user. A thick padded seat provides a comfortable base for the legs and buttocks. A tall padded backrest cradles the spine. Adjustable neck and lumbar pillows support the spine's natural curves.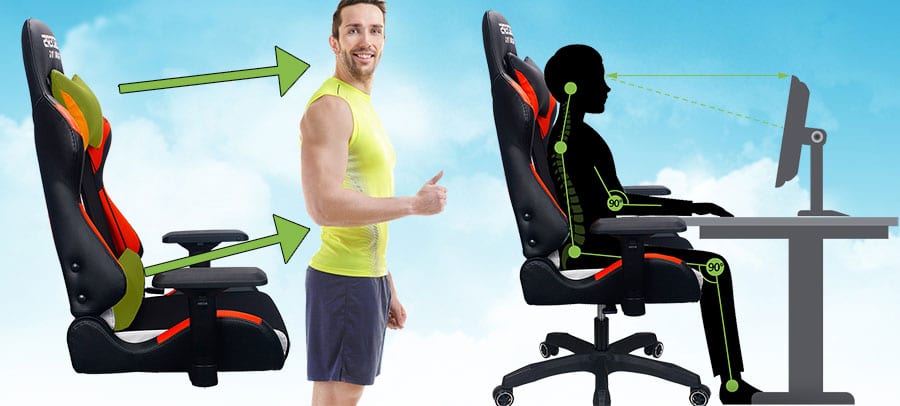 Combined, these elements encourage users to sit with a balanced, healthy posture. When the muscles start to tire, the user can adjust the backrest recline, lumbar support cushions, or armrests. Doing so switches up the active muscles supporting the body while putting tired ones to rest.
Gentle posture rehab takes time
People with poor posture may find gaming chairs very uncomfortable — at first. Poor sitting posture causes slumped shoulders, a bent spine and tight hamstring muscles. This tightness needs time to open up.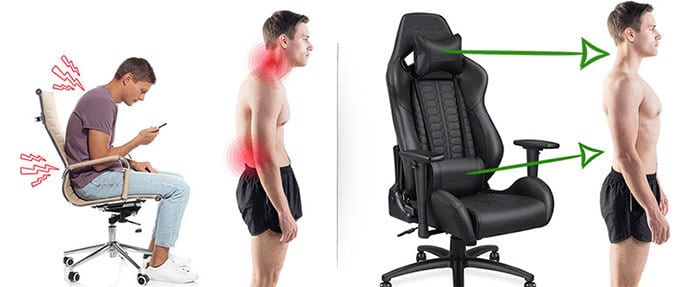 Usually, it takes a few days of sitting in a gaming chair to get used to it. Once your body adjusts, expect a level of comfort that will blow you away.
Resting against the backrest supports the upper body while keeping the spine aligned. With a healthy sitting posture, circulation improves. The shoulders open. Each inhalation sends oxygen goes deeper into your lungs.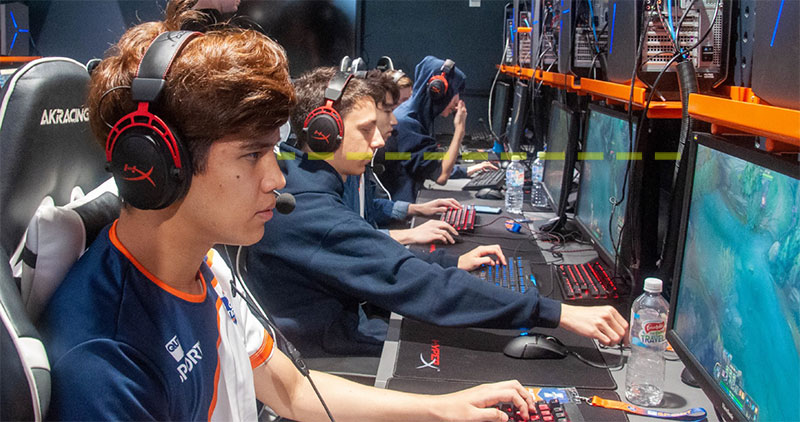 You might forget that you're sitting and experience a floating sensation. Then comes a surge of energy. After that, the mind clears and concentration intensifies. These benefits are why many pro esports players rely on gaming chairs. For long periods of intense computing, gaming chairs help players to boost performance.
Winner: draw
In the short-term, a traditional office chair is more comfortable than a gaming chair. They are cheap, familiar, and easy to use.
In contrast, a gaming chair can be very uncomfortable — at first. Those with poor sitting posture will need time to adapt to sitting with an aligned spine. But once adjusted, gaming chairs are much more comfortable. That's because they are better at supporting the back.
Adjustability
Traditional office chairs have limited adjustability. Most models offer adjustable height and a rocking function. Gaming vs office chairs offer superior adjustability in a few key areas:
Adjustable armrests
Gaming chair armrests support the weight of the forearms, wrists, and hands. Since all bodies are different, the best gaming chairs have adjustable armrests. These adapt to the user, ensuring effective support no matter what position you sit in.
For instance, you can lower or widen the arms to support a casual, relaxed posture. When working, you can raise the armrests to match the height of your desk.
1D armrests adjust up and down. 3D armrests can also adjust forwards or backward and side-to-side. 4D armrests can also adjust diagonally. Cheaper gaming chairs tend to have 1D or 2D armrests. More expensive models usually offer 3D or 4D.
Adjustable backrest
Traditional office chairs come with a fixed backrest and a rocking function. The rocking function is supposed to help the user relax in between work sessions. For upright work, both the seat and backrest remain in a fixed position.
The backrest functionality of gaming vs office chairs is a key difference. Office chairs have fixed backrests, while gaming chair backrests are adjustable. Most models can recline to at least 135°. Some can recline all the way to 180°.
The ideal recline for working in a gaming chair is between 100° to 110°. A recline to 135° is a relaxing way to read or watch videos. Any deeper is best for napping. Check out our Gaming Chair User Guide for more information about recline options.
Adjustable seat
Both traditional office chairs and cheap gaming chairs let you adjust the height of the seat. Pro-quality gaming chairs also let you adjust the seat angle.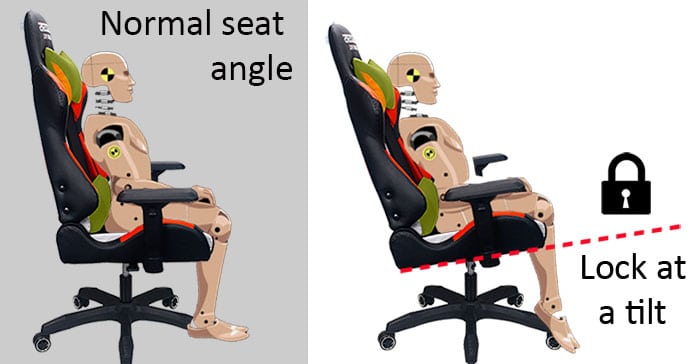 Seat angle tilt-lock lets you angle and lock the seat in two different ways. First, you can angle the seat in sync with the backrest as a single unit.

You can also angle the seat and backrest independently. This gives you a huge range of options to switch up your back support without getting out of the chair.
Winner: gaming chairs

Traditional office chairs can swivel and rock. These limited features keep the body in a fixed sitting position. That leads to clogged circulation, poor posture, and other health issues.
Pro gaming chairs build atop those basic features. You can adjust the backrest recline, the seat angle, and the armrests. You can also adjust the neck and lumbar pillows to better support your body.
Ergonomics
Gaming chairs are more adjustable than office chairs, but to what end? Ergonomics is a scientific discipline that studies human efficiency in working environments. Ergonomic engineers use theory, principles and data to enhance human well-being and performance.
To compare the ergonomics of gaming chairs and office chairs, we look at how their features adapt to the user.
Traditional office chairs have a fixed backrest and seat plus a rocking function. Gaming chairs give you several options to adjust support to meet your needs. You can angle the backrest, adjust support pillows, and change armrest positions.
These features give you more options. You can use them or not, depending on your needs. For example, when you start work in the morning, you might feel fresh enough to sit up without support.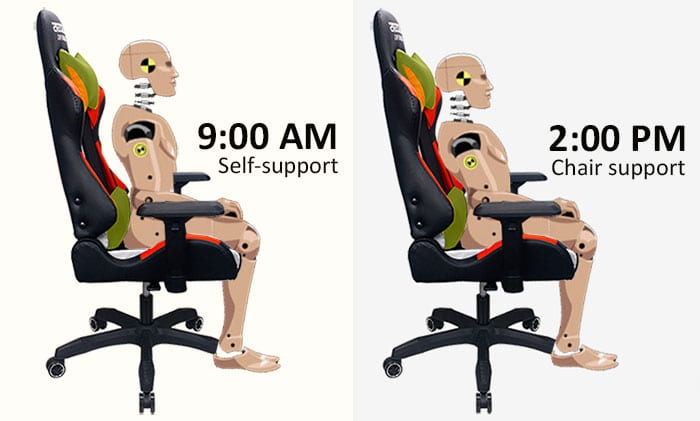 As your back muscles tire in an office chair, your best option to stay comfortable is to slouch. In a gaming chair, all you need to do is lean into the backrest. That will ensure good posture and relief for your muscles.
Below are the other ergonomic gaming chair features that yield great benefits for users:
Armrest ergonomics
Most traditional office chairs have fixed armrests. When these fail to meet the user's needs, it's left to the spine to support the weight of the arms.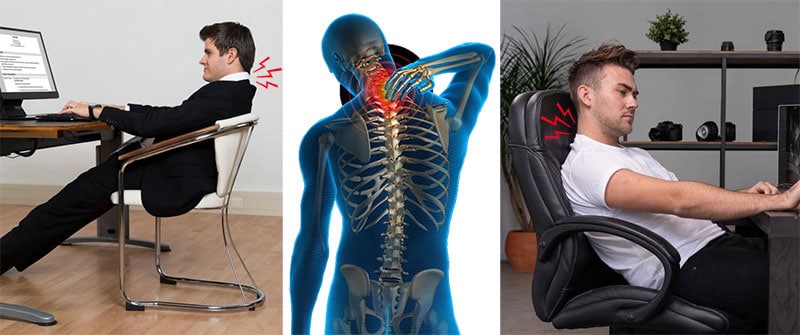 Consider that the average male's arm weighs around 12 pounds. When a chair's arm support fails, that's like strapping 22 pounds of extra weight to your neck as you sit.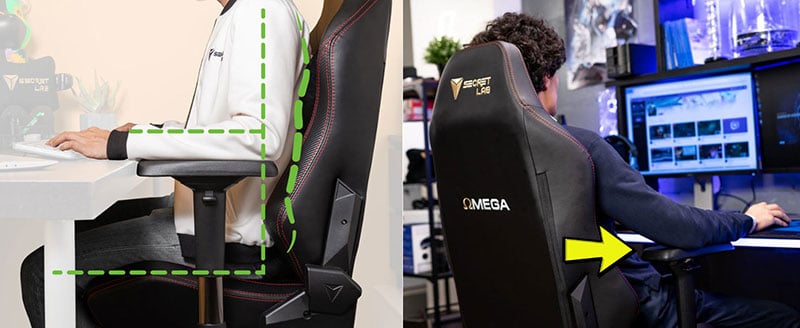 Gaming chair armrests conform to the needs of the user. For instance, you can adjust to the height of your desk to absorb the weight of your arms. That reduces the load on your spine. It also soothes wrist strain by placing your hands within easy reach of the mouse and keyboard.
Backrest ergonomics
Traditional office chair backrests don't have any features that adapt to the user. If you feel uncomfortable, you can lean into the backrest, rock the chair, or slouch. In a gaming chair, you get more options. For a start, as soon as you sit down in a gaming chair, you need to adjust the support pillows to fit your body.
Adjust both to fit in the curves of your neck and lower back. Then lean your body weight into the backrest. The backrest keeps your spine straight, while the pillows maintain a healthy alignment.
The other adjustable feature of the backrest is the recline. For intense coding, gaming, or programming, angle the backrest to around 110°. When thinking, reading, or relaxing, recline further back to around 130°.
Many experts agree that changing positions while sitting yields important benefits. For one thing, muscle movement serves as a pump, helping to improve blood circulation. For another, reclining while helps to send more nutrients to the spinal discs. Further, movement while sitting helps to refresh the joints and ligaments.
Seat ergonomics
Many ergonomic scientists claim there is no such thing as a "perfect" sitting position. Rather, good posture while in motion is the ideal.

That's why the best pro gaming chairs also come with a multifunction tilt-lock seat system. That lets you angle the seat in sync or independently of the backrest.
Using this function helps to switch up the back muscles at work while sitting. By changing the angle, you put some muscles to rest and others to work. That helps seated bodies stay fresh and comfortable for longer sitting periods.
Winner: gaming chairs

Gaming chairs have better ergonomic features than office chairs. An adjustable seat, backrest, and armrests work together to hold the body up against gravity while sitting. As a result, the muscles don't have to.
These ergonomic features give pro gamers and savvy computer users an edge. The chair manages your sitting posture instead of your muscles. That allows longer, more comfortable computing sessions — with greater concentration and focus.
Accessories and extras
Since traditional office chairs don't have ergonomic features, they don't come with any accessories. They ship with tools and an assembly manual.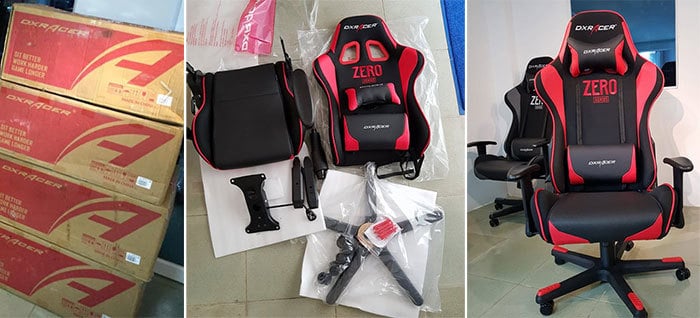 Gaming chairs ship in heavier packages (usually 50+ pounds). Inside are all chair components and Allen keys for assembly. The key addons included are adjustable neck and lumbar cushions. Some gaming chairs offer more, like retractable footrests or built-in massage units.
Winner: gaming chairs

Low-cost office chairs don't come with any accessories or extras. What you see is what you get. Standard gaming chairs ship with neck and lumbar pillows add-ons.
Price
Gaming chairs are more expensive than traditional office chairs. Most popular office chairs sell for less than $150 but only come with 30-day to 6-month warranties. For example, one of the most popular cheap gaming chairs is the Homall Classic. That model costs $159.98. Meanwhile, the popular BestOffice Office chair costs $64.99. But while the Homall chair comes with a 1-year warranty, the BestOffice chair only has a 30-day warranty.
Most pro-quality gaming chairs cost $300 to $500 and come with at least a two-year warranty. Some brands like Secretlab and AKRacing offer five-year warranties. Thus, when factoring in the price of the chair, we can also look at how much use you can get out — daily and in the long term.
A gaming chair with a 2-year warranty can cost three times more than a traditional office chair. But gaming chairs support full-time sitting with comfortable, adjustable features. Beyond heavy daily use, you can also count on consistent performance for years.
The most expensive gaming chairs have the thickest and most resilient padding. When you sit full-time, that can make a huge difference.
Cheap vs Expensive gaming chairs
Winner: gaming chairs

Traditional office chairs cost less than cheap gaming chairs. However, most gaming chairs ship with at least a one-year warranty. Professional quality gaming chairs come with warranties of 2-5 years.
Office chairs are comfortable for short periods but less so over longer ones. Gaming chairs are the opposite, offering comfortable posture support for long periods. As a result, you can expect to get more daily use out of a gaming chair, for the duration of its warranty. Thus, office chairs are cheaper, while gaming chairs offer better value for money.
Gaming Chairs vs Ergonomic task chairs
The original alternative to the traditional office chair was the ergonomic task chair. In 1994, the Herman Miller Aeron debuted as the world's first task chair. A few years later, the Steelcase Leap emerged as a viable alternative to the Aeron. Today, there are several high end ergonomic office chairs to choose from. Most cost between $400 to $1500.
Like gaming chairs, task chairs come with several adjustable features. These include a reclining backrest, adjustable armrests, and adjustable lumbar support. Some models also come with a depth adjustable seat.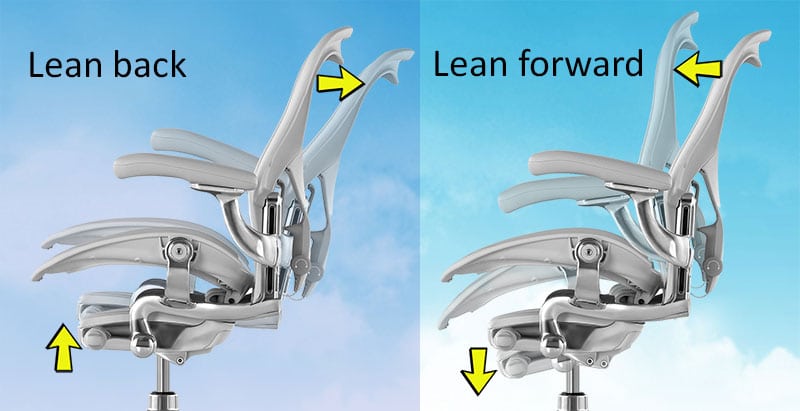 Unlike gaming chairs, task chairs also have "synchro-tilt". This is a potent (but pricey) feature that angles the seat at a 2:1 ratio to the backrest as the user reclines. The point of this feature is to keep the body in motion while maintaining a healthy posture. The greater the tilt range, the more expensive the chair. Among task chairs, the Herman Miller Aeron has the largest tilt ranges. As a result, it is among the most expensive models.
Head-to-head, both task and gaming chairs qualify as ergonomic office chairs. Task chairs offer more precise ergonomics than what gaming chairs offer. But compared to gaming chairs, task chairs also have downsides. First, task chairs force users to sit in an upright position at all times. In contrast, gaming chairs offer a deep recline ideal for reading, relaxing, and napping. Second, task chairs are a lot more expensive than gaming chairs.
Need help deciding on the best ergonomic office chair for your needs? Check out our detailed comparison:
Feature: PC gaming chairs vs ergonomic task chairs
Summary of findings
A regular office chair lacks adjustability. Over time, using one might become uncomfortable and distracting. Luckily, consumers have more options these days. Both gaming chairs and task chairs are good for your back. Both offer comfort and healthy sitting over long periods. Choosing one type over the other depends on your budget, and also your preferences.
Most comfortable
For short periods of light desk work, traditional office chairs are very comfortable. In libraries, internet cafes, and meeting rooms, classic office chairs work fine.
But office chairs force users into static sitting positions. Over longer periods of sitting, discomfort may set in. Then, both racing style gaming and task chairs are more comfortable options. Both types of chairs are "ergonomic". That means they both have adjustable features that adapt to the user.
Between gaming and task chairs, expect more comfort from the former. Task chairs force users to sit upright at all times. That helps with productivity but isn't ideal for relaxing.
Gaming chairs add more versatility with a deep recline option. That lets users angle the backrest to support working, reading, or even napping.
Best for productivity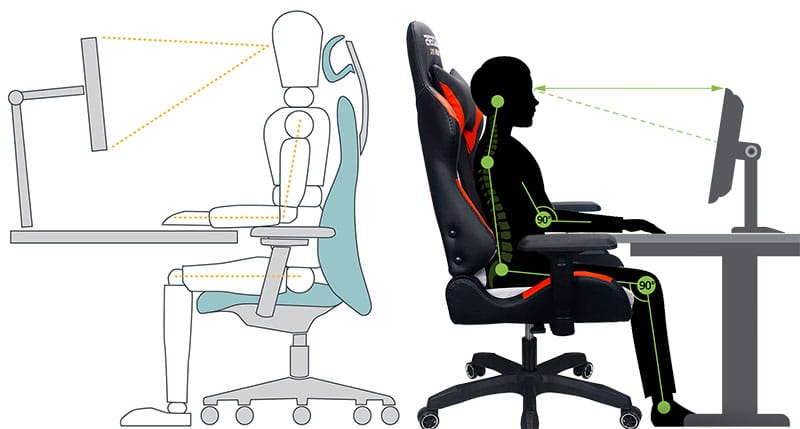 If productivity is the priority, ergonomic task chairs are the best option. When sitting in a task chair, users are forced to sit upright with a perfect working posture. The strict posture helps to keep the mind focused. While gaming chairs also support upright work, it's easier to slack off when using one.
If you want to procrastinate in a gaming chair, it's easy to recline into a lounging position. In a reclined position, it's easy to waste several hours doing very little work.
Conclusion: gaming vs office chairs
The gaming chair vs office chair debate yields three desk chair options. Gaming chairs, task chairs, and traditional office chairs are all viable desk chairs. Compared to traditional office chairs, gaming chairs have more adjustable features. You can adjust the support cushions, the backrest, the armrests, and even the seat (on pro models). These adjustments help to promote a healthy posture while sitting.
Versus task chairs, gaming chairs have similar ergonomic features and lower prices. Task chairs are the ultimate working chairs, but not ideal for relaxing. Most models force users to sit upright at all times. Gaming chairs are more flexible. You can use a gaming chair for upright working, and also for deep relaxation.
In conclusion, when deciding between a gaming vs office chair, it comes down to priorities. If looking for a productivity boost, choose between a gaming vs task chair. But if a basic desk chair is all you need, nothing beats the simplicity of a traditional office chair.
If back pain, lethargy, or stiffness flares up, consider your chair as the source of the problem. If that happens, browse our gaming chair shopping guides to find the best solution for your needs.