Struggling with upper back and neck support in your office chair? There are two neck support for office chair options: with or without a headrest. All ergonomic chairs support neutral body postures (NBP). A textbook NBP includes a 0° neck tilt . Office chairs without headrests support a straight neck. Office chairs with headrests promote tilted necks — in active postures. But in passive neutral postures, headrests provide valid support! Learn the facts. Then, optimize your office chair's neck support — with or without a headrest.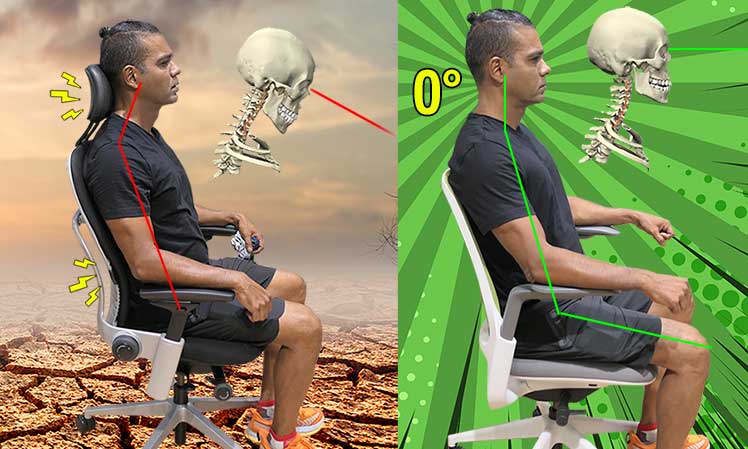 The best office chair for neck support depends on the user — not a chair's feature set. Without a headrest, any model with good lumbar support can support a straight neck. With a headrest, superb gravity-powered posture is also possible — with caveats.
The first thing you should know: most office chair headrests are not depth-adjustable. The typical model will only let you adjust the height or angle.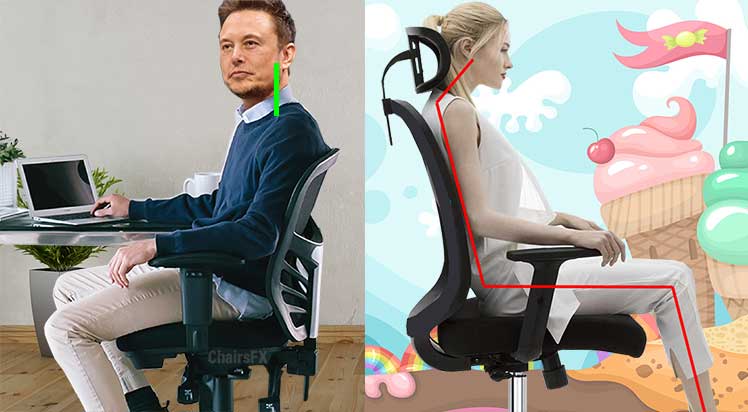 When sitting with a sharp 100° recline angle, a non-depth-adjustable headrest may tilt your neck forward. This is not a design flaw — headrests are designed to support reclined postures.

With a deeper recline — and elevated feet — an office chair headrest can provide useful support for your cervical spine. Which style do you prefer?
Keep reading to learn the pros and cons of each. That will make it easy to determine whether an office chair headrest is right for your needs.
Active Vs Passive Neutral Posture Styles
A perfect neutral sitting position replicates the angles of a healthy standing spine. That includes a 25-45° lower back curve and a 0° neck. Mid-back ergonomic office chairs without headrests support these angles — but not automatically.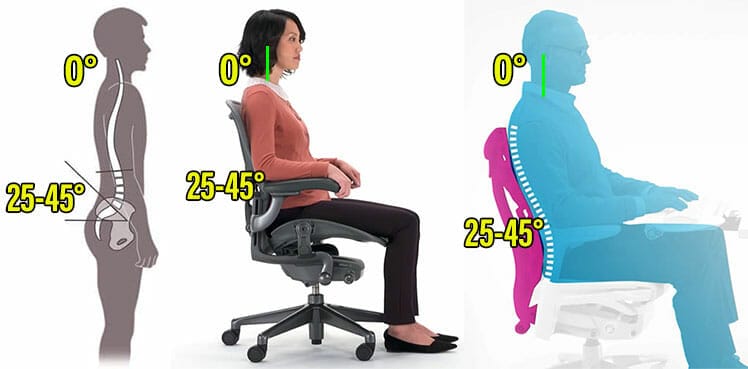 The user must still exert some effort. This is an active neutral posture style. Active sitting keeps back and neck muscles engaged while holding the torso upright.
In contrast, passive neutral postures allow the muscles to fully relax. Then, the seat does all of the work to align the spine and hold it upright.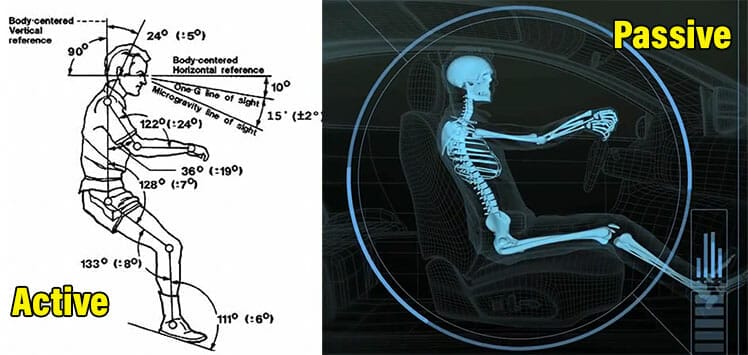 Bottom line: if you plan to sit in active neutral postures, office chairs work best without headrests. But if you prefer a passive neutral sitting style, headrests come in handy. Key points:
Mid-Back Headrest: Psychological Lure
The previous sections explain how office chair headrests only support reclined postures. Yet, many first-time ergonomic chair users prefer mid-back chairs with headrests. This appeal is psychological.
When a chair looks more comfortable, people feel more psychologically relaxed while using it. For example, a kneeling chair supports excellent posture. But compared to a comfy-looking lounger, it looks dreadful.
To make use of a kneeling chair, users must psychologically buy into the concept. Without that buy-in, their motivation to use it won't last.
Mid-Back Ergonomic Chair Advantages
Using a mid-back ergonomic chair without a headrest is a gateway to good back and neck posture. In this Text Neck Syndrome era, the benefits of doing so can be life-changing. This section summarizes the key benefits:
Full-Back Gaming Headrest Advantages
Mid-back office chair headrests distort active neutral postures by tilting the neck off-center. In contrast, most good-quality full-back gaming chair headrests support good neck posture.
One of the biggest differences is the hard vs soft nature of each. Try pressing your palm firmly against the back of your neck — it's very unpleasant! Imagine how much worse a hard plastic part jabbing into your neck must feel!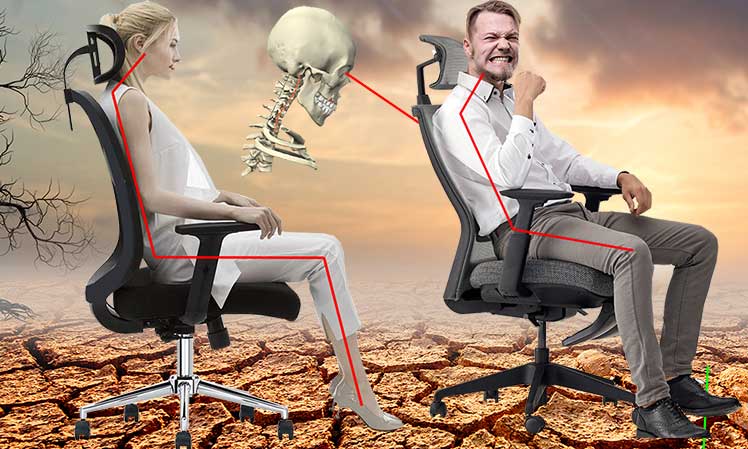 In comparison, gaming chair headrests have built-in depth adjustability. As you lean against one, the foam compresses. Fancier ones like the Secretlab Titan's strapless magnetic version come stuffed with high-grade memory foam.
On the outside, it's draped in velour. It doesn't jab into your neck like a hard office chair headrest. Instead, it gently cradles it. That feels both physically and mentally reassuring, making good neck posture a relaxing pleasure.
Recap: Best Office Chair Neck Support
One of the most common complaints people have about mid-back chairs are the ill-fitting headrests. The easiest solution is to remove the headrest. Doing so will give you a greater incentive to maintain a 0° neck tilt .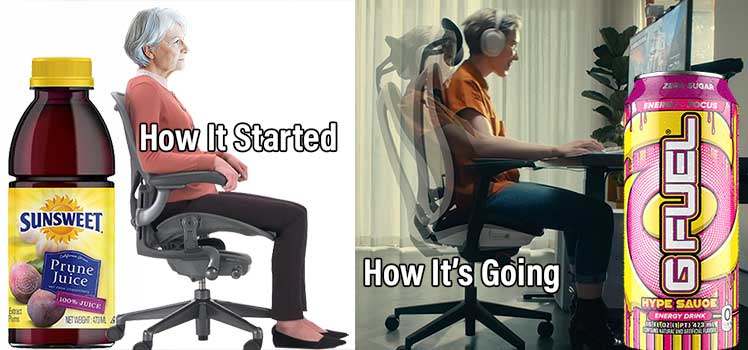 Removing your headrest will cost you psychologically by making your chair 'seem' more boring. On the flip side, you'll gain the physical benefit of a straight neck — and a pain-free sitting experience.

Choose An Active Or Passive Neutral Style
Neutral body postures are the healthiest way to sit in any type of ergonomic chair. In mid-back office chairs, users have a choice of active and passive neutral postures. Active postures keep back muscles engaged while you sit.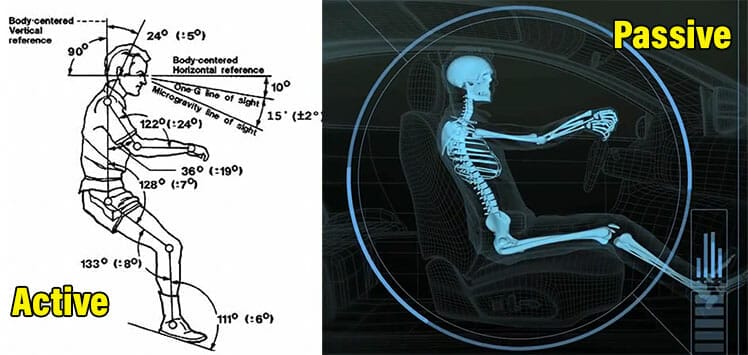 Passive postures let you completely relax — the chair does all of the support work. However, a passive neutral posture without elevated feet forces the neck to tilt off-center.
Sitting with a tilted neck makes unhealthy forward-leaning postures more likely. Therefore adding a headrest can negate the ergonomic potential of your fancy chair — while promoting a curved spine!
Active posture solution: remove the headrest and maintain an active neutral posture — while keeping your back muscles engaged.
Passive posture solution: add a headrest and standing desk, elevate your feet, put your muscles to rest, and let gravity do all the work.
If you suffer upper back or neck pain in an ergonomic office chair, choose one solution or the other. Then, focus on sitting with proper neutral techniques. Expect your pain to vanish while your energy levels surge!
Healthy Neutral Postures in A Gaming Or Office Chair
Related: Text Neck Syndrome | Ergonomic Problems & Solutions
Footnotes