Mid-back ergonomic office chairs deliver excellent spinal support. But many come with ill-fitting headrests that distort good posture! The solution to this problem is to remove the headrest. Doing so will ensure an optimal spinal alignment while you sit. Then, the head balances evenly above the shoulders as it was designed to do. Improve your posture, productivity, and long-term comfort with this one simple trick!
Using a headrest with a mid-back ergonomic chair is like plowing a potato field with a Ferrari. That has been the case since 1994. Then, the Herman Miller Aeron emerged as the world's first mass-marketed ergonomic chair.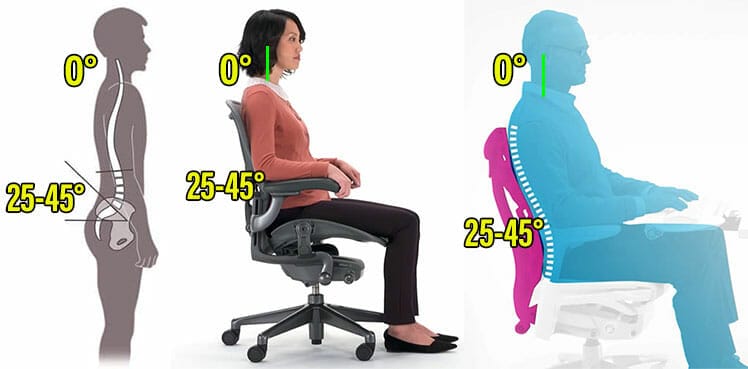 Today, all Herman Miller chairs provide the same strict mid-back support as the Aeron. The company doesn't provide headrests or recommend using third-party ones. "Leaning your head back on a headrest while in an upright position would be improper posture… Our ergonomic chairs are designed to support your spine as if you were standing."
Despite this, the market is flooded with third-party Herman Miller headrests. Like all mid-back chair headrests, these cater to a psychological desire for perceived comfort. Because they look comfortable, people assume that they are.
But in fact, mid-back headrests provide short-term gratification with an imperfect fit that won't ever feel right.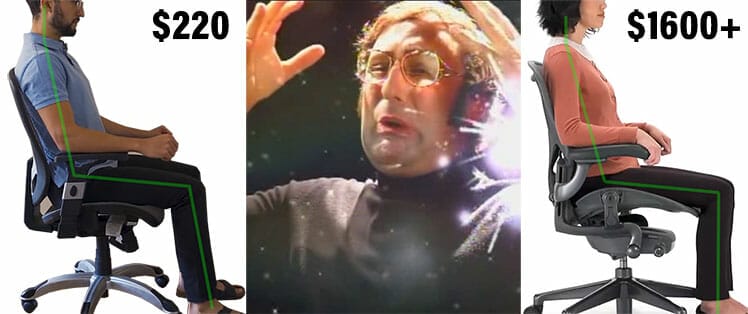 One option is to keep fiddling with your headrest — while feeling perpetually dissatisfied. Another: remove the headrest and follow best practices. The results will blow your mind! Facts:
A headrest does not significantly reduce neck muscle activity.
A 0° head tilt is the gold standard neutral neck position.
An ill-fitting headrest tilts the head off the centerline. That distorts the thoracic spine and flattens the lumbar curve.
Headrests Ruin Mid-Back Ergonomics
Studies on car and aircraft seats with and without headrests support Herman Miller's claim. In both cases, headrests pull the neck off the centerline. Over time, that will distort the spine and cause long-term pain.
Without a headrest, the neck reflexively balances cleanly atop the shoulders. But despite poor ergonomics, headrests provide important crash protection in cars. On aircraft seats, they exist purely to appease psychological pleasure senses.
However, these 'pleasures' also distort the spine, forcing muscles to work overtime. This explains why most people feel exhausted after a long flight or car drive!
Mid-Back Ergonomic Chair Advantages
Using a mid-back ergonomic chair without a headrest is a gateway to good back and neck posture. In the Text Neck Syndrome Era, the benefits of doing so can be life-changing. This section summarizes the key benefits:
Conclusion: Best Mid-Back Chairs
One of the most common complaints people have about mid-back chairs is about the ill-fitting headrests. This article spells out the best solution to that problem: remove the headrest. Doing so will give you a greater incentive to strive for a 0° neck tilt.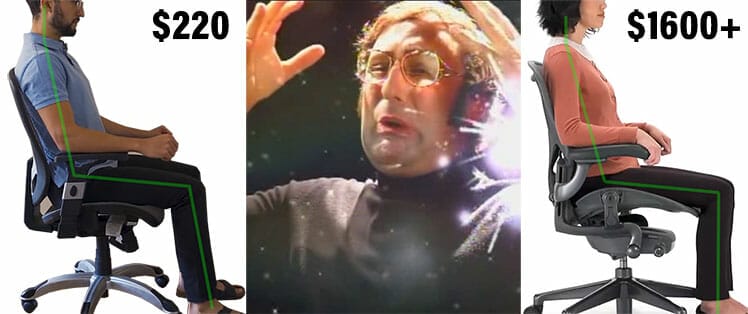 A few days of struggle to achieve that position is all you need. That gives dormant muscle memories time to bring perfect posture back into your life. Then, a cheap $300 chair can give you the same ergonomic benefits as a $1600 Herman Miller Aeron!
ChairsFX Picks: Best Mid-Back Chairs
Once you get your head around the mid-back headrest concept, the ergonomic office chair landscape becomes a lot simpler. Any mid-back chair with adjustable lumbar support, adjustable arms, and a reclining backrest can do what you need.

Paying a higher price gets you more luxury — but a similar level of back support! Based on these parameters, here are some of the best mid-back chairs on the market (across all price ranges):
Click on any of the above to go directly to that chair's review page. If you want to bypass luxury frills completely, there are four excellent picks under $300 worth considering:

Best Mid-Back Ergonomic Chairs Under $300

Footnotes