Using a gaming chair should make you forget that you're sitting. With an aligned spine and relaxed muscles, you should be able to sit for long periods without issue. If you feel any sort of pain or discomfort, it's a sign that something is wrong. If left unchecked, that can lead to serious health and performance issues. Does your gaming chair hurt your back? This troubleshooting checklist will help you find a solution.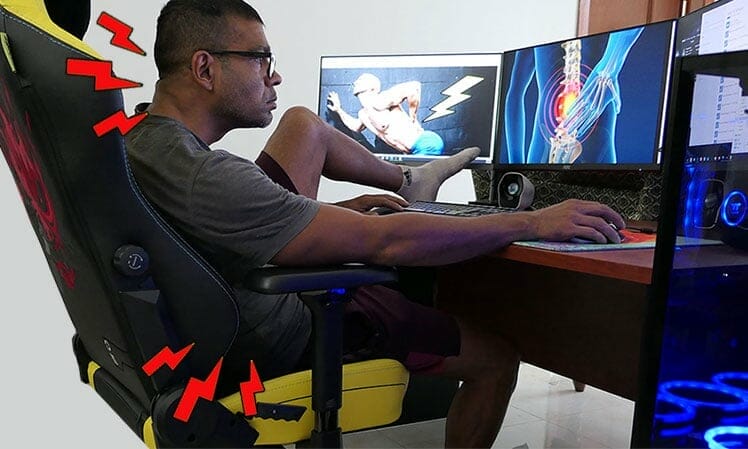 A gaming chair is designed to support good posture over long periods of sitting. When everything works as intended, you'll lose sense of your body and immerse yourself in work. If even the slightest thing goes wrong, you'll notice. A small misconfiguration can cause serious strain on certain parts of the body. Without correction, pain will spread to infect other parts of your body.
There are four areas of investigation to explore:
Run through this checklist to pinpoint your problem. If it's not solved by the end of this article, find links to three esports doctors who provide online help.
Improper Chair Sizing
All gaming chairs from reputable brands come with size ratings. If a chair is too small or large for your size, problems can arise.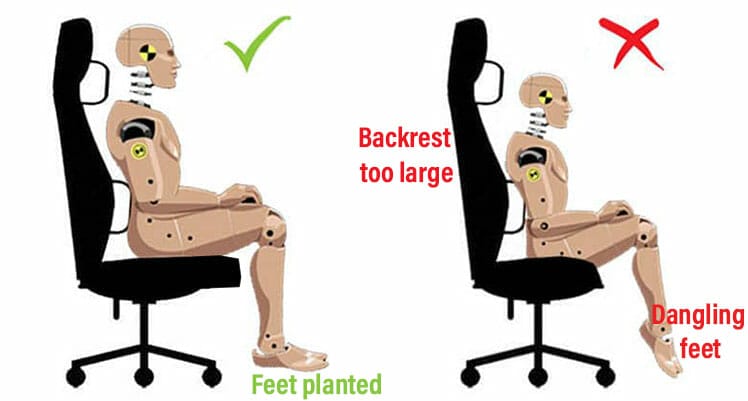 For example, if the backrest is too large, it won't properly support your spinal curves. As well, if the seat height is too large, you won't be able to plant your feet firmly on the floor.
For a detailed explainer, see our Gaming Chair Sizing Guide. Here's a quick look at common sizing problems:
Small User in An Overly large Chair
Most gaming chairs come with adjustable lumbar and headrest pillows. Even if the chair is too large, it's possible to adjust the pillows to support a smaller person's spine. Even so, the results are less than ideal.
For example, here's a 5'4″ teen using a DXRacer Racing Series (5'7″ to 6'0″ size rating). He was able to adjust the pillows for what appeared to be a decent fit.
However, from a side view, he looks stiff, not relaxed. Upon closer examination, we can see three other problems:
The armrests are too high, putting pressure on his shoulders and arms.
His hips curl forward instead of tucking deep into the backrest.
The seat is too high, forcing a sharp drop of his thighs. That downward pressure curls his hips forward even more.
Solutions: switch to a smaller-sized chair. Alternatively, add an ergonomic footrest to let the user sit taller in the chair.
Legs Too Short to Plant Your Feet
Planting your feet firmly on the floor is an essential part of a healthy sitting routine. Doing so provides the power to hold your entire spine upright. Without that power, your spinal muscles must do the heavy lifting instead.
Buying a chair with a lower seat height isn't a good solution. That's because most adult-sized desks are 28″ or higher. So if you buy a chair with a low seat height, you'll suffer a poor fit at your desk!
For example, we also tried the 5'4″ student in a Secretlab Omega chair (5'3″ to 5'11" size range). The chair fit him perfectly. But when paired with an adult-sized desk, his good posture collapsed!
Raising the seat height helped to sync him with the desk. However, that left his feet dangling, negating the back support benefits of the chair. The solution was obvious.
Solution: if your legs are too short for your chair, add an ergonomic footrest. Doing so will help you to sit taller in the chair while keeping your feet firmly planted.
Seat Too Deep For Your Legs
Short people using a large gaming chair may encounter seat depth problems. If the seat is too large, its lip will touch the back of your knees. Sitting that way over long periods will cause pain in your legs and knees.
If left unchecked, the pain will eventually spread to your lower back. Luckily, there are two simple solutions. First, if you have a Secretlab chair (or any model using an integrated lumbar), add an external lumbar pillow.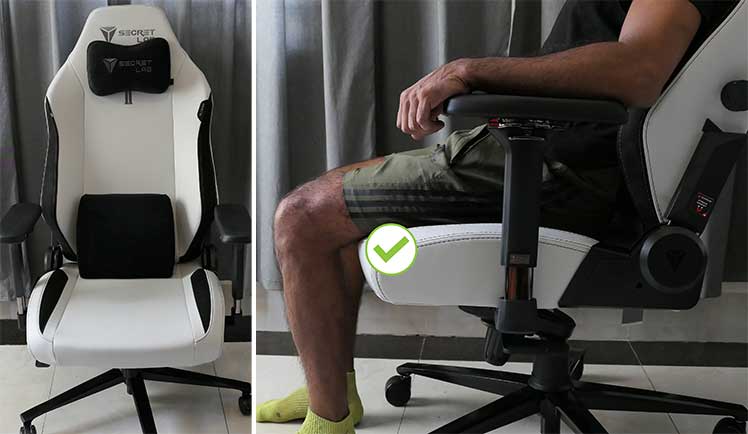 That will reduce the depth of your seat and buy more space for the back of your knees. The second option is to add an ergonomic footrest. That will soften the angle of your legs falling off the seat edge.
As a result, the back of your knees will extend further away from the seat edge. For Secretlab Titan sizing tips, see this Titan Evo 2022 Size-Hacking Guide. For general gaming chair sizing tips, see this:
Improper Chair Usage
If you use a gaming chair improperly, it's likely to harm rather than help your back. All types of ergonomic chairs are specifically designed to support neutral sitting positions.

Planted feet provide the power to hold the spine upright. Adjustable lumbar support keeps your lower back in alignment(1). Armrests absorb the weight of the limbs. This combination aligns your spine while relieving muscle strain.
Sitting this way enables comfortable sitting for long periods without strain. However, even if you don't sit this way, you'll enjoy a delightful sitting experience
With thick padding, deep recline functionality, and full-back support, gaming chairs are insanely comfortable. First-time gaming chair users will find bliss in whichever position they sit in.
However, that will accumulate strain on your spine and surrounding muscles. You're not likely to notice until your back suddenly seizes up. Then, you'll pay for your sloppy habits with several weeks of serious back pain!
Sit Using Neutral Postures
The key to avoiding back pain is to use neutral sitting techniques. Check out our Gaming Chair User Guide for a step-by-step walkthrough of best practices. The gist:
Tuck your hips deep into the seat so that your tailbone touches the backrest.
Adjust the seat height so that your hips are slightly higher than your knees.
Plant your feet firmly on the floor (around shoulder-width apart).
Adjust the lumbar support so that it places mild pressure into the small of your lower back.
Push up with your feet and lean your body weight into the backrest.
Here are the most common mistakes people make when attempting to sit neutrally in a gaming chair:
Sitting Like a Banana Peel
The first thing you need to do when sitting down in a gaming chair is to tuck your hips. Scooting your butt deep into the seat prevents your hips from curling forward. Doing so also ensures that your spine will make optimal contact with the backrest.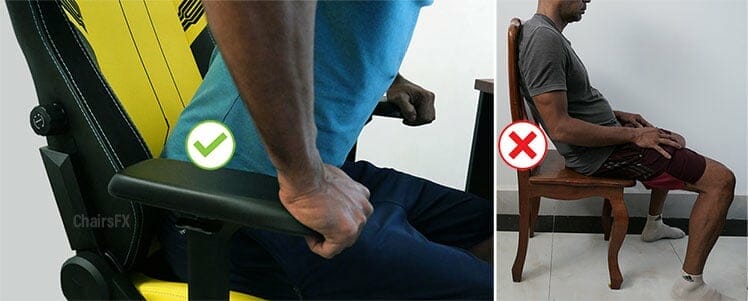 Many first-time gaming chairs slip up by failing to adhere to neutral sitting tactics. That often curls the hips forward. When hips curl forward, the lumbar curve flattens, and the shoulders hunch.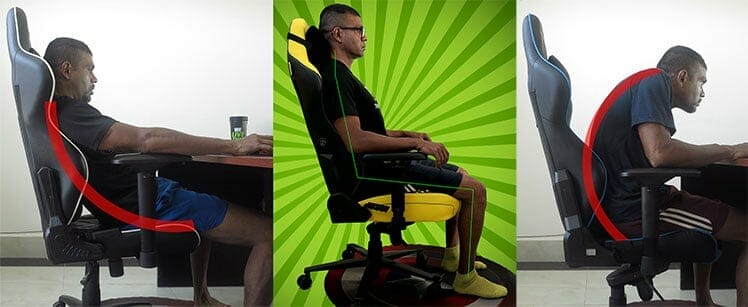 Bottom line: if your spine looks like a banana peel in a gaming chair, serious pain will arise. Address this by tucking your hips deep into the seat whenever you sit.
Misconfigured Lumbar Support
Many first-time gaming chair users use their lumbar support incorrectly. Setting it too high will encourage slouching. Setting it too low will curl your hips forward.

In contrast, setting it precisely into your lower back makes sitting upright effortless. Even if set just a half-inch too high or low, problems can emerge.
Learn more in this lumbar troubleshooting guide:
Poor Syncing of the Chair and Desk
To perfectly sync a gaming chair with a desk, you first need to sit in a neutral posture with your feet planted on the floor (or on a footrest). Then, you need to get your seat and armrest settings correct.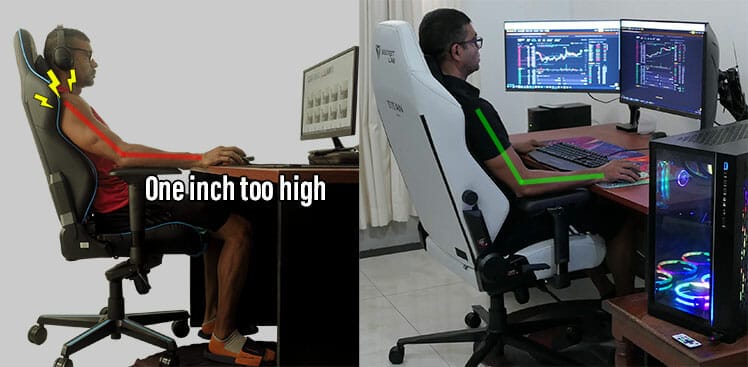 If the armrests are set too high or low, excess pressure will hit your shoulder muscles. Over time, that pain will spread to other parts of your body. Dr. William Duncan (Doctor of Physical Therapy) offered some advice on this topic to ChairsFX readers:
"Check the height of the desk relative to the armrests of the chair. Ideally, the desk should sit slightly higher than the armrests. This supports the elbows without overexerting the shoulder and neck muscles.
Also, a desk slightly higher than the elbows allows for a shallow upward elbow bend. That puts the hands in a more ideal position for managing the keyboard/mouse."
Bottom line: in most cases, you can fix improper workstation syncing by adding an ergonomic footrest.
Failure to Move While Sitting
Moving while you sit is an often-overlooked factor that actually makes a massive difference. In fact, it's one of the most important health considerations for desk workers heading into 2022.
Seated movement enhances blood flow. At the same time, it keeps muscle groups active rather than inert (2). For this check, simply assess the rigidity of your sitting style.
Every few minutes, make it a habit to change your sitting position. For example, alternate between leaning against the backrest and sitting upright using your back muscles. You could also add an ergonomic footrest to work your legs while you sit.
Another option is to buy a gaming chair with a wide seat. For instance, Secretlab Titan chairs are specifically designed to encourage movement while you sit.
Add Frequent Movement Breaks
Another way to address overly-rigid sitting habits is to take more breaks. That will give an even greater boost to your circulation and muscle activity. At the very least, get up and walk around every 20 minutes or so.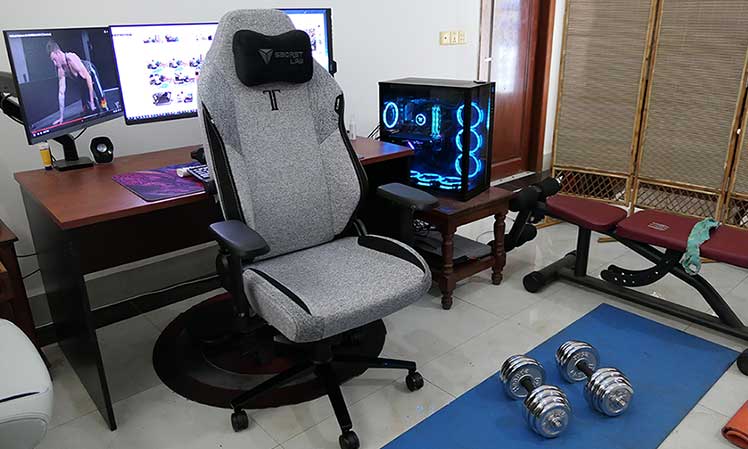 Once you return to your desk, you'll find yourself refreshed and ready for another burst of work. Over time, that might compel you to add stretching and exercise to your break routine.
Then, you'll feel even more primed and refreshed when you return to your desk. Over time, that can lead to more breaks, more exercise, and a much higher level of productivity. Read The Mental And Physical Effects of Microbreaks to learn more.
Bottom line: if you suffer stiffness in your gaming chair, assess your movement and break routines.
Poor Lifestyle Habits
ChairsFX recently interviewed some esports doctors offering telehealth services. Dr. Jordan Tsai runs Respawn Therapy, an esports clinic serving top pro teams like TM, Cloud9, and Evil Geniuses.
He uses a Secretlab chair for both work and gaming. He also serves on Secretlab's ergonomics Advisory Board. Even so, he's adamant that a good chair is only a small part of a healthy deskwork formula.
His workstation factors in order of priority are: Rest/nutrition/exercises > breaks > good posture > good chair. "Developing healthy habits is the most important thing to work on."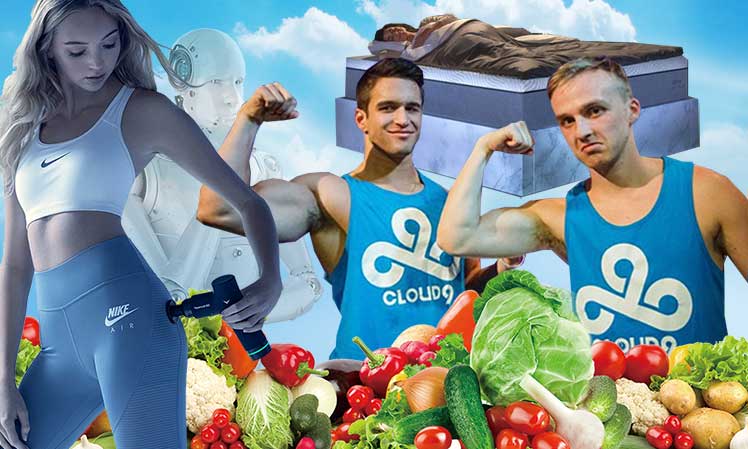 We also spoke with Dr. William Duncan, a powerlifter and Doctor of Physical Therapy. He agreed that rest, nutrition, and exercise are the most important workstation wellness factors:
Adequate rest: If you're resting well (quality of sleep over quantity of hours), you will be a healthier person. Mental health and processing ability will both improve. As a result, you will feel and interact better with people in both your digital and physical worlds.
Good nutrition: Eating well counteracts things like excessive weight gain, heart disease, diabetes, obesity, and certain cancers. All of these are also linked to sitting for extended periods.
Regular exercise: To counteract sedentary effects, do 60-75 minutes of moderate-intensity daily exercise. This will boost your metabolism, immune system, digestive function and ultimately strengthen your heart and lungs.
Bottom line: physical fitness + good sitting posture + good nutrition + sound sleep = optimal performance at a desk. Learn more:
Pain Relief Solutions: Best To Worst
The previous sections list checks to address improper sizing or chair usage. Here's a broader view of three solutions to address gaming chair back pain. These are listed from the least to most effective.
Postural Reset
Mid-back ergonomic office chairs force you to sit in crisp, upright postures at all times. Gaming chairs also support perfect postures. But unlike mid-back chairs, they also support casual ones.
The benefit of relaxed gaming chair postures is that they're insanely comfortable. The downside is that if you get too sloppy with your habits, the body will adapt.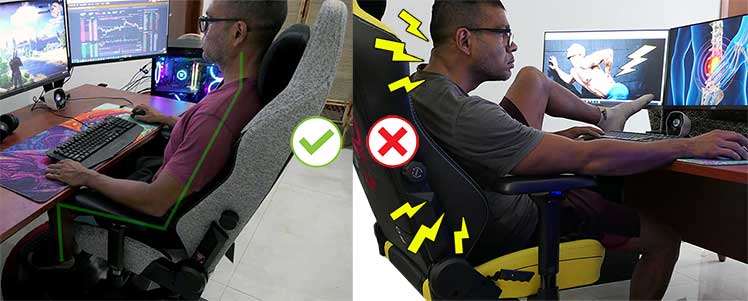 Over time, muscle memory will then accept slouched postures as your default. Then, sitting in a slouch will feel more comfortable than sitting upright!
5-Day Postural Reset
To reset your habits, spend a week or so forcing yourself to sit in precise neutral postures. In a gaming chair, that means sitting with a 25-45° lower back curve and a consistent 0° neck tilt.
My test of this method took 5 days of focused attention. Then, sitting that way began to set in as a habit. Then, I began to sit (and stand) taller, with more open shoulders than before.
My biggest problem was an early habit to keep tilting my head forward. The most pain I felt was in my stomach and upper back muscles as they opened up.

Three prominent esports doctors commented on the process to verify it as sound. One warns that this method might be too difficult without strong back muscles. If you don't have those, hit the gym for a month before trying this method.
Check Your Sleep Posture
Achieving good posture in a gaming chair can expose posture problems in other areas. For example, two weeks after my postural reset, I started waking up feeling very tight in my lower back.
As it turned out, my sleeping posture was severely out of whack. Only by sharpening up my posture during the day did that become apparent. Luckily, the solutions are simple.
Instead of buying a pricey 'ergonomic' mattress, top doctors recommend upping your pillow game. If you sleep on your side, add a pillow between your knees. Those who sleep on their backs should put a pillow under their knees.
These tweaks help to keep the spine in alignment while you sleep. Another option is to buy a cervical neck pillow.
The best ones support optimal postures for people who sleep on their sides, back or stomach!
Sharpen Sitting And Lifestyle Habits
If you suffer pain in a gaming chair, two things might yield better results than a chair upgrade. First, assess your lifestyle from exercise, nutrition, and rest perspectives.
Are you eating well? Getting enough exercise? Drinking enough water? Sleeping ok? While working on those aspects, run through our suggested troubleshooting steps:
Gaming chair sizing: first, check if the chair is too large. Then, assess whether you need a footrest. Third, check if the seat is too deep for your legs.
Gaming chair usage: tuck your hips; use lumbar support correctly; sync your chair and desk heights; keep your feet planted.
Workstation habits: move while you sit; take frequent breaks.
See An Esports Doctor Online
If all else fails, get online help from an Esports Doctor. As more people adapt to work-from-home ergonomics, the need for esports telehealth services is growing. ChairsFX interviewed three offering telehealth services for home gamers and desk workers:
Dr. Jordan Tsai: founder of Respawn Therapy; provides services for Cloud9, Evil Geniuses, 100 Thieves, and TSM.
Dr. William Duncan: Doctor of Physical Therapy and owner of Southeast Physical Therapy. He specializes in esports therapy, athletic consulting, movement analyses, and more.
Dr. Elliot Smithson: Physical therapist with 1-HP.org; they specialize in providing services and resources to gamers and esports teams.
All three take online bookings. Over a Zoom call, they can diagnose your problems, assess your workstation setup, assess your lifestyle routines, and more. Check this article for contact details of all three doctors:
Upgrade To A New Gaming Chair (Not Ideal)
Most esports doctors begin addressing pain problems by identifying the source. Instead, some people try to fix pain problems by upgrading to a new gaming chair. Unless you're sure that your chair is the problem, this option can go wrong.
For example, famous streamer Pokimane recently began to suffer from wrist pain. To address it, she spent almost $2000 on a Herman Miller Aeron chair and accessories. After a turbulent transition spanning weeks, the Aeron didn't help.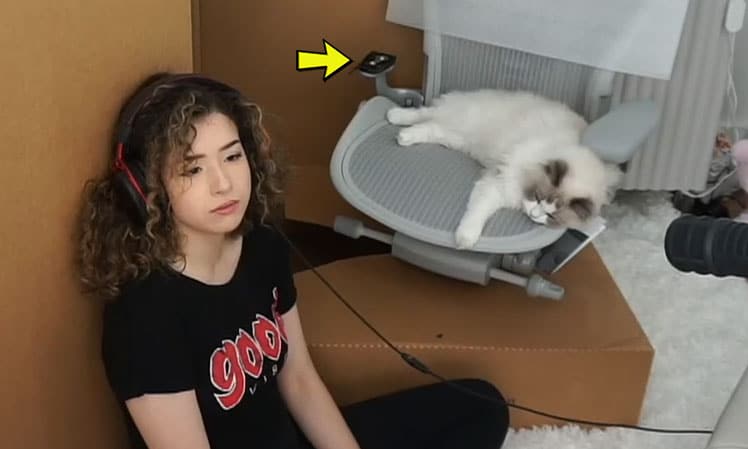 As a result, she's switched back to using her old gaming chair. Meanwhile, her $2,000 investment has become a pricey cat bed!
Bottom line: upgrading to a new chair will rarely fix your pain problems. Instead, find the source of the problem and address it. See the next section for a summary of troubleshooting steps.
Conclusion
A gaming chair should make it easy to sit comfortably with good posture for long periods. If you feel any discomfort or strain, consider it a sign that something is wrong.
As this article explains, it could be a sizing issue. If your gaming chair doesn't fit your body type, problems can arise. It could also be a usage issue. If your back looks like a banana peel while you sit, serious spinal problems may emerge.
But even with a perfect fit and pristine usage, pain problems may persist. Then, it's time to look at your larger lifestyle habits. When's the last time you exercised yourself to exhaustion? When last did you eat a vegetable? How many beers did you drink last week?
Once everything's in check, expect to feel happier, healthier, and a lot more productive.
Moving into 2022, the biggest thing to look out for is balance. Specifically, strive for a balance of healthy sitting mixed with vigorous exercise. As the 5G Information Era unfolds, that will put you in a prime position to surf big data waves.
2022 Gamer Priorities: Good Posture & Fitness
Footnotes
Jennifer Pynt et al. 'Seeking the Optimal Posture of the Seated Lumbar Spine'. Physiotherapy Theory and Practice 17:5, 2001, https://www.researchgate.net/publication/224029048_Seeking_the_Optimal_Posture_of_the_Seated_Lumbar_Spine, (accessed 6 Jan. 2022).
Claire E. Doroff et al. 'Effects of Active Sitting on Reading and Typing Task Productivity'. Int J Exerc Sci. 2019, https://www.ncbi.nlm.nih.gov/pmc/articles/PMC6886608/, (accessed 5 Jan. 2022).