Gaming chairs support good posture, but the results aren't automatic. In fact, you will find the same flavor of anti-gaming chair rants on several PC gamer forums. The gist is that gaming chairs are flashy scams designed to fool idiots. Soon after buying my first gaming chair in 2017, I jumped to the same conclusion.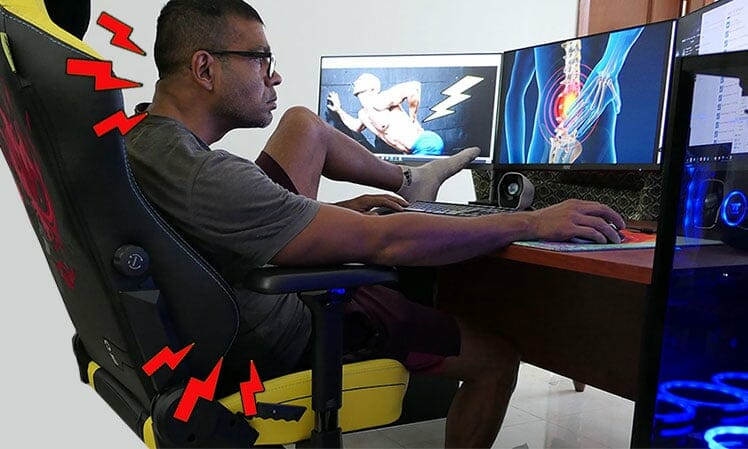 However, after learning how to use the chair, that opinion changed. In fact, my 2017 learning curve was the inspiration for this ChairsFX website.
If your new gaming chair feels uncomfortable, you have two options. The first is to give up on the chair and decry it as a scam. While you're at it, if your running shoes don't make you run faster, burn them.
The second option is to consider the possibility is that that the chair isn't the problem. This article brushes up on basic sitting fundamentals needed to unlock the full potential of any type of ergonomic chair.
Reality: ergonomic ≠ automatic
If you spend $1500+ on a Herman Miller Embody expecting futuristic fireworks, prepare for disappointment. Ergonomic chairs as magical floating devices are a myth. In reality, high-end $1000+ ergo chairs do the same fundamental job as our wooden yoga mat ghetto chair. That is to support the user into a neutral sitting position. The Embody costs more because it stacks luxuries (not the same as necessities) on top.
Like most ergonomic chairs, gaming chair "ergonomics" are not "automatic". "Ergonomic" means a chair has adjustable parts that adapt to the user (to support neutral sitting).
In 2021, the closest thing to an "automatic" model is the $1,419 Humanscale Freedom chair. That chair only lets you adjust the height of the seat and backrest. Everything else is self-adjusting based on counterbalances and gravity.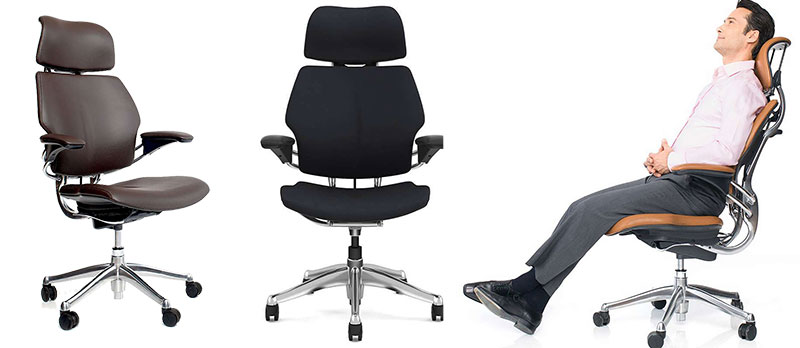 In the ergonomic chair industry, Humanscale Freedom chairs are an exception to the norm. Most popular ergonomic office and gaming chairs have user-controlled features.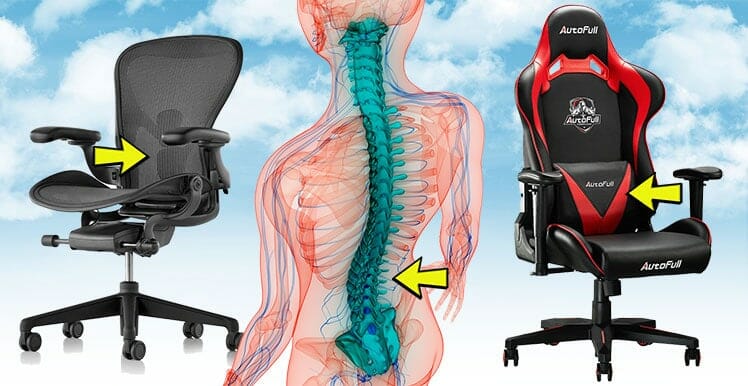 On ChairsFX, one of the most complex (and expensive) models is the $1395 Herman Miller Aeron chair. One of the cheapest is the $179 Autofull Sword gaming chair. Both meet modern ergonomic standards with the same end goal:
The point of every ergonomic chair is to help users maintain a neutral posture while sitting.
With proper use of features, gaming chair owners can enjoy healthy sitting over long periods. Conversely, improper use will destroy posture and obliterate computing productivity.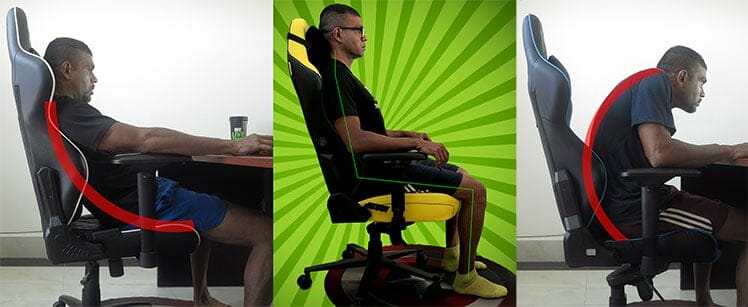 If you buy any type of ergonomic chair, keep this in mind. Effective user control of the ergonomic features will define the value you get out of your chair.
Neutral sitting fundamentals
Whether you buy a $1000 Steelcase Gesture or $140 Von Racer gaming chair, you need to use it the same way. That is by adopting a neutral posture as your default position.
The gist of the neutral sitting position is:
Feet flat on the floor around shoulder-width apart. Feet in this position support the spine by absorbing the weight of the trunk.
Knees bent at around 90 degrees, with hips positioned slightly above the knees.
Back straight, head balanced, eyes pointed straight ahead.
The most important component of a neutral sitting position is lumbar support. Below explains why.
Concluding points
Ergonomic chairs provide the tools to help users maintain a neutral sitting position. If your new gaming chair (or any other ergo chair) hurts your back, how you use it might be the problem.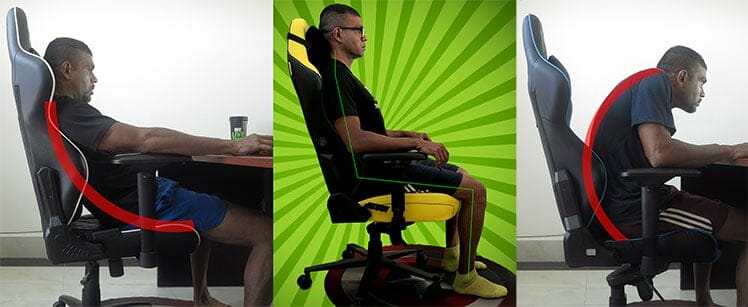 The gist is to plant your feet and push support into your lumbar area. That combination provides power and alignment to help the upper body stay straight.
Conclusion
If shopping for an ergonomic chair, gaming chairs are one of four viable options to consider. No matter which type you choose, the chair's primary function will be to support a neutral posture while you sit.

If your new chair hurts your back, pay heed to the lumbar support. If it isn't prominent, adjust the depth.
It's also a good idea to tuck your hips as deep as possible into the seat pan as you sit. That will ensure healthy contact with your lumbar support, which then supports a neutral position.
Learn all the steps for healthy sitting in this step-by-step illustrated guide: