Gaming chairs support good posture, but the results aren't automatic. In fact, without proper usage, using one may cause back pain. Luckily, healthy sitting tactics are well-documented. With a proper understanding of the basics, using a gaming chair becomes easier. If your gaming chair is causing you back pain, follow the steps in this guide.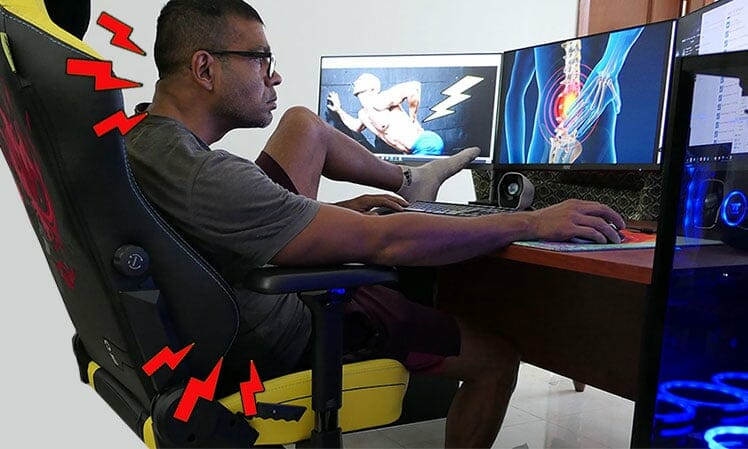 'Ergonomic' office furniture is adjustable. Humanscale defines it as "the science of fitting a workplace to the user's needs." The aim is to increase productivity while reducing discomfort.
Ergonomic chair functionality and purpose
Like many ergonomic definitions, Humanscale's leaves a lot of room for interpretation. To cut through the ambiguity, we sifted through top healthy sitting studies and found a consensus.

Sitting for long periods stresses the spine and surrounding muscles. Using a neutral sitting style is the recommended way to counteract ill effects.
To quality as 'ergonomic', a chair needs three adjustable features. Those are adjustable lumbar, adjustable armrests, and reclining backrest. Combined, the point of those features is to support fluid, neutral postures.
Reality: ergonomic ≠ automatic
The best high-end, $1000+ ergonomic chairs do the same fundamental job as both cheap ergonomic office chairs and gaming chairs. That is to support the user into a neutral sitting position. Chairs like the $1500 Herman Miller Embody cost more because they stack luxuries (not the same as necessities) on top.
But even when you pay $1500, the Embody's "ergonomics" are not "automatic". "Ergonomic" simply means the chair has adjustable parts that adapt to the user (to support neutral sitting).
In 2021, the closest thing to an "automatic" model is the $1,419 Humanscale Freedom chair. That chair only lets you adjust the height of the seat and backrest. Everything else is self-adjusting based on counterbalances and gravity.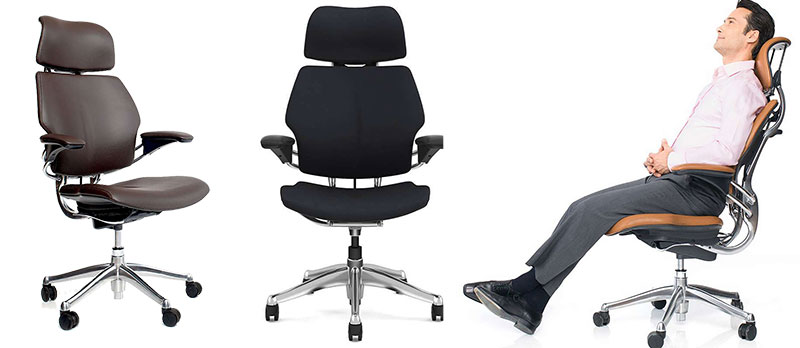 In the ergonomic chair industry, Humanscale Freedom chairs are an exception to the norm. Most popular ergonomic office and gaming chairs have user-controlled features.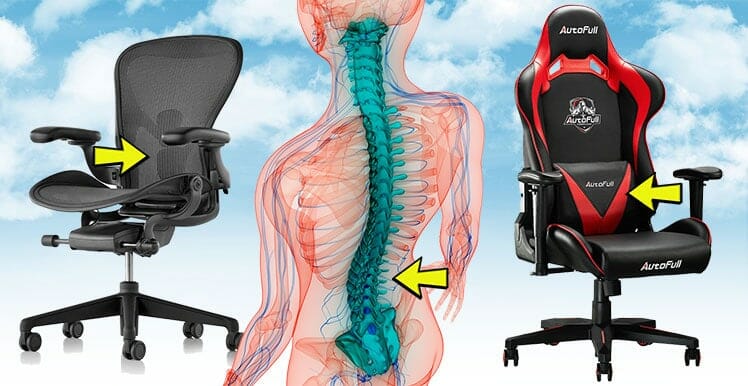 On ChairsFX, one of the most complex (and expensive) models is the $1395 Herman Miller Aeron chair. One of the cheapest is the $179 Autofull Sword gaming chair. Both meet modern ergonomic standards with the same end goal:
The point of every ergonomic chair is to help users maintain a neutral posture while sitting.
With proper use of features, gaming chair owners can enjoy healthy sitting over long periods. Conversely, improper use will destroy posture and obliterate computing productivity.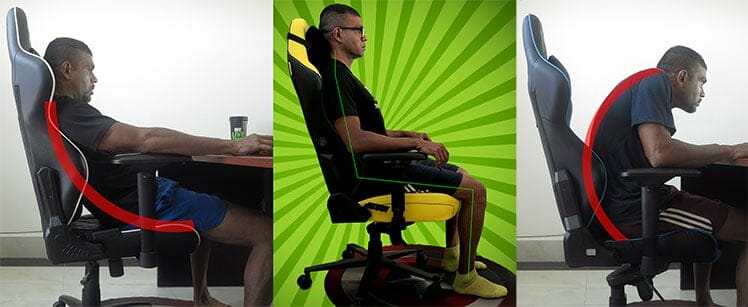 If you buy any type of ergonomic chair, keep this in mind. Effective user control of the ergonomic features will define the value you get out of your chair.
Video: comfortable sitting in a gaming chair
This short video demonstrates the effective use of a gaming chair's key components. Master the use of your lumbar support, armrests, and recline. That will unlock the full potential of your chair, letting you enjoy long periods of comfortable, healthy sitting:
Neutral sitting fundamentals
Whether you buy a $1000 Steelcase Gesture or $110 GTRacing gaming chair, you need to use it the same way. That is by adopting a neutral posture as your default position.
The gist of the neutral sitting position is:
Feet flat on the floor around shoulder-width apart. Feet in this position support the spine by absorbing the weight of the trunk.
Knees bent at around 90 degrees, with hips positioned slightly above the knees.
Back straight, head balanced, eyes pointed straight ahead.
The most important component of a neutral sitting position is lumbar support. Below explains why.
Cheap wooden chair lumbar demo
Test the power of effective lumbar support using a wooden chair and a towel. First, sit down in the chair using only your back muscles to hold up your torso. After a few minutes, your back muscles will begin to tire. Notice what happens. In most cases, as the back tires, people lean against the backrest for support. As a result, the hips curl forward.
Next, roll up a towel to serve as temporary lumbar support. Scoot your hips as far back in the seat pan as possible. After that, lean back until your spine touches the chair. Finally, stuff the rolled-up towel between the backrest and your lumbar area.
Below, I use a rolled-up towel in the left image and a Secretlab memory foam lumbar pillow in the right image. Both had the same stabilizing effect, although the memory foam pillow was obviously more comfortable.
As soon as the towel (or pillow) touches your lumbar curve, your upper back will reflexively straighten.
DIY ghetto ergonomic chair
If you only have a wooden chair at home, a towel or rolled-up yoga mat can help you use it as a full-time office chair.
In the right image, notice that the lumbar area is the only support holding the back up straight. With only a rolled-up yoga mat providing posture support, comfort holds for around 15 minutes. After that, upper body muscles begin to tire. After taking a walking break to refresh, return to your desk for another 15-minute round of work.
This DIY ergonomic hack isn't ideal, but it works. It also shows clearly the point of any type of ergonomic chair. With proper lumbar support, it's easier for users to maintain a neutral sitting posture. Below explains in physiological terms why neutral sitting is so important for good health.
Lumbar support physiology
The human body is better suited for movement than sitting for long periods. As a physiological example, spinal curvatures and pelvic orientation differ when standing and sitting.
While sitting, the pelvis tilts forward, while the sacral slope (S.S.) narrows. Slouching decreases the sacral slope even further. As a result, the lumbar curve gets almost completely flattened. That places more pressure on the five lumbar discs.
Here are the facts (source):
When standing, the optimal lordotic angle is between 20-45 degrees.
Unsupported sitting reduces lumbar lordosis by 50%. It also increases intradiscal pressure at the third lumbar vertebra by 40%.
When sitting with a back angle of 110° and a lumbar support 4 cm deep, lumbar lordosis averages a healthy 47° angle.
The depth of the lumbar support depends on the individual. If lumbar support causes discomfort, it means it is set too high, too low, or too deep.
A sustained lordotic sitting position decreases disc pressure and thereby disc degeneration.
To maintain a neutral posture in a gaming chair, use the same principles as in the wooden chair + yoga mat demo.
Adjust the lumbar pillow to fit your lower back curve. Then sit down in the chair deep enough for your lower back to touch the lumbar pillow. That on its own will promote a straight spine.
Neutral sitting office worker case studies
Here are two case study summaries heralding the benefits of sitting in a neutral position:
Anil Ramsey, ChairsFX founder
For the past five years, I've been working from home as a full-time desk worker. I bought my first gaming chair in 2017, and it literally changed my life.
These days, I usually sit in gaming chairs around 12 hours per day, six days a week. 95% of that time is spent doing desk work. 5% of the time is spent gaming. Through the years, gaming chairs have definitely helped me to sit longer, feel better, and be more productive.
Byron D, Toronto-based office worker
As another example, last year ChairsFX sent an Anda Seat Dark Wizard to a Canadian office worker. The only instruction we gave him was to focus on sitting in a neutral position.
After one month of use, he sent in this report:
Adjustment period: "It took a few days to find that comfortable zone with the chair — less than one week. Found the right height and tilt to make it comfortable."
Energy boost: "In my regular chair, I felt sluggish and drowsy mid-way through the day. With this Anda gaming chair, I didn't get that tired feeling. I am able to leap to my feet a lot quicker when I leave my office."
Physical benefits: "Before using this chair, I was always sliding in my chair, poor lumbar support, and my feet would actually start to feel sore. The Dark Wizard helps me sit more in an upright position. I also used to suffer from occasional sciatica. But after using this chair for a few weeks, I did not notice any sciatic pains."
To learn more, check out this feature:
Consequences of a flattened lumbar curve
Tilting your hips forward while sitting flattens out the lumbar curve. That degrades wellness with chronic back pain, severe headaches, and perpetual fatigue.
The lumbar area is made up of five vertebrae in the lower spine between the buttocks and ribs. A healthy lumbar area naturally curves in towards the belly. Sitting partially flattens that curve. Sitting with a slouch almost fully flattens the curve.
Tight hip flexors elongate and weaken the gluteal muscles (buttocks). Gluteal muscles are the primary muscle that balances the hips above the legs. When these become weak, helper muscles have to take over. This causes a cascade of physical misalignments.
This is likely a factor causing 85% of men and 75% of women to suffer from anterior pelvic tilt. Short hip flexors force the front of the pelvis to rotate forward. Concurrently, short flexors push the back of the pelvis upwards.
The result is ugly. Your distorted body will suffer weak stomach muscles, lower body tightness, slumped shoulders, and worse. Unless you change your habits, prepare for a painful downward slope into the life of a hunchback.
In this alignment, expect chronic stiff pain that makes walking difficult and running or kicking almost impossible.
Concluding points
Ergonomic chairs provide the tools to help users maintain a neutral sitting position. If your new gaming chair (or any other ergo chair) hurts your back, how you use it might be the problem.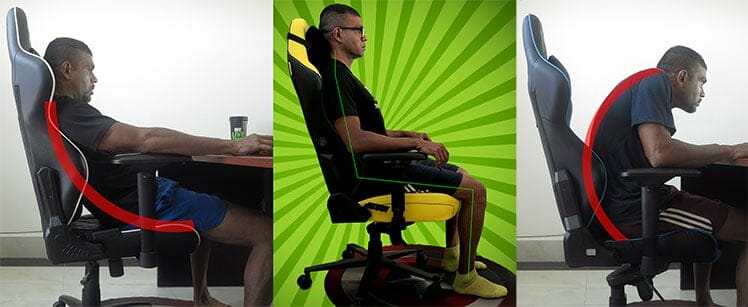 The gist is to plant your feet and push support into your lumbar area. That combination provides power and alignment to help the upper body stay straight.
Neutral sitting basics in a gaming chair
Here's a summary of user advice specific to gaming chairs:
Adopt a neutral sitting posture with feet planted firmly on the floor.
Adjust the lumbar and armrests to provide optimal support for your needs.
Adjust the backrest recline to your needs. Generally, recline to between 100-110 degrees for working of FPS gaming. Reclining deeper to around 120 degrees is ideal for watching movies, playing RPGs, and casual web browsing.
Avoid sitting in a fixed position for longer than 15 minutes. Easy movement options include adjusting the backrest recline or using the chair's rocking function.
Stand up from your chair and take a walking break every 30 minutes.
For a detailed walkthrough of each step, check out our illustrated guide:
Every ergo chair prioritizes neutral sitting
Absolutely not. As mentioned throughout this article, all ergonomic chairs with baseline features have the same purpose. That is to support the user in maintaining variations of a neutral posture while sitting. No matter what type of ergonomic chair you use, a neutral posture should be your default.
This article uses ergonomic science to define essential ergonomic chair features. On ChairsFX, there are four types that meet the criteria:
Conclusion
If shopping for an ergonomic chair, gaming chairs are one of four viable options to consider. No matter which type you choose, the chair's primary function will be to support a neutral posture while you sit.

If your new chair hurts your back, pay heed to the lumbar support. If it isn't prominent, adjust the depth.
It's also a good idea to tuck your hips as deep as possible into the seat pan as you sit. That will ensure healthy contact with your lumbar support, which then supports a neutral position.
Learn all the steps for healthy sitting in this step-by-step illustrated guide: