The point of a gaming chair is to support your back while providing consistent comfort. These days, gaming chairs come in small, medium, and large sizes. This gaming chair size guide explains why a proper size yields the best benefits. It also points out what dimensions to consider before buying a chair.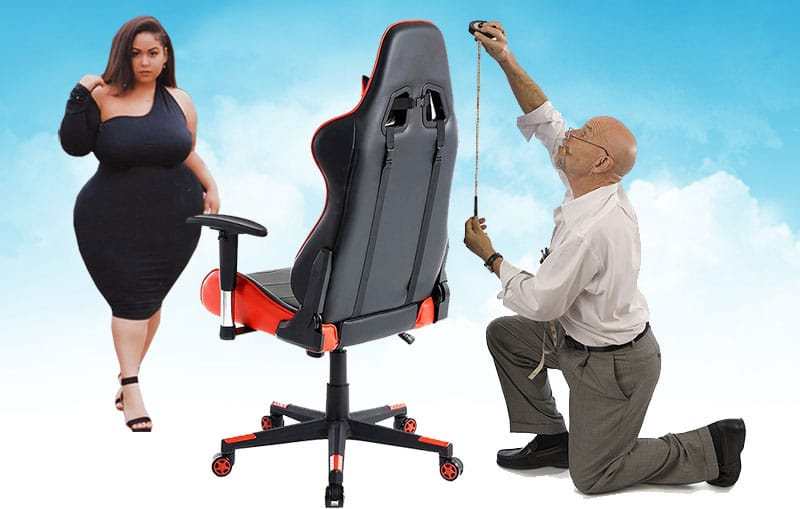 Extra-wide sizes should look for seat dimensions wide enough to cradle their hips. Average sizes with slim hips have the widest range of options. They can squeeze into small chairs, make do with XL chairs, or enjoy an ideal fit with a medium-sized model.
Smaller users who buy large chairs will regret it. A backrest that doesn't fit the body won't provide effective back support. The support pillows won't meet the curves of the spine. If the floor to seat range is too high, the feet will dangle, instead of planting on the floor.
To get a sense of the right size for your needs, there are a few factors to consider. Start by considering some chair sizing essentials.
Chair sizing essentials
Gaming chair sizing numbers are useless — unless you understand them. Here are the most important things to consider before looking at the numbers:
International sizing
Most gaming chairs are made in Asia and sold in America. But average sizes in Asia are much smaller than they are in the west. Check out these average body sizes by country:
| | Average size of men | Average size of women |
| --- | --- | --- |
| USA | 5'8" 200 pounds | 5'3" 171 pounds |
| China | 5'6" 155 pounds | 5'2" 130 pounds |
| United Kingdom | 5'8" 191 pounds | 5'4" 160 pounds |
| South Korea | 5'7" 163 pounds | 5'3" 133 pounds |
Broadly, cheaper gaming chairs tend to fit Asian average sizes. Some expensive gaming chairs are larger, thus a better fit for average western sizes.
Wide vs narrow seats
PC gaming chairs have two types of seat designs. The most common type has curved edges. These restrict the legs and create a snug fit, like sitting in a race car cockpit. This provides crisp ergonomics that keep your spine in perfect alignment.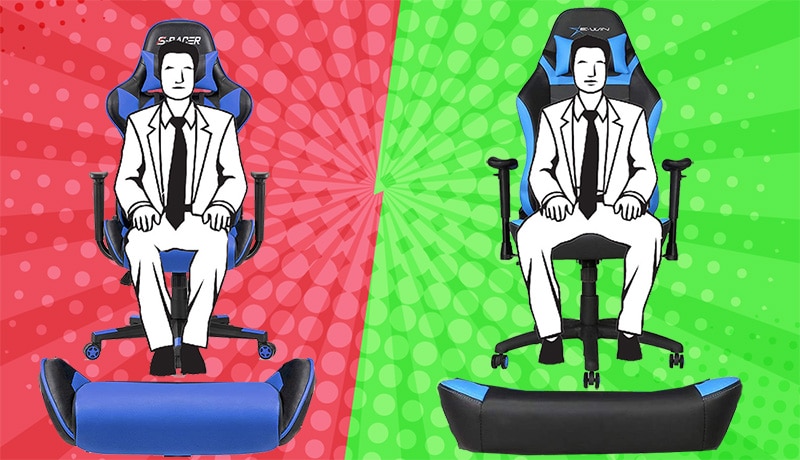 The second type is a flat seat with no edges. The advantage of the flat seat design is more legroom. That makes them more comfortable, but easier to sit using sloppy posture. Check out a selection of specialty chairs with flat, wide seats:
Important gaming chair dimensions
Gaming chairs come with a tall backrest. Between the backrest and your body are neck and back pillows. As you lean your into the backrest, the pillows set your spine into perfect alignment.
Having a backrest height that fits your body ensures you'll be able to place your neck pillow correctly. Most backrests range between 33″ and 30″ high. Anything lower or taller is for extremely tall or short sizes.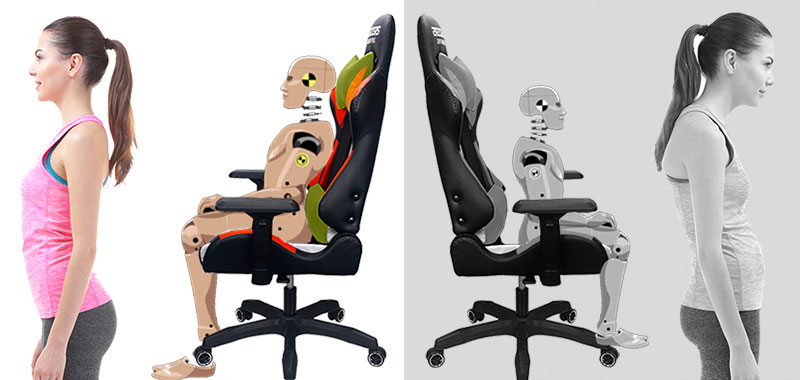 When checking chair dimensions, look for these essentials:
Seat width and depth: make sure there's enough room to comfortably cradle your hips.
Backrest width and height: the height should match your body. The width should give you enough space to avoid hunching your shoulders.
Floor to seat range: ensure a height that lets you plant your feet firmly on the ground. Also, check that that maximum seat height matches your desk.
Size rating: most gaming chairs come with a recommended size rating, along with a maximum weight capacity.
Gaming Chair Sizing Guide
To realize the ergonomic potential of gaming chairs, it's important to pick the right size. The guide pertains to all gaming chair brands covered on this website.
Gaming Chairs for average sizes
We define average-sized users as those between 5'6″ to 5'10" tall weighing less than 200 pounds. These users can squeeze into small chairs or fit decently into extra-large chairs. Most gaming chair brands don't clarify whether their chairs are for small, medium, or large sizes. That's why it's important to check the specs of a chair before buying.
Our review of the best pro esports chairs is for average sizes. The first five models in that review have larger, more spacious dimensions.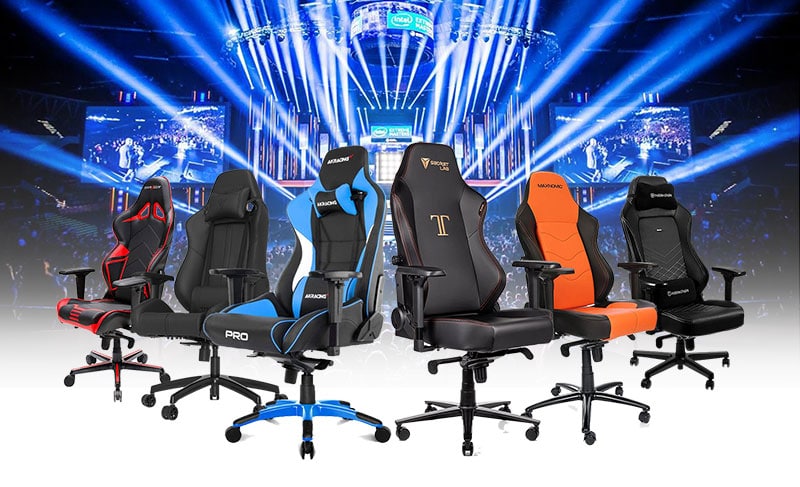 The last five are more compact. Thus, average sizes can choose a fit based on preference. If you prefer the best ergonomic support, choosing a small chair with a snug fit will yield the best results. But if comfort is the priority, choosing a larger model will give your body more room to move.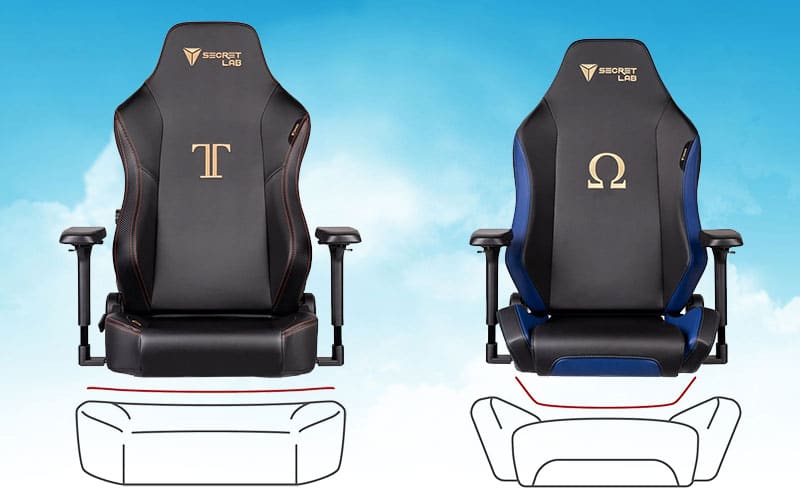 For instance, our top-rated compact pro esports chair is the Secretlab Omega. Our top-rated large-sized model is the Secretlab Titan. Here is how the specs of the two chairs compare:
| | Secretlab Omega | Secretlab Titan |
| --- | --- | --- |
| Outer seat width & depth | 22" (W) x 19.3" (D) | 20.5" (W) x 19.7" (D) |
| Backrest width & height | 21" (W) x 31.5" (H) | 21.7" (W) x 33" (H) |
| Floor to seat range | 18.9" to 21.9" | 18.7" to 22.4" |
| Space between armrests | 24.4" to 27.6" | 26" to 29.1" |
| Overall height | 50.4" to 53.4" | 51.7" to 55.4" |
| Weight support | Up to 240 pounds | Up to 290 pounds |
| Height support | 5'3" to 5'11" | 5'9" to 6'7" |
Notice that the Titan has a deeper but narrower seat than the Omega. However, the Omega seat has ridged edges, while the Titan's seat is flat. The flat edges don't restrict the legs, resulting in a roomier fit.
Check out more large and compact pro-quality chairs in this detailed review:
Gaming Chairs for small sizes
Most of the popular cheap gaming chairs are for slim users under 5'10". There are also a handful of high-end options specialized for small sizes.
The smallest of the bunch is the AKRacing California. It supports users between 4'9″ to 5'6″, with a recommended weight limit of 155 pounds. Two other high-end small options are the Maxnomic Casual Sport and the Secretlab Omega. Here is how all three models stack up:
Here are dimensions of three popular chairs that cater to short users:
| | AKRacing California | Maxnomic Casual Sport | Noblechairs Epic |
| --- | --- | --- | --- |
| Seat width x depth | 21" (W) x 17.7" (D) | 17.3" (W) x 17.7" (D) | 22" (W) x 22.2" (D) |
| Backrest width x height | 21" (W) x 27.7" (H) | 22.4" (W) x 33.1" (H) | 21.4" (W) x 34.2" (H) |
| Floor to Seat Range | 13.75" to 17.25" | 18.5" to 22.4" | 18.9" to 22.8" |
| Chair height | 44" to 47.4" | 50" to 53" | 49" to 53" |
| Size rating | 4'9" to 5'6″; recommended load 155 pounds | 5'0" to 5'9"; recommended load 176 pounds | 5'5" to 6'2"; max load 265 pounds |
Slim users under 5'11" with slim proportions should consider chairs with these kinds of dimensions. To check out the best options for small, slim sizes, check out this detailed review:
Gaming Chairs for extra-large sizes
Big and tall heavyweights tend to have more pronounced posture problems than average sizes. During both rest and activity, the spine manages weight distribution. When carrying excess weight, the spine bears a greater burden. As a result, overweight users face a greater risk of chronic lower back pain and vertebral disc disease.
Very few ergonomic office chairs cater to big and tall users. Luckily, there are several extra-large gaming chairs that provide heavyweight ergonomic support. While using one of these models, large or obese users reduce pressure on the knees, which are not designed to carry heavy loads. Even better, an extra-tall backrest and support pillows will keep the spine aligned while sitting.
Among high-end products, there are several great options with spacious dimensions and support for 400 pounds. Here are the dimensions of three top-rated models. Note the width and depth of the seat. These are extra-wide chairs with sturdy support for super heavyweights.
| | Secretlab Titan XL | AKRacing Master Series Max | E-Win Flash XL |
| --- | --- | --- | --- |
| Seat width x depth | 22.6" (W) x 19.9" (D) | 23.25" (W) x 20.5" (D) | 23.6"(W) x 23.2" (D) |
| Backrest width x height: | 22" (W) x 33.5" (H) | 24.4" x 34.2" | 23.6" (W) x 39" (D) |
| Floor to Seat Range | 19.1" to 22.8" | 14.4" to 17.25" | 16.5" to 20.5" |
| Overall height | 52.6" to 56.3" | 51.5" to 54" | 55.5" to 59.5" |
| Weight support | Up to 390 pounds | Up to 400 pounds | Up to 550 pounds |
| Height support | 5'9" to 6'10" | 5'6" to 6'4" | 5'7″ to 7'0″ |
Users who are extra-wide but extra-short might find the backrests on the above models too tall. If that's the case, check out our best average-sized chairs with extra-wide seats. All models in that range cost less than $200.
For those who need an extra-large, extra-wide chair, check our review of the best models:
How to use your new gaming chair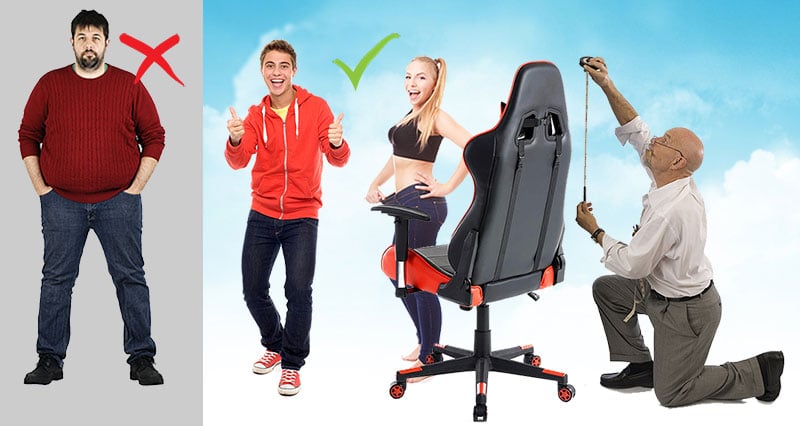 After selecting a good-fitting gaming chair, the next step is to learn how to use it. Check out our Gaming Chair User Guide. That teaches how to adjust your chair, how to sit, and how to best use the reclining options.
Conclusion
When using a gaming chair, the seat should be deep enough to fit your body. That means you can sit far enough back so that your back touches the lumbar support pillow. At the same time, your feet should plant on the floor, with no pressure on the inner knees.
At the same time, the backrest should fit your body. The proper size ensures that the support pillows will fit your spinal curves.
Users with extra-wide proportions should also focus on getting a model with a wide enough seat.
By following these pointers, you can ensure get the best out of your gaming chair. With the right fit, enjoy superb comfort and amazing back support. For more health and wellness sitting tips, check out our ergonomic advice articles: