The point of a gaming chair is to keep your spine in a healthy alignment while you sit for long periods. For that to happen, you should choose the right sized chair for your body. Gaming chairs come in small, medium, large, and XL sizes. If you are a first-time gaming chair buyer, this guide will make it easy for you to get set up properly.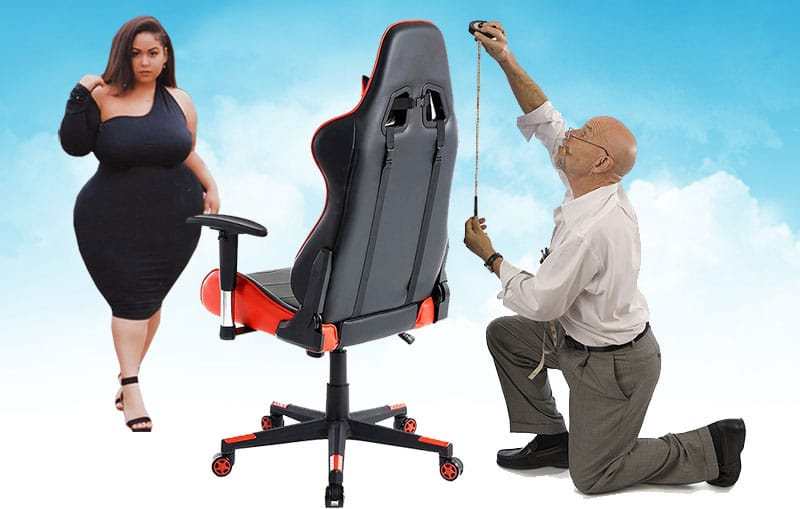 The typical gaming chair is designed to fit average-sized users. Most are produced in China and shipped worldwide. "Average" sizes differ by region:
| | Average size of men | Average size of women |
| --- | --- | --- |
| USA | 5'8" 200 pounds | 5'3" 171 pounds |
| China | 5'6" 155 pounds | 5'2" 130 pounds |
| United Kingdom | 5'8" 191 pounds | 5'4" 160 pounds |
| South Korea | 5'7" 163 pounds | 5'3" 133 pounds |
| Average | 5'7" (170 cm); 177 pounds (80 kg) | 5'3" (160 cm); 148.5 pounds (67 kg) |
Across all regions, the "average" male to be roughly around 5'7″ (170 cm) and 177 pounds (80 kg). Average sizes have the most flexibility. They can find a decent fit in small, medium, and extra-large gaming chairs.
Larger users should choose a seat wide enough to support their legs and buttocks. If the chair is too narrow, the seat edges and armrests will dig into your body.
On the opposite side, smaller users in a chair too large will miss out on essential ergonomic benefits. That negates the point of a gaming chair, which is to support a healthy sitting posture.
A backrest that doesn't fit the body won't provide effective back support. Specifically, support pillows won't meet the curves of the spine. Also, if the floor to seat range is too high, the feet will dangle, instead of planting on the floor.
Chair sizing essentials
This section adds context so that buyers can make sense of important gaming chair dimensions.
Small, medium, and XL sizes for the majority
Gaming chairs generally come in small, medium, and large sizes. The Secretlab Titan is the only model on the market available in all three sizes. This is how Secretlab defines its three sizes:
Here are the dimensions of each Secretlab Titan size:
| | Titan EVO Small | 2022 Series Medium | 2022 Series XL |
| --- | --- | --- | --- |
| Seat | 17.7" (W) x 18.9" (D) | 18.5" (W) x 19.3" (D) | 19.3" (W) x 19.7" (D) |
| Backrest | 20" (W) x 32.3" (H) | 21" (W) x 33.5" (H) | 22" (W) x 35" (H) |
| Seat height | 17.7" to 20.5" | 17.7" to 20.5" | 18.1" to 21.9" |
| Size rating | 4'11" to 5'6"; 285 pounds | 5'7" to 6'2"; 285 pounds | 5'11" to 6'9"; 395 pounds |
| Price | $449 | $469 | $499 |
Beyond Secretlab, most gaming chairs fall into the small, medium, or XL categories. This makes it easy for most people to choose the right size:
The problem with this sizing method is that it's based on vertical height. For instance, the AKRacing California chair supports users from 4'9″ to 5'6″. It also has a 330-pound weight capacity. Even so, it won't fit all short users.
Like most small gaming chairs, the California chair is slim-fit. As a result, short folks with thick legs or wide hips may struggle to squeeze into the seat.
Flat seat styles for thick bodies
Short and average sizes with thick bodies should note there are two chair seat styles. The most common is a narrow seat with ridged edges. The edges block the legs from spreading to ensure a snug fit like sitting in a racecar.
That is by design. Feet planted on the floor and pressed together provides the power to hold your spine upright. As a result, this style of seating is good for your back.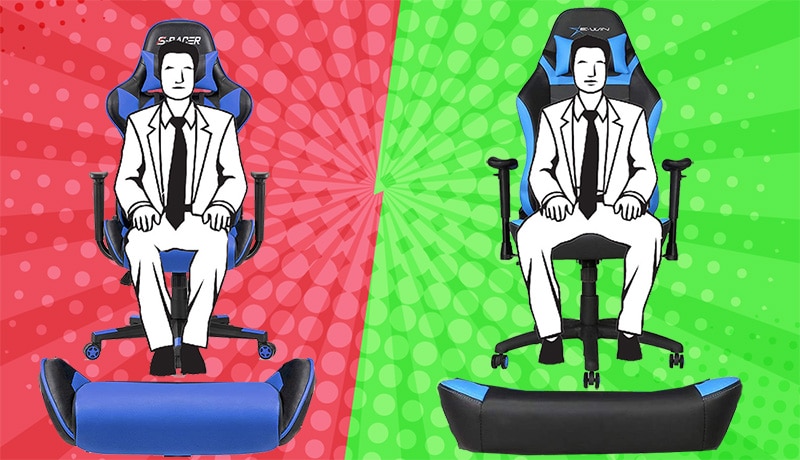 Even so, to accommodate wider sizes, many brands also produce chairs with flat, wide seats. With no edges, the legs get more room to move. This provides enough room to sit cross-legged, and also to accommodate extra-wide sizes.
As an example, the E-Win Knight Series supports fits users from 5'3″ to 6'1″ with a 400-pound weight capacity.
It also has a flat seat style 21.7″ wide. Without bladed edges, thicker legs can spill over the seat without any problem.
The Knight Series costs $159 $199 from E-Win (use the coupon code ChairsFX for the discount). For similarly spacious (and affordable) options, see this feature:
Important gaming chair dimensions
Gaming chairs come with a tall backrest. Between the backrest and your body are neck and back pillows. As you lean into the backrest, the pillows set your spine into perfect alignment.
Having a backrest height that fits your body ensures you'll be able to place your neck pillow correctly. Most backrests range between 33″ and 30″ high. Anything lower or taller is for extremely tall or short sizes.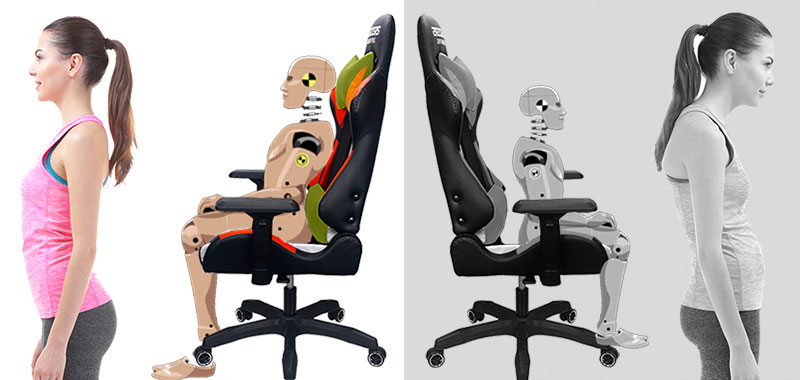 When checking chair dimensions, look for these essentials:
Seat width and depth: make sure there's enough room to comfortably cradle your hips.
Backrest width and height: the height should be enough to place the neck pillow into the small of your back. The width should give you enough space to avoid hunching your shoulders.
Floor to seat range: ensure a height that lets you plant your feet firmly on the ground.
Size rating: most gaming chairs come with a recommended size rating, along with a maximum weight capacity.
Sync a gaming chair into a workstation
A well-fitting gaming chair has the potential to support a neutral sitting posture. That is widely considered the healthiest way to sit for long periods.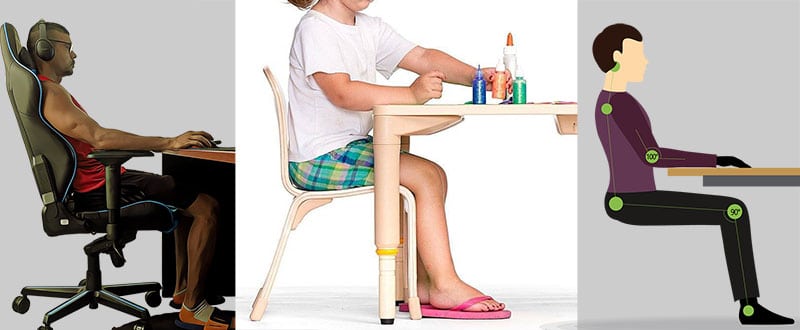 Definition of a neutral sitting posture:
Feet planted on the floor.
Knees bent at around 90° with thighs parallel to the floor.
Back straight.
Elbows bent at 90° with forearms parallel to the floor.
Mastering a neutral position in a gaming chair is your first step to a perfect workstation. The second step is to sync your gaming chair with your desk height.
Proper desk height
The proper desk height for your size should let your shoulders fall freely with a 90-degree elbow bend. That position should allow your forearms to comfortably straddle your chair's armrests.
At the same time, your seat should be high enough to plant your feet flat on the floor. If you configure correctly, your chair's armrests should align with the height of your desk. If this configuration is off, problems will emerge.
In the left image, the user's feet are planted correctly. However, because his legs are too short, his arms are unsupported. Without support, the spine bends into a slouch.
Adding a footrest extends lets him raise the chair higher. As a result, he can press down with his forearms to help his spine to stay straight.
Common desk heights
Most adult desks are between 28-30 inches. That range is suitable for average sizes between 5'8″ and 5'10" (172-177cm). People shorter or taller should adjust their desk height for best results.
Below are size recommendations courtesy of blitzresults.com. "Chair height" refers to the distance from the floor to the seat. "Armrest height" measures the distance from the seat to the armrests.
| User height | Desk height | Chair height | Armrest height |
| --- | --- | --- | --- |
| 5'2" (157 cm) | 25" (63.5 cm) | 16.7" (42.4 cm) | 9.2" (23.2 cm) |
| 5'5" (165 cm) | 26.2" (66.5 cm) | 17.5" (44.45 cm) | 9.6" (24.3 cm) |
| 5'7" (170 cm) | 27" (68.5 cm) | 18" (45.7 cm) | 9.9" (25 cm) |
| 5'9" (175 cm) | 27.8" (70.6 cm) | 18.5" (47 cm) | 10.2" (25.9 cm) |
| 6'1" (185 cm) | 29.4" (74.6 cm) | 19.6" (49.7 cm) | 10.8" (27.4 cm) |
| 6'3" (190 cm) | 30.2" (76.7 cm) | 20.2" (51.3 cm) | 11.1" (28 cm) |
| 6'5" (195 cm) | 31" (78.7 cm) | 20.7" (52.5 cm) | 11.4" (29 cm) |
At both a standing desk and seated versions, height settings have a similar effect. The right height will let you bend your elbows at a 90° angle, parallel to the floor.
A desk set too high will place excess pressure on the shoulders. A desk set too low will strain the wrists and bend the neck and shoulders into a slouch.
Effective computer monitor height
Even with the perfect chair and desk height, a monitor set at the wrong height can misalign your spine. The most common mistake is to set the screen too low. Doing so forces the spine into a curve and cranes the neck forward. Sitting that way strains the lower back, neck, and shoulders.
In contrast, setting the monitor too high cranes the neck. Over time, that causes pain in the shoulders and lower back. The general rule of thumb is to set the top of the monitor to around the level of your eyes. That lets you sit with a straight back without bending the neck forward.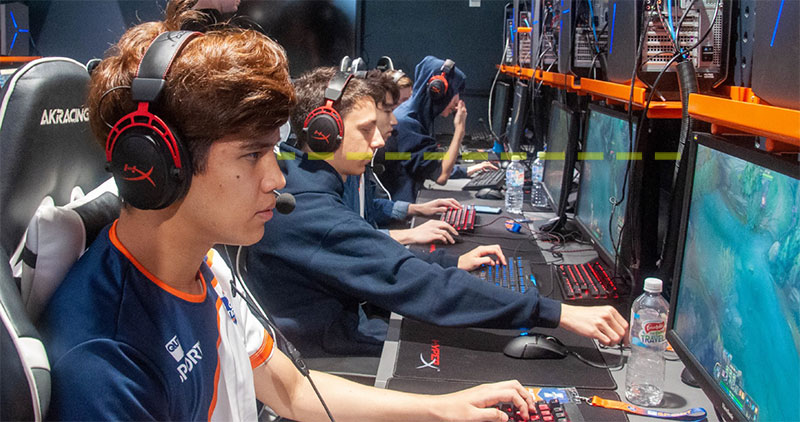 With your eyes aligned with the top of the screen, you get an optimal peripheral view of the entire screen. To focus on one part of the screen, you can move your eyes, rather than moving your head. As a result, the body experiences less neck and lower back strain.
Height-adjustment accessories
After buying an ergonomic chair, you might still need to make adjustments with your desk and monitor heights. These addons can help.
For short people: ergonomic footrest
People 5'7″ and shorter (170 cm) using a standard 28-30 inch desk might suffer from pain in the shoulders, wrists, and lower back. Raising the height of the chair can help. However, for people under 170 cm, that might raise their feet off the floor.
That's a problem — feet planted on the floor provide essential support for the back while sitting. The simple solution for anyone with short legs is to add a footrest. For instance, most ergonomic chairs for kids aged 4-12 come with removable footrests. Raising the height of the chair while using a footrest makes it possible for kids to use adult-sized desks.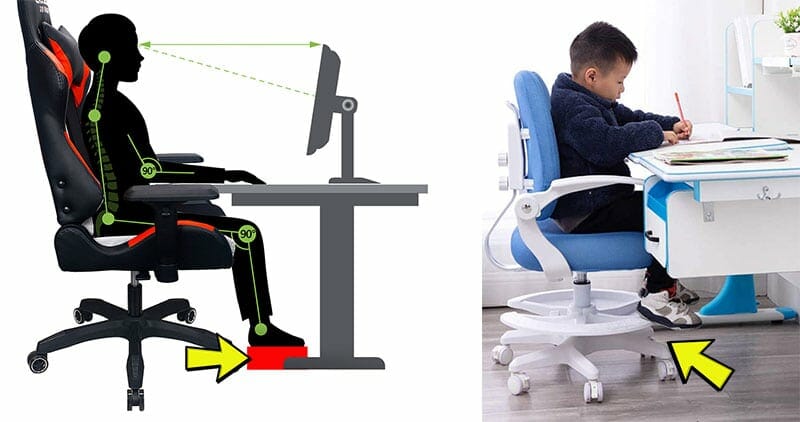 For adults, the concept works the same. Short people using a desk too high can solve the issue with two steps. First, raise the height of the chair's seat. Second, use a footrest that supports the feet even when raised off the floor.
Beyond raising your sitting height, adding an ergonomic footrest yields several advantages. For one thing, it reduces pressure on the lower thighs.
Instead, power from the legs bypasses the thighs and presses into the lower back. With lumbar support in place, that makes it easier to sit up straight.
For another thing, ergonomic footrests let you move while you sit. Rocking back and forth works your ankles and thighs while getting the blood flowing.
To learn more about ergonomic footrest benefits, check this feature:
For tall people: height-adjustable desks
A person taller than 5'10" (177 cm) might find their desk set too low. Then, the neck bends and shoulders hunch. That places excessive stress on the wrists.
The most elegant way to raise your workspace height is to buy a sit-stand desk. The best models come with powered motors in the legs. All that's needed to raise the height is to push a button. Then, the motors take over.
For example, the Motion Series Dual Motor Standing Desk has a height range of 23.6″ to 49.2″. Few other sit-stand desks on the market have such a wide adjustment range.
Adjusting the desk height is easy on this model. A digital keypad lets you program four preferred settings. Then, press the button for your desired level and the motors go to work at 30mm per second. This model sells for USD $359.27 from Motiongrey.com. To browse other sit-stand motorized options, check this review:
For all sizes: monitor desk mount stand
Many people set their monitor screens too low. That forces the spine into a slouch and cranes the neck forward. Sitting this way over long periods can lead to chronic pain in the back, neck, and shoulder areas. The ideal height aligns the top of the screen with your eye-level.
A monitor desk mount can replace the base of compatible monitors with a flexible steel arm. The arm lets you position your screen at any perfect height and angle you prefer. Without the stand, the screen floats above your desk with rich adjustability. You can angle the screen, adjust the height, turn it vertical, or even rotate 360 degrees.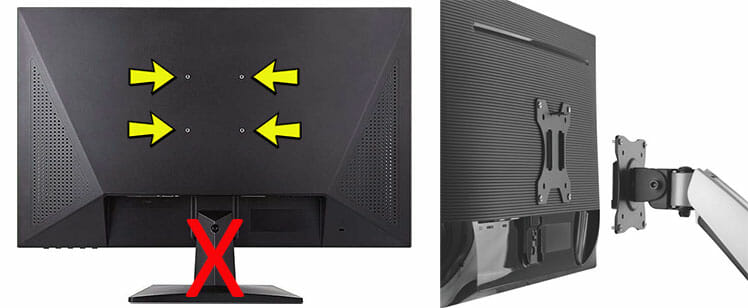 To see if your existing screen is compatible with a desk mount, look for four screw holes on the back. Those are universal VESA mounts.
As one example, the Mount-It! Dual Monitor MI-1772 Spring Mount is one of the best in the industry.
It has two counterbalanced mechanical spring arms and supports two 32″ monitors weighing up to 20 pounds each. You can adjust the height, tilt the screens, swivel 180°, and rotate 360°. It comes with a 5-year warranty and costs $99.99 on Amazon.
Screen ergonomics can have a huge impact on your workstation wellness and productivity. To learn more (and browse more monitor desk mounts), check this feature:
Gaming Chair Sizing Guide
Thus far, this article has established some fundamentals. To achieve a truly ergonomic workstation, you need three elements. First, a chair that fits your body type. Second, a desk set to the appropriate height. Third, a computer screen set to the correct height.
That brings us back to the original topic, which was about gaming chair sizing. This section summarizes the best chairs among small, medium, and large sizes.
Gaming Chairs for small sizes
Short people and kids have two broad gaming chair seating options. Most of the best cheap gaming chairs are for slim users under 5'10".
Among high-end chairs, there are several quality picks. Here are three of our favorites small gaming chairs (all come with 5-year warranty protection):
Secretlab Titan Evo 2022 Series: fully-loaded premium gaming chair for sizes from 4'11 to 5'6″. ($429 from Secretlab)
AKRacing California: an even smaller chair with prosumer features and support for sizes 4'9″ and up. ($379 from AKRacing)
GTRacing Ace S1: affordable chair with 4D armrests and support for sizes 5'3″ and up. ($199 from GTRacing)
For reviews of these and other small models, see this roundup:
Gaming Chairs for medium sizes
Average-sized users are between 5'7″ to 6'2″. Most people of moderate width in this range will find medium-sized gaming chairs a great fit. Some obese users (BMI over 30) should fit as well.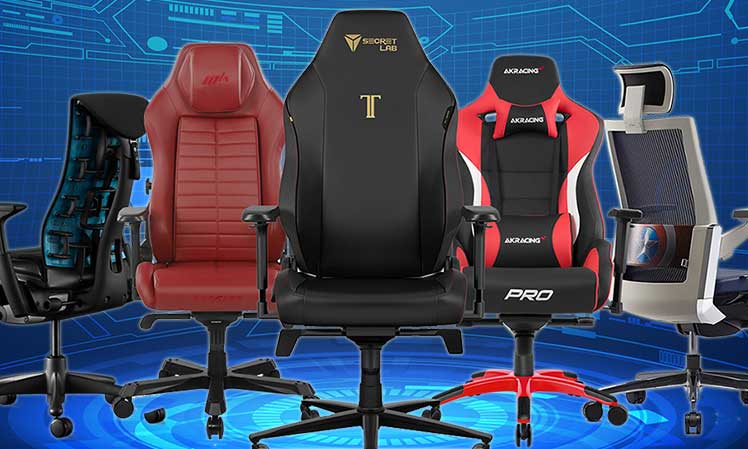 However, extreme cases should consider an XL chair instead. For instance, a 5'9″ person weighing 271 pounds or more (BMI over 40) will likely be too wide for a medium-sized chair.
For moderately wide average sizes, here are our top-3 picks
Secretlab Titan EVO: 5'7″ to 6'2″. Best-in-class lumbar support; magnetic headrest; 30+ styles; 5-year warranty. ($469)
DXRacer Master: 5'7″ to 6'2″. Executive design; modular extendability; integrated lumbar. ($499)
AKRacing Master Pro: 5'7″ to 6'2″. Classic racing design; extra-thick padding; 5-year warranty. ($579)
For reviews of these and other premium models, read this review:
Gaming Chairs for large sizes
Big and tall heavyweights tend to have more pronounced posture problems than average sizes. During both rest and activity, the spine manages weight distribution.
When carrying excess weight, the spine bears a greater burden. As a result, overweight users face a greater risk of chronic lower back pain and vertebral disc disease.
There are only a handful of ergonomic office chairs for big and tall users. Luckily, there are several extra-large gaming chairs that provide heavyweight ergonomic support.
Using a big and tall gaming chair can help obese users in a few ways. For instance, an extra-tall backrest and support pillows will keep the spine aligned while sitting.
With an aligned spine, it's possible to sit for long periods without strain. That provides obese bodies a healthy way to rest while reducing pressure on the knees.
Among premium gaming chairs, there are several great options with support for 400 pounds. Here are the dimensions of three top-rated models. Note the width and depth of the seat. These are extra-wide chairs with sturdy support for super heavyweights.
| | Secretlab Titan XL | AKRacing Master Series Max | E-Win Flash XL |
| --- | --- | --- | --- |
| Seat | 19.3" (W) x 19.7" (D) | 23.25" (W) x 20.5" (D) | 23.6"(W) x 23.2" (D) |
| Backrest | 22" (W) x 35" (H) | 24.4" x 34.2" | 23.6" (W) x 39" (D) |
| Seat height | 18.1" to 21.9" | 14.4" to 17.25" | 16.5" to 20.5" |
| Size rating | 5'9" to 6'10"; up to 390 pounds | 5'6" to 6'4"; up to 400 pounds | 5'7″ to 7'0″; up to 550 pounds |
| Price | $499 | $519 | $359 |
To review the best big and tall gaming chairs money can buy, see this roundup:
How to use your new gaming chair
This guide explains how to choose the right size gaming chair for your needs. It also helps you to sync your chair with a properly sized desk.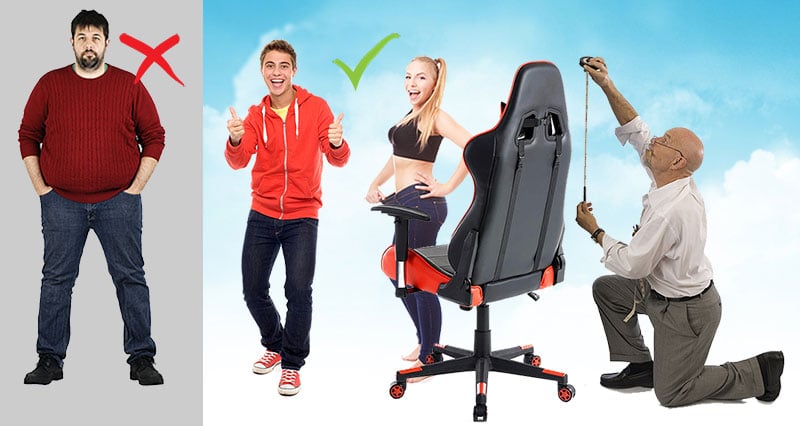 After selecting a good-fitting gaming chair, the next step is to learn how to use it. We have several resources to help you get optimized in a flash. Here are three to get you started:
Conclusion
When using a gaming chair, the seat should be deep enough to fit your body. That means you can sit far enough back so that your back touches the lumbar support pillow. At the same time, your feet should plant on the floor, with no pressure on the inner knees.
This arrangement works best when the backrest fits your size. Then, the support pillows will fit nicely into your spinal curves.
Beyond the chair, shorter or taller than average users should adjust their desk height. Important for all sizes is that the monitor aligns with your line of sight. Setting it too high or low can cause neck problems.
By following these pointers, you can get the best out of your workstation. With the right fitting gear, expect superb comfort, amazing back support, and plenty of benefits.
A good ergonomic workstation has the potential to improve wellness, boost energy levels, and improve productivity.