The point of a gaming chair is to keep your spine in a healthy alignment while you sit for long periods. For best results, you should choose the right-sized chair for your body. There are small, medium, and XL options. The right option for you depends on your height and weight. Ensure a good fit for the best posture support with this Ultimate Gaming Chair Sizing Guide.
Average sizes who've never used a gaming chair before might not even notice a poor fit. For example, back in 2017, I spent a year cramming my 5'10" body into a DXRacer chair rated for sizes 5'7″ or shorter.
It was way more supportive than my old office chair, so I basked in ignorant bliss — like a fat guy in a little coat. Fast-forward to 2022: I've had plenty of time testing my 5'10" frame in small, medium, and XL chairs.
For average sizes like mine, it's possible to enjoy a decent fit in all chair sizes. Those outside of the normal range (very short, thick, or tall) will suffer discomfort — and eventually back pain.
Bottom line: choose the right-sized chair to enjoy the best posture support while working at a desk. Follow simple sizing guidelines based on your body type for best results.
Gaming Chair S, M, and XL Fitting Advice
Based on global size averages, 'tall' men are those 6'1″ (185 cm) and above. Tall women are those 5'7″ (170 cm) or more. At a 'tall' height, back pain becomes more prevalent.
Meanwhile, 'big' is a measure of girth calculated using a Body Mass Index (BMI). A body mass index (BMI) over 25 is considered overweight; over 30 is obese.
As a reference, I stand 5'10" (average height) and weigh 165 pounds. My 23.7 BMI is in the 'normal' range; use this BMI Calculator to figure out yours.
Average Size Definition
Men: 6'0″ or less with a BMI of 24.9 or less (6'0″ with 24.9 BMI = 183 pounds).
Women: 5'7″ or less with a BMI of 24.9 or less (5'7″ with 24.9 BMI = 159 pounds).
In the gaming chair world, unless otherwise specified, gaming chairs are designed for average sizes. These Secretlab Titan 2022 Series chairs provide a good example of small, medium, and XL chair dimensions: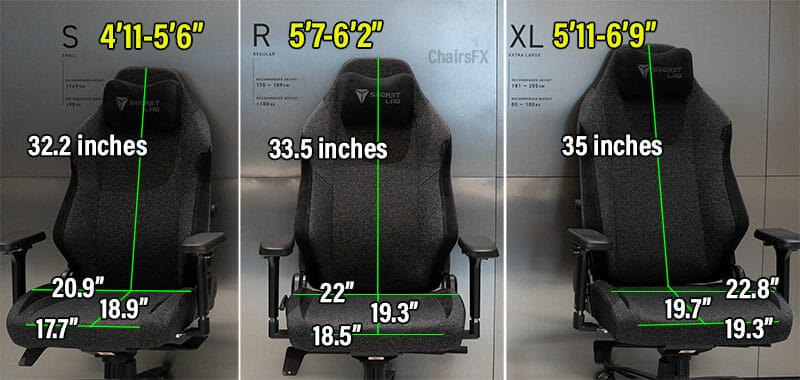 Small, average, and XL sizes can refer to these quick-fitting tips as they shop for their perfect gaming chair:
Average sizes: any chair with good adjustability will work. But for optimal support, a proper fit works best.
Small sizes: avoid chairs with excessive seat depth and backrest height. All should add a footrest.
XL sizes: this group includes short fat people, tall thin people, and tall fit people. Each type has unique ergonomic needs.
Sizing Tips For Average Sizes
Average sizes include men 6'0″ and 183 pounds or smaller, or women 5'7″ and 159 pounds or less. Average-sized men have the luxury of fitting in small, medium, and XL gaming chairs. For instance, here's my 5'10" 165-pound frame in all three sizes:
At a glance, each chair appears to be a pretty good fit. But when you look closer, you can see minor differences:
Average size in small gaming chair: shorter headrest range; larger gap between the seat lip and the back of one's knees.
In a medium gaming chair: good headrest fit; sufficient gap between the seat lip and the back of one's knees.
In an XL gaming chair: excessive headrest range; very small gap between the seat lip and the back of one's knees.
With an imperfect fit, average sizes can enjoy pretty good posture support. That's sufficient for casual lounging. In contrast, power users wanting the best possible posture support should choose a well-fitting chair.
For example, a medium-sized Secretlab Titan is rated to fit users from 5'7″ to 6'2″. For everyone within that range, the Titan delivers biomechanically-perfect posture support.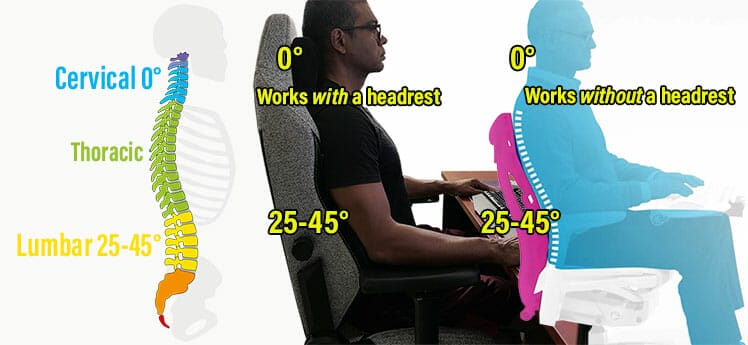 With a good fit and good adjustability, I was able to achieve the same level of biomechanical perfection that a $1700 Herman Miller chair delivers.
Bottom Line
average-sized men can use small, medium, or XL gaming chairs. But for precise posture support, they'll need a well-fitting chair that provides good ergonomic support.
Sizing Tips For Small Sizes
The small-sized Secretlab Titan fits users 4'11" to 5'6″ with a 285-pound weight capacity. On the office chair side, the small Herman Miller Aeron is for sizes 4'10" to 5'9″ (300-pound capacity). These are good indications of what's out there for short people.
Broadly, small ergonomic chairs are for sizes 5'8″ or less in the normal or slightly overweight BMI range.
People in this group have two things to be mindful of. First, spinal distortions caused by a poor fit. Second, a definite need for a footrest (if using a normal-sized desk).
Small Person Using A Chair Too Large
Smaller users in a chair too large will miss out on essential ergonomic benefits. That negates the point of a gaming chair, which is to support a healthy sitting posture. Notably, if the backrest is too large, the support pillows won't fit the user's spinal curves.
As an example, I had a 5'4″ teen to play video games using a DXRacer Racing Series (5'7″ to 6'0″ size rating). By adjusting the support pillows, he found what appeared to be a decent fit.
But a closer look showed clear sizing problems:
The armrests are too high, putting undue pressure on his shoulders and arms.
His hips curl forward instead of tucking as deep into the backrest as possible.
The seat is too high, forcing an overly sharp drop for his thighs. That downward pressure curls his hips forward even more.
Over long periods sitting in this chair, this kid will get sore. He can expect pain in his knees, lower back, neck, and shoulders.
Short Person + Small Chair + Footrest
Beyond a perfect chair fit, short people also face the challenge of syncing their chairs with a desk. To achieve a clean neutral posture, you need to sync the armrests with the desktop. At the same time, your feet should be firmly planted.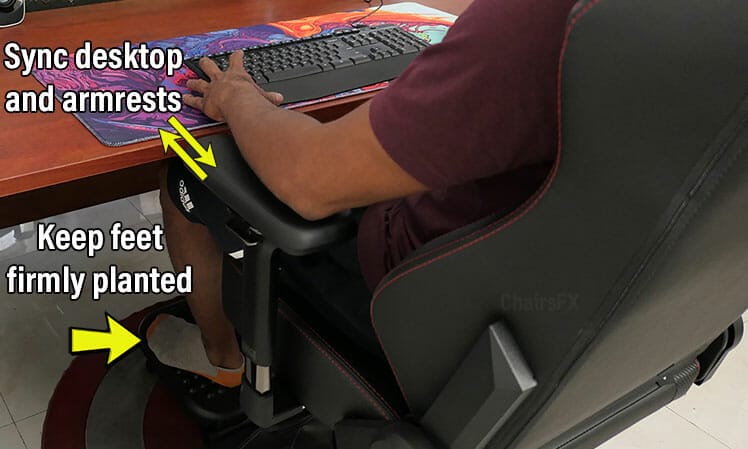 The problem for short people is that most adult desks are 28″ or higher. To sync the armrests with the desktop, they need to raise the seat too high. As a result, the feet dangle instead of planting firmly.
For example, here's a 5'4″ student in a Secretlab Omega chair (5'3″ to 5'11" size range). When he first sat in the chair, it looked like a perfect fit.
But when used at a desk, he started to slouch. Then, the chair looked way too big for him!
The solution for all users 5'10" and under is to add an ergonomic footrest. Doing so will help you to sit taller in a chair while still keeping your feet planted. As a result, you can sync your armrests to a perfect height with your desk.
Bottom Line
Short users in chairs too large will suffer spinal distortions and eventual pain. For a proper sync with a desk, all users 5'10" and less should add a footrest.
Sizing Tips For XL Sizes
In the seating world, 'big and tall' is a sweeping term that actually covers three distinct body types. 'Tall' women are those 5'7″ or taller; the threshold for men is 6'1″ or more. Big people are those with a BMI over 25.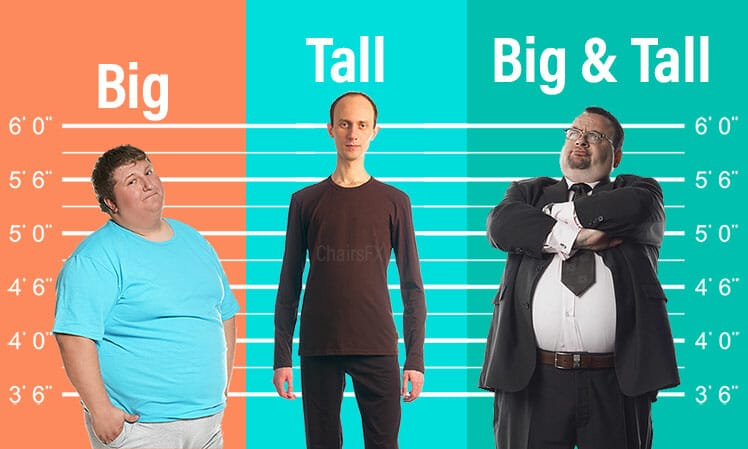 A 'big and tall' man is, therefore, one 6'1″ or taller in the overweight or obese BMI range. The biggest difference between a 'big' and 'tall' type is the skeleton size.
Tall people enjoy the luxury of larger skeletal systems able to bear greater weight loads. In contrast, overweight people have normal-sized skeletons. As they gain more weight, the skeletal system works harder and degrades more easily.
Here are specialized sizing tips for each XL body type. For a more detailed look, see this Sizing Guide For Big & Short, Big & Tall, and Tall People.
Tall sizes: good posture support with seated movement support best supports this size. For these reasons, ergonomic office chairs work best.
Short & Thick Sizes: weaker spines make sitting straight harder. Gaming chairs provide more options and better support for this group.
Big And Tall Sizes: the ergonomic office chair industry largely ignores tall obese sizes. In contrast, there are plenty of gaming chairs for this group.
Sizing Tips For Tall Sizes
Tall men (6'1″+) and women (5'7″+) develop larger bones to compensate for their height. However, develop longer but not wider spines.
Longer spines without added thickness must work harder to hold tall-bodied torsos upright. As a result, tall people are more prone to slouching than average sizes.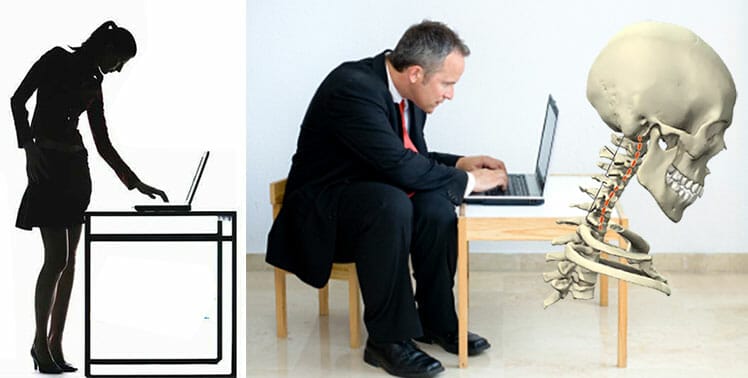 Another problem for tall people is varicose veins. Scientists speculate this may be gravity-related(1).
Best Ergonomic Seating For Tall People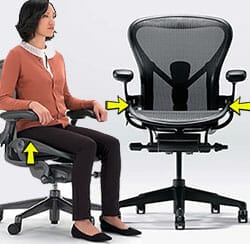 Based on their needs,
ergonomic office chairs
are best for tall people. One with excellent lumbar support will soothe long but
weak
spines. Synchronous tilt functionality will promote movement to ease varicose veins.
Finally, support for crisp, neutral sitting postures will help forge healthy posture habits. Check out the best ergonomic chairs for tall people.
Sizing Tips For Short, Heavy Sizes
This section includes tips for short-to-average-sized overweight and obese people.
Fitting Tips For Overweight People
Men shorter than 6'1″ and women under 5'7″ with a BMI over 25 are overweight. For instance, an overweight 5'7″ woman would weigh at least 159 pounds. People in the overweight class tend to have bigger bottoms or thicker thighs.
For overweight short-to-average sizes, office chairs and gaming chairs are both great options. In either case, thick figures should make sure the seat has flat edges, rather than bladed ones.
Find your fit: see Best Chairs For Overweight Sizes.
Fitting Tips For Obese People
Once their BMI reaches 30+, a person is considered obese. For instance, an obese 5'7″ woman would weigh at least 192 pounds.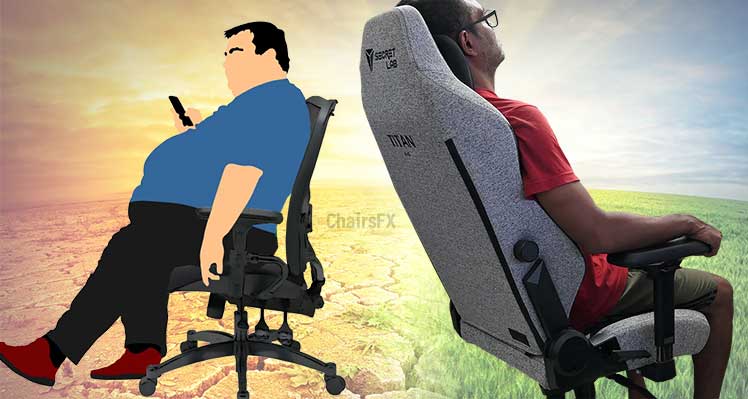 Obese people suffer from weaker joint strength, chronic musculoskeletal pain, foot problems, lethargy, and worse. The problem with mid-back ergonomic office chairs is that they force users to sit upright at all times.
This can be a struggle for a weak musculoskeletal system lugging around excess weight. In contrast, a full-back gaming chair gives heavy bodies the option of easing into good posture habits.
If sitting straight is too difficult, simply deepen the recline and let gravity do the work. Over time, your back muscles will get stronger. Then, you ease your body into healthy sitting habits instead of forcing it.
Best Chairs For Short & Heavy People
Overweight
people shorter than 6'1″ can find a decent fit in any average-sized gaming chair. However, for best results, look for a seat with flat edges instead of restrictive bladed ones.
Obese sizes of average or shorter height will find a greater variety of budget and premium options among gaming chairs. Beyond more variety, gaming chairs offer obese sizes a gentler entry into healthy sitting habits.
Check out the Best Ergonomic Seating Options For Obese People
Sizing Tips For Big And Tall Sizes
A 'big and tall' man would stand 6'2″ and weigh at least 195 pounds. Once he reaches 234 pounds, he'd be classified as obese.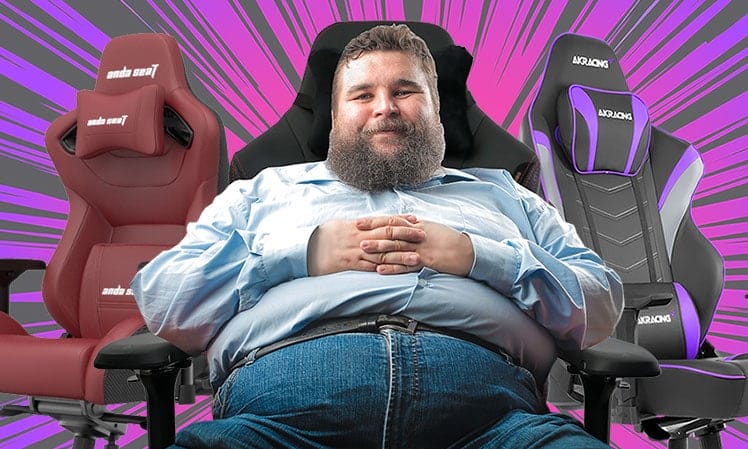 Between gaming chairs and ergonomic office chairs, the latter provides a lot more options. You can find a solid collection of both cheap and premium XL gaming chairs that support tall bodies and up to 400 pounds.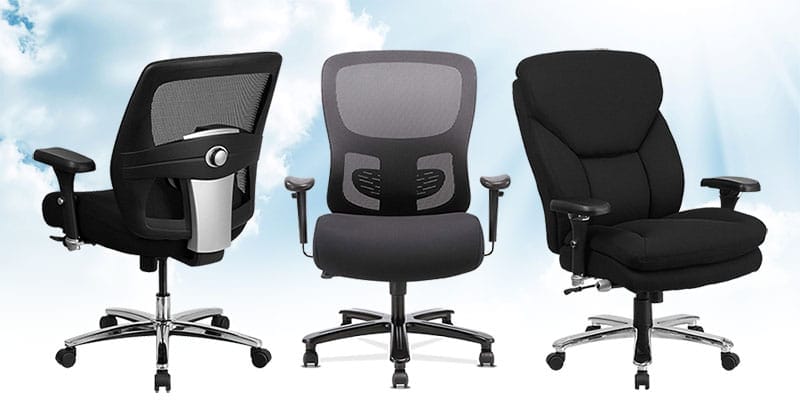 In contrast, the only ergonomic office chairs that cater to big and tall sizes are cheap models priced under $350.
Best For Big & Tall: Gaming Chairs
Full-back chairs
are best for big & tall people, especially obese ones. Heavier bodies have weaker spines. Over long periods of sitting, it's hard to hold heavy torsos upright.
Gaming chairs give big bodies the option of easing into good posture habits. What's more, there's a greater variety of gaming chairs on the market for big sizes than office chairs.
Ergonomic Chair Sizing Templates
This section looks at how the ergonomic seating industry caters to different body types. On the gaming chair side, the Secretlab Titan 2022 Series is the world's only model available in small, medium, and XL sizes.
In the office chair world, the Herman Miller Aeron is also the only one that's available in three sizes. Here's a look at both, plus important dimensions to keep in mind:
Titan Sizing Template: see (broadly) how the gaming chair industry caters to different sizes.
Aeron sizing template: how the office chair industry serves S, M, and XL sizes.
Important chair dimensions: learn why backrest size, seat depth, and seat width are key.
Secretlab S, M, XL Gaming Chair Template
Gaming chairs generally come in small, medium, and large sizes. The Secretlab Titan Evo 2022 is the only model on the market available in all three sizes:
Here are the dimensions of each Secretlab Titan 2022 Series model:
| | | | |
| --- | --- | --- | --- |
| | Titan Evo Small | Titan 2022 Medium | 2022 Series XL |
| Seat | 17.7″ (W) x 18.9″ (D) | 18.5″ (W) x 19.3″ (D) | 19.3″ (W) x 19.7″ (D) |
| Backrest | 20″ (W) x 32.3″ (H) | 21″ (W) x 33.5″ (H) | 22″ (W) x 35″ (H) |
| Seat height | 17.7″ to 20.5″ | 17.7″ to 20.5″ | 18.1″ to 21.9″ |
| Size rating | 4'11" to 5'6″; 285 pounds | 5'7″ to 6'2″; 285 pounds | 5'11" to 6'9″; 395 pounds |
| Prices | $549 | $549 | $599 |
As another example, here's my 5'10" frame in the medium and XL-sized Titan 2022 Series chairs.
The medium edition fits me like a glove. Because of the Titan's superior adjustability, I also found a perfect fit in the XL version! Learn more:
Aeron S, M, XL Office Chair Template
The Herman Miller Aeron is the world's only ergonomic office chair available in S, M, and XL sizes. This gives us a good idea of how the office furniture industry caters to different sizes.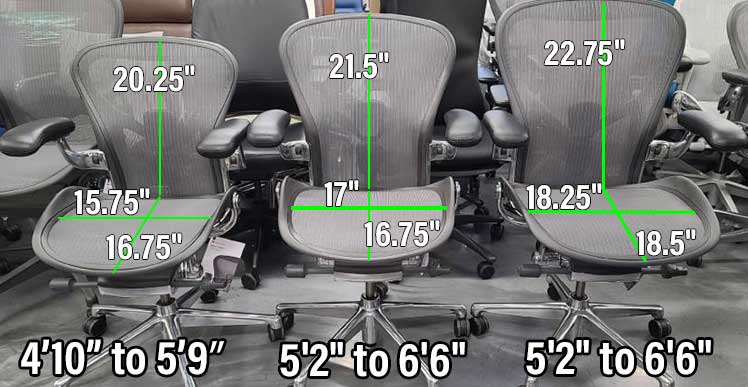 Aeron sizes A, B, and C do a pretty good job of catering to short, average, and wide body types. However, extremely tall or heavy people are not well-serviced. Broadly, anyone taller than 6'6″ or heavier than 350 pounds will find better support among gaming chairs.
| | | | |
| --- | --- | --- | --- |
| | Aeron Size A | Size B | Size C |
| Seat | 15.75″ (W) x 16.75″ (D) | 17″ (W) x 16.75″ (D) | 18.25″ (W) x 18.5″ (D) |
| Backrest | 20.25″(W) x 21″ (H) | 21.5″ (W) x 22″ (H) | 22.75″(W) x 23″ (H) |
| Seat Height | 14.75″ to 19″ | 16″ to 20.4″ | 16″ to 20.5″ |
| Size Rating | 4'10" to 5'9″; 300 pounds | 5'2″ to 6'6″; up to 350 pounds | 5'2″ to 6'6″; up to 350 pounds |
All three Aeron chairs cost the same price, depending on your configuration choices. A fully-loaded version includes adjustable lumbar support, sync-tilt, and fully-adjustable arms.
Important Gaming Chair Dimensions
Here's a summary of key chair dimensions to keep in mind:
Backrest height: a well-fitting backrest will better support your body's spinal curves.
Seat width: people with thick legs or wide hips should choose a chair with flat seat edges — not bladed ones.
Seat depth: a seat that's too deep for short legs will ruin the sitting experience.
Size rating: every gaming chair reviewed on ChairsFX comes with a size rating. Follow these and you're guaranteed of a good fit.
Backrest
Between a full-back gaming chair's backrest are neck and back pillows. As you lean into the backrest, the pillows set your spine into a healthy alignment.
Having a backrest height that fits your body ensures you'll be able to place your neck pillow correctly.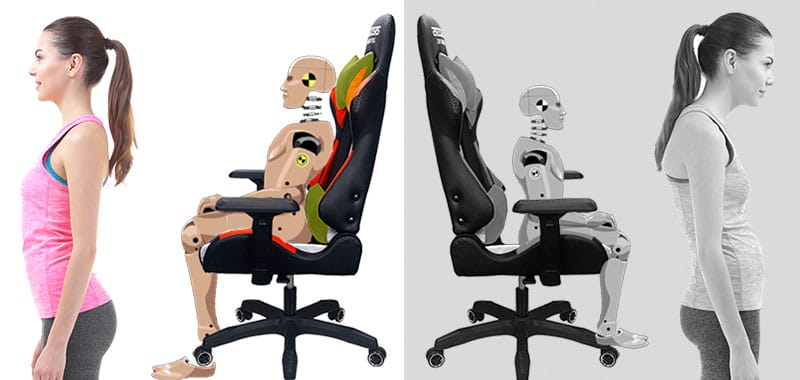 Most backrests range between 33″ and 30″ high. Anything lower or taller is for extremely tall or short sizes.
Seat Width
If you have thick legs or wide hips, look for a seat with flat edges rather than bladed ones. Doing so will ensure you've got enough room to sit comfortably without feeling squeezed in.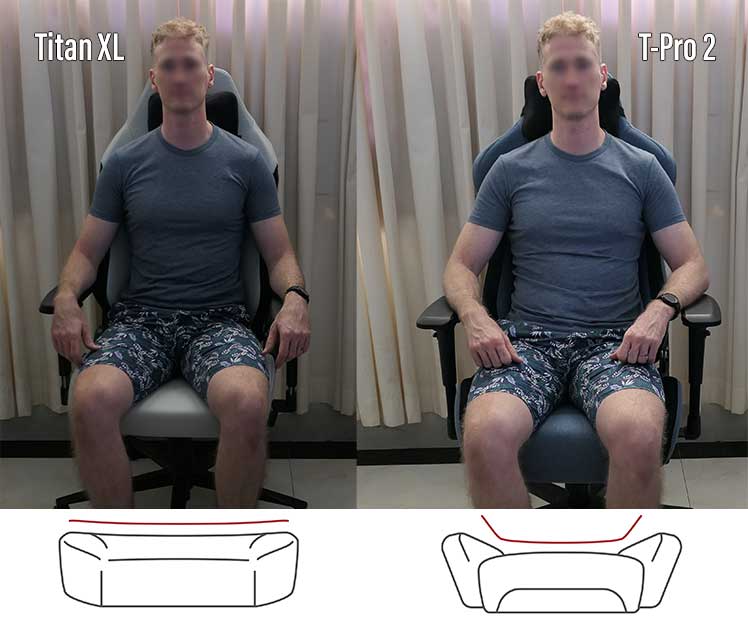 If you do choose a bladed seat style, keep in mind the usable seat width. Broadly, anything wider than 22″ should provide plenty of space for even the thickest sizes.
Seat Depth
A short user wanting to use an XL gaming chair should be mindful of the seat depth. If the seat is too deep for short legs, its lip will press against the back of the legs.
Without space between the seat and the back of your knees, two things will happen. First, the position will curl your hips forward. Second, it will clog circulation at the back of the knees.
Protip: if you're stuck with a seat too deep, add an ergonomic footrest. That will help a shorter user to sit taller in an XL chair.
More importantly, it will soften the angle of your legs falling off the seat. With a milder angle, the back of your knee extends further away from the seat.
Sync A Gaming Chair Into A Workstation
After you choose a well-fitting chair, the next challenge is to sync your chair with your PC workstation. That involves three things. First, syncing the armrests with the height of the desktop.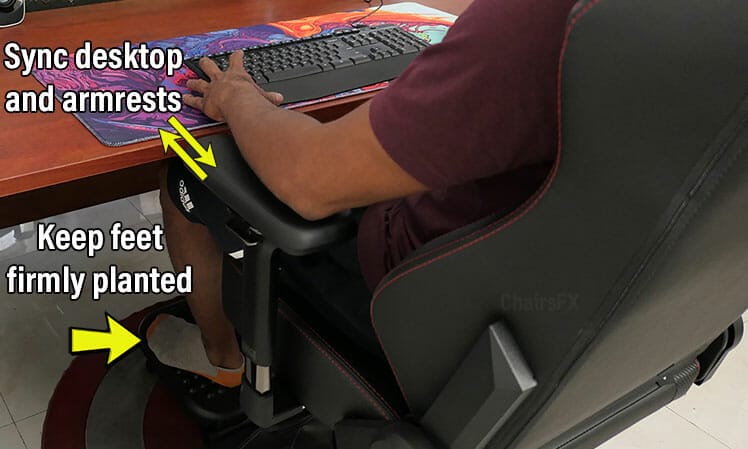 Second, keeping the feet firmly planted. You can plant them on the floor, or use a footrest if your legs are too short. Finally, syncing the height of your computer screens with your eye level.
Proper Desk Height
Most adult-sized desks are 28-30″ high. For people shorter than 6'1″, this will result in improper workstation sync. On the flip-side, taller sizes using a work surface too low will also suffer problems.
In all cases, the ideal desk height should let you bend your elbows at a 90° angle, parallel to the floor.
Here are size recommendations from BlitzResults(2). "Chair height" refers to the distance from the floor to the seat. "Armrest height" measures the distance from the seat to the armrests.
| | | | |
| --- | --- | --- | --- |
| User height | Desk height | Chair seat height | Armrest height |
| 5'2″ (157 cm) | 25″ (63.5 cm) | 16.7″ (42.4 cm) | 9.2″ (23.2 cm) |
| 5'5″ (165 cm) | 26.2″ (66.5 cm) | 17.5″ (44.45 cm) | 9.6″ (24.3 cm) |
| 5'7″ (170 cm) | 27″ (68.5 cm) | 18″ (45.7 cm) | 9.9″ (25 cm) |
| 5'9″ (175 cm) | 27.8″ (70.6 cm) | 18.5″ (47 cm) | 10.2″ (25.9 cm) |
| 6'1″ (185 cm) | 29.4″ (74.6 cm) | 19.6″ (49.7 cm) | 10.8″ (27.4 cm) |
| 6'3″ (190 cm) | 30.2″ (76.7 cm) | 20.2″ (51.3 cm) | 11.1″ (28 cm) |
| 6'5″ (195 cm) | 31″ (78.7 cm) | 20.7″ (52.5 cm) | 11.4″ (29 cm) |
Effective Computer Monitor Height
Even with the perfect chair and desk height, a monitor set at the wrong height can misalign your spine. The most common mistake is to set the screen too low. Doing so forces the spine into a curve and cranes the neck forward.

Sitting that way strains the lower back, neck, and shoulders. In contrast, setting the monitor too high cranes the neck. Over time, that causes pain in the shoulders and lower back.
The general rule of thumb is to set the top of the monitor to around the level of your eyes. That lets you sit with a straight back without bending the neck forward.
With your eyes aligned with the top of the screen, you get an optimal peripheral view of the entire screen. To focus on one part of the screen, you can move your eyes, rather than moving your head. As a result, the body experiences less neck and lower back strain.
Height-adjustment Accessories
After buying an ergonomic chair, it's important to optimize your desk and monitor heights. As an example, a study of locked-down faculty at the U. of Cincinnati found some troubling WFH issues.
For one thing, most staff were sent home with only a laptop. For another, more than half used their desktop screen instead of using an external one. Many of them spent their time using 'makeshift desks' (knees or pillows).
As a result, reports of pain were off the charts. Notably, upper back and shoulder pain was the most common complaint.
This dovetails with increased use of cell phones for work purposes. These days, the average person spends around 3 hours using a phone — usually with a severe 45° neck bend.
To avoid such issues, keep these accessories in mind to optimize your workspace heights:
Ergonomic Footrest: helps shorter people sit taller in a chair. It also makes it easier to maintain neutral postures.
Height-adjustable desk: a tall person at a desk set too low will be forced to slouch.
Desk-mounted monitor stands: lets you adjust the height, depth, and angles of your screens with the push of a finger.
For Short People: Ergonomic Footrest
People 5'7″ and shorter (170 cm) using a standard 28-30 inch desk might suffer from pain in the shoulders, wrists, and lower back. Raising the height of the chair can help. However, for people under 170 cm, that might raise their feet off the floor.
That's a problem — feet planted on the floor provide essential support for the back while sitting. The simple solution for anyone with short legs is to add a footrest. For instance, most ergonomic chairs for kids aged 4-12 come with removable footrests. Raising the height of the chair while using a footrest makes it possible for kids to use adult-sized desks.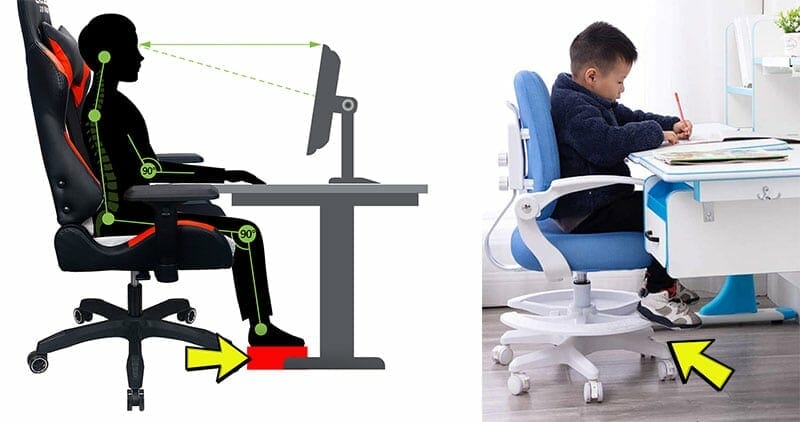 For adults, the concept works the same. Short people using a desk too high can solve the issue with two steps. First, raise the height of the chair's seat. Second, use a footrest that supports the feet even when raised off the floor.
Beyond raising your sitting height, adding an ergonomic footrest yields several advantages. For one thing, it reduces pressure on the lower thighs.
Instead, power from the legs bypasses the thighs and presses into the lower back. With lumbar support in place, that makes it easier to sit up straight.
For another thing, ergonomic footrests let you move while you sit. Rocking back and forth works your ankles and thighs while getting the blood flowing.
To learn more about ergonomic footrest benefits, check this feature:
For Tall People: Height-adjustable Desks
A person taller than 5'10" (177 cm) might find their desk set too low. Then, the neck bends and shoulders hunch. That places excessive stress on the wrists.
The most elegant way to raise your workspace height is to buy a sit-stand desk. These have powered motors in the legs. Simply push a button and the motors take over.
For example, the Vivo Black Electric Desk (Price not available on Amazon) has an adjustable height range of 28.6-46.6″. Based on our desk height guidelines, that can support people 7 feet tall — in a seated position!
For ALL Sizes: Desk Mounted Monitor Stand
Many people set their monitor screens too low. That forces the spine into a slouch and cranes the neck forward. Sitting this way over long periods can lead to chronic pain in the back, neck, and shoulder areas. The ideal height aligns the top of the screen with your eye-level.

A monitor desk mount can replace the base of compatible monitors with a flexible steel arm. The arm lets you position your screen at any perfect height and angle you prefer. Without the stand, the screen floats above your desk with rich adjustability. You can angle the screen, adjust the height, turn it vertical, or even rotate 360 degrees.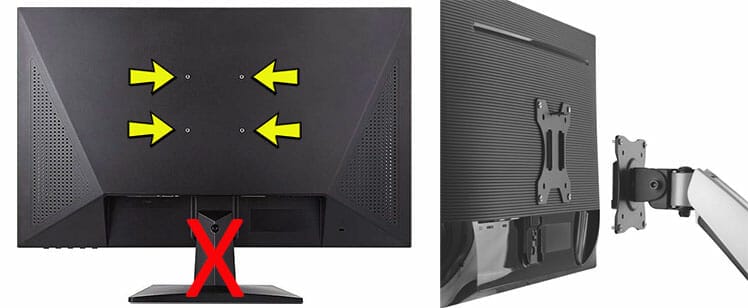 To see if your existing screen is compatible with a desk mount, look for four screw holes on the back. Those are universal VESA mounts.
As one example, the Mount-It! Dual Monitor MI-1772 Spring Mount ($109.99 on Amazon) is one of the best in the industry.
It has two counterbalanced mechanical spring arms and supports two 32″ monitors weighing up to 20 pounds each. You can adjust the height, tilt the screens, swivel 180°, and rotate 360°. It also provides fantastic value with a five-year warranty!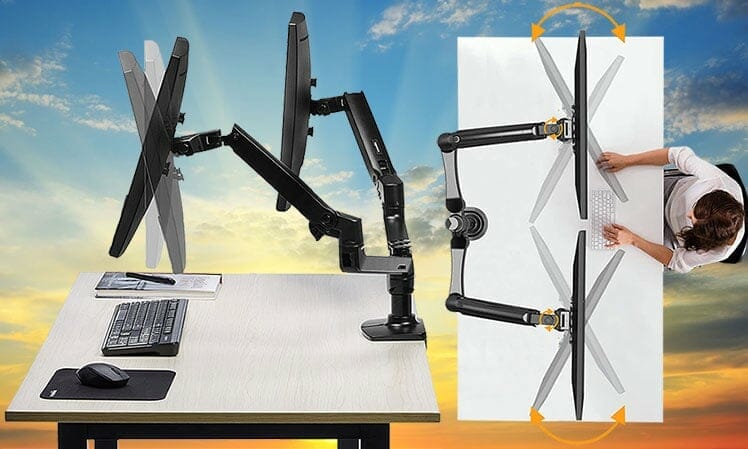 Screen ergonomics can have a huge impact on your workstation wellness and productivity. To learn more (and browse more monitor desk mounts), check this feature:
Optimized Setup & Healthy Habits
A well-fitting ergonomic chair provides a strong foundation for a healthy home workstation. Small height-adjustment tweaks on the desk side will help to sync your body, chair, and desk.
With a good chair fit and optimized workstation, all that's left to focus on is proper usage. In brief:
Set up your workstation in a way that prevents a forward head tilt.
Focus on sitting in neutral postures while working at a desk.
Try to move your body as much as possible while sitting.
Take frequent standing breaks to move your body and rest your brain.
Add good nutrition, exercise, and sleep habits for sharper results.
Following this blueprint may seem awkward at first. But once your muscle memories adapt to healthy sitting practices, amazing things happen.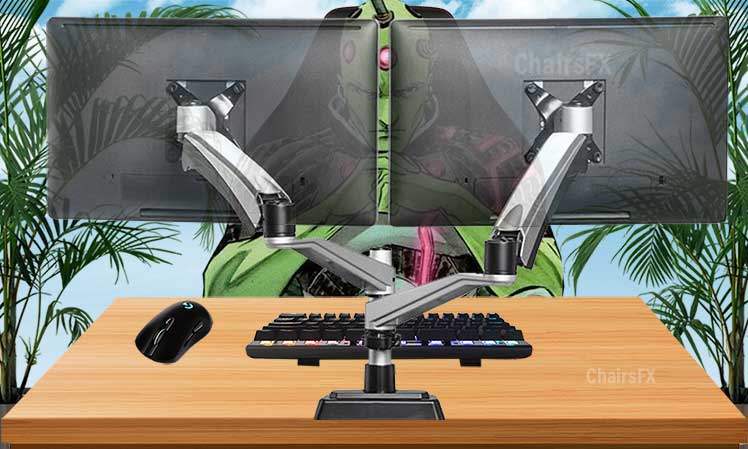 Then, you can expect more energy, sharper focus, supercharged motivation, and crisp posture habits — running from your subconscious on auto-pilot! Once you've got a grasp of sizing fundamentals, check this feature to put your health-boosting battlestation together:
Work-From-Home Setup Guide For Ergonomic Beginners
Footnotes
Lisa Rapaport. 'Tall people may be more prone to varicose veins'. Reuters Health, November 3, 2018. https://www.reuters.com/article/us-health-tallness-varicose-veins-idUSKCN1N72CA, (accessed 24 June. 2022).
BlitzResults. 'Ergonomic Office: Calculate Chair & (Standing) Desk Height'. https://www.blitzresults.com/en/ergonomic/, (accessed 15 July 2022).