What's the best big and tall gaming chair on the market in 2023? The answer depends on your body type — and seating preferences. Based on physiological realities, full-back gaming chairs provide better support for obese sizes. In contrast, slim figures 6'0″ plus will prosper with a good mid-back office-style chair. So if you're larger than average, find your perfect seating here. ChairsFX reviews the best gaming chairs for big guys available in 2023.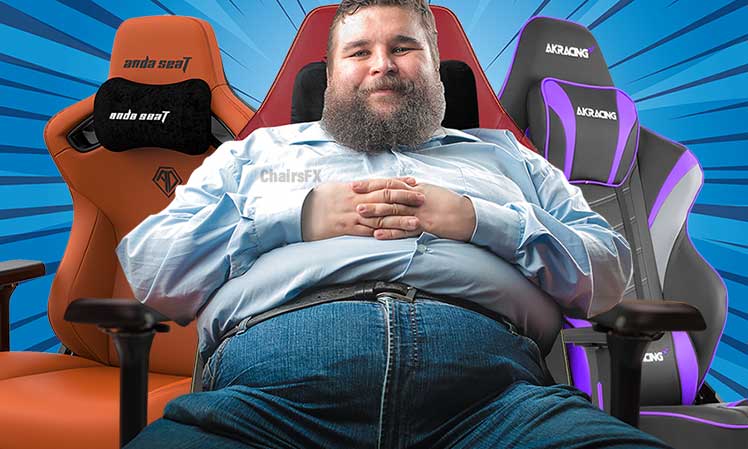 Based on global size averages, 'tall' men are defined as 6'1″ or taller; a tall woman is 5'7″ or more. 'Big' sizes of all genders are either overweight (25+ BMI) or obese (30+ BMI).
Big and tall body types both have unique musculoskeletal challenges:
Obese sizes: have weaker spines that make it harder to sit straight.
Taller sizes: develop longer but not thicker bones that encourage slouching.
The best big and tall gaming chairs address both of these challenges. All bodies 5'10" or taller will find a taller backrest designed for longer spines. For instance, here's a 6'5″ slim user modeling Secretlab and Anda Seat XL chairs: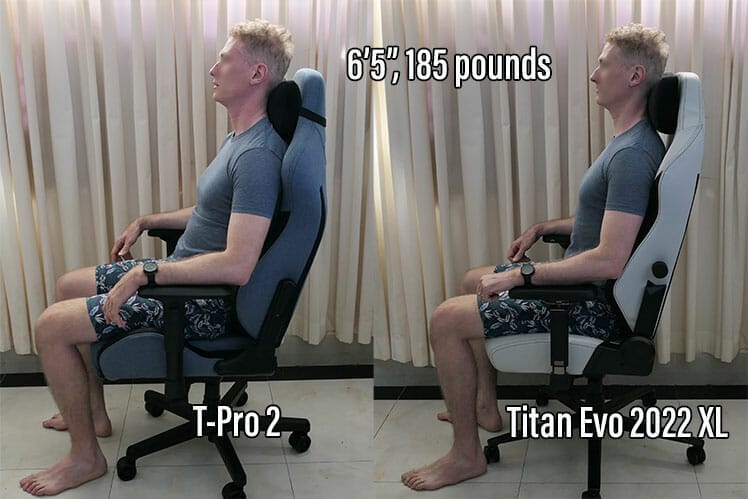 The taller backrest provides good support for his larger-than-normal spine length. As a result, he also enjoys a good headrest and lumbar support fit.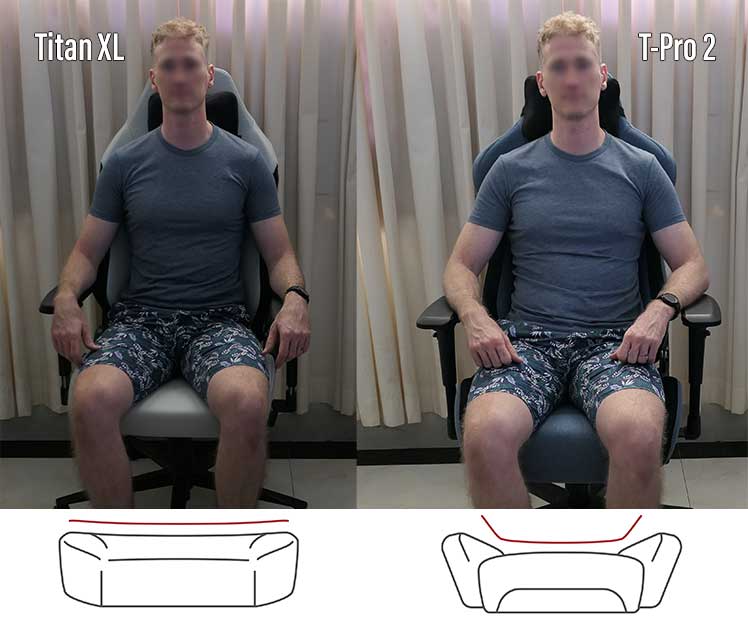 Beyond catering to tall sizes, the best XL desk chairs also serve all body types with flat, wide seat styles. Our slim model (6'5″, 185 lbs) shows off the difference — flat seat edges provide more room for larger bodies.
Best Full-Back XL Gaming Chairs
When people gain weight, their skeletal system does not grow to compensate. Instead, the entire musculoskeletal system (bones, joints, muscles) must work harder. Over time, excess strain weakens the spine and surrounding muscles(1). That makes it harder to sit up straight.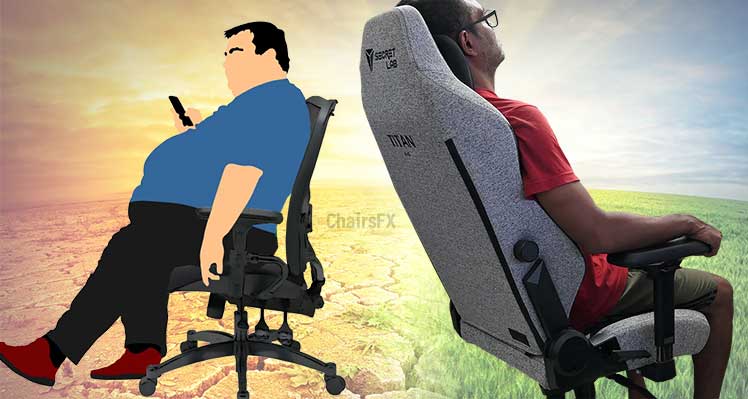 This is why full-back, racing-style gaming chairs provide the best ergonomic support for heavy bodies. Instead of forcing users to sit upright, they can ease into it using deeper reclines. As back muscles get stronger, sitting up straight will get easier.
Our top XL picks are designed for tall sizes (5'10" and up) of all body types (slim to obese) with support for 400+ pounds. Prices range from $399 to $674:
Mid-Back Office Chair XL Alternatives
In 2023, a 'gaming chair' can be any type of desk chair with ergonomic functionality. Mid-back ergonomic office chairs come with limited reclines that force users to sit straight at all times.
This style of seating is an excellent option for sizes 5'10" or taller. Tall bodies grow larger bones to compensate. But these usually grow longer but not thicker. As a result, a tall person's muscles must work harder to stabilize longer limbs(2).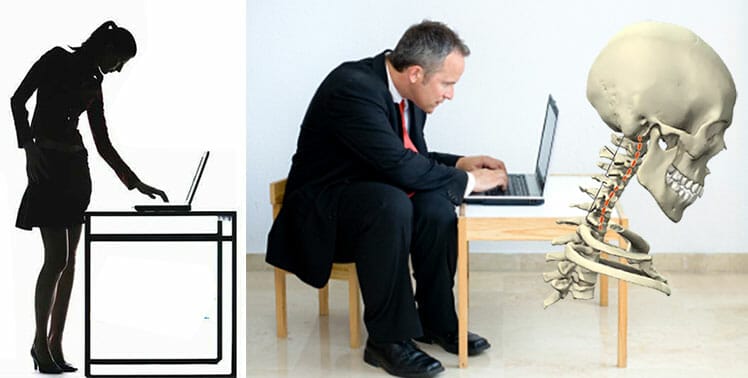 As well, most office furniture is designed to support normal sizes (shorter than 6'1″ for men, and under 5'7″ for women). Taller people using a workstation too small are more vulnerable to a forward head tilt.
In contrast, overweight and obese body types typically develop extremely weak back muscles. In those cases, full-back gaming chairs with deep recline functionality are ideal.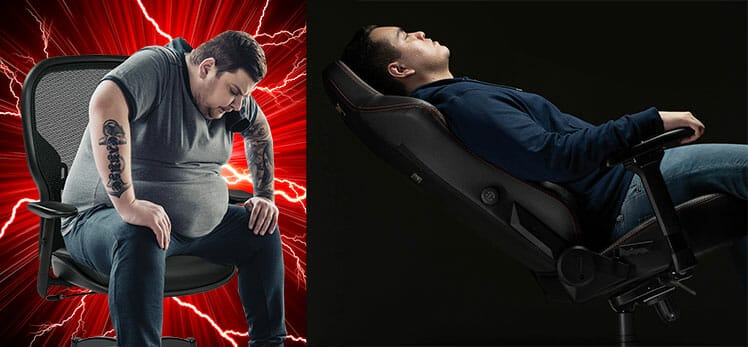 But some tall sizes near the obesity threshold (30 BMI) may still prefer a mid-back, office-style seat. Luckily, a few options are available.
Conclusion: Best XL Ergonomic Chairs
What's the best big and tall gaming chair on the market in 2023? This article makes a few things clear. Given global average sizes, the 'tall' threshold for women is 5'7″ and 6'2″ for men. Thus, XL gaming chairs are primarily for men 5'10" and taller.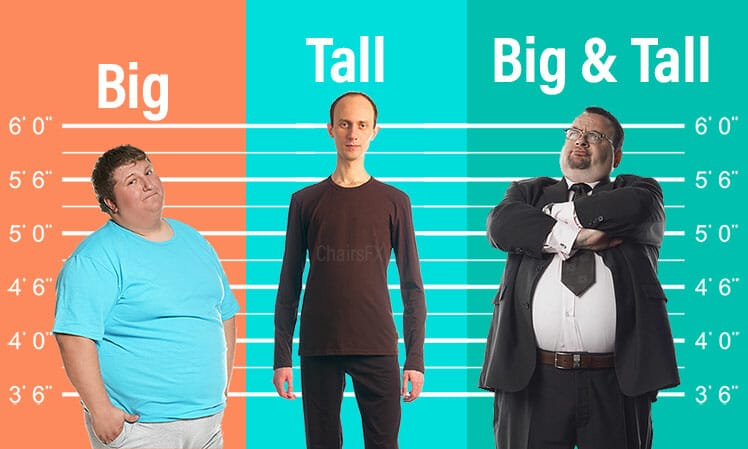 Second, by 2023 ergonomic standards, a 'gaming chair' can be any type of ergonomic seating. Full-back, racing-style chairs provide excellent support for overweight bodies with weak spines.
Meanwhile, the stricter posture support of a mid-back chair is a good fit for tall, slim sizes. These support styles also impact the overall sitting experience.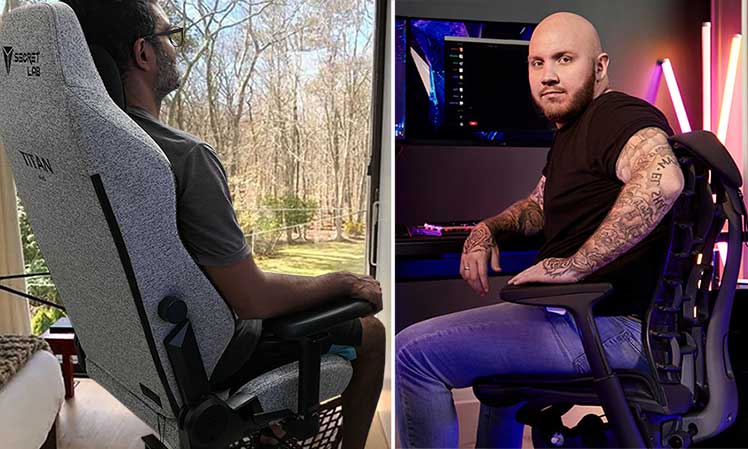 If you prefer sitting in sharp neutral postures all the time, a mid-back chair is ideal. But if you want more varied support for both strict and relaxed styles, a full-back gaming chair is the way to go. Learn more:
Full Back Gaming Chairs Vs Mid-Back Office Chairs
Footnotes
Brittany D.Bulbrook, et al. 'Higher body mass index and body fat percentage correlate to lower joint and functional strength in working age adults'. Applied Ergonomics Volume 95, September 2021, 103453. https://www.sciencedirect.com/science/article/abs/pii/S0003687021001009, (accessed 22 August 2022).
Jesse Cannone. 'Is Back Pain More Likely If You're Tall?' September 15, 2015. https://losethebackpain.com/is-back-pain-more-likely-if-youre-tall/, (accessed 22 August 2022).