What do pro esports and pro chess players have in common? Both push their brains to extreme levels while computing. To help with that, both also deploy similar tactics. Regular exercise, good nutrition, and ergonomic seating are all staples. We've already covered the esports fitness formula in detail. So here's a look at the fitness and brain energy hacks used by modern chess pros.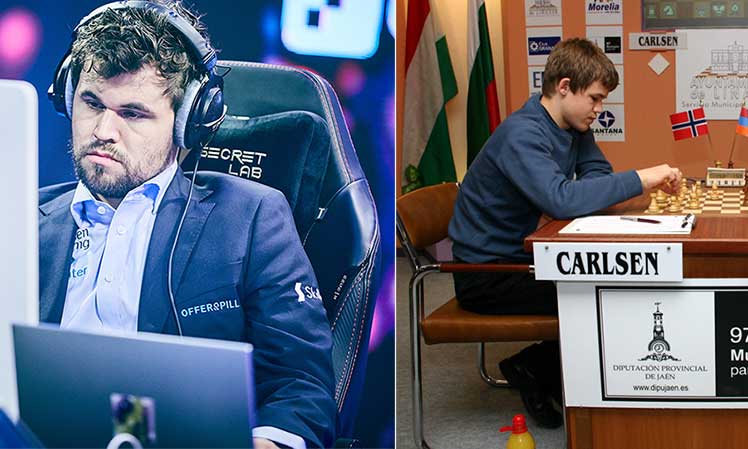 Back in the 1980s and 90s, smoking, drinking and hard partying were staples on the pro chess circuit. Pros of that era bounced around hotel bars all across America and Europe(1).
In between heavy booze sessions, they competed in matches. For up to six hours of intense mental strain, they competed with terrible posture on cheap, non-adjustable desk chairs.
Then, the rise of technology rose the performance bar:
1982: microcomputer chess programs could evaluate up to 1,500 moves a second(2).
1990: the Mephisto Portorose M68030 computer defeated former world champ Anatoly Karpov.
2018: AlphaZero leveraged AI to teach itself how to "master the game of chess". Its insights altered Magnus Carlsen's approach at the World Chess Championship 2018(3).
2021: Chess.com and TikTok chess content booms.
2023: AI + Blockchain + Metaverse envisions competitions in "shared, immersive, persistent, 3D virtual spaces".(3)
As chess computers grew more powerful, the amount of humans learning computer chess surged. That essentially killed the boozy party lifestyles on pro chess circuits.
Magnus Carlsen's Performance-Boosting Fitness Journey
As an example, the world's #1 player Magnus Carlsen found himself struggling in 2017. Although still dominant, he found the competition was catching up. Matches were more grueling and intense(4).
Then, he adopted the same performance-enhancing tactics that esports pros use. First, he cleaned up his diet. Then, he started a physical fitness regimen.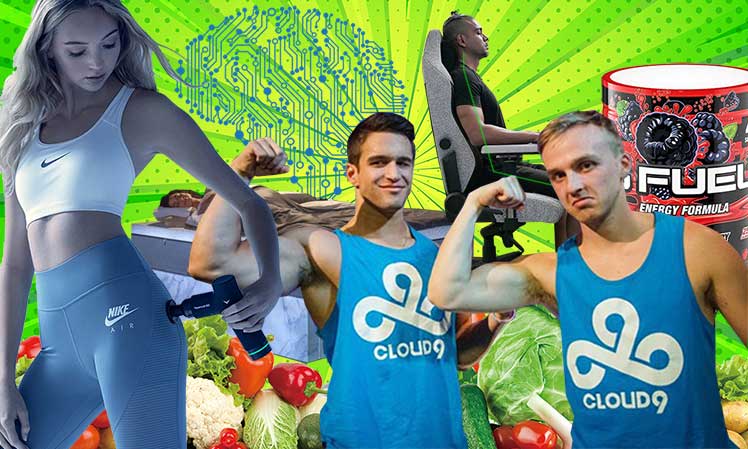 Then, he added an ergonomic chair. Finally, he focused on using his brain power as a weapon. When his foes begin to fade, Magnus drags them into deep water and drowns them.
This article looks at the cognitive demands that chess players endure. Then it looks at Magnus Carlsen's fitness + brain energy hacks that keeps him ranked as the best chess player in the world.
Energy Burned By The Working Brain
How much information can a brain process before it burns out? As an Internet of Things (IoT) era emerges, this question will become more pertinent. Then, those having flexible, high-performance brain endurance have the means to rise above the rest.
At present, there's no definitive answer. Even so, there's enough information out there to give us a broad idea. For a start, the average brain consumes around 20% of a person's daily energy (around 320 calories)(5).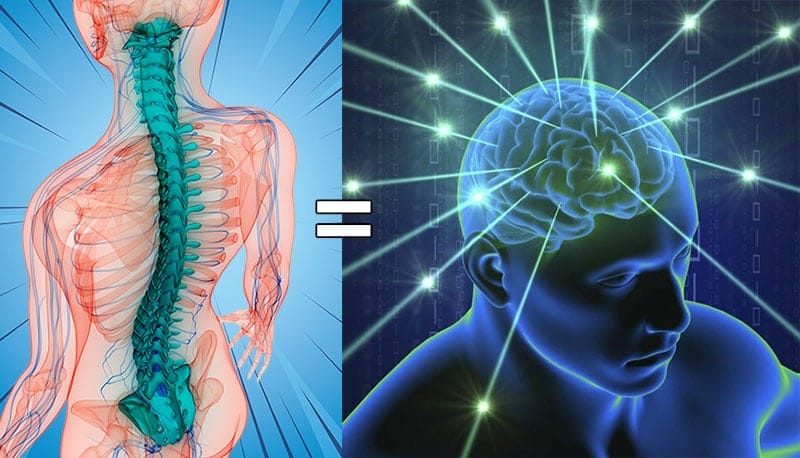 Around 90% of the brain's energy consumption is postural: positioning the body in the gravitational field. The rest powers thinking, metabolism, and healing.
Calories Consumed: Reading Vs Computing
According to Healthline, mental exertion does consume more energy than an idle brain(6). Here's how much energy Healthline estimates a 155-pound person's brain consumes over various tasks:
| | |
| --- | --- |
| Activity | Calories burned / 30 mins. |
| Sleeping | 23 calories/ 30 mins. |
| Reading while sitting | 42 calories/ 30 mins. |
| Studying with a computer | 51 calories/ 30 mins. |
As a second reference, here are calorie expenditure estimates from Harvard Health(7) for a 155-pound person:
| | |
| --- | --- |
| Activity | Calories burned / 30 mins. |
| Sleeping | 22 calories/ 30 mins. |
| Reading while sitting | 40 calories/ 30 mins. |
| Standing In A Line | 35 calories/ 30 mins. |
Takeaway: both Healthline and Harvard Health estimate that reading while sitting burns more energy than non-thinking activities. However, neither makes clear whether the extra calories are burned by the stress of sitting or thinking.
Calorie Burn: Computing Vs Casual Chess
Indirect calorimetry is a standard measurement used in exercise physiology. Using it, researchers found that a chess player burns around 1.67 calories per minute (50.1 calories/ 30 mins.)(8).
That's a small difference — only 10% more than a non-playing rate of 1.53 calories per minute. Here's how calories burned playing chess compares with Healthline and Harvard estimates:
| | |
| --- | --- |
| Activity | Calories burned / 30 mins. |
| Sleeping | 22-23 calories/ 30 mins. |
| Reading while sitting | 42-44 calories/ 30 mins. |
| Playing chess | 50.1 calories/ 30 mins. |
| Studying with a computer | 51 calories/ 30 mins. |
Pro Chess Stress: Massive Energy Burn
What's the difference between a casual chess game and a pro tournament match? Pressure. According to Stanford researcher Robert Sapolsky, the pressure that pro players face can burn up to 6,000 calories a day during tournaments(9).
Sapolsky inferred this number from three stress-related symptoms. These are: breathing rates (which triple during competition), blood pressure (which elevates), and muscle contractions. Two famous examples:
1984 World Chess Championship: canceled after 5 months when defending champ Anatoly Karpov lost 22 pounds.
2004 World Chess Championship: new champ Rustam Kasimdzhanov lost 17 pounds during the final six-game match.
How does tournament stress burn energy? First, stress increases heart rates. That forces the body to produce more energy to produce more oxygen.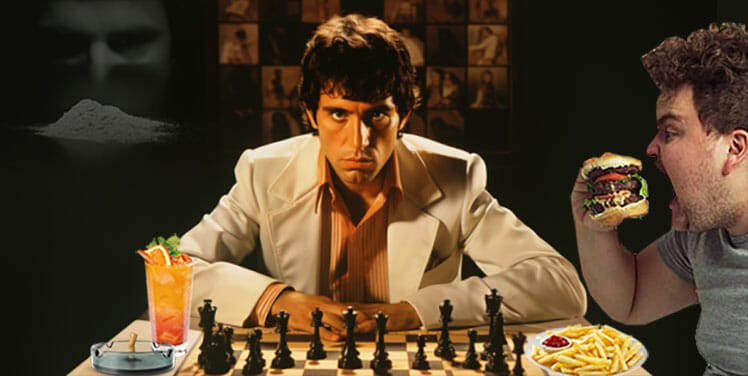 Second, players tend to eat poorly during tournaments. This recalls the law of executive functions: when the brain is fatigued, willpower falls apart.
Third, stress causes altered sleep patterns. This causes more fatigue, creating greater energy demands. For example, a brain operating on less sleep demands more energy to stay alert during games.
Pro Chess Player Performance Blueprint
To combat brain-draining stress, modern pro chess players rely on strict food and fitness regimens(4). These are designed to:
Increase oxygen to the brain during competition.
Prevent sugar-related crashes.
Sustain peak energy for longer periods than their opponents.
To see how pros meet these objectives, we can look at the case of Magnus Carlsen.
Brain Hack 1: Nutrition
In 2017, World #1 Magnus Carlsen was losing his dominance. Then he learned that the orange juice he drank during tournaments was the cause. As he got older, his body wasn't breaking down sugars as quickly, leading to crashes.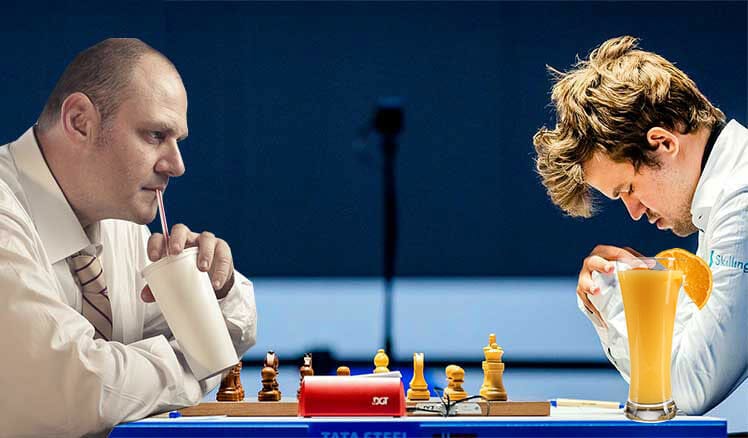 Switching to diluted chocolate milk (with much less sugar) solved his problem. As a result, he no longer suffered fatigue while competing. That led to him hiring a personal chef, Magnus Forssell, to travel with him during tournaments.
During tournaments, Forssell makes sure he's eating the right balance of proteins, carbs and calcium. He also uses carb-loading, a 'hack' marathon runners use the night before a race. That increases energy stores in the muscles.
Brain Hack 2: Fitness
Fitness has been an essential part of Magnus' routine for years. The Wall Street Journal reported(10) that he started working with Lithuania-based chess coach Peter Heine Nielsen in 2013 (when he was 23).
Back then, he played soccer, practiced yoga, and ran on a treadmill to keep fit. In 2021, he started working with trainer Bror Carlson. Bror outlined the program in this Twitter video. The focus is on cardio and balance.
Long sitting hours weakens the core — this routine is designed to mitigate that. As a result of his stronger core muscles, Magnus is able to sit for longer periods without strain.
There are studies that show that cardiovascular training does impact the brain in good ways… it's an endurance sport.
Bror Carlson
Physical Fitness In Pro Esports
Magnus' embrace of fitness for performance-boosting is common in the pro esports world. Many top esports teams employ nutritionists, sports psychologists, and performance optimization doctors.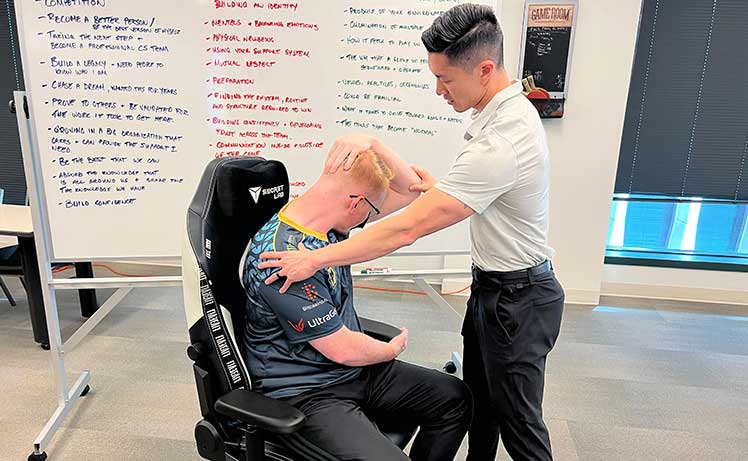 Here's former Team Liquid ace Doublelift hyping fitness benefits:
Dr. Jordan Tsai does performance optimization consulting for Evil Geniuses. He gave ChairsFX this performance-boosting tier list:
Rest/nutrition/exercises > breaks > good posture > good chair. Developing healthy habits is the most important thing to work on.
Dr. Jordan Tsai
This mantra is echoed throughout the esports community. Proper rest, nutrition, and exercise — and a good chair — helps players to perform at their best.
Brain Hack 3: Ergonomic Seating
Many chess players sit with terrible posture because they don't know any better. I bought my first gaming chair back in 2017. Once I figured out how to use it, the resulting benefits were life-changing.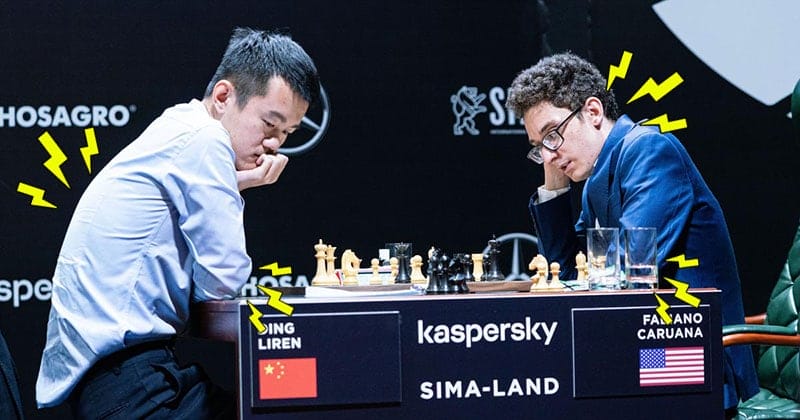 The most jaw-dropping early effect of good sitting posture: a massive surge of energy. Magnus Carlsen is also switched onto gaming chair benefits.
He claims that chess players tend to crane their necks too far forward. According to the Journal of Physical Therapy Science, that can lead to a 30% loss of lung capacity(4).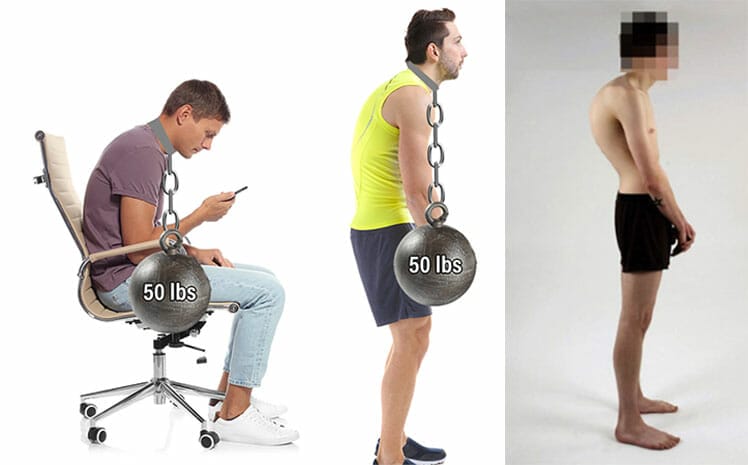 Also, leaning 45° forward increases stress on the neck by around 50 pounds. That forces back and neck muscles to work harder. The resulting stress causes headaches, irregular breathing and reduced oxygen to the brain.
Magnus Carlsen Uses A Secretlab Titan
Secretlab partnered with Chess.com in late 2020. Last year, Magnus Carlsen chose the Secretlab Titan Evo 2022 as his official match chair(11).
Secretlab is also the Official Chair Partner of the Meltwater Champions Chess Tour. Look for them to roll out custom Tour-branded chairs for players at live "Major" events throughout the year. Magnus raves about his chair:
Especially with the increasing number of online tournaments these past years, having a good chair is crucial for a chess player and I feel very comfortable competing in my Secretlab chair.​
Magnus Carlsen
Here at ChairsFX, I also use a Secretlab Titan — paired with a sit-to-stand Magnus Pro desk. The chair on its own has been spectacular.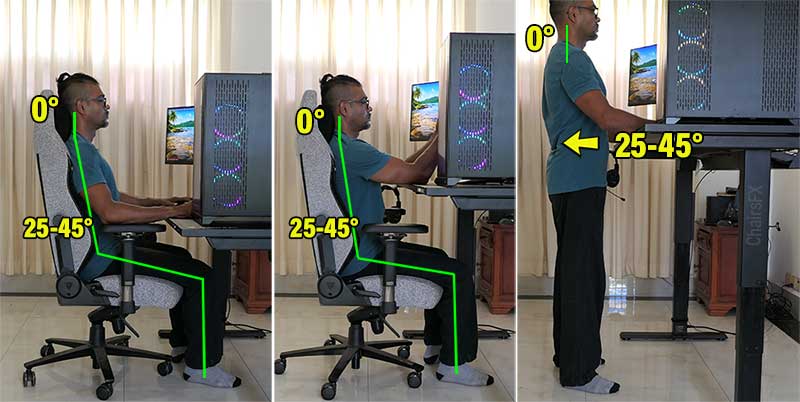 Pairing it with the desk adds mobile support and supercharged movement opportunities into the mix. For intense, full-time computing work, it's been a flawless combo.
Titan From Secretlab $549-$644
Chair: Titan Evo 2022 Review | Desk: Magnus Pro Sit-Stand Desk
Brain Hack 4: Rest
The biggest problem with pro chess: players are not allowed to take breaks. Once the match starts, they're on strict timers.
Online chess matches can last around 40 minutes or so. Each player gets 15 minutes for all of their moves. After each move, they also get an extra 10 seconds.
In sharp contrast, the offline World Chess Championships is a marathon. A full match can take over 6+ hours:
120 minutes for the first 40 moves.
60 minutes for the next 20 moves.
15 minutes for the rest of the game (with 30-second increments per move).
To cope, Magnus does not exercise during tournaments. Instead, his focus is on relaxing and conserving energy. He also chews gum while playing to boost brain function without losing energy.
However, without movement breaks, he's still wasting a massive amount of physical and mental energy!
MISSING Hack: Movement Breaks
Those not bound by chess rules can one-up Magnus by adding movement to their routine. Per a New York Times Phys Ed article(12), taking a movement break every 30 minutes is ideal. It cites a 2021 study(13) touting the benefits of 3-minutes movement breaks every 30 minutes.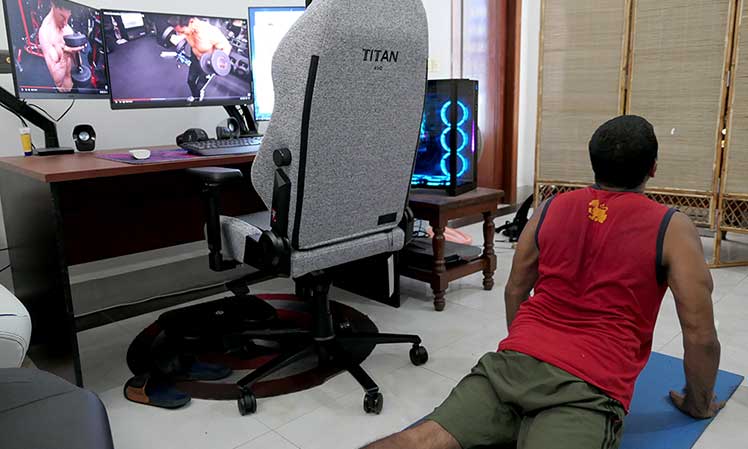 That could involve jumping jacks, climbing stairs, or rolling out a yoga mat for some stretches. Noticeable benefits include more energy, an improved mood, and increased blood flow. This 30-minute timeline is consistent with another popular benchmark: the Ultradian Performance Rhythm.
Fifty years ago, sleep research pioneer Nathan Kleitman documented the "basic rest-activity cycle": 90-minute periods where humans move through five stages of sleep. Kleitman found that our bodies operate by the same 90-minute rhythms during the day. Other researchers call this our "ultradian rhythm."
0-90 minutes: brain activity levels peak after 90 minutes of focus.
90-110 minutes: after the 90-minute peak, brain activity deflates and crashes.
110 minutes: the brain needs to recharge before powering another 90-minute peak.
This gives us two rest break benchmarks to keep in mind:
30-minute movement breaks: move for 3 minutes every half-hour to refresh your muscles.
90-minute mental break: focused brain activity peaks at 90 minutes; a break lets it recharge for another peak.
Mental Downtime Supercharges The Brain
Taking a break to move your body also benefits the brain. Stepping away from a task pauses working memory. Then, the brain switches to a more relaxed, dreamlike state. This 'diffused' mode gives it time to process the information just worked on.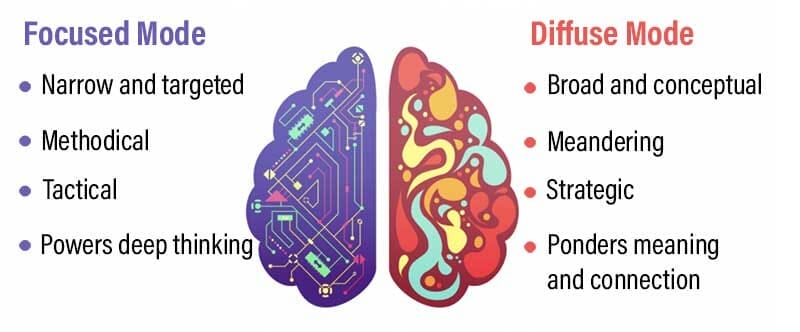 As a result, when you resume your task, you'll see it with fresh eyes. Try this the next time you're stuck on a problem. Take a break, wander around, and let your diffused mind solve the problem for you. It works!
Executive Functioning Burnout
Nutrition, fitness, ergonomic seating, and rest help the brain to maintain focus for longer periods. This happens via executive functions, a mental process emanating from the prefrontal cortex.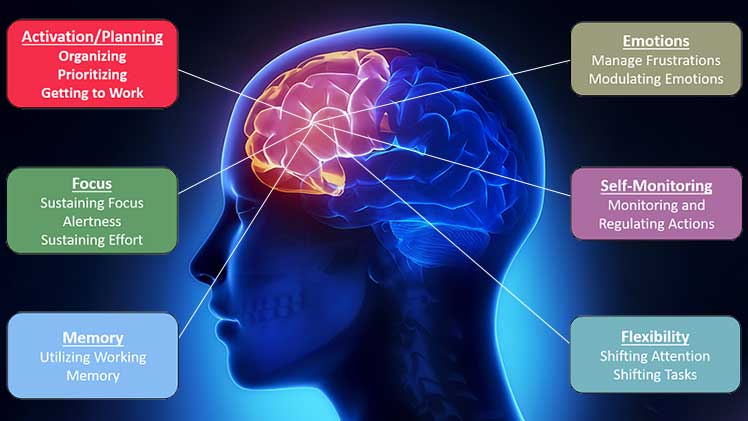 This is the command center where higher human reasoning happens. From here, the brain executes plans, focuses attention, and exerts willpower(14). For example, when you decline a donut to eat healthy, your executive functioning powers that discipline.
The brain is powered by glucose. Strenuous cognitive activities burn more glucose than simple ones. As glucose stores dwindle, executive functions (the brain's 'command center') begin to wane.
Executive Function Burnout In Adults
Without energy, executive functions go dormant. Studies show that when people are overloaded, they struggle to maintain healthy lifestyles(15). For instance, after a tough 12-hour shift, you're more likely to choose booze and junk food.

That's because brainpower is a finite resource with a limited capacity. This explains why discipline falls apart when people are stressed. To cope, many will overeat, binge drink, or try to lose themselves with video games/ social media.

A cluttered workspace is another symptom of executive functioning burnout. Without energy to fuel discipline, cleanliness and hygiene can also fall apart.
Executive Functioning Limits in Kids
The brain's prefrontal cortex doesn't fully develop until the age of 25. That makes self-regulation difficult for young gamers(16). Without matured executive functions, they struggle to balance immediate gaming rewards versus long-term priorities.
As a result, unsupervised young gamers typically neglect essentials like sleep, exercise and personal hygiene. For reference, here are the average attention spans of different ages:
4 years old: 8 minutes
8 years old: 16 minutes
12 years old: 24 minutes
So overstimulation exhausts the executive functions that power self-discipline. In both adults and kids, that leads to a discipline breakdown and slovenly habits.
So how much data is too much? The answer also lies within the prefrontal cortex: working memory.
Working (Short-Term) Memory Limits
The brain's long-term memory can store unlimited information for as long as a lifetime. In contrast, working memory conceptualizes the brain as a system with limited volume. It temporarily stores information and acts on it.
In the digital era, the amount of data a brain takes in at one time can skyrocket. That places a greater strain on working memory. Here's how long-term and working memories compare:
| | | |
| --- | --- | --- |
| | Long Term Memory | Working Memory |
| Duration | Days, months, or years | 10-20 seconds(17) |
| Capacity | Unlimited | Around 7 items at a time |
| Purposes | Stores facts (semantic memory), events (episodic memory), skills (procedural memory), and unconscious memories (implicit memory) | Following instructions, processing verbal and auditory receptions, handling visual and spatial data |
Across many types of memory tasks, there are two fundamental ways that our working memories limit performance:
Recall accuracy and recognition speed declines as the number of independent items to be held in memory increases.
Active information in working memory can degrade if competing task demands arise before retention.
After 16 minutes of focus on a basic task, an 8-year-old will have exhausted their executive functioning ability. Without time to recharge, energy for other tasks will vanish. Then slothful habits, gluttony, and apathy may take over.
Conclusion: IoT Brain Therapy
As computing emerged on the pro chess scene, players needed to adapt — or get left behind. That's why top pros like Magnus Carlsen now embrace fitness, nutrition, and ergonomic seating.
Using healthy food to power an active lifestyle gives the brain more energy and stamina. If you work on developing strong core muscles, sitting for longer periods will get easier.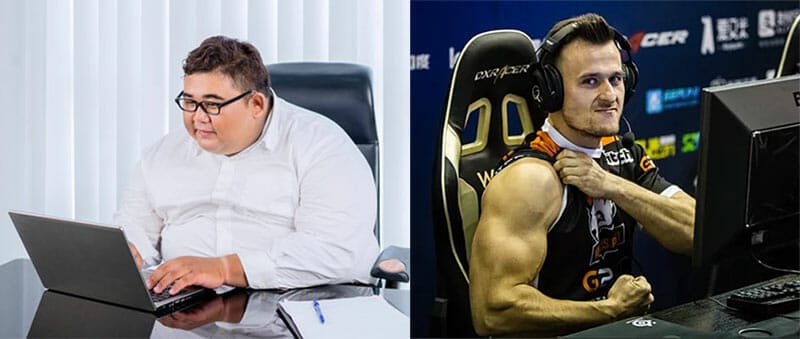 Most importantly, sitting for long periods in a good ergonomic chair spares the muscles from doing the work. As a result, the brain gets a massive amount of excess energy to play with.
Notably, encroaching technologies affect a lot more than pro chess players. In all facets of life, a rising AI-powered Internet of Things (IoT) is forcing many industries to raise their games. Doing so will demand a high-performance brain.
Consider: the average person in 2022 consumed around 19 GB of data per day. As the IoT era arises (smart cities, autonomous cars, sensors everywhere), the amount of data professionals must process will surge.
Exercise + Nutrition + Ergonomics + Movement
To prepare for greater tech-driven challenges, be more like Magnus:
Exercise regularly.
Eat clean food; avoid junk.
Use an ergonomic chair while sitting.
Free from archaic chess rules, you can also do better than Magnus by taking movement breaks every 30 minutes or so. Then, as technological challenges intensify, you'll be prepared.
When others burn out fast, you'll be able to keep working. While they cope with burnout by binge eating and drinking, you'll have the willpower to eat clean and stay rested.
Learn more about the AI-powered challenges that everyone will have to face in the coming years:
IoT Era Will FORCE A Sedentary to Active Lifestyle Shift
Footnotes