Health and wellness priorities for 2022 gamers and desk workers depend on who you ask. From an environmental design perspective, the goal is to further human-computer-interaction (HCI). To power a multi-device computing state of near-virtual reality, humans are the batteries! From an esports perspective, healthy lifestyles and reduced sedentary times are the keys. Using those, tech becomes your slave instead of master!
In 2022, a good ergonomic chair remains an essential part of a healthy deskwork routine. But emerging technostress issues are taking precedence.
As people juggle more apps over more devices, new physical and mental problems have arisen. This has left corporate norms in (deserved) tatters.
When the lockdown era ended, the "Great Resignation" began. In 2021, 3% of the U.S. workforce quit their jobs (47 million people). Post-lockdown, companies aren't luring people back with higher salaries. The perk of working remotely has also soured(1).
To bridge the distance gap, staff must juggle email, groupware, workflow, chat, and conferencing apps. Constant interruptions make focused work difficult. The proliferation of apps in play across multiple devices leads to three types(2) of technostress:
Physical technostress: extended use of laptops, tablets, and smartphones increases the risks for musculoskeletal disorders.
Techno-addiction: inability to disconnect from work. Techno-addicts compulsively perform work-related tasks outside of business hours.
Mental technostress: cognitive overload comes from using too many complicated gadgets at once.
There are two ways to address technostress issues. The first is to wait for environmental designers to build your hamster cage of the future.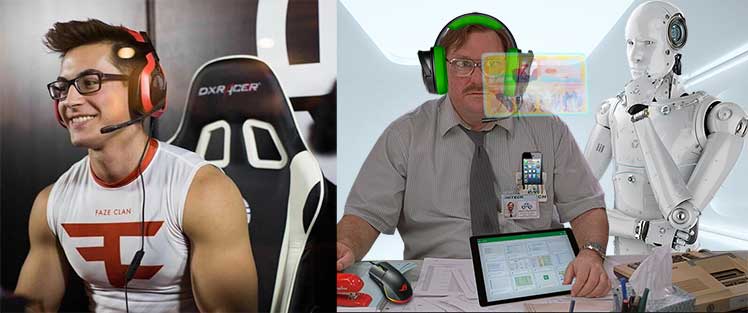 The second is to use existing esports methods to boost body and mind — while making technology your slave!
Institutions Ignore Wellness Factors
Here's the esports technostress relief formula in one picture. This is Ninja, the world's most-followed Twitch streamer. In this shot, he shows off his methods of success while at the computer.
The ergonomic chair supports dynamic neutral postures over long periods. That mitigates musculoskeletal technostress. Multiple screens address mental technostress by displaying more information at a healthy eye-view level.
When away from the computer, Ninja eats clean and works out four times per week. Because of his lifestyle + setup, he's able to stream twelve hours per day — while managing stress and maintaining fitness!
Predictably, institutional attempts to address technostress have thus far been futile(2). Like many corporate-powered 'studies', most are neither anchored in any theoretical framework nor preventive. As well, effectiveness measurements are always highly anecdotal. For example, one of the latest Steelcase technostress solutions is a tent.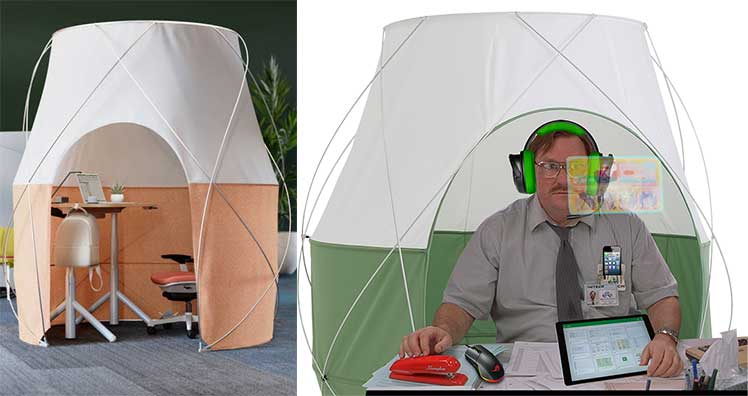 This concept has no theoretical framework: "Tents inherently make you feel comfortable and safe when you're inside of them." Effectiveness measurements will also be purely anecdotal. In fact, these sorts of sloppy solutions are consistent with previous institutional failures.
Healthy 2022 Desk Worker Blueprint
During the Great Resignation of 2021, millions quit their jobs en masse. Gallup researchers told Forbes it's a management problem. Companies need "managers who care, who engage, and who give workers a sense of purpose."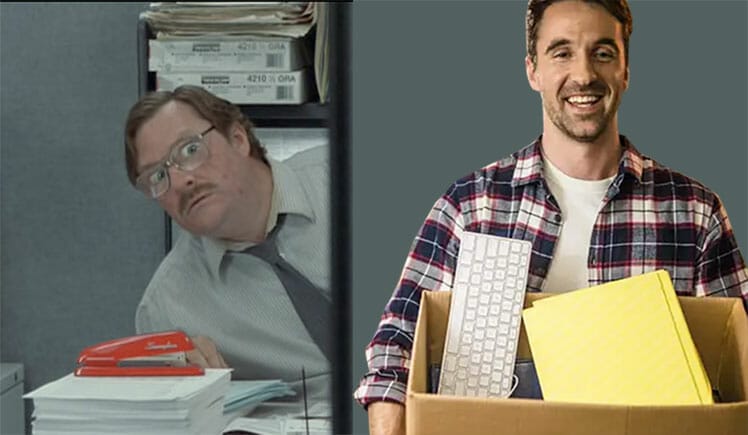 Fast Company says people are disillusioned with institutions because most modern ones lack moral standards! Meanwhile, studies out of the U. OF Cincinnati suggest a longstanding ignorance of genuine human wellness factors also plays a role.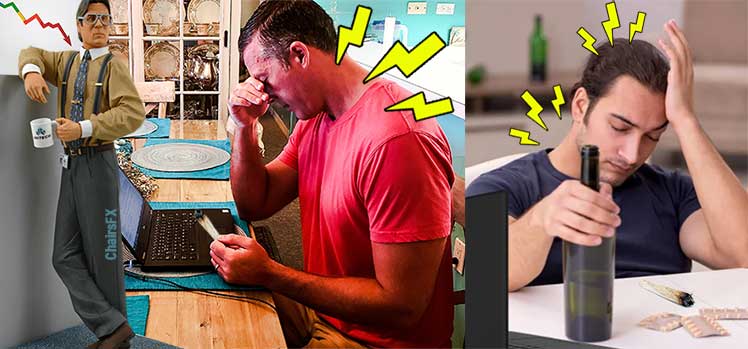 Nonetheless, big institutions plow forward with plans to merge humans and machines. This plot ignores sedentary health risks with schemes to make people more immobile than ever!
Luckily, the pro esports industry has filled the gap. Years of esports performance optimization experiments have yielded a sensible, intuitive, human-oriented framework to smash technostress and thrive.
Healthy lifestyle: ensure adequate rest, good nutrition, and sound sleep.
Build an ergonomic workstation: a basic ergonomic chair, desk, mouse + keyboard kit, and external monitor cost under $400 combined.
Healthy workstation usage: maintain neutral postures; take frequent breaks.
Sedentary Risks vs Active Benefits
Sedentary behaviors are on the rise worldwide. As an example, these statistics were compiled as part of a study on sedentary habits in South Korea: (5):
South Koreans older than 19 average 8.3 sedentary hours per day.
Americans spend 55% of their waking time (7.7 hours a day) engaged in sedentary behaviors.
Europeans spend 40% of their leisure time (2.7 hours a day) watching TV.
Only 8.9% of South Korean adults engage in less than 4 hours of sedentary behavior per day.
20.6% of South Korean adults are sedentary for more than 12 hours per day.
In most developed countries, sedentary trends are similar. For instance, University of North Carolina researchers looked at data collected since the 1960s on activity habits. Then, they projected those trends to 2030 (6).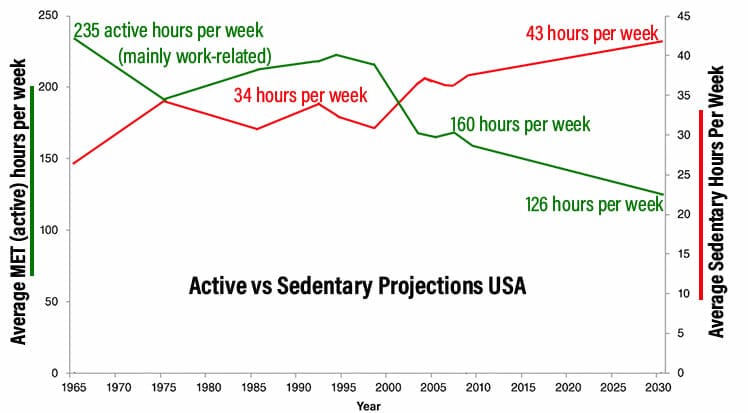 In 1965 America, the prevalence of blue-collar industrial jobs encouraged a high level of physical activity. As factory jobs petered out, activity levels have steadily dropped.
Meanwhile, the Chinese are more active and less sedentary than Americans. Even so, trends are the same. Looking to the future, people around the world can expect to spend more time sitting at the expense of active times.
Physical Decline through the Ages
In prehistoric times, humans were lean, fit, and athletic. Since then, global lifestyles have shifted from active to sedentary. As a result, around 50% of American adults (117 million people) now suffer from preventable chronic diseases (9).
These include coronary artery disease, strokes, diabetes, and some specific cancers. In the 1980s, these diseases were mainly occurring in high-income countries. By 2002, preventable chronic diseases were dominant sources of morbidity and mortality worldwide.
These changes happened across migrating global populations. That indicates the primary determinants are not genetic but environmental (10). Specifically, many epidemiological studies point to diet and lifestyle as key determinants of chronic diseases.
Looking at historical trends, we see technology as a common catalyst for increased sedentary behaviors:
Conclusion
The world of tomorrow exists in somebody's mind today. That vision is currently being worked out by institutional workplace designers worldwide. The Fourth Industrial Revolution will blur lines between the digital, physical, and biological worlds.
Those unprepared will get trapped by technologies into physical decline. Weak muscles, musculoskeletal disorders, depression, weight gain, and spinal disc degradation are some of the rewards.
Others can look to common sense to avoid this trap. They could also look to their esports and streaming heroes who show us how to do it. That will bring you back to common sense.
The biggest challenge facing gamers and computer users in 2022 is work-life balance. As retail, education, and leisure goes online, people have less incentive to move. With less movement, the body and mind break down.
The solution is to go with the flow in a smart, tactical manner:
Lifestyle: adopt healthy fitness, nutrition, and rest routines.
Ergonomics: get a good gaming chair and use it correctly.
Smart work habits: move while you sit; take frequent breaks.
We've rendered the above points into a common-sense 6-step plan. Based on the 2022 desk worker challenges, it's the perfect antidote to sedentary lifestyle risks:
6-Step Healthy Workstation Supercharge
Footnotes
Citations 6-21