There are two deskwork models available for computer users in 2023. Modern institutional systems designers now strive to further human-computer interaction (HCI). That is to prepare for an emerging Internet of Things (IoT). The aim: use ergonomics to fit users into a multi-device state of near-virtual reality. Meanwhile, the esports performance model stacks an ergonomic kit with healthy lifestyles and reduced sedentary times. The former approach causes mental and physical degradation. In sharp contrast, the latter has been proven to supercharge health, wellness, motivation, and productivity.
A major ergonomic shift is underway. The cubicle-style desktop computing era's relevance is fading. In its place, an Internet of Things (IoT) is emerging. WEF Chair Klaus Schwab calls this era the Fourth Industrial Revolution.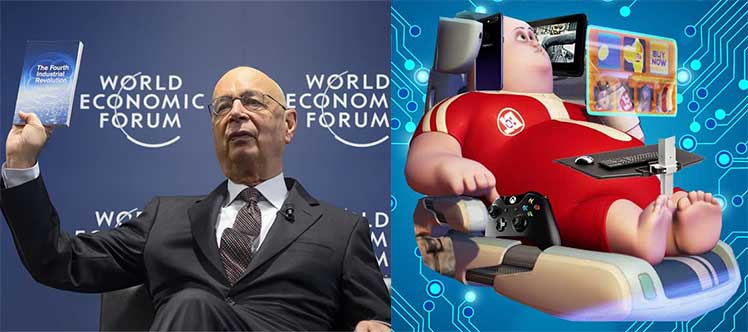 It's an evolution of industrial processes achieved by increasing interconnectivity and automation. That will blur the lines between digital, physical, and biological worlds(1).
Meanwhile, the Handbook of Human Factors and Ergonomics (HFE) has been documenting institutional workplace design standards since 1994. In late 2021, its 5th edition update was released with major design standard updates.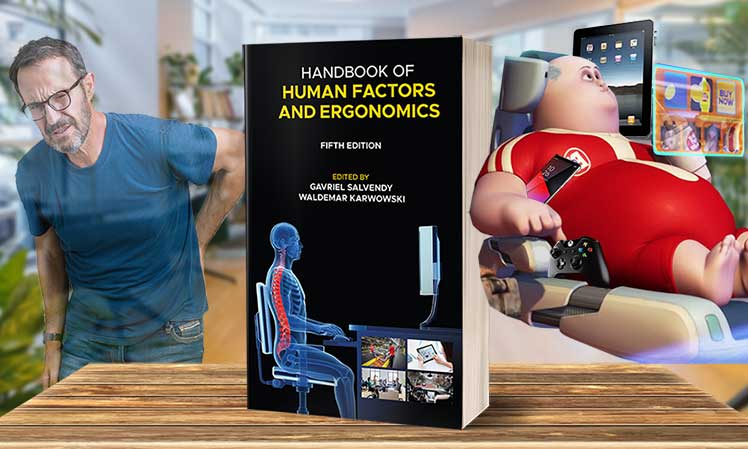 It aligns with the 4th Industrial Revolution concept by identifying two major technostress hurdles:
Musculoskeletal technostress: excessive desktop computing stresses the lower back; mobile computing causes text neck (bent neck and rounded upper spine).
Mental technostress: humans are not equipped to handle constant flows of digital information. Techno-addiction (inability to unplug), depression, and mental burnout are common problems needing solutions.
2023 Technostress Solutions: Institutions Vs Esports
In 2023, institutional experts are searching for ways to relieve technostress as multi-device computing times rise. Meanwhile, a coherent esports model is already in place. Summary:
Institutional Technostress Solutions
Esports Performance Model
The main focus of the 5th edition HFE is the global shift from an industrial to an information-driven world. In the Internet of Things, sensors + smartphones + computers will place users in a perpetual state of near-virtual reality.
Then, modern 'deskwork' becomes focused on finding, using, sharing, and organizing digital information. Given that, institutional designers seek to develop workspaces that help humans to manage information-intensive tasks across many devices.
High performance means more prize winnings. As a result, elite esports teams invest heavily to help players perform better. Many employ physical therapists, nutritionists, and mental coaches.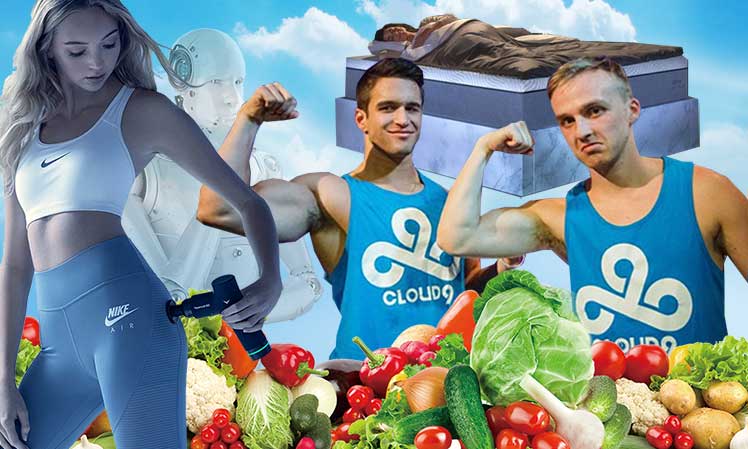 That is because healthy, rested, comfortable players perform better. Disciplined habits away from the computer promote health and wellness. Ergonomic gear while at the computer then supports comfort.
Institutional Ergonomic Problems
This is Arslan Ash, a Pakistani gamer considered one of the best Tekken players in the world. Like most pro players, his setup stacks high-end gaming hardware with an ergonomic chair. Like many elite players, physical fitness is an integral part of his success(2).

He explained fitness benefits in an Instagram post:
Fitness has always given me the confidence to face all sorts of challenges… It's helped me push myself further and continue going. Things may not always go your way, but in my heart, I know I am a fighter and I'll always be ready for the next battle.​
Arslan Ash
Arslan's esports formula (gaming setup + healthy habits) motivates and inspires. In sharp contrast, institutional attempts to address technostress have been clumsy. Most aren't anchored in any theoretical frameworks or even preventive(3).
As well, effectiveness measurements are typically anecdotal. For example, a recent Steelcase technostress solution is a tent. Its marketing copy has no theoretical framework: "Tents inherently make you feel comfortable and safe when you're inside of them."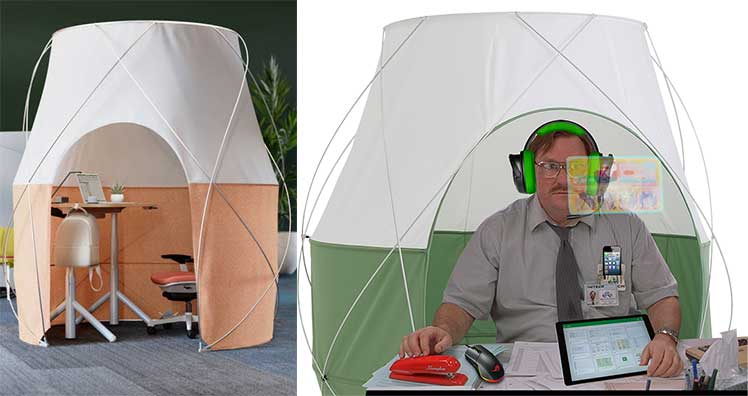 Effectiveness measurements of these tents will also be anecdotal. This continues a long history of institutional fumbling of straightforward workstation design concepts.
Science-Based Healthy Sitting Guidelines
The science of healthy sitting landed from outer space in 1973. Then, NASA sent astronauts to live aboard the Skylab Space Station. The mission: to study how humans adapt to living in zero gravity.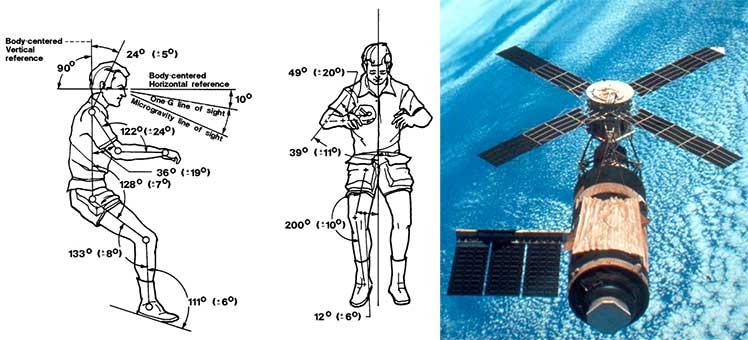 When relaxed, the astronauts always fell into neutral body postures (NBPs). These reduce the body's need to exert against gravity's pull. That offloads musculoskeletal stress, reducing massive pressure on the spine.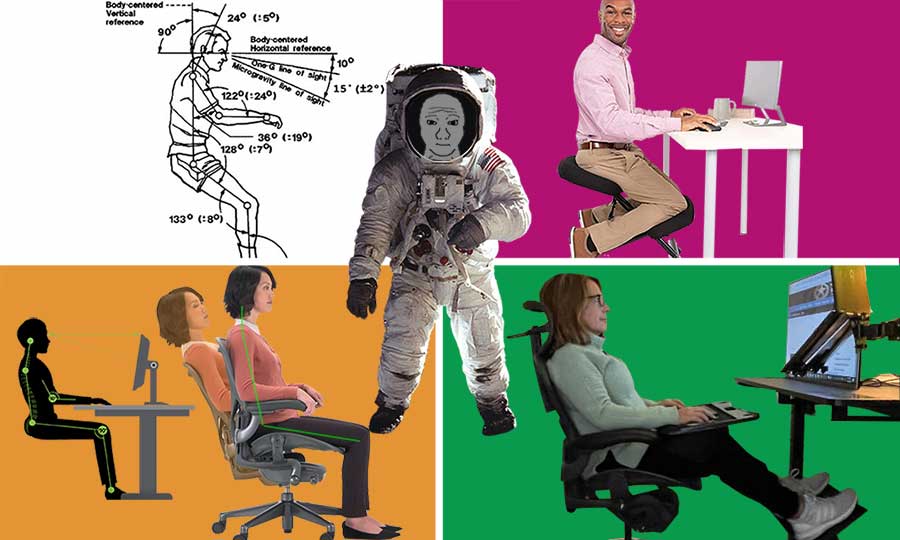 In 1987, NASA published its findings. These NBP guidelines powered future spacecraft designs, cockpit ergonomics, and race car seats. In the 1990s, this technology manifested as ergonomic car seats and office chairs. Learn more:
History Of Institutional Back Support Scams
NASA discovered the science of healthy sitting in 1973. That means since the 1800s, workplace environment designers & back support experts had been peddling unsubstantiated pseudoscience.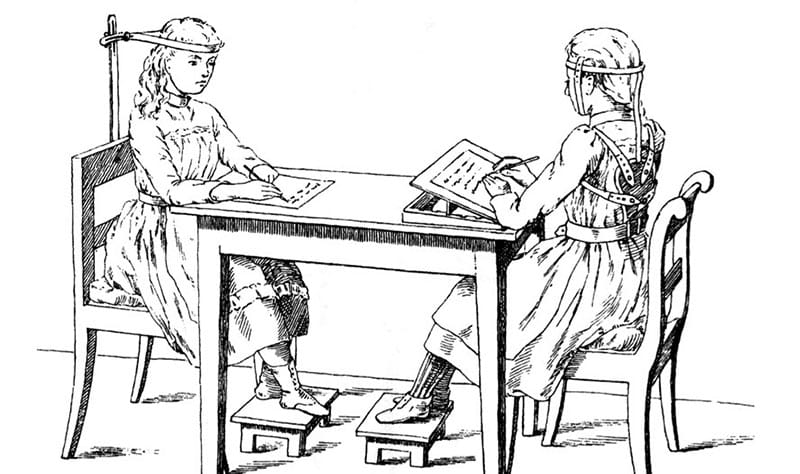 For instance, schooling became mandatory in America in the mid-1800s. Active farm kids were suddenly forced to sit all day. Back problems skyrocketed. Without any scientific basis, back support solutions were crude.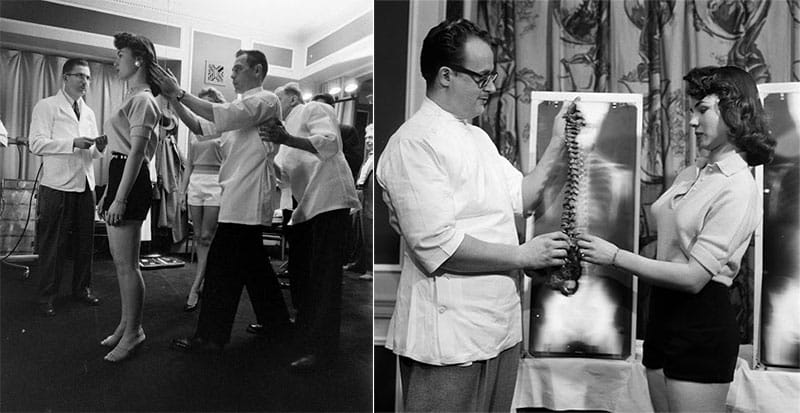 Because back support 'experts' lacked a scientific foundation, they used logic. Logically, the correct posture is ramrod straight. This defined 'good posture from the 1920s to the 1960s.

In 1987, NASA published its neutral posture findings for other industries to use. This laid clear healthy sitting parameters while justifying the need for ergonomic support. Despite this, cheap office chairs remain ubiquitous for full-timers worldwide!
Bottom line: history shows that workplace designers have no problems peddling pseudoscience. Even so, a science-based healthy sitting formula exists. Rather than blindly 'trusting the science', people can use NBP guidelines to make their own discernments.
For example, institutional academic seating standards have not evolved since the 1600s. Rather than trusting schools to teach your kids good posture, you're better off doing it yourself!
Deskwork Dissatisfaction Trends 2023
The allure of corporate life is in tatters. Trouble first emerged during COVID lockdowns. Then, many workers found themselves unprepared for the ergonomic challenges of working from home.
In 2021, one study of locked-down staff found 65% worked on non-adjustable chairs without armrests. As a result, musculoskeletal pain skyrocketed:
62% suffered from upper back and shoulder pain.
49% reported suffering neck pain and headaches.
45% suffered from lower back pain.
During this time, technostress also soured the WFH experience. To bridge the distance gap, remote staff juggled email, groupware, workflow, chat, and conferencing apps. Constant interruptions made focused work difficult. Intensive, multi-device app management causes three types(4) of technostress:
Physical technostress: extended use of laptops, tablets, and smartphones increases the risks for musculoskeletal disorders.
Techno-addiction: inability to disconnect from work. Techno-addicts compulsively perform work-related tasks outside of business hours.
Mental technostress: cognitive overload from using too many complicated gadgets at once.
Since then, there's been a Great Resignation, followed by a quiet quitting trend. Circa 2023, a Pew Research Center survey has found 51% of Americans dissatisfied with their jobs(5).
Esports Deskwork Blueprint 2023
Institutional ergonomic design ignores sedentary health risks. For instance, the 5th Edition Handbook of Human Factors and Ergonomics has 1603 pages. The word 'sedentary' is only mentioned six times!
This is because the human element of the institutional model is reductive. To prepare for IoT, designers seek to outfit humans to consume tech beyond their natural capacity.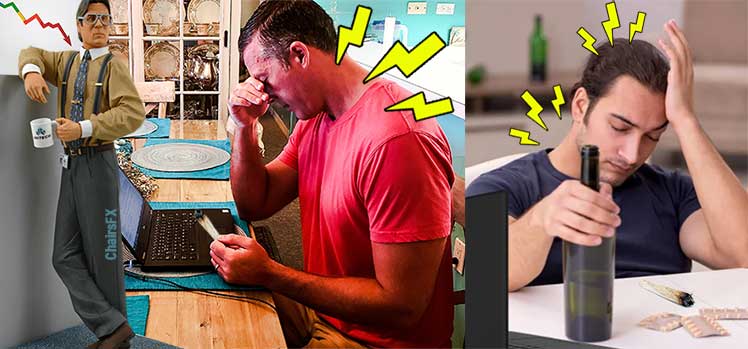 In contrast, a human wellness focus lies at the heart of the esports model. Years of esports performance optimization experiments have yielded a sensible, intuitive, human-oriented framework to smash technostress and thrive.
Healthy lifestyle: ensure adequate rest, good nutrition, and sound sleep.
Build an ergonomic workstation: a basic ergonomic chair, desk, mouse + keyboard kit, and external monitor cost under $400 combined.
Healthy workstation usage: maintain neutral postures; take frequent breaks.
1. Exercise, Rest, And Nutrition
These days, it's widely known that healthy, rested gamers perform best. That's why many top teams work with nutritionists, mental coaches, and physical therapists. ChairsFX spoke to three esports doctors about this trinity.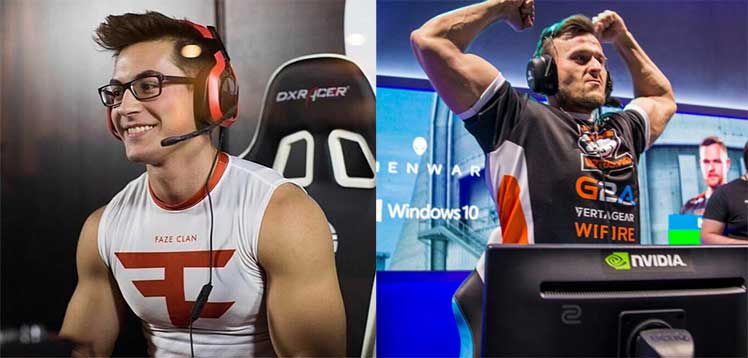 Dr. Jordan Tsai works with Cloud9, TSM, Evil Geniuses, 100 Thieves, and other top teams. He's also on Secretlab's Ergonomics Advisory Board (and a Titan user himself).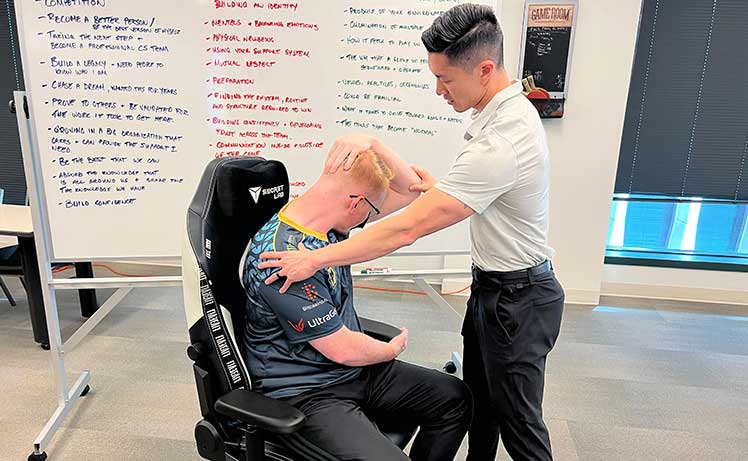 For a pro deskwork routine, he feels a good chair is the least important factor. Instead, "A regular range of motion exercises, strengthening, and stretching are all critical."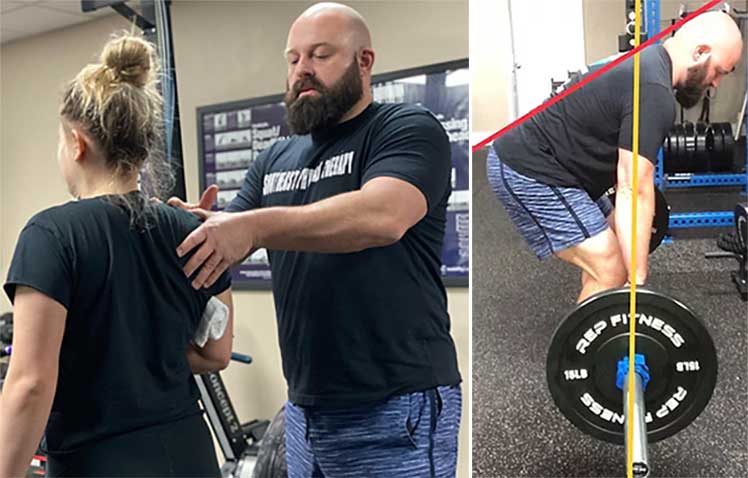 Dr. William Duncan runs Southeast Physical Therapy in Roswell, Georgia. His clinic serves both esports pros and traditional athletes. He says that whichever type of chair you use, exercise can mitigate potential harm.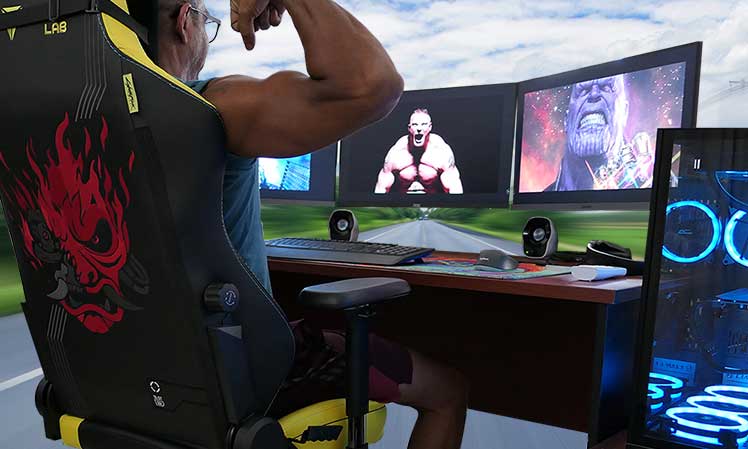 Dr. Duncan also explained the holy trinity:
Adequate rest: If you're resting well (quality of sleep over quantity of hours), you will be a healthier person. Mental health and processing ability will both improve. As a result, you will feel and interact better with people in both your digital and physical worlds.
Good nutrition: Eating well counteracts things like excessive weight gain, heart disease, diabetes, obesity, and certain cancers. All of these are also linked to sitting for extended periods.
Regular exercise: To counteract sedentary effects, do 60-75 minutes of moderate-intensity daily exercise. This will boost your metabolism, immune system, digestive function and ultimately strengthen your heart and lungs.
All three doctors in the article offer online physical therapy consulting. Find their full advice and contact details here:
2. Build a Healthy Ergonomic Workstation
In the desktop computing cubicle era, good back support was the only support needed. A good ergonomic chair + desk provided the support desk workers needed — at the time.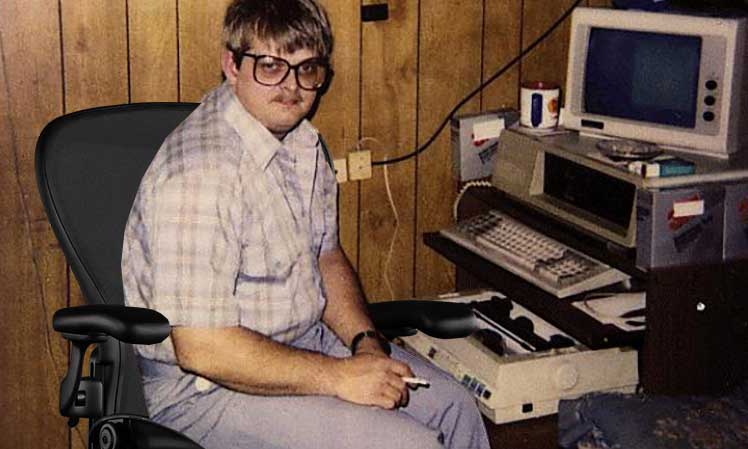 But mobile computing times are rising. To address that, the 5th edition HFE updated its guidelines in 2021. To address text neck syndrome, a good modern workstation must now support the back and neck.

To that end, the updated (basic) formula is ergonomic chair + desk + adjustable screen. By adjusting the screen to a proper height, users can prevent poor upper back posture.
Budget Starter Setup
Make sure to have your rest, rest, exercise, and nutrition routines in check. Then, add an ergonomic workstation to support your computing wellness and performance.

If money's tight, a bare-bones kit can cost you less than $400 (assuming your employer provides the laptop). A fully ergonomic chair serves as the centerpiece; the other pieces are complimentary.
Amazon prices are updated in real-time and may fluctuate:
As of this writing, this budget kit costs less than $350!
Advanced Starter Setup
An advanced workstation goes beyond the budget model with two key additions. The standing desk promotes movement; the adjustable monitor arms help to prevent text neck.
Summary of the build:
Ergonomic chair: negates musculoskeletal stress by supporting an optimal spinal alignment while computing.
Sit-to-stand desk: support desktop and mobile computing; caters to various sizes; supercharges movement.
Desk-mounted monitor arms: adjust screens on the fly to prevent a forward head tilt.
This setup supercharges movement. It also gives you the means to adjust your workstation instead of bending your spine.
For example, to prevent leaning forward, Dr. William Duncan advises moving your adjustable screen closer to your face.
To learn more, check this ergonomic tour through starter and advanced setups:
Blueprint to Build A Healthy WFH Computing Setup
3. Use Your Workstation Wisely
First, get your lifestyle in order (exercise + rest + nutrition). Second, build an ergonomic workstation that fits within your budget. Third, use your workstation wiseley. That involves two things:
Dynamic Neutral Sitting Postures
Robust Movement To Avoid Fixed Positions
Neutral Sitting Positions
NASA's original neutral body posture (NBP) interpretation was a sharp upright active one. That actively uses back muscles to stabilize the spine. Twenty years later, Nissan engineers adopted NBP to make ergonomic car seats.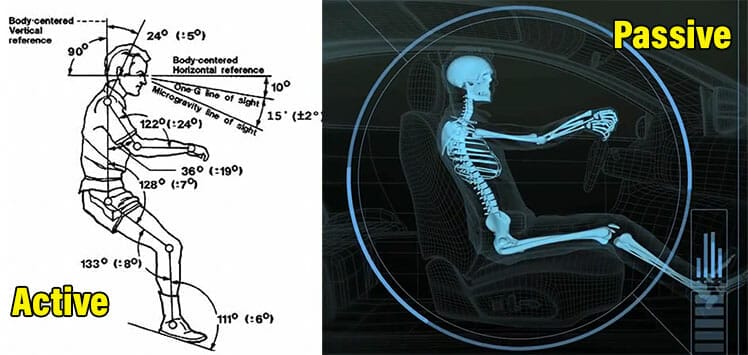 The Nissan car seat style is a passive recline. Instead of back muscles doing the work, the seat aligns the spine and props it up against gravity.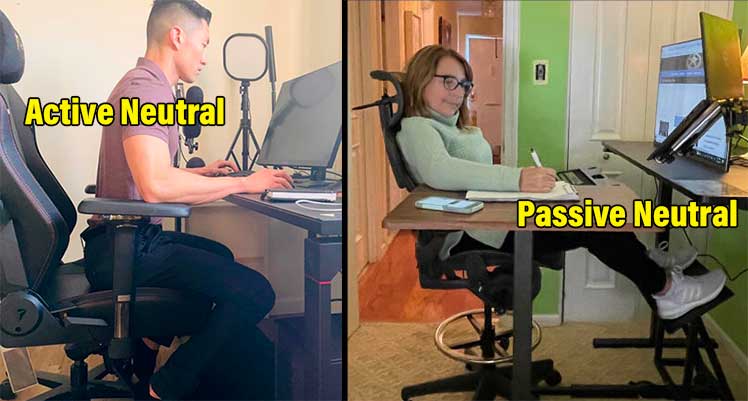 Circa 2023, these active and passive extremes remain neutral posture benchmarks for modern desk workers. Between these extremes are several variations. For instance, many elite esports pros tend to compete using semi-neutral postures.
As an example, Oleksandr 's1mple' Kostyljev uses textbook lumbar-powered guidelines (supported lumbar + arms). However, his upper back and neck posture shows an unhealthy forward slouch.

Meanwhile, other gamers forgo healthy sitting completely to lean forward with terrible posture. Even so, many of them thrive, reaching the highest levels of esports excellence. How is that possible?
In a previous article, Dr. Jordan Tsai explained. Despite the marketing hype, ergo chairs play a minor supporting role (not a starring one) in the performance optimization model:
Rest/nutrition/exercises > breaks > good posture > good chair. Developing healthy habits is the most important thing to work on.
Dr. Jordan Tsai
Move Frequently While You Sit
A neutral position is a good default. However, sitting in any position for too long incites sedentary damage. As a result, you should also get into the habit of moving frequently while you sit.
For example, all gaming chairs come standard with rocking and recline functionality. Every few minutes, angling the backrest back or forward will switch up your hip and spinal positions. As another example, add a footrest to work your calves while you sit.
Another option is to buy an ergonomic chair with a wide seat pan. For example, Secretlab Titan chairs are specifically designed to encourage movement while sitting.
Dr. William Duncan summarized the benefits of seated / standing movement for computer users. The gist:
Posture is more about
changing positions frequently
…
keeping tissue pliable
and
never
allowing them to get too familiar with one specific position.
Dr. William Duncan
BONUS: Take Frequent Breaks
Dynamic movement while sitting helps to offset musculoskeletal stress. Taking frequent standing breaks takes this concept to another level. For a start, the motion needed to sit or stand replicates a squat.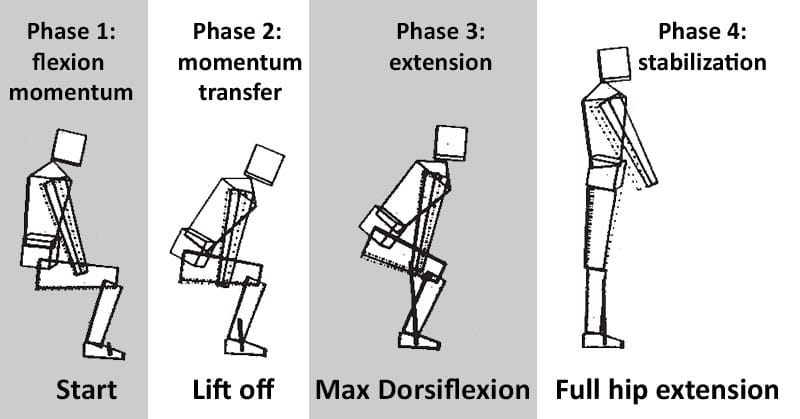 That works your hips, bones, muscles, and joints. Instead of rigid sitting in fixed positions for periods, sit-stand transitions improve both cardiovascular and cerebrovascular health.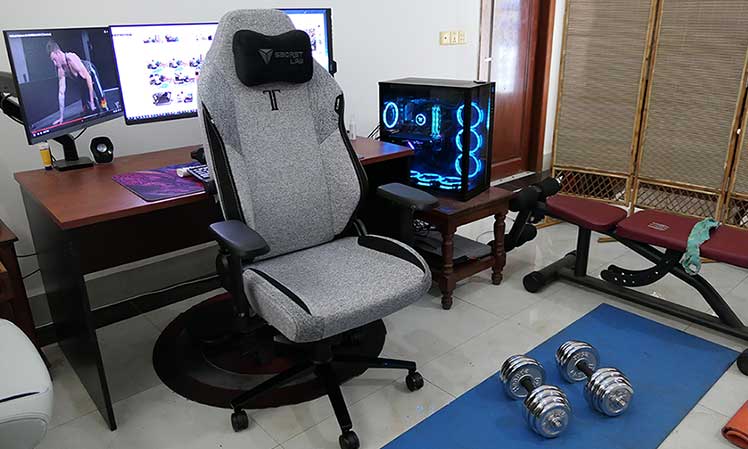 Beyond physical benefits, movement breaks away from a computer puts the brain into 'diffuse mode'. Instead of collecting info, this relaxed state is when the brain processes information.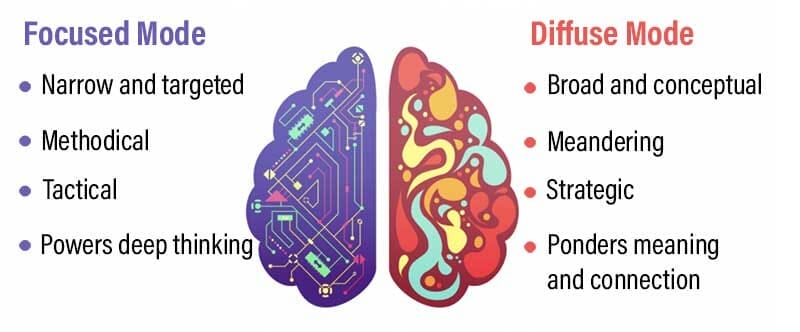 Specifically, fact-based memories are stored in the hippocampus(6). During downtime, that data goes to the brain's prefrontal cortex, which has more storage space.
It works like an email system: when the hippocampus is full, the brain needs downtime to process it. Until that happens, new information will bounce when trying to enter the hippocampus.
The next time you're stuck on a task, test this concept. Step away from the task and give the brain time to solve it in diffuse mode. When you return to your desk and fire up your brain, the solution should appear. Learn more:
Sedentary Risks vs Active Benefits
Sedentary behaviors are on the rise worldwide. As an example, these statistics were compiled as part of a study on sedentary habits in South Korea: (7):
South Koreans older than 19 average 8.3 sedentary hours per day.
Americans spend 55% of their waking time (7.7 hours a day) engaged in sedentary behaviors.
Europeans spend 40% of their leisure time (2.7 hours a day) watching TV.
Only 8.9% of South Korean adults engage in less than 4 hours of sedentary behavior per day.
20.6% of South Korean adults are sedentary for more than 12 hours per day.
In most developed countries, sedentary trends are similar. For instance, University of North Carolina researchers looked at data collected since the 1960s on activity habits. Then, they projected those trends to 2030 (8).
In 1965 America, the prevalence of blue-collar industrial jobs encouraged a high level of physical activity. As factory jobs petered out, activity levels have steadily dropped.
Meanwhile, the Chinese are more active and less sedentary than Americans. Even so, trends are the same. Looking to the future, people around the world can expect to spend more time sitting at the expense of active times.
Physical Activity Guidelines for Americans
The U.S. Department of Health and Human Services (HHS) used to put out health guidelines every four years. Its inaugural 2008 Physical Activity Guidelines focused on the disease-prevention benefits of physical activity.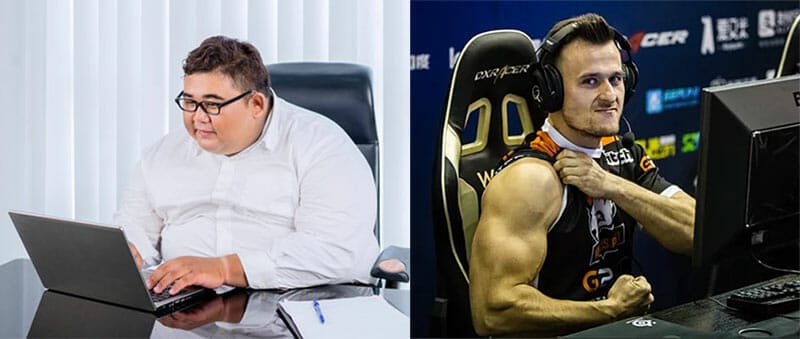 The 2018 version was the last published(9). It focuses on the wellness benefits of physical activity. These include helping people sleep better, feel better, and perform daily tasks more easily. Its key guidelines:
Children aged 3-5: should be physically active throughout the day. Caregivers should encourage play across a variety of physical activities.
Children aged 6-17: 60 minutes of moderate-to-vigorous physical activity per day. Add muscle-strengthening activity 3 times weekly.
Adults: on a daily basis, try to spend less time sitting. Add 2.5 to 5 hours of moderate-intensity exercise per week.
By adhering to these guidelines, people of all ages can improve both their health and their productivity:
| | | |
| --- | --- | --- |
| Outcome | Adults | Children 6-17 |
| Cognition | Improved functioning, attention, memory, and processing speed. Reduces dementia risks. | (Ages 6-13) Improved memory, processing speed, and academic performance. |
| Mood | Reduces depression risks | Reduces (non-disorder) short and long-term anxieties. |
| Physical Health | Risk reduction: all-cause mortality, diabetes, hypertension, anxiety, weight gain, bone health, depression. | Improved bone health, weight status, muscular fitness, and cognition. |
Sedentary Behavior Health Risks
ChairsFX asked Dr. William Duncan about sedentary habit health risks. His take (condensed):
"Humans are built and designed to stand upright. The cardiovascular and digestive systems are designed around being vertical. The spine is meant to be vertical as well — supported by muscles, connective tissue, and the inherent shape & stability of the bones.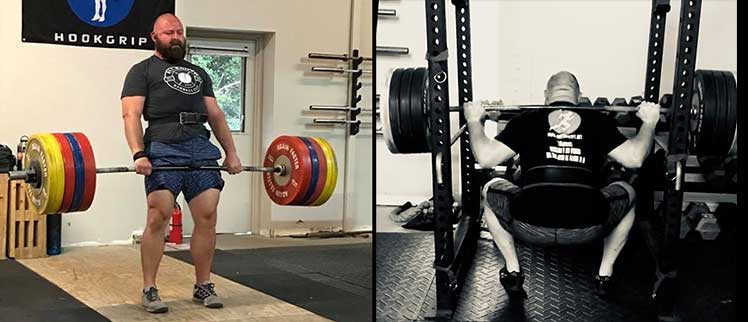 But support by tissues requires energy — and the body's primary goal is to conserve energy as best it can. So when we sit for extended periods of time, the body will look for more energy-efficient means of support: a chair.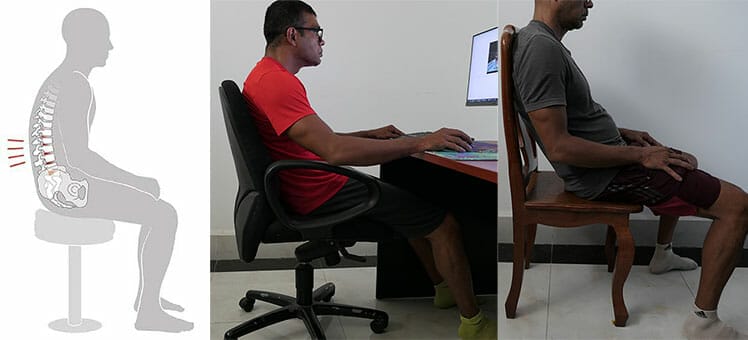 While a chair can be extremely useful for short bouts of sitting, extended time can create small changes in the body that have a large, long-lasting impact."
Common Problems Caused By Sedentary Habits
If you suffer pain while working at a desk, you should fix the problem at its source. Failure to do so will likely see things get worse. Here are common early problems caused by excessive sedentary behavior:
Wrist disorders: 4 million Americans suffer from carpal tunnel syndrome.
Neck pain: the fourth-leading cause of disability in America.
Shoulder pain: causes around 4.5 million USA doctor visits and $3 billion in associated health costs.
Elbow and forearm pain: 1-3% of all Americans suffer from elbow tendonitis, aka tennis elbow.
Low back disorders: 31 million Americans are suffering from low back pain at any given time.
Long-Term Risks Associated With Sedentary Habits
When left unchecked, these problems can manifest as serious long-term health problems. Examples:
Obesity: waist circumference increases by 3.1 cm with a 10% increase in sedentary time. With more weight to carry, patients feel compelled to move even less (10).
Diabetes: the prevalence of type 2 diabetes increases as sedentary time does. Adding regular exercise only slightly offsets this risk. Symptoms include tingling extremities, very dry skin, excessive urination, and blurry vision.
Hypertension: sedentary behaviors reduce blood pressure. That alters cardiac output and total peripheral vascular resistance. Symptoms include severe headaches, an irregular heartbeat, nosebleeds, and fatigue.
Cancer: prolonged sitting increases colorectal, endometrial, ovarian, and prostate cancer risks. It has also been reported to increase cancer mortality (mainly in women).
Osteoporosis: sedentary behavior lowers the bone mineral density of the femur and hip sub-regions. As a result, bones become brittle and easy to break.
Depression: mentally passive sedentary behaviors (like watching TV) increase depression risks.
Physical Decline through the Ages
In prehistoric times, humans were lean, fit, and athletic. Since then, global lifestyles have shifted from active to sedentary. As a result, around 50% of American adults (117 million people) now suffer from preventable chronic diseases (11).
These include coronary artery disease, strokes, diabetes, and some specific cancers. In the 1980s, these diseases were mainly occurring in high-income countries. By 2002, preventable chronic diseases were dominant sources of morbidity and mortality worldwide.
These changes happened across migrating global populations. That indicates the primary determinants are not genetic but environmental (12). Specifically, many epidemiological studies point to diet and lifestyle as key determinants of chronic diseases.
Looking at historical trends, we see technology as a common catalyst for increased sedentary behaviors:
Fitness Levels Before The Modern Era
In prehistoric times, human fitness was driven by the need to survive through hunting and gathering. Today, although no longer driven by subsistence, fitness remains essential to health and well-being. Here's a quick look at fitness levels through history (13).
Primitive Nomads (pre-10,000 B.C.): very high levels of fitness. Tribes often went on 1 to 2-day hunting/ gathering journeys. After successful excursions, groups would travel 6-20 miles to visit other tribes.
Early Agriculturalists (10,000-8,000 B.C.): high levels of fitness. Animal and plant domestication reduced workloads and increased food supplies. People got a bit fatter and lazier.
Ancient Greeks (2500-200 B.C.): high levels of fitness. The quest for physical perfection and the appreciation for beauty was unparalleled in history.
American Colonial Period (1700-1776): high levels of fitness. Life revolved around plowing wilderness, hunting for food, and herding cattle.
American Post-Civil War (1865-1900): low levels of fitness. Industrial life replaced an agricultural one as people transitioned to sedentary city living.
The gap between primitive and modern lifestyles is massive. According to this(13) study, the modern American expends 65% less energy per day than a Paleolithic Stone Ager. To make up the difference, a 70 kg modern adult would need to walk 19 km per day (12 miles).
1990-present: Childhood Sloth & Obesity
Soon after personal computing emerged in the 1990s, childhood obesity levels skyrocketed (14). Even so, it was only recently that researchers began to link excessive computing with obesity. This CDC chart shows sharp upward trends for ages 6-11 and 12-19: prime computing age: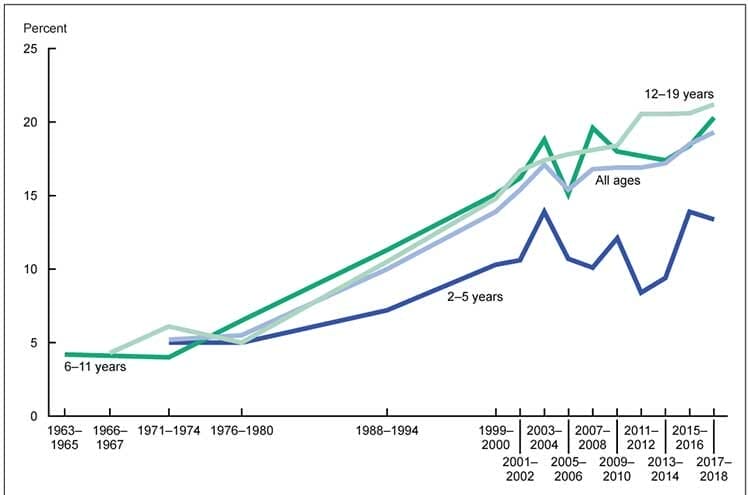 Add to this a recent study showing distinct patterns of change with age (15). As adolescents get older, physical activity levels drop while sedentary time goes up.
During childhood and adolescence, moderate-to-vigorous intensity physical activity (MVPA) plays an important health role. The World Health Organisation suggests an average of sixty minutes or more MVPA per day (16).
2007-2016: Increasing Computing Time
From 2007 to 2016, a study was conducted of 51,896 participants. It found total sitting time increased in both adolescents and adults (17):
Adolescents: total sitting time increased from 7.0 to 8.2 hours per day.
Young adults: sitting time increased from 5.5 to 6.5 hours per day.
Older adults: 5.3 to 6.1 hours per day.
During the 2015-2016 phase, computer use outside school or work was also measured. Between 30% to 43% of the US population used a computer for 2 hours/ day or more; 13% to 25% used one for 3+ hours each day.
2021 COVID Lockdown Sedentary Impact
A Canadian non-profit studied sedentary trends in Toronto during 2021 lockdowns. 61% reported spending more time in front of screens; 33% spent the same amount; 6% spent less (18).
Time spent watching TV during lockdowns went up among 63% of participants. Internet browsing went up among a similar percentage. However, less than 25% reported increased video gameplay during lockdowns.
In 2020, video gamers spend an average of six hours, 20 minutes each week playing games. This was an 11% decrease vs (pre-lockdown) 2019 (19). Compared to older ages, young people spend the most time gaming.
Conclusion
There's a vision currently being worked out by leading institutional workplace designers. The coming Fourth Industrial Revolution will blur lines between the digital, physical, and biological worlds.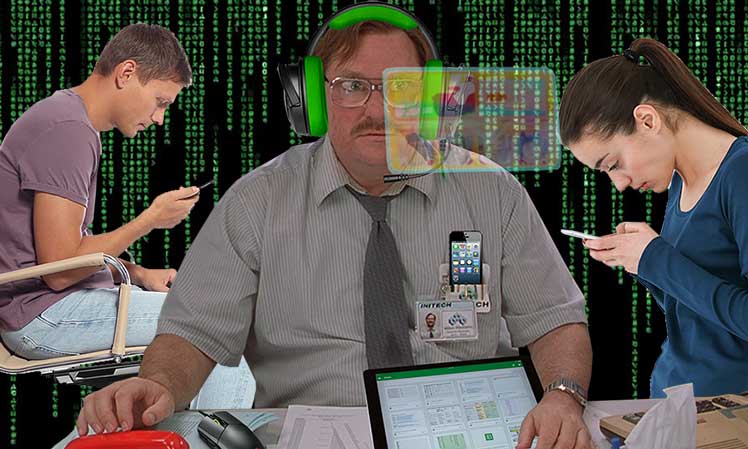 Those who fail to adapt to the 'Ubiquitous Computing' era may suffer consequences. Consuming excessive tech while maintaining unhealthy postures for long periods causes mental and physical decline.
Common outcomes include weak muscles, musculoskeletal disorders, depression, weight gain, and spinal disc degradation. Luckily, the 'Ubiquitous Esports' model has already solved the technostress dilemma.
Millions of gamers and esports fans around the world already know the basics. First, a good ergonomic chair helps gamers to play longer without discomfort. Second, frequent breaks + healthy lifestyles helps to supercharge computing performance.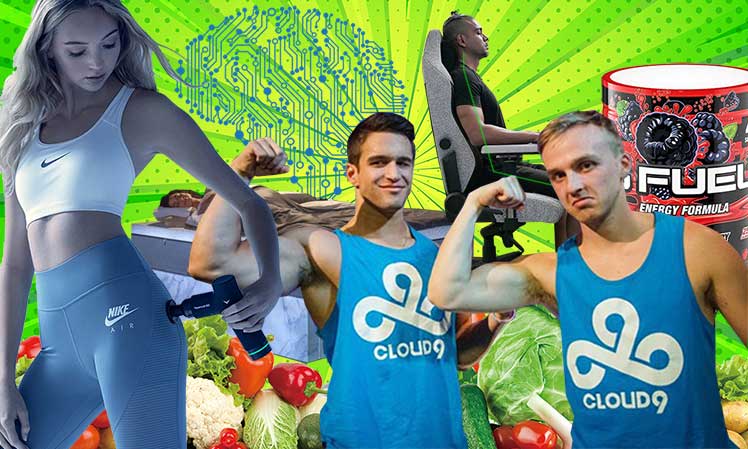 Here's an expanded version of the esports performance blueprint:
Lifestyle: adopt healthy fitness, nutrition, and rest routines.
Ergonomics: get a good desk chair and use it correctly.
Smart work habits: move while you sit; take frequent breaks.
Once you've digested the gist, consider sharpening up your neutral sitting mechanics. To master the essentials for gaming and ergonomic office chairs, see this:
How to Sit: Gaming and Office Chair Neutral Posture Quickstart
Footnotes
Citations 11-19