Most desks have a work surface between 28-30″ high. Meanwhile, ergonomic best practices suggest sitting with feet firmly planted. But to fit with an average-sized desk, many people 5'10" or shorter must dangle their feet to sync with the desk. The simple solution: add an ergonomic footrest. Beyond a good desk sync are other sweet benefits. Learn how all desk users 5'10" or shorter can prosper by adding an ergonomic footrest.
Using a footrest can make you sit taller, straighter, and more dynamically. Supporting the feet with a footrest reduces the total power absorbed by the seat(1). Instead of going into the seat, that power curls through the hips and into the spine.
With proper lumbar support, that gives the spine plenty of force to maintain a healthy neutral sitting posture. However, no matter how pristine your posture, sitting in fixed positions causes postural fixity (static loading of back and shoulder muscles).
Intervertebral discs rely on pressure changes to receive nutrients and remove waste. Sitting in fixed positions reduces those exchanges. That results in fatigue and long-term disc degeneration(2).

Sitting without movement also restricts blood flow to the legs. This causes swelling, discomfort, and deep vein thrombosis in extreme cases.
All of these problems can be addressed with the simple addition of a cheap ergonomic footrest. Using one can enhance your sitting height, posture, and ability to move while sitting.
Benefits Of Using A Footrest
Healthy sitting in any type of ergonomic chair requires both feet planted firmly on the floor. However, most standard desks have a work surface between 28-30″ high. This creates a problem for people 5'9″ (175 cm) or shorter.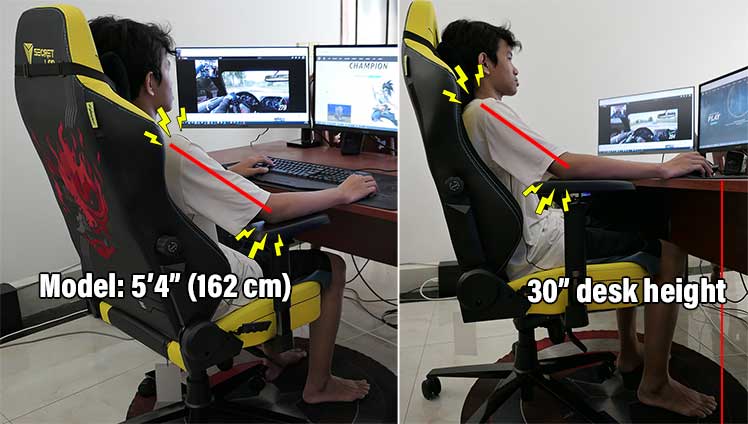 In the photo, a 5'4″ model sits with planted feet at a desk 30″ high. To sync his arms with the work surface, he has to raise the armrests very high. As a result, instead of falling freely from his shoulders, his arms hit the armrests at sharp angles.
Over long periods of sitting, that position will cause pain in the shoulders, forearms, and wrists. The simplest solution to this sizing problem is to add an ergonomic footrest.
Then, instead of raising the armrests too high, you can raise the seat height. That will help you to better sync your chair with the desk — without stressing your shoulders and elbows.
Popular Amazon Footrests
Amazon offers a huge array of ergonomic footrests priced under $50. The following are currently the top-3 most popular on Amazon's best-selling footrest list.
Conclusion
Adding a footrest to my workstation has been a game-changer. For one thing, it's allowed me to sit taller in my chair. That has made my desk a perfect fit.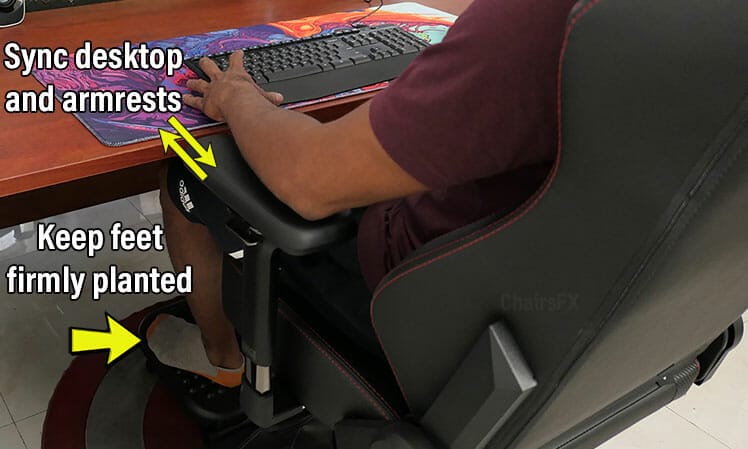 Using a footrest has also made it even easier to sit upright for long periods. On top of that, constant movement while sitting keeps me energized and alert.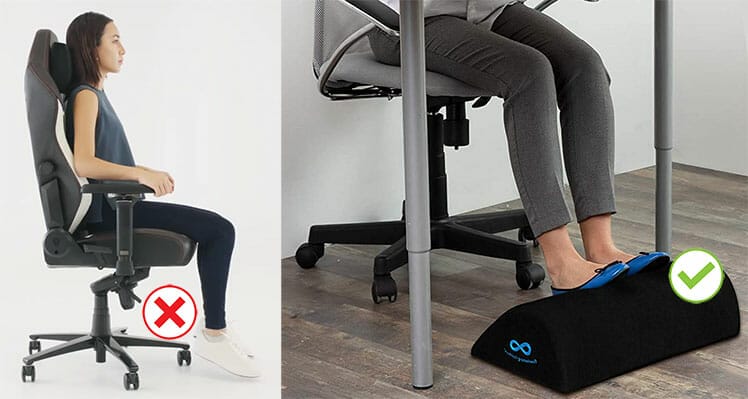 Bottom line: everyone 5'10" or shorter should add a footrest to their workstation. Doing so will ensure a better sync with one's desk. It will also make it easier to sit with good posture — with plenty of movement — over long periods.
Footnotes