Most desks are between 28-30 inches (71-76 cm). That height range force users under 5'9″ (75 cm) to raise their seat to align forearms with their workstation. As a result, the feet are often off the ground. Luckily, a cheap, simple 'hack' exists to solve that problem and more. For under $40, an ergonomic chair footrest lets users sit taller in proportion to their desk. Using a footrest also glues your lower back to the backrest, making it easier to sit in a neutral position. On top of that, a footrest also adds dynamic sitting functionality — more potent than what any ergo chair can offer.
Using a footrest can make you sit taller, straighter, and more dynamically. Supporting the feet with a footrest reduces the total power absorbed by the seat. Instead of going into the seat, that power curls through the hips and into the spine. With proper lumbar support, that gives the spine plenty of force to maintain a neutral sitting alignment.
However, no matter how pristine your posture, sitting in fixed positions causes postural fixity (static loading of back and shoulder muscles). Intervertebral discs rely on pressure changes to receive nutrients and remove waste. Sitting in fixed positions reduces those exchanges. That results in fatigue and long-term disc degeneration.

Sitting without movement also restricts blood flow to the legs. This causes swelling, discomfort, and deep vein thrombosis in extreme cases.
Below, we explain how a footrest enhances height, posture, and movement while sitting.
Benefits of sitting taller with a footrest
People 5'9″ (75 cm) or shorter should have a desk set at 27.8″ (70.6 cm). Measure your desk. Then, compare the suitability for your height using these desk sizing guidelines (source).
"Chair height" is the distance from floor-to-seat. "Armrest height" measures the distance from seat-to-armrests:
| User height | Desk height | Chair height | Armrest height |
| --- | --- | --- | --- |
| 5'2" (157 cm) | 25" (63.5 cm) | 16.7" (42.4 cm) | 9.2" (23.2 cm) |
| 5'5" (165 cm) | 26.2" (66.5 cm) | 17.5" (44.45 cm) | 9.6" (24.3 cm) |
| 5'7" (170 cm) | 27" (68.5 cm) | 18" (45.7 cm) | 9.9" (25 cm) |
| 5'9" (175 cm) | 27.8" (70.6 cm) | 18.5" (47 cm) | 10.2" (25.9 cm) |
| 6'1" (185 cm) | 29.4" (74.6 cm) | 19.6" (49.7 cm) | 10.8" (27.4 cm) |
| 6'3" (190 cm) | 30.2" (76.7 cm) | 20.2" (51.3 cm) | 11.1" (28 cm) |
| 6'5" (195 cm) | 31" (78.7 cm) | 20.7" (52.5 cm) | 11.4" (29 cm) |
Higher seat, lower desk, lower armrests
I stand 5'9″, or 177 cm. My desk is 76 cm (30 inches), which is around three inches higher than recommended. Using a Mind Reader footrest (in the second setting) raises my feet 12 cm (4.7 inches) off the ground. Here is the result:
The raised seat puts me higher in proportion to the desk surface. That lets me lower the armrests to remain in sync with the desk. With lowered armrests, my arms fall from my shoulders in a more comfortable, relaxed position.
Reinforcement of neutral sitting habits
Our Gaming Chair User Guide teaches users how to sit for long periods in a neutral posture. In all types of ergonomic chairs, neutral sitting exerts the least amount of pressure on the lower back, shoulders, and neck areas.
An ergonomic footrest supports neutral sitting in a few ways, First, it prevents the legs from hanging uncomfortably off the edge of the seat. That provides a firm, height-optimized base of support for the legs. It also reduces the power absorbed by the seat.
That places less pressure on the thighs against the seat. Instead, pressure runs up the thighs and into the hips, gluing the lower back to the backrest. With lumbar support, the result is a perfect lumbar curve, which supports optimal upper body posture.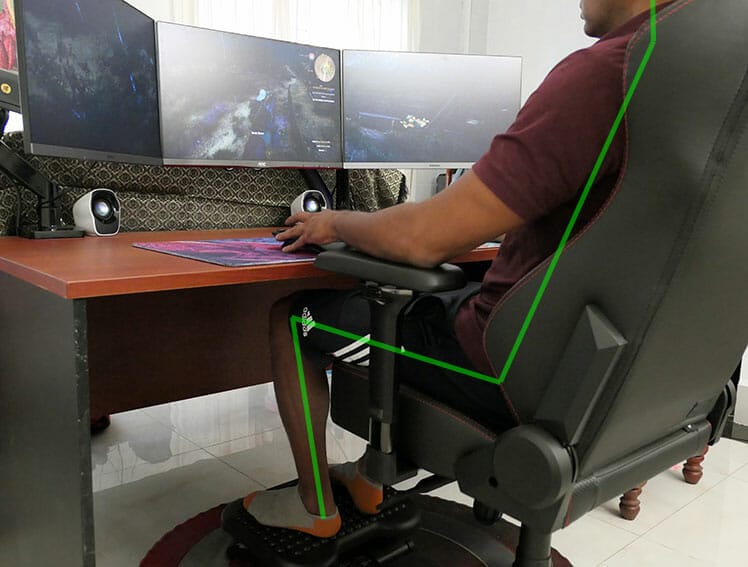 As a result, it feels easier to push up from the legs to keep the upper spine straight. That has led me to a more consistent neutral posture, with less leaning forward.
Learn more about neutral sitting techniques in our illustrated tutorial:
More movement, better circulation
Many ergonomic scientists suggest that optimal sitting behavior involves regular changes in position. Dynamic sitting can be applied by taking regular breaks, or through seated posture variation. Gaming chairs provide a few options for movement such as rocking or reclining.
Most ergonomic footrests also let you move your feet while sitting. For instance, my Mind Reader footrest has a pebbled surface that allows rocking back and forth. While sitting, I use this feature a lot more than my chair's reclining or rocking functions.
In fact, using a footrest has taken my dynamic sitting habits to an entirely new level. Pressure from my feet pushes on my lumbar curve, instead of on the thighs against the seat. That has made it easier to sit upright — without needing to use my chair's neck rest.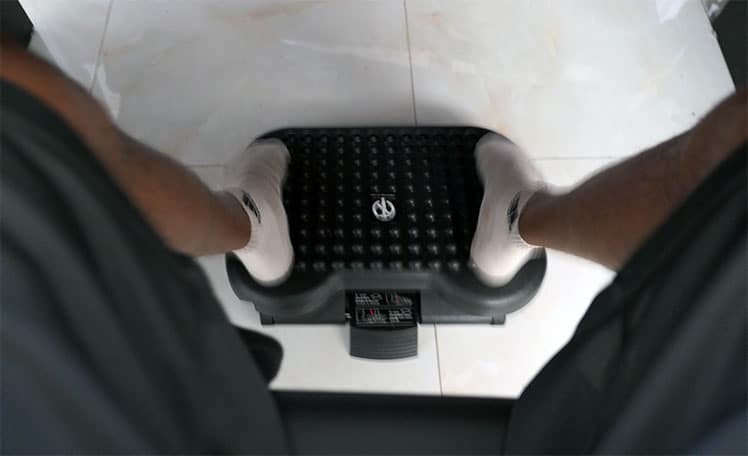 As a result, my new sitting style incorporates near-constant movement. Sometimes, I lean my neck against the neck pillow. At other times, I sit up straight, with my neck off of the pillow. Concurrently, I am moving my feet 90% of the time.
Fancy ergo chair vs footrest for movement
The need for movement while sitting is why many ergonomic chairs are so expensive. For example, the Herman Miller Aeron costs $1395. One reason for the high price is its complex synchro-tilt feature. When you lean back, the seat tilts up. When you lean forward, it tilts down. It's one of the most powerful movement-stimulating features on the market.
In comparison, most ergonomic footrests cost less than $50. Despite the low price, footrests offer more useful movement options than ergonomic chairs offer. Typing requires a static posture. That means dynamic tilting chair features are only useful when not typing.
Instead of fiddling with reclines and seat tilts for passive sitting, you can use a dynamic footrest. That puts you in a perfect typing position, while giving your feet and calves the freedom to move. Behold a cheap, comfortable, and effective way to boost your chair's existing ergonomic qualities.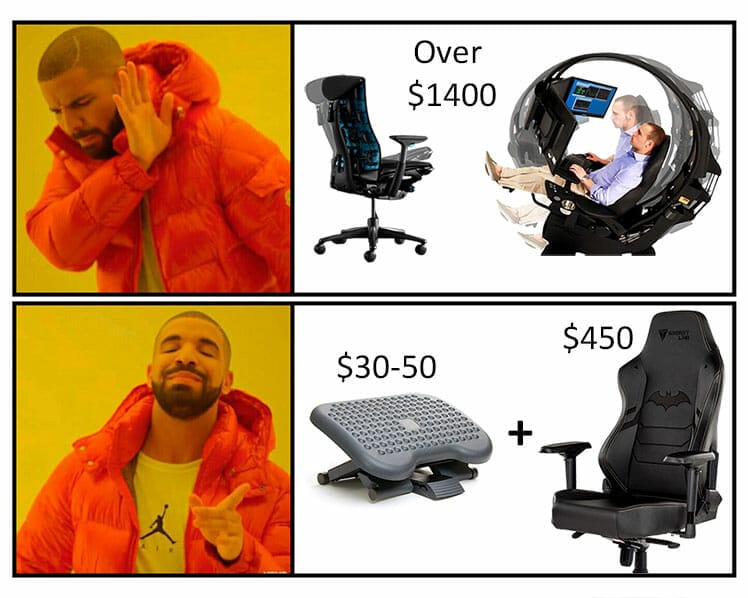 This has massive ramifications. Why pay $1500 for a fancy ergo chair? Instead, you can pay $450 for a high-end gaming chair stacked with a $30 footrest. Head-to-head, both will offer a comparable level of comfort, posture support, and seated movement functionality. Learn more in this detailed report:
Most popular computing footrests in 2021
Amazon offers a huge array of ergonomic footrests priced under $50. The following are currently the top-3 most popular on Amazon's best-selling footrest list.
Mind Reader Footrest
Amazon price: $27.99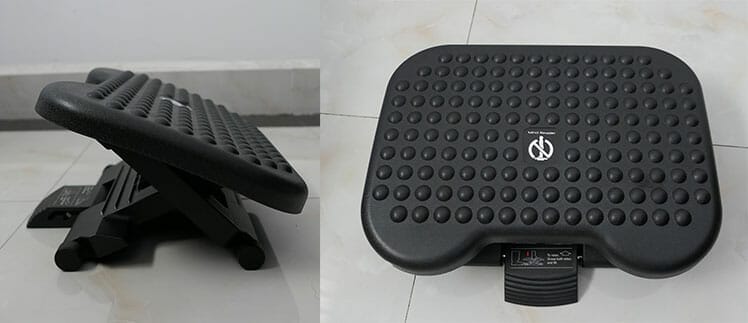 I've been using this footrest for a few weeks now. It's a hard plastic device with a flat pebbled surface and a lever system that lets you raise to three different height levels. Dimensions:
Length x width: 4.4″ (L) x 18.4″ (W)
Height: 1 inch (lowest); 4.7″ (middle); 6″ (highest setting)
The unit comes assembled. Simply pull it out of the box, choose your height setting, and start using it. Running your feet along the pebbled surface provides easy stimulation. As well, you can rock the surface forward and back with zero resistance. It's a fun and easy way to work out your ankles and calves while sitting.
The only downside I've found with this unit is the plastic surface. Against the bare soles of your feet, it gives a synthetic feel like industrial plastic. Used with bare feet will also make your feet and the footrest sticky with foot and floor-goo. The solution: wear thick socks while using this model.
Mind Reader Footrest on Amazon $27.99
For other popular options, browse Amazon's list of best-selling ergonomic footrests.
Everlasting Comfort Footrest
Amazon price: $32.95
This model replaces the synthetic feel of the Mind Reader footrest with a teardrop-shaped slab of memory foam. Over the top is a removable, machine-washable velour cover.
Unlike the Mind Reader device, it has no tilting platform or pebbled surface. Instead, the Everlasting Comfort footrest absorbs heat while molding to the nuances of your feet. The result is a cool, soft, comfortable surface to caress your feet while you work. Specs:
Length x width: 4.75″ (L) x 17″ (W)
Height: 9.5 inches
This model and the Mind Reader are currently the two most popular footrests on Amazon. Choosing between the two is a toss-up. The Mind Reader has better movement features and height-adjustability. In comparison, the Everlasting Comfort model is softer and more pleasant to touch.
Everlasting Comfort Footrest on Amazon $32.95
For other popular options, browse Amazon's list of best-selling ergonomic footrests.
ErgoFoam Footrest
Amazon price: $39.95
Another top seller on Amazon is the ErgoFoam Footrest. This resembles the Everlasting Comfort model, with one big difference. Flipping it over gives you a dynamic rocking surface comparable to the Mind Reader footrest.
The ErgoFoam Footrest is a memory foam block with a machine-washable velour cover. The underside has a nonslip cover. When flipped over, it works like a rocking device to work your ankles and calves while sitting.
Length x width: 5.9″ (L) x 17.3″ (W)
Height: 11.5 inches
This model also comes with a lifetime warranty. If anything goes wrong with your footrest, send the company a photo of the problem. They will send you a replacement with 'no questions asked'.
ErgoFoam Footrest on Amazon $39.95
For other popular options, browse Amazon's list of best-selling ergonomic footrests.
Conclusion
Adding a footrest to my gaming chair-powered workstation has been paradigm-changing. For one thing, it's allowed me to sit higher, which has made my desk a perfect fit. In the process, that has made it even easier to sit upright for long periods. On top of that, constant movement while sitting keeps me energized and alert.
This has major implications for anyone shopping for an ergonomic chair. Why buy an expensive chair with complex features? Instead, you can stack a cheap $200 gaming chair for comparable results versus a $1000+ fancy tilting ergo chair.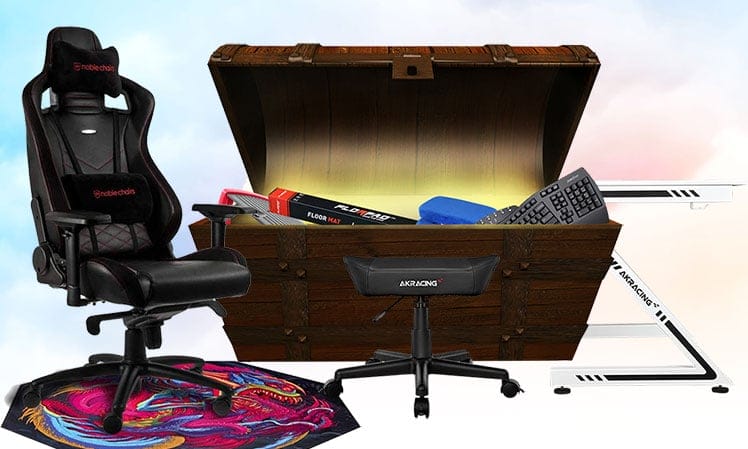 Beyond footrests, there are a few other add-ons to consider. For example, armrest pads can provide softer support for elbows and forearms. Foot stools can let you use your chair like a La-Z-Boy recliner. You can also buy slipcovers to enhance or protect your chair's upholstery.
For a complete review of possible gaming chair extras, check out this feature: