Fabric gaming chairs accumulate stains. I've been using a Secretlab Softweave fabric gaming full-time for around two years. To keep its fabric clean, I've been using scrubbing pads and detergent. That works well enough — but stains reappear every three months or so. In this article, I try what's hyped as the ultimate fabric upholstery cleaning solution. This Bissell Little Green wet-dry vacuum review reveals that hype as LEGIT!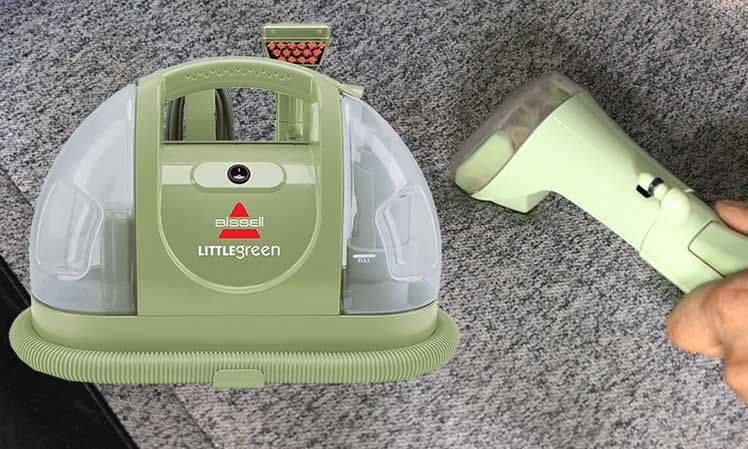 Trending on TikTok has rocketed many odd ideas into the mainstream. In recent years, TikTok trends have included Nyquil chicken, the mole removal challenge, and the Bissell Little Green Portable Carpet And Upholstery Cleaner.
Wary of schemes, I instead learned to clean my fabric gaming chair using household items. Scrubbing detergent into chair stains works well. However, getting the detergent out of the chair is tricky.
This method involves sopping up the detergent with a damp rag. It works to get rid of stains. But it also leaves too much dirty residue under the scrubbed surface of the fabric.
As a result, stains reappear quickly (every three months or so). After a year of manually scrubbing down my chair every 90 days, I was getting really sick of it. So I decided to try a Bissell Little Green.
Important: This machine is only compatible with Bissell portable vacuum cleaning solutions; an 8 oz trial-size bottle (good for 4 cleanings) is included.
Bissell Little Green on Amazon $109.59
Compatible 32 oz formulas: Pro Spot & Stain Cleaner $11.99 | Pet Stain & Odor Cleaner $10.50
Little Green Deep Cleaning Test
To prepare for a Little Green, I let my 2-year-old Secretlab Titan fabric gaming chair stains build up for six months. It got stank — but this was necessary to properly test the Little Green's performance.
In the end, its performance in cleaning up this mess blew away my expectations:
Bissell Little Green Wet/ Dry Vac Review
This review breaks down my first experience using a Bissell Little Green. Now that my fabric gaming chair (and workstation) is clean, I imagine doing a follow-up cleaning in a month or so.
Bissell Little Green Overview
On Amazon, this model is called the 'BISSELL Little Green Multi-Purpose Portable Carpet and Upholstery Cleaner'. It is a wet and dry vacuum that you can use to clean upholstery, carpets, car seats, stairs, and more.
Features: powerful suction; 48 oz tank
Includes: 3″ Tough Stain Tool, HydroRinse Self-Cleaning Hose Tool, Trial Size 8 oz Spot & Stain with Febreze formula.
Warranty: 1 year
Pros

Easy setup
Solid build
Excellent performance
Very effective at removing stains
Cons
Only certain types of cleaning solution can work with this machine
If your chair is too dirty, you'll need to press hard to suck out all the dirt
Bissell Little Green on Amazon $109.59
Compatible 32 oz formulas: Pro Spot & Stain Cleaner $11.99 | Pet Stain & Odor Cleaner $10.50
What's In The Box
My Little Green showed up by courier in a flimsy box. It was heavier (9.65 lbs) and bigger than I expected. Despite the cheap box, the contents inside were well-packaged.
Inside, the vacuum unit comes fully assembled. There's also a manual, a few hose extensions, and an 8 oz trial-size bottle of cleaning solution — enough for 4-5 full cleanings.

If you want, you can plug in and use it right away as a dry vacuum.
Setting Up The Wet Vacuum
To use the Little Green as a wet vacuum for upholstery cleaning, you'll make use of both tanks. Bissell warns that using non-compatible cleaning solutions can clog a Little Green's machinery and void its warranty.
To avoid that, it's crucial to use compatible cleaning solutions in the right amounts. Getting the mixture right is easy.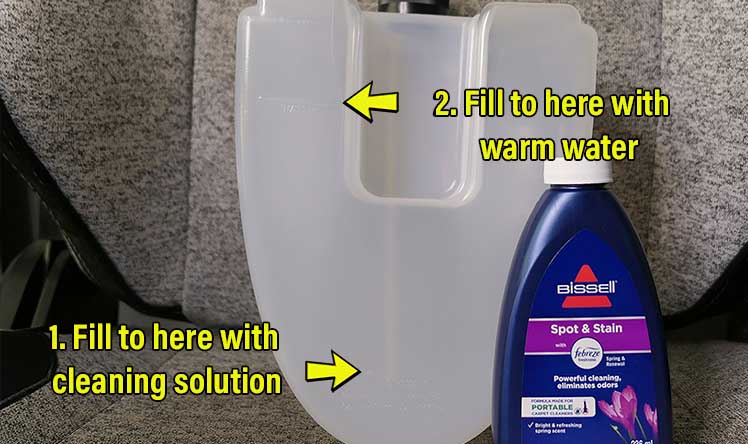 First, pour in some solution up to the marked line. Then, add warm (not boiled) water. The manual says you can use tap water, but I suggest using bottled water to be safe.
Bissell Little Green Likes & Dislikes
I like everything about this machine. My listed dislikes are no fault of the Little Green.
Likes: Excellent Performance
The Little Green did not perform like a TikTok gimmick. Instead, I found it performed like a solid professional upholstery cleaning machine. Here's a quick clip showing its cleaning power on gaming chair fabric:
Here are the key things I liked about the Little Green after a full fabric gaming chair cleaning:
Easy setup process.
The cleaning solution spray is even and consistent.
Once cleaning solution is applied, the included brush scrubs away stains with only a few swipes.
The vacuum suction is strong; the amount of water it pulls out from the fabric is impressive.
The brush has a viewing window; you can see the dirt getting sucked out of your chair.
Bissell Little Green Dislikes
There are two things I disliked about my Bissell Little Green user experience. The first is the need to use only Bissell portable vacuum cleaning solution. I didn't find that info clear enough up-front.
As a result, I ended up buying a bottle of the wrong solution before figuring it out. According to Bissell, using an upright cleaner in a portable Bissell vacuum can damage it. That could be clearer for silly people like me.
My other dislike is no fault of the Little Green. Because I let my chair stains marinate for so long, there was a lot of dirt to get out. I ended up having to press down really hard into the fabric several times to get everything out.
It took me almost one hour of spraying and suctioning before the water being sucked up turned clear. Twenty four hours later, my wrist is still sore from pressing down so hard for so long.
Lesson learned: never let your fabric gaming chair get too dirty. Monthly cleanings should be light and easy with a Little Green. Seriously stank fabric chairs will need muscle behind a Little Green to get the job done.
Beyond Cleaning Fabric Chairs
After cleaning my chair, I also used its wet vac to clean my velour-covered Plushcell armrests and my oversized mousepad. After that, I used it in dry mode to clean dust buildup around my PC's exhaust ports.
Bissell also markets the Little Green for cleaning pet accidents, fabric car seat upholstery, area rugs, and more.
Given its performance, it's also ideal for cleaning fabric office chairs and sofas.
Verdict: Great For Hygienic Gamers
I now consider the Bissell Little Green an essential part of my computing workstation. Every computer user with a fabric upholstered chair can get tidier by buying one.
Beyond your gaming chair, a Little Green has the power to keep your entire computing workstation clean. Given its price and performance, it makes a great addition to every full-time workstation with a fabric (gaming or ergonomic office) chair centerpiece.
Bissell Little Green on Amazon $109.59
Compatible 32 oz formulas: Pro Spot & Stain Cleaner $11.99 | Pet Stain & Odor Cleaner $10.50