Secretlab Titan Evo 2022 Series chairs come with 'CloudSwap' replaceable armrest tops. The included ones are PU-coated, semi-soft, and pretty comfortable. Now, Secretlab's Plushcell Memory Foam Tops have arrived as a decadent $79 upgrade. Are Plushcell Armrest tops worth it? Based on my weeklong test, they're definitely worth it for some people — but totally not for others!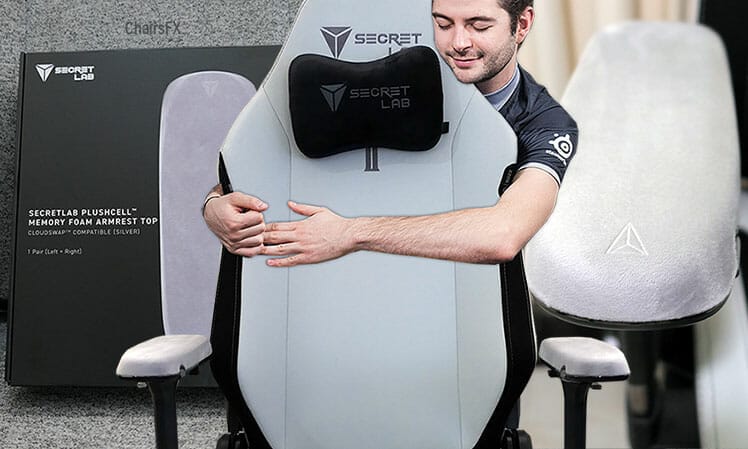 A stock 2022 Series chair comes with a magnetic headrest and a set of PU-coated armrest caps. In my opinion, every first-timer should start their experience with a stock Titan 2022 Series chair.
For example, over the past six months, I've been using a pair of 2022 Series chairs. My Softweave Cookies and Cream and Ash Leatherette have been a delight. I've had no complaints with the stock armrest caps. In fact, I've barely ever noticed them!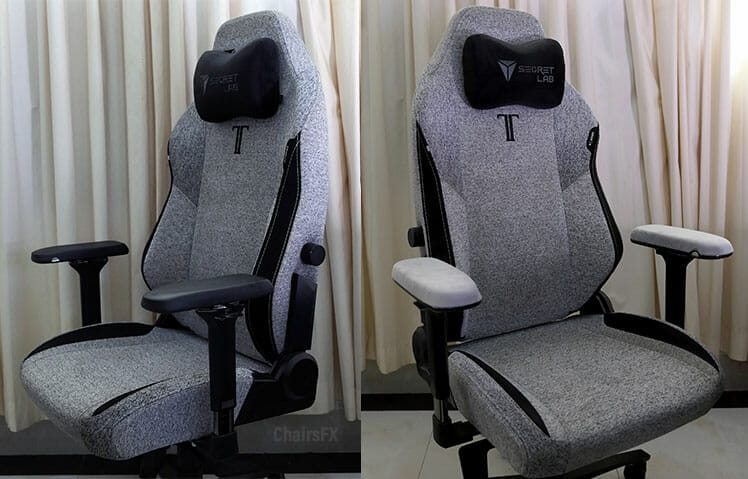 But after six months of using standard Titan chairs, Secretlab offered to send over a set of its new Plushcell Arm tops. I was skeptical: what effect would an upgrade have on my already great sitting experience?
This review covers my initial Plushcell user impressions after a week of use.
Prices vary by region: USA $79; Canada C$99; UK £65; EU €79; Singapore S$89.
Plushcell Armrest Top Review
Plushcell Armrest tops are compatible with Titan Evo 2022 CloudSwap armrests. This technology has magnetic tops that are very easy to attach or remove.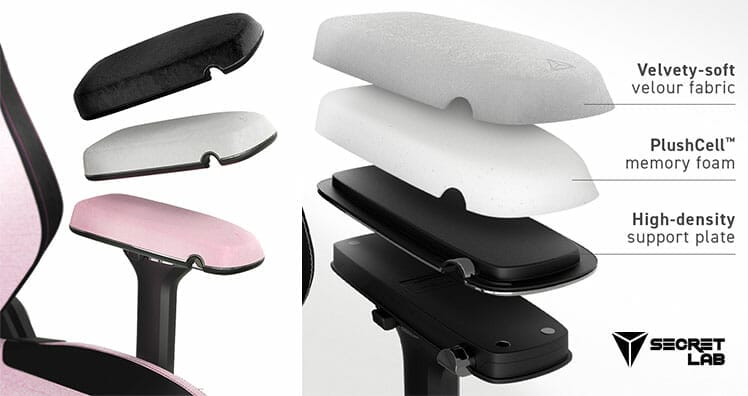 Tops come in a choice of black, silver, or pink. Each comes with three layers. There's a support plate, Plushcell memory foam, and a colored velour fabric cover.
The unit ships in a sleek package the size of a thick photo album. The box has a solid feel, like that of an unsealed Macbook. Wrapped up in festive paper, gifting this to a Titan 2022 owner is a guaranteed hit.
This gift will show the recipient that you care about their passions (their beloved chair) and well-being. It will also give them an intriguing toy to play with — that will make their chair feel like it's brand new!
Final Plushcell Armrest Verdict
The entire gaming chair industry is plagued with rising materials and shipping costs. Most brands have been affected. For instance, compared to this time last year, Secretlab Titan chairs are around $100 more expensive.
With an array of sweet accessories to consider, first-time Titan buyers might feel pressure to load up on everything right away.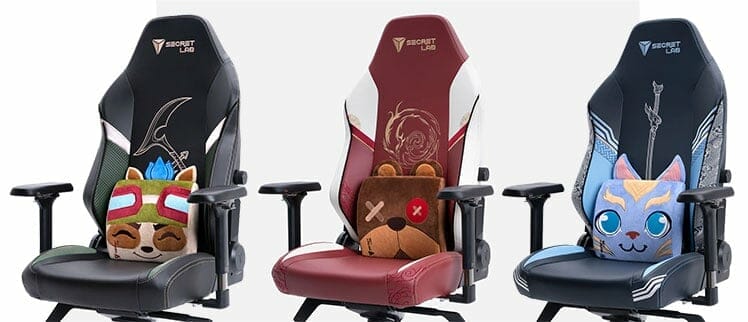 Instead, I suggest investing in a Titan chair without accessories to start with. Enjoy the thrill of your new chair experience. Improve your posture, marvel at the design, and savor the warm feeling of falling in love.
Around 6-12 months later, expect that love to cool into normalcy. To rekindle those fires, add a set of Plushcell armrests.
That will upgrade the look and feel of your chair, making it feel as if it were brand new. As a result, you can enjoy the thrill of falling in love with your chair all over again. From this perspective, the USD $79 price tag is a bargain!
Prices vary by region: USA $79; Canada C$99; UK £65; EU €79; Singapore S$89.