How to determine the comfort potential of a desk chair? The broadest definition of 'comfort' is 'an absence of discomfort'. In the seating world, comfort has physical and psychological factors. Good back support promotes physical comfort. Flashy extras like colorful skins or fancy tilting features appeal to the psyche. This article breaks down physiological vs psychological seating comfort factors. You can use these to make a rational decision when buying your next chair.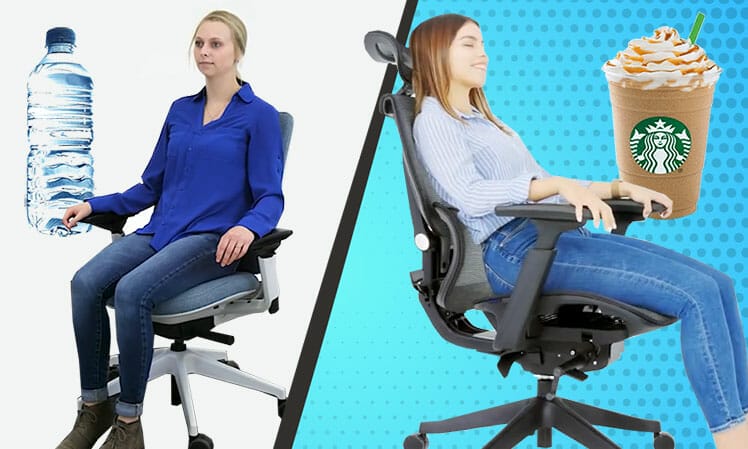 There's no universal comfort rating system for ergonomic chairs. Even so, by approaching the question rationally, clear answers emerge. Many researchers study comfort as 'an absence of discomfort'(1).
They test this by measuring physiological reactions to environmental stimuli. These can be objective (muscle activity measurements) or subjective (reported feelings).
Meanwhile, many modern car seat comfort studies consider both physiological (objective) and psychological (subjective) factors when measuring comfort potential(2).
We can also apply physical and psychological comfort aspects to desk chairs. For example, kneeling chairs are designed to support perfect posture — but only with proper form. Users must buy into the concept of engaging their back muscles to hold their torso upright.
Those who put in the effort will align their spine, lower muscle activity, and eliminate physical discomfort. However, kneeling stools look dreary.
Those who lack the motivation to maintain good form will slouch their spines instead. That will tighten their lower back, leading to 'discomfort'. This is one example of how the perception of comfort can influence how the body responds.
Physiological Chair Comfort Factors
The ultimate point of any type of ergonomic chair is to support neutral sitting postures. Below, I'm using a Herman Miller Aeron office chair and a Secretlab Titan gaming chair to support similarly active neutral postures.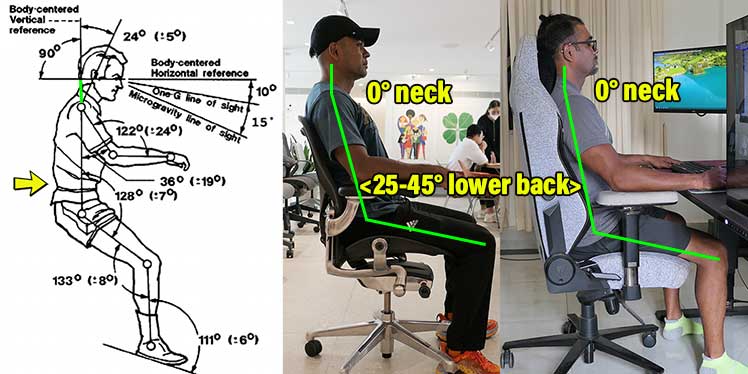 Physically, both chairs do the exact same job! The difference is that each stacks different luxuries on top of that foundation.
This section focuses on ergonomic chair aspects that promote physical comfort. Assess these qualities of a chair first. After that, you can get into perusal of psychological luxury extras.
Psychological Comfort Factors
The previous section explained how ergonomic chairs promote both active and passive neutral postures. Revisiting the Aeron vs Titan comparison, we can see that both promote healthy neutral sitting postures.
Beyond each chair's physical support properties are psychological extras. These do not impact the back support qualities of a chair. Rather, they add to its perceived appeal.
For instance, the Aeron comes upholstered in sleek, sexy mesh with fancy seat tilting functions. The Titan comes in a wild array of styles with full-back support and comfortable padded seats.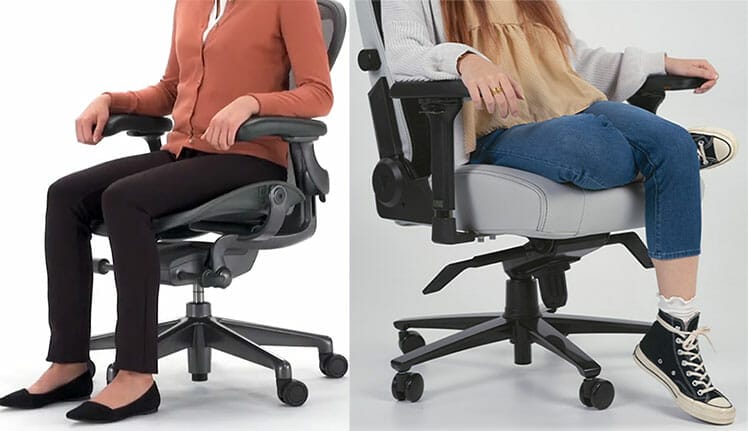 Here are other psychological chair attractions that take a chair's appeal beyond good back support:
Desk Chair Picker Flowchart
Having a firm grasp of physical and psychological comfort factors will help you avoid overspending on frivolities. Then you can follow these steps to find the perfect desk chair for your needs:
Full-Back Gaming Chair Reviews (comfort) | Mid-Back Office Chair Reviews (focused productivity)
Footnotes