Once, good back support was the primary way to predict a chair's comfort potential. These days, many esports doctors tout frequent breaks and regular exercise as more potent comfort boosters. With those in play, casual semi-neutral postures work well. Then, deep reclines and fancy styles add sensory thrills that can skyrocket a chair's perceived comfort. So let's break down physical vs psychological seating comfort factors for ergonomic chair users in 2023.
There's no universal comfort rating system for ergonomic computing chairs. Even so, there's enough information on the table for ChairsFX to put one together.
The broadest definition of 'comfort' is 'an absence of discomfort'. Traditionally, researchers study comfort as physiological reactions to environmental stimuli. These are often objective (muscle activity measurements) or subjective (reported feelings).
For example, kneeling chairs are designed to support perfect posture. Somebody motivated enough to use one properly will align their muscles, lower muscle activity, and feel relaxed. But somebody forced to use one might use poor form. That would result in reported 'discomfort'.
This shows how the perception of comfort influences how the body responds. As a result, many modern car seat studies consider both physiological (objective) and psychological (subjective) factors when measuring comfort potential(1).
We've mashed the best of those studies together with our existing library of ergonomic science. Combined, these produce a foolproof method for finding your ultimate ergonomic computing chair!
Important Seating Comfort Factors 2023
In 2023, choosing a good desk chair based only on its back support qualities is obtuse. These days, good back support for desktop computing remains one mark of a good desk chair.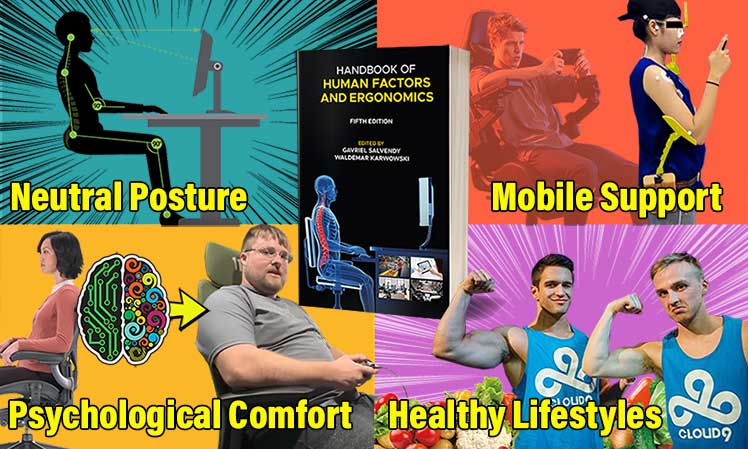 Psychological appeal is a major selling point. Multi-device computing support is emerging as the next big support challenge. Meanwhile, disciplined user habits are shaping up as the most potent back support hack of them all.
2023 Ergo Trends: Multi-Device Neutral-ish + Fitness
With frequent breaks and a healthy lifestyle, any old desk chair can provide the support that you need! Summary of comfort factors:
Physiological Comfort Factors
Physiological comfort is the absence of musculoskeletal stress. Psychological comfort is a mentally relaxed state free from pain and negative thoughts. Both play a significant role in the perceived comfort potential of a chair.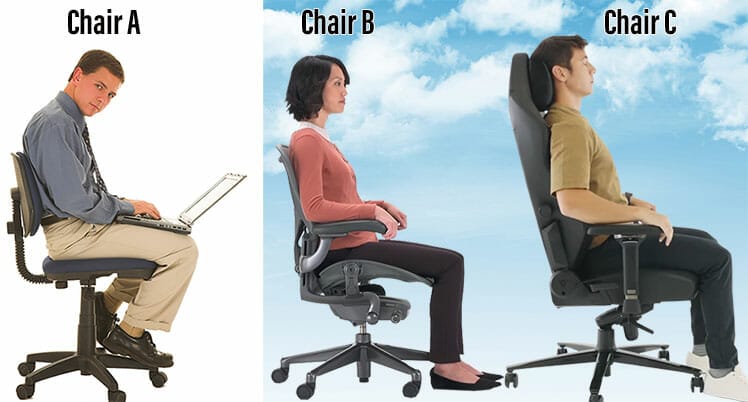 For example, it's easy to see that Chair B is more comfortable than Chair A. But the physiological and psychological differences between Chairs B and C aren't as clear. So how to gauge which is more potentially comfortable — for your specific needs?
The answer: don't overthink. With regular exercise, frequent breaks, and sound nutrition, any ergonomic chair can deliver the goods. The one that best connects with your sensibilities is your likely best option.
Psychological Comfort Factors
This picture conveys the psychological difference between the two types of seating. Mid-back chairs imply a business-like style that's strict and precise.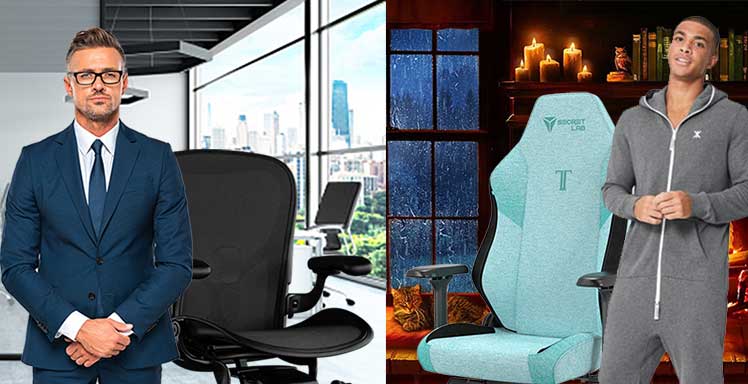 In contrast, full-back gaming chairs connote a stronger sense of deep relaxation. Here's a closer look at the psychological differences behind the two styles:
Gaming Chair Picker Flowchart
What kind of gaming chair is best for your particular needs? This 6-step selector flowchart considers both physiological and psychological factors. The first three steps are the hardest to decide.
First, choose a full-back or mid-back design as your starting point. Second, gauge how much you're prepared to spend. Third, decide whether you need a small, medium, or XL-sized chair.
After that comes the fun stuff: choosing your upholstery and color preferences. That prepares you to make use of our ChairsFX gaming chair reviews. Once you know broadly what to look for, zeroing in on a final selection is fun and easy!
Step 2: Choose Your Luxury Level
What's the difference between a cheap and an expensive ergonomic chair? Both are designed to support neutral postures over long periods. Whether you pay $200 or $1500, you can expect a similar quality of back support!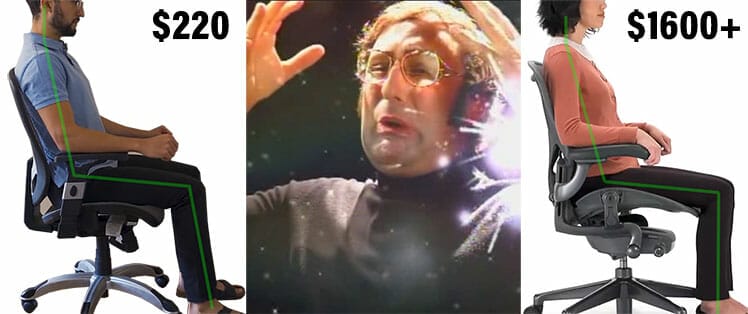 Typically, paying more will get you slightly better ergonomic adjustability (arms, lumbar, support, or recline functions). Beyond good back support, these extras will give you more direct control over your sitting experience.
More significantly, you can expect a better-quality build, nicer aesthetics, and greater sensorial appeal. Herman Miller once did a comfort study to justify luxury extras. It found that people who can personalize and prettify their workspaces enjoy enhanced well-being and comfort.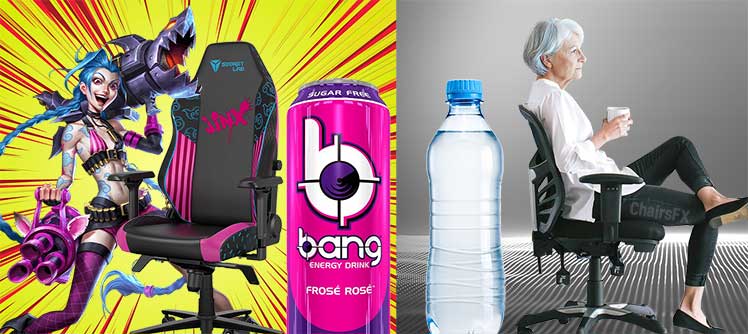 The payoff is that an employee's comfort directly affects key predictors of operational efficiency. These include productivity, job satisfaction, retention, well-being, and worker health.
In the old cubicle era, psychological luxuries were trivialities reserved for rich people. That has changed. Recent polls suggest that over half of the workforce are now 'quiet quitters'. They're burned out, mentally checked out, and only there for a paycheck.
In the modern landscape, a bare-bones workspace can support your back just fine. Paying a premium for luxury extras will boost your happiness, perceived comfort levels, and motivation for the tasks at hand!
Bottom line: first, choose either a full-back or mid-back chair style. Second, decide how much you're willing to pay for luxury extras. If you don't want any luxury, several fully-ergonomic mid-back chairs without frills cost less than $300.
Use this flowchart to choose the perfect gaming chair for your particular needs. Start by deciding on a full or mid-back style, a price range, chair size, upholstery type, and color.
Once you have a rough idea of your perfect seat, use ChairsFX reviews to narrow down your picks. Here's the entire process in one picture:
Full-Back Gaming Chair Reviews (comfort) | Mid-Back Office Chair Reviews (focused productivity)
Footnotes