Sedentary habits among children using mobile devices are skyrocketing. More time spent computing raises physical and mental side effect risks. This explains the growing demand for ergonomic kids chairs and desks. Before buying either, it helps to grasp what desk work support children actually need. This article breaks down physical and mental challenges of mobile-computing kids aged 4-12.
Most children are born with amazing flexibility. After around six months, they start crawling. That builds strength in their legs, arms, shoulders, and back.
At around eight months old, they have enough balance and postural strength to sit upright in a chair(1). Most naturally hold themselves upright in active neutral postures. These involve planting the feet and using back muscles to hold the torso up against gravity.
By age three, a child will double in height and quadruple in weight. Around this time, there is a rapid growth of the spine and nervous system(2). By age four, they're ready to start sitting to do tasks.
Despite the added mass, most 4-year-olds have traditionally been able to maintain active neutral postures by the time they start school. That has changed in the mobile computing era.
Sedentary Computing Statistics For Kids
Here's a quick run-through key statistics:
Computing Makes Kids Fatter
When personal computing arose in the 1990s, so did childhood obesity levels — and sedentary behaviors. This CDC chart shows the sharpest obesity spikes among 6-11 and 12-19 age groups: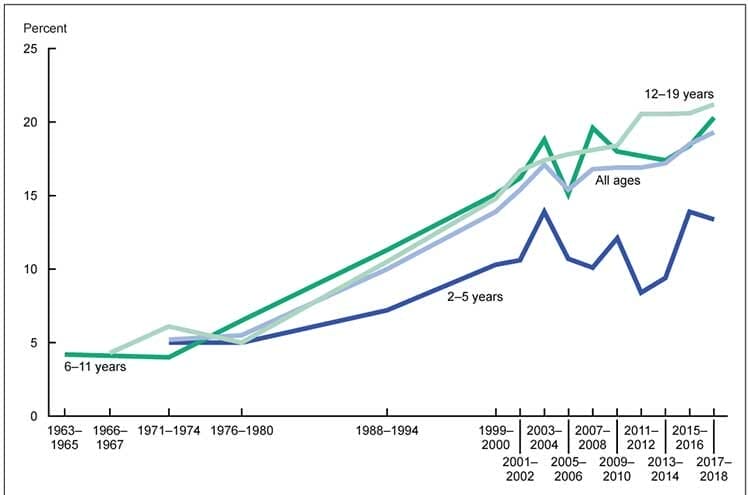 Computing-era Kids Get More Inactive Over Time
This 2021 study(3) found distinct patterns over time. As children in the computing era get older, their physical activity levels drop. At the same time, their time spent sedentary computing rises.
The Pandemic Altered Kids Computing Habits
More recently, mobile computing use among children surged during the pandemic. According to an NIH study, pre-pandemic children aged 4-12 spent an average of 4.4 hours per day using mobile devices(4). During the pandemic, mobile usage averaged 6.15 hours per day.
Unsupported Computing Causes Back Pain
During the pandemic, students worldwide began online classes from home. Soon after, health care providers reported a surge of back pain reports. According to the Advisory Board, a big reason was unpreparedness.
Sudden lockdowns forced many to cope by working and studying remotely on floors, sofas, or beds. This doctor(5) cited poor posture, excessive text neck postures, and extended inactivity as key reasons back pain prevalence increased.
Sedentary Computing Times Among Kids Is Rising
Post-pandemic, the NIH reported kids aged 4-12 are now averaging 5.5 hours of mobile use per day — 1.1 hours more than pre-pandemic levels!(4)
Summary of Computing Era Trends For Kids
Sedentary habits: as children get older, physical activity levels drop while sedentary computing times rise.
Obesity: sedentary bodies burn less energy. This explains why obesity levels have surged among youth in the computing era.
Pandemic amplification: sedentary behaviors among kids rose during lockdowns — but haven't receded post-lockdown.
Ergonomic unpreparedness: excessive time spent computing without the right support causes health problems.
Back pain: the combination of poor sitting posture, excessive mobile computing, and inactivity causes back pain in school children.
Postural Problems Suffered By Kids
Poor posture cripples the physical and mental wellness of kids as it does with adults. In adults, postural issues usually begin with lower back pain. If left unchecked, that will overwork a misaligned spine and its surrounding back muscles.
That causes a perpetual feeling of chronic exhaustion. After chronic pain and fatigue comes a gradual breakdown of both body and mind.
A similar wellness descent happens with children. First, the body breaks down. Then, cognitive functioning slows. After that, the self-discipline needed to turn things around crumbles.
Poor posture in children: causes spinal deformities as a child grows. Many won't notice – back problems in kids are often asymptomatic.
Reduced brain functioning: chronic poor posture breeds apathy and learning difficulties.
Crippled self-discipline: overloaded brains cannot self-regulate. Kids slouching over tablets all day breeds apathy and sloth.
Poor Posture And Spinal Disc Degeneration
Wolff's Law states that bones develop based on the loads the body places on them(6). That explains how poor sitting habits early in life can alter bone development. Later in life, altered bone development leads to issues like arthritis or osteoporosis.
For instance, one study tested the back health of 154 ten-year-old kids. 9% of those tested were already suffering from spinal disc degeneration(7). None had a history of back pain, and all were asymptomatic.
Physical issues caused by slouching usually manifest between the late teens and early 30s. Even so, there are some early indicators of spinal health issues in kids(8) to look out for:
Chronic fatigue.
Frequent back pain or headaches.
Shoulders or shoulder blades are at different heights.
The head bends forward more than the rest of the body.
Tight muscles in the back of the thighs.
Later in life, these problems get worse. Adults with postural problems suffer slow digestion, increase fatigue, slow circulation, shallow breathing, weight gain, depression, and worse:
Poor Postures Causes Brain Fog
Poor posture has a negative impact on mental health. Studies show that poor posture makes people more fearful, hostile, nervous, passive, and sluggish(9).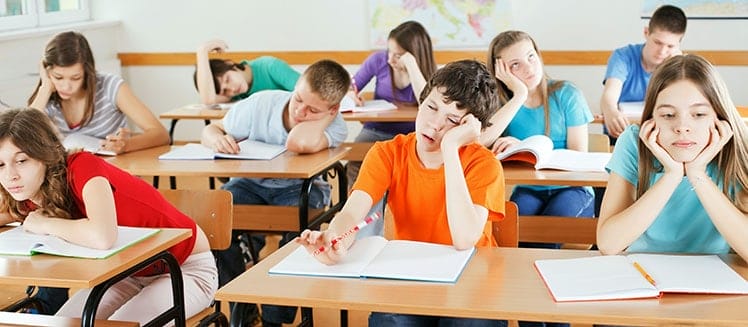 The spine and nervous system are the main pathways sending information to and from the body to the brain. When a child slouches, the brain receives negative physical input from the stabilizing muscles(10).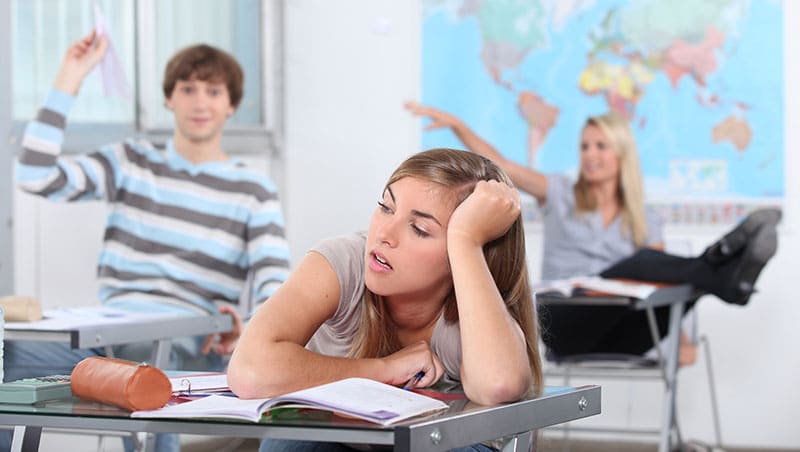 That impacts a child's functioning. Problems can manifest as slow learning, poor concentration, or sensory processing issues.
Excessive Computing Kills Self-Regulation
The brain's prefrontal cortex is its executive function command center. This is where it executes plans, focuses attention, and exerts self-discipline.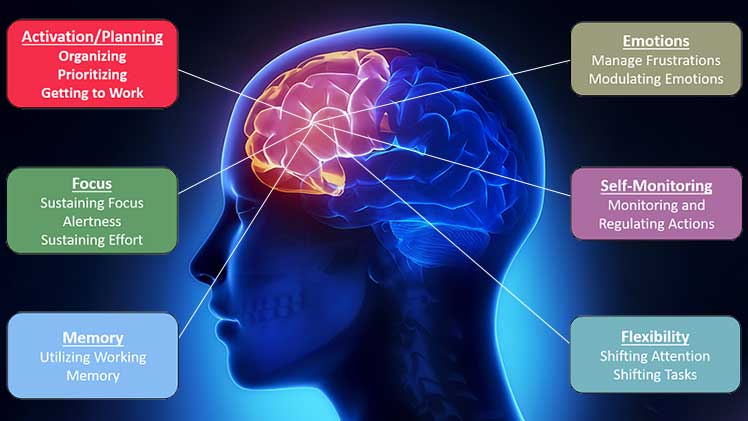 However, this part of the brain doesn't fully develop until age 25. Studies on young gamers have found that a few hours of intense gaming can exhaust their executive function abilities.
This is why young gamers neglect basic needs like food, sleep, exercise and personal hygiene. When their executive functioning processes get overworked, they shut down. Then, a child's focus and self-discipline will crumble.
Postural Solutions For Children
If your child is fat, lazy, clumsy, and apathetic, there's an easy way to reverse those effects. Most children start sitting at age three with near-perfect active neutral postures.
Health-destroying poor posture habits don't arise until learned. The obvious remedy: encourage active postures — while correcting distorted ones.
This is not an exhaustive process. In my experience, it takes back muscles less than a week to adapt to active neutral sitting. Then, it locks down in muscle memory as a natural, instinctive process.
Imagine raising a child with self-regulating back muscles. Every time he or she sits down, they plant their feet and engage their back muscles to keep their spine aligned.
Maintain Active Neutral Postures
The science of healthy sitting landed from outer space in 1973. While observing astronauts in zero gravity, NASA researchers found they would often fall into active neutral postures while doing tasks.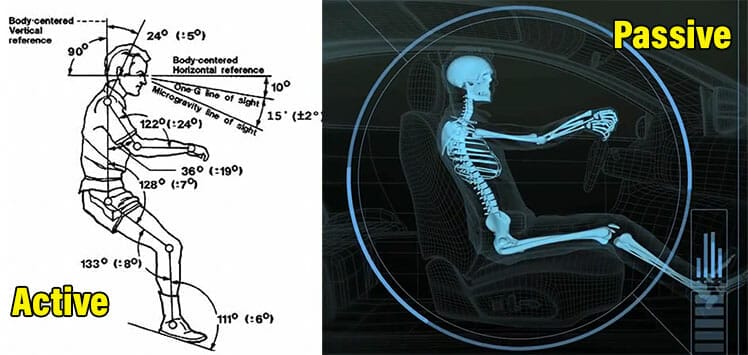 An active neutral posture holds the torso upright by engaging back muscles enough to keep the spine in a healthy alignment.
Coincidentally, when kids start sitting at age three, they naturally deploy their back muscles to achieve active neutral postures. Simply, that involves sitting with planted feet while using back muscles to hold the spine upright.
As children grow and build mass, active neutral sitting will 'exercise' their back muscles enough to keep up. By the time they reach adulthood, they can expect strong, ropey back muscles powering a powerful, confident posture.
Frequent Movement And Breaks
Sitting in active neutral postures uses back muscles to hold the torso upright. But any muscle worked for too long will get tired. To avoid that, frequent movement is an essential part of any healthy sitting routine.
Sitting in any position for too long (even healthy ones) is counterproductive. Doing so will overwork certain muscles, underwork others, and pool blood in the feet. In contrast, frequent standing breaks give back muscles time to rest and recharge.
Beyond the physical benefits of breaks are mental ones. Children have short attention spans. Forcing them to sit for long periods can stifle both mental and physical progress.
By age four, the average child's attention span is around eight minutes(11). At age eight, that doubles to around 16 minutes. By age 12, it reaches around 24 minutes.
Physical & Mental Break Benefits For Adults
As with children, movement breaks give seated back muscles time to recharge. Since adults carry more mass than kids, the need for regular breaks is far greater.
Here at ChairsFX, I use a Secretlab Titan gaming chair to maintain active neutral postures. To keep movement brisk, I pair it with a Magnus Pro standing desk.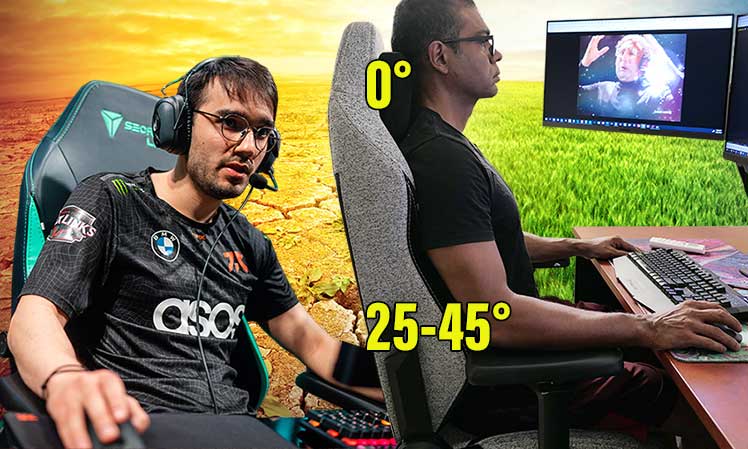 Using a standing desk has cut my sitting time in half. That gives my seated back muscles plenty of rest time. As a result, it's gotten a lot easier to maintain active neutral postures whenever I choose to sit.
Breaks To Rest The Brain
Beyond muscular relief, breaks also give your brain time to rest, process information, and recharge for another burst of work. There are many possible break benchmarks. For instance, the Ultradian Performance Rhythm suggests that brain power peaks at 90 minutes.
That suggests people should take breaks every 90 minutes to rest and recharge their brains. Specifically, doing so will put the brain into 'diffuse mode'.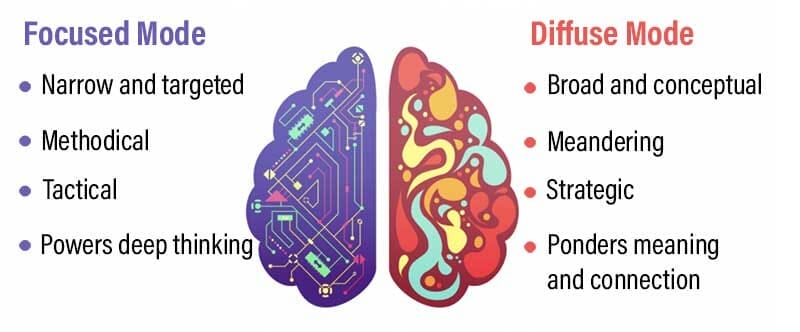 Unlike focused mode, this is a more dreamlike state in which the brain digests what was learned during focused mode. Summary of key benchmarks:
Back muscle rest: people who sit in active neutral postures must give their back muscles frequent rest breaks.
Mental limits: brain power peaks after 90 minutes of focus. Then, it needs rest before it can operate optimally.
Diffuse thinking downtime: mixing focused tasks with breaks gives the brain time to digest, recharge, and reset for another burst of work.
Break-Taking Benchmarks
Using the above benchmarks, adults can determine their own break routines. For instance, here's my routine at ChairsFX:
Dynamic sitting: while sitting, I try to slightly alter my positions every few minutes.
Sitting versus standing: while working, I try to maintain a 1:1 ratio of sitting versus using my desk in standing mode.
Breaks: I disengage from my screen for a break after every intensive chunk of work. That's usually every 15 minutes or so.
Benefits Of Good Posture For Kids
The American Posture Institute did a study to show how posture habits manifest in classrooms. Distracted, disengaged students often slouch(12). In contrast, engaged students sit upright, with their eyes focused straight ahead.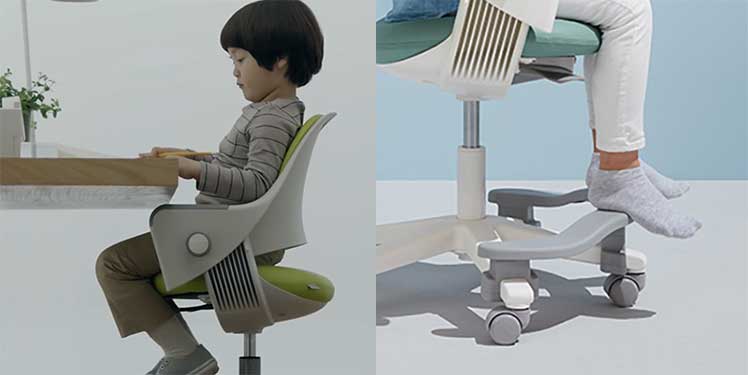 There's a clear physiological link between poor posture and cognitive performance. Slouching compresses the rib cage, reducing oxygen intake by up to 30%(13). At the same time, circulation slows.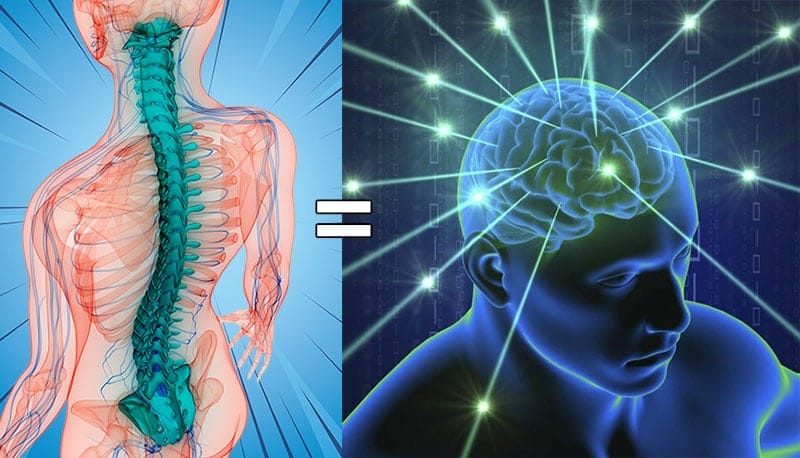 That combination causes a drastic reduction in the flow of synaptic connections(14) to the brain. Those connections power memory, concentration, and the transmission of information. That explains why students who slouch tend to perform poorly in school.
Slumped postures compress rib cages, slowing circulation and reducing oxygen intake. That slows the brain's reception and transmission of information. As a result, slouched students become listless, apathetic, and weary.
Ergonomic Mentoring For Kids
Studies show that when taught good sitting habits, children respond with improved posture(15). That means instead of fighting screen-based sedentary time, you can take advantage of it.
All you need to do is buy the right chair and nurture your child as they use it. Look for one with a height-adjustable seat (or footrest) that lets a child sit with planted feet.
Conclusion: Best Desk Chairs For Kids
I wrote this article as research into our review of the best ergonomic chairs for kids. Do children aged 4-12 really need adjustable desk chairs? Given the trends outlined in this article, the demand for ergonomic kids' furniture will keep growing:
Sedentary habits: as children age, physical activity levels drop — as sedentary computing times rise.
Obesity: sedentary bodies burn less energy. This explains why obesity levels have surged among youth in the computing era.
Pandemic amplification: sedentary behaviors among kids rose during lockdowns — but haven't receded post-lockdown.
Ergonomic unpreparedness: excessive time spent computing without the right support causes health problems.
Back pain: the combination of poor sitting posture, excessive mobile computing, and inactivity causes back pain in school children.
Within this context, ergonomic kids chairs are essential in every household where children and mobile devices co-exist. Here of two of 2023's most popular options:
Model
Description
Sidiz Ringo

For ages 4+

The original adjustable desk chair for kids — and the most-copied design.

Functionality: depth-adjustable seat; height x depth adjustable backrest; 4 preset levels.
Seat: 18.3″ (W) x 17-19.5″ (adjustable D)
Size rating: 3'6″ to 5'2″; 250-pound weight capacity
Warranty: 3 years

Secretlab Titan XXS

For ages 6+

A super-small gaming chair for kids with clever safety features.

Functionality: 1D arms, rocking function, 360° swivel, locking caster wheels, 5-year warranty; headrest pillow included
Seat: 10.6″ (W) x 15.4″ (D)
Size rating: 3'5″ to 5'3″; 155-pound weight capacity
Warranty: 5 years
The Sidiz Ringo is the OG kids chair, on the market since 2011. These days, around 25% of all South Korean kids use Ringo chairs before starting elementary school.
In recent years, Secretlab's Titan XXS has emerged as one of the Ringo kid chair's strongest competitors. For reviews of all relevant models, read this:
Review: Best Ergonomic Chairs For Kids
Footnotes
Citations 11-15