After two months of using a Magnus Pro desk, I'm thrilled with the experience. Setup was easy. The standing functionality is excellent. On a physical level, it's optimized the way I sit, stand, and use mobile devices. On a psychological level, the sleek design and clever cable management has inspired. Although pricier than legacy standing desks, the luxuries gained are well worth it. This Magnus Pro Standing Desk review explains why.
The standing desk concept isn't new. A few specialist brands have been making similar products for years. Desks like the Uplift V2 and Flexispot E7 cost around $1000 – with 15-year warranties. In contrast, a fully-loaded Magnus Pro costs around $1500 with a 5-year warranty.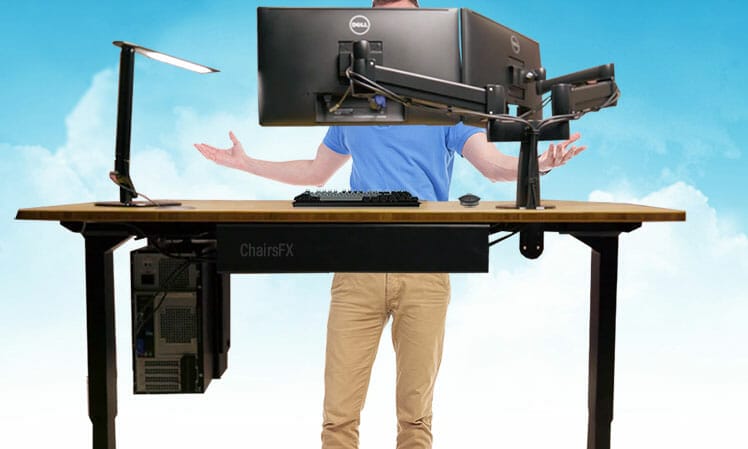 The difference: the Magnus Pro is built to the same standards as Secretlab's famous Titan chairs. It's a gorgeous desk with a solid build and fantastic aesthetics. Setup is easy and educational – you'll become a cable management ace by the end.
Bottom line: Secretlab fans should have no qualms about paying extra for a flashier build. Others can save a few hundred $$ by buying a plainer-looking version with similar features.
Sized 51.9″ x 27.6″ ; the Magnus Pro XL (70″ x 35″) is also available for $949.
Magnus Pro from Secretlab $799
With recommended accessories, a fully-loaded Magnus Pro costs $1541.
Why Buy A Sit-To-Stand Desk?
The Handbook of Human Factors and Ergonomics documents the latest standards in workplace environment design. Its 5th edition came out in late 2021 with a major priority shift.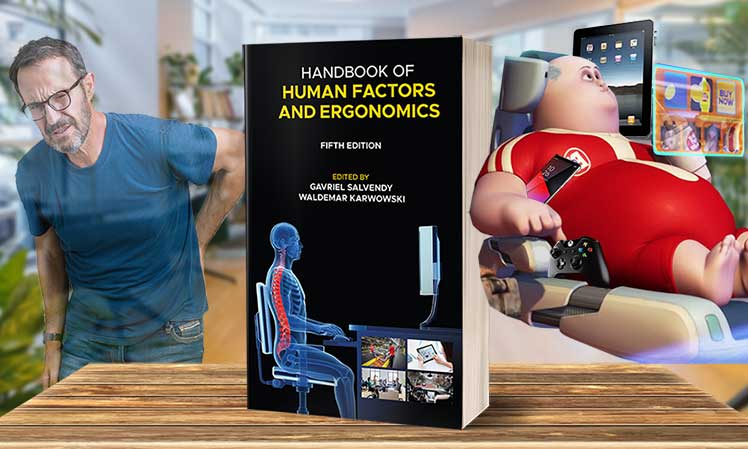 To address rising mobile device usage, it introduced new multi-device ergonomic standards. Beyond good back support, the workstation of the future also needs to address the harmful effects of text neck syndrome.
Meanwhile, tech-driven sedentary lifestyles are off the charts. Low back disorders, neck pain, and wrist disorders are endemic, while obesity rates keep rising. In fact, studies show that waist circumference increases by 3.1 cm with a 10% increase in sedentary time(1).
The Secretlab Magnus Pro Sit-To-Stand Metal Desk addresses all of these issues. Enjoy robust movement with pristine ergonomic support for sitting, standing, and mobile computing positions.
Magnus Pro Sit-To-Stand Desk Review
In April 2021, Secretlab released its Magnus Desk with built-in cable management. That caused a deluge of sit-to-stand functionality requests. In response, Secretlab CEO Ian Ang turned his industrial design team loose. The goal: "integrate electrical cabling, precision height-adjustment, and insulation requirements."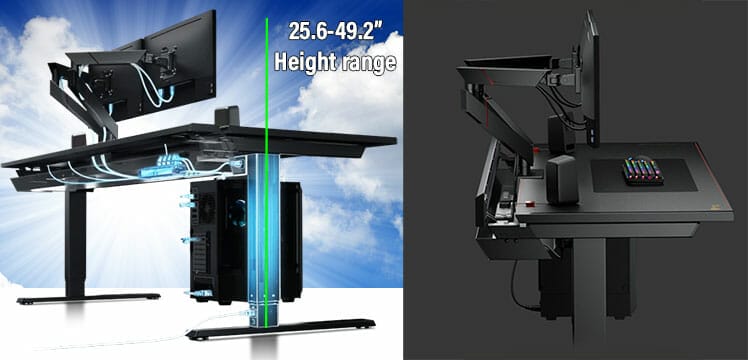 Sixteen months after the original Magnus release, the Magnus Pro Sit-To-Stand Desk is here. Like other sit-to-stand models, it enables healthy movement throughout desk work days.
But Secretlab's Industrial Design Head Vincent Sin and his team saw room for something extra. "It was also our opportunity to take cable management to new frontiers."
To assess the finished product, Secretlab sent ChairsFX a tester bundle. It included a Magnus Desk, dual monitor arms, and several accessories. This review summarizes my experience after a week of using the package.
Magnus Pro Desk Specifications
The Magnus Pro comes in regular and XL sizes. The regular edition has enough room to support three computer screens and a PC. In comparison, the Magnus Pro XL is a gargantuan 18% larger. Both models have an impressive height-adjustment range of 25.6-49.2″.
The height range is significant: no other sit-stand desk goes as low as the Magnus Pro. Based on these desk sizing guidelines, its 25.6″ minimum height supports users as short as 5'2″ — without need for a footrest! Summary of specs:
Magnus Pro dimensions: 59.1″ (L) x 27.6″ (D)
Magnus Pro XL dimensions: 70″ (L) x 31.5″ (D)
Height-adjustment range: 25.6-49.2″ (fits sizes 5'2″ to 7'0″)
Base package contents: Magnus Metal Desk; rear cable management tray
Warranty: 2 years on electrical controls; 5-years on other parts; 49-day return/ refund policy (details)
Magnus Pro Desk Setup
One reason the Magnus Pro gets a perfect score is because of its brilliant setup process. It assumes that most users will have their PC unplugged (thus no internet help). As a result, every box that you open comes with idiot-proof instructions.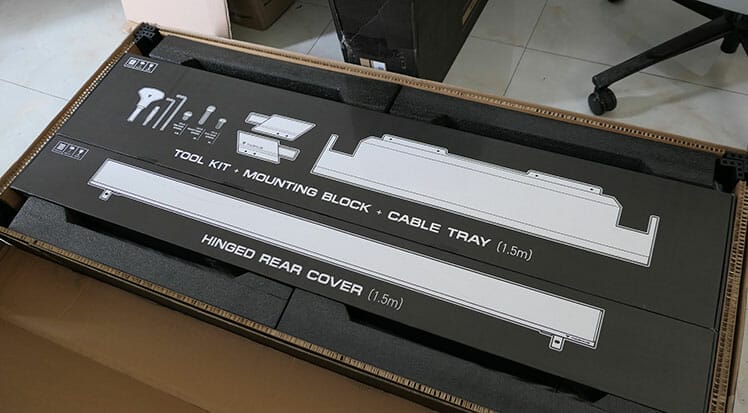 First, attach the cable management tray to the desktop. Then, you'll need a friend to help you flip the (heavy) desktop over. After that, attach the legs.
Finally, get your friend to help you flip the desk so that it stands on its legs. The initial desk build process should take around 15 minutes.
PC Setup And Cabling Process
If you're a sloppy cabler like I am was, the next part (setting up your PC) will blow your mind. The cable management tray will not let you cheat! Each time I sloppily stuffed cables inside, it became a tangled octopus of wires.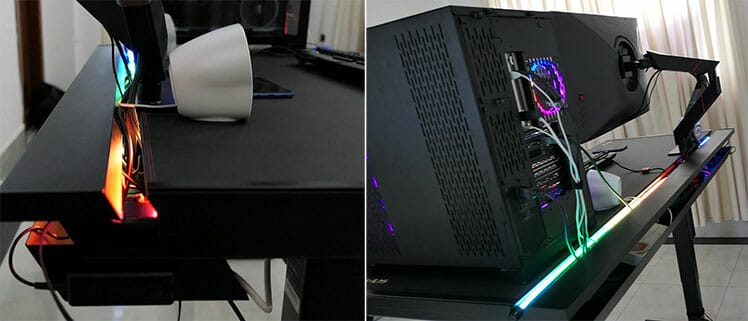 Then, each time I wanted to adjust something, a tight, snagged ball of octopus wires would stop me. This part took me over an hour — with several re-dos and plenty of screeching!
Once you're done, fire up your PC. Then, compare your build with the official Secretlab MAGNUS Pro Sit-to-Stand Desk User Guide:
That will likely inspire you to crack open your cable management tray and refine things. So far, I've redone my cable management tray several times. It's been an educational work in progress that I've enjoyed.
Magnus Pro Accessories
When you buy a Magnus Pro ($799) or Pro XL ($949), the package only includes the desk and cable management tray. There's also a choice of several different add-ons. One of the highlights is a premium PC mount that lets you hang your rig under your desk.
Another cool new add-on is the choice of single or dual monitor mounts. In my tester bundle, Secretlab included a set of dual monitor arms, but not the PC mount (they're out of stock).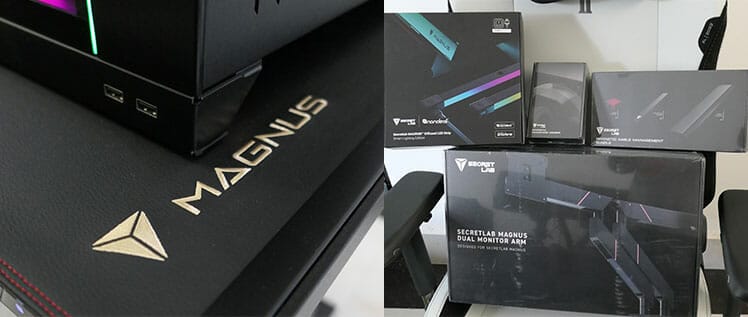 In my experience, every available accessory is worth buying. When the Premium PC Mount is available, I'll get one. I also plan to add another single monitor arm mount.
Summary of Key Accessories
Magpad Desk Mat ($49-$79): this is the same material that Secretlab uses to upholster its chairs. Magnetic fasteners hold it in place. It feels like a supple, luxurious leather mouse pad that covers the entire tabletop surface.
Cable Management Bundle ($49): includes two leg sheaths, three anchors, and 10 fastening straps. Useful for refining your cable management to a higher level. If you have lots of cables, consider buying two.
MagRGB Lighting Strip ($79): this rubber RGB strip has magnets that easily attach to the cable management tray. It seems frivolous, but the RGB effects shining through the cable tray make the desk dance with glimmering movement.
Single/ Dual Monitor Arms ($149/$249): these are pricier than other desk-mounted arms. However, they work seamlessly with the desk with elegant looks to match.
Premium PC Mount ($79): lets you hang your PC under the desk and out of the way. As the desk moves up or down, the PC moves in sync. Adding this will allow you to maximize your desk space. As a bonus, it looks super cool.
Headphone hanger ($29): leaving headphones lying around will clutter up your gorgeous workspace. For this reason alone, I highly recommend this add-on.
Browse Secretlab Desk Accessories
With recommended accessories, a fully-loaded Magnus Pro costs $1541.
Multi-Device Computing Modes
Standing desks have existed for years as niche items. But recently, ergonomic priorities changed at institutional levels. Updated standards now emphasize multi-device support for the back and neck. They also demand solutions for sedentary computing issues.
The World Economic Forum (WEF) hypes 'the Fourth Industrial Revolution' as the way of the future. The plan is to connect billions of people with mobile devices.
That will give rise to an internet-driven state of near-virtual reality. Then, users will need ubiquitous computing interfaces that go beyond the classic desk, keyboard, and PC formula(2).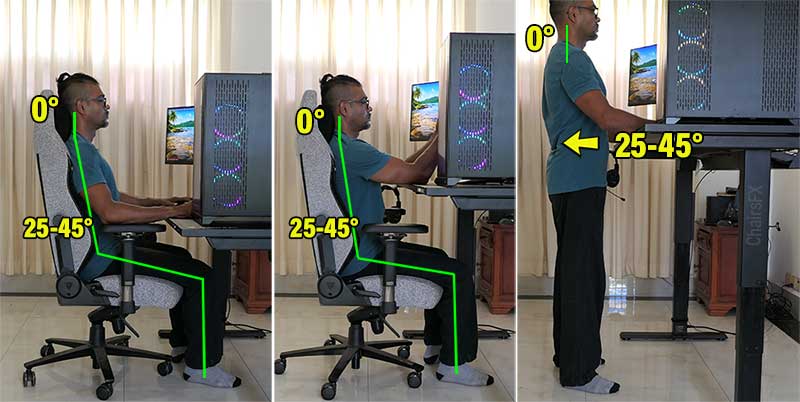 This is where standing desks come in. Paired with a good ergonomic chair, these support near-perfect posture while sitting, standing, and mobile computing.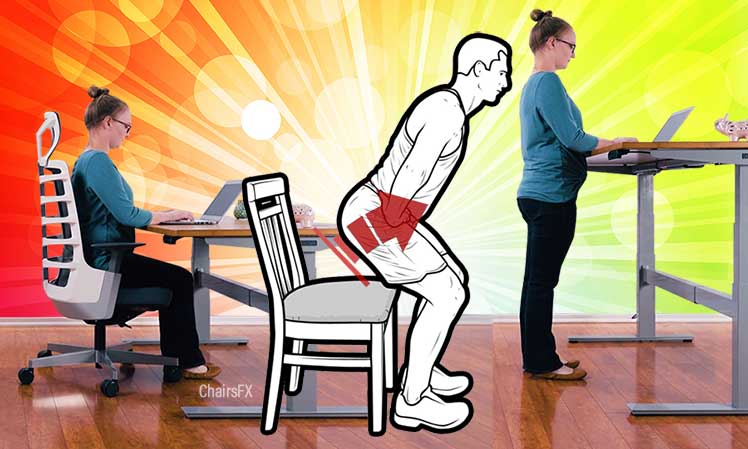 Standing desks also address sedentary issues. Every time you shift from a sitting to a standing position, you're working your hips, legs, and spine. Learn more:
Magnus Pro Positives And Negatives
After a week of using my Magnus Pro Desk, it has exceeded my expectations in several ways. I can't imagine a single part of this package that needs improving. Even so, there are a few downsides that people should be aware of.
Con: Tech Quibbles; Foot Support
After two months of use, I've found two technical quibbles and one usability issue.
Magnus Pro Technical Issues
The biggest issue I've found is a mild standing sway. At its highest position, if you apply enough force, there's a slight wobble. My solution to avoid wobble is to not smash into my desk like a linebacker would.
Mild standing sway: in a lowered position, the desk has zero give. But in a standing position, significant force will produce mild sway.
Only 3 keypad presets: I want four present buttons (sitting and mobile sitting; standing and mobile standing).
Standing Desk Users Need Good Foot Support
The other big issue I found was no fault of the desk. For a few weeks, I stood for around 60% of the time while computing. Usually, I did so in bare feet, socks, or cheap sandals.
Eventually, the heels and soles of my feet got really sore. As a result, my standing posture fell apart. After some research, my problem appeared to be plantar fasciitis. The easy solution for that is to support your foot arches.

Interestingly, most 'anti-fatigue standing desk mats' do not support the arches! Instead, they only provide compression resistance. Based on my tests using compression mats, this was not the answer.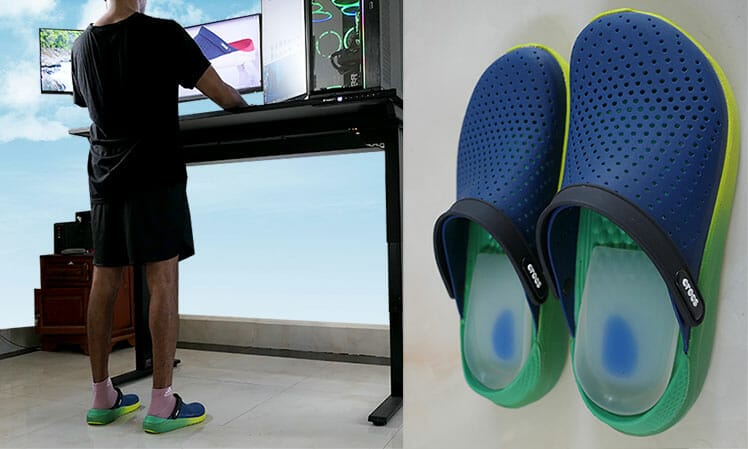 Instead, I settled on Crocs with heel inserts. This combo provides blissful support for long periods of standing. As a result, I'm back to standing 6-7 hours per day! Learn more:
Pros: Luxurious Multi-Device Ergonomics
Here are my favorite things about the Magnus Pro after two months of use:
Professional Cable Management For Dummies
The Magnus Pro will also motivate you to master cable management and become a clean freak. To keep it looking pristine, you'll need to dust it regularly with a good-quality microfiber cloth.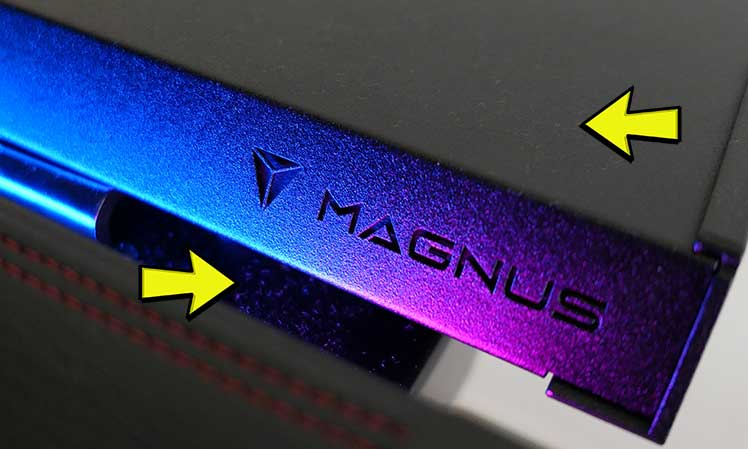 A lot of dust also seems to settle in the cable management tray hinges. Keeping your cables streamlined to allow easy opening and closing of the tray thus becomes important.
In hindsight, I was as happy as a pig in manure with my old setup. With spaghetti wires and dust buildup out of sight, everything seemed fine. Then along came the Magnus Pro to shatter my ignorance — and turn it into bliss!
Bottom line: if you're not willing to maintain an immaculate workspace, the Magnus Pro might be overkill. Wait until you feel inspired to take on workstation design as a hobby. Then, pull the trigger and buy this desk.
Multi-Device Computing Support
The point of any piece of ergonomic furniture is to support good posture. In the olden days, that meant good sitting posture while using a desktop PC.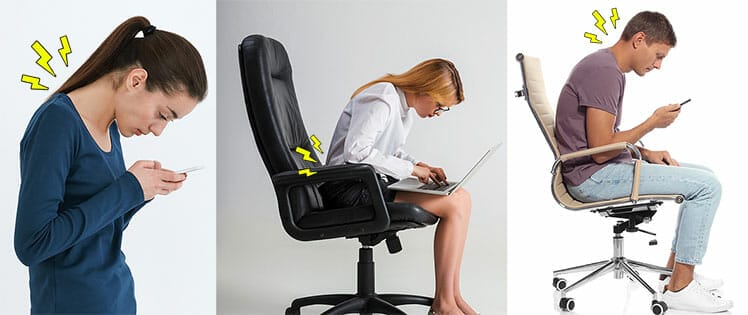 But in modern times, the average person spends 3 hours daily on a cell phone — usually with a forward-tilted neck.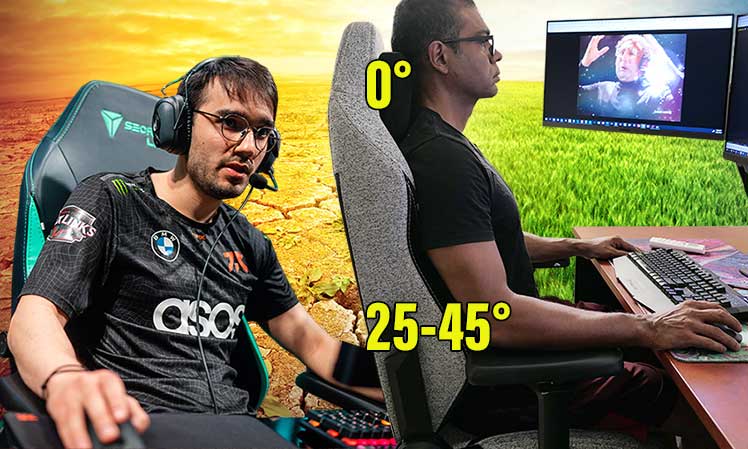 Recently, while researching text neck syndrome, I found myself a victim of it! Then, 3 famous esports doctors helped me fix the problem using a Titan 2022 Series chair.
The trick: set the recline at a steep 100° angle while keeping the head pressed into the headrest. After a few days of sitting that way, muscle memory will kick in.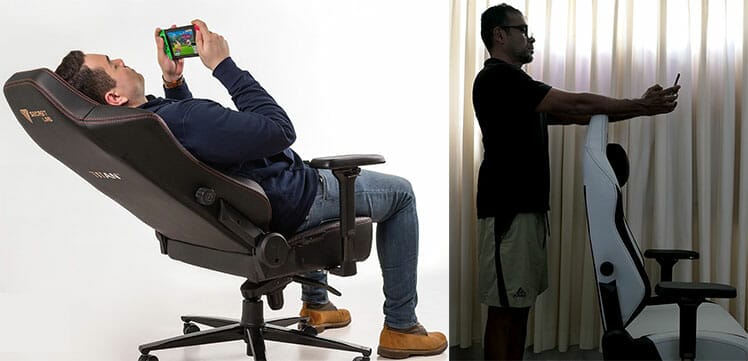 Then, keeping a straight neck will become a regular habit that runs on autopilot. Even so, sitting that way failed to help me while mobile computing. That's where the Magnus Pro comes in.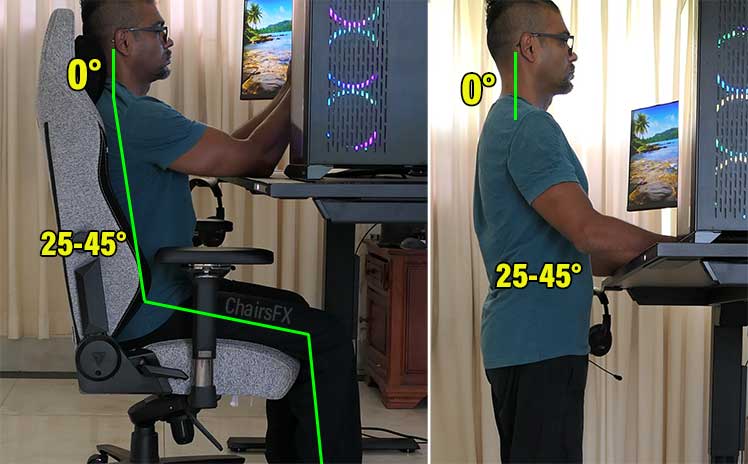 The Titan 2022 chair (used in a specific way) will ensure a good PC computing posture. In contrast, the Magnus Pro lets you maintain that posture while mobile computing and standing as well.
Bottom line: a Magnus Pro + Titan 2022 chair makes it easy to engage in DIY posture therapy while sitting, standing, and mobile computing.
Summary Of Favorite Magnus Pro Aspects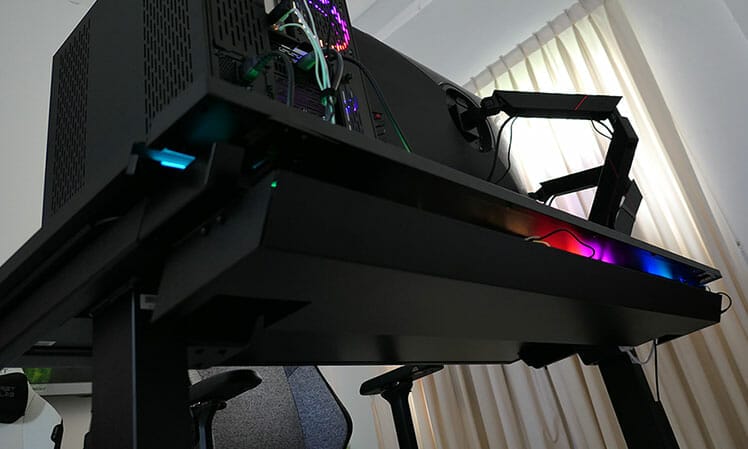 Easy learning curve: the desk assembly process and supporting documentation are brilliant. Even if you know nothing about cable management, you'll become proficient by the end of your desk build.
Quiet leg motors: most sit-stand desks make noticeable machinery noises as the motorized legs move up or down. In contrast, the Magnus Pro motors are almost silent. This adds to the luxurious feel of the overall build.
Excellent Magpad desk mat: the idea of using Secretlab Titan leatherette as a desk mat seemed weird to me — until I tried it. It works perfectly with a mouse and feels supple and posh to the touch.
Inspiring MagRGB Lighting Strip: I never thought I'd endorse spending $79 on an RGB gimmick. Even so, the 'dancing light' effect this adds to the Magnus Pro cable tray is mesmerizing. A Magnus Pro without this extra would be like having pizza without cheese.
Superb aesthetics: this desk will light up your workspace with sharp, modern, minimalist aesthetics. Its beauty will likely inspire you to maintain a crisp, clean, uncluttered workspace.
Magnus Pro from Secretlab $799+
With recommended accessories, a fully-loaded Magnus Pro costs $1541.
Magnus Pro Vs Other Standing Desks
Objectively, the 'best' standing desk can be whichever model fits your size. Subjectively, it depends on how many extras you wish to stack with your desk.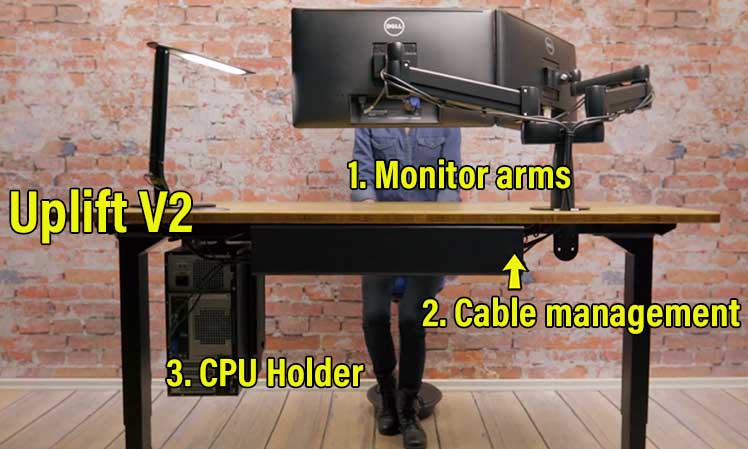 Based on my Magnus Pro experiences, a good build should include at least dual monitor arms. Here's how the Magnus Pro compares with two industry leaders and a Herman Miller alternative (with dual arms and unique extras):
| | | | | |
| --- | --- | --- | --- | --- |
| Feature | Uplift V2 | E7 Pro | Magnus Pro | Motia Gaming Desk |
| Bundle extras | Caster wheels | Desk mat | RGB strip + mousepad | None |
| Warranty | 15 years all-inclusive | 15 years all-inclusive | 5 years on parts; 2 years on electronic controller | 12 years all-inclusive |
| Package Price | $1152 from UpliftDesk.com | $848.96 from Flexispot.com | $1343 from Secretlab | $1870 from Herman Miller |
All listed desks provide similar functionality. Flexispot models have the crudest aesthetics. The Magnus Pro is the flashiest, but also comes with the shortest warranty. For a full comparison, see this:
Common Magnus Pro Desk Questions
Without seeing a Magnus Pro in person (with a measuring tape) it might be difficult to gauge its potential in your workspace. This section answers common questions that potential buyers may have.
How Much For A Fully-Loaded Magnus Pro?
In my opinion, a perfect Magnus Pro bundle would include the following:
1 x Magnus Pro Desk ($799)
1 x Signature Stealth Desk Mat ($49)
2 x Cable Management Bundles ($49 each)
1 x MagRGB Strip ($79)
1 x Dual Monitor Arms ($249)
1 x Single Monitor Arm ($149)
1 x Premium PC Mount ($89)
1 x Headphone Hanger ($29)
The total price for this 'ChairsFX Bundle' is $1541. Let's assume nothing goes wrong and the entire desk lasts 5 years before needing repairs.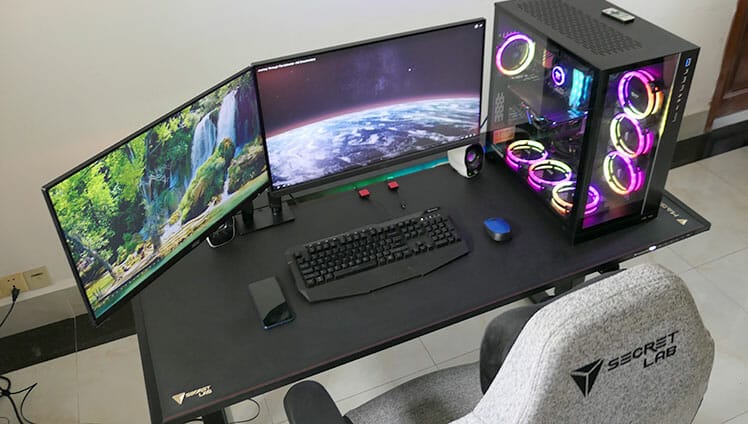 Then, the investment works out to $308 per year (around eighty-five cents per day). From that perspective, this desk is a steal!
Magnus Pro 'ChairsFX Bundle' from Secretlab $1541
Available from Secretlab in North America, the EU and UK, Australia, Singapore, and Malaysia.
Is the Magnus Pro 5-Year Warranty Legit?
Based on the warranty terms and Secretlab's stellar service record, the warranty protection is 100% legit. Here are the terms of the Magnus Pro's warranty:
Electronic control panel and box: 2 years
All other desk parts: 5 years
Magnus Monitor Arms: 3 years
All other accessories: 2 years
If anything goes wrong, it's likely to do with the motorized legs or electronic control panel. The legs seem easy to replace: flip over the desk and unscrew their fasteners.
Meanwhile, the Control Panel is built into the tabletop. But it's held in place under the desk by a metal plate. To replace the unit, it looks like you can unscrew the plate and remove it.
Is the Magnus Pro Suitable For Kids?
Yes. The Magnus Pro Desk has a height-adjustment range of 25.6-49.2″. Based on this desk sizing chart, that will support users 5'2″ and taller.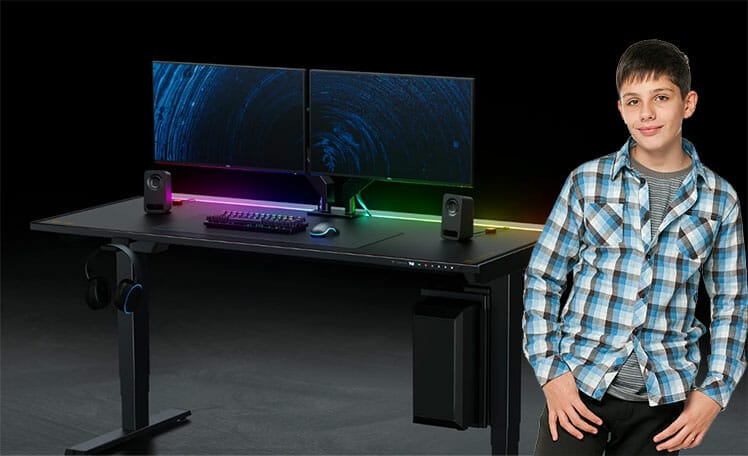 Based on the average sizes of American kids, a typical 6th grader is 12 years old and between 4'5″ to 5'2″. Younger children under 5'2″ may also make use of this desk by adding an ergonomic footrest.
Does Magnus Pro Support 3 Monitors?
Yes. Assuming you use desk-mounted monitor stands, the 59.1″ surface length is enough to hold three screens (2 x 24″ and 1 x 27″) and a large PC tower.
For this demo, I used a third-party monitor mount. These will work with the Magnus Pro, although the results are underwhelming. For one thing, third-party models aren't designed to fit in the cable management tray. Mine was a clunky fit that messed up my cable flows.
For another, the gaudy styling sharply contrasted with the rest of the build. As a result, I removed my third screen temporarily until a Secretlab Single Monitor Mount arrives.
Is Standing Healthier Than Sitting?
The tangible health benefits gained from computing while standing versus sitting are mild(3). Standing bodies can expect to burn a few extra calories and slightly lower their blood pressure.
However, the benefits gained from moving between sitting and standing positions are incredible! In fact, most leading esports therapists tout movement as the most important ergonomic workstation health factor!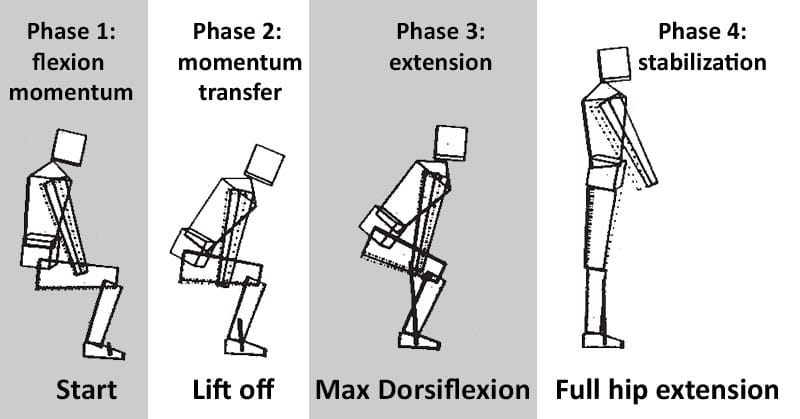 The transition from a sitting to a standing position is a squat. Every time you switch from one to the other, your hips, bones, muscles, and joints all move in sync. This beats sitting in fixed, rigid positions for long hours.
Specifically, frequent movement improves both cardiovascular and cerebrovascular health. That yields noticeable mental benefits which improve productivity. Many studies have shown that active bodies improve learning, memory, and cognitive functions(4).
My sit-to-stand method: I enjoy standing for casual computing (light gaming, web browsing, etc). When it's time to get serious, I click my sitting preset to lower the desk. Once I've done enough work to earn a break, I click the standing preset to stretch my legs.
Multi-Device Workstation Of The Future
Our 2022 Workstation Setup Guide prices a basic ergonomic setup at $377 (minus the laptop). It includes an ergonomic chair, desk, external monitor, and external keyboard/ mouse kit.

In sharp contrast, buying a fully-loaded ChairsFX Bundle Magnus Pro plus a Titan Evo 2022 Series will cost around $2100. That's $1700 more than the $377 basic bundle!
Frankly, I do not recommend spending $1500 on a desk — if a $100 one can do the same job. However, in the multi-device computing era, a $100 desk cannot provide the ergonomic support that people need.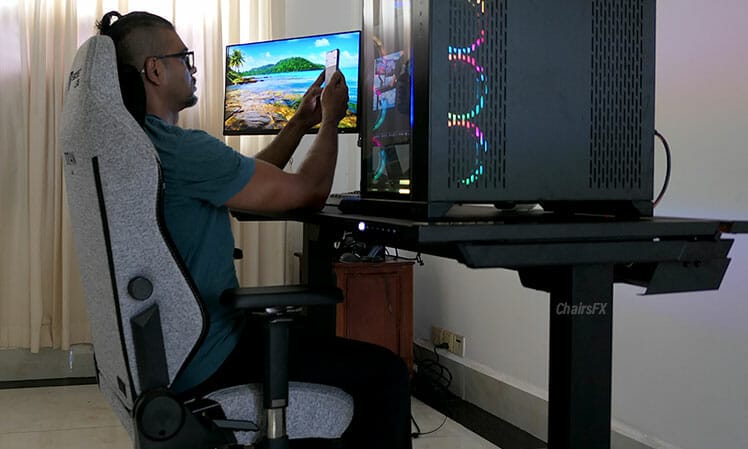 As a result, Text Neck Syndrome, sedentary lifestyles, anterior pelvic tilt, chronic lethargy, and many other ills have become endemic.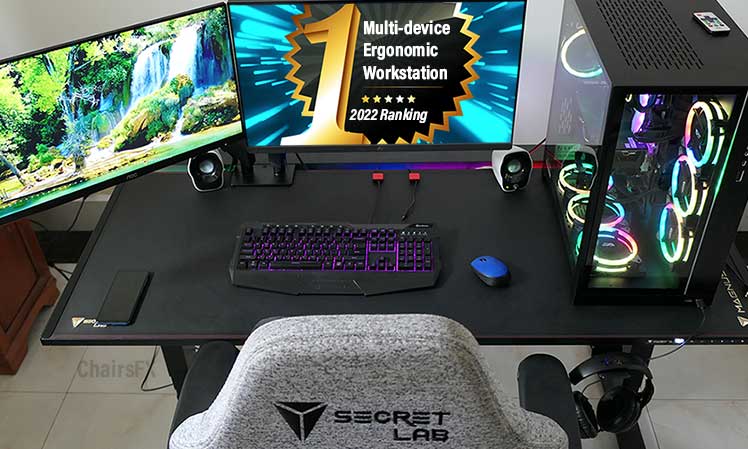 To address these problems, the world's first fully-ergonomic multi-device workstation of the future has arrived. Everyone surfing the waves of the 4th Industrial Revolution should buy this desk right now!
Magnus Pro from Secretlab $799+
Available from Secretlab in North America, the EU and UK, Australia, Singapore, and Malaysia.
Footnotes