This in-depth review explores the Secretlab Magnus Pro standing desk. It covers its unique features, aesthetics, and usability. That presents a close-up look at an innovative workstation solution for remote workers. After testing it rigorously for over 10 months, I provide an unbiased evaluation. Is the Secretlab Magnus Pro standing desk worth the investment? In this review, all potential buyer questions get answered.
The Magnus Pro is Secretlab's rendition of a luxury sit-to-stand desk. Like all standing desks, its control panel allows for seamless height adjustments. You can toggle the work surface up, down, or with three self-defined presets.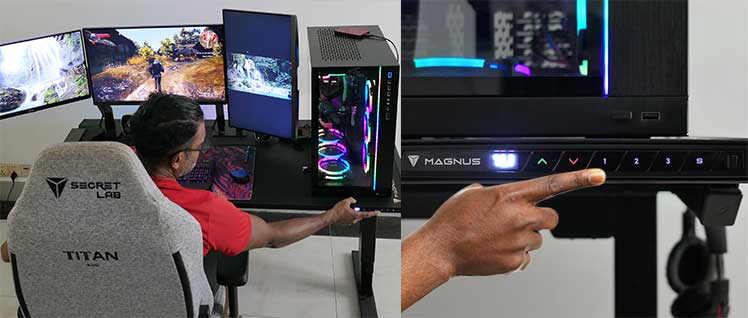 It goes beyond the standard with several luxury extras. These include seamless cable management, modular magnetic add-ons, and special lighting effects. Here's a quick look at how these elements function in a fully-equipped setup:
This standing desk makes the most sense for those who already own a Secretlab chair. If you love your Titan chair, a Magnus Pro desk is the next workstation progression. Is it worth it?
This review summarizes my impressions after around 10 months of using one full-time.
Magnus Pro Vs Other Standing Desks
I used to find standing desk comparison shopping complicated and scary. Many of the top height-adjustable desks offer a mind-boggling array of choices. There are different frame sizes, tabletop materials, surface dimensions, add-ons, etc.
In mid-2022, Secretlab sent me a Magnus Pro review bundle (including accessories). That got me up to speed on standing desk fundamentals fast. Using that experience, I compared the Magnus Pro to other top standing desk packages:
| | | | | |
| --- | --- | --- | --- | --- |
| Feature | Magnus Pro | Uplift V2 | Flexispot E7 Pro | Motia Gaming Desk |
| Best add-ons | RGB strip, mousepad, monitor arms, mag cable fasteners | Caster wheels | Desk mat | None (only monitor arms) |
| Dual monitor arm price | $249 from Secretlab | $179 from UpliftDesk.com | $89.99 from Flexispot.com | $575 from Herman Miller |
| Desk Warranty | 5 years on parts; 2 years on electronic controller | 15 years all-inclusive | 15 years all-inclusive | 12 years all-inclusive |
| Weight Capacity | 265 pounds | 355 pounds | 355 pounds | 250 pounds |
| Desk Price (click to buy) | $799 from Secretlab (with tabletop and cable tray) | $643.00 on Amazon (with fiberboard tabletop) | $799 from Flexispot.com (with bamboo tabletop) | $1345 from Herman Miller |
The Uplift V2 and Flexispot E7 Pro are the flagships of two OG desk markers. Both have been in the standing desk business for over 10 years.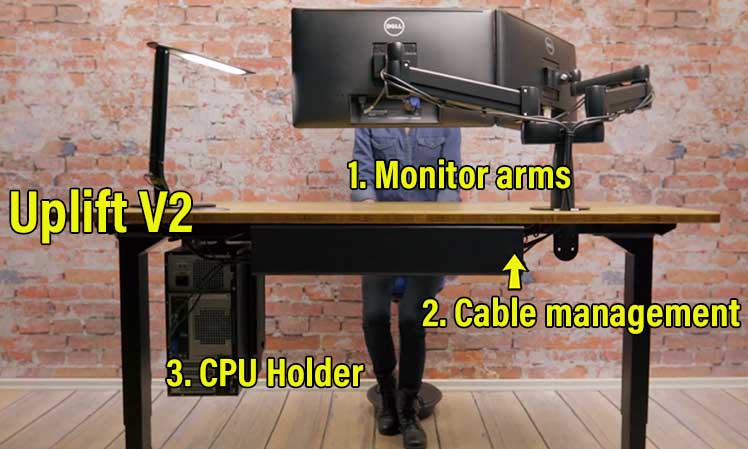 Using those two as benchmarks, we can make these Magnus Pro observations:
Pricing: Magnus Pro buyers will pay a slight luxury premium over OG desks.
Weight capacity: the OG desk makers support 90 pounds more weight.
Warranty: OG flagship desks' 15-year warranties dwarf the Magnus Pro's 5-year pact.
Aesthetics: a fully-kitted Magnus Pro blows away the old-school OG desk styles.
Secretlab integration: if you're pairing a Magnus Pro with a Titan chair, it's seamless.
Magnus Pro vs Motia Vs OG Standing Desks
Secretlab Magnus Pro Desk Review
The Magnus Pro steel desk on its own costs $799 (or $949 for the XL version). It ships in two (heavy) boxes; one has the legs, the other the tabletop. As with all Secretlab products, the included instructions are easy to follow.
Setting up a Magnus Pro desk has three steps. First, attach the cable management tray to the desktop. Second, attach the legs to the desktop. Third, flip the desk over. For the last step, get a friend to help you. After that, it's time to add your selected accessories.
At the very least, you'll want a Magpad Desk mat to cover the steel work surface ($49 to $79). Then, you can use the starter pack bundle Secretlab sent me me as a reference to assemble your own: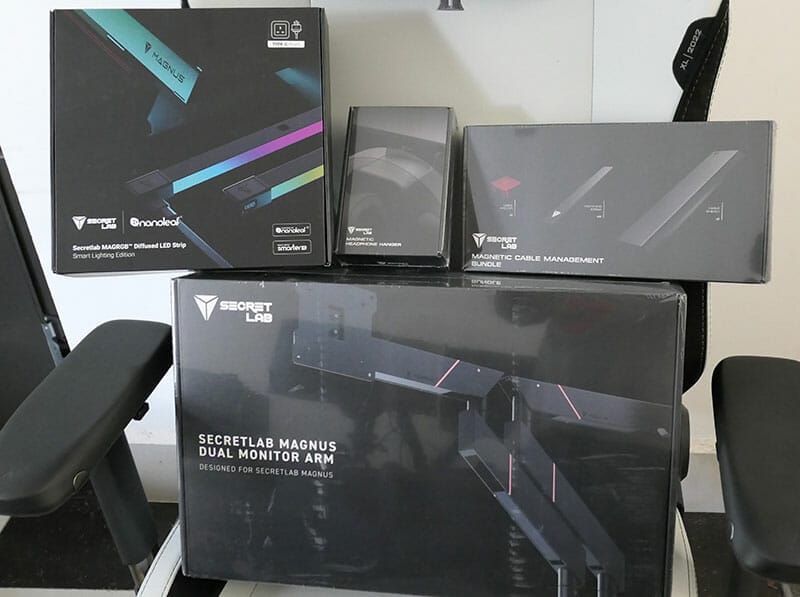 Setting up the desk (attaching the legs and cable tray) took around 15 minutes. Getting the cable management and PC setup sorted took around 90 minutes.
Pictured below was result after completing my desk build, setting up my PC, and completing my cable management: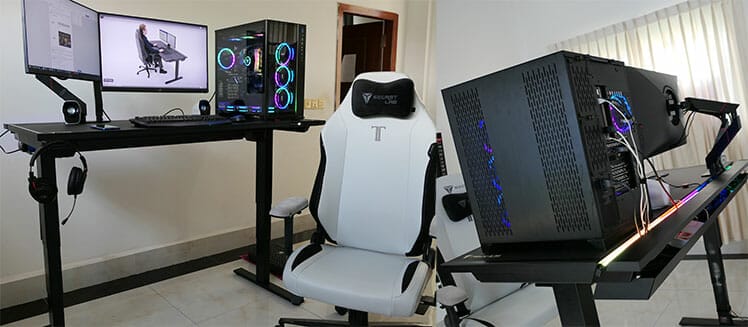 Since then I've done a few dozen revisions. In ten months of tinkering, I've come to love the versatility of the 59.1″ (L) x 27.6″ (D) desktop. There's enough here to play around and experiment.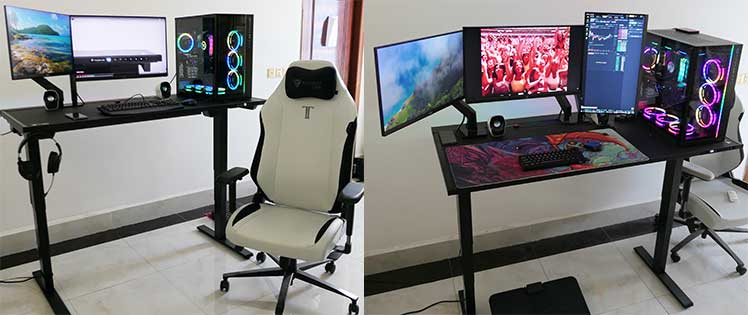 The picture below shows my current setup. My center screen is a 27″ 2K. The flanking ones are both 24″ HD. To fit all three screens and my PC, I sit slightly off-center.
This feels perfect for my needs. Your needs may differ. Regardless, there's enough versatility here to build the ultimate setup for most people.
Magnus Pro Desk Specifications
The Magnus Pro comes in regular and XL sizes. The regular edition has enough room to support three computer screens and a PC. In comparison, the Magnus Pro XL is a gargantuan 18% larger. Both models have an impressive height-adjustment range of 25.6-49.2″.
The height range is significant: no other sit-stand desk goes as low as the Magnus Pro. Based on these desk sizing guidelines, its 25.6″ minimum height supports users as short as 5'2″ — without need for a footrest! Summary of specs:
Magnus Pro dimensions: 59.1″ (L) x 27.6″ (D)
Magnus Pro XL dimensions: 70″ (L) x 31.5″ (D)
Height-adjustment range: 25.6-49.2″ (fits sizes 5'2″ to 7'0″)
Base package contents: Magnus Metal Desk; rear cable management tray
Weight capacity: 265 pounds
Warranty: 2 years on electrical controls; 5-years on other parts; 49-day return/ refund policy (details)
Magnus Pro Desk Setup
The Magnus Pro's setup assumes that most users will have their PC unplugged (thus no internet help). As a result, every box that you open comes with idiot-proof instructions.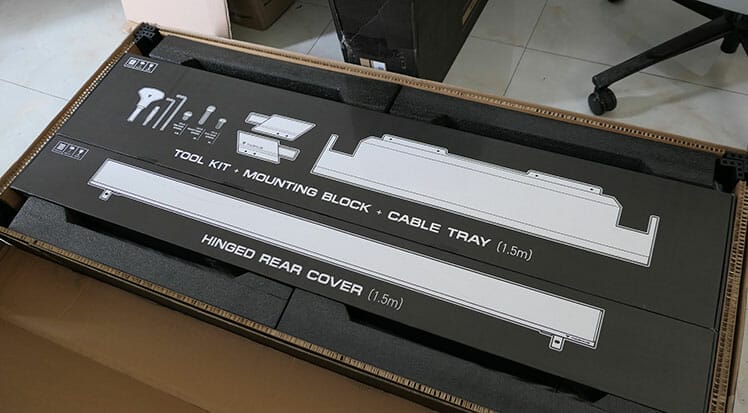 First, attach the cable management tray to the desktop. Then, you'll need a friend to help you flip the (heavy) desktop over. After that, attach the legs.
Finally, get your friend to help you flip the desk so that it stands on its legs. The initial desk build should take around 15 minutes.
PC Setup And Cabling Process
If you're a sloppy cabler like I am was, the next part (setting up your PC) will blow your mind. The cable management tray will not let you cheat! Each time I sloppily stuffed cables inside, it became a tangled octopus of wires.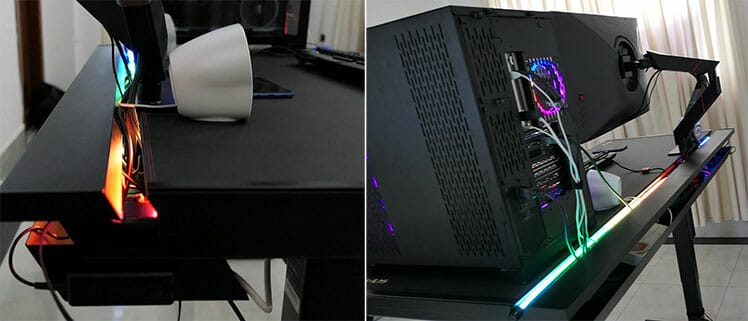 Then, each time I wanted to adjust something, a snagged ball of wires would stop me. As a result, I had to take my time and learn how to do things right. That took me around one hour before things felt right.
Once you're done, fire up your PC. Then, compare your build with the official Secretlab MAGNUS Pro Sit-to-Stand Desk User Guide:
Secretlab's setup video may inspire you to crack open your cable management tray and refine things. It took me a few days before feeling satisfied with my setup. As is, it's easy to rejig into any form I feel like having.
Magnus Pro Accessories
When you buy a Magnus Pro ($799) or Pro XL ($949), the package only includes the desk and cable management tray. There's also a choice of several different add-ons. One of the highlights is a premium PC mount that lets you hang your rig under your desk.
Another notable feature: a choice of single or dual monitor mounts. In my tester bundle, Secretlab included a set of dual monitor arms, but not the PC mount (they're out of stock).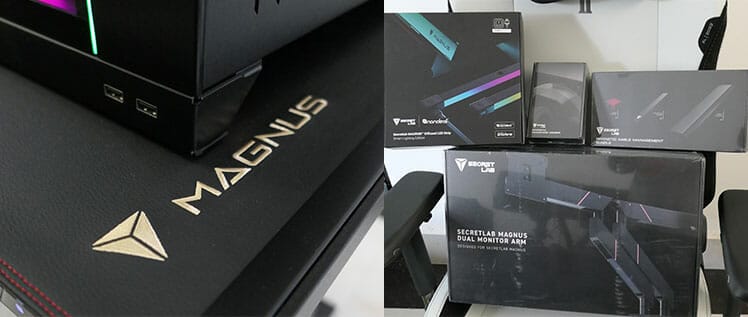 Pick and choose as you like. I suggest a Magpad mat, MagRGB lighting strip, a cable management bundle, and a dual-monitor arm as a solid starter pack.
Summary of Key Accessories
Magpad Desk Mat ($49-$79): this is the same material that Secretlab uses to upholster its chairs. Magnetic fasteners hold it in place. It feels like a supple, luxurious leather mouse pad that covers the entire tabletop surface.
Cable Management Bundle ($49): includes two leg sheaths, three anchors, and 10 fastening straps. Useful for refining your cable management to a higher level. If you have lots of cables, consider buying two.
MagRGB Lighting Strip ($79): this rubber RGB strip has magnets that easily attach to the cable management tray. It seems frivolous, but the RGB effects shining through the cable tray make the desk dance with glimmering movement.
Single/ Dual Monitor Arms ($149/$249): these are pricier than other desk-mounted arms. However, they work seamlessly with the desk with elegant looks to match.
Premium PC Mount ($79): lets you hang your PC under the desk and out of the way. As the desk moves up or down, the PC moves in sync. Adding this will allow you to maximize your desk space. As a bonus, it looks super cool.
Headphone hanger ($29): leaving headphones lying around will clutter up your gorgeous workspace. For this reason alone, I highly recommend this add-on.
Browse Secretlab Desk Accessories
With all recommended accessories, a fully-loaded Magnus Pro costs $1541.
Usability: Multi-Device Computing
Standing desks get the most hype for supporting movement. So I was pleasantly surprised to see how well the Magnus Pro supports multi-device computing (desktop + mobile).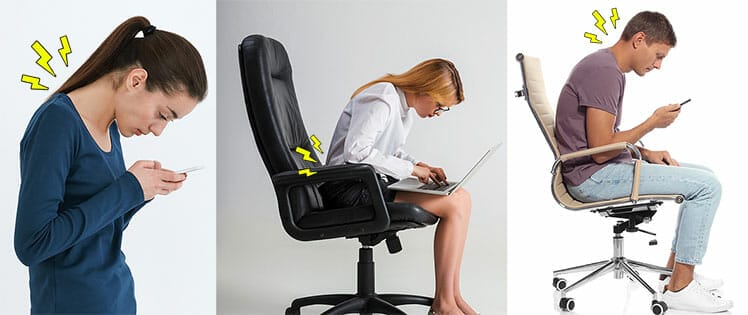 Paired with a Secretlab Titan chair, a Magnus Pro delivers a superb multi-device workstation experience. In modern times, the average person spends 3 hours daily on a cell phone — usually with a forward-tilted neck.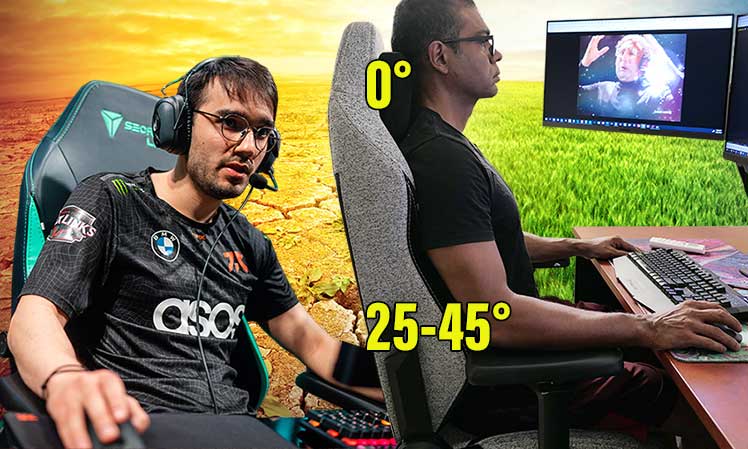 To avoid a forward head tilt while desktop computing, I use my Titan chair with a sharp 100° recline, relying on the headrest for bracing.
That method works fine for desktop computing. But a Titan chair on its own isn't ideal for long periods of mobile computing.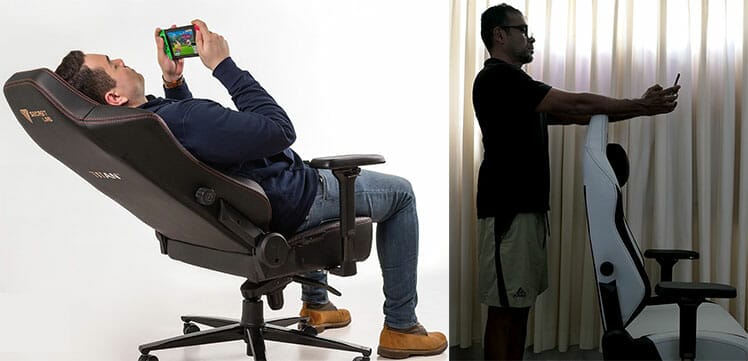 This is where the Magnus Pro comes in. By making use of its presets, you can toggle the desktop a few inches higher on demand. That's all you need to support healthy mobile computing.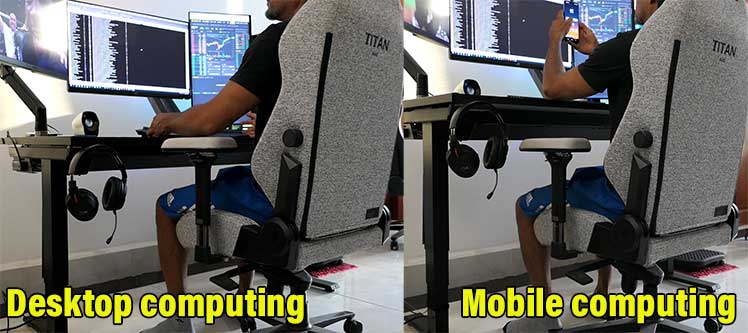 For example, I use two of the three Magnus Pro presets as 'mobile' modes. If I need to use my phone while desktop computing, I'll hit the first preset. That raises the work surface to support my elbows a few inches higher.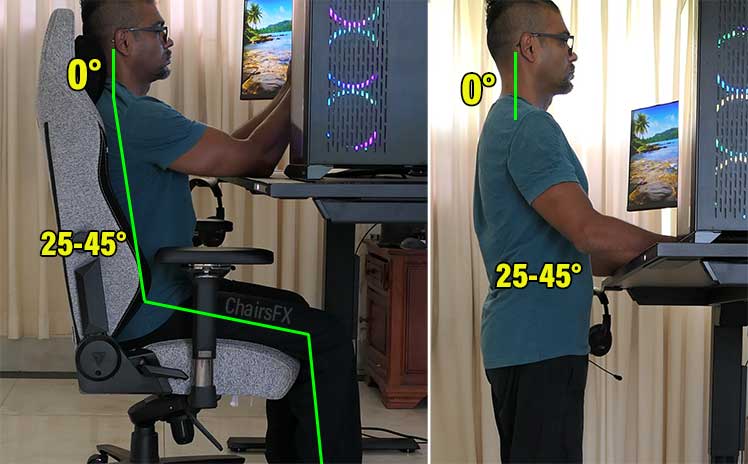 My second preset shifts into desktop computing standing mode. If I need to use my phone while in standing mode, I'll hit the third preset.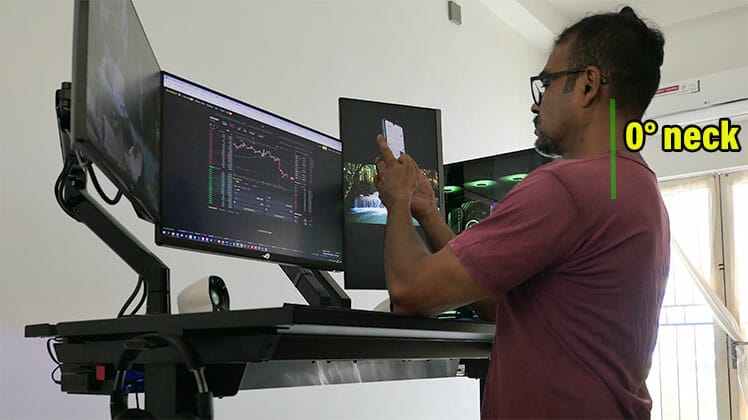 That raises the work surface a few inches higher than the desktop computing standing mode. As with the seated version, that negates the need to tilt my head forward while mobile computing.
Magnus Pro Positives And Negatives
The Magnus Pro is the perfect Titan Evo 2022 gaming chair complement. Like the chair, it's super-versatile — built to serve whatever whims you fancy. Mine prettied up my workspace and inspired me to keep it clean. It also supercharged my desk routines.
In tandem with the Titan, the Magnus Pro also helps me maintain near-perfect mobile and desktop PC postures — while sitting or standing. After six months, I'm 100% satisfied — it's the perfect complement to a Titan gaming chair!
Cons: Trivial Quibbles
After 10+ months of using this desk, I've found zero technical flaws. It has quiet leg motors, a sturdy build, superb cable management, and inspiring aesthetics. Even so, here are two suggestions for a next-gen Magnus Pro version:
Lockable caster wheels: the desk looks so pretty from the rear that I often move it around to 'redecorate'. Adding the option of caster wheels attached to the legs would make that easier.
4-preset control panel: the current panel has three presets. Having four would allow sitting and standing modes for both PC and mobile scenarios.
Standing With Unsupported Arches Risks Plantar Fasciitis
The biggest problem I encountered was no fault of the desk. For a few weeks, I stood for around 60% of the time while computing. Usually, I did so in bare feet, socks, or cheap sandals.
Eventually, the heels and soles of my feet got really sore. As a result, my standing posture fell apart. After some research, my problem appeared to be plantar fasciitis. The easy solution for that is to support your foot arches.

Interestingly, most 'anti-fatigue standing desk mats' do not support the arches! Instead, they only provide compression resistance. Based on my tests using compression mats, this was not the answer.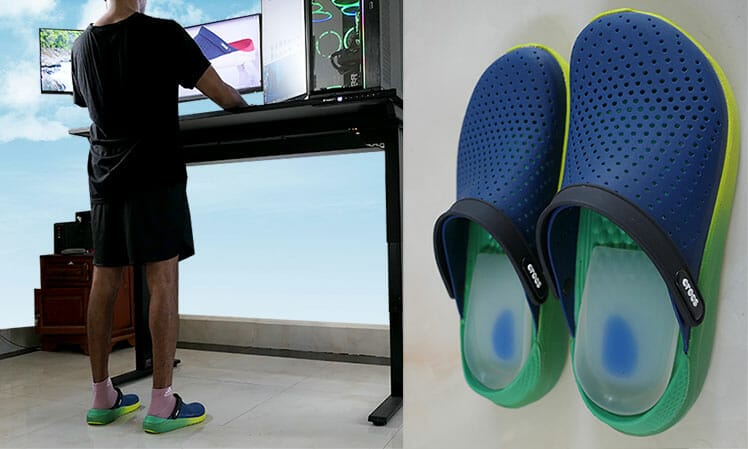 Instead, I settled on Crocs with heel inserts. This combo provides blissful support for long periods of standing. As a result, I'm back to standing 6-7 hours per day! Learn more:
Pros: Luxurious Multi-Device Ergonomics
Here are my favorite things about the Magnus Pro after ten months of use:
Excellent multi-device (desktop + mobile) support for the back and neck
A Superb cable management system
Luxurious, inspiring aesthetics
Professional Cable Management For Dummies
The Magnus Pro will also motivate you to master cable management and become a clean freak. To keep it looking pristine, you'll need to dust it regularly with a good-quality microfiber cloth.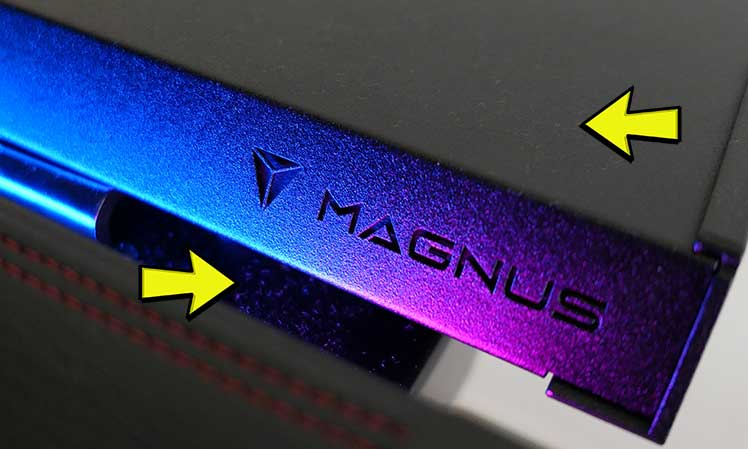 A lot of dust also seems to settle in the cable management tray hinges. Keeping your cables streamlined to allow easy opening and closing of the tray thus becomes important.
Bottom line: if you're not willing to maintain an immaculate workspace, the Magnus Pro might be overkill. Wait until you feel inspired to take on workstation design as a hobby. Then, pull the trigger and buy this desk.
Summary Of Favorite Magnus Pro Aspects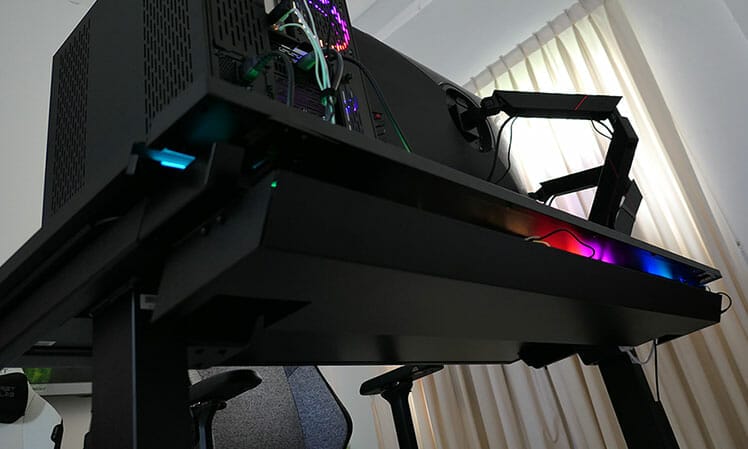 Easy learning curve: the desk assembly process and supporting documentation are brilliant. Even if you know nothing about cable management, you'll become proficient by the end of your desk build.
Quiet leg motors: most sit-stand desks make noticeable machinery noises as the motorized legs move up or down. In contrast, the Magnus Pro motors are almost silent. This adds to the luxurious feel of the overall build.
Excellent Magpad desk mat: the idea of using Secretlab Titan leatherette as a desk mat seemed weird to me — until I tried it. It works perfectly with a mouse and feels supple and posh to the touch.
Inspiring MagRGB Lighting Strip: I never thought I'd endorse spending $79 on an RGB gimmick. Even so, the 'dancing light' effect this adds to the Magnus Pro cable tray is mesmerizing. A Magnus Pro without this extra would be like having pizza without cheese.
Superb aesthetics: this desk will light up your workspace with sharp, modern, minimalist aesthetics. Its beauty will likely inspire you to maintain a crisp, clean, uncluttered workspace.
Magnus Pro from Secretlab $799+
With recommended accessories, a fully-loaded Magnus Pro costs $1541.
Common Magnus Pro Desk Questions
Without seeing a Magnus Pro in person (with a measuring tape) it might be difficult to gauge its potential in your workspace. This section answers common questions that potential buyers may have.
How Much For A Fully-Loaded Magnus Pro?
In my opinion, a perfect Magnus Pro bundle would include the following:
1 x Magnus Pro Desk ($799)
1 x Signature Stealth Desk Mat ($49)
2 x Cable Management Bundles ($49 each)
1 x MagRGB Strip ($79)
1 x Dual Monitor Arms ($249)
1 x Single Monitor Arm ($149)
1 x Premium PC Mount ($89)
1 x Headphone Hanger ($29)
The total price for this 'ChairsFX Bundle' is $1541. Let's assume nothing goes wrong and the entire desk lasts 5 years before needing repairs.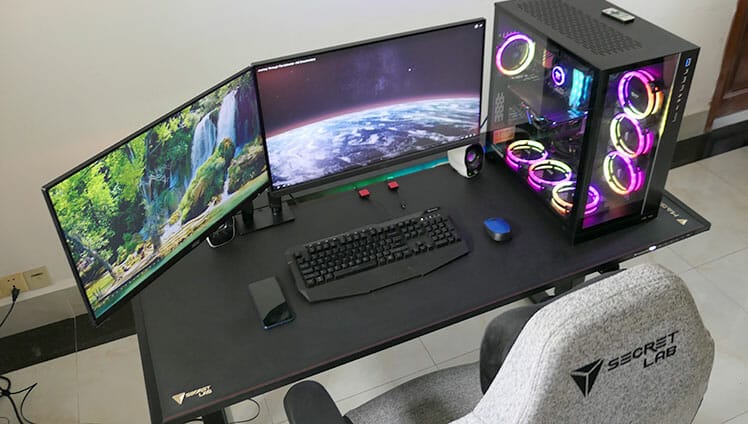 Then, the investment works out to $308 per year (around eighty-five cents per day). From that perspective, this desk is a steal!
Magnus Pro Desk + Accessories from Secretlab $799+
Available from Secretlab in North America, the EU and UK, Australia, Singapore, and Malaysia.
What Does The 5-Year Warranty Cover?
Based on the warranty terms and Secretlab's stellar service record, the warranty protection is 100% legit. Here are the terms of the Magnus Pro's warranty:
Electronic control panel and box: 2 years
All other desk parts: 5 years
Magnus Monitor Arms: 3 years
All other accessories: 2 years
If anything goes wrong, it's likely to do with the motorized legs or electronic control panel. The legs seem easy to replace: flip over the desk and unscrew their fasteners.
Meanwhile, the Control Panel is built into the tabletop. But it's held in place under the desk by a metal plate. To replace the unit, it looks like you can unscrew the plate and remove it.
Does the Magnus Pro Wobble?
The Magnus Pro is rated to support 265 pounds. My desk holds a PC tower, one 27″ screen, and two 24″ screens. At sitting heights, the desk produces zero wobble. When raised to its highest standing setting, it also feels wobble-free.
For testing, I found that pushing the heightened tabletop with moderate force does produce a mild wobble. However, the amount of force needed to produce that is beyond the most violent keyboard-mashing styles. Therefore, I find the standing height wobble insignificant.
Is the Magnus Pro Suitable For Kids?
Yes. The Magnus Pro Desk has a height-adjustment range of 25.6-49.2″. Based on this desk sizing chart, that will support users 5'2″ and taller.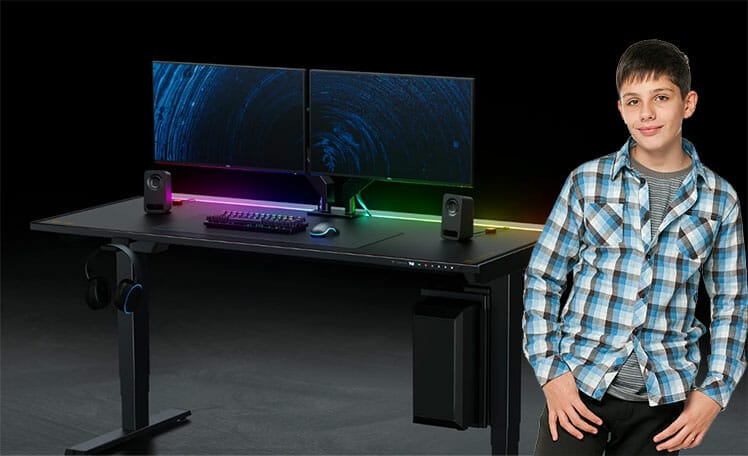 Based on the average sizes of American kids, a typical 6th grader is 12 years old and between 4'5″ to 5'2″. Younger children under 5'2″ may also make use of this desk by adding an ergonomic footrest.
Does Magnus Pro Support 3 Monitors?
Yes. Assuming you use desk-mounted monitor stands, the 59.1″ surface length is enough to hold three screens (2 x 24″ and 1 x 27″) and a large PC tower.
For this demo, I used a third-party monitor mount. Based on my experience, most conventional desk-mounted arm mounts will work fine with a Magnus Pro.
Is Standing Healthier Than Sitting?
The tangible health benefits gained from computing while standing versus sitting are mild(1). Standing bodies can expect to burn a few extra calories and slightly lower their blood pressure.
However, the benefits gained from moving between sitting and standing positions are incredible! In fact, most leading esports therapists tout movement as the most important ergonomic workstation health factor!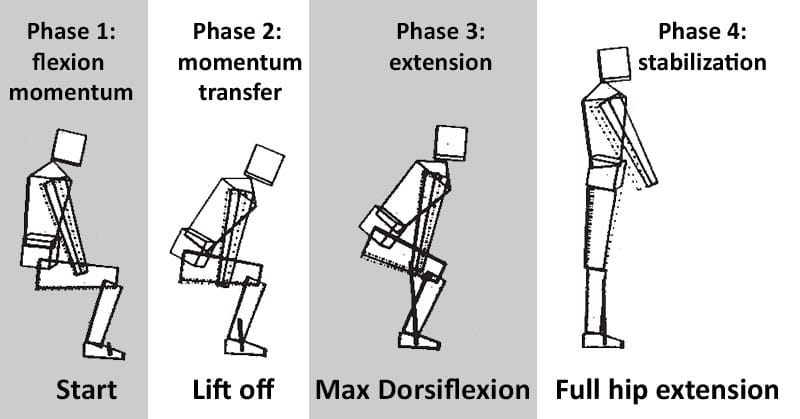 The transition from a sitting to a standing position is a squat. Every time you switch from one to the other, your hips, bones, muscles, and joints all move in sync. This beats sitting in fixed, rigid positions for long hours.
Specifically, frequent movement improves both cardiovascular and cerebrovascular health. That yields noticeable mental benefits which improve productivity. Many studies have shown that active bodies improve learning, memory, and cognitive functions(2). Learn more:
Do People Actually Use The Standing Mode?
This is the key point to reconcile before deciding to buy a standing desk. Many studies show that without training, the majority of people do not use the standing functions!
But even with training, usage tends to tail off. After a few months, the majority forget about the standing functions altogether.
Personal Case Study: An 8-Month Struggle
It took me around eight months of practice to get into a healthy sit-to-stand flow. At first, using my computer at a standing height unsettled my brain, making it hard to focus.
Later, I developed plantar fasciitis by standing too long on hard tile without foot protection.
After that, I forgot about standing for a month or so. Given these facts, you should really consider if a standing desk is worth the struggle.
Studies show that the majority fails to adapt. Then, they've paid extra for features they don't even use!
Multi-Device Workstation Of The Future
The ergonomic chair is a symbol of the bygone desktop computing era. As the cubicle era fades, a multi-device Internet of Things (IoT) is emerging.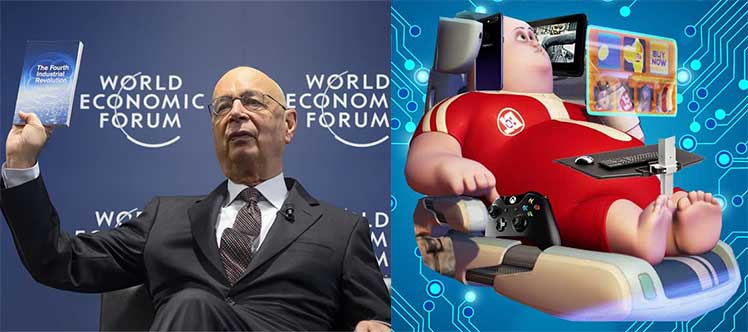 In this evolving landscape, an ergonomic workstation should provide versatile, multi-device computing support. At the same time, musculoskeletal problems caused by long periods of sitting are already endemic.
This is despite the existence of ergonomic chairs designed to promote good posture. The fact is, spending the entire day seated, no matter how ergonomically sound the chair, is far from ideal.
A Secretlab Titan + Magnus Pro standing desk is a luxurious solution.
Worth it — Now, And In The Future
The Secretlab Magnus Pro standing desk supercharges movement by letting you shift between sitting and standing modes. Paired with a Secretlab Titan gaming chair, it also provides the multi-device support computer users need — now, and also in the future.
Does this mean the Magnus Pro is worth it? Maybe. If money's tight, a basic fully-ergonomic setup costs $377 (minus the laptop).

In comparison, a fully-loaded Magnus Pro plus a Titan Evo 2022 Series costs around $1300.
If you can afford it, consider some modern desk worker realities. Text Neck Syndrome, sedentary lifestyles, anterior pelvic tilt, chronic lethargy, and many other ills are endemic. Unprepared desk workers in the future IoT era will suffer intensified ills.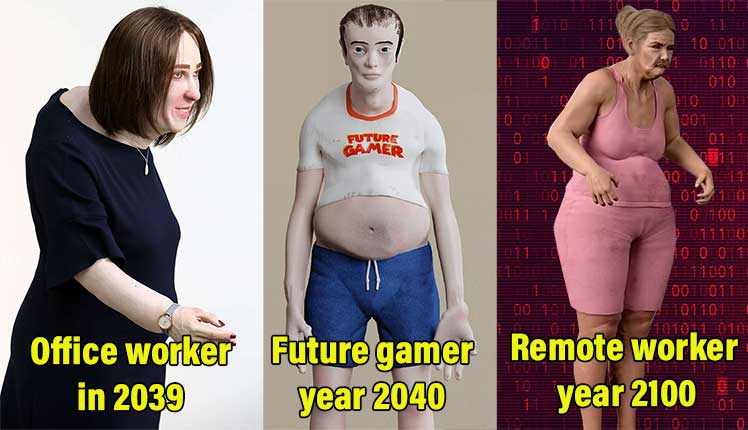 But there's already a blueprint to avoid this. The 4 Pillars of Computing Performance are widely used by top esports and chess pros. These are: physical wellness; nutrition; recovery; mental wellness.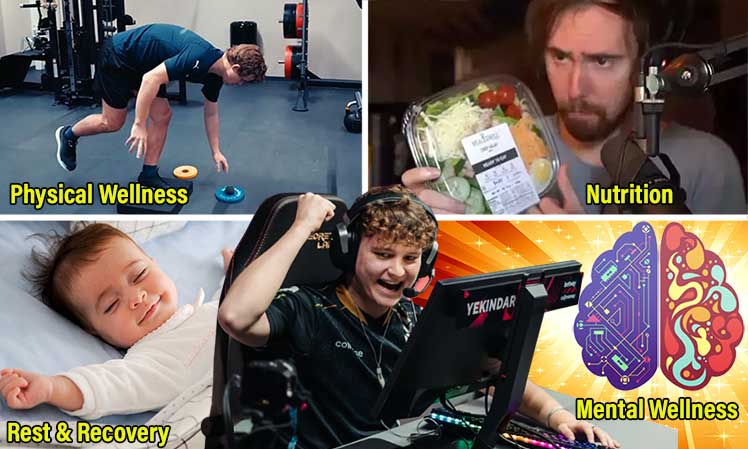 A Titan chair + Magnus Pro standing desk provides vital support for the physical and mental wellness pillars. In ten months, this combo has helped me to improve my (sitting and standing) posture, boost movement, and fix my text neck.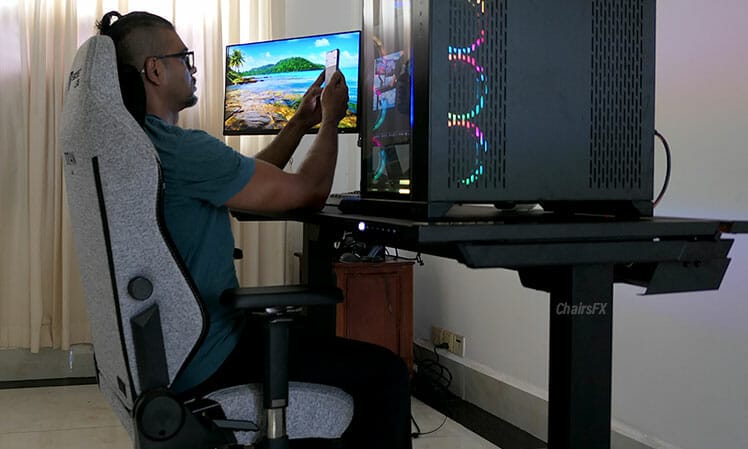 It's also helped me appreciate the importance of breaks. A switch between sitting and standing provides a nice circulation boosting quick refresher. Switching modes is also a chance to walk around or do some stretches. That helps soothe the mind over long work days.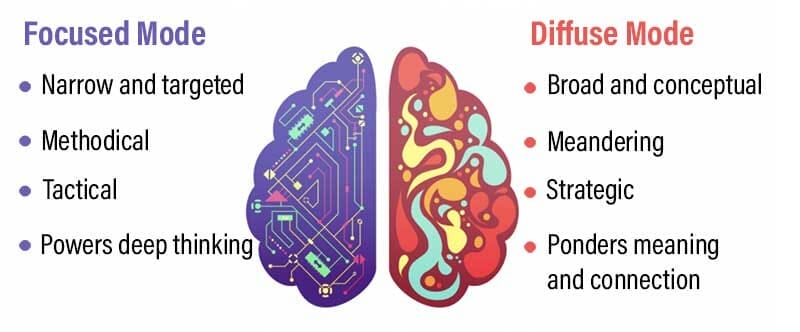 Overall, the Magnus Pro standing desk is a luxurious, fully-ergonomic multi-device workstation of the future — available now. Every Titan owner surfing the waves of the 4th Industrial Revolution should consider buying this desk.
Magnus Pro from Secretlab $799+
The Secretlab Titan (in S, M, XL) is also available from Secretlab for $549-$674
Footnotes
University of Pittsburgh. 'The ups and downs of sit-stand desks'. Science News, March 12, 2019. https://www.sciencedaily.com/releases/2019/03/190312123635.htm (accessed 2 August 2022).
Christopher Bergland. 'Moving Your Body Is Good for Your Mind'. The Athlete's Way Sept. 25, 2014. https://www.psychologytoday.com/us/blog/the-athletes-way/201409/moving-your-body-is-good-your-mind (accessed 2 August 2022).