Sit-to-stand desks have been around for several years as niche items. But ergonomic priorities have recently changed at the institutional design level. Updated standards now emphasize multi-device support for the back and neck. They also demand solutions for skyrocketing sedentary behaviors. Learn why standing desks are good for the back, neck, and productivity — by modern, multi-device ergonomic computing standards.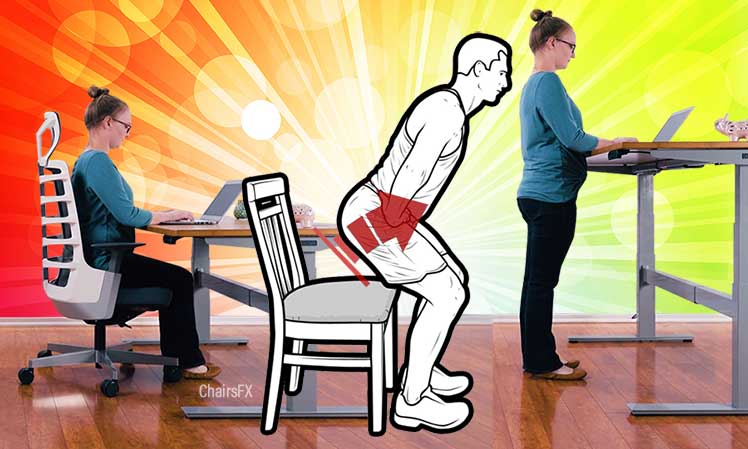 Sit-to-stand desks make it easy to shift between sitting and standing computing positions. These desks have motorized legs and control panels. With the push of a control panel button, users can toggle their desk height in seconds.
But what's the point? Many marketers tout standing as healthier than seated computing. This is an exaggeration. For instance, standing instead of sitting for 3 hours burns just 24 calories more than if seated. That's the equivalent of a carrot(1).
Standing instead of sitting will also slightly lower blood pressure. But beyond these minor gains, the tangible health benefits gained are mild.(2)
On the flip side, standing too much is bad for you! Doing so for long periods causes discomfort, muscle fatigue, and lower limb swelling. At the same time, reaction times and mental states can deteriorate from the strain(3).
So if excessive standing is harmful, what's the point of a standing desk? Circa 2022, they fill two crucial needs being hyped at the highest levels of institutional ergonomic design.
New Multi-Device Ergonomic Standards
The World Economic Forum (WEF) hypes the Fourth Industrial Revolution as a shift to a full-blown information-driven society. It foresees an Internet of Things (IoT) connecting billions (via mobile devices) "with unprecedented processing power, storage capacity, and access to knowledge…"
Then, humans will exist in a ubiquitous computing state of near-virtual reality. The problem: people are not designed to exist as perpetual computing cyborgs. Technostress caused by excessive computing yields both physical and mental stresses.
These factors brought major ergonomic updates from the very top. The Handbook of Human Factors and Ergonomics documents the latest standards in institutional design. In late 2021, the 5th edition Handbook came out with a major shift in priorities.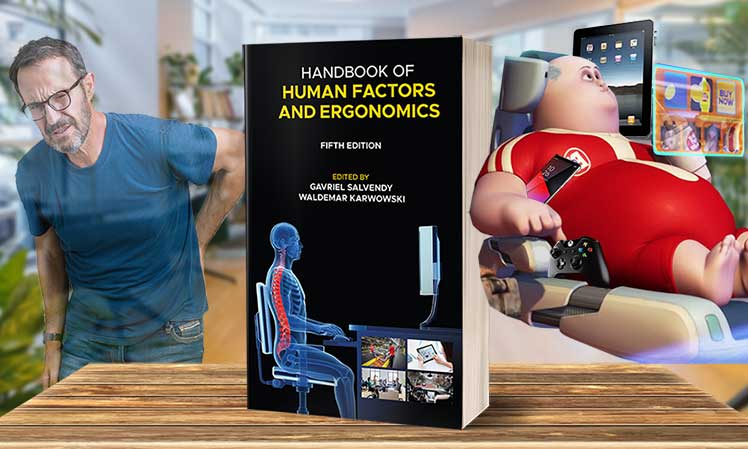 First, the average person now uses mobile devices around 3 hours per day. Most do so with a severe forward head tilt. To address the severe musculoskeletal stresses caused by Text Neck Syndrome, modern ergonomic workstations must now support the back and neck.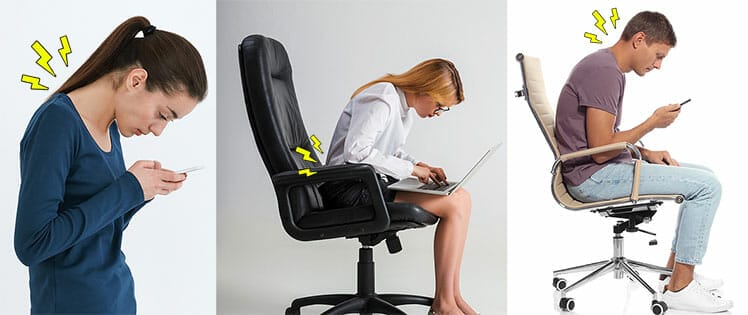 Second, a natural byproduct of a ubiquitous computing society is an excess of sedentary behaviors. In fact, data collected since 1965 and projected to 2030 shows clear trends. As technology becomes more prevalent, active hours decline while sedentary behaviors surge.
Because of these recent WEF and ergonomic updates, sit-to-stand desks have become very relevant.
Multi-Device Support For Back AND Neck
In response to an emerging Internet of Things, sit-stand desks have become relevant in two major ways.
Multi-Device Posture Support For The Back AND Neck
When stacked with a good ergonomic chair, a sit-to-stand desk can provide healthy, multi-device computing support for the back and neck.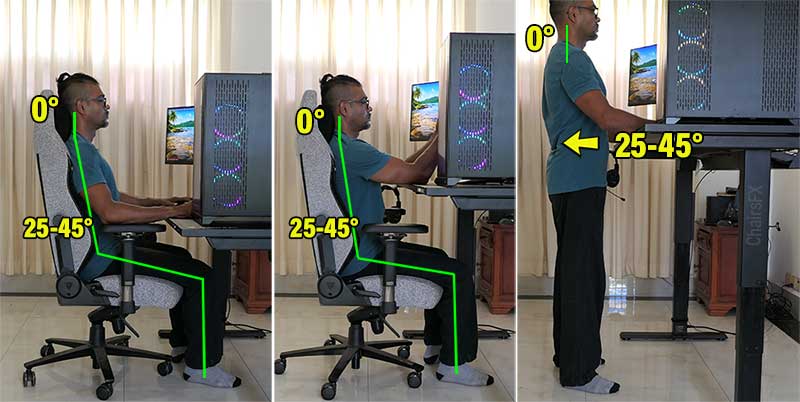 A healthy standing posture comes with two biomechanical benchmarks. A 0° neck tilt and a 25-45° lower back curve define a healthy neutral posture. All ergonomic chairs are designed to help users maintain neutral postures while seated.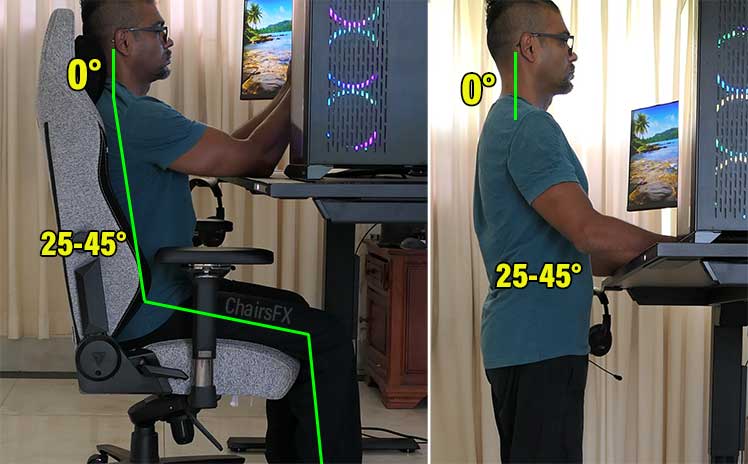 By adding a sit-to-stand desk, users can also enjoy neutral posture support while standing and mobile computing!
Mitigate Sedentary Stress With Movement
Standing for long periods yields inconsequential benefits. In contrast, the movement generated by moving from seated to standing positions yields several. The movement from a sitting to standing position is called a squat.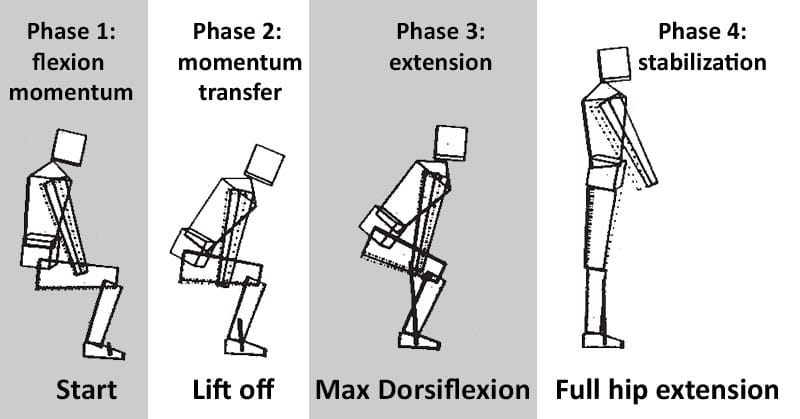 Every time you squat up or down, you work your hips, bones, muscles, and joints. Compared with stiff sitting in fixed positions for long hours, sit-to-stand transitions improve both cardiovascular and cerebrovascular health.
As a result, users enjoy improved learning, memory, and cognitive functions(4). These benefits are so profound that they've become a cornerstone of elite pro esports optimization programs.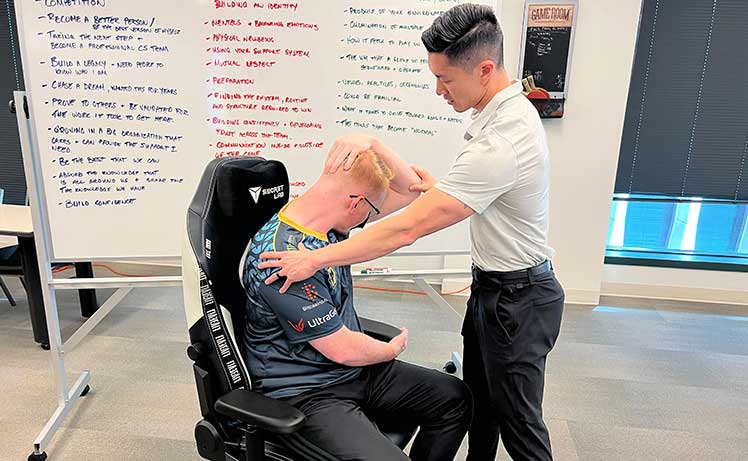 For example, Dr. Jordan Tsai works with Evil Geniuses, Cloud9, 100 Thieves, and other top esports teams. He cites a good ergonomic chair as the least important performance optimization factor.
Instead, he touts "a regular range of motion exercises, strengthening, and stretching" as the key. His opinion reflects a widespread trend in pro esports.
Physical fitness helps players perform better. Then, ergonomic seating supports good posture while they train. As a result, they perform better. Learn more:
Sit-Stand Desk 2022 Fundamentals
Find beginner-friendly answers to these standing desk essentials below:
Are Standing Desks Good For The Back?
Excessive cell phone usage is the reason why ergonomic standards now call for back and neck support. A mature human head weighs around 12 pounds. These days, the average person uses a mobile device 3 hours per day. Most do so with a severe forward head tilt.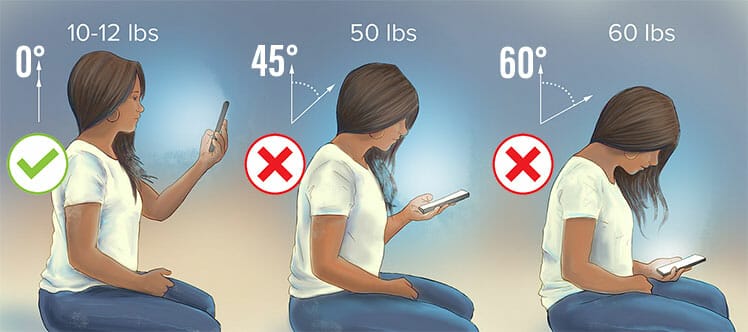 Text Neck Syndrome describes the ill effects caused by this strain. In the short term, the severe muscle strain causes chronic fatigue. Long-term, a severe upper back curvature leads to spinal disc degeneration.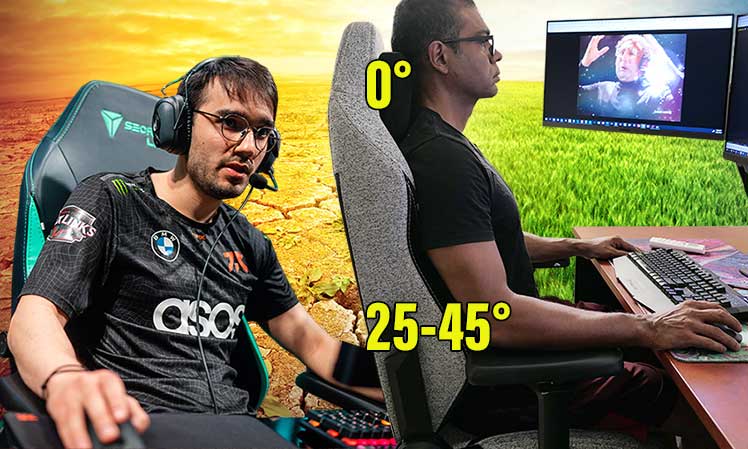 A good-quality ergonomic chair can support seating neutral postures. Using a good chair with the proper technique will mitigate a forward head tilt — but only while desktop computing.
Recently, researchers found the perfect mobile computing posture. Elbows bent at 30° can prop a device high enough to ensure a 0° neck tilt. Based on muscle activity readings, this position causes the least amount of strain while texting.

As the image shows, mobile computing in a gaming chair without support promotes a forward neck tilt. In contrast, raising the height of a standing desk to support the elbows also supports good posture by preserving a straight neck.
But obviously, the process isn't automatic. An ergonomic chair + standing desk gives you the tools to support good posture. However, you'll need good posture habits and discipline to make use of them.
Bottom line: a standing desk paired with a good ergonomic chair is potentially good for the back. For best results, users should strive to maintain strict neutral sitting postures at all times (0° neck tilt and 25-45° lower back curve).
Physiological Vs Psychological Comfort
Ergonomists define 'comfort' as environmental factors which improve physical or psychological well-being(5). Based on modern ergonomic standards, the point of the desk is to support movement + multi-device computing.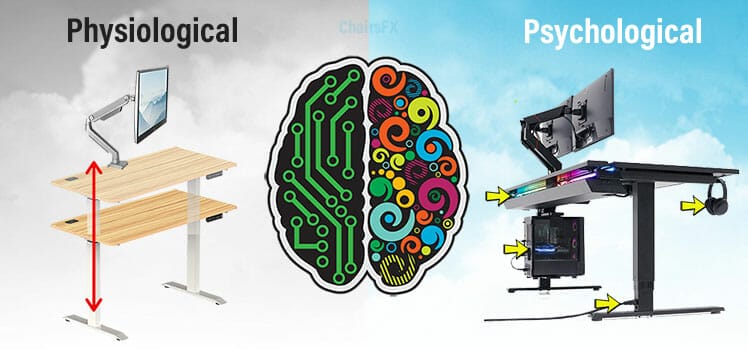 From a physical standpoint, sit-stand desks promote comfort by supporting good sitting, standing, and mobile computing postures. However, the psychological appeal that furniture provides can also yield a comforting impact.
Psychological comfort relates to unique human needs. Having the ability to personalize and prettify one's workspace improves satisfaction and morale.

This doesn't directly impact productivity. However, many studies show that psychological comfort does improve mood, cognitive function, and commitment to a task.
A similar concept applies to ergonomic seating. When a chair looks more comfortable (such as with fancy headrests of flashy colors), people will feel happier — and more comfortable — while using it. Learn more:
How To Choose The Best Standing Desk
In my experience, the ideal desk specifications for your needs will include physiological, functional, and psychological aspects:
Physiological: look for a desk height that lets you keep your feet firmly planted.
Functional: monitor arms will help maintain a straight neck.
Psychological: cable management with a PC mount will streamline your build.
Physiological: Desk Height
The most important sit-stand desk spec to look out for is the minimum tabletop height. It should go low enough so that you can easily plant your feet firmly on the floor.
Here are recommended desk heights for various sizes:

| | | | |
| --- | --- | --- | --- |
| User height | Desk height | Chair seat height | Armrest height |
| 5'2″ (157 cm) | 25″ (63.5 cm) | 16.7″ (42.4 cm) | 9.2″ (23.2 cm) |
| 5'5″ (165 cm) | 26.2″ (66.5 cm) | 17.5″ (44.45 cm) | 9.6″ (24.3 cm) |
| 5'7″ (170 cm) | 27″ (68.5 cm) | 18″ (45.7 cm) | 9.9″ (25 cm) |
| 5'9″ (175 cm) | 27.8″ (70.6 cm) | 18.5″ (47 cm) | 10.2″ (25.9 cm) |
| 6'1″ (185 cm) | 29.4″ (74.6 cm) | 19.6″ (49.7 cm) | 10.8″ (27.4 cm) |
| 6'3″ (190 cm) | 30.2″ (76.7 cm) | 20.2″ (51.3 cm) | 11.1″ (28 cm) |
| 6'5″ (195 cm) | 31″ (78.7 cm) | 20.7″ (52.5 cm) | 11.4″ (29 cm) |
Functional: Monitor Arms
A good standing desk routine should prevent a forward head tilt while sitting or standing. While using a desktop PC, desk-mounted monitor arms are essential accessories to stack with your desk.

Most premium standing desk brands offer their own single, dual, and triple monitor arms — for premium prices. You can also use cheap third-party mounts from Amazon — most use clamp systems that easily attach to any desk.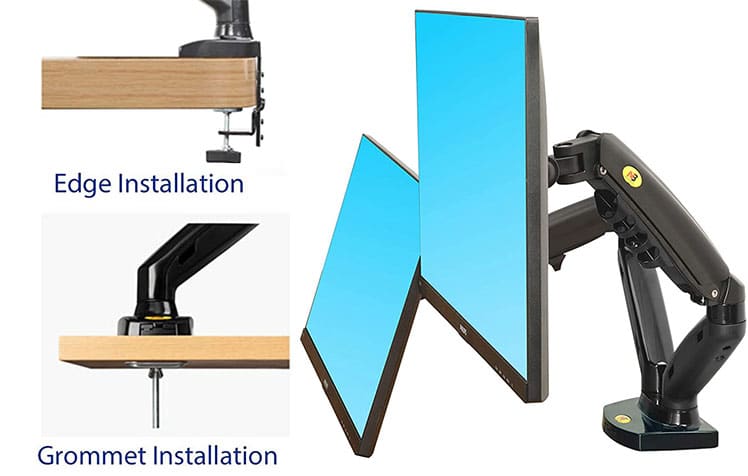 For example, I've had good experiences with a North Bayou dual mount. It's cheap ($48.90 on Amazon), easy to install, well-built, and bundled with cable management routers. Learn more:
Intro To Desk-Mounted Monitor Arms
Psychological: Clean Cable Management
Most of the leading standing desks come with built-in cable management solutions. All top brands also offer monitor arms and PC mount accessories.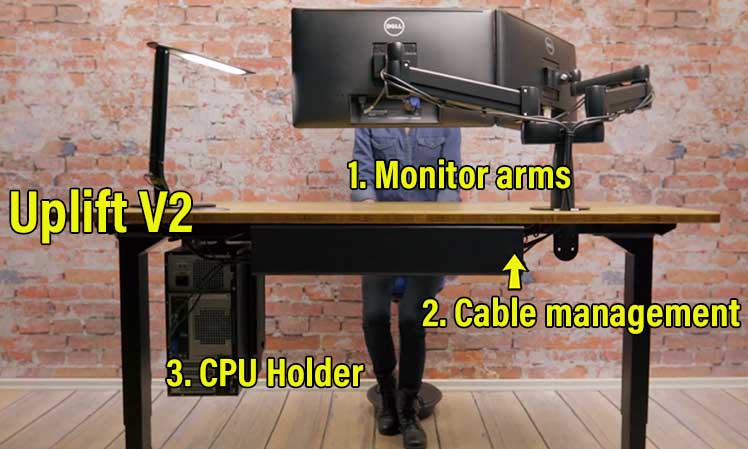 The latter lets you hang your PC under the desk. That frees up desktop space. It also makes it easy to manage your cables like a professional.
Whichever standing desk you decide to buy, adding adjustable monitor arms is essential. PC mounts are not essential. Even so, the benefits of using make them near-essentials for all cable-management purists.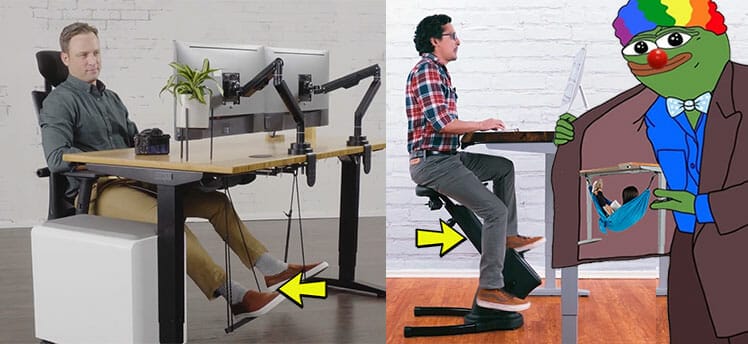 Keeping these fundamentals in mind will make it easier to resist gimmick accessories. There are hundreds on the market that look great online but aren't so great in practice.
Conclusion: Best Standing Desks 2022
Objectively, the best sit-stand desk is any that meets your sizing needs. Functionally, adding monitor arms will help prevent a forward neck tilt. Psychologically, clean cable management and nice aesthetics will boost happiness.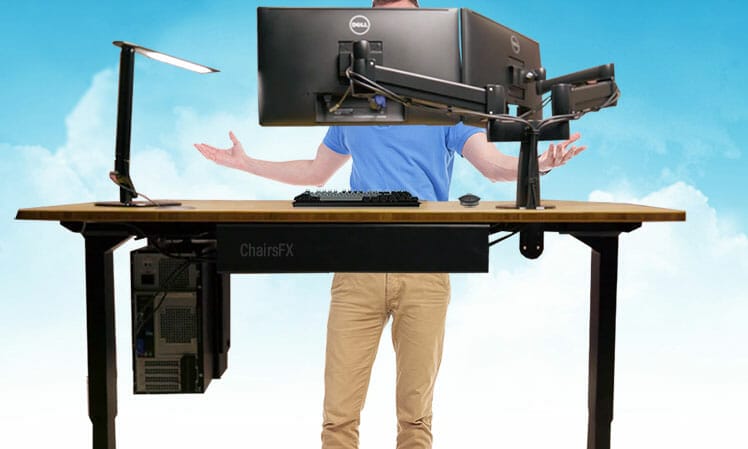 Compared with the industry's top standing desks, my Secretlab Titan Magnus Pro offers similar functionality — and much nicer aesthetics. But it also costs more and comes with a much shorter warranty.
If you demand even more luxury than what the Magnus Pro offers, Herman Miller's Leatherwrap is the most expensive standing desk in the world.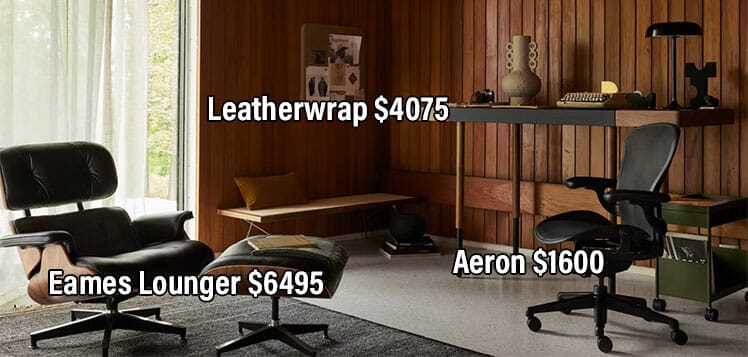 For around $4000, it delivers basic standing desk functionality, a solid wood table top, and plush leather inlay.
Best Standing Desks 2022
Here's a summary of the best options from four leading furniture brands. Each includes dual monitor arms and a few unique extras. The Herman Miller models don't have any extras besides arms.
| | | | | | |
| --- | --- | --- | --- | --- | --- |
| Model | Uplift V2 | E7 Pro | Magnus Pro | Motia Gaming Desk | Leatherwrap Desk |
| Warranty | 15 years | 15 years | 5 years on parts; 2 years on electronic controller | 12 years | 12 years |
| Package Price | $1152 from UpliftDesk.com | $848.96 from Flexispot.com | $1343 from Secretlab | $1870 from Herman Miller | $4650 from Herman Miller |
For a deeper drilldown of each desk and recommended accessories, check out these updated standing desk reviews:
Best Standing Desks From The Top Brands 2022
Footnotes