Dynamic neutral postures are the ergonomic standard for healthy computing over long periods. This concept first landed from outer space in 1973. It then went on to dictate the back support standards for cockpits, car seats, and office chairs. This article clarifies NASA's Neutral Body Posture (NBP) discoveries. Then it tracks the evolution of that technology. Circa 2023, there are nine neutral posture variations for seated computer users to consider.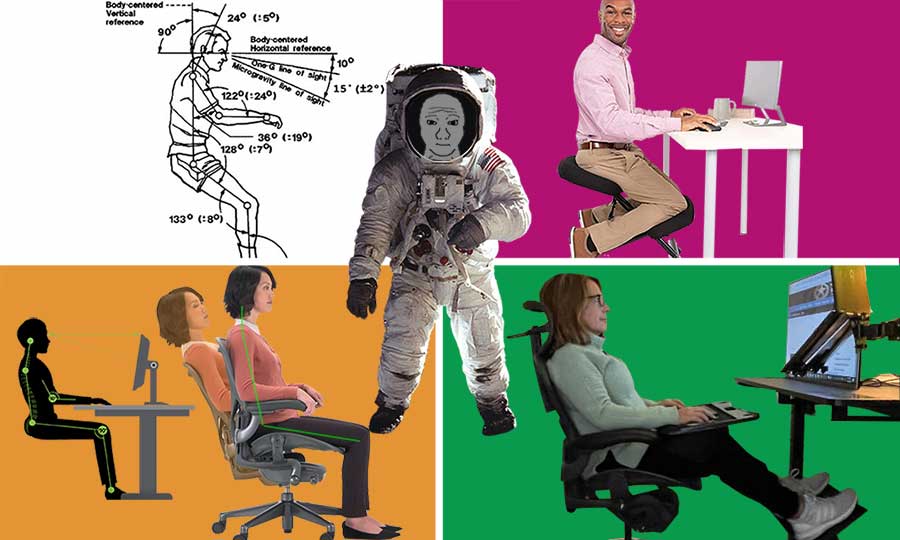 Neutral body postures were first discovered in 1973. Then, NASA scientists observed astronauts in zero gravity aboard the Skylab Space Station. When relaxed, their bodies naturally fell into neutral positions.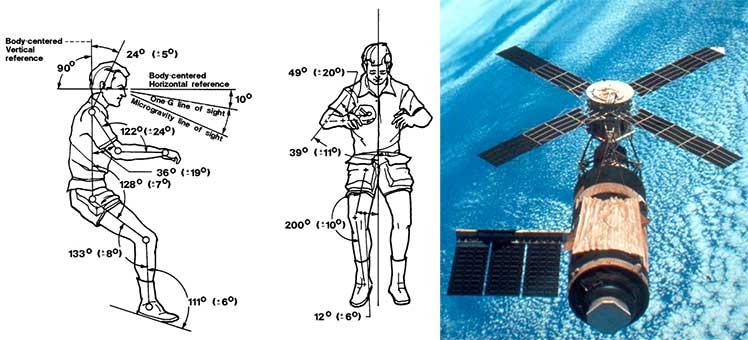 These positions reduce the body's need to exert against gravity's pull. That offloads musculoskeletal stress, reducing massive pressure on the spine.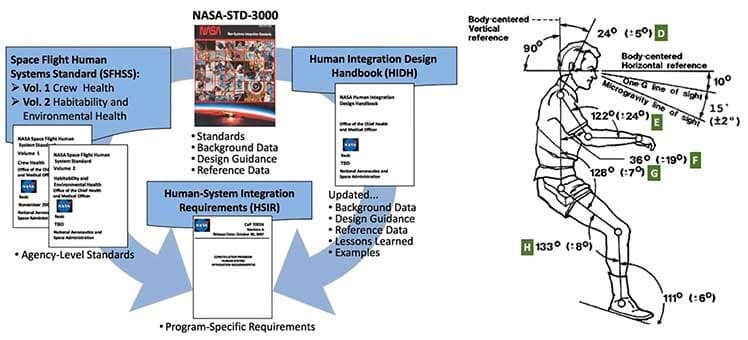 In 1987, NASA first published its findings(1). Its guidelines powered future spacecraft designs, cockpit ergonomics, and race car seats. In the 1990s, this technology went mainstream, manifesting as ergonomic car seats and office chairs.
Evolving Ergonomic Seating Definitions
In 1994, the 1st edition Handbook of Human Factors and Ergonomics compiled leading institutional studies documenting neutral sitting standards for ergonomic office chairs.
That provided the foundation for other institutional leaders like OSHA and BIFMA to draft their own ergonomic seating guidelines.

The functional gist: to qualify as 'ergonomic', a chair needs three adjustable features. Adjustable lumbar support aligns the spine; adjustable armrests offset arm weight; a reclining backrest lets you set custom angles.
By 1999, several comprehensive recaps had been published. This summary of sitting biomechanics (2) explained the relevance of the adjustable trinity:
A seated recline of 100-130° — with a supported lumbar curve — exerts the least spinal disc pressure.
Electromyography readings show that adding armrests or tilting the seat up by 5° reduces disc pressure even more.
Seating that lets users frequently change positions promotes longer sitting sessions by relieving musculoskeletal stress.
The point: to support users into healthy neutral sitting postures.
Neutral Posture Science Benchmarks
NASA's neutral posture discoveries eventually powered the development of ergonomic car seats. The former is an active upright neutral posture; it uses back muscles for stability.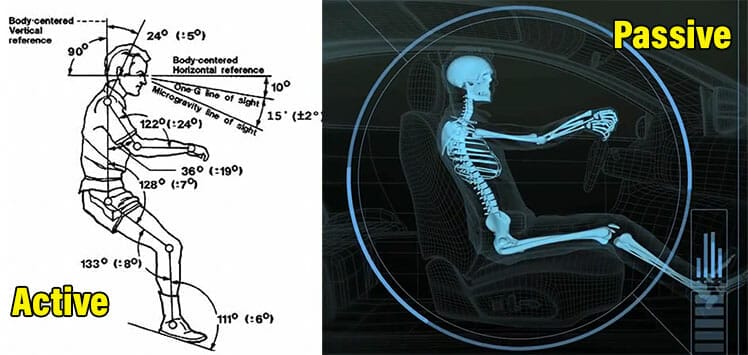 The latter is a passive reclined posture. There, back muscles aren't needed to stabilize the spine. Instead, ergonomic support provides stability plus optimal spinal alignment.
These active and passive neutral posture extremes are benchmarks. Between them are nine healthy neutral computing variations for modern computer users.
Summary of Neutral Computing Styles
Here's a summary of neutral posture variations. All fall between the benchmark active upright vs passive reclined neutral posture extremes.
Some of these I've tested — and found viable — in-house. Others come recommended by world-leading esports doctors and physical therapy ergonomic experts.
Problems Caused By Poor Sitting Habits
In prehistoric times, humans were lean and athletic. Peak fitness was inspired by the need to survive. Over centuries, innovations like agriculture and steam engines made food more accessible with less effort.
As a result, fitness tendencies plummeted. In the modern era, excessive sedentary behavior has wreaked devastation in two ways.
First, it underworks the body, leading to physical and metabolic atrophy. Second, it misaligns the spine and surrounding muscles, which causes severe musculoskeletal breakdowns.
Conclusion
NASA discovered neutral postures in outer space in 1973. In microgravity, neutral body postures (NBP) exert the least amount of muscular strain. NASA's earliest NPB sketches show upright active postures.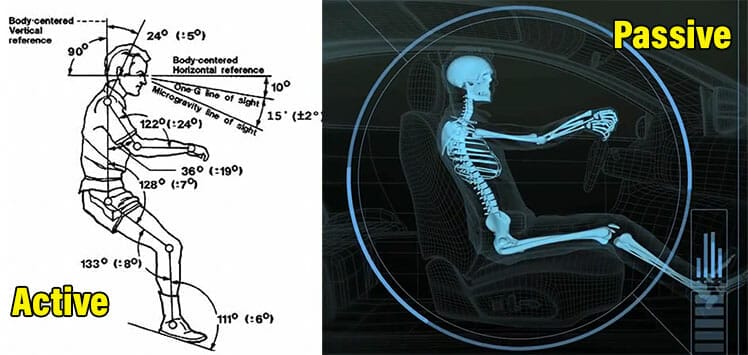 In 2005, the Nissan Motor Corporation used NBP to develop ergonomic car seats. These are passive reclined postures.
Circa 2023, these active and passive extremes remain relevant. Dr. Jordan Tsai's upright active style offers a healthy alternative to forward-leaning gamers. In contrast, Ankorite systems mimic the ergo car seat reclined + elevated feet style.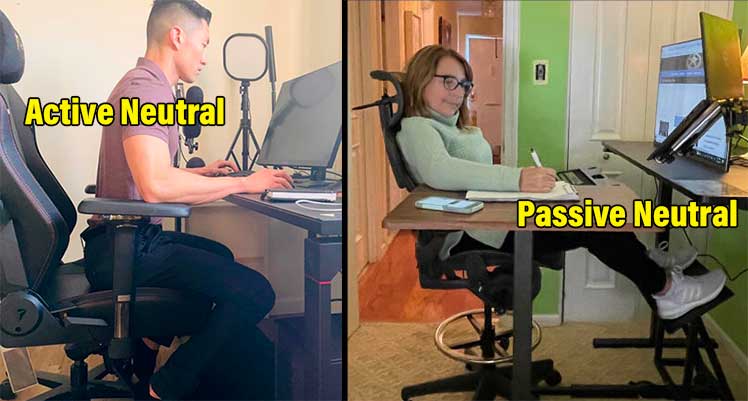 Between those two extremes are six variations, making eight viable neutral computing posture options. Choose whichever style suits your needs.
For instance, here at ChairsFX, I use a gaming chair + strict neutral 0° neck style. Top esports docs have assessed my posture as viable but overkill: sloppy postures + healthy movement can achieve similar results.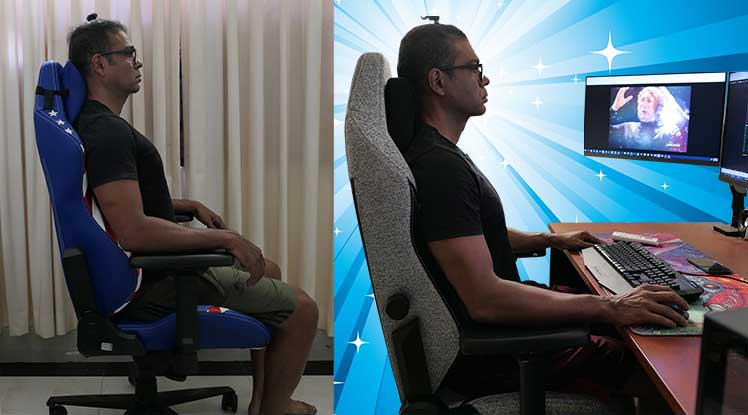 Even so, I like sitting this way. With frequent breaks + regular exercise + a sit-stand desk, I've enjoyed no issues and many benefits.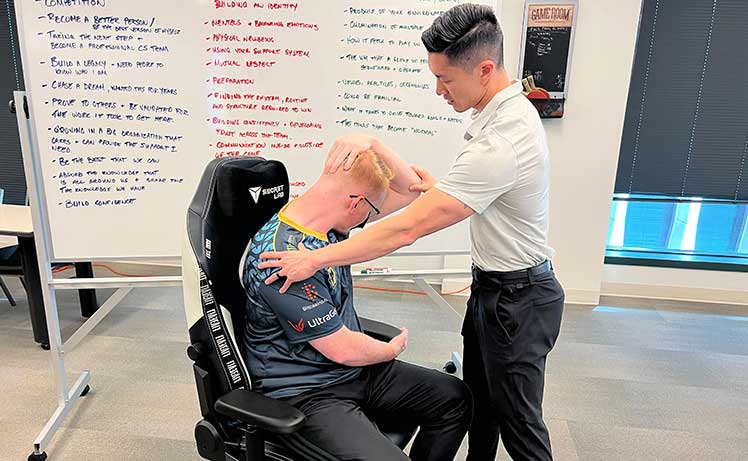 In a similar fashion, I suggest choosing whichever neutral sitting style aligns with your needs. Regardless of which you choose, follow the esports blueprint to ensure the best results:
Esports Optimization: Movement Beats Perfect Posture
Footnotes