Dynamic neutral postures are the ergonomic standard for healthy computing over long periods. These support keyboard and mouse usage by keeping the limbs and spine in aligned, fluid positions. This neutral sitting definition clarifies the healthiest way to work in any type of ergonomic chair for long periods.
All types of ergonomic chairs have the same purpose. That is to support deskbound computer users into neutral sitting positions.
Neutral Posture Fundamentals
Dynamic neutral sitting postures address both musculoskeletal and sedentary risks caused by excessive sitting. As a result, these have become the healthy sitting standard throughout the desktop computing era.

Neutral body postures were first discovered in 1973. Then, NASA scientists observed astronauts in zero gravity aboard the Skylab Space Station. When relaxed, their bodies naturally fell into neutral positions.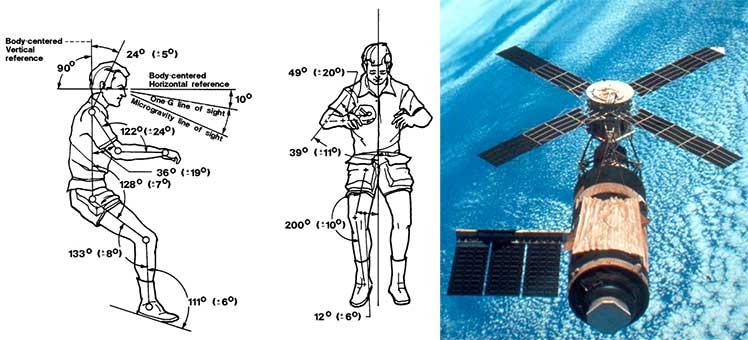 These positions reduce the body's need to exert against gravity's pull. That offloads musculoskeletal stress, reducing massive pressure on the spine.
By the early 1980s, NASA had documented its findings for future spacecraft designs. Meanwhile, others clarified NBP for car seat and desk chair purposes. This(1) comprehensive literature review (1999) neatly summarizes the key points:
A seated recline of 100-130° — with a supported lumbar curve — exerts the least spinal disc pressure.
Electromyography readings show that adding armrests or tilting the seat up by 5° reduces disc pressure even more.
Using a forward-tilting seat curves the lumbar spine inward too much. However, it's very comfortable (in short doses). Giving users that option makes it more likely they will frequently change positions.
Most leading ergonomic guidelines (BIFMA, Cornell Ergonomics, etc) support these findings. Sitting with planted feet and an aligned spine in fluid neutral positions is the healthy sitting gold standard.
Once your muscles adapt to this style, you'll be able to sit for long hours in perfect comfort with a razor-sharp focus.
Problems Caused By Poor Sitting Habits
In prehistoric times, humans were lean and athletic. Peak fitness was inspired by the need to survive. Over centuries, innovations like agriculture and steam engines made food more accessible with less effort. As a result, fitness tendencies plummeted.
For instance, the average American burns around 65% less physical energy than a Paleolithic Stone Ager. To make up the difference, a modern 70 kg adult would have to walk 12 miles (19 km) every day.
In the modern era, excessive sedentary behavior has wreaked devastation in two ways. First, it underworks the body, leading to physical and metabolic atrophy. Second, it misaligns the spine and surrounding muscles, which causes severe musculoskeletal breakdowns.
Conclusion
Dynamic neutral postures remain the gold standard for healthy computing over long periods. But future ergonomic innovations will likely serve multi-device needs over musculoskeletal ones.
This might force neutral sitting techniques to evolve. But for as long as deskwork remains dominant, dynamic neutral positions remain king. Planting your feet and supporting your lumbar curve makes it easy to sit up straight.
Add frequent position changes to engage muscles and keep the blood pumping. Once your muscles adapt, rewards remerge. Imagine long bouts of comfy computing — with jacked energy levels and razor-sharp focus!
Footnotes