The primary purpose of any ergonomic chair is to support good posture over long periods. Since 1994, the Herman Miller Aeron has reigned as one of the best for that job. In 2017, the Aeron Remastered arrived with ultra-adaptive mesh and new tilt functions. Today, the Remastered edition remains one of the best posture-supporting chairs in the business. This Herman Miller Aeron Remastered review breaks down its merits and limitations.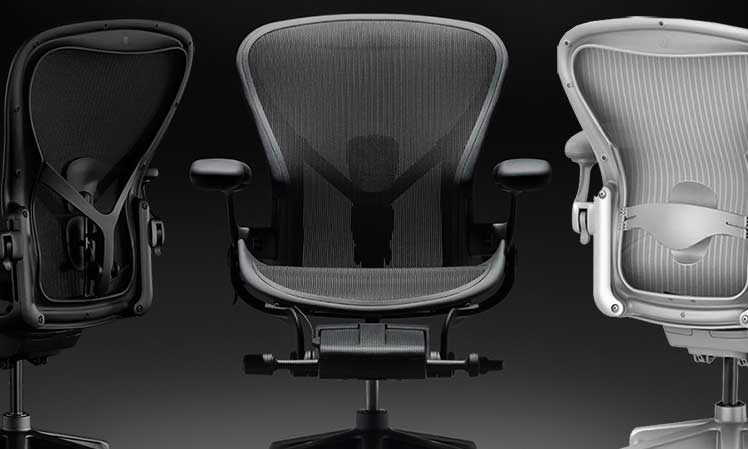 The Herman Miller Aeron does one thing better than any other ergonomic chair. That is to promote (almost) effortless good posture for long periods. In fact, once you've got the settings down, it's almost impossible to sit any other way!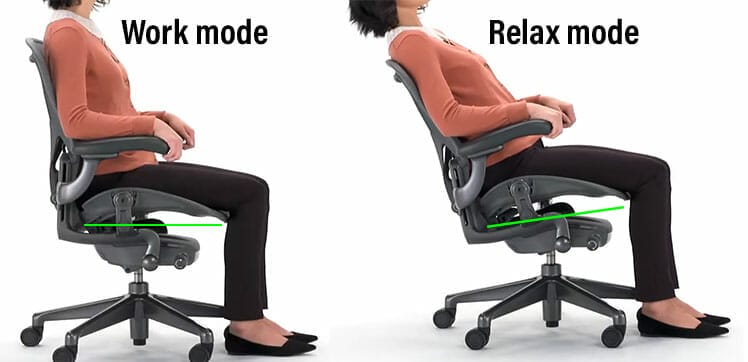 Good posture aligns the spine and relieves muscle tension. In that position, users can sit for long periods without discomfort. The biggest limitation of the Aeron chair is that users can't sit any other way.
To keep posture pristine, it limits how you can sit. This style works well in corporate spaces but can feel limiting when working from home.
Aeron Remastered from Herman Miller $1195-$2195
Buy from SmartFurniture $1320-$2145 | Buy on Amazon $1,849.99
Aeron Remastered in Simple Terms
This is an elite posture-correction chair designed to support long, comfortable work sessions. A bolstered seat style keeps feet planted. The luxurious mesh keeps you cool and balanced. Then, ergonomic features kick in to hold your body upright.
Bladed Seat
Adaptive Mesh
Lumbar Support
Adjustability
The Aeron seat's hard, bladed edges make it uncomfortable to put your feet up. With feet planted, the Aeron's other features kick in to keep you
comfortable
and
aligned
.
Between the hard seat edges is the world's most advanced mesh upholstery. 8Z Pellicle Mesh is durable, soft to the touch, and ultra-adaptive. Varied tension zones keep body weight evenly distributed, even you change positions.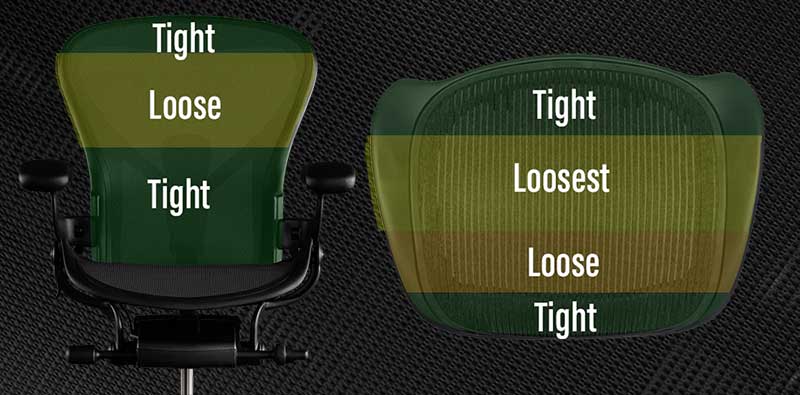 When you buy from the Herman Miller Store, you get three lumbar support options. The cheapest option is no lumbar support. The premium Posturefit ($95) supports two parts of the spine with depth-adjustability.
Posturefit works well but lacks height-adjustability — it won't fit everyone. As an alternative, the Lumbar Support Pad ($75) lets you adjust the height but not the depth. It's a safer (albeit less spectacular) option than the Posturefit.
Learn more: Herman Miller Aeron Posturefit Vs Lumbar Pad
The Aeron's adjustable features are straightforward. You can recline the backrest at three angles, tilt the seat, and rock the whole chair. The armrests are (optionally) adjustable.
The Aeron lets you combine the seat and backrest into a synchronous tilt. When the backrest reclines, the seat tilts up (max 16°). When leaning forward, the seat tilts down(max -1°).
Where to Buy An Aeron Chair (Important)
Where you buy an Aeron chair will have an impact on your sitting experience. Buying one directly from the Herman Miller Store gives you a full seven configuration options. You get fewer options when buying from third-party retailers. Examples:
Herman Miller Store: seven configuration options | $1195-$2195
SmartFurniture: 6 options (no sliding lumbar pad option) | $1320-$2145
Amazon: 3 sizes + 3 frame styles (all with Posturefit, 3D arms, full tilt) | $1,849.99
Having the full range of choices is significant. In particular, having a choice of lumbar support styles can make or break your sitting experience. As a result, this review assumes you're using a custom Aeron properly configured for your size.
Aeron Remastered Review
Is the Aeron worth the price? Yes — for strict posture purists. The Aeron prioritizes good posture over comfort. It's incredibly comfortable — but forces you to sit straight at all times. That has downsides. For instance, while reviewing programmer chairs, Techlead lamented the limitations of its bladed seat:
On the upside, three months after this video. TechLead started using his Aeron chair more often. He told ChairsFX: "I usually start the day with the Aeron, which has an upright ergonomic seating position. It looks and feels premium, which mentally prepares me to put in my best work for the day."
Aeron Size Options
If you go with a Posturefit support, choosing the right size chair is crucial. However, if not able to visit a Herman Miller showroom, you can only guess about the fit. For example, I stand 5'9″. In both Size A and B chairs, the Posturefit feels funny.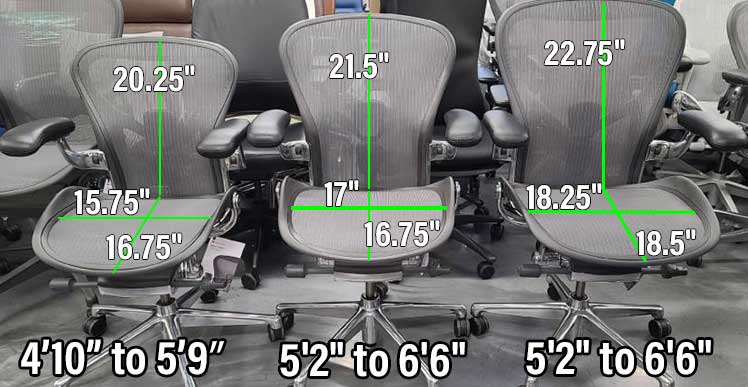 As a result, a sliding lumbar pad makes sense for me. However, most resellers sell Aerons pre-configured with Posturefit. To buy one with a sliding lumbar pad, buying directly from Herman Miller is the best place to buy from.
| | | | |
| --- | --- | --- | --- |
| | Aeron Size A | Size B | Size C |
| Seat | 15.75″ (W) x 16.75″ (D) | 17″ (W) x 16.75″ (D) | 18.25″ (W) x 18.5″ (D) |
| Backrest | 20.25″(W) x 21″ (H) | 21.5″ (W) x 22″ (H) | 22.75″(W) x 23″ (H) |
| Seat Height | 14.75″ to 19″ | 16″ to 20.4″ | 16″ to 20.5″ |
| Size Rating | 4'10" to 5'9″; 300 pounds | 5'2″ to 6'6″; up to 350 pounds | 5'2″ to 6'6″; up to 350 pounds |
Frame Options
The Herman Miller store and SmartFurniture both offer six frame styles. On Amazon, you can choose Graphite, Onyx, or Mineral.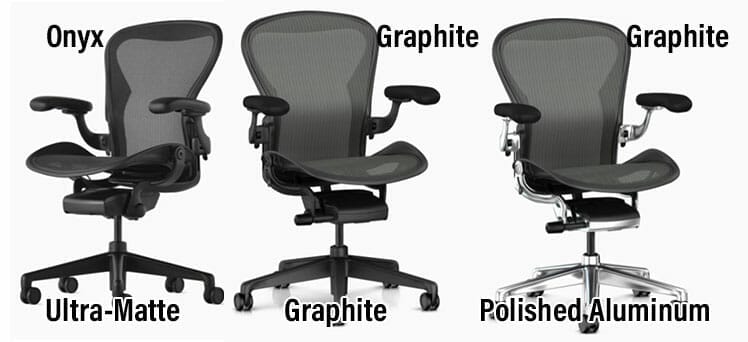 The Graphite frame is the default option in the Herman Miller Store. Other styles cost extra:
Standard Graphite: default color
Black frame with Onyx matte base: $150 extra
Graphite frame + polished aluminum base: $200 extra
Mineral frame with satin aluminum base: $220 extra
Mineral frame with polished aluminum base: $320 extra
Black frame with polished aluminum base: $300 extra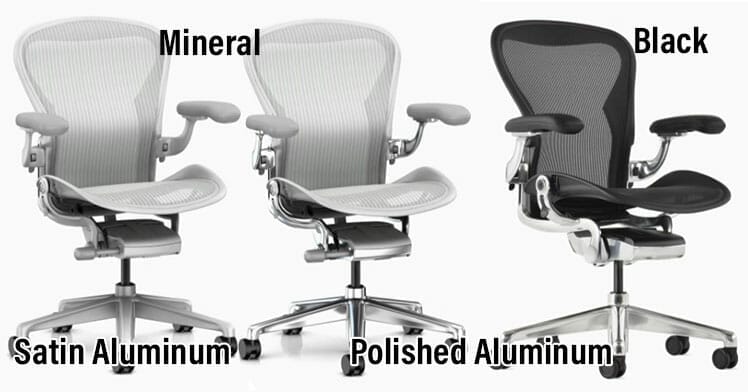 Aeron Features
Three standout features define the Aeron sitting experience.
8Z Pellicle Mesh Seat
8Z Pellicle mesh offers good flexibility with a soft feel. It lays over the seat with spring support, designed to give you a feeling of floating. Notably, the hard plastic side bolsters around the seat make it impossible to sit with your feet up.

The bolsters do a great job at forcing you to sit with planted feet at all times. Conversely, when you want to relax, the inability to put your feet up can be annoying.
Tilt Limiter and Seat Angle
The Aeron comes with a standard tilt or a Tilt-Limiter ($100). Paying extra for the latter is well worth it — that gives you backrest and seat tilting functions.
These features keep you in the same position regardless of your recline. As you lean back or forward, the chair moves with you so your thighs remain parallel to the floor.
Lumbar Support
More than any other feature, your choice of lumbar support will make or break your Aeron experience. If you can, try out chairs in a Herman Miller showroom. If you can find a good fit with a Posturefit system, go for it!
On the flip side, an ill-fitting Posturefit will cause discomfort. In that case, you should choose a sliding lumbar pad instead. Note that Posturefit and Lumbar pads are not interchangeable.
Summary of Features
Upholstery: 8Z Pellicle mesh with variable tension zones.
Lumbar support: depth-adjustable Posturefit ($95) or height-adjustable lumbar pad ($75).
Backrest recline: lock tilt at 93°, 100°, 104°.
Seat: -1° to 16° tilt; height-adjustment.
Armrests: fixed; height-adjustable ($125); 3-directional (up, down, pivot for $255)
Aeron Likes and Dislikes
The Aeron Remastered does one thing very well: help you to sit straight. The hard-edged seat forces your feet to stay planted. That lets the adaptive 8Z Pellicle mesh work its magic to keep you in balance.
With a dash of lumbar support pressure applied to your lower back curve, sitting with good posture becomes effortless. Then, fancy backrest and seat tilting functions let your seated body move — while keeping your body in a crisp neutral posture.
Pros
Excellent posture support
Luxurious mesh upholstery
Incredible build quality
Robust tilting functionality
Rock-solid 12-year warranty
Cons
Complicated buying process
The Posturefit system lacks height-adjustability
Hard bladed edges restrict leg movement
The Aeron's strongest point is also its weakest. It forces you to sit straight, leaving no room for lounging. As a result, many people stack their Aeron with a second chair for relaxing.
As an example, Techlead pairs his Aeron with a cheap Staples Hyken chair. When it's time for work, the Aeron helps keep him focused. But when it's time to relax, he switches to Hyken.
My other quibble is the lack of backrest height-adjustability. The Posturefit lumbar support only works with a perfect fit. Having an adjustable backrest could make it suit all body types.
Aeron Remastered from Herman Miller $1195-$2195
Buy from SmartFurniture $1320-$2145 | Buy on Amazon $1,849.99
Herman Miller Aeron Alternatives
Here are three viable alternatives to the Aeron chair:
Aeron Gaming Chair
Aeron Gaming chairs come pre-configured. All versions have 3D arms, a Posturefit system, and a Tilt Limiter + Seat Tilt. You can choose Size B or C Sizes, plus an extra-long gas cylinder if you wish. All versions cost $1695.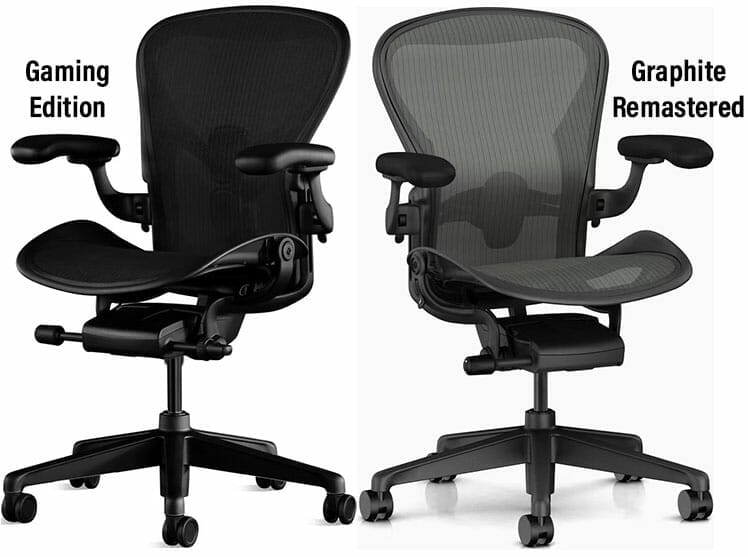 The simplified buying process is supposed to make buying easier for gamers. It's a great idea — except for the lack of Posturefit height-adjustability. If that doesn't fit, the chair's back support won't work for you.
Because of that, it's a good idea to try an Aeron Gaming chair out before buying one. If that's not possible, a Remastered chair with a height-adjustable lumbar pad is a safer pick.
Aeron Gaming Chair From Herman Miller $1695
Learn more: Herman Miller Aeron Gaming Chair Review
Herman Miller Embody
The Aeron's bolstered seat edges make it impossible to put your feet up. In comparison, the Embody's wide, spacious seat gives you plenty of room to sit as you like. But its star feature is a stunning Pixelated Backrest.
A central flexible spine holds the unit in place. Human-like 'ribs' on both sides flex or contract as the user moves. That helps them stay balanced. It's ultra-adaptive but not height adjustable, with its lumbar curve built into the backrest.
Like the Aeron, the Embody comes in both Gaming and classic versions. Classic versions offer four frame styles and six fabric seat colors. Gaming editions are all-black with black or blue color accents. Both versions come with the same fully-loaded features.
Learn more: Herman Miller Embody Gaming Chair Review
Embody Classic From Herman Miller $1845-$2195
You can also buy the Embody Gaming Chair from Herman Miller for $1795
Duorest Alpha
If you're intrigued by the Aeron but put off by its price, the Duorest Alpha might be for you. Made in South Korea by DuoBack, it has a similar seat style as the Aeron — minus the hard side ridges.
Instead of adaptive mesh, the backrest has two halves. These flex independently in four directions as the user moves. Combined, these features provide a similar sitting experience as the Aeron.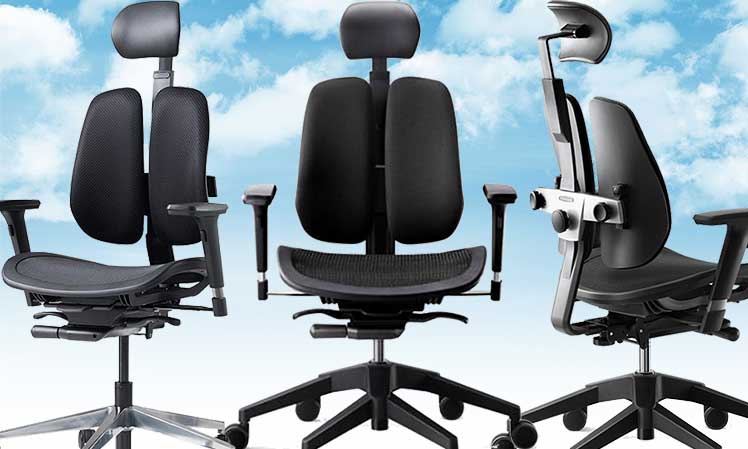 The Alpha differs with a less restrictive feel — and less spectacular build. Even so, it comes fully-loaded with synchro-tilt, 3D arms, a headrest, a sliding seat, and a 3-year warranty. Given its low price vs features and warranty, it makes a tempting alternative to the Aeron.
Duorest Alpha on Amazon $649.00
Learn more: Review of the Best DuoBack Chairs
Conclusion: Excellent But Restrictive
The Aeron is one of the most popular ergonomic chairs in the world for a reason. Few models support good posture as effectively or comfortably. The mesh keeps you cool and balanced, while robust tilt functions help your seated body move.
What's more, its 12-year warranty covers 3-shift, round-the-clock usage. Spreading the high cost of the Aeron over 12 years works out to less than $150 per year.
But even the most premium office chairs have downsides. In the Aeron's case, it lacks backrest height-adjustability and a seat slider. As well, the hard-bolstered seat style and limited recline force you to sit upright at all times.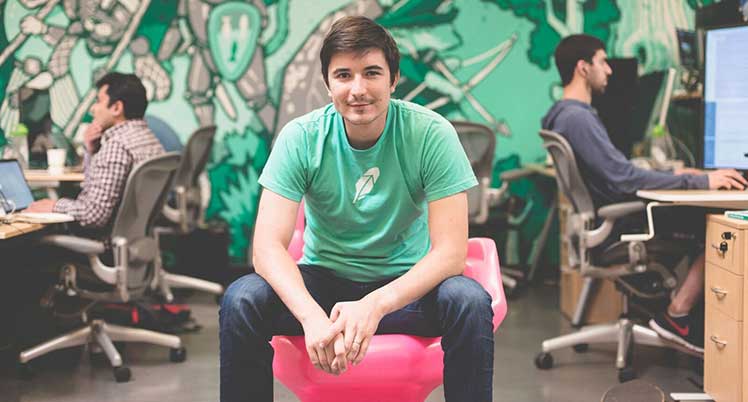 That works well in an office as a means of keeping staff sharp and focused. As a work-from-home chair, it can feel limiting. Luckily, adding a cheap second chair for relaxation purposes is an easy solution.
Bottom line: if looking for top-of-the-line posture support, the Aeron stands out. If you can afford the up-front cost, it's a great long-term investment.
Aeron Remastered from Herman Miller $1195-$2195
Buy from SmartFurniture $1320-$2145 | Buy on Amazon $1,849.99