The Herman Miller Aeron is 29 years old in 2023. In 1994, it introduced a new seating concept. Adjustable lumbar + adjustable arms + a reclining backrest = healthy neutral postures. However, its outstanding suspension mesh truly powers its support. While hundreds of ergonomic office chairs have copied the lumbar-powered formula, none rival its next-level mesh suspension technology. This Aeron Remastered review explains why it's one of the few $1000+ chairs in 2023 that justifies its price with legit value.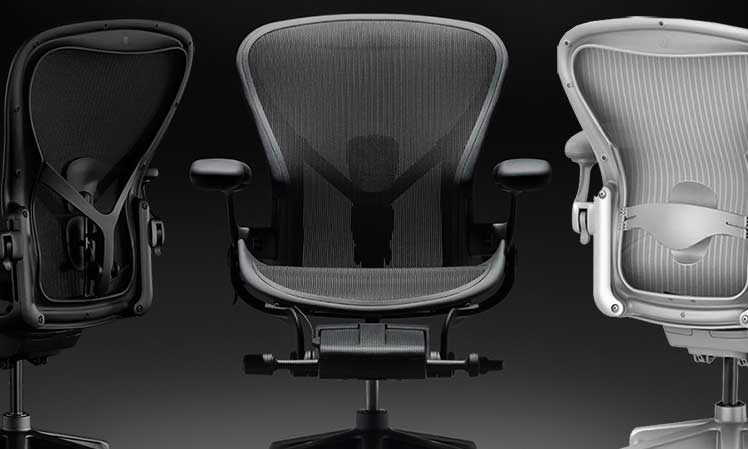 Ergonomic chairs made by the top office furniture mega-corporations are almost universally revered. Many assume that spending over $1000 on one ensures next-level, medical-grade back support.

In fact, most elite chairs provide similar support — using the same components — as much cheaper ones! In most cases, adjustable lumbar + arms + a reclining backrest = support for healthy neutral postures.
Neutral Postures Compared In Various Elite Ergonomic Chairs
Article gist: most chairs provide the same lumbar-powered support. See for yourself how proper sitting technique > the type of chair used.
Why Spend Over $1000?
In my tests of the best $1000+ ergonomic chairs, only two serve up truly next-level back support: Herman Miller's flagship Embody and Aeron chairs. The rest provide similar lumbar-powered neutral support. They're all good, but not spectacular.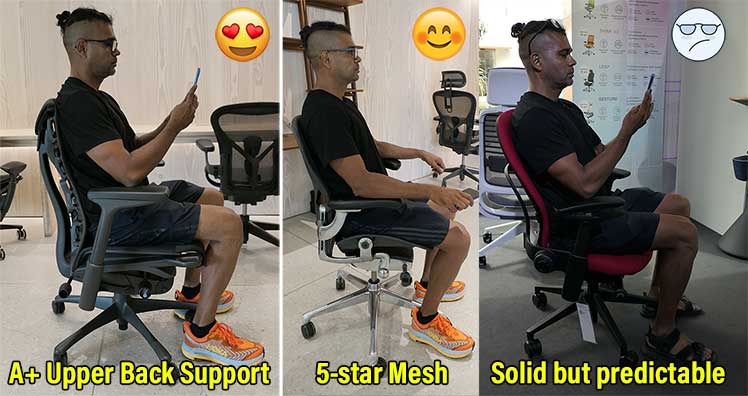 The Aeron is spectacular, for conceptual and technical reasons. Its concept was inspired by a race car seat built for a driver with a broken back — who went on to win the 1996 Indy 500.
Other elite ergo chairs try to justify high prices with luxury extras. Many (like fancy tilting seats) are nice enough but extraneous. On paper, the Aeron's fancy mesh also seems like a fancy luxury extra.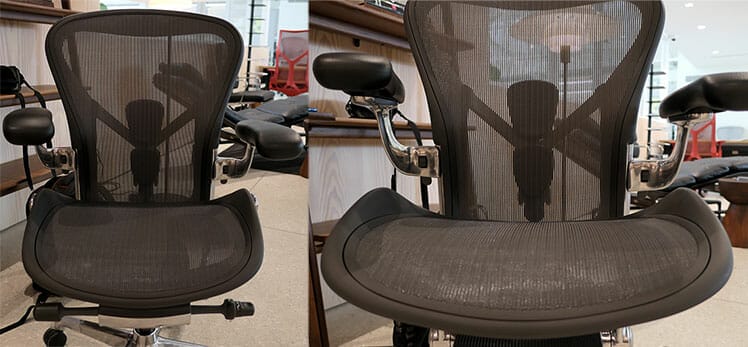 But in practice, it provides the primary bracing to maintain good postures. While other chairs emphasize lumbar-powered support, the Aeron's lumbar options provide complementary (not primary) support.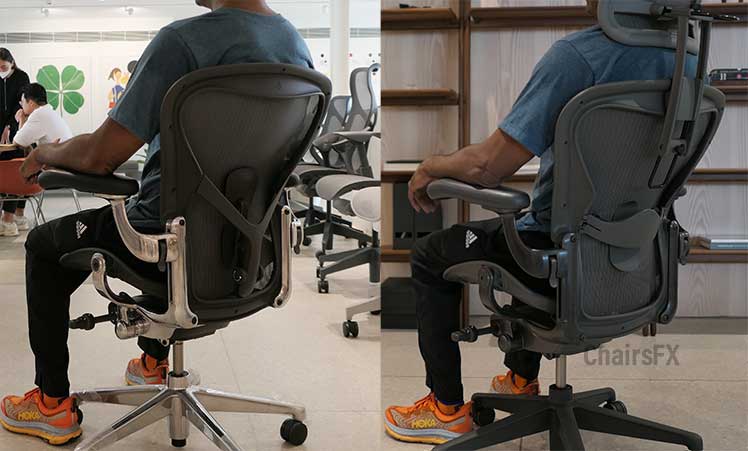 Regardless of the lumbar support type, the ultra-adaptive mesh suspension keeps you balanced. Literally, all you need to do is tuck your hips, plant your feet, and sit upright.
As soon as you sit, the mesh's ability to keep you in perfect balance will instantly impress.
Aeron Remastered from Herman Miller $1275-$2340
Buy from SmartFurniture $1320-$2145 | Buy on Amazon $1,549.99
Where to Buy An Aeron (Important)
Where you buy an Aeron chair will have an impact on your sitting experience. Buying one directly from the Herman Miller Store gives you a full seven configuration options. You get fewer options when buying from third-party retailers. Examples:
Herman Miller Store: seven configuration options | $1275-$2340
SmartFurniture: 6 options (no sliding lumbar pad option) | $1320-$2145
Amazon: 3 sizes + 3 frame styles (all with Posturefit, 3D arms, full tilt) | $1,549.99
Having the full range of choices is significant. In particular, having a choice of lumbar support styles can make or break your sitting experience. As a result, this review assumes you're using a custom Aeron properly configured for your size.
Aeron Remastered Review
Is the Aeron worth the price? Yes — for strict posture purists. The Aeron prioritizes good posture over comfort. It's incredibly comfortable — but forces you to sit straight at all times. That has downsides. For instance, while reviewing programmer chairs, Techlead lamented the limitations of its bladed seat:
On the upside, three months after this video. TechLead started using his Aeron chair more often. He told ChairsFX: "I usually start the day with the Aeron, which has an upright ergonomic seating position. It looks and feels premium, which mentally prepares me to put in my best work for the day."
Highlight Functionality
Find below the Aeron's highlight features followed by a functionality summary:
Bladed Seat
8Z Mesh
Lumbar Support
Adjustability
The Aeron seat's hard, bladed edges make it uncomfortable to put your feet up. With feet planted, the chair's other features kick in to keep you
comfortable
and
aligned
.
Between the hard seat edges is the world's most advanced mesh upholstery. 8Z Pellicle Mesh is durable, soft to the touch, and ultra-adaptive. Varied tension zones keep body weight evenly distributed, even you change positions.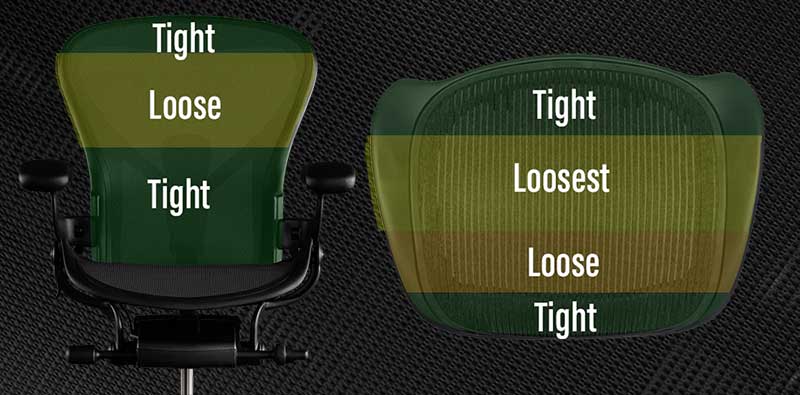 It lays over the seat with spring support; designed to give you a feeling of floating. In my experience, it's legit!

When you buy from the Herman Miller Store, you get three lumbar support options. The cheapest option is no lumbar support. The premium Posturefit ($100) supports two parts of the spine with depth adjustability.
Posturefit's lack of height adjustability isn't an issue. It's only supposed to provide generalized mild support. In contrast, the Lumbar Support Pad ($80) is flimsy — with moderate body weight applied, it often pops out of its sockets!
Learn more: Herman Miller Aeron Posturefit Vs Lumbar Pad
The Aeron's adjustable features are straightforward. You can recline the backrest at three angles, tilt the seat, and rock the whole chair. The armrests are (optionally) adjustable.
You can also combine the seat and backrest into a synchronous tilt. When the backrest reclines, the seat tilts up (max 16°). When leaning forward, the seat tilts down(max -1°).
Summary of Features
Upholstery: 8Z Pellicle mesh with variable tension zones.
Lumbar support: depth-adjustable Posturefit ($95) or height-adjustable lumbar pad ($75).
Backrest recline: lock tilt at 93°, 100°, 104°.
Seat: -1° to 16° tilt; height-adjustment.
Armrests: fixed; height-adjustable ($125); 3-directional (up, down, pivot for $255)
Aeron Remastered from Herman Miller $1275-$2340
Buy from SmartFurniture $1320-$2145 | Buy on Amazon $1,549.99
Aeron Size Options
Choosing the right size chair is crucial. Use Herman Miller's size ratings to pick the right model for your body type.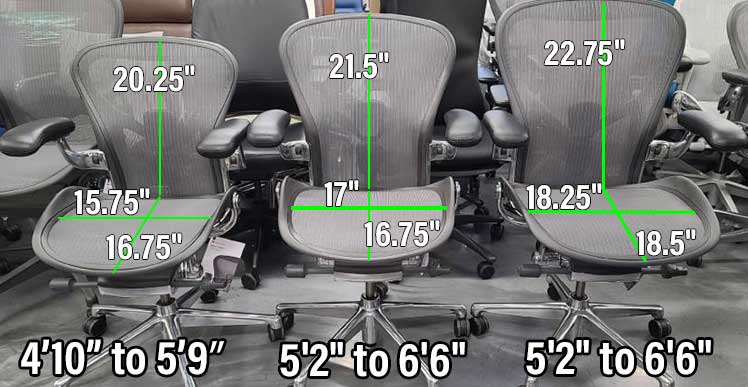 For example, I stand 5'9″, which makes sizes A and B technically suitable. However, for a more spacious fit, the Size B version is the better choice.

| | | | |
| --- | --- | --- | --- |
| | Aeron Size A | Size B | Size C |
| Seat | 15.75″ (W) x 16.75″ (D) | 17″ (W) x 16.75″ (D) | 18.25″ (W) x 18.5″ (D) |
| Backrest | 20.25″(W) x 21″ (H) | 21.5″ (W) x 22″ (H) | 22.75″(W) x 23″ (H) |
| Seat Height | 14.75″ to 19″ | 16″ to 20.4″ | 16″ to 20.5″ |
| Size Rating | 4'10" to 5'9″; 300 pounds | 5'2″ to 6'6″; up to 350 pounds | 5'2″ to 6'6″; up to 350 pounds |
Frame Options
The Herman Miller store and SmartFurniture both offer six frame styles. On Amazon, you can choose Graphite, Onyx, or Mineral.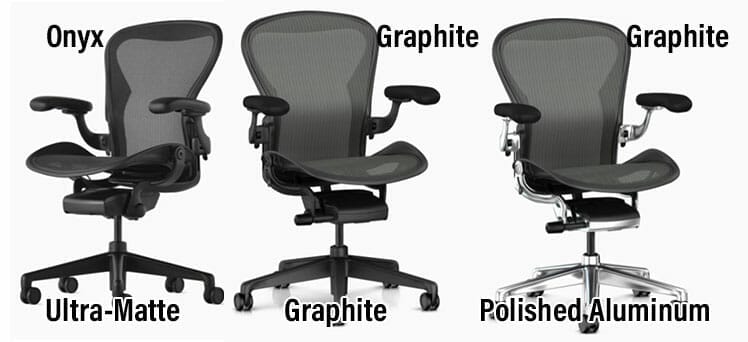 The Graphite frame is the default option in the Herman Miller Store. Other styles cost extra:
Standard Graphite: default color
Black frame with Onyx matte base: $150 extra
Graphite frame + polished aluminum base: $200 extra
Mineral frame with satin aluminum base: $220 extra
Mineral frame with polished aluminum base: $320 extra
Black frame with polished aluminum base: $300 extra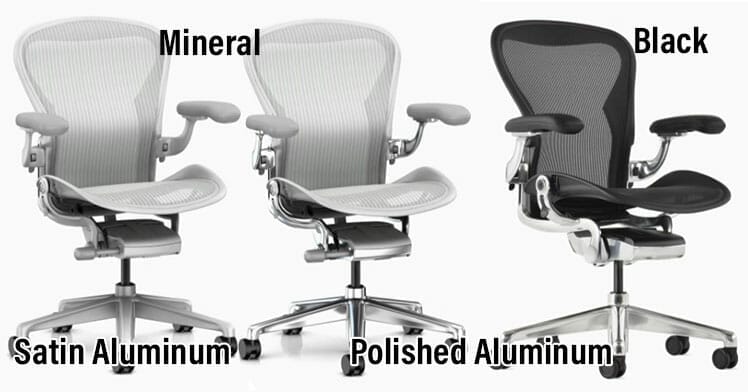 Aeron Likes and Dislikes
The Aeron Remastered does one thing very well: help you to sit straight. The hard-edged seat forces your feet to stay planted. That lets the adaptive 8Z Pellicle mesh work its magic to keep you in balance.
With a dash of lumbar support pressure applied to your lower back curve, sitting with good posture becomes effortless. Then, fancy backrest and seat tilting functions let your seated body move — while keeping your body in a crisp neutral posture.
Pros
Excellent posture support
Luxurious mesh upholstery
Incredible build quality
Robust tilting functionality
Rock-solid 12-year warranty
Cons
Complicated buying process
The Posturefit system lacks height-adjustability
Hard bladed edges restrict leg movement
The Aeron's strongest point is also its weakest. It forces you to sit straight, leaving no room for lounging. As a result, many people stack their Aeron with a second chair for relaxing.
As an example, Techlead pairs his Aeron with a cheap Staples Hyken chair. When it's time for work, the Aeron helps keep him focused. But when it's time to relax, he switches to Hyken.
My other quibble is the lack of backrest height-adjustability. The Posturefit lumbar support only works with a perfect fit. Having an adjustable backrest could make it suit all body types.
Aeron Remastered from Herman Miller $1275-$2340
Buy from SmartFurniture $1320-$2145 | Buy on Amazon $1,549.99
Herman Miller Aeron Alternatives
Here are three viable alternatives to the Aeron chair:
Aeron Gaming Chair
Aeron Gaming chairs come pre-configured. All versions have 3D arms, a Posturefit system, and a Tilt Limiter + Seat Tilt. You can choose Size B or C Sizes, plus an extra-long gas cylinder if you wish. All versions cost $1695.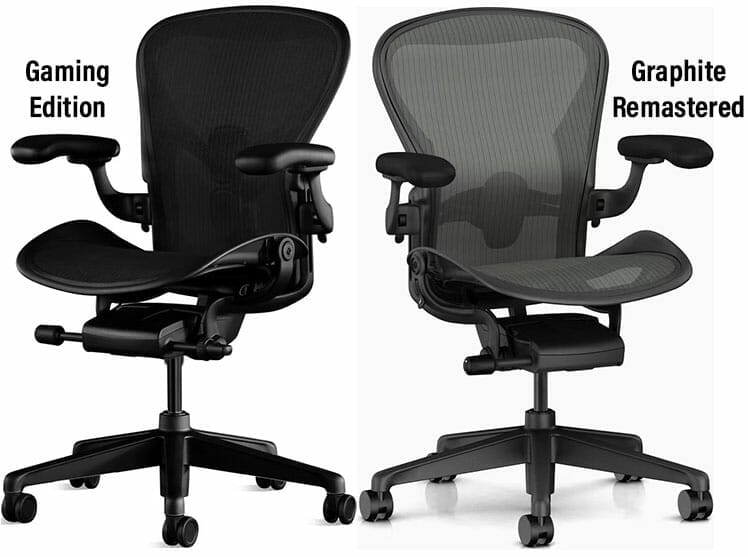 The simplified buying process is supposed to make buying easier for gamers. It's a great idea — except for the lack of Posturefit height-adjustability. If that doesn't fit, the chair's back support won't work for you.
Because of that, it's a good idea to try an Aeron Gaming chair out before buying one. If that's not possible, a Remastered chair with a height-adjustable lumbar pad is a safer pick.
Aeron Gaming Chair From Herman Miller $1805
Learn more: Herman Miller Aeron Gaming Chair Review
Herman Miller Embody
If looking for truly next-level back support, the Embody is the only choice. Unlike lumbar-power chairs, the Embody prioritizes support for the upper spine.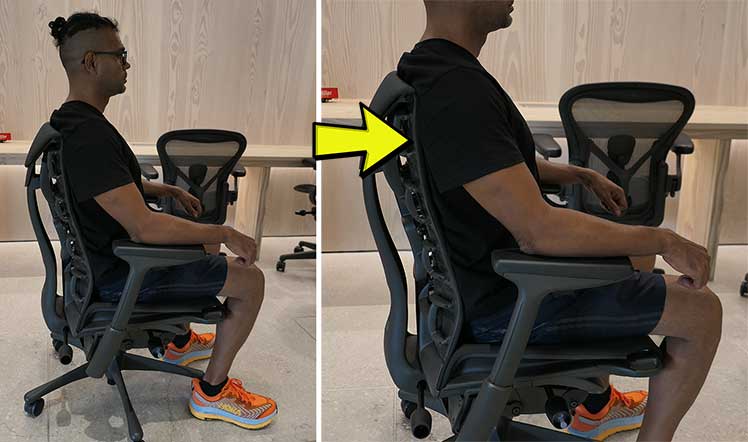 First, tuck your hips and sit straight in the chair. Then, toggle the Backfit until it cups your upper spine. The effect is spectacular — it 'suspends' your upper back curve up against gravity.

That makes it super-easy to sit straight. Once locked in, you can feel the difference. This easily justifies the Embody's price.
Gaming Versions Are Cheaper!
Embody chairs come in classic office and gaming versions. Both have the same features; gaming versions have extra cooling tech in the seat.
Office versions come in a choice of four frame styles and two mesh ones. Depending on your config, prices range from $1830-$230.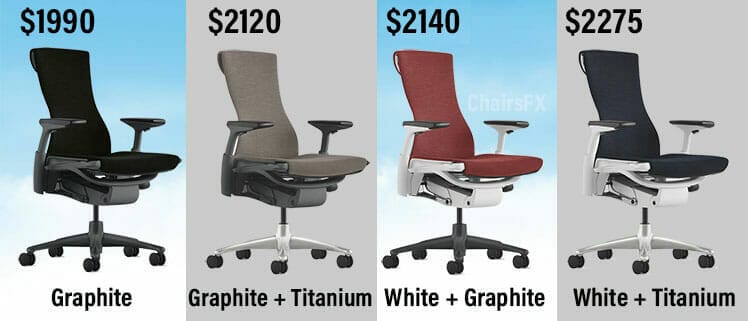 In contrast, gaming versions come in a pair of dark (graphite) and white styles.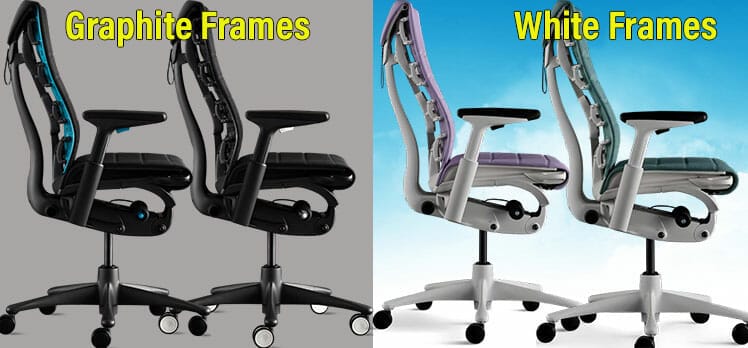 All cost a flat $1695. These have the same features, the same warranty, and extra cooling tech in the seat.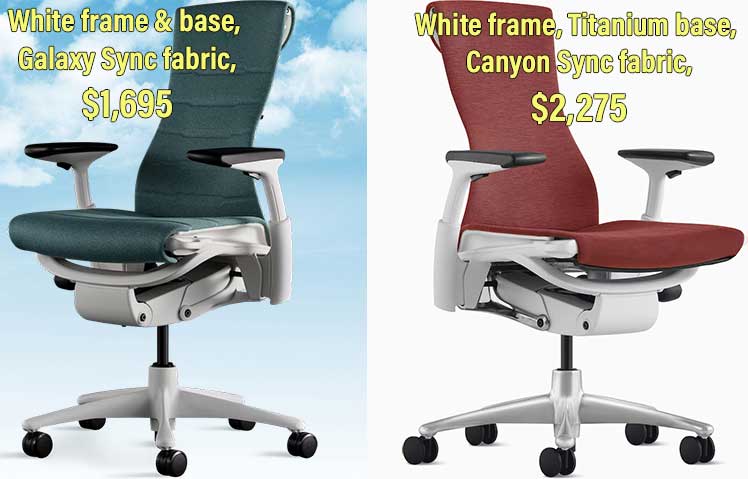 Compared to office editions, gaming variants offer tremendous value.
Learn more: Herman Miller Embody Gaming Chair Review
Embody Gaming Chair From Herman Miller $1695
Embody Classic Office Editions are also available from Herman Miller for $1830-$2305.
Duorest Alpha
If you're intrigued by the Aeron but put off by its price, the Duorest Alpha might be for you. Made in South Korea by DuoBack, it has a similar seat style as the Aeron — minus the hard side ridges.
Instead of adaptive mesh, the backrest has two halves. These flex independently in four directions as the user moves. Combined, these features provide a similar sitting experience as the Aeron.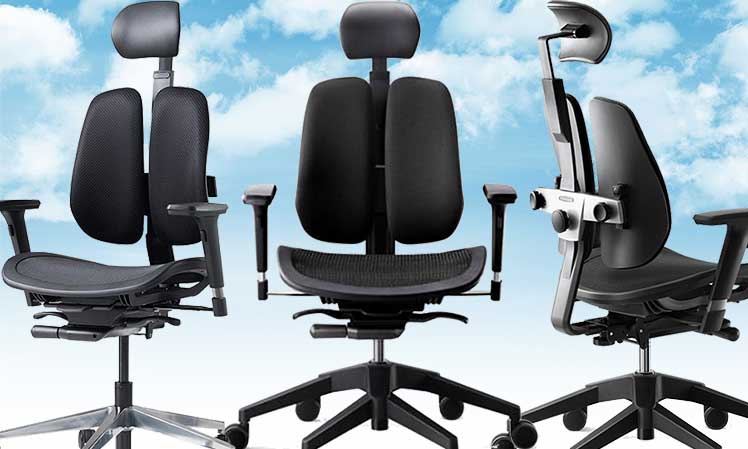 The Alpha differs with a less restrictive feel — and less spectacular build. Even so, it comes fully-loaded with synchro-tilt, 3D arms, a headrest, a sliding seat, and a 3-year warranty. Given its low price vs features and warranty, it makes a tempting alternative to the Aeron.
Duorest Alpha on Amazon $649.00
Learn more: Review of the Best DuoBack Chairs
Conclusion: Superb Mesh Justifies Price
In 1994, the concept of a lumbar-powered neutral posture support chair was revolutionary. But by 2023 standards, myriad copycat models have made neutral posture support ubiquitous.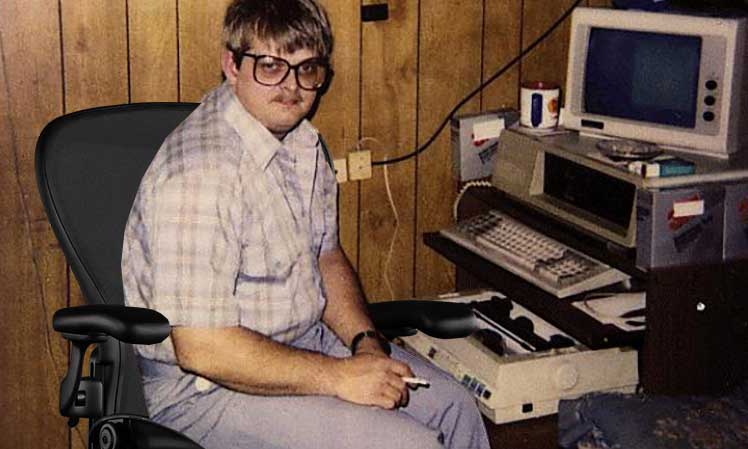 While the Aeron seems like a lumbar-powered chair, it's actually a mesh suspension chair. With or without lumbar support, sitting upright in this chair is insanely easy.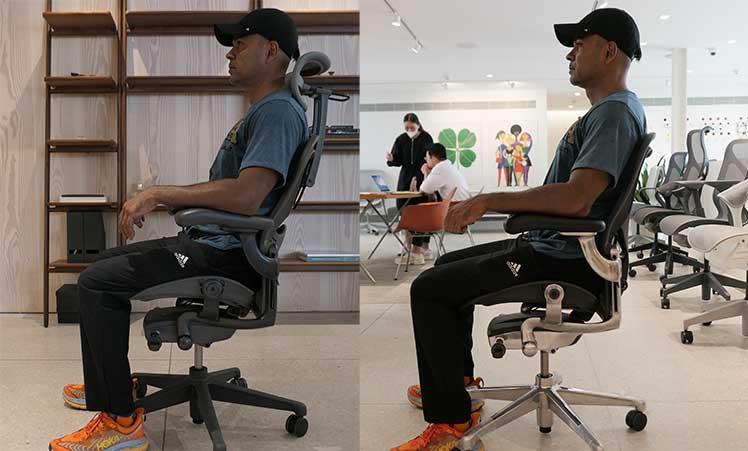 Beyond the supportive suspension qualities, the comfort of a chair also includes psychological and user-powered factors. On those two fronts, the Aeron is worth its price for 2 reasons.
Outstanding mesh: the mesh delivers incredible balance with a luxurious feel that makes sitting up straight feel easy and inspiring.
Super easy to use: simply tuck your hips, plant your feet, and sit upright. The balanced mesh and high-tech seat will do the rest.
Aeron Remastered from Herman Miller $1275-$2340
Buy from SmartFurniture $1320-$2145 | Buy on Amazon $1,549.99