Last year, Herman Miller teamed with Logitech to develop a new gaming chair. That model has finally arrived. It's a great chair, but far from revolutionary. In fact, it's a standard 2008-edition Embody chair, with an extra layer of padding on the seat. Check this Herman Miller gaming chair review to learn why we're so underwhelmed.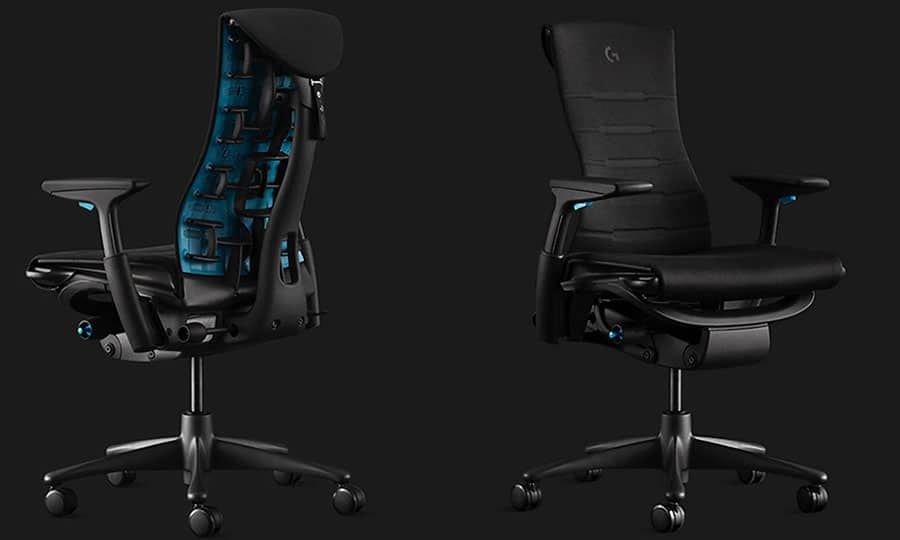 Herman Miller released the general-purpose Aeron chair in 1994. In 2008, they released the Embody, an ergonomic chair specialized for computer users. Compared to the Aeon, the Embody has a smaller synchro-tilt range but more pliable backrest. There's no lumbar support except for the backrest itself. It also comes with height and width-adjustable 2D armrests.
The new "gaming" version has just two significant differences. First, there's an extra layer of padding on the seat. Second, it comes in black fabric design with blue accents. Otherwise, it's the same chair that Herman Miller released back in 2008.
Logitech's signature G series blue provides the styling accents. Herman Miller described their role in development: "Logitech brought their innovation in gaming technology and deep understanding of the needs of gamers to the table. They helped inform product updates and collaborated with Herman Miller's engineers on the enhancements to our products."
Embody gaming chair from Herman Miller for $1495
The fully-loaded Embody classic (not the gaming version) is also available from OfficeDesigns.com for USD$1,495. Includes free shipping in the USA within 4-7 business days.
Herman Miller X Logitech G features
The Herman Miller X Logitech G is a souped-up Embody chair upholstered in 100% polyester fabric. All features are the same, except for the color scheme and the seat padding. This section breaks down the significant features of the new chair.
Extra seat padding
The main difference between the original Embody and the gamified one is the seat. During intense gameplay, most players sit forward in their chairs. To ensure this more active posture style, the gaming seat is multi-layered. There are two spring layers, one mat layer, one foam layer, and then the fabric.
The extra foam layer is unique to the Embody gaming edition. That foam also contains copper-fused cooling technology to maintain a consistent, comfortable temperature.
Pixelated backrest
Gaming chairs that have solid steel-framed backrests that can only recline. In contrast, the Embody has a dynamic backrest that moves in synch with your body. The Pixelated human-like spine holds the frame in place. Each of the "ribs" flexes or contracts as your body moves. The point is to support a healthy sitting posture no matter how the user sits in the chair.
Unlike other ergonomic chairs, there's no adjustable lumbar support. Instead, you get what Herman Miller calls a "BackFit" dial. Turning it increases or decreases the curvature in the thoracic region of the spine. As that happens, the lumbar support will also increase or decrease.
Start by tightening the dial clockwise until it reaches the maximum setting. That will angle the chair to its most upright position of 94°. In that setting, the lumbar support is flat. Turning counter-clockwise should fill into your lumbar curve. Keep turning the dial until your back feels filled in and supported.
Synchro-tilt
Herman Miller engineers dropped the ball on this feature. As is, it has a robust synchro-tilt feature. That angles the backrest at a 2:1 ratio to the seat. The backrest can recline between 94° to 120°. With synchro-tilt activated, the seat will also angle at a range between 3° to 15°.
The point is to keep the thighs horizontal while the user shifts back into a recline. That keeps the pelvis stabilized, with consistent support in the thoracic region.
So how did Herman Miller drop the ball here? In their Embody gaming chair literature, they emphasize forward-leaning support. "Because you sit in a more upright position when you're gaming, the Embody chair is enhanced"… with an extra layer of foam.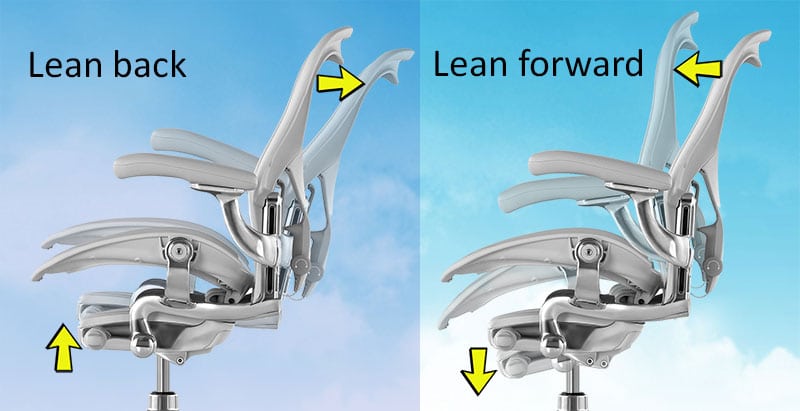 A much better enhancement could have supported forward-leaning gamers. That is the Herman Miller Aeron synchro-tilt. That's the only chair in the world with a seat that syncs up and down. The Aeron has a seat pan angle range of -1° to 16°, with a backrest range of backrest 93° to 104°. When you lean forward in an Aeron chair, the seat angles down to keep your thighs parallel to the floor.
If the Embody came with forward-leaning synchro-tilt, it would be a game-changer. As is, this is simply the classic Embody with an extra layer of foam.
2D armrests
On paper, the Embody chair appears weak with only 2D armrests. Those adjust up and down, and also side-to-side. Unlike other chairs, they don't angle forward or backward.
However, the range of adjustments is impressive. You can adjust the heat of the armrests from 4″ higher than the seat, to 8.75″. You can also adjust the width from 11.5″ to 21″. Pull the armrests in close to support mobile device use. If you don't want to use the armrests, extend the width until they're out of the way.
Sizing
Herman Miller designed the Embody as a unisize chair that should fit 95% of adults. It has enough adjustments to provide a good seat height range, arm width range, and seat depth.
Seat: 21.25″ (W) x 15″-18″ (D)
Backrest: 23.5″ (H) x 14″ (W)
Floor to seat range: 16″ to 20.5″
Total height: 42″ to 45″
The Embody supports up to 300 pounds and should suit most users between 5'4″ and 6'2″ tall.
Summary of features
Beyond the standout features, the Embody also comes with a depth-adjustable seat. Grip handles on either side to easily extend or shorten the depth.
Summary of all Embody gaming chair features:
Synchro-tilt: seat pan angle 3° to 15°; backrest 94° to 120°
Pixelated back support: the backrest has a central spine with flexible ribs. Each rib adjusts when you lean back to support the natural curve of your spine.
BackFit angle adjustment: this lets you position the back of the chair to fit the curvature of your back.
Seat adjustments: adjust the seat's height and depth.
Backrest: adjust recline tension; 3-position tilt-lock; synchro-tilt
Embody gaming chair from Herman Miller for $1495
The fully-loaded Embody classic (not the gaming version) is also available from OfficeDesigns.com for USD$1,495. Includes free shipping in the USA within 4-7 business days.
Pros and cons
The Embody gaming chair is one of the most advanced ergonomic chairs in the world. But at $1495, it's also one of the most expensive. Here we weigh out the chair's positives and negatives.
Pros
The Embody is a complex chair with many settings. Once you figure it out and find your sweet spot, this is one of the most comfortable chairs around. It has a solid, sturdy feeling and a resilient seat that always stays cool.
The unique backrest conforms to your back, no matter what position you sit in. Once you get used to it, you won't notice the backrest at all. Then, sitting in this chair almost feels like you're floating.
Finally, although it's expensive, the Embody comes with a 12-year warranty. Spreading the price over that duration works out to around $125 per year.
Cons
In our review of the original Embody chair, we had some quibbles that still exist. First, $1495 is more than most average people can afford to spend on a chair. Second, the Embody forces you to sit in an upright 'working' position at all times.
That works fine in office settings. But when working from home, more versatility helps. For instance, gaming chairs have deep recline that helps to disengage from the computer. You can use a gaming chair through a full day of working, napping, surfing the internet, and watching videos.
Regarding the 'souped-up' Embody gaming chair, we have three more quibbles. First, the marketing angle feels disingenuous. This isn't a new model, and it hasn't been optimized for gamers. It's simply a 2008-era Embody chair with an extra layer of seat foam.
The second quibble is the big one. Instead of upgrading the Embody with forward-leaning synchro-tilt, Herman Miller kept the Embody as is. Its current synchro-tilt supports reclining, but not leaning forward.
Finally, the controls are really complicated. It will take a few days of wild guessing before you find your sweet spot. Until you get this chair configured for your body, it can feel awkward and painful.
Embody gaming chair alternatives
If you want similar ergonomic gaming support with less hassle, here are two solid options:
Other Herman Miller gaming chairs
Since we wrote the first version of this article, Herman Miller has revealed its entire gaming collection. It includes a choice of three different chairs (Aeron, Sayl, and Embody gaming editions. It also includes a height-adjustable sit-stand desk and a flexible monitor mount stand.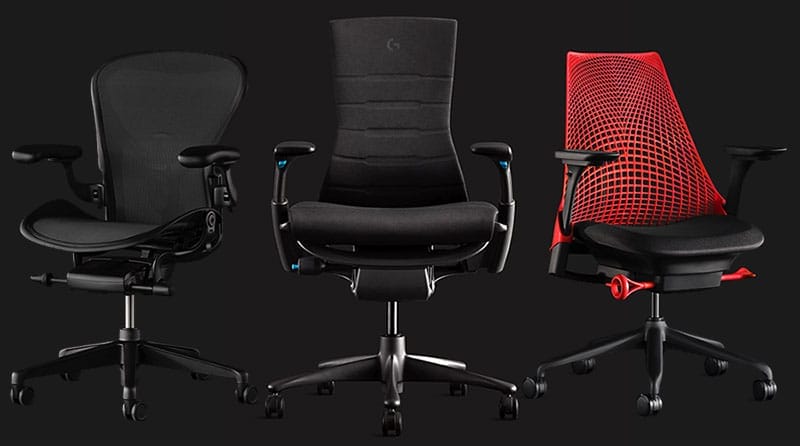 Check out a comparison of all three chairs, plus a review of the extras. Most of it is very expensive, but the package makes a lot of sense. As the ultimate ergonomic blueprint, Herman Miller's gaming blueprint is the pinnacle.
Sidiz T80
Amazon price: $699.00
Synchro-tilt task chairs for gamers first happened in 2018. Then, South Korean chair developer Sidiz partnered with Gen G, a Korean esports team. The team still uses Sidiz T80 chairs at their Seoul training facility.
Sidiz T80 specs
The Sidiz T80 is ideal for gamers because it supports forward-leaning work. You can angle the backrest between 90° to 114°. When angled forward, there is also a setting that lets you angle the seat down. That better supports forward leaning while playing intense games.
It also has a synchro-tilt function when you lean back. However, it has a much smaller range than the Embody of only 1°. Summary of all features:
Synchro-tilt: seat pan angle 1°; backrest 90° to 114°.
Adjustable spine support: height adjustable lumbar; height and depth-adjustable padded headrest.
3D armrests: adjust the arms in three directions. The range provides robust support for the shoulders and wrists.
Seat Slide Slope: slide the seat forward or back. That ensures the perfect seat depth for your body.
Premium Padding: resilient memory foam plus a layer of antibacterial elastic sponge. This provides dense but pliable support with a superb level of comfort.
The Sidiz T80 supports forward-leaning and meets all ergonomic chair standards. You can adjust the armrests, the lumbar support, the angle of the seat, and more. This model essentially matches the features of the Embody, with a much lower price. We consider the Sidiz T80 as one of the best off-brand alternatives on the market.
To learn more about this product, check out our detailed Sidiz T80 ergonomic chair review.
Secretlab Omega
Secretlab price: $359 to $389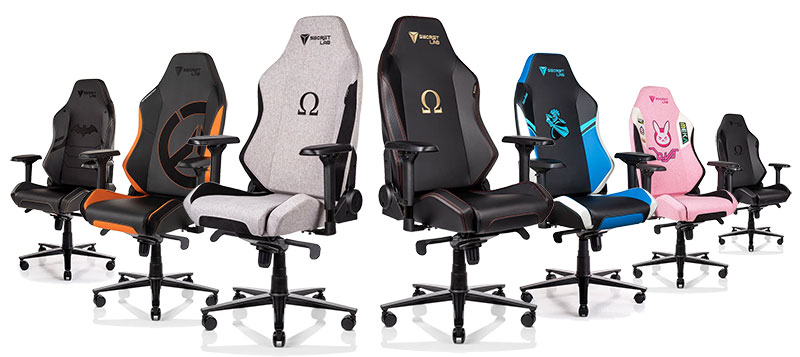 The Secretlab Titan and Omega are the chairs of choice for many of the world's top esports teams and tournaments. The Omega has smaller dimensions that keep the legs closer together. Legs constrained with feet flat on the ground helps to offset body weight.
With compact chairs like the Omega, the legs, chair base, and backrest work like a tripod. That spreads weight pressure across the seat, which dissipates into the padding.
Secretlab Omega specs
The Omega supports forward-leaning gaming with a backrest that angles to 85°. Its tall backrest supports your spine. The velour neck and lumbar memory foam pillows support the spinal curves. While the Omega lacks synchro-tilt, it has a multifunction tilt lock. That lets you manually tilt and lock the seat at angles.
If you choose a PU leather Omega, expect less breathability than the Embody or Sidiz. But the Omega also comes in ultra-breathable mesh fabric styles.
Summary of features:
Functionality: 4D adjustable armrests; recline from 85° to 165°; multifunction tilt-lock.
Comfort: specially blended cold cure foam; lumbar pillow; memory foam neck pillow with cooling gel insert.
Cover options: choice of Softwave Fabric, Secretlab Prime 2.0 PU leather or real leather.
 Support: steel frame, Class 4 heavy duty lift; 5-star aluminium base; extra large PU casters
Warranty: 3-year warranty (you can extend to 5 years with a social share)
Compared to the Embody, the Omega is a lot less precise. While the Embody's backrest is fluid, the Omega has a solid fixed one that can only recline. Beyond that, the ergonomic features match up very well. The Omega lacks synchro-tilt but lets you manually angle the seat as you need. It also has more versatile armrests that adjust in four directions.
There are a few Omega advantages over the Embody. The Omega has height-adjustable lumbar and neck support. The Embody has neither. The Omega is also much easier to use, and more versatile, suiting both lounging and upright working needs. It is also much cheaper. You can buy four Omega chairs for the price of one Embody chair.
Buy the Omega from Secretlab for $359
To learn more about this product, check out our detailed Secretlab Omega gaming chair review.
Other high-end ergonomic chair options
The Herman Miller Embody and Sidiz T80 are both synchro-tilt task chairs. These models have the highest prices and the most sophisticated features. At the high end is the Herman Miller Aeron. It has similar features and a similar price as the Embody. The key difference is that the Aeron has a much more robust synchro-tilt range. Prices range from $450 to $1500.
A more affordable class of task chairs drops synchro-tilt to lower prices. Otherwise, these models come with similar features as synchro-tilt chairs. Prices range from $359 to $799.
The next best option is a pro esports gaming chair. These are the models used most often by pro esports players. These models have high back bucket seat designs and pro features. Those include resilient cold foam padding, 4D armrests, adjustable lumbar, a multifunction tilt mechanism, and more. Prices for pro models range from $350 to $550.
Browse all options to find out what style works best for your needs:
Conclusion
We were hoping for much more from this release. While this new Embody is billed as a chair optimized for gamers, there aren't any optimizations. Instead, it's the same chair that was released in 2008.
That model was designed by Bill Stumpf (now deceased) and 57-year-old Jeff Weber. Neither played video games or understood the challenges of esports. Or full-time content creation. Or a million other uses that didn't exist in 2008.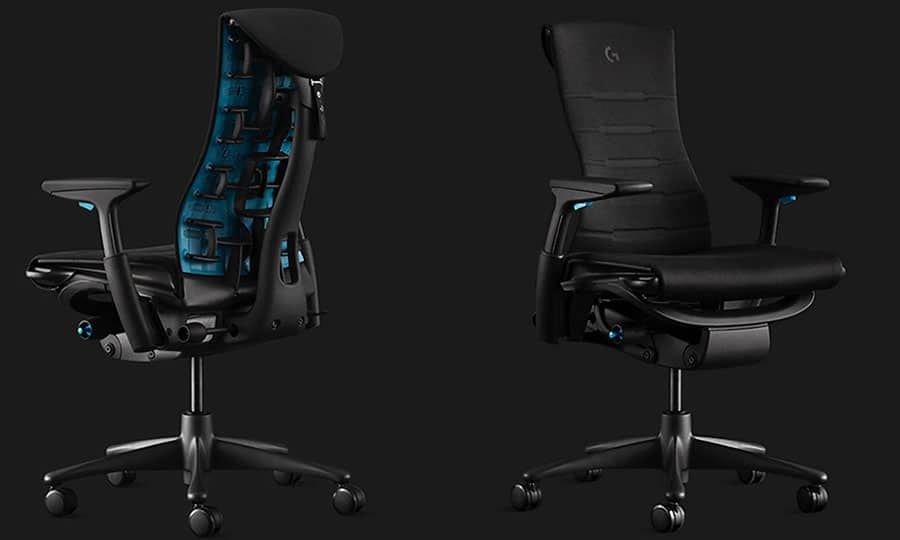 In the twelve years since the Embody's release, there haven't been any major updates. Even with this "new" model "optimized for gamers", the only new feature is an extra layer of seat foam.
The original Embody is highly rated but was never very popular. It has cool features, but also some limits. There's no adjustable lumbar. You can't deep recline. There's no way to add a headrest or extra lumbar support. The new 'gamified' Embody has all of those same flaws. It is also way overpriced.
In V2 of this release, we hope to see:
Forward-leaning synchro-tilt: when you lean forward, the seat angles down.
Adjustable lumbar support: height and depth adjustable.
Headrest addon: option to add a height and depth adjustable headrest.
More design options: more adaptability than a monotone corporate design.
A realistic price for gamers: maximum $800.
Embody gaming chair from Herman Miller for $1495
The fully-loaded Embody classic (not the gaming version) is also available from OfficeDesigns.com for USD$1,495. Includes free shipping in the USA within 4-7 business days.