The Herman Miller Embody is a mid-back ergonomic chair for advanced users. The Embody Gaming edition is the same chair — with dark fabric skin and an extra layer of padding. Both versions feature eye-popping, futuristic designs that will make tech-lovers swoon. But under the hood are some subtle nuances worth knowing before you decide to buy. Is it the right chair for you? This Herman Miller Embody Gaming Chair review can help you decide.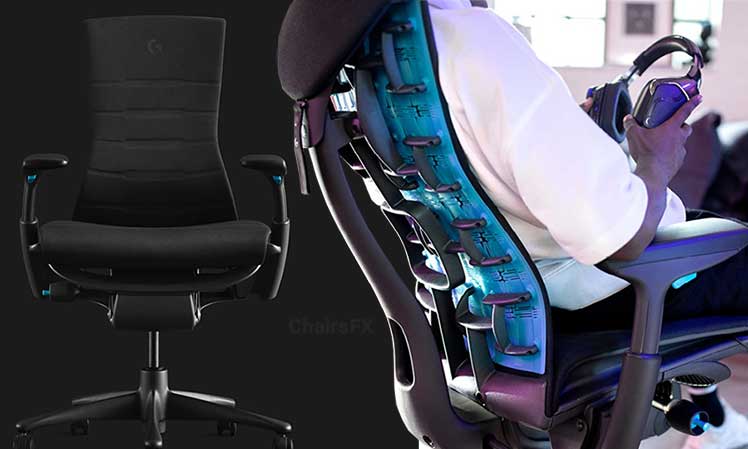 Many top streamers began their careers using racing-style gaming chairs. But Timthetatman, Shroud, Ninja, Tfue, and others all followed a similar seating trajectory. A few years after reaching fame, each upgraded to a mid-back Herman Miller Embody.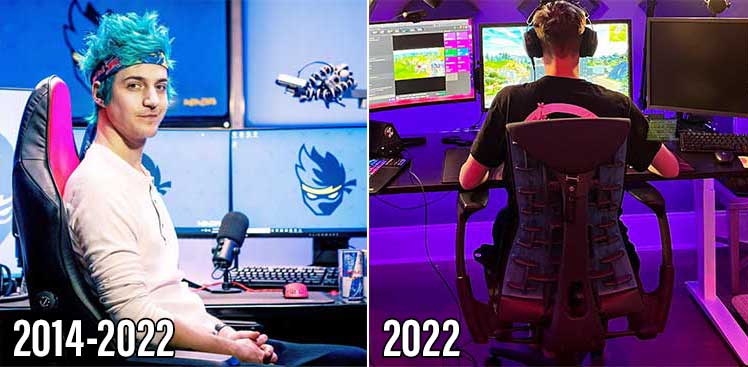 Why do so many streamers switch from a full-back gaming chair to a mid-back Embody late in their careers? One reason is that full-back racing-style gaming chairs provide more casual posture support. That's a great fit for up-and-coming streamers grinding all day and night.
But once they reach fame, many streamers start operating like businesses. Then, their computing habits start to resemble those of hedge fund billionaires.
When time is money, every second of computing time counts. To support that, the Embody supports freestyle sitting positions — with near-perfect mid-back spinal support. That primes users to perform at elite levels every time they sit down.
If you're a top streamer, hedge fund billionaire, or esports pro, the Embody is a dream chair. On the flip side, if you don't have ergonomic experience, an Embody can become a pricey nightmare!
Embody Gaming Chair from Herman Miller $1795
The Embody Classic Office Edition is also available from Herman Miller for $1795.
Key Embody Concepts
Many ergonomic newbies get sucked in by its striking good looks without understanding its nuances. For a coherent Embody review, let's clarify those first.
This chair provides mid-back support designed to keep the head balanced atop the shoulders through all ranges of motion. Unlike other chairs, it does so by prioritizing support to the thoracic — not lumbar — part of the spine.
Aeron Vs Embody: Strict Vs Relaxed Postures
Herman Miller's iconic Aeron chair has a mesh seat with hard-bladed edges. That forces users to sit with planted feet at all times.
Doing so helps users to sit with a near-perfect posture. It works well but can feel restrictive. If so, the Herman Miller Embody chair serves as a comfier alternative. Three highlights set its comfort level beyond the Aeron's.
First, its flat, wide seat allows for looser postures. You can sit with planted feet, one foot up, or even cross-legged.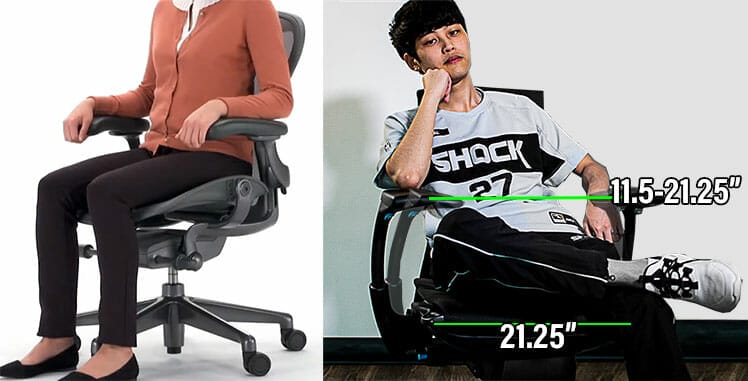 Second, its adjustable armrest width range is a massive 11.5-21.5″. This supports various tasks. For example, mobile users can narrow the arm width to 11.5″ for healthy device usage.
Third, the Embody's Pixelated backrest is designed to stick to your spine like glue. But getting it right is tricky. While most ergonomic chairs provide lumbar support, the Embody prioritizes thoracic support.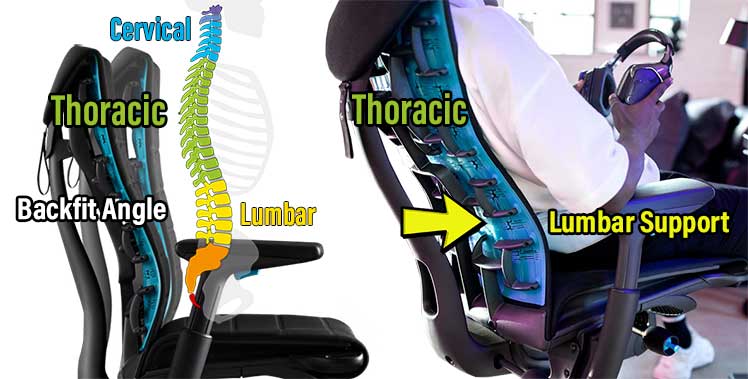 As a result, there's no adjustable lumbar support. Instead, a molded backrest curve is supposed to do the job. But the backrest isn't height-adjustable. To fit your lower back, you can only adjust its angles.
Without experience using ergonomic chairs, you might fail to set the right angles. Then, the backrest might distort your spine instead of supporting it! But ergonomic rookies may not even notice a problem — until back pain flares up.
Bottom line: if you can manage the Embody's subtle features, world-class back support is your reward. But if you don't nail its nuances, buying this chair might be an expensive mistake!
Embody Gaming Chair from Herman Miller $1795
The Embody Classic Office Edition is also available from Herman Miller for $1795.
Mid-Back Ergonomic Support
The Embody's mid-back style is designed to preserve your spine as if it were in a healthy standing position. Through all ranges of motion, that should keep the head balanced evenly atop the shoulders.

The mid-back aspect is crucial. Herman Miller doesn't provide headrest addons or recommend third-party ones. "Leaning your head back on a headrest while in an upright position would be improper posture…"
Several studies support this concept. For example, this University of Michigan car seat study(1) found that using a headrest alters a healthy spinal posture.
Specifically, its presence compels users to tilt the head back — rather than keep it balanced over the shoulders. That head position forces the thorax to rotate rearward. Then, the lumbar spine flattens.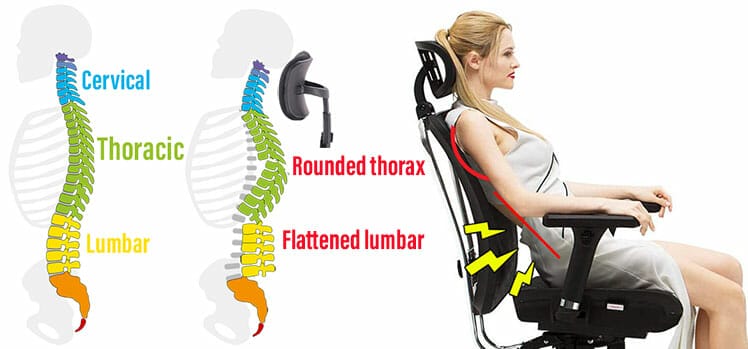 A chair with dedicated lumbar support can alleviate the latter problem. However, since the Embody's lumbar support is secondary, a rear or forward head tilt can be disastrous.
For example, in an upright position, a slight rearward head tilt (without lumbar support) narrows the lower back curve by 6.6°. With a 120° recline, the lumbar curve narrows by 17°.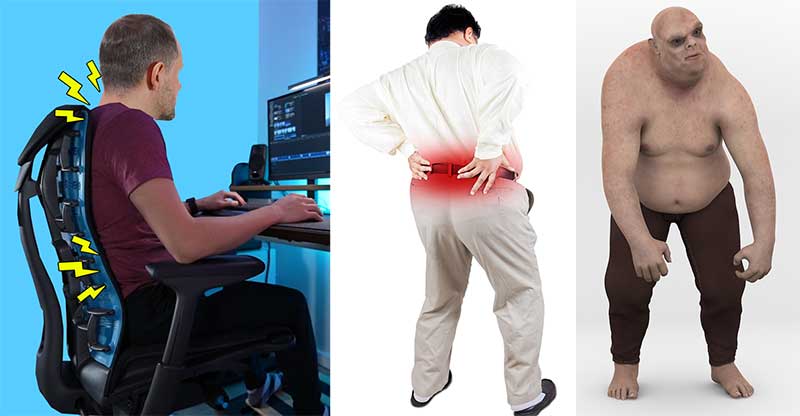 Protip: balancing your head evenly above the shoulders is the key to success in an Embody chair. If your head tilts slightly forward or back, prepare for a back pain disaster!
No Lumbar Support: Only Angles
The Embody is designed to provide mid-back support that balances the head evenly above the shoulders. The trick to getting this right is the Backfit Angle Adjustment. A dial on the bottom right of the chair lets you toggle the upper and lower angles of the Pixelated backrest.

First, turn the knob clockwise. That will angle the top of the backrest to your spine. Once it cups your upper spine, lean your full body weight back. Then, turn the knob counter-clockwise. That will angle the lower part of the backrest to meet your lumbar curve.
This clip from Team Logitech makes the configuration super-clear:
Most ergonomic chair users rely on lumbar support pressure or backrest angles as guides. With the right angle and lower back support, you can feel your spine fall into alignment.
In an Embody, your head's position in proportion to the screen is the key indicator.
Once you get your head around this concept, toggling the Backfit angles becomes a lot easier to master!
Embody Gaming Chair Review
The Herman Miller Embody is a mid-back computing chair with world-class back support. Getting its nuances right helps if you have experience using ergonomic chairs.
Circa 2022, the Embody comes in two flavors. The classic Embody office chair comes in a range of frame colors and fabric cover styles.
The Embody Gaming editions come in all-black with a choice of blue or black accents. Beyond a few extras on the gaming edition seat, both versions have the same usability and functionality.
Highlight Functionality
The Embody classic and Gaming editions share the same functionality. Gaming editions come with different skins and an extra layer of seat padding. Highlights:
Extra seat padding
The main difference between the original Embody and the gamified one is the seat. During intense gameplay, most players sit forward in their chairs. To ensure this more active posture style, the gaming seat is multi-layered. There are two spring layers, one mat layer, one foam layer, and then the fabric.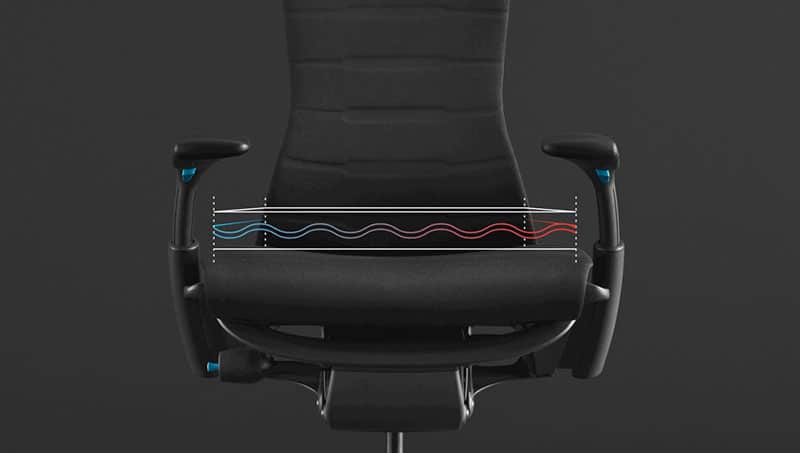 The extra foam layer is unique to the Embody gaming edition. That foam also contains copper-fused cooling technology to maintain a consistent, comfortable temperature.
Also noteworthy is the sliding seat depth. Taller users can make use of the fully-extended 18-inch seat. Shorter bodies can reduce the depth to a tiny 15″.
Pixelated backrest
The Embody has a dynamic backrest that moves in sync with your body. A flexible central pillar holds the entire unit in place. Over the top is a Pixelated Backrest with dynamic 'ribs'. These flex or contract as the user moves.
With a proper Backfit adjustment, this unit sticks to the spine. Then, the user enjoys consistent support through all possible ranges of motion.
Synchro-tilt
This feature helps you to move your body while sitting. When activated, the backrest tilts at a 2:1 ratio to the seat. The backrest can recline between 94° to 120°. In sync-tilt mode, the seat will also angle at a range between 3° to 15°.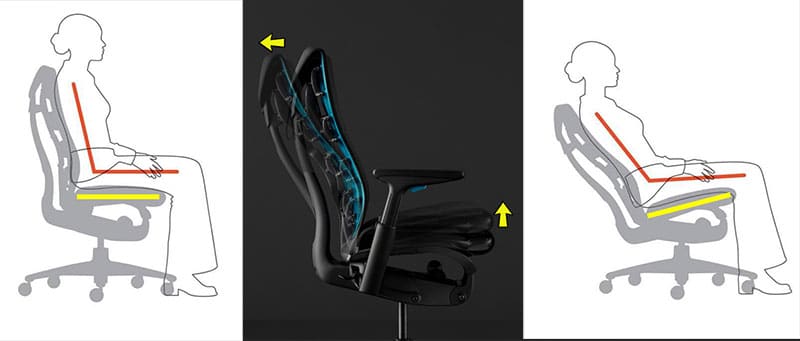 The point is to keep the thighs horizontal while the user shifts back into a recline. That keeps the pelvis stabilized, with consistent support in the thoracic region(2).
2D armrests
On paper, the Embody chair appears weak with only 2D armrests. Those adjust up and down, and also side-to-side. Unlike other chairs, they don't angle forward or backward.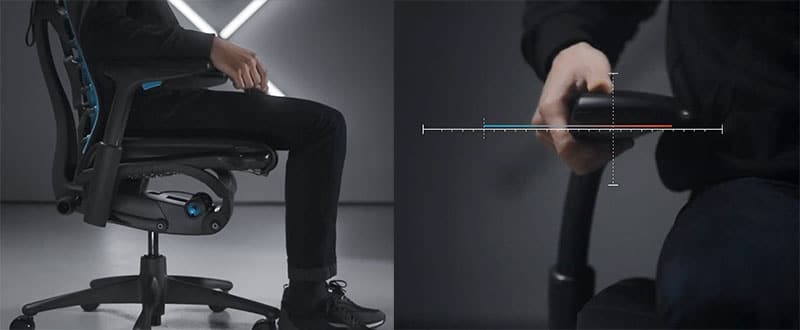 However, the range of adjustments is impressive. You can adjust the heat of the armrests from 4″ higher than the seat, to 8.75″. You can also adjust the width from 11.5″ to 21″. Pull the armrests in close to support mobile device use. If you don't want to use the armrests, extend the width until they're out of the way.
Embody Chair Styles
The Embody x Logitech G Gaming Edition comes in two flavors. Both have a black polyester fabric cover with the Logitech logo imprinted on the front of the backrest.
One version comes with blue color accents. The other comes with black accents on the backrest with silver accents on the armrests and caster wheels.
The classic Embody office chair comes in four frame variations. Choose Graphite; White + Graphite; White + Titanium; Graphite Titanium. The Graphite version is the cheapest at $1695. The White + Titanium is the most expensive at $1915.
Beyond the frame, Classic editions also come in a choice of six fabric color styles.
Summary of features
Summary of Embody specifications:
Summary of Features
Sizing
Synchro-tilt: seat pan angle 3° to 15°; backrest 94° to 120°
Pixelated back support: ultra-adaptive mid-back support with pixelated 'ribs'.
BackFit angle adjustment: lets you angle the backrest to fit the curvature of your spine.
Seat adjustments: adjust the seat's height and depth.
Armrests: 2D-adjustable
Backrest: adjust recline tension; 3-position tilt-lock; synchro-tilt
The Embody chair is one-size-fits-all, designed to fit Herman Miller designed to fit 95% of adults. It offers ample adjustment ranges in seat height, arm width, and seat depth.
Seat: 21.25″ (W) x 15″-18″ (D)
Backrest: 14″ (W) x 23.5″ (H)
Armrests: 11.5-21″ width range; 4-8.75″ height range.
Seat height: 16-20.5″
Seat depth: 15-18″
Size Rating: 5'4″ to 6'2″; 300-pound weight capacity
Embody gaming chair from Herman Miller for $1795
The fully-loaded Embody classic is also available from Herman Miller for $1795.
Embody Chair Pros and Cons
The Embody is a risky, pricey pick. If it works out for you, you'll gain a next-level productivity and wellness boost. If it doesn't work out, its high price will cut you deep with regret!
Cons: Too Much For Beginners
The Embody is too expensive and too complex for first-time ergonomic chair users. If you're a hedge fund trader, corporate shark, or esports royalty with ergonomic chair experience, the Embody is worth it.
On the flip side, first-time ergonomic chair users might find the settings too complex. You first need to set the right seat height. Then you need to nail the correct seat depth. After that, you've got to tuck your hips deep into the seat while sitting with a straight back and open chest.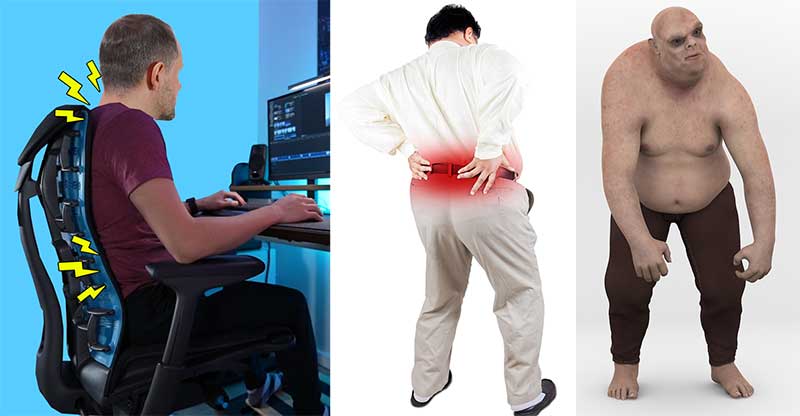 Finally, you need to toggle the BackFit angle. If you get anything wrong, support will be off. Then, you may deeply regret spending so much on a fancy chair that hurts your back.
Pros: World Class Aesthetics And Performance
On an aesthetic level, the Embody gaming chair is jaw-dropping. It has a striking, unique look like a museum piece.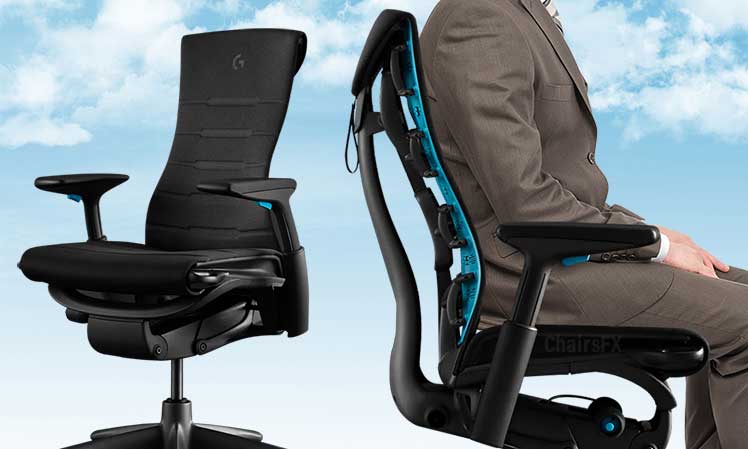 Despite the elegant looks, the build quality is superb. The Embody feels rock-solid, with the consistency of a tank. Once you've got the settings down, you don't need to baby this chair. It's guaranteed for 12 years but will likely last much longer!
Finally, if you can master the adjustment nuances, the back support is world-class. With proper configuration and usage, the Embody aligns your spine into a near-perfect posture. Then, all body parts work as they're supposed to.
At first, that pays off with a blissful, floating sensation of muscles at rest. Over time, expect a surge of excess energy that will make you more alert, focused, and productive at a computer.
Built-in Movement Enhancements
Often overlooked is how well the Embody enables movement while you sit. Even when locked into crisp neutral postures, the flexible nature of the seat and backrest encourages you to move.
According to Herman Miller researchers, even when you don't move, there are benefits. The flexible, pixelated surface of the backrest adds micro-stimulation against the skin to enhance blood flow. That increases oxygen levels to the brain, helping to boost cognitive focus.
Embody User Guide
We marked up this image from a Herman Miller tutorial to show how tricky it is to configure this chair properly. The model does three things right but misses perfection.
First, her feet are planted firmly on the floor. Second, her hips are tucked deep into the seat. That ensures full contact with the backrest. Third, the top of her computer screen is aligned to her eye level. As a result of this configuration, she sits in a crisp, neutral posture.
However, her seat is set slightly too low. That makes her thighs fall flat onto the seat, instead of at a slight angle. As a result, there's more pressure than necessary on the thighs while sitting. Because of that, she'll likely feel discomfort or fatigue after a few hours of sitting this way.
Condensed User Steps
Follow these steps to use the Embody to its fullest potential:
Adjust the seat so your hips angle slightly above your knees.
Tuck your hips as deep into the seat as possible.
Adjust the seat slider for a .5″ gap between the seat and the back of your thighs.
Toggle the BackFit dial until the backrest cups your upper and lower back curves.
Push up with your feet and press your spine into the backrest. That will put you in a crisp neutral sitting position.
Embody gaming chair alternatives
Our gaming chair vs ergonomic office chair article clarifies the differences between the two styles. In brief, both support good posture. However, mid-back ergonomic chairs provide better ergonomic accuracy.
On the other hand, full-back racing-style chairs are more versatile and comfortable. But these advantages come with a slight loss of ergonomic accuracy.
Across the spectrum, three chairs stand out as the best of 2022. The Herman Miller Aeron provides foolproof back support for all users. The Embody gives you a similar level of back support, with a lot more freedom.
But its complex settings aren't as beginner-friendly as the Aeron's. If you prioritize comfort, the Secretlab Titan 2022 Series is even more comfortable than the Embody. On the downside, its back support isn't as precise.
Herman Miller Aeron
Like the Embody, the Aeron provides mid-back support designed to balance the head above the shoulders. To help enforce that, its mesh seat comes lined with a hard-bladed plastic edge. These force users to sit with planted feet at all times.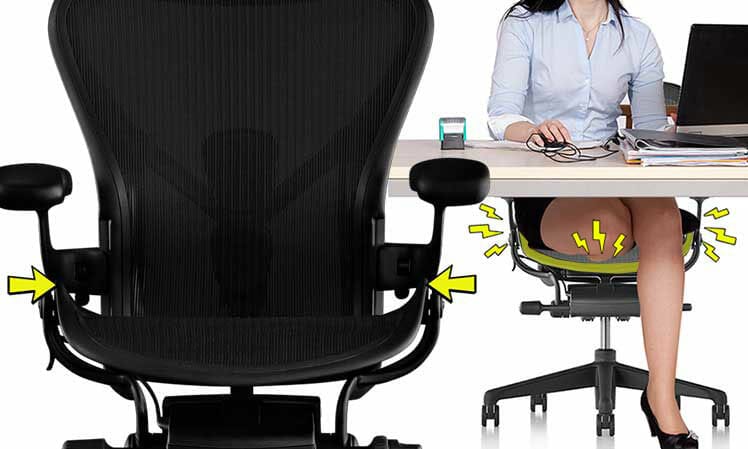 Then, the Aeron's ultra-adaptive mesh helps to keep the body in balance. To ensure good posture, a choice of adjustable lumbar support systems preserves a healthy lower back curve. As a bonus, it also has elaborate tilting functionality that helps a seated body to move.

Combined, these features work almost too well. They force you into crisp neutral postures, with no option to deviate. As well, a limited recline range keeps you sitting upright all the time.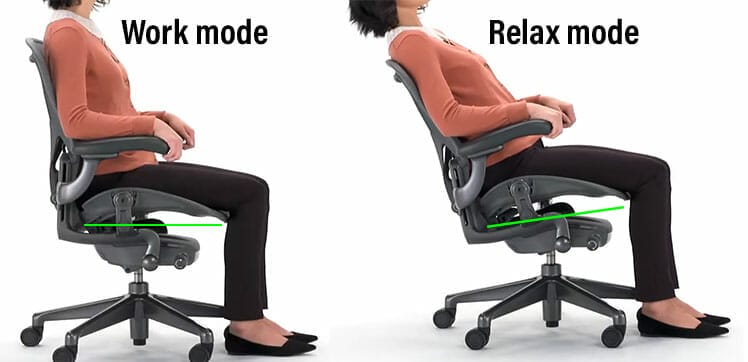 Over an 8-hour office shift, that works fine. When sitting all day at home, the limited range can feel stifling!
Aeron Features
Sync-tilt: seat pan angle from -1° to 16°; backrest 93° to 104°
Upholstery: Pellicle 8Z mesh provides eight tension zones.
Adjustable lumbar: choose a height or depth-adjustable unit.
Seat: adjust the height; tilt up or down; sync-tilt with the backrest.
Armrests: 3D adjustable.
Warranty: 12 years.
Aeron Remastered from Herman Miller $1195-$2195
Learn more: Aeron Gaming Chair Review
Secretlab Titan 2022 Series
Compared to mid-back chairs, full-back models (with lumbar support) encourage more relaxed sitting postures. The Secretlab Titan 2022 Series maxes out this concept with an array of industry-leading ergonomics and aesthetics.
Every Titan 2022 Series chair comes with a beginner-friendly 4-way adjustable lumbar support system. You can adjust the depth and height of support to perfectly fill your lower back curve. Complementing this is a strapless magnetic headrest system.

Combined with the lumbar system, its massive 11″ adjustment range ensures perfect support for your body's spinal curves. The feature-rich backrest is one reason the Titan is so comfortable. Another is its flat, wide, spacious seat.

Combined with a deep 165° recline, this delivers decadent comfort — plus the ergonomic support you need for healthy computing. But there's more. From a physiological perspective, comfort factors include physical (ergonomic), psychological, and environmental(3).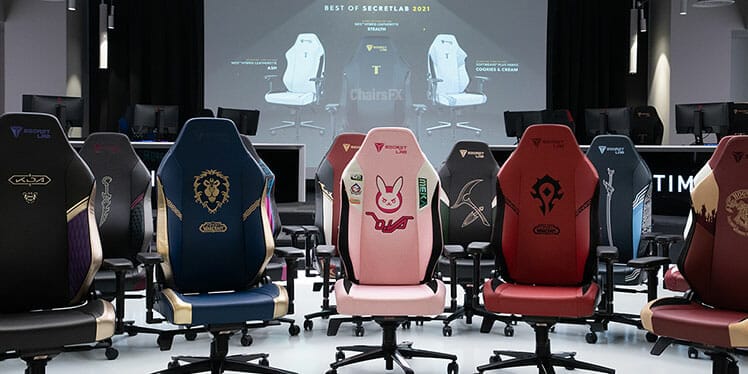 In support of the latter two, the Titan comes in 43 jaw-dropping styles. There's enough variety here to delight all tastes.
Choose conservative office styles, fancy embroidered video game ones, cool fabric pastels, and more.
Titan Evo 2022 Features
Functionality: 4D armrests; multifunction tilt-lock; recline from 85-165°.
New 2022 Series Features: integrated 4-way adjustable lumbar support; magnetic headrest pillow; pebble seat base with waterfall edge.
Sizing: small 4'11" to 5'6″; medium 5'7″ to 6'2″; XL 5'11" to 6'9″.
Warranty: five years.
Titan 2022 from Secretlab $549-$674
Learn more: Titan Evo 2022 Gaming Chair Review
Conclusion
The Herman Miller Embody gaming chair is a high-powered beast for hard-core users. It's the official chair of top esports teams like Team SoloMid (TSM) and Complexity Gaming. It's also used by elite streamers like Tfue, Shroud, Ninja, and Titmthetatman.
It has the looks, build quality, and features to appease the most discriminating CEO. But for the average home gamer, it makes less sense. First, it's very expensive. Second, you need to use the chair properly to enjoy its full potential.
Otherwise, you'll miss out on the wow factor that pros rave about. In sum, the Embody works as advertised — for those who can handle its power. If you're an experienced ergonomic chair user, this is one of the sweetest rides that money can buy.
Embody gaming chair from Herman Miller for $1795
The fully-loaded Embody classic is also available from Herman Miller for $1795.
Footnotes
Matthew P Reed, et al. 'Posture and belt fit in reclined passenger seats', Traffic Injury Prevention 20(sup1):S38-S42, June 2019. DOI: 10.1080/15389588.2019.1630733, (accessed 10 April 2022).
'Promoting Healthy Movement and Natural Alignment', Research and Design Behind the Embody Tilt. https://www.hermanmiller.com/research/categories/white-papers/promoting-healthy-movement-and-natural-alignment/, (accessed 10 April. 2022).
Bianca-Michaela Wölfling, 'Comfort Rating for Upholstery Systems', Conference: 2nd International Comfort Congress, June 2020. https://www.researchgate.net/publication/342040536_Comfort_Rating_for_Upholstery_Systems, (accessed 10 April 2022).