Herman Miller Embody office chairs sell for $1830-$2305 — depending on the frame and upholstery. Gaming editions sell for a flat $1695 ($135-$610 cheaper). Both have the same ergonomic features. Gaming editions have extra cooling tech in the seat. They also come in four light and dark-framed styles. These factors make the Herman Miller x Logitech G Embody Gaming Chair a better-value option. This review lays out Embody gaming chair advantages vs classic office editions.
Compared to other high-end ergonomic chairs, the Embody's back support is more spectacular. The others support good posture with a predictable lumbar-powered approach (lower back support).
In contrast, the Embody's unique Backfit system prioritizes support for the upper spine. Tuck your hips deep into the seat, plant your feet, and sit super-straight. Then, toggle the Backfit dial clockwise until it cups your upper back curve.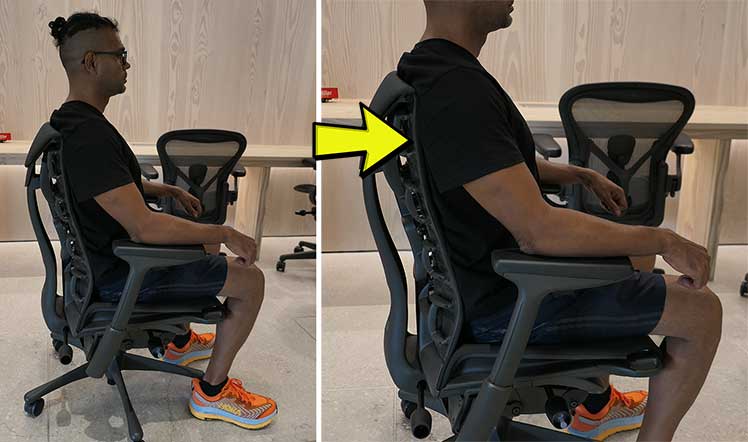 The effect is spectacular. Once your upper back is cupped, that 'suspends' your entire spine up against gravity. That makes sitting upright almost effortless over long periods. But there's a catch:
Lumbar-less Upper Spine Support Concept
A healthy standing posture has a 25-45° lower back curve. Sitting flattens that curve by around half. You can see that flattening effect yourself with a closer look at the Embody's support:

In normal cases, a flattened lower back curve leads to a severe forward slouch. That's where the Embody's magic reveals itself. Despite its lack of lumbar support, it supports good posture by holding the upper spine in place.
Are you willing to buy into the Embody's upper back, lumbar-less support concept? Consider this carefully. Those who do are in for a treat.
Herman Miller wants market penetration. Thus, Embody x Logitech G versions serve up cheaper prices, cooler seats, and four light and dark styles to choose from.
Embody Gaming Chair from Herman Miller $1695
The Embody Classic Office Editions are also available from Herman Miller for $1830-$2305.
Embody Gaming Chair Review
The original Embody Gaming Chair came with a graphite base, black fabric, and stunning cyan color accents. It's a spacious chair with a flat, wide seat and massive armrest width adjustable range.
Herman Miller marketers tend to hype up the spacious aspect to gamers. Indeed, compared to the Aeron, it offers a much more flexible sitting style that encourages movement.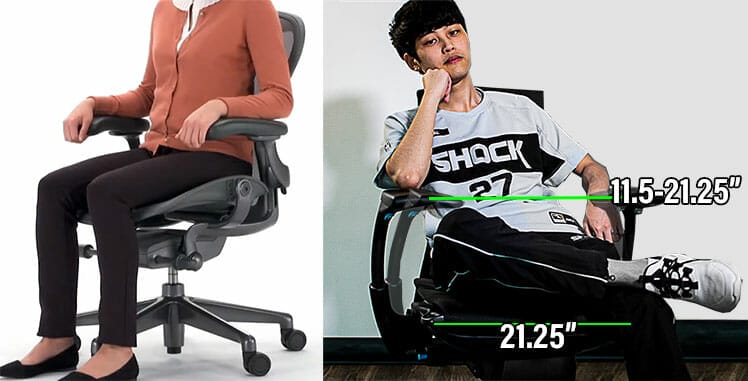 Big-picture, the pretty looks and funky armrests are nice luxury extras. However, what truly justifies the Embody's high price is its back support.
This chair provides mid-back support designed to keep the head balanced atop the shoulders through all ranges of motion. Unlike other chairs, it does so by prioritizing support to the thoracic — not lumbar — part of the spine.
Backfit Support For the Upper Spine
To combat text neck syndrome, the Steelcase Gesture's mobile armrests adjust 11.5″ above the seat. Even though the Embody's armrests are lower, it supports better mobile neck postures! The secret is its Backfit (upper back) support system.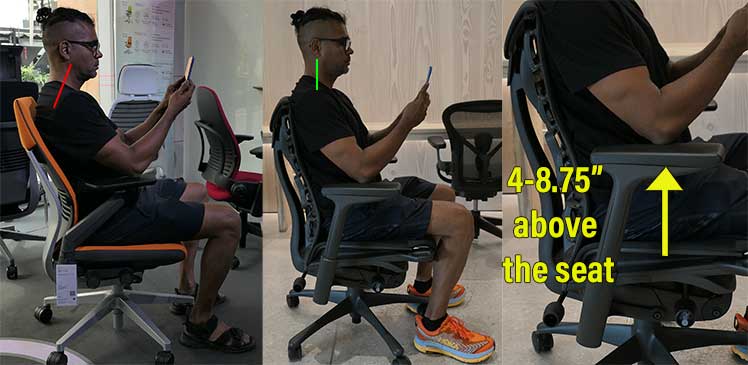 The Embody's Pixelated backrest is designed to stick to your spine like glue. But getting it right is tricky. While most ergonomic chairs provide lumbar support, the Embody prioritizes thoracic support.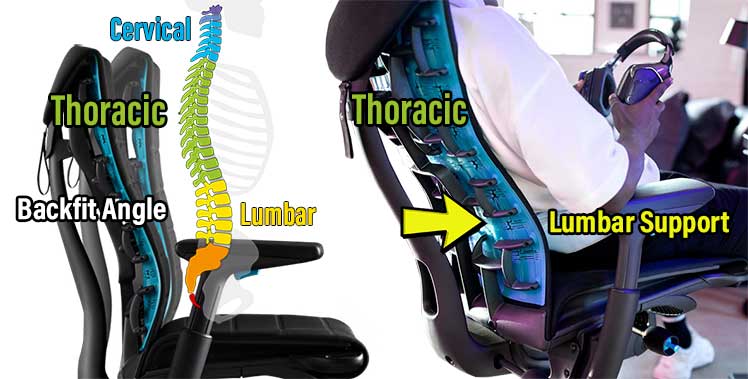 As a result, there's no adjustable lumbar support. Instead, a molded backrest curve is supposed to do the job.
Embody Gaming Chair from Herman Miller $1695
The Embody Classic Office Edition is also available from Herman Miller for $1795.
Highlight Functionality
The Embody classic and Gaming editions share the same functionality. For instance, both have a sliding seat depth feature.

Taller users should extend it to its max 18″ depth. Shorter users can reduce the depth to a tiny 15″. Other highlights:
Cooler Seat
Pixelated Backrest
Sync-Tilt Seat
2D Arms
Gaming and office Embody chairs both have multi-layered seats. The kit includes two spring layers, one mat layer, one foam layer, and then the fabric.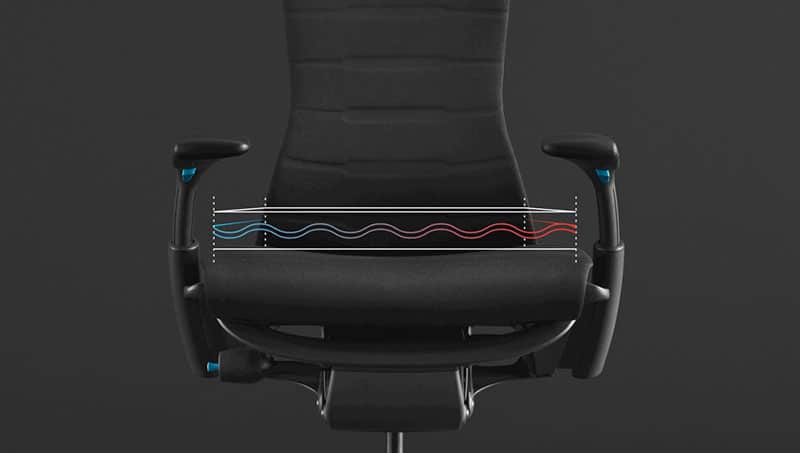 The Embody gaming editions add an extra foam player to support longer sitting sessions. It also contains copper-fused cooling technology that helps maintain a consistent, comfortable temperature.
The Embody has a dynamic backrest that moves in sync with your body. A flexible central pillar holds the entire unit in place. Over the top is a
Pixelated Backrest
with dynamic 'ribs'. These flex or contract as the user moves.
With a proper Backfit adjustment, this unit sticks to the spine. Then, the user enjoys consistent support through all possible ranges of motion.
This feature helps you to move your body while sitting. When activated, the backrest tilts at a 2:1 ratio to the seat. The backrest can recline between 94° to 120°. In sync-tilt mode, the seat will also angle at a range between 3° to 15°.

The point is to keep the thighs horizontal while the user shifts back into a recline. That keeps the pelvis stabilized, with consistent support in the thoracic region(1).
On paper, the Embody chair appears weak with only 2D armrests. Those adjust up and down, and also side-to-side. Unlike other chairs, they don't angle forward or backward.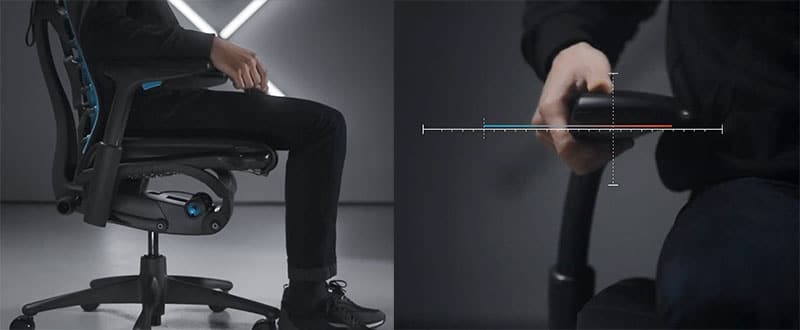 However, the height (4-8.75″ above the seat) and width (11.5-21″) adjustment ranges are solid. While not perfect for mobile computing, they support all desktop working needs just fine.
Summary of Embody specifications
Summary of Features
Sizing
Synchro-tilt: seat pan angle 3° to 15°; backrest 94° to 120°
Pixelated back support: ultra-adaptive mid-back support with pixelated 'ribs'.
BackFit angle adjustment: lets you angle the backrest to fit the curvature of your spine.
Seat adjustments: adjust the seat's height and depth.
Armrests: 2D-adjustable
Backrest: adjust recline tension; 3-position tilt-lock; synchro-tilt
The Embody chair is one-size-fits-all, designed to fit Herman Miller designed to fit 95% of adults. It offers ample adjustment ranges in seat height, arm width, and seat depth.
Seat: 21.25″ (W) x 15″-18″ (D)
Backrest: 14″ (W) x 23.5″ (H)
Armrests: 11.5-21″ width range; 4-8.75″ height range.
Seat height: 16-20.5″
Seat depth: 15-18″
Size Rating: 5'4″ to 6'2″; 300-pound weight capacity
Embody Chair Styles
The Embody x Logitech G Gaming Edition comes in four styles. The original model has a graphite frame with stunning blue accents. A second graphite version adds white color accents and an all-black backrest.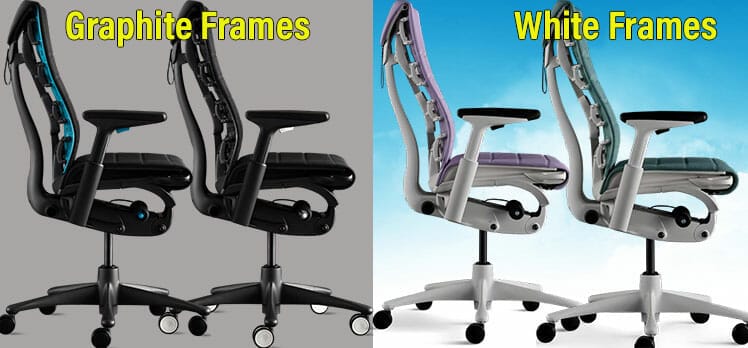 Herman Miller just added two white editions: Amethyst (purple) and Galaxy (green). Each comes upholstered in a premium Sync fabric. This 3-layer knit stretches without creases. That ensures clean, curve-hugging lines.
All four gaming editions cost a flat $1695. In contrast, Embody office editions come in four different frame variants; the white models are the most expensive.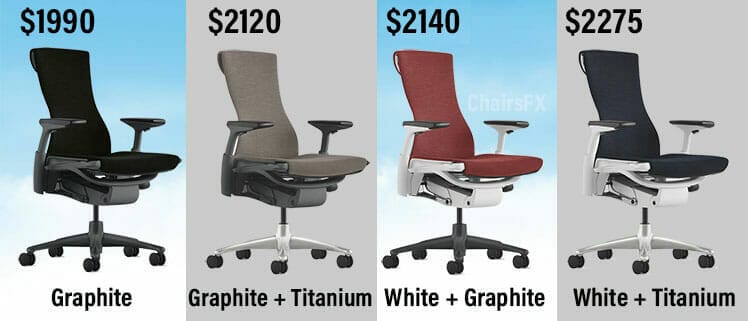 If you're after a white-framed style, buying a gaming edition will save you several hundred over an office variant.
Embody Gaming Chair from Herman Miller $1695
The Embody Classic Office Editions are also available from Herman Miller for $1830-$2305.
Embody Chair Pros and Cons
There are solid reasons for and against buying this chair.
Cons: Flawed Lumbar; Tricky Usability
Summary of key Embody downsides:
Non-Adjustable Lumbar Is Too Low
Once locked in place, the Backfit will hold your upper spine in place. That makes sitting upright very easy. But the backrest isn't height-adjustable. To fit your lower back, you can only adjust its angles.

For my 5'9″ (177 cm) size, the lumbar curve is too low to be usable. Luckily, it's possible to angle it away from the spine if needed.
However, that leaves the upper Backfit curve providing all of the support. It admittedly does a great job. But when paying a $1695 premium, having an ill-fitting lumbar might sour the experience for some people.
Getting the Settings Right Is Complex
Getting the best out of this chair demands proper usage. You first need to set the right seat height. Then you need to nail the correct seat depth. After that, you've got to tuck your hips deep into the seat while sitting with a straight back and open chest.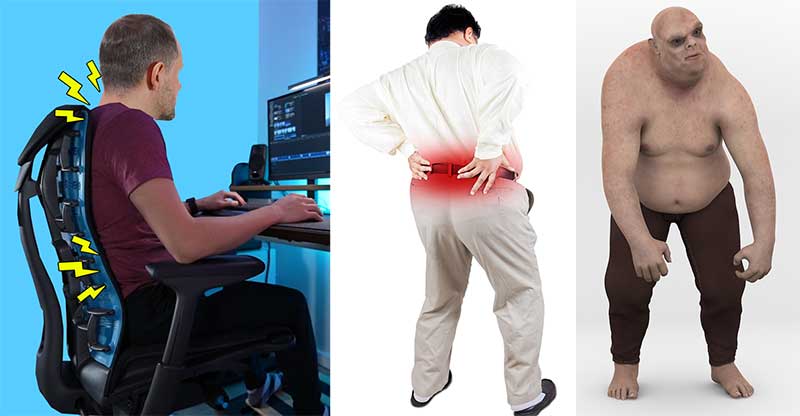 After all of those steps, you also have to configure the Backfit support system. Failure to get this right could produce very poor results.
Pros: Unique Upper Back Support Concept
In 2023, most elite ergonomic chairs all utilize similar lumbar-supported styles. These work well enough. However, many cheaper models priced under $350 provide similar support.
Among the elite chairs, the Embody is the only one that justifies its high price with something different. Instead of supporting the lower spine, it prioritizes support to the upper (thoracic) portion.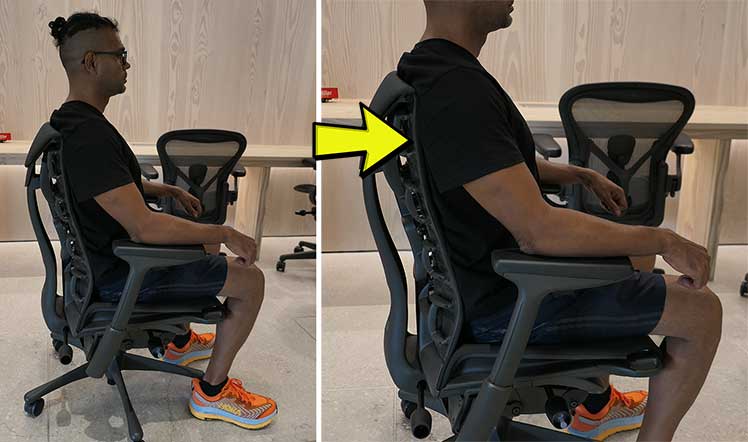 To deploy, tuck your hips deep into the seat, plant your feet, and sit straight. Then, adjust the Backfit system until it cups your upper back curve. That will hold your spine up against gravity, making near-perfect postures feel effortless.
Versus classic Embody office chairs, Embody gaming versions also have advantages. First, they have more advanced seats with cooling technology. Second, they're significantly cheaper.
Review: Embody Vs Other Elite Chairs
Embody Gaming Chairs: $1695 from Herman Miller | Office Versions: $1830 to $2305
Common Embody Chair Pain Fixes
Many first-time Embody users report pain in their new chair. The most common complaint is upper body pain (spine, shoulders, or neck). The second-most common is butt pain caused by the spring seat.
Because of the lumbar-less concept, lower back pain is also a possibility. But there's no need for panic. Here are easy fixes for all three problems:
Upper Back Pain = Backfit Misconfig
If your neck, shoulders, or upper back hurt while using an Embody, it's a symptom of improper usage. First, check your usage: make sure to tuck your hips deep into the seat and plant your feet.
Second, check your Backfit settings. Try to toggle its angle to hold your upright posture in place. First, turn the knob clockwise. That will angle the top of the backrest to your spine.

Once it cups your upper spine, lean your full body weight back. Then, turn the knob counter-clockwise. That will angle the lower part of the backrest to meet your lumbar curve. See this Team Logitech clip for a demo:
Butt Pain: Adjust Seat Height/ Depth
Many first-time Embody chair users complain that the spring seat hurts their butt or the back of their thighs. The easy fix has two parts. First, adjust your seat depth. An excessive one will pressure the thighs/ back of the knees.
Adjust the seat depth to leave 1-2″ of space between the back of your knees and the seat lip. The optimal seat height depends on your size. The cookie-cutter recommendation: aim for a 90-degree or greater angle of your knees, hips, and elbows.
However, studies show that a seated knee bend of around 100° (with hips slightly above the knees) helps to reduce lower back pressure. I've found this claim accurate while testing Embody chairs.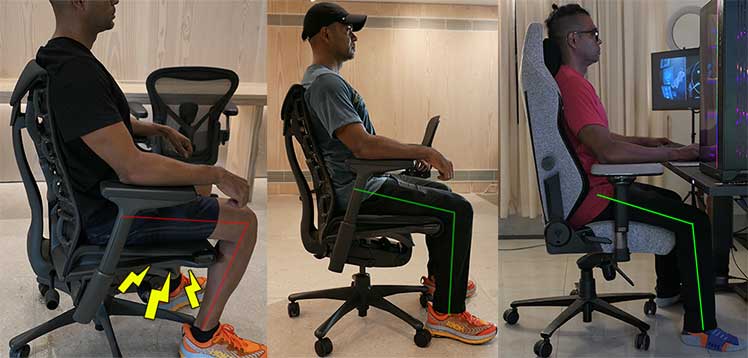 Try for a seat height that lets you plant your feet while positioning your hips higher than your knees. Then, aim for a knee angle of 90° or greater.
Wider Knee-Bend Alternatives
For an even wider knee bend, add an ergonomic footrest.
A footrest-powered 100° (or greater) knee bend reduces butt pressure even more. Then, instead of pressing your thighs into the seat, it routes past your hits to hit your lower back area.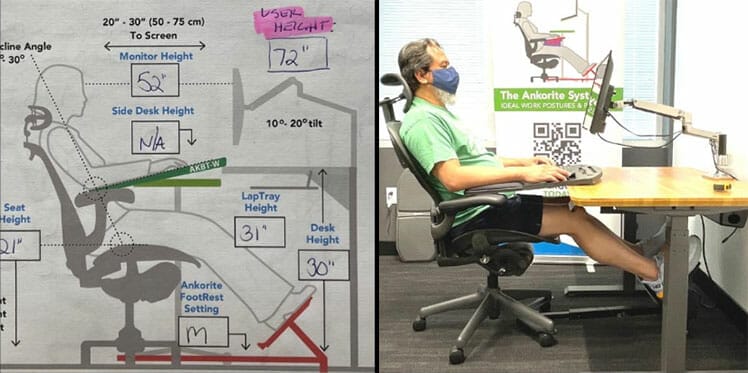 You can take this concept even further by adopting a car seat-style neutral posture (Ankorite System). This method decompresses the spine while letting the glutes and quad muscles to fire in a seated recline.
But in deep reclines, the Embody's lumbar-less style becomes problematic. Using a footrest or a deeper Ankorite-style reclined both route more pressure to the lower back.
Without support in that area, it will flatten to the point of causing harm. That leads to our third and final Embody pain relief hack.
Lower Back Hack: Add DIY Lumbar Support
Optimal lumbar support biomechanics call for support slightly above the beltline around 4 cm (1.5″) deep. That ensures a healthy lower back curve over long periods of sitting.
If you use a reclined, footrest, or deep reclined Ankorite-style method with your Embody, you will need to protect your lower back. An easy way to do so: buy a cheap Amazon lumbar like the McKenzie Lumbar Roll ($32.95 on Amazon).
But you can see the problem: most Amazon lumbar add-ons are extremely thick (3″ or more). Using one like the McKenzie Roll will support your lower back — while negating the Embody's upper back support.
One of the thinnest options on Amazon is the Aupodem Gel Lumbar Support Pillow. It's designed as a sleeping aid, not a chair support. As a result, it's thinner and softer than typical Amazon lumbar pillows.
It's stuffed with softer, squishier memory foam than the firm McKenzie Roll. Its 1.96″ depth slightly exceeds the recommended 1.5″ depth; but it squishiness down easily.
On the downside, you'll need to readjust it often. On the upside, it's a sure way to support your lower back in an Embody chair.
Embody Gaming Chair Alternatives
Our gaming chair vs ergonomic office chair article clarifies the differences between the two styles. In brief, both support good posture. However, full-back versions add the option to kick back and relax.
Based on my own tests, two chairs stand out as viable Embody alternatives. The Herman Miller Aeron provides foolproof back support and next-level mesh. Meanwhile, Secretlab's Titan Evo 2022 provides comparable posture support for the back and neck — for around a third of the price.
Herman Miller Aeron
Like the Embody, the Aeron provides mid-back support designed to balance the head above the shoulders. To help enforce that, its mesh seat comes lined with a hard-bladed plastic edge. These force users to sit with planted feet at all times.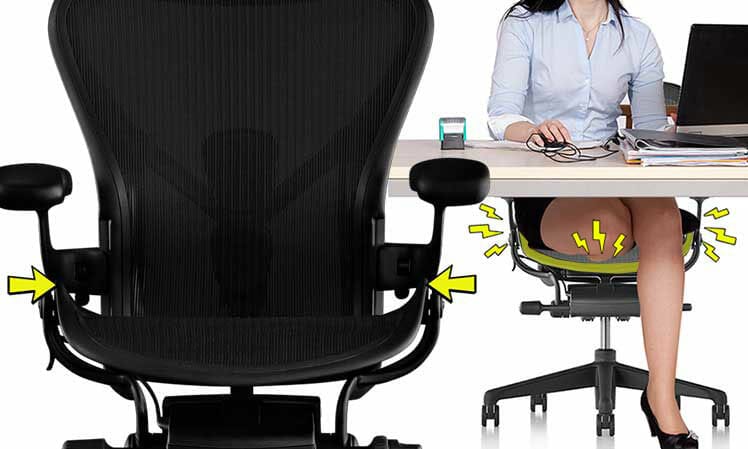 In my experience, the mesh is the star feature. Its ultra-adaptivity keeps you feeling balanced with perfect tautness, even as you shift positions.
In tandem with the other support features, this delivers a superb sitting experience. The mesh looks, feels, and performs at a super-high-end level. Every time you sit down, it will make you feel inspired.
Downsides include the bladed seat edges and a tiny recline range of 93-104°. The bladed edges prevent you from putting your feet up. The limited recline forces you to stay upright at all times.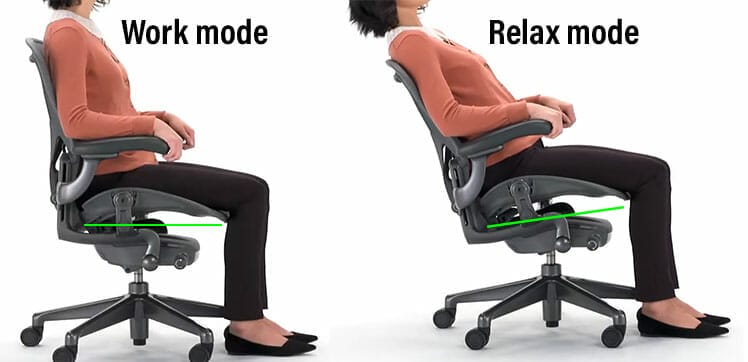 Both limitations can be annoying if you have flexible gaming chair expectations. On the flipside, the support features and mesh combo is dazzling enough to keep most happy — despite the limitations.
Over an 8-hour office shift, that works fine. When sitting all day at home, the limited range can feel stifling!
Aeron Features
Sync-tilt: seat pan angle from -1° to 16°; backrest 93° to 104°
Upholstery: Pellicle 8Z mesh provides eight tension zones.
Adjustable lumbar: choose a height or depth-adjustable unit.
Seat: adjust the height; tilt up or down; sync-tilt with the backrest.
Armrests: 3D adjustable.
Warranty: 12 years.
Aeron Remastered from Herman Miller $275-$2340
Learn more: Aeron Remastered Office Chair Review
Secretlab Titan 2022 Series
I've been using a Titan Evo 2022 chair for the past 1.5 years. Several months ago, three esports doctors helped me master good back and neck posture while sitting in one.
The trick with the Titan is to set the backrest recline angle to a steep 100°. Then, tuck your hips, plant your feet, and sit straight. The lumbar support will align your lower back curve; the headrest will actively support your neck.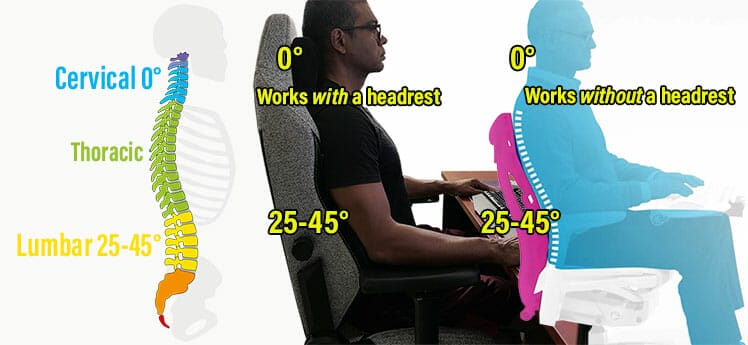 Then, sharp neutral postures in Titan and Embody chairs look nearly identical!
Titan Evo 2022 Features
Functionality: 4D armrests; multifunction tilt-lock; recline from 85-165°.
New 2022 Series Features: integrated 4-way adjustable lumbar support; magnetic headrest pillow; pebble seat base with waterfall edge.
Sizing: small 4'11" to 5'6″; medium 5'7″ to 6'2″; XL 5'11" to 6'9″.
Warranty: five years.
Titan 2022 from Secretlab $549-$674
Learn more: Titan Evo 2022 Gaming Chair Review
Conclusion
The Herman Miller Embody gaming chair is a high-powered beast for hard-core users. It's the official chair of top esports teams like Team SoloMid (TSM) and Complexity Gaming. It's also used by elite streamers like Tfue, Shroud, Ninja, and Titmthetatman.
It has the looks, build quality, and features to appease hedge fund barons, CEOs, and other power using pros. For the average home gamer, it's the height of ergonomic luxury — for those who can afford it.
Embody Gaming Chair from Herman Miller $1695
The Embody Classic Office Editions are also available from Herman Miller for $1830-$2305.
Footnotes
'Promoting Healthy Movement and Natural Alignment', Research and Design Behind the Embody Tilt. https://www.hermanmiller.com/research/categories/white-papers/promoting-healthy-movement-and-natural-alignment/, (accessed 10 April. 2022).