Many CEOs and high-achievers use ergonomic task chairs with synchro-tilt. That's because these are the most advanced ergonomic chairs in the world. They support pristine posture while allowing the seated body to move. That keeps users comfortable, relaxed, and ready to perform. ChairsFX reviews the best synchro-tilt ergonomic office chairs in the world.
Traditional office chairs have fixed components that force users into static sitting positions. When tired sitting in a fixed position, users must adapt since the chair cannot. Ergonomic chairs are different. They have moving components that adjust to the user.
One of the world's first ergonomic chairs for sale was the Ergon chair by Herman Miller. Released in 1976, its revolutionary ergonomic feature was a cold foam padded seat and backrest. Eight years later, Herman Miller released the world's first full-blown ergonomic office chair.
At the time, Internet computing wasn't yet ubiquitous — some still worked with pen and paper. As a result, Herman Miller dubbed the Aeron as an "ergonomic task chair". The name implies a chair that supports good posture while doing all types of seated tasks.
Fast-forward a few years. Office computing became the working standard. The Aeron chair continued as a hot seller, but many competitors emerged. Today, all the top models have adapted to meet the needs of modern computer users.
In this review, the Herman Miller Aeron chair is the gold standard. Against this high standard, several chairs more than hold their own. Many models offer good value for money.
Are you looking for a way to boost your performance at a computer? If yes, keep reading to find the perfect task chair for your budget and needs.
What is an ergonomic task chair?
An ergonomic task chair is an office chair with adjustable features. Chair features adapt to support the spine and promote a healthy sitting posture. That helps to boost working performance while sitting. Comfortable, aligned bodies enjoy deeper breathing, improved circulation, and sharper focus.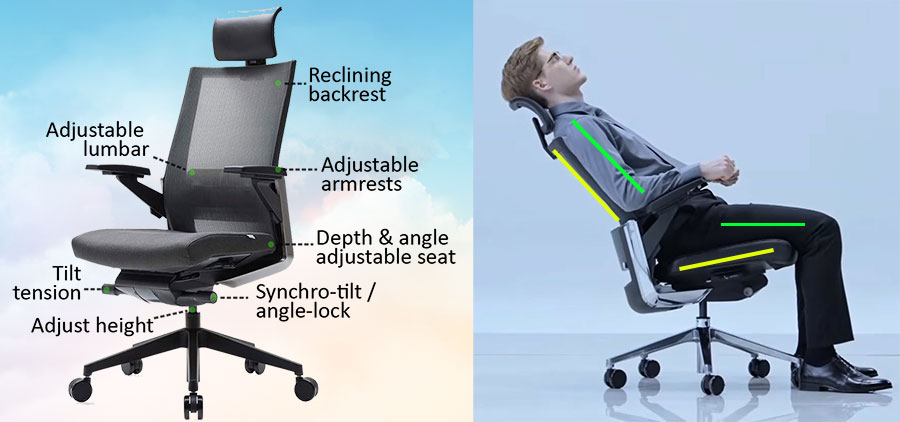 By always leaning into the backrest, users gain a healthy sitting posture. The chair does the work, letting the upper body muscles rest. Thus, the user enjoys the benefits of good posture. Those include improved circulation, deeper breathing, and improved concentration.
A key point is that the chair supports you, instead of your upper body muscles. That saves a huge amount of energy. Instead of burning it on strained muscles, it becomes available for productivity. Thus, these chairs support the back, comfort the body and provide more energy for doing tasks.
But perfect posture is not enough. Top ergonomic scientists suggest that there is no single correct sitting position. Instead, good posture while in motion is the ideal. Thus, the best ergonomic chairs promote balanced movement while sitting. Conventional tilt chairs let you adjust the back angle. Synchro-tilt chairs combine backrest recline with seat angling for the ultimate sitting solution.
Both types of tilt keep the thighs parallel to the floor while encouraging extension at the hips. No matter what position to sit in, these chairs will keep you in the perfect position for upright computing.
Full synchronicity task chairs
These chairs provide the ultimate features for active sitting (aka dynamic sitting). Sedentary lifestyles are unhealthy, yet unavoidable for full-time computer users. Dynamic sitting provides a powerful antidote to counteract long sitting periods.
The dynamic sitting concept involves continuous movement while sitting. It is for this reason that the most effective ergonomic task chairs come with full synchro-tilt. That feature lets the seat angle in sync with the backrest when leaning back or forward.
A trio of Herman Miller chairs offer the most robust synchro-tilt in the industry. That's a big reason why they're so expensive. For example, on the Aeron chair, leaning forward with sync-tilt enabled will angle the seat down. Leaning back will angle it up.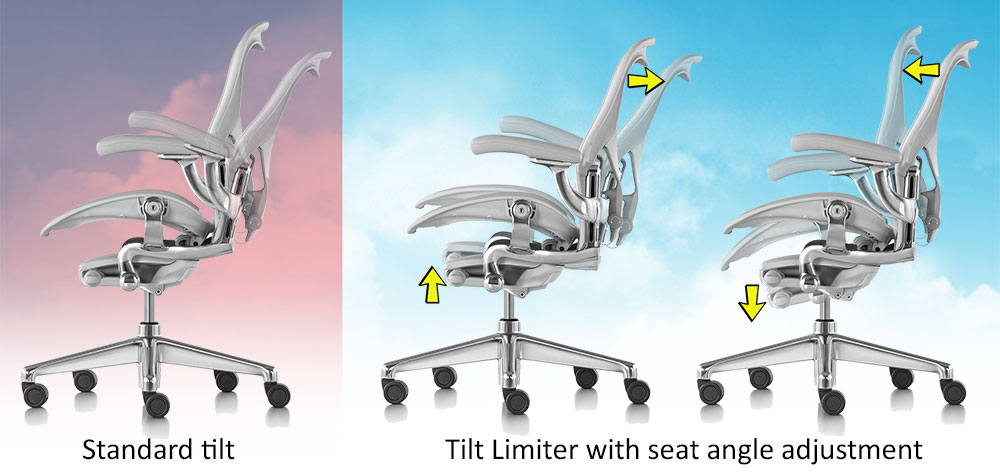 This is a subtle but very effective feature. The human body thrives when in motion. Sitting in fixed positions reduces the natural pumping action of the muscles. That clogs circulation and delivers fewer nutrients to the intervertebral discs.
With synchro-tilt, seated bodies can change position while holding a healthy posture. That alters the alignment of the hips in proportion to the legs and spine. Doing so switches up active muscles in use, ensuring a better load distribution. That way, the main back, leg, and hip muscles get measured doses of both activity and rest.
Herman Miller Aeron
Current price: $1,395
Rated #1
The Herman Miller Aeron is the world's first (mass-produced) ergonomic task chair. It debuted in 1994, then went through zero revisions until 2016. A 2017 update introduced 8Z pellicle mesh, a lumbar support upgrade, and minor tweaks. Otherwise, the 2020 edition is the same basic chair that launched 26 years ago.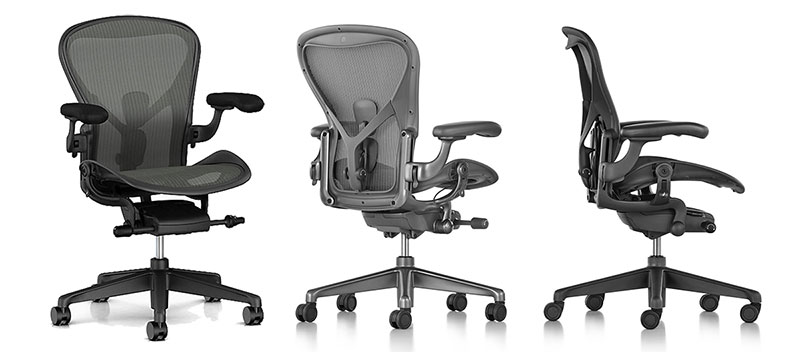 Today, the Aeron remains the gold standard of ergonomic task chairs. It has the most sophisticated synchro-tilt system, the most advanced upholstery, the best warranty, and plenty more.
Features
The Herman Miller Aeron is the blueprint against which we compare all other task chairs.
Aeron chairs start with a choice of graphite or mineral steel frame. There is no padding. Instead, the Aeron uses adaptive 8Z Pellicle mesh fabric. 8Z Pellicle mesh is a "suspension material". The mesh varies between eight zones of tension that distribute body weight.
The tightest zones sit along the edges. Those keep your body off of the frame. The zones in the middle are more flexible. They better conform to the nuances of your body.
The mesh works in tandem with the best synchro-tilt function in the industry. When deactivated, the backrest reclines independently of the seat. When activated, the seat will angle up when you recline and down when you lean forward. This is the most complete synchro-tilt on the market. All others only work in recline — only the Aeron sync-tilts when leaning forward.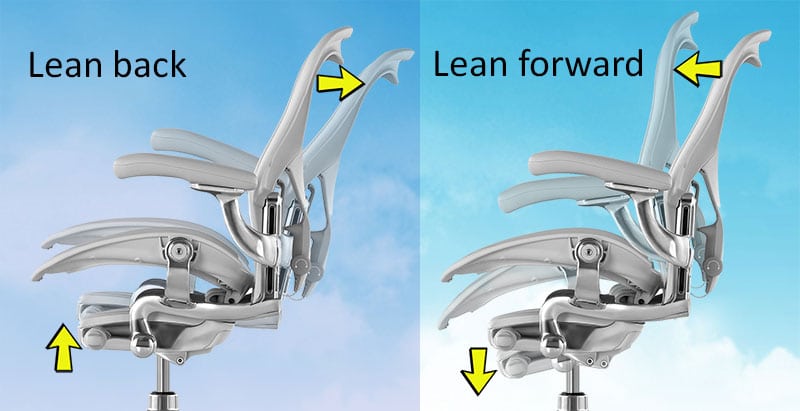 The result is that when the user sits in an Aeron, the 8Z mesh distributes body weight across the seat and backrest. The sensation feels like floating. On top of that, the synchro-tilt adds a layer of fluid, natural motion. Rounding out the posture system is an adjustable lumbar support system.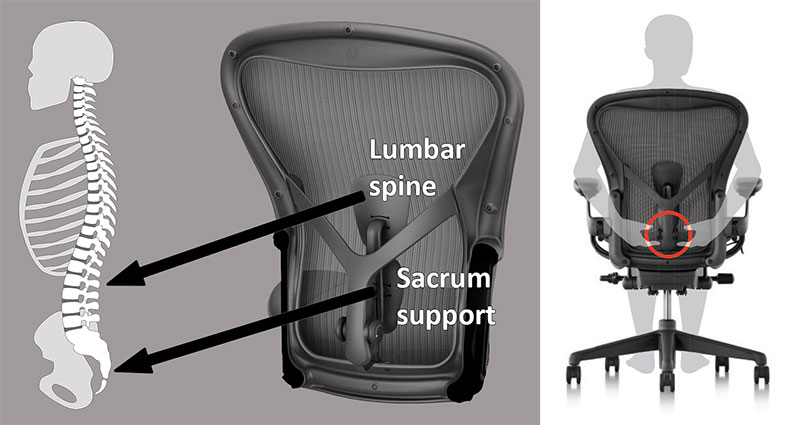 The Aeron's PostureFit supports the lumbar and sacral-pelvic areas. Two pads attached to the unit flex independent of each other. The top pad supports the lumbar, while the lower one stabilizes your sacrum. You can adjust the lumbar height, and also the depth of both pads. Together, these pads encourage the spine to stay in a healthy S-shaped position.
Features summary
The Aeron's base model ships with fixed armrests, no lumbar support, and no synchro-tilt. In the Herman Miller store, that base model sells for a regular price of $995. Fully-kitted with adjustable armrests, PostureFit and synchro-tilt, the price goes up by $400. Below is what you get in the most expensive, full-featured version:
Synchro-tilt: seat pan angle -1° to 16°; backrest 93° to 104°
Upholstery: Pellicle 8Z mesh provides eight zones of varying tension for ultra-responsive support..
Seat: adjust the height; limit the tilt range; adjust the tilt tension; sync-tilt with the backrest.
Backrest: forward tilt option; height and depth adjustable PostureFit lumbar support.
Armrests: 3D adjustable.
Warranty: 12 years.
Sizing
The Herman Miller Aeron comes in three different sizes:
Size A fits users 4'10" to 5'9″ and up to 150 pounds. Size B fits users 5'2″ to 6'6″ and up to 325 pounds. The large size C fits users between 5'3″ to 6'7″ and up to 350 pounds.
Here are the dimensions of the largest C size option:
Seat: 18.25″ (W) x 18.5 (D)
Backrest: 22.75″ (W) x 23″ (H)
Total height: 36.5″ to 43″
Buying advice
The Aeron is the world's first and still most popular ergonomic task chair. Its standout feature is that it supports the users back at all times.
Whether leaning forward to type or leaning back in contemplation, support is consistent. The chair moves with the user, keeping the body balanced and posture on-point. This support makes the Aeron a fantastic chair for productivity. It keeps users sitting upright, refreshed, and focused.
On the downside, mid-back chairs like the Aeron stop at around the shoulder blades. When leaning upright or forward, that works fine. But when leaning back, it provides no support for the shoulders and neck.
So if you need an elite chair for pure productivity, the Aeron chair is the benchmark. But if you need something for work and play, a PC gaming chair would be a better (and cheaper) choice. Those chairs offer less precise back support but are much better for relaxing.
The Aeron is available for sale from OfficeDesigns.com. That is an authorized Herman Miller dealer serving the United States. All Aeron orders from OfficeDesigns include free shipping in the USA within 4-7 business days.
Herman Miller Aeron from OfficeDesigns $1,395
The Aeron is also available as a new version optimized for gamers. Check out our Aeron gaming chair review to learn more.
Herman Miller Sayl
Current price: $755
Rated #2
The Sayl chair has similar features as the Aeron chair, with some cutbacks to justify the lower price.
Like the Aeron, the Sayle stands out from other chairs with a robust synchronous tilt range. Its seat pan angles from -3° to 13°. The backrest reclines in three positions: 91°, 101°, or 124°. The Sayle also employs an adaptive backrest, but with a radically different design. Instead of breathable mesh, Sayle chair backrests are curved plastic polymer pieces in a range of colors.
The chair applies the same suspension principles as the Golden Gate Bridge. The Sayl uses a suspension tower to support an unframed plastic backrest. As the body moves, the plastic backrest stretches to adapt. At the same time, the suspension tower keeps good posture intact. The result provides the freedom to move, with consistent adaptive support.
From the side, the chair resembles a full mainsail. The name "Sayl" references the sailing vessels that often pass under the Golden Gate bridge.
Sayl chair features
The Sayle almost matches the features of the Aeron chair, minus the backrest, and recline functionality. The Aeron has a fluid backrest recline. In contrast, the Sayle can only recline in three positions: 91, 101, or 124 degrees. Even so, the sync-tilt feature is fluid. When angled at 91°, the seat angles down to support forward-leaning. Setting a deeper recline will sync the seat into an upwards tilt.
It's a limited range but still works well. For forward-leaning work, angle to 91 degrees and slope the seat down. For upright work, the 101-degree angle is best. Use the 124-degree setting for web surfing and relaxing.
As for the backrest, both offer adaptive flexibility and superb breathability. The Aeron's 8Z Pellicle Mesh fabric is more comfortable. Predictably, the Sayle backrest has a synthetic, plastic feel.
One cool feature the Sayle has which the Aeron lacks is a manual downward seat tilt. For users who often lean forward, you can manually set the seat to slope down.
Summary of Sayl chair features
Synchro-tilt: seat pan angle -3° to 13°; backrest reclines to 91°, 101°, or 124°.
3D Intelligent backrest: an unframed 3D Intelligent back stretches or contracts to support the back as the user moves.
Posturefit: a unit at the rear of the backrest supports the sacrum (lowest point of the spine) to reinforce the pelvis. That prevents slouching and sitting fatigue.
Seat adjustments: contoured seat pad; adjust the seat's height and depth; downwards tilt to -3°.
Armrests: 4D adjustable (adjust height, angles, width, and depth).
Warranty: 12 years.
Sayl chair sizing
Unlike the Aeron chair, the Sayle is one-size-fits-all. It has the widest seat and backrest dimensions of all Herman Miller chairs. This model should fit everyone between slim and extra-wide sizes.
Seat: 24.5″ (W) x 16-18″ (D)
Backrest: 16.8″ (W) x 20.9″ (H)
Floor to seat range: 15″ to 20″
Chair height: 33.75″ to 40.75″
Size rating: 5'3″ to 6'7″; 350 pounds
Sayl chair summary
The Sayle chair offers brilliant features at a cheaper price than other Herman Miller chairs. Highlights:
A flexible backrest that supports good posture, no matter what position the user sits in.
The powerful synchro-tilt function angles the seat up or down, depending on your depth of recline.
To support working while leaning forward, you can slope the seat down to as much as -3°.
At present, Herman Miller offers Sayle in classic and gamified colors. The former designs are muted, while the latter are bolder, with striking color schemes. To learn more about the new versions, check out our Sayle gaming chair review.
The biggest downside of the Sayle chair is the odd-looking plastic backrest. It's a good look in a gleaming corporate office, but less so working at home in your sweatpants.
The price quoted below is for the fully-loaded model. That included adjustable arms and adjustable seat depth. With fixed arms and fixed seat depth, the Sayle costs $545 (not recommended).
Herman Miller Sayle from OfficeDesigns $755
The Sayle is available from OfficeDesigns.com (authorized Herman Miller dealer). OfficeDesigns orders include free shipping in the USA within 4-7 business days.
Recline-sync task chairs
These models come with seats that don't slope down. As a result, the seat only tilts up when the user leans back. When the user leans forward, the seat remains flat.
On paper, it's a mild difference. In practice, the difference is significant. Leaning back with an upward seat slope is good for relaxing, or passive computer use (like web browsing). However, a forward-leaning downward seat slope is more useful for those doing intense work.
For example, designers, programmers, and gamers all tend to lean forward when tasks become complex. A chair with a few degrees of downward tilt will provide much better forward-leaning support.
If you can live without a downward sloping feature, below are the best synchro-tilt task chairs on offer:
Steelcase Gesture
Current price: $947.33
Rated #3
Steelcase is a Grand Rapids, Michigan company founded in 1912. They produce furniture and technologies for office, education, health care, and retail industries. Based on annual turnover, they are the biggest office chair manufacturer in America.
In 1999, the company released the Steelcase Leap. That went on to become one of America's top-selling chairs. Like the Aeron chair, the Leap came at a time when computing trends were still emerging.
As a result, Steelcase conducted a global posture study across six continents. They found that emerging tech had an erratic influence on users. People were adapting to tech fluidity with a wider range of unhealthy postures.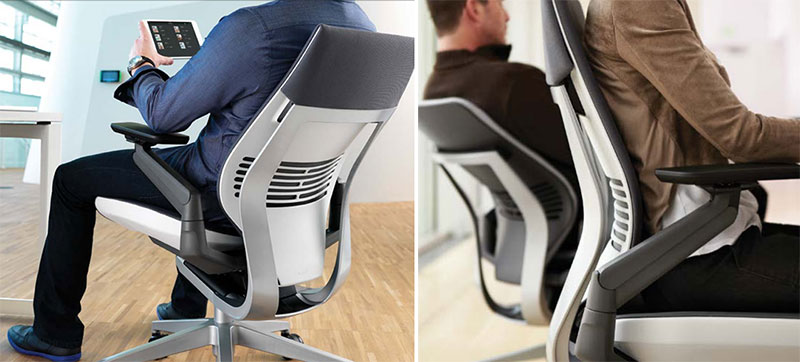 They concluded that technology can only boost productivity in certain conditions. Discomfort disrupts work, hinders concentration, and dims creativity. The Gesture chair is their solution. It allows healthy movement while sitting in all postures. Whether leaning back or forward, it will keep your spine aligned, with eyes locked on the screen.
Features
The standout feature of the Gesture chair is 3D LiveBack. That enables the back and seat to move as a synchronized system. You can also disable this feature so that the backrest reclines while the seat stays fixed.
The backrest reclines at a 2:1 ratio. When you recline the backrest by two degrees, the seat will angle up by a maximum of one degree. Compared to the 3-15° range on the Embody chair, this is tiny. But outside of the Herman Miller chairs, a 1° seat tilt pan on synchro-tilt chairs is the standard.
In fact, it was Steelcase engineers who first came up with the 1° seat tilt pan. This was a design strategy influenced by the natural motions of the human body. Like the body's natural support, the Gesture's sync range provides support no matter how you sit. There's no adjustable lumbar, although you can buy one as an addon from Steelcase for $22. That adds fixed depth and height-adjustable support in the lumbar area.
The other standout feature is the 4D armrests. These have the widest range of motion out of any chair we've seen. This is a great addition when you pay so much for a chair.
Synchro-tilt: seat pan angle 1°; backrest 98° to 125°
Seat: height and depth adjustments.
Functionality: 3-position seat & backrest tilt lock; 4D armrests with a huge adjustment range.
Back support: the 3D LiveBack system changes shape to mimic the natural motion of the spine. Both the backrest and seat move in sync when the user moves.
Warranty: 12 years on parts, lifetime on the frame.
Sizing
The Steelcase Gesture has a versatile one-size-fits-all design that should cater to a wide range of body types.
Seat width & depth: 19.25″ (W) x 15.75 to 18.75″ (D)
Backrest height & width: 24″ (H), 16.25″ (W)
Size rating: people 5'4″ to 6'2″ tall; up to 400 pounds
Buying advice
Compared to the Aeron, the Gesture lacks forward synchro-tilt. But it has much better 4D armrests, a wider range of styles and a cheaper price. What you get with the Gesture is a solid, reliable chair that should last for most of your adult life.
Herman Miller Embody
Current price: $1695
Rated #4
Herman Miller released the Aeron chair in 1994. In 2008, the released the Embody, a specialty chair for the computing generation. The Embody is the most expensive task chair on this list. It has the most sophisticated backrest, but mediocre features otherwise. For instance, there's no lumbar support except for the backrest itself. As well, this chair comes with only 2D armrests.
Features
There are several differences between the Aeron and Embody chairs. First, the Aeron uses breathable mesh, while the Embody uses fabric. Second, while the Aeron has a static backrest unit, the Embody's is dynamic. It has a Pixelated human-like spine that holds the frame in place. Each of the "ribs" adjusts as your body moves. As with the Aeron's adaptive mesh, the point is to hold your body in a healthy sitting posture while you work.
But like the Aeron chair, synchro-tilt is a key function in the Embody chair. As the sitter shifts back into a recline, the Embody adjusts to keep the thighs horizontal. This keeps the pelvis stabilized, with consistent support in the thoracic region. However, sync-tilt only angles up. When you lean forward in the chair, the seat remains flat.
The backrest has a fixed lumbar curve built into the backrest. But it's not adjustable. Instead, you can adjust the angle of the backrest using a feature Herman Miller calls a "BackFit" dial. Turn it to increase or decrease curvature between the thoracic and lumbar regions. The point is to apply the right angle to keep your body forward.
Another noteworthy feature of the Embody chair is the "Kicker". Wobbly desk stools force users to flex their core muscles to stay upright. While that's good in short bursts, it's tiring over extended periods. The Kicker works on the same concept. When you need a refresher, push up with your feet and flex your core. The Embody chair will extend beyond its settings to let your body have a full stretch.
Summary of features
Beyond the standout features, the Embody also comes with a depth-adjustable seat. Grip handles on either side of the seat to easily extend or shorten.
But while the Aeron has 3D armrests, the Embody has basic 2D ones. Summary of all Embody chair features:
Synchro-tilt: seat pan angle 3° to 15°; backrest 94° to 120°
Pixelated back support: the backrest has a central spine with flexible ribs. Each rib adjusts when you lean back to support the natural curve of your spine.
BackFit angle adjustment: this lets you position the back of the chair to fit the curvature of your back.
Seat adjustments: adjust the seat's height and depth.
Backrest: adjust recline tension; 3-position tilt-lock; synchro-tilt
Sizing
Herman Miller designed to Embody to fit 95% of adults. It's adjustments provide a good seat height range, arm width range, and seat depth. These features make the Embody a good fit for a wide range of people.
Seat: 21.25″ (W) x 15″-18″ (D)
Backrest: 23.5″ (H) x 14″ (W)
Total height: 42″ to 45″
The Embody supports up to 300 pounds and should suit most users between 5'4″ and 6'2″ tall.
Buying advice
The Embody is a curious chair. It costs more than other Herman Miller models, yet offers lesser features. Its standout feature is a Pixelated backrest. That is a potent feature with aethestic appeal. However, it comes at the cost of better features on other chairs. If you don't mind losing out on 4D armrests and adjustable lumbar support, this chair will suffice.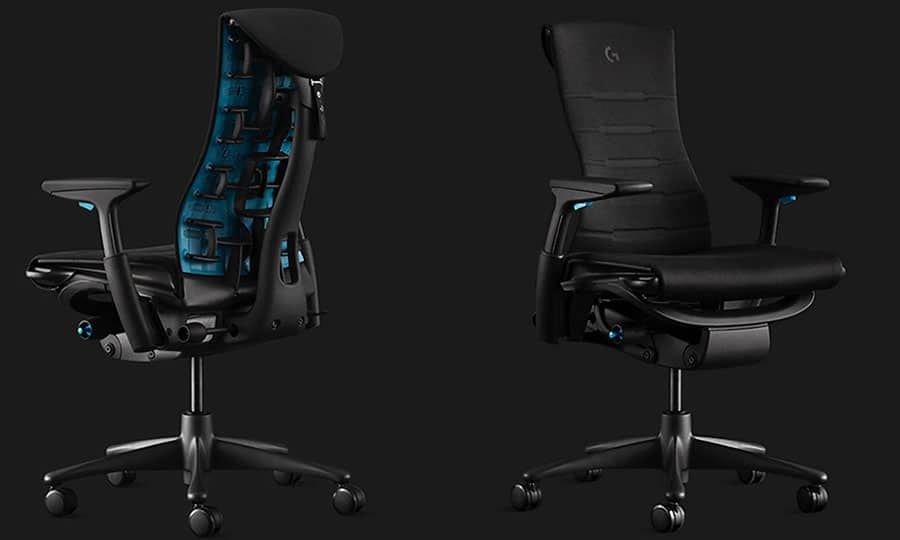 If you can afford the cost, this is a robust working chair. If you can't, it's easy to cut corners. Most other chairs on this list offer comparable (or better) features and much better value for money.
Herman Miller Embody from OfficeDesigns $1,695
To learn more about the 'gamified' version of this chair, check out our Herman Miller Embody gaming chair review.
Sidiz T80 task chair
Current price: $699.00
Rated #5
Sidiz is a South Korean office chair developer. They released the Sidiz T80 task chair in 2014. It won several design awards, but never gained any mainstream traction. That changed in 2019 when Dr. Disrespect (one of the world's top streamers) started using one.
The T80 is cheaper than the famous ergonomic office chairs. It cuts a few corners, but still offers more advanced ergonomics than the best PC gaming chairs. Like the Sayle chair, this model also comes with an adjustable downward-sloping seat. That's a handy feature that supports good spinal alignment even when users lean forward. Learn more in our detailed review:
Features
Sidiz T80 features encourage dynamic sitting. You can adjust the lumbar support, armrests, seat depth, and neck support.
Unlike the fluid Aeron chair, the T80 backrest only reclines in four positions. Its synchro-tilt is also more limited, working with the standard 1° seat pan angle range. But like the Aeron, the T80 also supports forward-leaning work. There is a manual setting that lets you slope down the seat to support forward-leaning.
The T80 has are also plenty of controls letting you adjust on the fly.
Synchro-tilt: seat pan angle 1°; backrest 90° to 114°.
Adjustable spine support: height adjustable lumbar; height and depth-adjustable padded headrest.
3D armrests: adjust the arms in three directions. The range provides robust support for the shoulders and wrists.
Seat Slide Slope: slide the seat forward or back. That ensures the perfect seat depth for your body.
Premium Padding: resilient memory foam plus a layer of antibacterial elastic sponge. This provides dense but pliable support with a superb level of comfort.
Sizing
The Sidiz T80 has a compact seat with flat edges. This configuration gives lots of room for the legs.
Seat width & depth: 19.8″ (W) x 19.6″ (D)
Backrest height & width: 19.8″ (H), 29.7″ (W)
Size rating: people 5'5″ to 6'6″ tall; up to 250 pounds
On paper, these dimensions resemble those of typical gaming chairs for small people. But Dr. Disrespect is 6'8″ tall. Like the Embody and Gesture, the T80's versatile dimensions should fit most adults.
Buying advice
The Sidiz T80 brings fresh energy into the ergonomic office chair scene. Its high-end features plus Dr. Disrespect's endorsement have put this chair on the map.
Its price is a lot more digestible than the other high-end chairs, yet its features are comparable. Looking for a high-end ergonomic chair at a cheaper price without cutting corners? The Sidiz T80 is one of the best off-brand alternatives on the market.
Interested to learn more about this chair? Check out its features plus a value analysis in our detailed Sidiz T80 review.
Hon Ignition HIWM2
Current price: $452.34
Rated #6
Based on turnover, Steelcase is the largest office furniture company in America. Herman Miller ranks second. The HNI Corporation ranks 4th. Their biggest subsidiary is Hon Office Furniture. Headquartered in Muscatine, Iowa, Hon has been making office furniture in America since 1944.
The first version of the Hon Ignition chair came out in 2009. Then, Hon described it as an all-in-one seating solution to support every body type, work style, and office activity. In 2017, Hon released the Ignition 2.0. That added multi-directional stretch mesh on a refined frame provides a more responsive seat. Also new in the 2.0 version is an adjustable lumbar support system. That's available as an addon in the original Ignition chairs, and stock in the 2.0 editions.
The 2.0 Ignition also comes with Synchro-tilt plus a seat slider plus an independent back angle. Among the original Ignition chairs, there are several variations. This review looks at the second HIWM2 option:
HIWM1: swivel-tilt
HIWM2: synchro-tilt
HIWM3: synchro-tilt with independent back angle
Features
In total, the Hon Ignition allows for seven key chair adjustments. These are: seat height & depth; backrest height; 2D armrests; tilt-tension; Syncro-tilt.
Synchro-Tilt is the highlight. When set, the backrest will recline at a 2-to-1 ratio to the seat angle. So for every two degrees that the backrest reclines, the seat will angle up by one degree. The benefit of the Synchro-Tilt is that it opens up the angles in the torso. This optimizes spinal alignment and improves circulation.
In this chair, balanced movement while sitting is the ideal. The Ignition chair encourages movement and changing positions often. This helps to increase circulation and redistribute pressure points while sitting.
Summary of features
Clever extras start with height and recline controls using levers under each armrest. Another standout are the 65mm Holtron Hub-Less Casters. These come with rubber parts in the cavity that dampen noise down to almost zero.
Synchro-Tilt: 11° of seat tilt & 22° of backrest recline.
Independent back recline: disable sync-tilt to adjust the backrest independent of the seat.
Armrests: 2D adjustable (up and down, side-to-side).
Seat: height and depth adjustable.
Lumbar: height-adjustable addon available. 2.0 chairs come with a height-adjustable one included.
Warranty: lifetime.
Sizing
Hon Ingition chairs are for average-sized adults of moderate width.
Seat width & depth: 20″ (W) x 17″ to 19″ (D)
Backrest width & height: 19″ (W) x 25.5″ (H)
Size rating: 5'5″ to 6'2″; up to 300 pounds
Buying advice
The Hon Ignition is a great chair from one of the biggest furniture companies in America. What stands out most is the fluid sitting experience. A common method of using an Ignition is to find a comfortable position, then engage the tilt lock. That will keep your body within a fixed range of motion while doing focused work. When thinking, relaxing, or taking a call, release the chair to recline freely.
The quality fits big business. But the price fits small budgets. That makes Ignition a fitting solution for most people who spend time working at a computer.
Eurotech Ergohuman mesh chair
Current price: $699.00
Rated #7
The Ergohuman chair has all the bells and whistles. It only ranks behind the others for some minor quibbles. The style is very plain. It costs a few dollars more than the Sidiz chair. It costs a few hundred more than the Hon Ignition.
But the positives outweigh the quibbles. The Ergohuman packs in an impressive array of features. These exceed the features of both Herman Miller chairs. From that context, these chairs offer fantastic value for money.
Features
Eurotech Ergohuman chairs have the same features as the high-end chairs. You get adjustable lumbar support, synchro-tilt, and adjustable armrests. But it also comes with an adjustable neck support system that makes it a great option for full-body support.
Synchro-tilt: 1°; backrest 90° to 115°
Adjustable headrest: you can adjust the height and tilt of the head support.
3D armrests: adjust in three directions (up and down; diagonal; forward and backwards).
Seat adjustments: tilt tension control; 3-position tilt lock; height and depth adjustments.
Backrest: 3-position recline; height and depth adjustable lumbar support. The lumbar is also self-adjusting, adapting its pressure to the user's body weight.
Upholstery: choice of mesh fabric or faux leather with foam padding.
The Ergohuman has a rich feature set, but the backrest isn't ideal. You can only recline the backrest in three positions. Other chairs have a more fluid recline range. Since all bodies are different, a 3-point recline is a curious choice for such an expensive chair.
Sizing
The Ergohuman has a compact seat with flat edges. This configuration gives lots of room for the legs.
Seat width & depth: 20.5″ (W) x 18.5″ (D)
Backrest height & width: 28″ (H), 20.5″ (W)
Size rating: people 5'4″ to 6'2″ tall; up to 250 pounds
Buying advice
Compared to the Herman Miller Aeron, the Ergohuman lacks adaptive intelligent mesh. But it exceeds the Aeron with a height-adjustable neck support device. The neck support is our favorite feature. You can adjust the height and angle that fits perfectly into your neck's natural curve.
On the downside, the styling is subdued. Some might even call it bland, or boring. If looks don't matter but advanced ergonomic support does, the Ergohuman is an affordable high-end option.
WorkPro Quantum 9000 ergonomic chair
Current price: $614.07
Rated #8
The WorkPro Quantum 9000 Series is a Herman Miller Aeron knockoff. Made by Office Depot, this model cuts some corners but offers similar features and styling. For less than half the price of the Aeron, it's an intriguing option. Both the Workpro 9000 and the Aeron are mid-back chairs. That means the backrest provides support up to the user's shoulder blades.
They look and work alike, with a few differences. The Aeron uses intelligent mesh upholstery that adjusts to micro-movements. The Workpro also uses mesh, but without the dynamic adaptability. The other big difference is that the Aeron has a height-adjustable lumbar system. The Workpro 9000 uses a fixed lumbar, but the entire backrest is adjustable. That means both chairs let you adjust the lumbar using different methods.
Finally, Office Depot bills the WorkPro Quantum 9000 as having a synchro-tilt function. Both the seat and backrest work as a fixed unit. When the user leans back, the force of their weight angles the seat up by around one inch. That's technically a synchro-tilt, but not at the level of the other chairs.
Features
The WorkPro Quantum 9000 Series comes with padded 3D armrests and a "Waterfall Seat". It slopes down, reducing stress on the legs while you sit. Other key features:
Synchro-tilt: 1°; backrest 90° to 120°
Height adjustable backrest: this features lets the chair cater to a wider range of sizes. It also lets you customize the lumbar support to suit your body type.
Adjustable seat depth: push a switch on the side of the chair to slide between 19″ to 20″ deep. Once you find your sweet spot, lock in place.
Backrest tilt: you can tilt the backrest back by 30° with a lockable tilt that stops rocking.
Sizing
This model suits users between 5'2″ and 6'2″ weighing up to 250 pounds. Its dimensions are best for average-sized adults with slim hips.
Seat width & depth: 20.5″ (W) x 19.25″ (D)
Backrest height: 37″ to 40″ (W)
Size rating: people 5'2″ to 6'2″ tall; up to 250 pounds
Buying advice
If you love the Herman Miller Aeron but not the price, the WorkPro Quantum 9000 Series is a good option. It offers huge savings over the Aeron, with similar features and performance.
Other types of ergonomic office chairs
The synchro-tilt task chairs in this guide are the most advanced ergonomic models on the market. Other types of chairs have some similar ergonomic features, minus the synchro-tilt. Here we list alternatives from most potent to least.
Conventional tilt task chairs
Ergonomic chairs with synchro-tilt are pricey. Ergonomic chairs without synchro-tilt cost a lot less. Excluding the synchro-tilt, features are comparable to pricey Herman Miller chairs. These models come with adjustable lumbar support, adjustable armrests, and a reclining backrest. Like the Aeron, these models also have breathable adaptive mesh upholstery.
Prices range from $359 to $799, but there's not a huge selection. Check out four of the best models from Sidiz, Cougar, Secretlab, and Vertagear.
PC gaming chairs
PC Gaming chairs come with a tall padded reclining backrest. Attached to the backrest is a height-adjustable lumbar pillow and headrest. The padded backrest supports the spine, while the pillows keep it in a healthy alignment.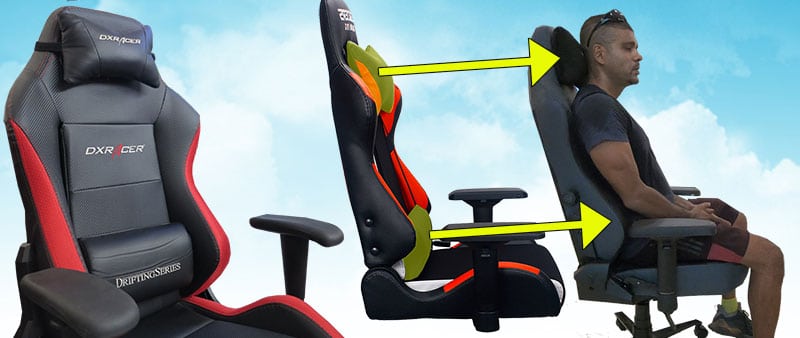 The best pro esports chairs have the richest features. Those models also have 4D armrests and a multifunction tilt-lock. That lets you tilt and lock the seat at different angles.
There's a huge variety of gaming chairs to choose from. Besides pro esports chairs, you can also find a cheap models with basic features for less than $200. There are also specialty chairs for extra-small and extra-large sizes. To browse all genres, check out our gaming chair buying guides:
Cheap ergonomic office chairs
Traditional office chairs have fixed features that provide poor support for full-time computer users. In fact, ergonomic scientists have been pointing out the health hazards of office chairs since the 1990s.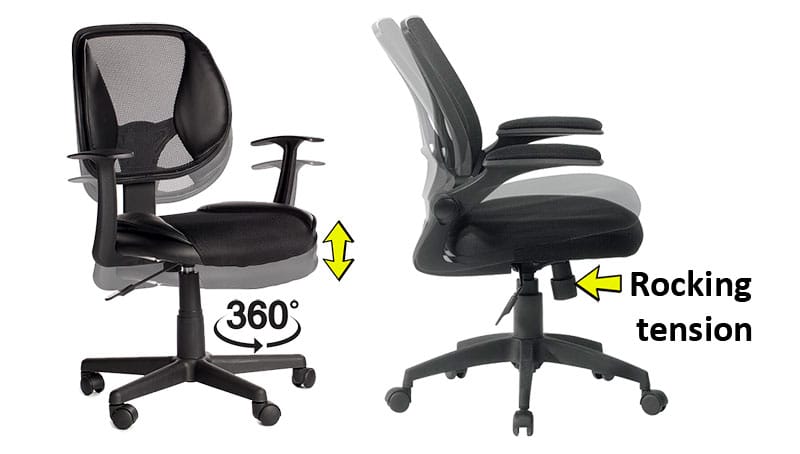 However, the multi-billion dollar office chair industry has only just started to address this reality. That's mainly because while office chair sales are down, demand for ergonomic chairs is booming. As a result, a new breed of affordable ergonomic office chairs is emerging.
Early models are decent but not spectacular. Per established ergonomic chair guidelines, an ergonomic chair needs three features. Those are adjustable lumbar support, adjustable armrests, and a reclining backrest. Among the new crop of ergonomic chairs, only a few meet the criteria. Others have adjustable lumbar and armrests, but no reclining function.
Ergonomic task chair advice
Are you thinking of buying an ergonomic task chair? This section adds additional context to help you make an informed buying decision.
Ergonomic task chair vs PC gaming chairs
Both ergonomic task chairs and PC gaming chairs have the same purpose. That is, to support a healthy posture over long periods of sitting.
The world's first task chair (Aeron chair) first appeared in 1994. That filled an emerging need as computing first became a part of office culture. In the years that followed, esports emerged to become a global phenomenon. As more people spent time gaming, back problems increased. To address those problems, DXRacer released the world's first gaming chair in 2006.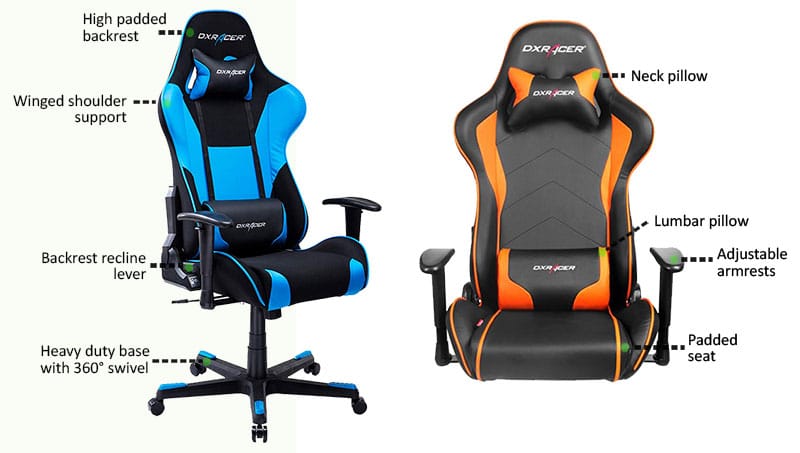 Why didn't gamers use ergonomic task chairs? If they had, gaming chairs may never have been invented.
There are three reasons: first, task chairs are more expensive. The best task chairs cost around three to four times as much as the best PC gaming chair. Second, gaming chairs are more versatile. Task chairs force users to sit in an upright position at all times. In contrast, gaming chairs offer deep recline modes ideal for napping, reading, or watching movies.
Finally, like ergonomic task chairs, gaming chairs good for your back. Whether seated upright or in recline, a tall backrest plus adjustable support cushions keep your posture on-point.
Check out our detailed analysis of gaming chairs versus ergonomic task chairs. That compares different models head-to-head and reaches these conclusions:
Task chairs offer more precise back support than what gaming chairs offer.
Gaming chairs are more comfortable because they support a wider range of recline.
PC gaming chairs offer much better value for money. You lose some precision but gain a wider range of uses for your chair.
Is synchro-tilt worth the price?
The human body thrives when in motion. Sitting in fixed positions reduces the natural pumping action of the muscles. That clogs circulation and delivers fewer nutrients to the intervertebral discs. Synchro-tilt helps sitting bodies to change position while holding a healthy posture.
Synchro-tilt is a luxury. Like Wagyu steak or driving a Lamborghini. You can just as easily freshen the muscles by standing up and walking around for a few minutes. Even on sub-$200 gaming chairs, you can easily switch positions while sitting upright. You can adjust the backrest, the armrests, or the position of the lumbar support.

On the best pro esports PC chairs, you can also angle the seat. Both types of gaming chairs lack synchro-tilt, which means you need to adjust the parts manually.
With synchro-tilt, the chair makes the adjustments for you. Is synchro-tilt worth it? Only the $1000+ Herman Miller chairs offer a broad range of motion through the sync. For instance, the Herman Miller Aeron has the widest range. The seat pan angle is from -1° to 16°. In sync, the backrest has a range of 93° to 104°.
Most task chairs under $1000 only have a 1° seat pan angle. It's a nice feature, but a minor one with such a limited range.
Who should buy a high-end task chair?
If seeking office seating for executives, ergonomic task chairs are a better investment. When the staff sits down in task chairs, they are more likely to work hard. That's because these chairs force users to remain in a working position. It's hard to slack off in a task chair. No matter how you sit, the chair will cradle your body and force you to sit up.
But if looking for a work-from-home chair, a gaming chair is a much better investment. While saving you money, it will become your working chair and also your lounger.
PC gaming chairs are good for your back and super comfortable. It's easy to spend most of your day sitting in one. Through work, play, and hanging out, they ensure good posture and comfort while sitting.
Conclusion
This year, millions of office workers switched to working from home. Typical homes with kitchen chairs and a sofa aren't optimal for working. Thus, 2020 has also seen a huge surge in demand for ergonomic chairs.
What's the ideal centerpiece of the ultimate home office for professionals? For sharp, focused work, few products match the impact of the best ergonomic task chairs.
There are two downsides to buying a high-end task chair. First is the price. The best task chairs cost three times more than the priciest gaming chairs. The second is the disciplinarian aspect. Task chairs offer limited recline range, keeping your body in a position for doing tasks at all times.
The upside is the performance boost. Using a task chair for work will keep you comfortable, rested, and super-focused. Even if you fidget, the chair will adjust and make sure your posture is on-point.
Slackers won't enjoy task chairs. These chairs keep your body aligned with eyes locked onto the computer screen. They make you feel like your only option is to focus and work hard.
Hours pass in a blur of productivity. You will forget that you're sitting and feel like you're floating. Any time the floating sensation stops, alter the back angle, kick in the rocker, or active synchro-tilt.
At the end of eight hours, get up out of your chair. Expect your mind to feel fried from a hard day of work. But your body will feel fresh, and ready to spend the evening moving.