Having a productive workspace is of the utmost importance for high-achievers. That's why so many top execs spare no expense when it comes to healthy seating. This article reviews the world's best ergonomic office chairs. All provide high-performance support to gives power users an edge.
The ergonomic seating market is booming. Hundreds of new chairs are flooding into the marketplace. But don't be fooled. New brands may entice you with trendy designs and fancy marketing. If you make a hasty choice, the results can be counterproductive.
For this reason, our best office chair picks all come from industry leaders.
What is an ergonomic office chair?
Most office chairs are non-ergonomic. At the lowest end, traditional office chairs cost less than $150. They're cheap because they fixed components. However, over long periods of staying seated, they force users into static sitting positions. That stresses certain muscle groups, leading to fatigue. When fatigue sets in, users tend to compensate by slouching.
Ergonomic office chairs are different. Instead of forcing users to adapt to the chair, the opposite happens. High-end ergonomic chairs have moving components that adjust to the user while supporting a healthy sitting posture.
In 2020, healthy ergonomic sitting standards are well-defined. The gist is that humans are not designed to sit for long periods. Doing so leads to health issues like poor posture, chronic pain, and varicose veins.
A good ergonomic office chair needs three adjustable components to counteract the health risks:
Effective lumbar support: solid support for the lower back curve provides the foundation for a healthy sitting posture (learn more).
Adjustable armrests: adjustability helps to sync armrests with the user's body size and desk height. Doing so will spare the spine from having to support the weight of the arms.
Reclining backrest: provides the user with opportunities to move their hips and lower back while sitting.
Best ergonomic desk chairs over $1000
All of the elite models over $1000 share some common features:
Synchro-tilt: as the user reclines, the seat tilts up. In some models, when the user leans forward, the seat angles down. As a result, users moving through the recline ranges enjoy healthy movement in their hips and lower back.
Adaptive backrest: the backrest flexes in response to user movement to provide consistent posture support.
Adjustable lumbar: some models let you control the height and depth of a dedicated lumbar support unit. Others have integrated lumbar support that you customize by adjusting the backrest height.
These models are among the elite class of ergonomic chairs. They have the highest prices, most complex features, and the longest warranties. Paying over $1000 for any of the following guarantees world-leading ergonomic support for over a decade.
Each office chair is rated based on ergonomic features, synchro-tilt performance, and overall value for money.
Herman Miller Embody
Price: $1635
Rated #1
The Embody is the most expensive and also the best ergonomic office chair. On paper, it has less technical adjustability than the Aeron. Even so, it edges ahead with a more responsive backrest and a cleaner, more modern design.
This chair first released in 2008 as a specialty model for computer users. It has a smaller synchro-tilt range than the Aeron, with no forward-leaning support.
Nonetheless, its adaptive backrest is more sophisticated than any chair on the market. For those needing the very best back support, the Embody is unparalleled.
Features
Among its rich features, the Embody has three standouts:
Embody Review
There's a lot to love about the Embody chair. Its Pixelated backrest is the star feature. It not only provides world-leading back support — it also looks cool.
Compared to the Aeron's 25-year-old design, it has a much fresher look. As an accompaniment to a high-end PC or corporate workstation, few options can aesthetically measure up.
On the downside, its star feature is also our biggest gripe. This office chair forces you to sit in a specific posture at all times.

No matter your mood or activity, the Embody will always force you to sit in a position for doing tasks. If you want to relax, you'll need to get out of this chair and move to the couch.
Embody Advice
For power users with a comfortable budget, this is one of the best chairs on the market. It's built to last and will keep your back feeling great throughout those long hours at work or school.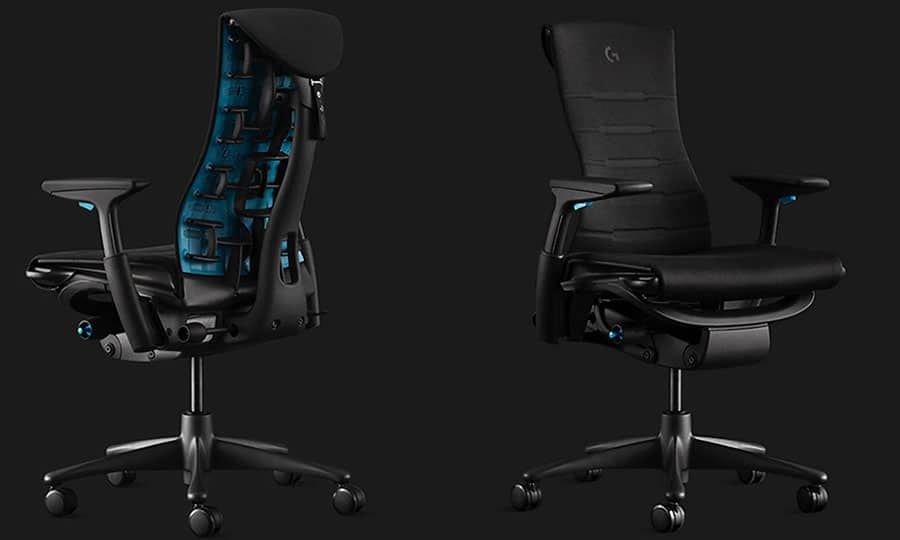 If you have no interest in spending money on such luxuries as being comfy while working hard, don't worry. There are other models available here offering slightly less for much cheaper prices!
Herman Miller Aeron
Price: $1445
Rated #2
Since its debut in 1994, the Aeron has reigned as the gold standard in ergonomic seating. None match its level of technical precision or complexity. It's the best ergonomic office chair for those seeking a timeless aesthetic.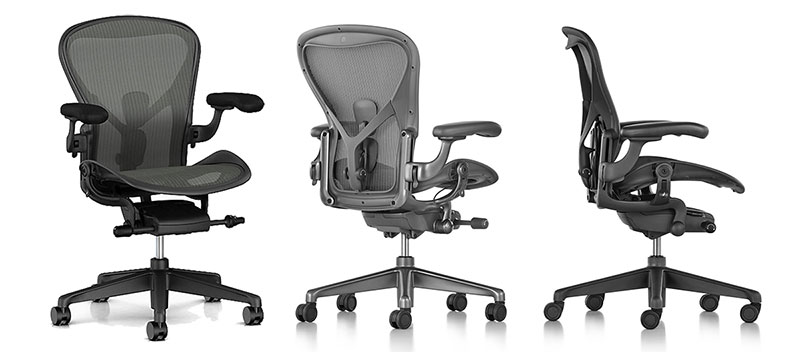 The design is a classic; so close to perfect that it's only had two updates in 27 years. A 2017 update introduced 8Z pellicle mesh, a lumbar support upgrade, and minor tweaks. A 2020 update saw new "gamified" designs added, along with an entire gaming collection.
But despite its laurels, the Aeron ranks #2 in this review. That's because while its design is a classic, it's also dated when compared to the Embody.
Features
Among its stacked feature set, the Aeron has three standouts:
Features summary
The Aeron comes in three different sizes. Size A fits users 4'10" to 5'9″ and up to 150 pounds. Size B fits users 5'2″ to 6'6″ and up to 325 pounds. The large size C fits users between 5'3″ to 6'7″ and up to 350 pounds.
Aeron Review
The Aeron is one of the best ergonomic office chairs on the planet. Few other chairs match up to its features, durability, or performance.
On the downside, it's very expensive. Its old-school design may also turn off gamers looking for bling. On top of that, it doesn't come with a headrest option (although third-party headrests exist).
Despite the quibbles, this office chair is well worth the investment. It supports good back posture at all times, whether leaning forward or back.
The synchro-tilt functionality is also next-level. That moves the seat in sync with your body, keeping your posture balanced while sitting at a desk.
Steelcase Gesture
Price: $1112 (without headrest)
Rated #3
The Gesture is the best ergonomic office chair in the Steelcase collection. As part of the its development, Steelcase conducted a global posture study. It found that emerging tech had an erratic influence on users. People were adapting to tech fluidity with a wider range of unhealthy postures.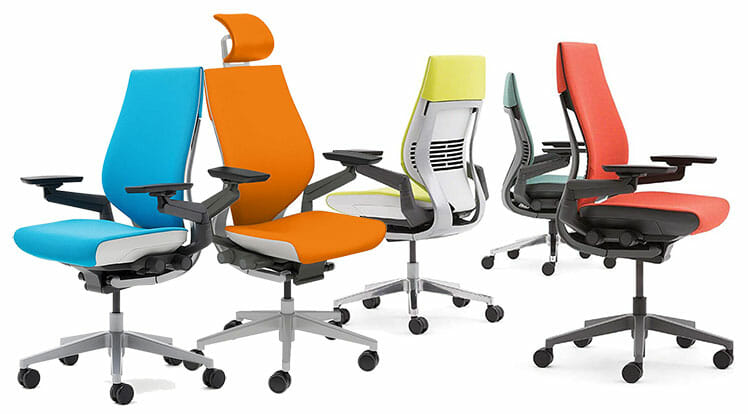 To address this, the Gesture chair has a dynamic, adaptive backrest. It also has a synchro-tilt feature, but with a smaller range than the Aeron chair.
But compared to the Aeron, the Gesture office chair pulls ahead in three areas. First, it's cheaper by a few hundred dollars. Second, it comes with a headrest option to enable full-body support.
Third, the Gesture has the largest armrest adjustment range in the industry. You can pull the arms in to support mobile device use. You can also swing them away from your body whenever you want.
Features
Within its rich array of features, the Gesture chair has three highlights:
Features summary
Steelcase Gesture features and dimensions:
Gesture Review
Beyond the high price, it's hard to find something to complain about with this chair. In Techlead's review of programmer chairs, he found two quibbles.
First, he found the design 'too delicate'. Second, its foam padded seat isn't as breathable as a full-mesh seat.
Beyond such minor issues, the Gesture reigns as the best office chair in the Steelcase collection. It's an expensive investment, but it's worth every penny. When you first start using it, expect constant delight at its sleek looks and rich features.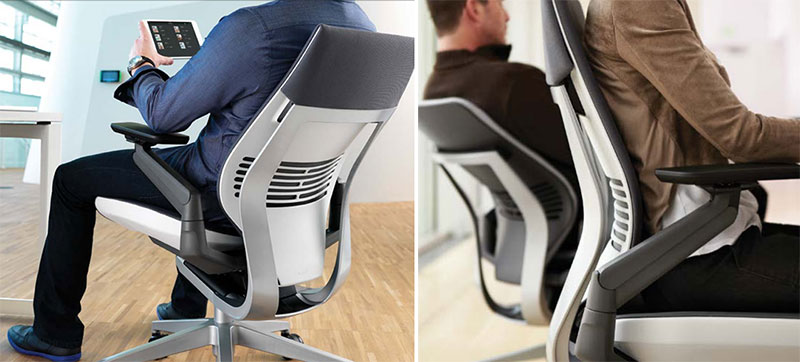 But as time goes on, your excitement may fade away into indifference. In fact, you might stop noticing your chair altogether.
That's because of its high-level comfort and adaptability. It's so comfortable and adaptive that you might forget that you're sitting!
Herman Miller Mirra 2
Herman Miller price: $1045 (fully-loaded)
Rated #4
Made in the USA, the Herman Miller Mirra 2 has a contemporary look and robust ergonomic features. It combines the round curves of the Aeron with a flexible backrest reminiscent of the Embody.
The chair's base, mechanism, and armrest frames are aluminum. The backrest, seat frame, and armrest shells are all made from flexible polyurethane. Those parts allow mild flexion as the user moves around.
Over the plastic seat shell is a breathable mesh fabric. That provides ultra-breathability that adapts use the user moves. That keeps weight evenly distributed, helping the user to maintain balance while in perfect alignment.
Mirra 2 features
Here are the Mirra 2 chair's notable features, followed by a summary of all features:
Features summary
Mirra 2 features and dimensions:
Mirra 2 Review
The Mirra 2 has one technical issue: the armrests may be too wide for shorter users. The height adjustment is fine, ranging from 3.5″ to 8.5. However, the width range is 18.5-20.5″. In comparison, the Embody chair's range is 11.5-21″.
Those with shorter arms might struggle with the armrest width. With armrests are too wide, shoulders will jut out at an angle. That will place increasing pressure on the shoulders, leading to stiffness and pain.
Otherwise, the Mirra 2 has a lot going for it. Aesthetically and functionally, it's like an updated version of the classic Aeron chair. It has the same round curves and adaptive mesh seat, plus a similar array of adjustable features. The 'updates' are evident in the Butterfly backrest and aesthetics.
The former combines the flexibility of the Embody's Pixelated backrest with the Aeron's adaptive mesh. The latter includes a huge range of color options. The bottom line is that the fully-loaded Mirra 2 comes with everything you need for a high-end sitting experience.
Steelcase Leap
Price: $1029
Rated #5
Released in 1999, the Leap chair was the longtime flagship of the company before the Gesture chair emerged. The Leap was the first Steelcase model to employ an adaptive, 3D Live Back backrest. Over the years, this model enjoyed many revisions that helped it maintain its position on the cutting edge.
Compared to the Gesture, there are two key differences. First, the Leap chair's 4D armrests have a smaller adjustment range. Second, the Leap chair employs an alternative version of synchro-tilt.
When a user reclines in a Leap chair, the seat tilts up by one degree, but also extends forward. When the user leans forward, the seat slides back to its original angle and depth.
That allows for healthy movement in the hips — while also keeping the thighs consistently parallel with the floor.
Steelcase Leap features
The modern version of the Leap comes with every feature imaginable. The armrest width range is impressive (although it's 4″ less than the Gesture's width range).
Another thing we like about the Leap is the easy lumbar support adjustment. Simply reach behind the chair and slide up or down until you find your sweet spot.
If you choose the headrest addon, it comes with four inches of height adjustment range. Toggle up and down until it fits the nape of your neck. Then, lock into place.
Leap Chair Review
The Steelcase Leap offers a decent price, superb build quality, and robust adjustable features. Features match up well with more expensive chairs, making it easy to customize for your needs.
The only thing missing is a height-adjustable backrest. The dedicated lumbar support is height adjustable for the small of your back. A height-adjustable backrest unit would make this model a better fit for users taller than 6'2″.
That's the only complaint we have with this chair. Overall, it's an excellent option offering robust features and solid value for money.
Best ergonomic desk chairs under $1000
Below the elite chairs are a handful of cheaper office chairs worth considering. These have similar features as the expensive chairs, with some corners cut. Examples:
Hard-shell backrest instead of a flexible adaptive one.
Smaller synchro-tilt range.
Limited backrest recline (can only tilt and lock into a few positions).
As well, outside of Steelcase and Herman Miller chairs, most others offer shorter warranties between 2-5 years.
Steelcase Think
Price: $714
Rated #6
This is a stripped-down version of the elite Steelcase chairs. Its key missing feature is a backrest with a variable recline tilt-lock.
Instead, the Think chair has a weight-activated recline. To lean back, you need to push up with your feet while leaning back with your upper body.
Think chair features
Minus a variable-tilt backrest lock, the Think chair matches the features of the pricier chairs, with some tweaks. For example, the lumbar support is powered by dual springs that provide consistent support through all possible ranges of motion.
Think Chair Review
The base Think chair comes with a range of powerful (and optional) addons. These include 4D armrests ($145.35), an adjustable lumbar ($34), and a headrest ($98.60 extra).
Without question, you should invest in both the 4D armrests and adjustable lumbar. Minus those, the Think becomes a very basic chair with limited ergonomic potency.
In contrast, the height-adjustable headrest is optional, depending on your taste. Some enjoy having their neck supported, while others prefer the freedom of sitting without one.
Herman Miller Sayl
Price: $935
Rated #7
The Sayl is an adjustable chair with similar features as the Aeron, with some cutbacks. There are two highlights. First, a robust synchro-tilt with a seat tilt range of -3° to 13°.
Second, an adaptive backrest with a radically unique design. Instead of breathable mesh, the Sayle chair's backrest is made from curved plastic polymer pieces in a range of colors.
At first, the look is jarring, reminiscent of a laundry basket. But once you get your head around the Sayle's concepts, its aesthetics make sense.
Sayl chair features
The Sayle's backrest applies the same suspension principles as the Golden Gate Bridge. It uses a suspension tower to support an unframed plastic backrest.
As the body moves, the plastic backrest stretches to adapt. At the same time, the suspension tower keeps posture intact. The result provides the freedom to move, with consistent adaptive support.
From the side, the chair resembles a full mainsail. The name "Sayl" references the sailing vessels that often pass under the Golden Gate bridge.
Another cool feature exclusive to the Sayle is a manual downward seat tilt. For users who often lean forward, you can manually set the seat to slope down.
Sayle Chair Review
The Sayle's biggest limit is its recline. It can only lock into three positions: 91, 101, or 124 degrees. For forward-leaning work, angle to 91 degrees and slope the seat down. For upright work, the 101-degree angle is best. Use the 124-degree setting for web surfing and relaxing.
Beyond that limit, the Sayle offers good value for money. It fuses the ultra-adaptive backrest of the Embody with the synchro-tilt of the Aeron into a sleek new package. Highlights:
A flexible backrest that supports the back, no matter what position the user sits in.
The powerful synchro-tilt function angles the seat up or down, depending on your depth of recline.
To support working while leaning forward, you can slope the seat down to as much as -3°.
At present, the Sayle comes in classic and gamified colors. The former designs are muted, while the latter are bolder, with striking color schemes.
Once you get past the jarring backrest aesthetics, expect smooth Sayl-ing luxury support for 12 years or longer.
Sidiz T80
Amazon price: $552.50
Rated #8
The Sidiz T80 is South Korea's most popular ergonomic chair. Made by a local design team, it was first released in 2014.
In 2019, South Korean powerhouse team Gen G adopted the T80 as its official chair. A few months later, noted streamer DrDisrespect did the same.
Today, the T80 is a popular high-end alternative to more expensive models. It comes bundled with synchro-tilt, a downward-sloping seat, adjustable lumbar, and more.
There are now three styles to choose from. Beyond the original classic edition, the T80 also comes in Captain America and Iron Man designs.
T80 features
The Sidiz T80 encourages dynamic sitting. You can adjust the lumbar support, armrests, seat depth, seat angle, and neck support.
Unlike the fluid Aeron chair, the T80 backrest only reclines in four positions. Its synchro-tilt is also more limited, working with the standard 1° seat tilt angle range.
Even so, the T80 still supports forward-leaning work. A manual setting lets you slope down the seat to support forward-leaning.
T80 Review
The T80 is cheaper than the best office chair models. The main corner cut is a variable backrest recline. Unlike the premium chairs, the T80 can only lock into four different recline positions.
That should provide enough range for most people, although it still falls short of what the premium chairs offer. Another limitation compared to pricier chairs is the warranty. This model only comes with 3-year protection.
On the plus side, the T80 offers comparable features for a lot less money than the famous models. That makes it perfect for those wanting premium features without cutting too many corners.
Eurotech Ergohuman mesh chair
Current price: $759.00
Rated #9
The Ergohuman chair has all the bells and whistles. It only ranks behind the others for some minor quibbles. The style is very plain. It costs a few dollars more than the Sidiz chair. It costs a few hundred more than the Hon Ignition.
But the positives outweigh the quibbles. The Ergohuman packs in an impressive array of features.
Ergohuman features
Eurotech Ergohuman chairs have the same features as the high-end chairs. You get an adjustable lumbar, synchro-tilt, and adjustable armrests.
It also comes with an adjustable neck support system that makes it a great option for full-body support.
Ergohuman Review
Compared to the Aeron, the Ergohuman lacks adaptive intelligent mesh. But it exceeds the Aeron with a height-adjustable neck support device. The neck support is our favorite feature. You can adjust the height and angle that fits perfectly into your neck's natural curve.
On the downside, the styling is subdued. Some might even call it bland, or boring. If looks don't matter to you – but advanced ergonomic support does – the Ergohuman is an affordable high-end option.
Eurotech Ergohuman on Amazon $759.00
Ergonomic Office Chair advice
Are you willing to spend so much on an ergonomically designed chair? If not, several alternatives offer (somewhat) comparable ergonomics for a lot less money.
Conclusion
Last year, millions of office workers switched to working from home. Typical homes with kitchen chairs and a sofa aren't optimal for working. Thus, 2020 saw a huge surge in demand for ergonomic chairs.
That trend continues into 2021. So what's the ideal centerpiece of the ultimate home office for professionals? For sharp, focused work, few products match the impact of the best ergonomic task chairs.
Investing in a high-end task chair will in most cases yield a noticeable performance boost. Using one for full-time work will keep you comfortable, rested, and super-focused. Even if you fidget, the chair will adjust and make sure your posture is on-point.
Once you get used to your new chair, expect hours to pass in a blur of productivity. Expect to forget that you're sitting and feel like you're floating. Any time the floating sensation stops, alter the back angle, kick in the rocker, or active synchro-tilt.
At the end of the workday, expect your mind to feel fried from consistent super-productivity. At the same time, your body will feel fresh, with plenty of energy left over for leisure and pleasure.
For more multi-chair comparisons, check below: