Having a productive workspace is of the utmost importance for high-achievers. That's why so many top execs spare no expense when it comes to healthy seating. This article reviews the best ergonomic office chairs with sync-tilt functionality. All provide high-performance support to give power users an edge.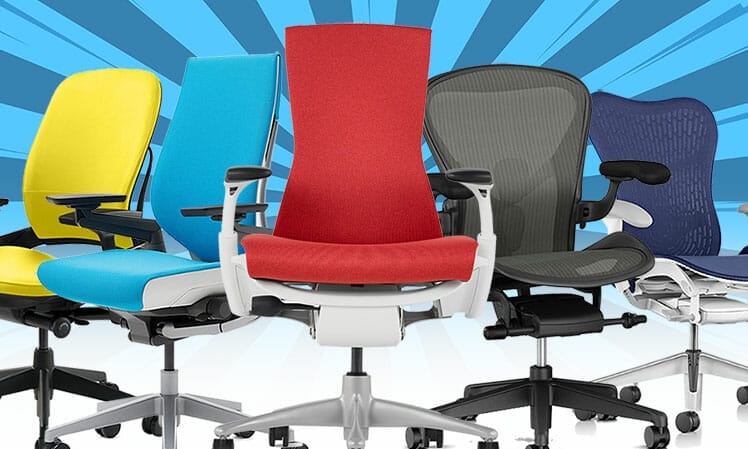 The ergonomic seating market is booming. Hundreds of new chairs are flooding into the marketplace. But don't be fooled. New brands may entice you with trendy designs and fancy marketing. If you make a hasty choice, the results can be counterproductive.
For this reason, our best office chair picks all come from industry leaders.
What Is An Ergonomic Office Chair?
Most office chairs are non-ergonomic. At the lowest end, traditional office chairs cost less than $150. These come with fixed components that force users into static sitting positions. That stresses certain muscle groups, leading to fatigue. When fatigue sets in, users compensate by slouching.
Ergonomic office chairs are different. Instead of forcing users to adapt to the chair, the opposite happens. High-end ergonomic chairs have moving components that adjust to the user while supporting a healthy sitting posture.
In 2020, healthy ergonomic sitting standards are well-defined. The gist is that humans are not designed to sit for long periods. Doing so leads to health issues like poor posture, chronic pain, and varicose veins.
A good ergonomic office chair needs three adjustable components to counteract the health risks:
Effective lumbar support: solid support for the lower back curve provides the foundation for a healthy sitting posture (learn more).
Adjustable armrests: adjustability helps to sync armrests with the user's body size and desk height. Doing so will spare the spine from having to support the weight of the arms.
Reclining backrest: provides the user with opportunities to move their hips and lower back while sitting.
Best Sync-Tilt Desk Chairs Over $1000
All of the elite models over $1000 share some common features:
Synchro-tilt: as the user reclines, the seat tilts up. In some models, when the user leans forward, the seat angles down. As a result, users moving through the recline ranges enjoy healthy movement in their hips and lower back.
Adaptive backrest: the backrest flexes in response to user movement to provide consistent posture support.
Adjustable lumbar: some models let you control the height and depth of a dedicated lumbar support unit. Others have integrated lumbar support that you customize by adjusting the backrest height.
These models are among the elite class of ergonomic chairs. They have the highest prices, most complex features, and the longest warranties. Paying over $1000 for any of the following guarantees world-leading ergonomic support for over a decade.
Each office chair is rated based on ergonomic features, synchro-tilt performance, and overall value for money.
Best Sync-Tilt Task Chairs Under $1000
Below the elite chairs are a handful of cheaper office chairs worth considering. These have similar features as the expensive chairs, with some corners cut. Examples:
Hard-shell backrest instead of a flexible adaptive one.
Smaller synchro-tilt range.
Limited backrest recline (can only tilt and lock into a few positions).
As well, outside of Steelcase and Herman Miller chairs, most others offer shorter warranties between 2-5 years.
Conclusion
What's the ideal centerpiece of the ultimate home office for professionals? For sharp, focused work, few products match the impact of the best ergonomic task chairs.
Investing in a high-end task chair will in most cases yield a noticeable performance boost. Using one for full-time work will keep you comfortable, rested, and super-focused. For more multi-chair office comparisons, check this::