Three adjustable features help ergonomic chairs support neutral postures. An adjustable lumbar aligns the spine; adjustable arms add bracing to hold it upright. A lock reclining backrest adds movement. This formula works fine on fully-ergonomic $200 ergo chairs. Paying more buys a nicer experience — but not perfection. Do luxury aesthetics, fancy tilt functions, and longer warranties justify premium price tags? Let's review the best ergonomic chairs of 2023, their key selling points — and their most glaring downsides.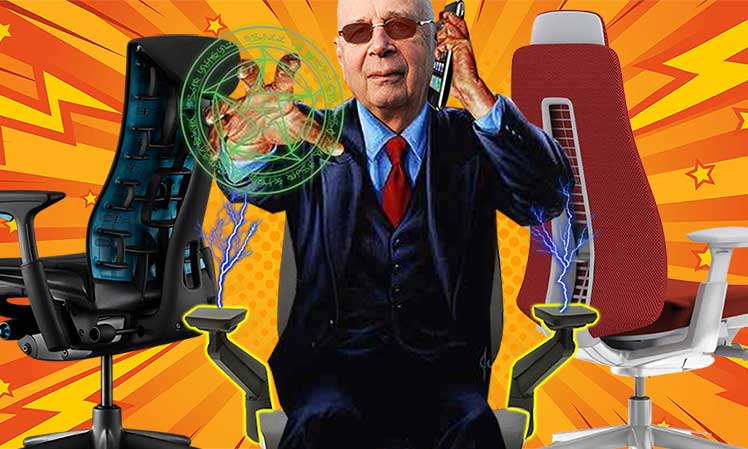 First-time ergo chair buyers may assume that paying more ensures 'better' back support. So spending over $800 should ensure 'medical grade' back support, right? Wrong. 'Medical grade' back support is a myth.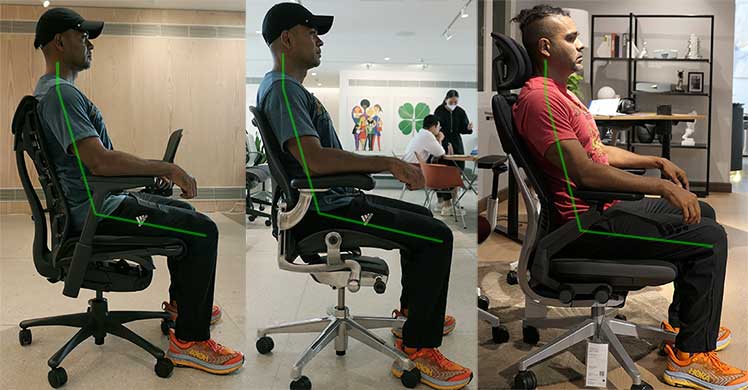 In fact, all fully-ergonomic chairs have the same biomechanical ends. For example, the $498.00 Steelcase Series 1 delivers the same quality of back support as much pricier chairs.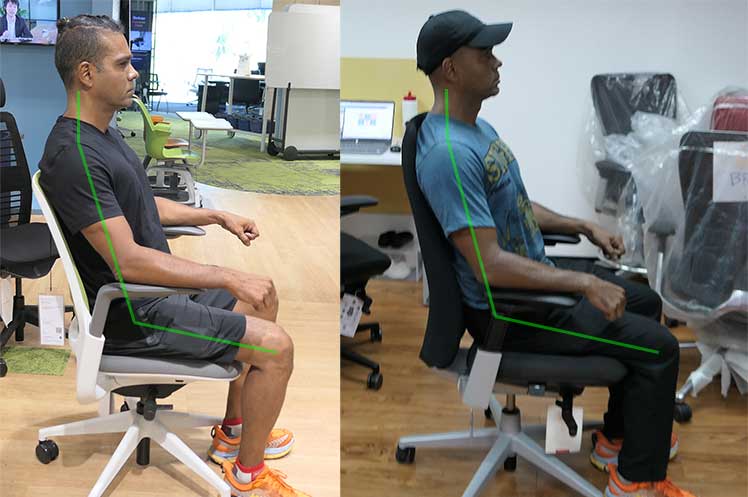 So why pay $800 to $2500 for a high-end model? Most serve up a cookie-cutter lumbar-powered support style. Are they really worth the high price? Let's take a skeptical look at the best ergonomic office chairs of 2023.
Best Tier 1 Elite Ergonomic Chairs
Herman Miller's two flagship chairs are legit. Each brings something unique to the table. Meanwhile, the Steelcase Gesture is the closest competitor to Herman Miller's best.
Are these chairs worth paying a premium for? Let's investigate:
Herman Miller Embody: justifies its high price with a unique upper back support concept. When used correctly, it works very well.
Herman Miller Aeron: run-of-the-mill neutral posture support with the world's best mesh upholstery — by a large margin. Sitting in this chair will instantly make you feel happy.
Steelcase Gesture: its 360° arms don't fully support mobile computing. Otherwise, it provides solid neutral posture support in a good-looking package.
Best Tier 2 Elite Ergonomic Chairs
These mega-corporate chairs are a cut below the elites. Both Herman Miller and Steelcase serve up several cheaper alternatives. Meanwhile, although many bill Haworth's Fern as elite, a glaring technical flaw suggests otherwise.
Herman Miller Mirra 2: a modernized version of the Aeron with a height x depth lumbar. It's (arguably) technically better than the Aeron — with inferior aesthetics.
Steelcase Leap: does everything the Gesture does, for a bit less money. On the downside, good back support plus plain styling isn't super inspiring.
Haworth Fern: its gimmicky flexy backrest draws praise. But its overly low lumbar curve should be acknowledged.
Post-Cubicle-Era Ergonomic Evolution
Herman Miller's Aeron kicked off the ergonomic seating revolution in 1994. It introduced a revolutionary concept: a chair that supports good posture while sitting.
Most high-end ergonomic office chairs that followed also have designs that are at least 10 years old. That includes the Steelcase Leap (1999), Herman Miller Embody (2008), and Steelcase Gesture (2013).

Circa 2023 (29 years after the Aeron release) chairs that support good posture are ubiquitous. In fact, plenty of fully-ergonomic models can do the job for under $350.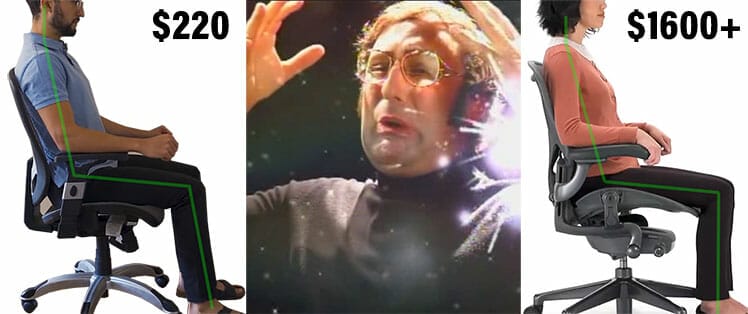 Further, user habits matter more than the price of one's chair. In fact, anyone with neutral posture know-how and a basic ergonomic chair can enjoy near-perfect posture support.
As well, the allure of 90s-era office chair 'luxuries' have faded with time. In fact, the similarity of products among the top office furniture brands is a big challenge they all struggle with these days. So what's the incentive to pay more?
Conclusion: Hype Justifies $1000+ Chairs
Across the internet, high-end office chairs from office furniture megacorporations draw high praise. By keeping ergonomic fundamentals obscure, punters get duped into spending more than necessary.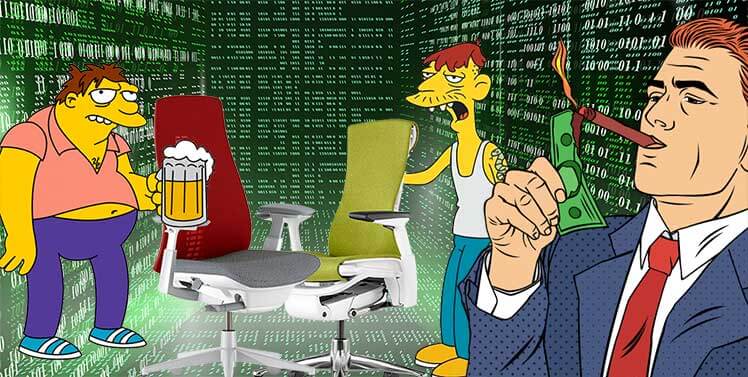 Any model from Herman Miller, Steelcase, or other top-5 brands is likely to draw often undeserved praise. But in fact, all elite chairs do a similar job as much cheaper chairs.
Any model with adjustable lumbar support, adjustable arms and a reclining backrest supports neutral postures. This includes full-back gaming chairs like the Secretlab Titan.

Among the elite ergonomic office chairs, the Embody and Aeron both justify high prices with unique back support technologies that work very well. The rest also work well, but with a predictable, cookie-cutter-neutral support experience.
Modern Seating Parameters
Through an old-school, Windows 1.0, cubicle-era lens, the priciest ergonomic chairs look like medical-grade engineering marvels. But the times have changed. These days, even a cheap $200 beater can support neutral postures.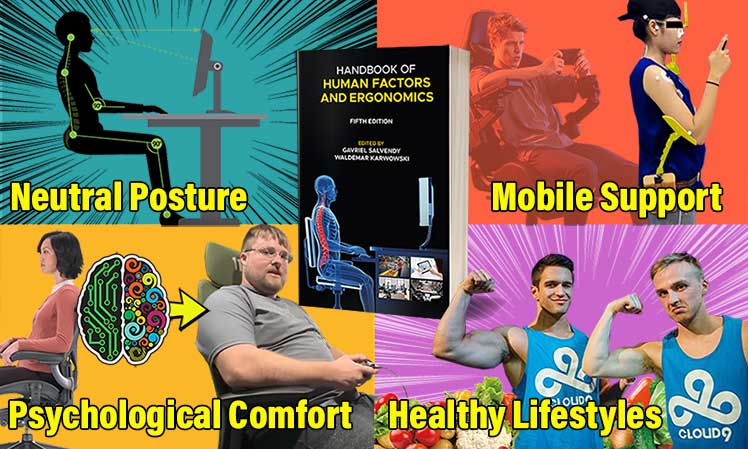 Luckily, institutional ergonomic leaders have defined new parameters for the post-cubicle, multi-device computing era. Meanwhile esports optimization performance trends are going mainstream. Summary of shifting winds:
Back support innovations have peaked: neutral posture support is a 90s-era technology with no further room to develop.
Movement beats perfect sitting posture: these days, many esports docs hype using neutral sitting as a broad guideline; frequent movement breaks take precedence.
Psychological appeal is a major factor: the best ergonomic office chairs stand out with flashy extras designed to titillate.
Mobile computing support is the next innovation frontier: mobile compliance sets the best Tier 1 chairs apart, with plenty of room to innovate.
Megacorporations make the only legit Tier 1 chairs: the quality gap between Tier 1 vs non-corpo models is self-evident.
The market does not need new chairs: the Secretlab Titan updates every two years. Instead of new models, updates on existing chairs (like a height-adjustable Fern backest) will yield greater rewards.
Bottom line: before spending over $1000 on a chair, make sure you're satisfied with the genuine (non-hyped) return. To shake away cubicle-era cobwebs, read this: