The world's finest ergonomic office chairs are legit. Each serves up crisp neutral posture support that's like heaven for your back. But fully-ergonomic $200 ergo chairs can do the same job. Paying more buys sexier aesthetics, flashier components, and a longer warranty — but not perfection. Thinking of splashing out on a world-class ergonomic chair? This article lists the best models of 2023 — and their key downsides.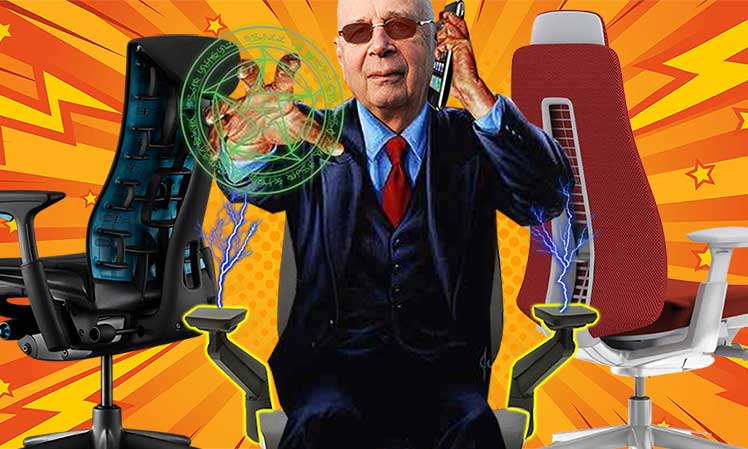 The best ergo office chairs are made by the largest office furniture mega-corporations. Across the internet, you'll find glowing praise for Herman Miller, Steelcase, and Haworth chairs. It's deserved – their products are truly world-class.
However, fancy $2000 ergo chairs do the same job as cheaper ones! Experienced ergo chair users know that paying more buys extraneous luxuries on top of the ergonomic necessities.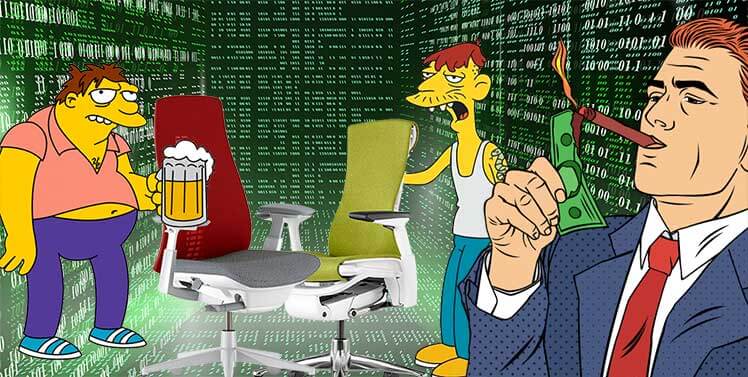 These luxuries yield greater sensory pleasures — not 'better' back support. Newbies that overspend on false assumptions may regret it.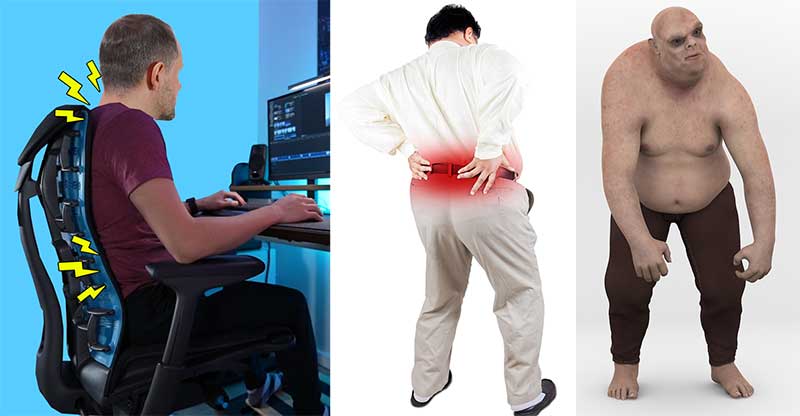 For example, imagine spending $1700 on a Herman Miller Embody, using it improperly, and then ruining your posture! With flawed expectations pumped up by newbie overspending, this outcome is common!
Reality: All Ergo Chairs Do The Same Job
A healthy standing posture produces a 0° neck tilt and 25-45° lower back curve. Sitting unsupported for long periods flattens that curve.
Then, the upper back and neck tilt forward, curling the entire spine into a slouch. Ergonomic seating mitigates slouching via three adjustable features: lumbar, arms, and backrest.

Combined, these features support users into neutral sitting postures. However, any chair with these features — even a $200 one — provides the same neutral posture support! So why pay more?
The biggest reason: psychological appeal is an important comfort factor. Studies show that when a chair looks more appealing, users find it more comfortable.
Paying more for a world-class desk chair gives you more than good back support. It also buys you impeccable build quality, fancier adjustments, and stunning good looks.
Multi-Device Ergonomic Seating Factors
The Herman Miller Aeron debuted as the world's first elite ergo chair in 1994 — the height of the desktop computing era. In 2008, as mobile computing took hold, Herman Miller released the Embody chair to support multi-device computing.
Soon after, Steelcase conducted a global study on emerging multi-device computing habits. In 2013, the Steelcase Gesture emerged as a result of that research.
Fast-forward to late 2021. Then, the Handbook of Human Factors and Ergonomics 5th edition unveiled new institutional ergonomic priorities.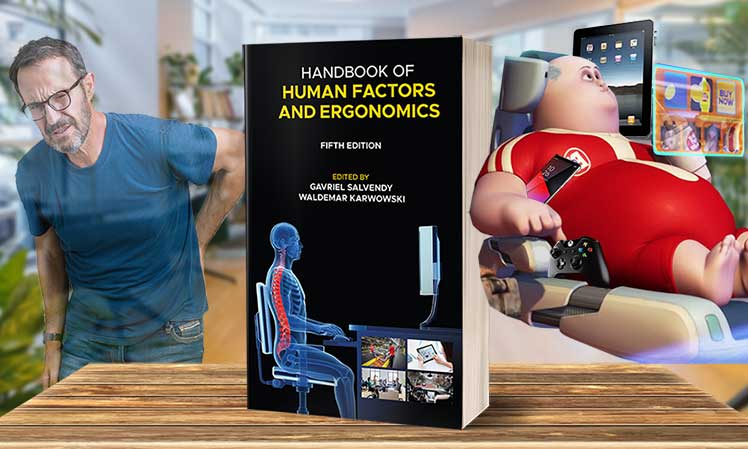 While good back support remains a priority for desktop computing, multi-device computing support now takes precedence. With that shift comes updated computing performance factors. Some of these go beyond what a chair can provide:
Beyond good back support, modern desk workers need to be mindful of text neck syndrome while using mobile devices.
There's a clear distinction between psychological and physical comfort to keep in mind. Aesthetics improve perceived comfort.
Neutral sitting habits (0° neck tilt + 25-45° lower back curve) reduce musculoskeletal stress.
Healthy lifestyles take computing performance to a higher level.
Mobile Armrest Compliance Comparison
The Gesture stands apart from the crowd with fully-compliant 4D arms — supercharged with 360° rotating functionality. Meanwhile, mobile neck and upper back support is the driving ergonomic challenge of this modern era.
In 2023, Haworth's Fern is the only other chair with mobile-compliant arms. Surprisingly, Herman Miller's Embody 'computing' chair does not qualify!
| | | | | |
| --- | --- | --- | --- | --- |
| Model & Type | Height Range | Width Range | Arm Cap Pivot | Mobile Compliant? |
| Gesture; 4D | 7.25-11.5″ | 10.25-22.5″ | 360° rotation | Yes |
| Fern; 4D | 6.7-11.5″ | 7.5″ range per cap | 40° pivot | Yes |
| Embody; 2D | 4-8.75″ | 11.5-21″ | None | Sort of |
Best Tier 1 Ergo Office Chairs
This article focuses on the downsides of the world's best ergonomic office chairs. Even so, we're still rating their overall merits. Rankings are based on 2023 desk working performance factors that relate to seating:
Back support quality
Quality of mobile computing support
Psychological Appeal
Ability to support healthy 0° neck angles
Ease of use
In 2022, the Herman Miller Embody ranked as our top-rated ergonomic chair. In 2023, these updated (beyond desktop computing) factors drop it down to third place! The Gesture takes over as #1, followed closely by the Haworth Fern.
Steelcase Gesture
Price: $1347
Rated #1
Concept: ultimate multi-device ergonomic computing chair.
Highlights: next-level mobile arms + a 3D Liveback supports good posture through all ranges of motion.
Downsides: not as aesthetically spectacular as the Embody or Fern; cheaper Steelcase chairs do a similar job for less money.
Three technologies combine to rank the Gesture as the best multi-device computing chair of 2023. The first is an optional ($28) height-adjustable lumbar that's well worth buying.
The second is a built-in 3D Liveback system. As the user reclines, it expands to provide deeper support into the lumbar region. To ensure a good fit, the optional lumbar adjustment lets you customize the height to your spine.
Third, the Gesture boasts it the best mobile-compliant armrests in the world. They adjust high enough to support the elbows, with 360° rotating tops to place support where you need it.
Gesture Downsides
The Embody and Fern chairs dazzle with ultra-adaptive backrests. These stick to your spine like glue while responding to micro-movements. In contrast, the Gesture's 3D Liveback only adapts to the lower spine.
The Gesture's 3D Liveback is also hidden behind plastic blinds. That means you won't enjoy the jaw-dropping visuals that Embody or Fern chairs deliver. Even so, aesthetic furniture appeal only mesmerizes for a few weeks.
Then, even the most vibrant design will start blending into the background. Therefore, the Gesture's biggest downside is worth noting — but not a dealbreaker.
Features
Most chairs in the elite class offer ultra-adaptive backrests, mega-adjustable arms, and some high-tech frills. The Gesture is no exception.
3D Liveback
Sync Tilt
Mobile Arms
3D Live Back delivers adaptive lumbar support when the user reclines. In other chairs, reclined postures create a gap between the spine and the backrest.

3D Liveback fills that gap, keeping the lumbar curve intact through all ranges of motion. To ensure a good fit, use the lumbar height adjustment function.
The Gesture chair's sync-tilt operates at a 2:1 ratio. When you recline the backrest by two degrees, the seat will angle up by a
maximum
of one degree.

The Gesture's mobile-compliant 360° arms have a massive 10.25-22.5″ width range.
This design cleverly supports good back and neck posture while desktop, mobile, or tablet computing.
Specifications Summary
For a detailed rundown, see this Steelcase Gesture Functionality Review. Quick specs:
Synchro-tilt: seat angle 1°; backrest recline from 98° to 116°
Seat: height and depth adjustments.
Armrests: 4D armrests. Height range 7.25-11.5 inches; width range 10.25-22.5 inches.
Back support: adjustable lumbar support; adaptive 3D Live Back system; 3-position seat and backrest tilt lock.
Warranty: 12 years.
Seat width x depth: 19.25″ (W) x 15.75 to 18.75″ (D)
Backrest height x width: 24″ (H), 16.25″ (W)
Floor to seat range: 16-20.5″
Chair height: 38.5-43.5″
Size rating: 5'4″ to 6'2″; up to 400 pounds
Why You Should Not Buy A Gesture Chair
First, the Gesture's design isn't as flashy as the Embody or Fern chairs. After spending so much cash, its lack of visual pop may feel deflating.
Pros
Adaptive back support system
12-year warranty
Versatile sizing
Easy to use
Mobile compliant armrests
Cons
Cheaper Steelcase chairs have similar features (minus the mega arms)
Plain grandma-style aesthetics
Second, minus its 360° mobile arms, several cheaper Steelcase chairs (like the $561 Series 1) have the same features. That includes 3D Liveback, a seat slider, and synchronous tilt functionality.
So instead of splashing out on the Gesture, you can get a cheaper Steelcase model. Then, parlay the savings into a sit-to-stand desk (desktop, mobile, and standing support).
Learn more: Best Steelcase Desk Chairs 2023
Gesture from SmartFurniture $1347
Fully-loaded Gesture chairs (adjustable lumbar, seat slider, sync-tilt, etc) are available on Amazon for $1,384.65.
Haworth Fern
Price: $1,545.00 Rated #2
Concept: fusing the best of the Gesture and Embody chairs into a unique hybrid.
Highlights: ultra-adaptive backrest (like the Embody); mobile-compliant arms and ease of use (like the Gesture).
Downsides: beyond a flashy backrest and versatile arms, it's a run-of-the-mill ergonomic chair.
The Herman Miller Embody debuted in 2008 as the first ultra-adaptive multi-device computing chair. Then came the Steelcase Gesture in 2013. In 2016, Haworth combined those seating concepts into a unique hybrid called the Fern.
Haworth's fusion is legit. Like the Gesture, its armrests are adjustable enough to support mobile computing (but they're a bit less spectacular).

Like the Embody, its backrest adapts to micromovement as you move in the chair. It's also kitted with sync tilt, a seat slider, and even a forward seat tilt mode. On paper, the Fern is almost perfect.
Fern Downsides
There are two downsides. First, the Fern's backrest has a built-in lumbar curve that extends outwards slightly above the seat. You cannot adjust the backrest height.
As a result, the built-in curve will hit most people in the pelvic area — not the lumbar spine. That compels users to slide their hips forward! The optional sliding lumbar addon can override this problem.
Also, many esports therapists now insist you don't need perfect posture. Quasi-neutral postures + movement can keep the spine in shape. From that perspective, the Fern's ultra-flexible backrest can also mitigate hip curl issues.
The second downside is the Fern's crappy warranty: its parts are guaranteed for 12 years. However, the upholstery is only covered for three — absurd, given the $1,545.00 price tag!
Features
The Fern's armrests don't match up to the Gesture's 360° rotational ones. Even so, they do a decent job supporting mobile computing.
| | | | | |
| --- | --- | --- | --- | --- |
| Model & Type | Height Range | Width Range | Arm Cap Pivot | Mobile Compliant? |
| Gesture; 4D | 7.25-11.5″ | 10.25-22.5″ | 360° rotation | Yes |
| Fern; 4D | 6.7-11.5″ | 7.5″ range per cap | 40° pivot | Yes |
The other standout: its backrest matches the jaw-dropping adjustability of the Embody chair. However, it's not as complicated to configure or use. In fact, it's super-easy.
Summary of Specifications
The Haworth Online Store only gives bare-bones specs. The rest (scattered across several Haworth PDFs) are compiled below.
Sizing Note
Haworth only lists a 325-pound weight capacity. We've added a recommended size rating of 5'6″ to 6'2″ (based on the Fern's dimensions and adjustable features).
Recline: 90-110° (5 lockable positions + tilt tension)
Synchro-tilt: for each 2° backrest recline, the seat tilts up by 1° (max 110° recline + 10°)
Lumbar support: built-in curve; optional lumbar slider with a 3.5″ range.
Seat adjustments: 3″ depth adjustment; one-button 5° forward tilt mode.
Armrests: 4D-adjustable with a 40° top cap pivot range
Warranty: 12 years on parts; 3 years on upholstery
Seat: 19.9″ (W) x 15.5″-18.5″ (D)
Backrest: 14″ (W) x 23.5″ (H)
Armrests: 6.7-11.5″ height range.
Seat height: 16.5-21.5″
Size rating: 5'6″ to 6'2″, 325 pounds
Buying a Fern chair in the Haworth online store lets you configure options. Amazon models come pre-configured as fully-loaded (sliding lumbar, seat slider, and forward tilt).
Why You Should Not Buy A Fern Chair
The Fern's backrest is designed to stick to your spine like glue as you move around in the chair. As a theatrical bonus, a rear window will shock and awe spectators as it flexes.

However, the non-adjustable lumbar curve is set too low for most sizes above 5'7″. Without the sliding lumbar addon, this configuration encourages your hips to slide forward (flattening your lumbar curve in the process).

Buying a Fern with a sliding lumbar offsets this problem. Even so, you'll always have to be mindful of tucking your hips when using a Fern chair. After spending $1,545.00 on posture support, that's annoying!
Fully-Loaded Fern on Amazon $1,545.00
The Amazon version includes: lumbar and seat sliders; forward tilt; 4D arms; 5-position backstop tilt limiter.
Herman Miller Embody
Price: $1745-$2095
Rated #3
In 2022, the Embody ranked as the #1 ergonomic model on ChairsFX. It dazzles with an ultra-adaptive backrest, mega-adjustable arms, and stunning good looks. But in 2023, as multi-device computing takes precedence, it falls to #3. There are two reasons.
First, despite impressive width adjustment, its armrests are only 2D and not mobile compliant. Second, its back support concept is tricky to grasp — and even trickier to implement.
The 'lumbar support' is a hard curve molded into the lower backrest. The only adjustment is angular. Twist the Backfit dial clockwise until its upper curve cups your upper spine.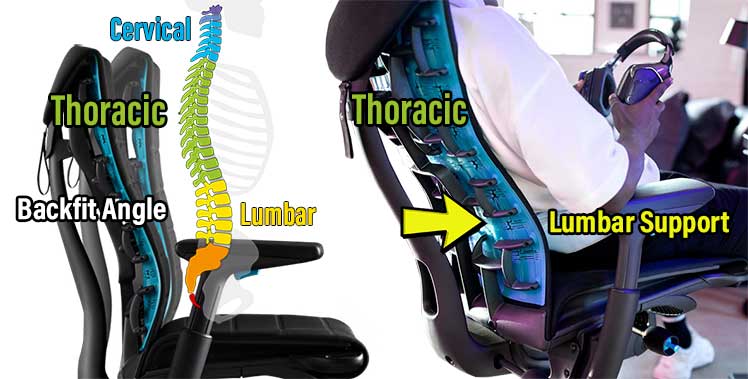 Once it cups your upper back curve, twist anti-clockwise. That will angle the built-in lumbar curve towards your lower back.

Getting the concept (and settings) right is subtle and tricky. Getting them wrong can result in a disastrous fit that actually distorts good posture!

However, since the ultra-adaptive backrest is so comfortable, you might not even notice your poor posture — until lower back pain emerges!
Functionality
Besides its wacky backrest support concept, the Embody offers straightforward ergonomic features:
Synchro-tilt: seat angle 3° to 15°; backrest 94° to 120°
Pixelated back support: central spine with flexible ribs.
BackFit angle adjustment: angle the backrest to fit your back curvature.
Seat adjustments: adjust height and depth.
Armrests: 2D-adjustable (6-inch vertical and 6-inch horizontal range)
Backrest: adjust recline tension; 3-position tilt-lock; synchro-tilt
Warranty: 12 years
Seat: 21.25″ (W) x 15″-18″ (D)
Backrest: 14″ (W) x 23.5″ (H)
Armrests: 11.5-21″ width range; 4-8.75″ height range.
Seat height: 16-20.5″
Size rating: 5'4″ to 6'2″; 300-pound weight capacity
Why You Should Not Buy An Embody
If you get the Embody's settings right, you'll discover that sitting with perfect posture isn't 'comfortable'. Instead, Embody-style comfort is essentially a lack of musculoskeletal stress. That's not as satisfying as slouching in a lounge chair.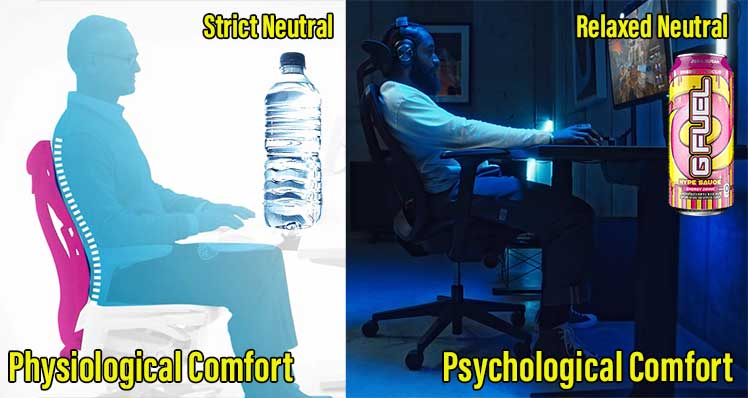 As well, it will take a long time to notice the benefits. After around six months of proper usage, the lack of musculoskeletal stress can lead to a noticeable surge in wellness and productivity. That long-term gain is why so many rave about this chair.
Pros
Ultra-adaptive backrest
Spacious, breathable seat
Good armrest adjustability
Stunning good looks
Cons
The armrests don't adjust high enough for optimal mobile support
The unique Backfit concept is tricky to grasp and implement
Both of the downsides are annoying, but neither are deal-breakers. If mobile support is a priority, stacking your Embody with a standing desk will address its drawbacks.
Figuring out the Backfit concept is the other problem. Are you willing to gamble $1990+ on that chance?
Learn more: Detailed Embody Functionality Review
Embody Classic from Herman Miller $1990-$2275
Gaming Edition: Logitech G Gaming Edition $1695 from Herman Miller
Best Tier 2 Elite Ergonomic Chairs
Second-tier elite ergonomic chairs are a few hundred dollars cheaper than Tier 1s. These don't include ultra-adaptive backrests or fully mobile arms. Instead, you get standard backs, plus arms that only sort of support mobile computing:
| | | | | |
| --- | --- | --- | --- | --- |
| Model & Type | Height From Seat | Width Between Arms | Arm Cap Pivot | Mobile Compliant? |
| Gesture; 4D | 7.25-11.5″ | 10.25-22.5″ | 360° rotation | Yes |
| Mirra 2; 4D | 3.5-8.5″ | 18.5-20.5″ | 11° in and out | No |
| Leap; 4D | 7-11″ | 15.75-18.75″ | 30° in and out | Sort of |
| Aeron; 3D | 6.8-10.8″ | 16-18″ | 15° out; 17.5° inward | Sort of |
Aesthetically, these chairs are also less flashy than the Tier 1 kings.
Herman Miller Mirra 2
Herman Miller price: $1315 (fully-loaded)
Herman Miller's Aeron chair is hampered by bladed seat edges (restricts leg movement) and a gimmicky Posturefit lumbar system. The Mirra 2 addresses those issues.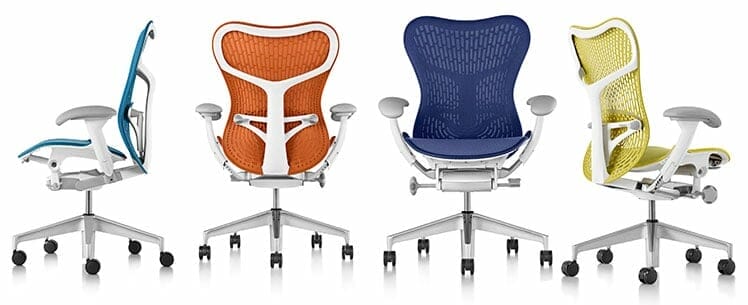 First, it has a flat seat style with enough space to sit cross-legged comfortably. Second, it's one of the few Herman Miller chairs with a non-gimmicky height x depth-adjustable lumbar.
On top of that, its backrest replicates the ultra-adaptive qualities of the Embody.
Mirra 2 Downsides
The Mirra 2 has one technical issue that will annoy users under 5'6″: poor armrest width adjustability (18.5-20.5″). In comparison, the Embody's arms have an adjustment range of 11.5-21″.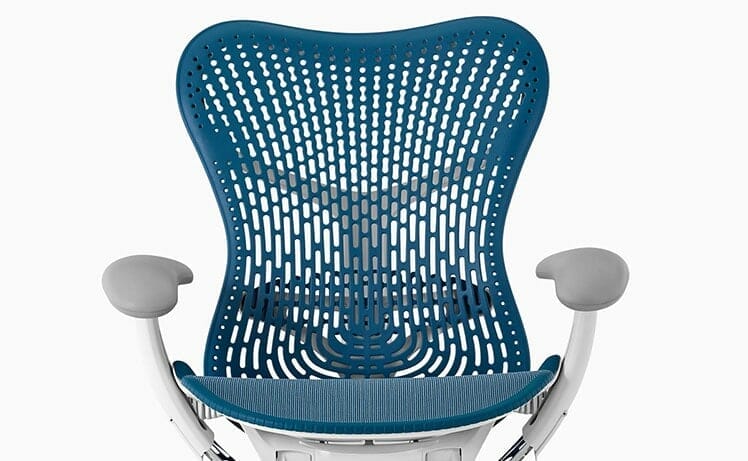 Limited armrest width adjustability will force users with shorter arms to spread their shoulders too far. That could place excess pressure on the shoulders, leading to stiffness and pain.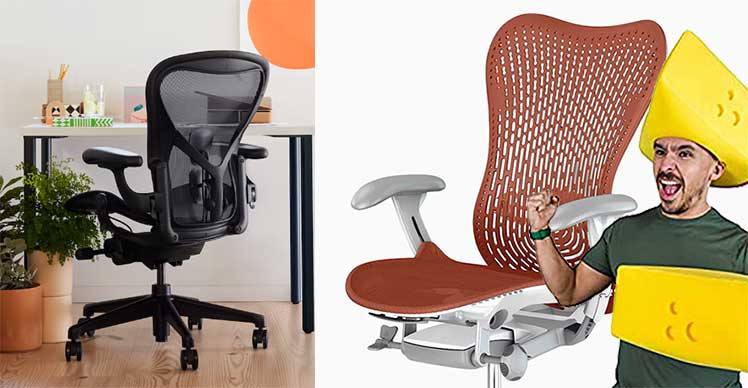 Another (subjective) Mirra downside is its aesthetics. Compared with the sleek, sexy mesh Aeron, Mirra upholsteries look like slices of synthetic cheese.
Mirra 2 Key Features
This unique-looking chair has an array of noteworthy features:
Backrest Styles
4-way Lumbar
Harmonic Tilt
Shorter Seat Depth
There are two backrest options. The Triflex Back is a breathable, flexible plastic unit. The Butterfly Back ($75 extra) adds a thin fabric layer over the backrest frame.
The Butterfly Back works like a suspension membrane, giving the backrest a greater degree of micro-adaptability. On the downside, its (non-removable) mesh membrane makes it harder to keep clean.
In the Herman Miller Store, adding the adjustable lumbar device costs $60 extra. The unit has a 4.5″ height adjustment range.
It also has separate 1″ depth adjustments to the right and left of the central backrest spine.
Harmonic tilt has two recline modes. In tilt-lock mode, you can lock the backrest at 95°, 99°, or 122°. In free recline mode, you get a range of 94.3° to 106.8°.

Both modes combine with a 5-degree seat tilt. The point of the Harmonic (synchro) tilt is to keep the feet flat and the thighs parallel to the floor.
A depth-adjustable seat addon is available for an extra $55. This is useful for sizes shorter than 5'9″. Instead of sliding, the edge curlsdown to accommodate shorter legs.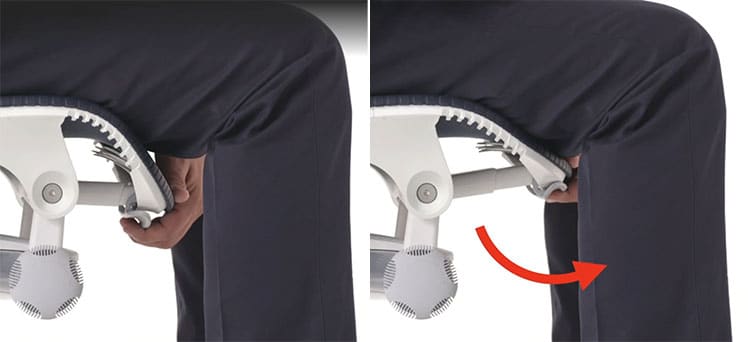 It's a cool but extraneous feature, given that the Mirra 2's arms don't support shorter sizes.
Mirra 2 Specifications
In the Herman Miller Store, a Mirra 2 with black frame, adjustable lumbar, triflex polymer back (plastic swiss cheese instead of mesh), tilt limiter + seat angle costs $1315.
Summary of Features
Sizing
Backrest: Harmonic tilt with 3-position tilt-lock (95, 99, 122 degrees); triflex back.
Synchro-tilt: 5° seat angle tilt + recline range of 94.3 – 106.8°.
Posturefit lumbar support: 4.5″ height-adjustment range; 1″ depth adjustment.
Seat: 5° seat angle tilt; height and depth adjustment.
Armrests: 4D adjustable (5″ height range, 2″ width range)
Upholstery: Airweave mesh over a flexible plastic frame.
Mirra 2 chairs are one-size-fits-all, suitable for most users of moderate size. However, sizes 5'8″ and shorter may find the space between the armrests too wide.
Seat width x height: 19.25″ (W) x 16.25-18″ (D)
Backrest (mid-back): 21″(W) x 23″ (H)
Floor to seat range: 16-20.5″
Size rating: 5'3″ to 6'1″; maximum weight capacity 350 pounds
Why You Should Not Buy A Mirra 2
Despite its merits, a Mirra 2 is only $32 cheaper than a fully loaded Steelcase Gesture with mobile-compliant 360° arms!
On the flip side, if saving money is a priority, the Steelcase Series 1 offers similar ergonomic functionality (minus tilt functions) for just $561.
For detailed specifications, check this Mirra 2 Office Chair Review.
Mirra 2 (fully-loaded) from Herman Miller $1315
Steelcase Leap
Price: $1,104
The Leap is essentially a Gesture chair — minus the fancy 360° armrests. Steelcase released it in 1999 (14 years before the Gesture) as a Herman Miller Aeron alternative (released in 1994).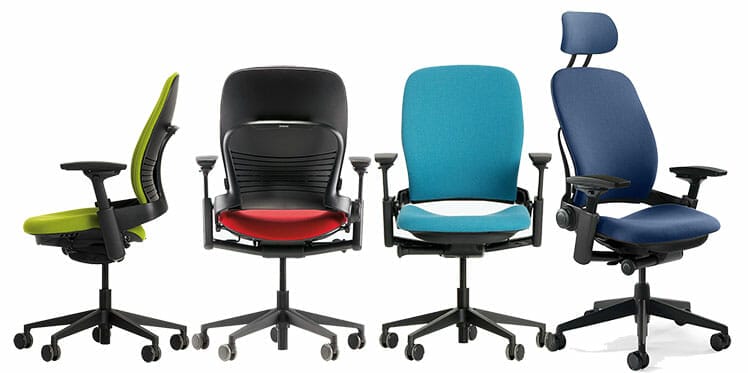 The Aeron ensures good posture by forcing users to sit straight with planted feet. The Leap differs by removing Aeron restrictions — while maintaining its postural support precision.
Compared to the Gesture, it differs with a smaller armrest adjustment range and alternative synchronous-tilt. When a user reclines, the seat tilts up by one degree — while also extending forward. When the user leans forward, the seat slides back to its original angle and depth.

That slide-back effectively tucks your hips deep into the seat on autopilot. It's a subtly spectacular feature that's forged many love affairs with this chair!
Steelcase Leap Downsides
The Leap is a hard sell compared to the Gesture. It's only $243 less and comes without fully-mobile support arms. Besides losing big functionality for a pittance, it also sports a plain, grandma-style design.
Among famous streamers and Youtubers, quirky XQC is the only major name using one. Check his streams to see for yourself how uncharismatic the Leap looks in action.
Steelcase Leap Specifications
Minus the Gesture's 360° arms, the Leap packs similar functionality into an old-school office chair-style design.
Summary of Features
Sizing
Synchro-tilt: seat angle 1°; backrest 98° to 125°; 3-inch forward seat slide.
Seat: height and depth adjustments.
Armrests: 4D adjustable (7-11″ height range; 12.75-20″ width range)
Back support: 3D LiveBack (changes shape to mimic the natural motion of the spine).
Back support: height and depth-adjustable lumbar; 5-position tilt-lock recline.
Warranty: 12 years on parts, lifetime on the frame.
Seat width x depth: 19.25″ (W) x 15.75-18.75″ (D)
Backrest width x height: 18″ (W), 25″ (H)
Seat height: 16-20.5″
Arms: 7-11″ height range; 12.75-20″ width range.
Size rating: 5'4″ to 6'2″ tall; up to 400 pounds
Why You Should Not Buy A Leap Chair
Choosing a Leap over a Steelcase Gesture makes no sense. On Smart Furniture, that saves you $243. Those savings = losing the Gesture's mobile arms and more polished styling.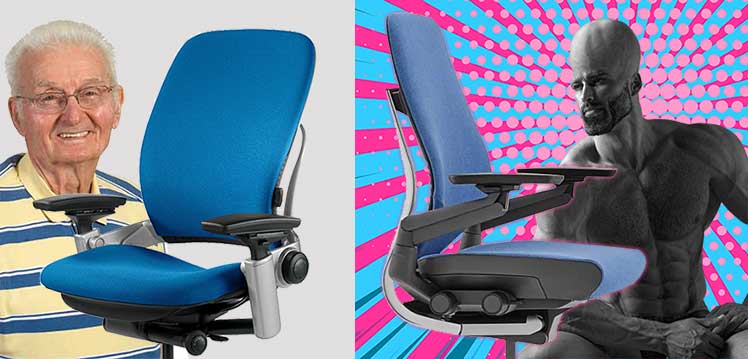 Armrest functionality aside, the Leap has a more boring, cubicle-style design than the Gesture. Out of the box, you're likely to marvel at its stunning build quality. But nothing else 'pops' on this chair — features and styling are both predictable.
Learn more: Steelcase Leap ergonomic chair review.
Steelcase Leap from SmartFurniture $1104
Fully-loaded Leap chairs are also available on Amazon in several colors from $1,002.30.
Herman Miller Aeron
Price: $1785
Since its debut in 1994, the Aeron has been revered by many as the ultimate ergonomic office chair. Sitting with a near-perfect posture is easy and intuitive. As well, its iconic mesh and polished steel design will spice up any type of workstation.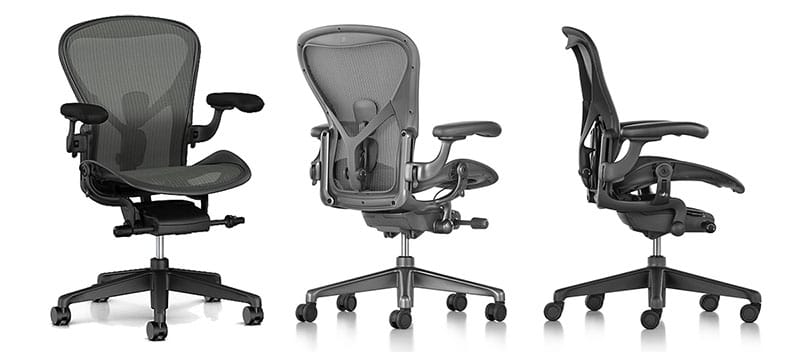 But in 2023, institutional ergonomists are touting back and neck support plus movement as the optimal desk working formula. From modern, non-cubicle perspectives, the Aeron doesn't stand out as it used to.
Aeron Downsides
Back in the 1994 cubicle era, sitting with ergonomically-supported neutral postures was a novel concept. To enforce that, the Aeron has had bladed edges lining its seat pan.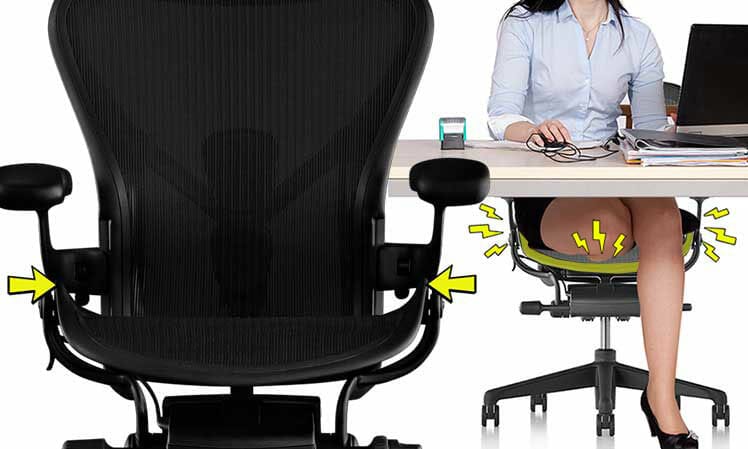 Bladed edges make it uncomfortable to put your feet up. That leaves sitting with planted feet as the only comfortable way to use this chair.
The Aeron also enforces good posture by limiting your recline options with a tiny recline range of 93° to 104°. That forces you to sit upright with planted feet at all times.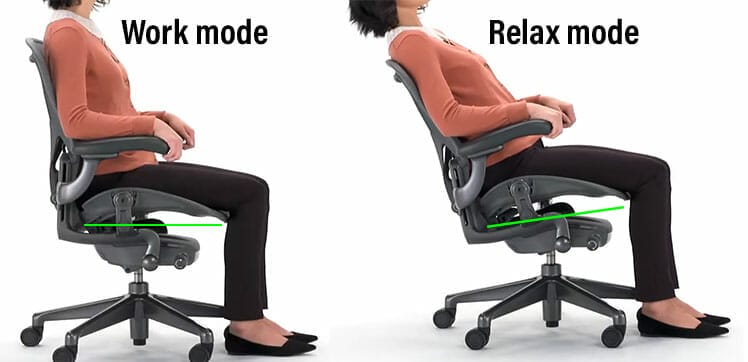 After spending over $1785 on a chair, it's frustrating to suffer limits. Why not spend $1,545.00 on a modern, ultra-flexible Haworth Fern instead?
Another big downside: confusing options. Many (like Pokimane) regret choosing the flashy Posturefit when they find it's not height-adjustable (a poor fit makes it useless).
Highlight Features
Aeron highlights include fancy mesh, robust sync-tilt functionality, and a choice of lumbar support types. Highlights:
8Z Mesh
Adjustable Lumbar
Sync-Tilt
7 Styles
8Z Pellicle mesh has a soft feel with high-tech adaptive qualities. Both the seat and backrest have varied tension zones. When the user changes positions, these adapt to help keep them in balance.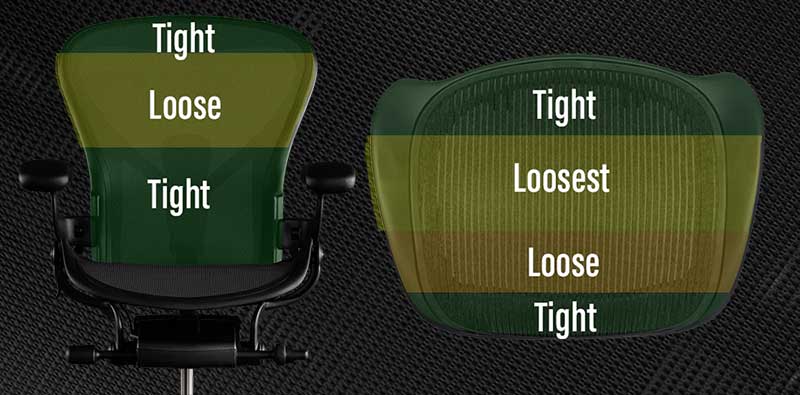 The Aeron has two lumbar support options.
Posturefit
has dual pads that support the lumbar (lower back) and sacral (near the tailbone) spines. It's a cool concept, but lacks height-adjustability.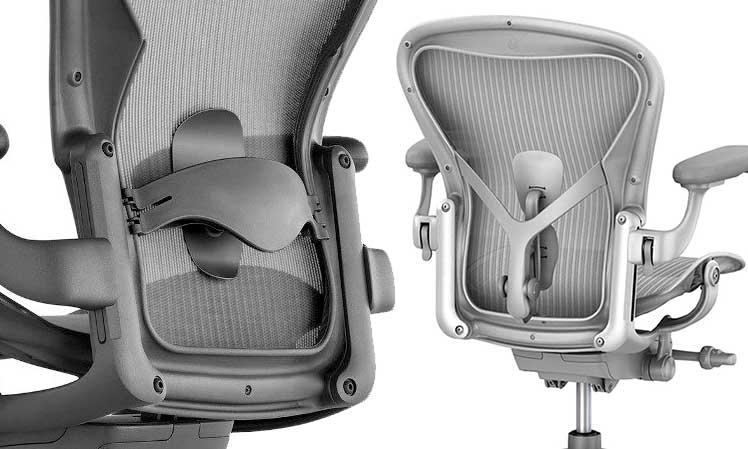 As a result, Posturefit won't match every body type. In that case, the pads can hit your spine in the wrong spot and feel like bricks! An easy workaround is to choose a height-adjustable lumbar support instead:
Learn more: Aeron Posturefit Vs Lumbar Pad Comparison
The Aeron's
Tilt Limiter with Seat Angle
lets you recline, tilt the seat up or down, and rock the whole chair.
You can also merge seat and backrest motions into a synchronous tilt. When you recline, the seat tilts up by 16°. When you lean forward, it tilts down by -1°. These angles keep the thighs parallel to the floor through all recline modes.
The Aeron is available in
six Remastered styles
and one gaming edition.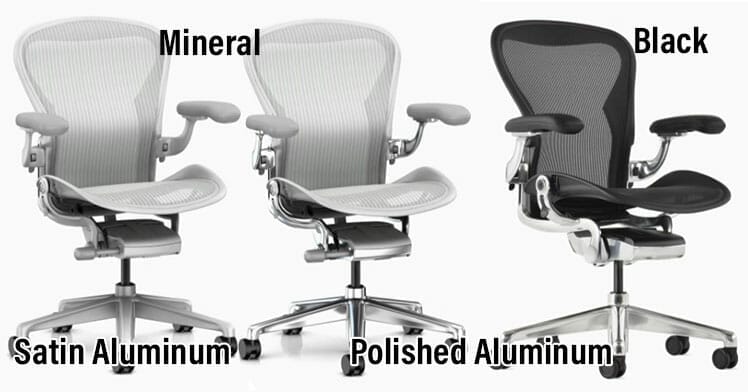 Features Summary
Synchro-tilt: seat pan angle -1° to 16°; backrest 93° to 104°
Upholstery: Pellicle 8Z mesh provides eight zones of varying tension for ultra-responsive support..
Seat: adjust the height; limit the tilt range; adjust the tilt tension; sync-tilt with the backrest.
Backrest: forward tilt option; height and depth adjustable PostureFit lumbar support.
Armrests: 3D adjustable.
Warranty: 12 years.
Sizing
The Aeron comes in three sizes:
| | | | |
| --- | --- | --- | --- |
| | Aeron Size A | Size B | Size C |
| Seat | 15.75″ (W) x 16.75″ (D) | 17″ (W) x 16.75″ (D) | 18.25″ (W) x 18.5″ (D) |
| Backrest | 20.25″(W) x 21″ (H) | 21.5″ (W) x 22″ (H) | 22.75″(W) x 23″ (H) |
| Seat Height | 14.75″ to 19″ | 16″ to 20.4″ | 16″ to 20.5″ |
| Size Rating | 4'10" to 5'9″; 300 pounds | 5'2″ to 6'6″; up to 350 pounds | 5'2″ to 6'6″; up to 350 pounds |
Why You Should Not Buy An Aeron
For one thing, if crisp neutral posture support is your only priority, a $200 Staples Hyken chair can do a similar job. Paying more gets you fancier mesh and higher-quality build — but a similar sitting experience.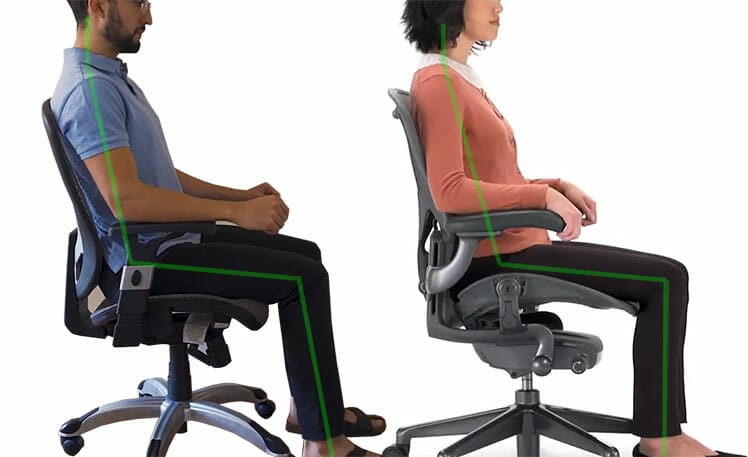 For another, it's not 1994 anymore. Back then, sitting full-time in cubicles while maintaining corporate posture was the norm.

But in 2023, good sitting posture is one of several seating factors to consider. Flexibility is another.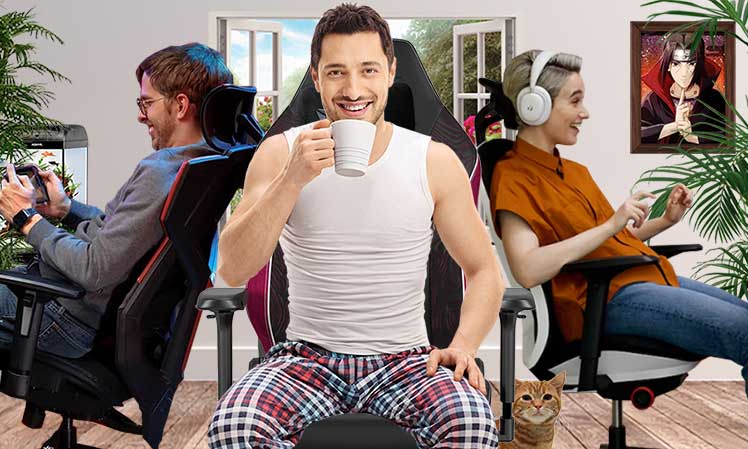 That's why an emerging class of premium full-back ergo chairs are so hot right now. These offer good posture support plus deep recline and assorted luxury extras.
Learn more: Aeron Remastered Review | Aeron Gaming Chair Review.
Aeron from Herman Miller $1785
The $1785 version includes: graphite frame; lumbar slider; tilt limiter + seat angle; 3D arms.
Best Non-Corpo Elite Ergo Chairs < $1000
Many adore ergonomic chairs made by famous furniture megacorporations like Steelcase and Herman Miller. Without that corporate aura, ergonomic chairs are often mercilessly derided as scams.
Under such intense negative scrutiny, many startups wither. Even so, in 2023, a few legit non-corpo options deserve attention.

| | | | | |
| --- | --- | --- | --- | --- |
| Model & Type | Height From Seat | Width Between Arms | Arm Cap Pivot | Mobile Compliant? |
| Gesture; 4D | 7.25-11.5″ | 10.25-22.5″ | 360° rotation | Yes |
| Ergohuman; 3D | 6.1-8.1″ | 2″ lateral cap range | 11° in and out | No |
| Sidiz T80; 3D | 5.1-8.9″ | 2″ lateral cap range | 11° in and out | No |
| Mavix M9; 4D | 6.25-12.75″ | 2″ lateral cap range | 360° add-on for $164.99 | Yes |
Eurotech Ergohuman
Current price: $911.00
The Ergohuman High Back Executive chair has been around since the early 2000s. For years, it's been revered by ergonomic hipsters as a viable alternative to pricey Tier 1 chairs.
One of its highlights is a dynamic 3D lumbar support. As the user reclines, it auto-extends forward. That's one the worst, most gimmicky lumbar types because it's (usually) not height-adjustable.
However, the Ergohuman stacks it with a height-adjustable backrest. As a result, users can customize the lumbar to perfectly fit their particular lower back curve. On paper, it's a brilliant chair; in practice, not as much…
Ergohuman Downsides
The Ergohuman's concepts are outdated by modern standards. Instead of adapting to meet the needs of the user, it forces users to adapt to the chair.
First, the 3D lumbar will auto-extend to jab your spine every time you lean back — you can't turn it off. Second, the headrest is hard to remove (you need special tools). Further, removing it will ruin the backrest design.
It also sticks out from the backrest with the intent to cradle the nape of one's neck. You can only control its angle — not its height. Users under 5'6″ will find the headrest hits the top of their heads, forcing the head to tilt forward.
Ergohuman Features
On paper, the Ergohuman dazzles with an impressive array of features. Like the top-rated Tier 1 chairs, it also has an impressive synchronous tilt feature.
Summary of specifications:
Synchro-tilt: 1°; backrest 90° to 115°
Adjustable headrest: adjust height and tilt.
Armrests: 3D.
Seat adjustments: tilt tension control; 3-position tilt lock; height and depth adjustments.
Backrest: 3-position recline; height and depth adjustable lumbar.
Upholstery: choice of mesh fabric or faux leather with foam padding.
Warranty: lifetime on parts + 5-year upholstery warranty.
Seat: 20.5″ (W) x 18.5-21.5″ (D)
Backrest: 28″ (H), 20.5″ (W)
Seat height: 18.5-22″
Size rating: 5'4″ to 6'2″; up to 250 pounds
Why You Should Not Buy An Ergohuman Chair
The Ergohuman is an old, ugly, expensive concept chair from a bygone era. Some revere its sophisticated array of moving parts as the pinnacle of ergonomic science.
But compared to the best Tier 1 chairs, its Frankensteinish mashup of parts operate like a torture rack. Instead of adapting to the user's needs, it's the other way around.
Finally, if you like its core concepts, the Mavix M9 offers a modernized version. While the Ergohuman has a more solid build, the streamlined M9 looks (and operates) more in sync with the times.
Sidiz T80
Amazon price: $799.00
The T80 is a more refined version of the Ergohuman with similar functionality. Sidiz (South Korean) released its flagship T80 chair in 2014. Since 2018, elite Korean esports squad GenG has been using it as their official team chair.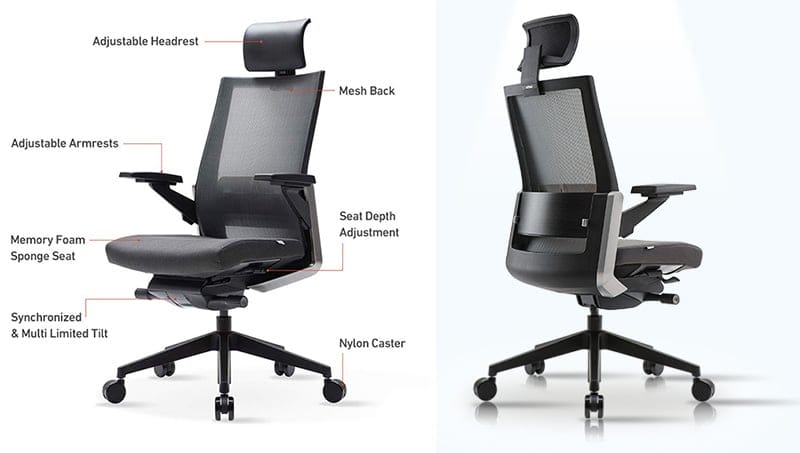 The T80 encourages dynamic sitting. You can adjust the lumbar support, armrests, seat depth, seat angle, and neck support. From a 2018 perspective, the T80 is a slick gaming/office chair fusion.
On the downside, its premium features do not include mobile armrest support.
T80 features
Like the best Tier 1 chairs, the T80 has a solid build that exudes quality. It's a well-thought-out design with enough functional flexibility to appease both cubicle jockeys and pro esports players.
Minus mobile-complaint arms, it delivers everything you'd expect from a high-end ergonomic chair:
Synchro-tilt: seat angle 1°; backrest 90° to 114°.
Adjustable spine support: height adjustable lumbar; height and depth-adjustable padded headrest.
Armrests: 3D.
Seat slide plus slope: slide the seat forward or back; manually slope down by -1°.
Premium Padding: resilient memory foam plus a layer of antibacterial elastic sponge.
Warranty: three years, plus 30-day money-back-guarantee (details)
Seat width x depth: 19.8″ (W) x 19.6″ (D)
Backrest width x height: 19.8″ (W) x 29.7″ (H)
Floor to seat range: 15.5-19.5″
Size rating: people 5'5″ to 6'6″ tall; up to 250 pounds
Why You Should Not Buy A T80
The T80 is a high-end luxury gaming office chair — from a 2018 perspective. Against the best Tier 1 models, its basic armrests are a letdown. In 2023, that makes its $799.00 price tag hard to justify.
Spending $300 more will get you a Steelcase Leap. That gets you better armrest adjustability and a 12-year warranty — much better value for money.
Spending around $300 less will get you a Sidiz T50 ($419.00 on Amazon). It has the same features as the T80, minus synchro-tilt.
Get detailed specs in this Sidiz T80 review.
Mavix M9
Amazon Price: $999.99
The M9 is a modernized riff on the Eurotech Ergohuman. The Mavix parent company is X-Chair: they sell generic ergonomic chairs via American cable TV ads to Walmart-tier punters. Mavix is the company's higher-end collection; the M9 is the flagship.
It shares the same concepts as the Eurotech Ergohuman. Its dynamic 3D lumbar support auto-extends as the user reclines. You can adjust its height by adjusting the entire backrest.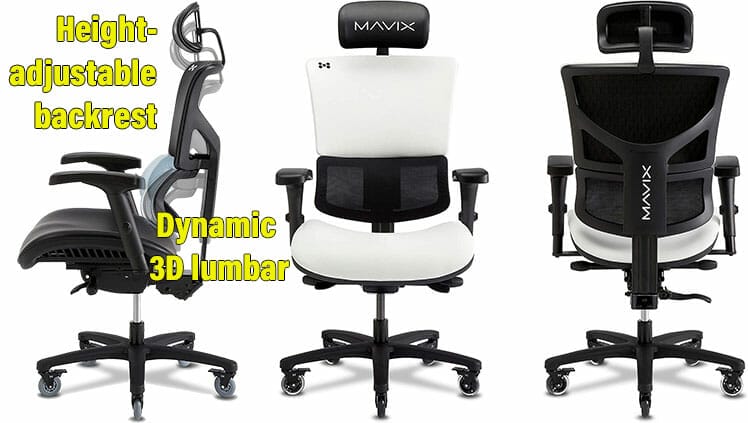 Like the Ergohuman, you can't control the depth. That means every time you lean back, the lumbar will auto-extend forward. Notably, the Ergohuman version feels angry and violent; the M9 extends with gentler pressure.
Mavix M9 Downsides
Compared to the Eurotech Ergohuman, the M9 packs similar functionality into a gentler, prettier package. However, the Ergohuman has a more solid build.
In comparison, the M9 feels flimsier, with a 'plastic' feel. Compared to the best Tier 1 chairs, it feels like a kid's toy.
This might be why Mavix does not market the M9 as an alternative to Steelcase and Herman Miller chairs. Instead, they hype it as an alternative to cheap, flimsy racing-style chairs.
From that perspective, the M9 is pretty good — but overpriced. The average cheap gaming chair costs under $200. Not many from that sector seem likely to splash out for an M9.
Mavix M9 Specifications
Compared to the best Tier 1 ergo chairs, the M9's only missing feature is synchronous tilt. It caters to sizes 5'3″ to 6'2″ with a dynamic 3D lumbar (it auto-extends as the user reclines).
Addons are also available from Mavix.com. Out of the box, the M9's 4D armrests are adjustable enough to sort of support mobile computing. You can also buy a 360° Gesture-style armrest kit for an extra $169.99.
Backrest: height-adjustable (4.5″); 90-150° infinite tilt recline lock.
Lumbar support: height-adjustable dynamic 3D support.
4D armrests: adjust height, width, pivot, and depth.
Seat: depth-adjustable slider with a 1.75″ range.
Warranty: 5 years (materials + moving parts); 12 years (non-moving metal parts).
Seat width x depth: 22″ (W) x 21-22.75″ (D)
Backrest width x height: 22.5″ (W)x 29.5-34″ (W)
Seat height: 17-20″ (W)
Armrests: height range 6.25-12.75″; 2″ lateral width range
Size rating: 5'3″ to 6'2″ tall; up to 300 pounds
Why You Should Not Buy A Mavix M9
The Mavix M9 is not an alternative to the best Herman Miller, Haworth, or Steelcase chairs. Against those, the M9 seems a flimsy, grotesque Frankenstein. Only those sitting in boilerplate $200 gaming chairs will find the M9 intriguing.
However, its $999.99 price tag takes it into Tier 1 chair (Gesture, Fern, Embody) territory — well beyond a cheap gaming chair user's budget.
For instance, a fully-loaded Steelcase Gesture costs $1347 (full 12-year warranty). An M9 with the 360° arm add-on costs $1168 (5-year warranty), a mere $179 savings.
Bottom line: if you can afford a desk chair in this price range, choose a world-class Tier 1 over a Mavix M9 (for a few hundred extra). Given the small added expense, there's no logical reason to choose an M9 instead.
2023 Ergonomic Trend Conclusions
Last year, ChairsFX only wrote a handful of new chair reviews. Instead, we spend the bulk of 2022 fleshing out updated ergonomic seating parameters defined at the institutional level.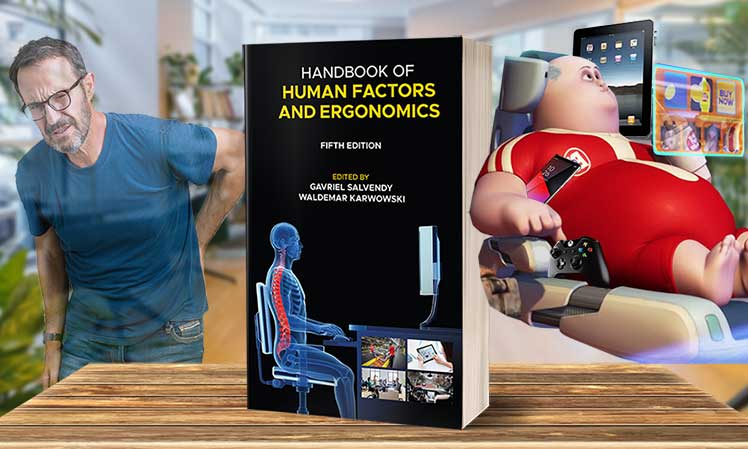 The gist is that the exclusively desktop computing era is drawing to a close. In its place, a multi-device computing landscape is emerging.
Many key points of the emerging multi-device era are reflected in our review of 2023's best ergo chairs:
Back support innovations have peaked: neutral posture support is a 90s-era technology with no further room to develop.
Movement beats perfect sitting posture: these days, many esports docs hype using neutral sitting as a broad guideline; frequent movement breaks take precedence.
Psychological appeal is a major factor: the best ergonomic office chairs stand out with flashy extras designed to titillate.
Mobile computing support is the next innovation frontier: mobile compliance sets the best Tier 1 chairs apart, with plenty of room to innovate.
Megacorporations make the only legit Tier 1 chairs: the quality gap between Tier 1 vs non-corpo models is self-evident.
The market does not need new chairs: the Secretlab Titan updates every two years. Instead of new models, updates on existing chairs (like a height-adjustable Fern backest) will yield greater rewards.
Fo a drilldown of all points, see this feature: