Steelcase is the dominant office furniture industry brand. Every year, it generates billions furnishing schools, government offices, and corporations. Its B2B success negates the need to market to consumers. Steelcase chair aesthetics reflect that — they're designed for the office, not the amusement park. Even so, there's tremendous retail value in this collection. So let's review the best Steelcase chairs — from a consumer perspective.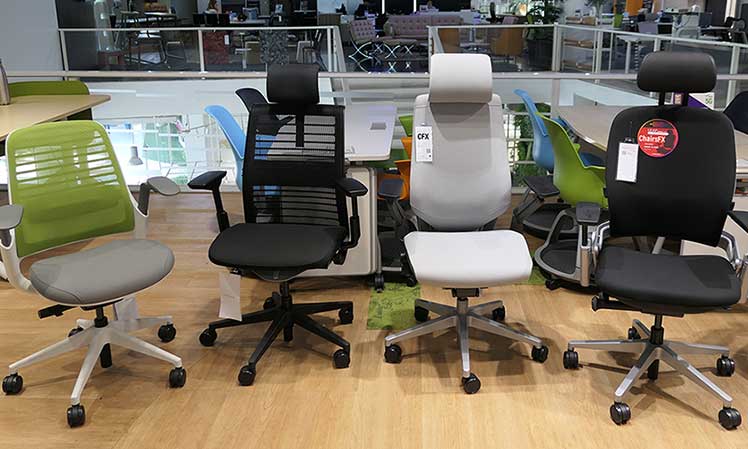 Steelcase is a Michigan company founded in 1912. Based on annual sales, it has reigned as the dominant office furniture brand for several years.
Steelcase Industry Dominance
A tour through its chair collection justifies Steelcase dominance. Most enterprise buyers prioritize price, aesthetics, and durability when choosing chairs.
Steelcase delivers on these fronts — while also making ergonomic benefits easy to grasp and appreciate. Its best models all use a textbook lumbar-powered support formula.
The downside: plain aesthetics. For example, XqC looks like a call-center cubicle worker in his grandma-grey Leap chair. But the aesthetic impact that furniture makes is temporary.
In fact, the thrill of a flashy chair skin wears off after a few weeks. In contrast, the superb support of a Steelcase chair will last 12+ years.
Browse Steelcase Chairs on Amazon
Browse chairs on SmartFurniture.com
Summary of The Best Steelcase Chairs
Steelcase makes a coherent line of chairs with common features:
Steelcase Chairs Compared
Each model delivers superb lumbar, armrest, and recline adjustability plus a 12-year warranty. All are rated to support sizes 5'4″ to 6'2″. Here's how the top four Steelcase chairs compare:
Armrest Ranges
All models come with a robust height adjustment and rotating range. Summary:
Browse Steelcase Chairs on Amazon
Browse chairs on SmartFurniture.com
Reviews: 4 Best Steelcase Chairs 2023
All Steelcase chairs support sizes 5'4″ to 6'2″; all except the Series 1 supports up to 400 pounds. The entire collection also shares standard-issue features. These include fabric-padded seats, adjustable arms, tilt functions, and adaptive backrests.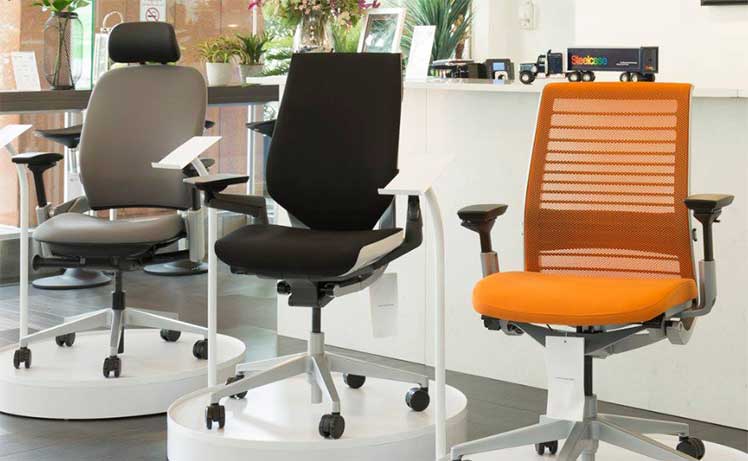 As you slide lower down the pricing scale, recline functionality becomes more basic:
Steelcase Ergonomic Office Chair FAQs
Here are some common questions answered about Steelcase chairs:
Conclusion: World-Class Ergonomics
Steelcase makes excellent ergonomic chairs. They're conservatively attractive, easy to use, comfortable, and supportive. Every chair provides a similarly high quality of neutral posture support.
Within this collection are sound options for all levels of ergonomic office chair fans. If you feel like splashing out on fancy recline and seat tilt functions, choose a Gesture or Leap.
On the flip side, budget shoppers wanting straightforward back support without gimmicky frills can choose a Think or Series 1 chair.
Personal Picks
I'm not smitten by fancy chair tilting functions. Instead, I prefer to supercharge my computing movement by using a sit-to-stand desk. I also take frequent standing/ movement breaks.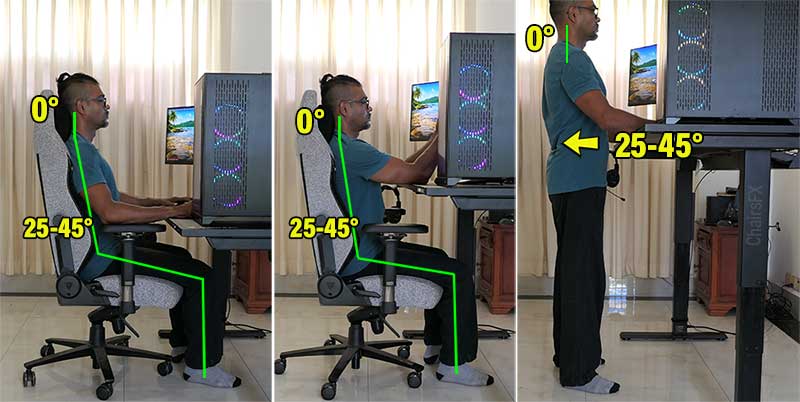 From this perspective, I really like the Series 1. Stripped of fancy tilting functions, it boils down the essence of seated ergonomic support in a super-clean, beginner-friendly way.
For those who do prioritize fancy tilt functions, the Gesture is one of the top 3 elite options in 2023. But for those just wanting good back support, the Series 1 ranks as one of the best entry-level values on the market.
Browse Steelcase Chairs on Amazon
Browse chairs on SmartFurniture.com