Secretlab tops all brands with over 45 chair styles to choose from. This diverse palette provides the perfect means to explore furniture color psychology. This area of study covers both the mental and physical effects of different hues. To demonstrate, we've photographed the best Secretlab styles at high-end workstations. Keep reading to grasp gaming chair color psychology while browsing vibrant, colorful styles.
Light is a type of electromagnetic radiation. Color is the only form of this energy visible to the naked eye. Visible wavelengths of light range from around 400 nanometers (nm) at the violet end of the spectrum to 700 nm at the red end.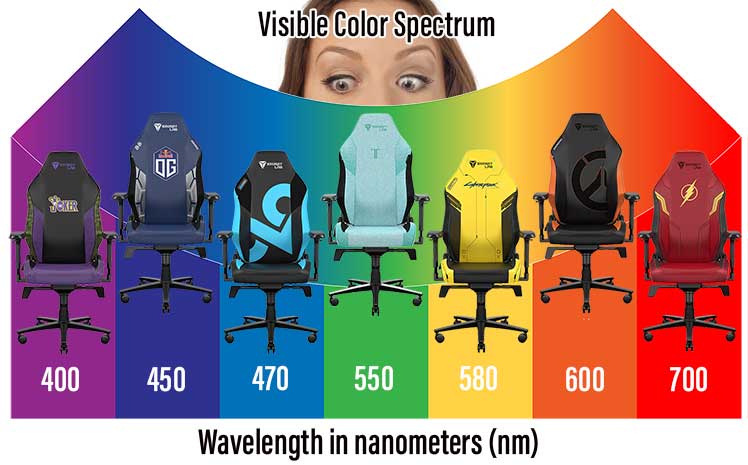 The three primary colors are red, green, and blue. Mixing these together in varying amounts produces the other colors on the spectrum.
This article uses Secretlab Titan gaming chairs posed at desks to show how different hues trigger unique biomechanical reactions.
Chromatic Chair Color Psychology
Most of the light energy action happens on the chromatic scene. In a nutshell, green is the easiest on the eyes. To the left of green are cool, calming, creative blues.
Veering to the right yields warm, energetic yellows and reds. These bring both uplifting and menacing airs that help stimulate focus.
Neutral Gaming Chair Color Psychology
Black is an absence of light. It absorbs light energies like a vortex. White is pure light that reflects every color of the rainbow. Gray fits in between, giving you the best of both shades — with less intensity.
I've tested several neutral-colored Titan chairs in-house. My experiences are fairly consistent with the science behind each neutral hue.
Black gaming chair: absorbs all colors and reflects none. Formal, with a menacing air.
White gaming chair: reflects all colors. Produces a sterile, barren feel with a hint of winter.
Gray gaming chair: popular lockdown decor color for its drab, uninspired look.
Conclusion
This article explains how different-colored light energies trigger physical and mental reactions. On a gaming chair, these effects are relevant but not profound.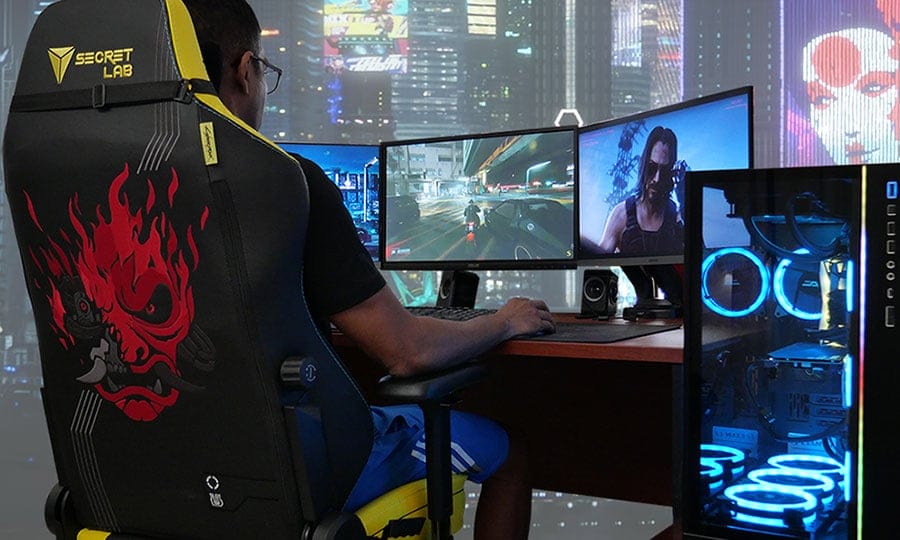 For instance, the thrill of a vibrant gaming chair won't last forever. In my experience, you can expect around six weeks of delightful swooning (worth it!!!) before the effect wears off. Then, your ride will fade in with the rest of your room's decor.
The bottom line is that gaming chair colors will impact the senses but not physical comfort. For this reason, it ranks last on our list of gaming chair comfort ranking factors. Colors are relevant — but not as much as the type of chair or its ergonomic factors.
Suggestion: if shopping for a new chair, keep your color preference on the back-burner. After deciding on other key ranking factors, choose a hue for your preferred effect.
6. Read 'How to Choose the Perfect Gaming Chair'
Footnotes
Citations 8-14