Secretlab makes three Game of Thrones chair designs, plus one special edition. The special Iron Anniversary chair celebrates 10 years since the GOT premiere. Three others pay tribute to the great houses of Westeros. Align yourself with House Lannister, Stark, or Targaryen. Then, play the game from the comfort of your living room with a 2020 or 2022 Series Secretlab chair.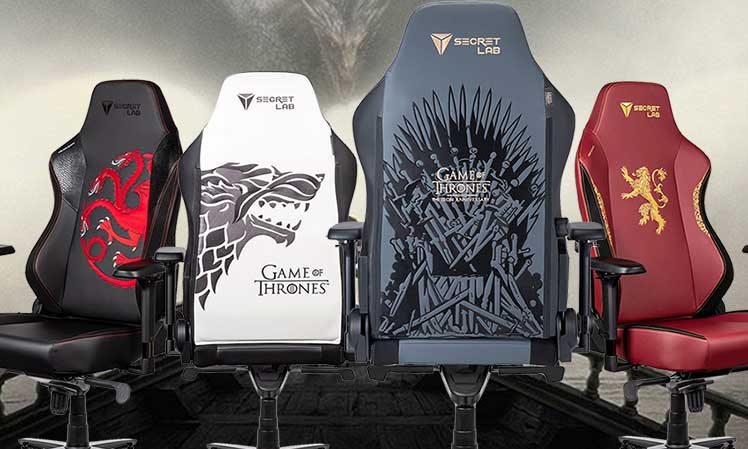 In April 2011, Game of Thrones premiered on HBO. To mark the occasion, HBO is holding a lavish recollection of the series.
As part of the celebration, Secretlab released 2020 Series Titan and Omega Iron Anniversary chairs. Soon after, the company released an upgraded 2022 Series. The new series offers Titan EVO chairs in small, medium, and XL sizes.
This provides plenty of buying options for Game of Thrones fans. 2020 Series models are cheaper and still very popular.
In comparison, 2022 Series GOT chairs have vastly improved features, plus availability in three sizes:
| | Titan EVO Small | 2022 Series Medium | 2022 Series XL |
| --- | --- | --- | --- |
| Seat | 17.7" (W) x 18.9" (D) | 18.5" (W) x 19.3" (D) | 19.3" (W) x 19.7" (D) |
| Backrest | 20" (W) x 32.3" (H) | 21" (W) x 33.5" (H) | 22" (W) x 35" (H) |
| Seat height | 17.7" to 20.5" | 17.7" to 20.5" | 18.1" to 21.9" |
| Size rating | 4'11" to 5'6"; 285 pounds | 5'7" to 6'2"; 285 pounds | 5'11" to 6'9"; 395 pounds |
| Price | $479 | $479 | $529 |
For a detailed review of all specifications, see this Titan EVO 2022 Series Review.
Secretlab Game of Thrones collection
Here is a look at all Game of Thrones chairs in the Secretlab collection. Beyond the new Iron anniversary edition, there are three other designs. Each represents one of the great houses in the Game of Thrones story.
Iron Anniversary gaming chair
Secretlab's Iron Anniversary Edition is a limited edition. Chairs are available in 2020 Series Titan and Omega flavors only (while stocks last). While the other three chairs focus on the great Houses, this design reflects the focus on the entire show.
The Game of Thrones is played by the great Houses of the Seven Kingdoms. It refers to the scheming and machinations of Houses as they seek to grow their wealth and power.
The ultimate prize is the Iron Throne. This seat of power was forged at the order of Aegon the Conqueror. It was made out of 1,000 swords surrendered in the War of Conquest.
These were melted down by Aegon's dragon, Balerion the Black Dread. The swords were then forged into a throne of imposing appearance.
Now, it's possible to rule your own kingdom with a Secretlab Iron Anniversary gaming chair. These models have a dark grey leather base embroidered with iconic iron throne artwork. The combination matches well with more somber themes throughout the show's history.
2020 Series Titan Iron Anniversary $429
The Omega Iron Anniversary edition is also available for $389. Both models are available in North America, the UK, EU, Oceania, and Singapore.
House Stark gaming chair
The Secretlab House Stark gaming chair has a cool white base with black accents. The embroidered Direwolf sigil on the backrest is both subtle and menacing.
It blends well into either corporate or creative spaces. While sitting, it looks like an average high-back office chair. But when out of this seat, you'll be guarded by your own personal house wolf.
All House Stark gaming chairs are available in North America, the UK, EU, Oceania, and Singapore.
House Targaryen gaming chair
House Targaryen ruled the Seven Kingdoms for centuries. This Valyrian family's sigil is a three-headed dragon breathing flames. Its House words are "Fire and Blood".
The dynasty ended with the death of Aerys the Mad King during Robert's Rebellion. The two surviving children of Aerys (Viserys and Daenerys Targaryen), fled into exile in the Free Cities of Essos.
The House Targaryen gaming chair starts with a black base. Dragon-scale carbon leather adorns the side wings. A red Targaryen dragon is embroidered on both sides of the chair in brilliant red.
It's a stunning design that evokes their Fire and Blood ethos of bloodline-centricity.
All House Stark gaming chairs are available in North America, the UK, EU, Oceania, and Singapore.
House Lannister gaming chair
House Lannister is one of the Great Houses of Westeros. Their seat is Casterly Rock, a land in the far west of the continent. It overlooks the thriving city of Lannisport. There exists the most productive gold mine in the Westerlands.
The House was defeated by Aegon and his dragons. As a result, they served that regime, and also its successor, King Robert Baratheon.
The House Lannister gaming chair reflects the monied lineage of the house. It has a red leather base, black accents, and brilliant golden lion embroidery.
This model enjoyed a resurgence recently when GME investment guru DeepF***ingValue emerged. He led a Reddit-driven battle against billion-dollar hedge funds and won.
His House Lannister chair was the perfect choice to ride into financial battles with. Check out the Gaming Chairs used by Top Stock Traders to learn more.
All House Stark gaming chairs are available in North America, the UK, EU, Oceania, and Singapore.
Other popular Secretlab designs
Beyond the Game of Thrones collection, Secretlab has several other brilliant ones on offer. Here are a few worth considering:
League of Legends gaming chairs
League of Legends is one of the most popular (and lucrative) esports video games in the world. Secretlab's collection includes hero-inspired chairs, K/A chairs, and Championship tourney chairs.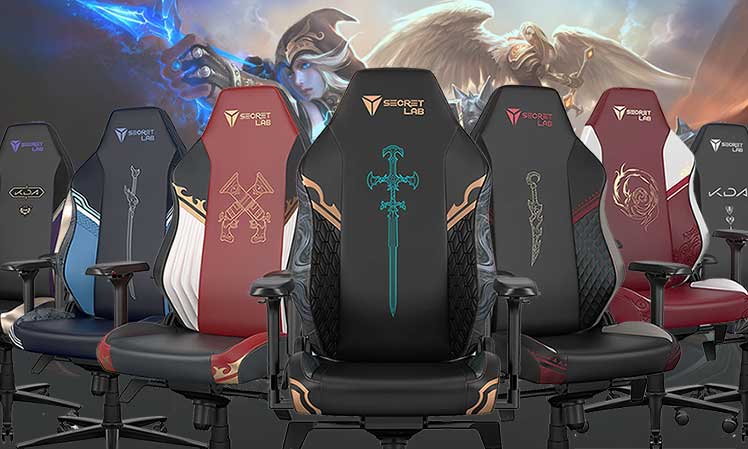 The annual League of Legends Finals is one of the highlights of the global esports calendar. This year's Finals takes place in Shenzhen China in November.
In the run-up to that event, Secretlab usually releases new LOL chairs. There will likely be new World Championship chairs, a new K/DA edition, and a few surprises.
Pro Esports Team chairs
Many of the world's top esports teams use Secretlab chairs for training. Secretlab has custom designs for big names like Team Liquid, OG, Evil Geniuses, Team Secret, Cloud9, and many others.
All models come in Titan (large) and Omega (small) editions. Below is a summary of every pro esports team design in the Secretlab collection.
Softweave Fabric Gaming chairs
In hot weather, leather chairs can get sticky. In comparison, a good fabric gaming chair offers soft breathability that always stays cool.
Secretlab's special blend of Softweave fabric takes things to a higher level. Softweave chairs are ultra-soft, with industry-leading durability. Models come in Omega, Titan, and Titan XL versions.
Styles range from a soothing pink to a trio of more conservative designs. For a closer look at the pros and cons of each Softweave color, check this article:
Conclusion
Game of Thrones was captivating for millions. The new Iron Throne Anniversary edition is a chance to look back on the best parts of that journey.
This steel-grey leather gives it an almost corporate feel. That balances out with the stunning embroidery and subtle black color accents.
It's the ultimate seat of power for a Game of Thrones fan. If not quite ready for Kinghood, maybe a House Targaryen, Stark, or Lannister chair will do.
Want more info about Secretlab chairs? Get a comprehensive look at all models, designs, and specs below: