The HBO show House of the Dragon is a massive hit! After 5 episodes, this Game of Thrones spinoff has averaged 29 million viewers per show. To celebrate, Secretlab has released a House of the Dragon special edition chair. It joins three GoT models. Combined, this collection represents the great houses — and history — of Westeros. Here's an up-close look at all four GoT House of the Dragon gaming chairs.
House of the Dragon is set 200 years before the events of GoT. It chronicles the beginning of the end of House Targaryen. That covers the events leading up to the Targaryen war of succession, aka the "Dance of the Dragons".
Season one has 10 episodes. Houses Stark and Lannister will assume a more prominent role near the season's end. Next year, we've got 10 more episodes to look forward to. By then, all four Secretlab GoT House of the Dragon designs should be hyper-relevant.
Secretlab GoT Black Friday Special
Secretlab's early Black Friday specials include $120-$135 off House Stark, Targaryen, and Lannister chairs for U.S. customers.
Small and medium-sized editions are now $524 $659; Xl versions are $609 $729.
Secretlab House of The Dragon Chairs
There are now four chairs in Secretlab's GoT House of the Dragon collection:
Titan House of the Dragon (NEW)
The official House of the Dragon gaming chair starts with a sleek black leatherette foundation. Glossy dragonscale (carbon pleather) adorns the side wings, flanked by embroidered Targaryen motifs.
The front and back also have House sigils done with intricate 2-tone detailing. The rear version wraps the sigil in a war shield, finished off with the show's lettering underneath.
Compared to the GoT designs, this chair better reflects House of the Dragon with a darker, more brooding feel. This model is only available in Titan Evo 2022 Series versions.
HotD Titan Evo 2022 (M) from Secretlab $624
Small ($624) and XL ($674) House of the Dragon versions are also available.
GoT House Targaryen Titan 2022 Chair
While not as atmospheric as the previous design, the GoT House Targaryen chair is (IMO) more visually striking. Both chairs have a black leatherette base, dragon scale side wings, and House sigils.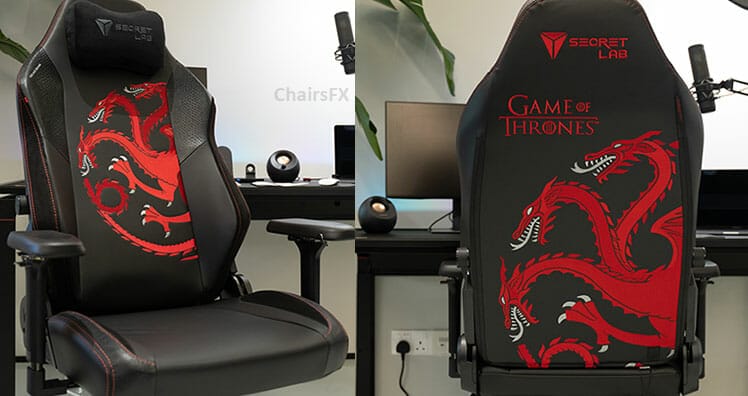 The House Targaryen chair differs with sigils embroidered in bright red. That really pops against the black foundation to create a stunning visual experience.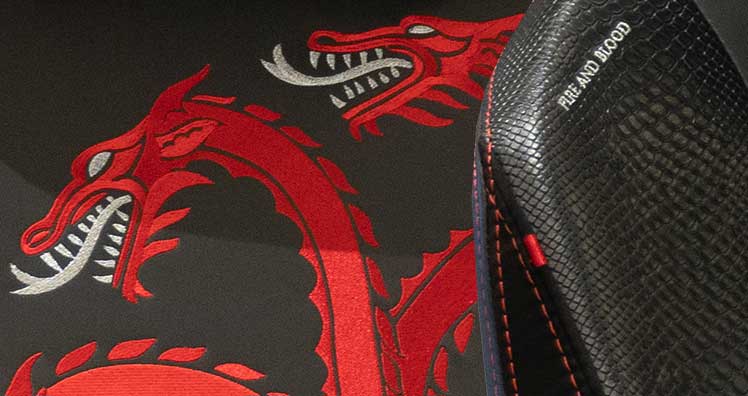 Although based on GoT lore, the House Targaryen chair remains relevant. In House of the Dragon, King Viserys, Princess Rhaenyra, and Daemon Targaryen all wear black scaled leather with Crimson color accents.
Available from Secretlab in North America, the UK, EU, Oceania, and Singapore.
House Stark Gaming Chair
HotD is set 200 years before GoT events. Back then, House Stark was a ruthless bit player seeking vengeance amidst blood and fire. Soon after Rhaenyra Targaryen and Aegon II Targaryen are killed, Cregan Stark enters the story.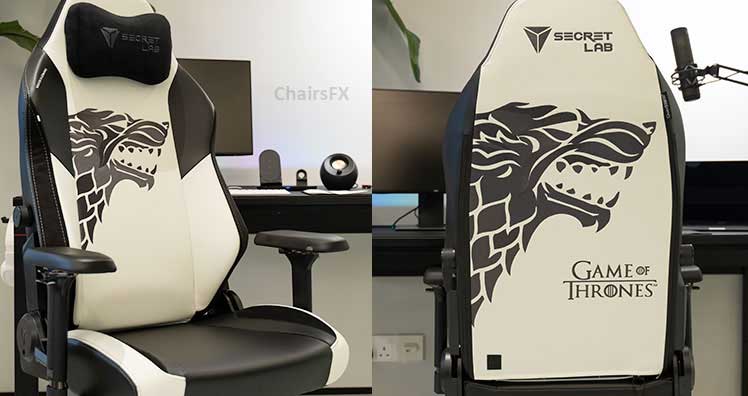 He leads a band of Northmen into King's landing after the Dance of the Dragons. Their white banners depict the harsh northern climate they live in. The black wolf sigil represents their mastery over the direwolf.
The House Stark gaming chair brings the Stark Sigil to life. Winter is their time to shine. When 'Winter is Coming' and the pressure's on, this design will align your spine — and unleash your inner dire wolf.
As Old Nan likes to say, "Go feral or go home!"
Available from Secretlab in North America, the UK, EU, Oceania, and Singapore.
House Lannister gaming chair
Jason Lannister showed up in episode 3, asking Princess Rhaenyra to marry him. She says no; Jason pouts. Meanwhile, his twin Tyland also made an appearance as the Master of Ships for King Viserys I.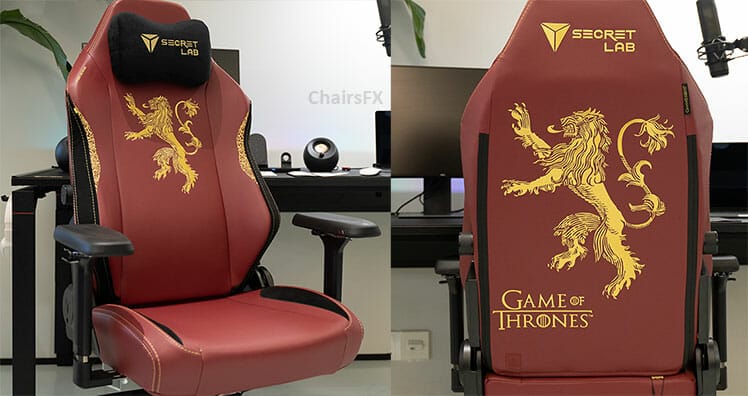 Those who have read Dance of the Dragons already know: know both will play a more prominent role in upcoming episodes.
As civil war breaks out, Lannisters start scheming to collect some debts. If you're into wheeling, dealing, looking posh, this House Lannister chair is for you!
Available from Secretlab in North America, the UK, EU, Oceania, and Singapore.
Game of Thrones Chair variations
Secretlab Game of Thrones chairs come in 2022 Series and Classic 2020 Series editions. Here's a quick look at the key specs of both collections:
Titan 2022 Series
The Titan Evo 2022 Series is ranked on this website as the world's best gaming chair. Three pioneering features make it so. A strapless magnetic lumbar gives you a massive 11″ adjustment range.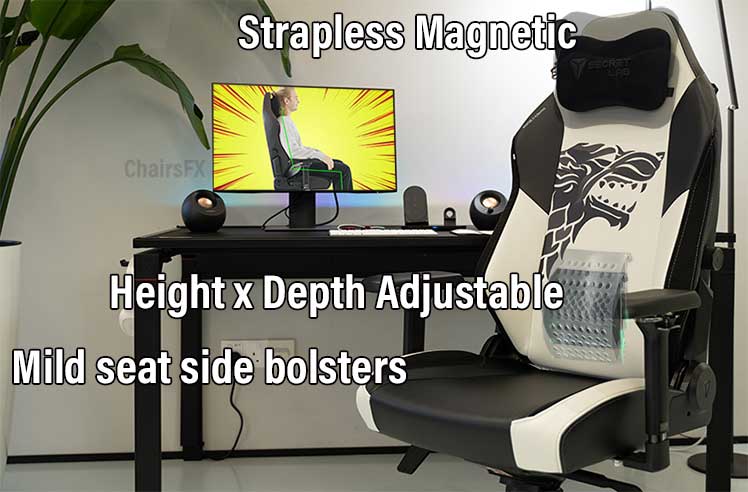 The 2022 Series also has a superb integrated lumbar with depth and height adjustability. Rounding out the highlights is a pebble seat with a waterfall edge. It's designed to support good posture — but also give freedom to sit as you wish.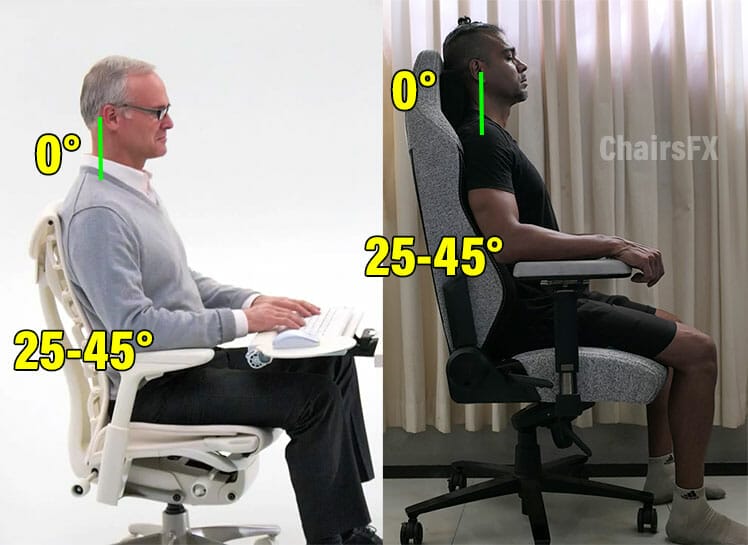 Combined, these features support biomechanically-perfect postures — with the same precision as a $1700 Herman Miller chair!
Chairs also come in a choice of small, medium, or XL sizes. Secretlab's size ratings are very accurate. As well, the seats are wide enough to fit both slim and thick figures.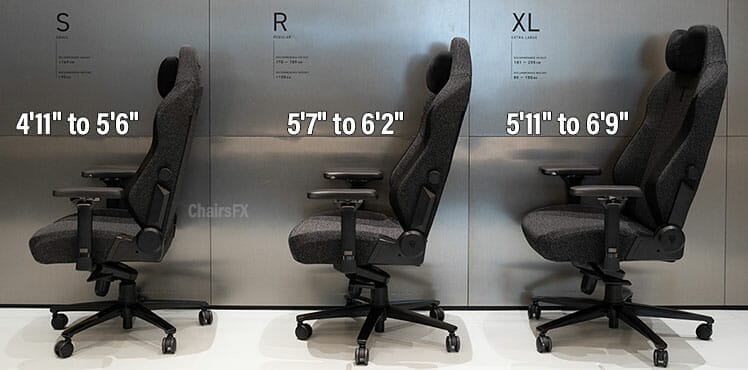 Thus, choosing the right size is simple. Simply pick the size range that matches your height. That said, upsizing to a larger chair is possible, with some caveats. See our Titan Evo 2022 Sizing Guide for details. Here are the key dimensions:
Titan 2022
Small
Medium
XL
Size Rating
4'11" to 5'6″; 285 pounds
5'7″ to 6'2″; 285 pounds
5'11" to 6'9″; 395 pounds
Seat
17.7″ (W) x

18.9″ (D)

18.5″ (W) x

19.3″ (D)

19.3″ (W) x

19.7″ (D)

Backrest
20″ (W) x 32.3″ (H)
21″ (W) x 33.5″ (H)
22″ (W) x 35″ (H)
Seat Height
17.7″ to 20.5″
17.7″ to 20.5″
18.1″ to 21.9″
Price
$624
$624
$674
For a closer look at Titan technicals, check this review:
2020 Series Classic Chairs
The 'Classic Series' is Secretlab's new moniker for its 2020 Series collection. It includes Titan and Omega 2020 Series chairs. These lack the latest and greatest 2022 Series features. Even so, they're almost as good — and significantly cheaper.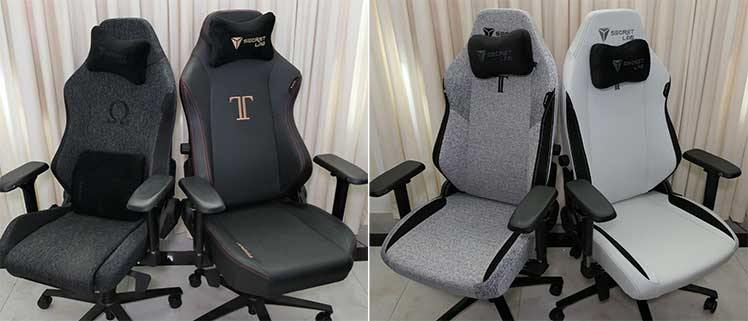 The Titan 2020 is a larger chair that's rated to fit sizes 5'9″ and up. It also has an integrated lumbar, but with depth-adjustability only. Those shorter than 5'9″ will find the lumbar hits too high.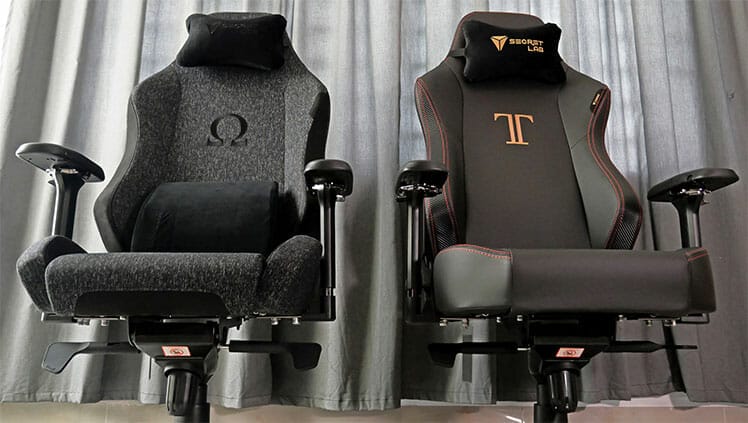 The Omega is a smaller alternative designed for sizes 5'3″ to 5'11". It differs with bladed seat edges (for stricter posture support) and an external lumbar pillow.
If you want to save some extra cash without compromising on quality, Classic chairs are a great option to consider. Titan 2022 Series versions cost $624-$674. Classic series versions are significantly cheaper!
Omega 2020 Series GOT chairs are also available from Secretlab for $524.
Conclusion
Most hardcore fans already know the House of the Dragon story. Set 200 years before the GoT show, it covers the events leading up to the Targaryen war of succession, aka the "Dance of the Dragons".
Six episodes in, we've seen several jumps through time. Things are moving fast and heating up quickly. At present, the show has been renewed for another season. In total, producers plan to develop 3-4 seasons.
This suggests a 4-year thrill ride in the heart of Westeros. Thus, even though the Secretlab Titan comes in 45+ styles, GoT fans now have 4 relevant Westeros designs to consider first.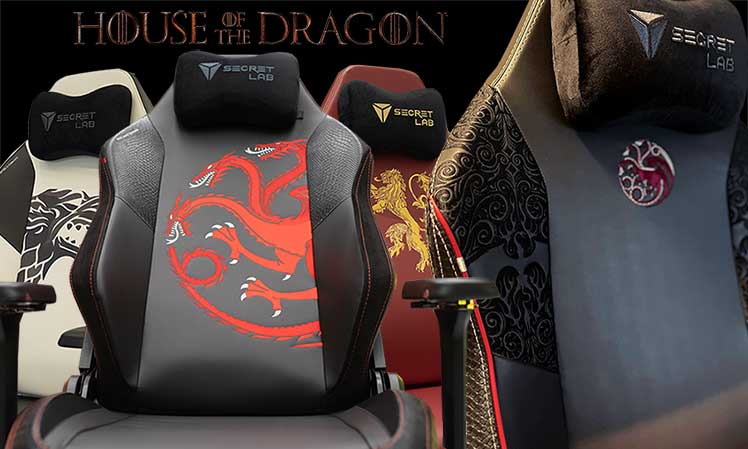 Spoiler: Season one has 10 episodes. Cregan Stark and his Northmen enter the scene toward the season's end. Episode 10 airs on October 30. So as the cold Halloween air descends, you'll know that 'Winter is Coming'.
GOT 2022 Series Chairs $659-$729