The Secretlab Titan Evo 2022 comes in small, medium, and XL sizes. It doesn't matter if you're skinny or fat. Each seat has a generous width plus mild side bolsters to support most levels of thickness. So the key to a good fit is an appropriate seat depth. This Titan Evo Sizing Guide proves the accuracy of Secretlab's size ratings with hands-on tests.
Secretlab publishes size ratings for each of its Titan 2022 Series gaming chairs. Most users should choose the model within their size range. For example, I stand 5'9″ (177 cm). Based on Secretlab's sizing guidelines, the medium Titan is clearly my best option.
Titan 2022
Small
Medium
XL
Size Rating
4'11" to 5'6″; 285 pounds
5'7″ to 6'2″; 285 pounds
5'11" to 6'9″; 395 pounds
Seat
17.7″ (W) x

18.9″ (D)

18.5″ (W) x

19.3″ (D)

19.3″ (W) x

19.7″ (D)

Backrest
20″ (W) x 32.3″ (H)
21″ (W) x 33.5″ (H)
22″ (W) x 35″ (H)
Seat Height
17.7″ to 20.5″
17.7″ to 20.5″
18.1″ to 21.9″
Price
$549
$549
$599
Accuracy Testing
To test the accuracy of Titan size ratings, I ordered medium and XL Titan chairs. As Secretlab's size ratings predicted, the medium edition fit well. You can see that for yourself by the healthy gap between the back of my knees and the seat's lip: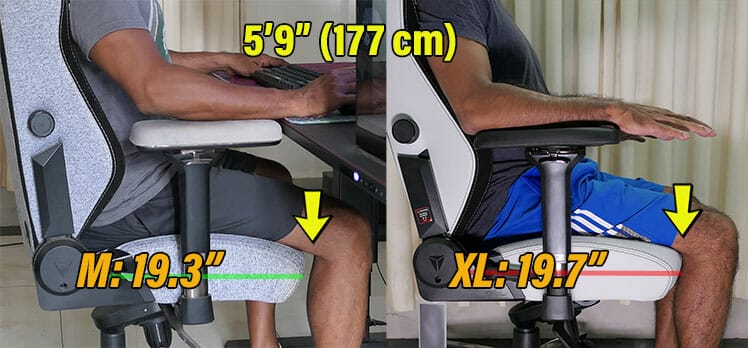 In comparison, the XL's seat left only a tiny gap behind my knees. Our general Gaming Chair Sizing Guide explains the danger of such a small gap. Basically, a seat that's too deep pulls the knees forward. That sets off a chain reaction that destroys your postural foundation.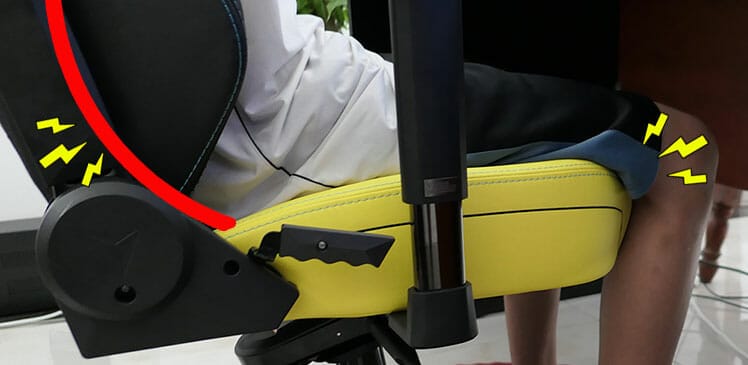 For example, the above picture shows a 5'4″ teen in a Titan 2020 (rated for sizes 5'9″ and up). As the excessive seat depth pulls his knees forward, it also rounds his lower back curve. After only a few hours of sitting this way, lower back pain is inevitable.
Key Problem: Excessive Seat Depth
When I first tried out a Titan Evo 2022 XL, the seat lip was almost touching the back of my knees. You can use my 5'9″ (177 cm) size as a benchmark to gauge your own potential fit.
Sit down and measure from the back of your butt to the tip of your kneecap. If your knee-to-hip measurement is greater than mine, the Titan XL will fit you.
If not, refer to the size-hacking section for solutions.
Titan 2022
Small
Medium
XL
Size Rating
4'11" to 5'6″; 285 pounds
5'7″ to 6'2″; 285 pounds
5'11" to 6'9″; 395 pounds
Seat
17.7″ (W) x 18.9″ (D)
18.5″ (W) x 19.3″ (D)
19.3″ (W) x 19.7″ (D)
Titan 2022 Series Sizing Guide
The Secretlab Titan 2022 Series replaces the 2020 Series. The new version comes in three sizes designed for both slim and moderately thick sizes.
Medium Titan For Average Sizes Demo
My 5'9″ frame fits perfectly in the medium-sized Titan. This is what a good fit looks like:
You can see that the headrest and lumbar support align with my spinal curves. The seat height adjusts to let me plant my feet firmly on the floor. As well, there's a decent gap between the seat edge and the back of my knees.
When spread comfortably, my slim-ish legs leave around 2″ (5 cm) of space on either side of the chair. That's enough to support most with moderately thicker legs or wider bums.
Titan 2022
Medium
Size Rating
5'7″ to 6'2″; 285 pounds
Seat
18.5″ (W) x

19.3″ (D)

Backrest
21″ (W) x 33.5″ (H)
Seat Height
17.7″ to 20.5″
Price
$549
Titan XL Sizing Demos
The Titan XL is rated for sizes 5'11" to 6'9″. Here's a look at the fit its using 5'9″ (177 cm) and 6'5″ (195 cm models):
Average (177 cm) Model in a Titan XL
The Titan XL's seat is 0.7″ (1.7 cm) deeper and 0.8″ (2cm) wider than the medium version. It doesn't look much larger but definitely feels more spacious. People much thicker than my 160-pound size should find enough space here.
I'm 2″ shorter than the XL chair's recommended range of 5'11" to 6'9″. As you can see, the XL's seat depth is excessive for my size, leaving only a small gap behind my knees.
For my size, its higher backrest and wider seat space also adds a cavernous feel to the sitting experience. Even so, I've logged a few hundred hours in my XL chair without issues by size-hacking the seat depth.
Tall (195 cm) Model in a Titan XL
I also had a 6'5″ (195 cm) associate try out the XL. You can see the difference in knee gaps between is size and mine (an 18 cm / 7-inch height difference):
He enjoyed an excellent fit for his size. Looking closer, the 19.7″ usable seat depth is perfect for tall people. His 6'5″ frame leaves a healthy gap behind his knees.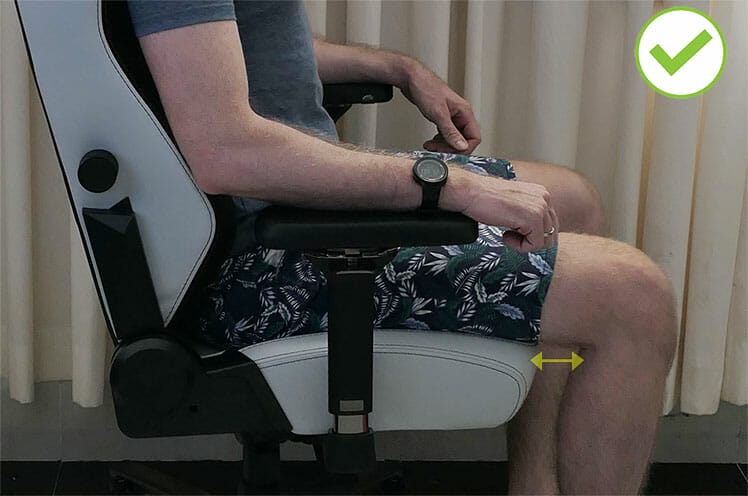 Given his fit (and mine) in the Titan XL, Secretlab's 5'11" to 6'9″ size rating seems spot-on.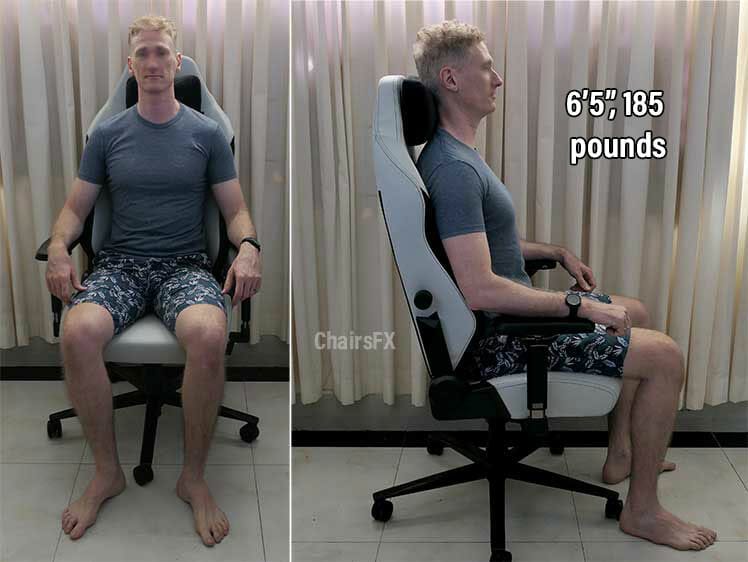 Bottom line: users sized 5'11" or taller will find a good fit in a Titan XL. Even so, sizes 5'8″ and up can still make use of an XL with some size-hacking tricks.
Small-Sized Titan Fitting Advice
In 2023, there are only three fully-ergonomic chairs available with specialized dimensions for short sizes. Of the three, the small Titan has the deepest seat. Summary of specs:
Despite its deeper seat than the other, two hacks can slightly mitigate the depth: a footrest or an external lumbar pillow. To compare the merits of the Titan vs California chair, see this:
Size-Hacking Titan Seat Depth or Height
Planting your feet firmly on the floor is an essential part of healthy sitting. That provides the power to hold your spine upright against gravity. Without that support, your back muscles will do the heavy lifting, instead of your chair.
Notice what happens when your legs dangle instead of planting firmly. The knees sag lower, placing more pressure on the back of the thighs. They also curl your hips forward, which flattens the lower back curve.
Sitting this way over long periods will ruin you! Besides searing pain in your legs and thighs, your spine will sag into a "c" shape to compensate.
Height x Depth Hack: Ergonomic Footrest
Every person shorter than 5'10" should have an ergonomic footrest in their arsenal. Adding one makes it easy to sit taller in a chair while still keeping your feet planted. This addition makes seat height issues irrelevant.
Beyond height-boosting, a footrest also supercharges movement while you sit. Here at ChairsFX HQ, I'm using a Secretlab Professional Footrest.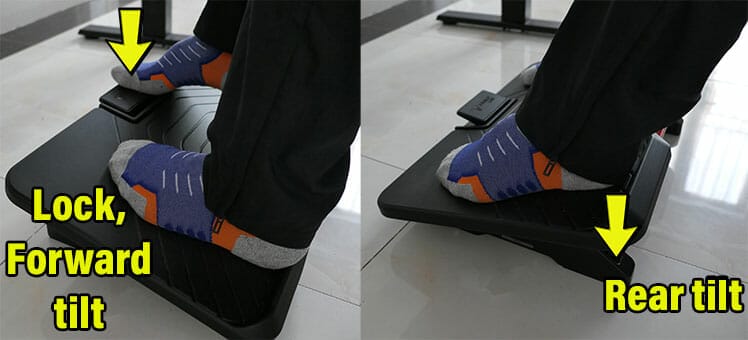 Footrests make it easy to work your ankles and calves while you sit. Doing so optimizes circulation for a quick boost of energy. Any time you start to feel fatigued, use this technique for a quick pick-me-up.
Secretlab Professional Footrest Review
A Footrest Also Addresses Depth
Beyond solving height issues, an ergonomic footrest also addresses seat depth problems. Notice what happens to the space between the seat and the back of one's knees using a footrest: it widens!
Instead of the thighs draping over the seat edge, the footrest props them up slightly. Doing so angles the knees further away from the tip of the seat.
Even if you don't have seat height or depth issues, it's worth investing in a good ergonomic footrest for three reasons. First, as the picture shows, using one will reduce the pressure on the back of your thighs while you sit.

Second, using one will dramatically improve your options to move while sitting. Third, seat height issues become a distant memory.
Secretlab Premium Footrest $89
The Premium version is available now; the Professional version gets released in August.
Seat Depth Hack: Add a Lumbar Pillow
If you still suffer seat depth issues in an oversized Titan chair, there's one more option to consider. Adding a Secretlab Memory Foam Lumbar Pillow will add extra depth behind your back while you sit. As a result, your knees will extend further past the tip of the seat.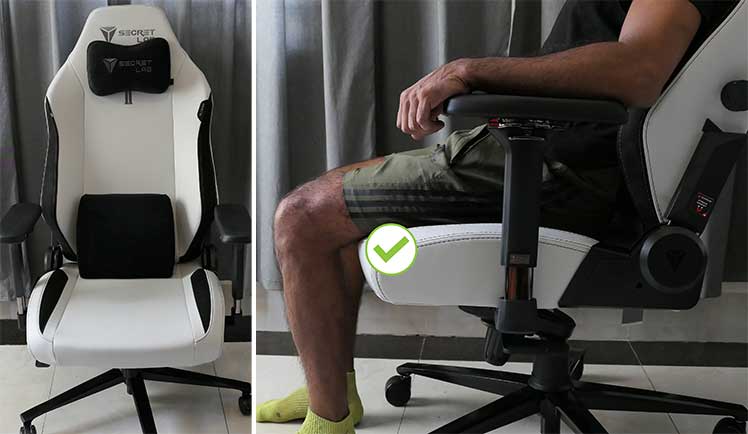 On the downside, you will lose the wonderful qualities of the Titan's built-in lumbar support. Even so, Secretlab memory foam pillows are a nice consolation prize.

Besides providing superb support in all types of gaming chairs, they come in a wide range of styles. League of Legends, Harry Potter, Valorant, and Overwatch pillows are among the options.
Secretlab Memory Foam Lumbar Pillow $59
Conclusion
Slim and moderately thick users shopping for a Secretlab gaming chair have it easy. To choose the right size, simply follow Secretlab's suggested size ratings.
Titan 2022
Small
Medium
XL
Size Rating
4'11" to 5'6″; 285 pounds
5'7″ to 6'2″; 285 pounds
5'11" to 6'9″; 395 pounds
Seat
17.7″ (W) x

18.9″ (D)

18.5″ (W) x

19.3″ (D)

19.3″ (W) x

19.7″ (D)

Backrest
20″ (W) x 32.3″ (H)
21″ (W) x 33.5″ (H)
22″ (W) x 35″ (H)
Seat Height
17.7″ to 20.5″
17.7″ to 20.5″
18.1″ to 21.9″
Price
$549
$549
$599
However, if you want the roomiest seat possible, you might be able to use a larger size than what Secretlab recommends. Use a footrest or memory foam lumbar pillow to mitigate the seat depth by an inch or two.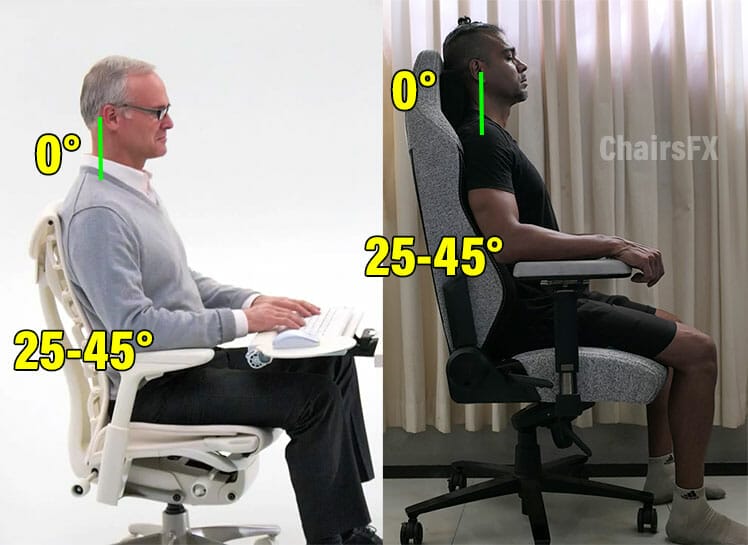 Once you've got your sizing down, check out our Titan review to refine your healthy posture methods: