Every two years, Secretlab updates its gaming chairs. The most recent Titan Evo 2022 Series comes in three sizes with luxurious extras. But priced from $469 to $674, they're too expensive for some budgets. Luckily, Secretlab's much-loved 2020 Series chairs are still available — for cheaper prices. How do the two series measure up? Here we compare Secretlab 2020 vs 2022 Series gaming chairs.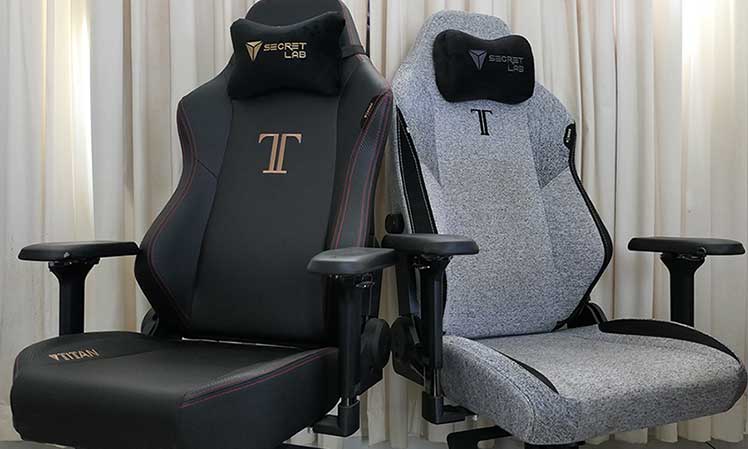 Skyrocketing global shipping rates have caused gaming chair prices to go up industry-wide. For example, the priciest Secretlab chairs now cost $674; Omega 2020 Series chairs ($374) are the cheapest.
Titan 2020 vs 2022 Series Comparison
The 2020 Series cemented Secretlab as the world's most popular gaming chair brand. It included Omega (small), Titan (medium), and Titan XL chairs. I spent hundreds of glorious hours in 2020 Series chairs with no issues.
My only reason for upgrading to Titan 2022 Series chairs was for comparison testing. Otherwise, I would have happily stuck with my 2020 Series chairs.
Without question, 2022 Series upgrades are impressive. However, 2020 Series chairs are also good — and cheaper. How do they measure up head-to-head? Let's investigate:
Secretlab Chair Pricing
Secretlab sells its chairs directly in both faux leather and fabric upholsteries.
Neo Hybrid Leatherette
Smooth and supple faux leather with good breathability and durability.
SoftWeave Fabric
Soft and ultra-breathable fabric designs:
Secretlab Chairs On Amazon
Chair Sizing
Both Series of chairs come in small, medium, and XL sizes. There are certain things to look out for in each series:
Titan Evo 2022 Series Dimensions
For 90% of people, choosing a Titan 2022 chair is easy. Simply choose the chair size rating that matches your height. It's also possible to upsize if you prefer more space.
For upsizing advice, see this Titan Evo 2022 Series Sizing Guide. Here are the key dimensions of each size:
| | | | |
| --- | --- | --- | --- |
| Specification | Titan 2022 Small | Medium | XL |
| Seat | 17.7″ (W) x 18.9″ (D) | 18.5″ (W) x 19.3″ (D) | 19.3″ (W) x 19.7″ (D) |
| Backrest | 20″ (W) x 32.3″ (H) | 21″ (W) x 33.5″ (H) | 22″ (W) x 35″ (H) |
| Seat height | 17.7″ to 20.5″ | 17.7″ to 20.5″ | 18.1″ to 21.9″ |
| Size rating | 4'11" to 5'6″; 285 pounds | 5'7″ to 6'2″; 285 pounds | 5'11" to 6'9″; 395 pounds |
2020 Series dimensions
The 2020 Series includes Omega (small), Titan (medium), and Titan XL chairs.
| | | | |
| --- | --- | --- | --- |
| 2020 Spec | Omega | Titan 2020 | Titan XL |
| Seat (including edges) | 22″ (W) x 19.3″ (D) | 20.5″ (W) x 19.7″ (D) | 22.6″ (W) x 19.9″ (D) |
| Backrest | 21″ (W) x 31.5″ (H) | 21.7″ (W) x 33″ (H) | 22″ (W) x 33.5″ (H) |
| Seat height | 18.9″ to 21.9″ | 18.7″ to 22.4″ | 19.1″ to 22.8″ |
| Size rating | 5'3″ to 5'11"; 240 pounds | 5'9″ to 6'7″; 290 pounds | 5'11" to 6'10"; 390 pounds |
Note: the Titan 2020 Series is rated for users from 5'9″ to 6'7″. Because its lumbar support isn't height-adjustable, you should stick with this rating. I stand 5'9″ and found the lumbar just barely fit my lower back curve.
Upon testing with a smaller user standing 5'5″, the lumbar support hit too high in his back. Over time, that leads to back pain. Luckily, there's an easy fix. If the lumbar doesn't fit your spine, add a Secretlab lumbar pillow.
Worth Upgrading?
Definitely for short people. Both Series come in small, medium, and XL sizes. However, people shorter than 5'4″ will find a better fit in a small Titan Evo 2022.
Lumbar Support
Here's a look at the lumbar support differences between 2020 and 2022 Series:
2020 Series Lumbar Support
2020 Series Omega chairs come with bladed seat edges and an external lumbar pillow. In contrast, 2020 Series Titans have flat seats and integrated (depth-adjustable) lumbar support.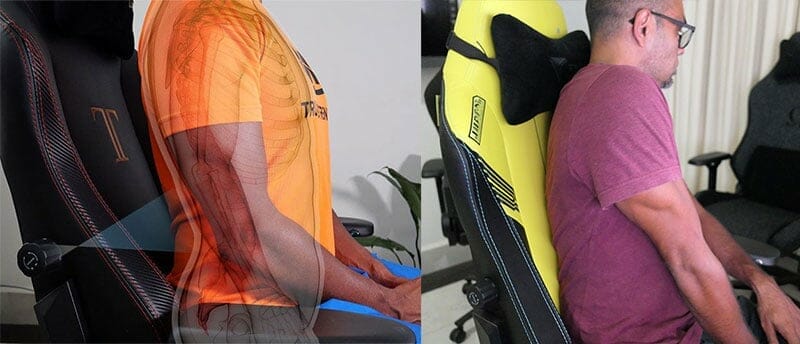 The Titan 2020 Series integrated lumbar is depth but not height-adjustable. If you're shorter than 5'9″, it won't fit. Meanwhile, the Omega comes bundled with a high-quality memory foam lumbar pillow.
The included pillow is the best lumbar support I've ever tried. It works with all types of gaming chairs and is extremely easy to use. Although not as flashy as an integrated lumbar, it works a treat! See this Secretlab Lumbar Pillow Review for details.
2022 Series Lumbar Support
The new Titan Evo 2022 Series lumbar system adds height adjustability. Turn the dial on the left side of the chair to toggle the height. Turn the knob on the right side to adjust the depth.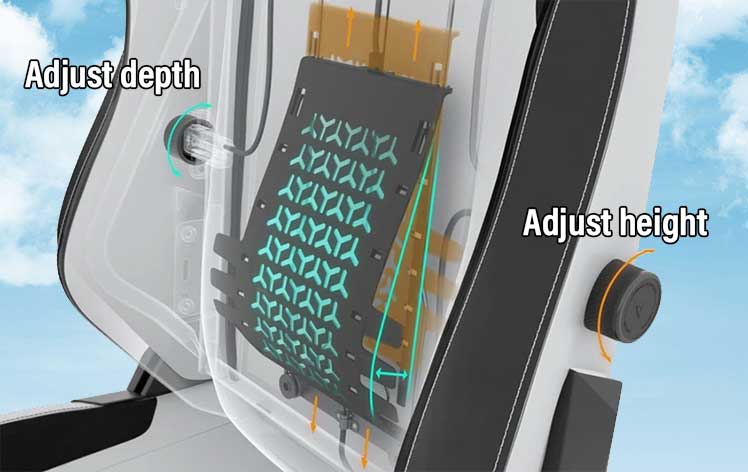 My medium-sized Titan chair's lumbar support was at the perfect height out-of-the-box. To make use of the support in the TItan XL, I needed to lower it by around an inch. Now, it fits perfectly!
Beyond the height-adjustability, Secretlab added another twist. Laid over the unit is a matrix of 63 hinges. According to Secretlab, these are supposed to pivot left or right as you move in the chair.
It works well! Once your lumbar support is configured, twist right or left with pressure in your lower back. You'll feel the hinges cradle your lumbar spine and take it for a ride!
Worth Upgrading?
Somewhat. The 2022 Series ability to control both height x depth yields perfect support. On the flip side, 2020 Series lumbar systems deliver similar support — but only for sizes 5'9″ and up.
Magnetic Headrest
2020 Series Secretlab chairs come with velour headrest pillows stuffed with memory foam. There's also a cooling gel under the velour that keeps the back of your neck cool.
Like most gaming chairs, it attaches to the headrest using straps. After a year of using these headrest pillows, I found no complaints. They're easy to adjust, easy to use, and very comfortable.
Nonetheless, Secretlab found a brilliant path of improvement. 2022 Series chairs come with magnetic headrest pillows. Instead of straps, magnets hold the pillow in place.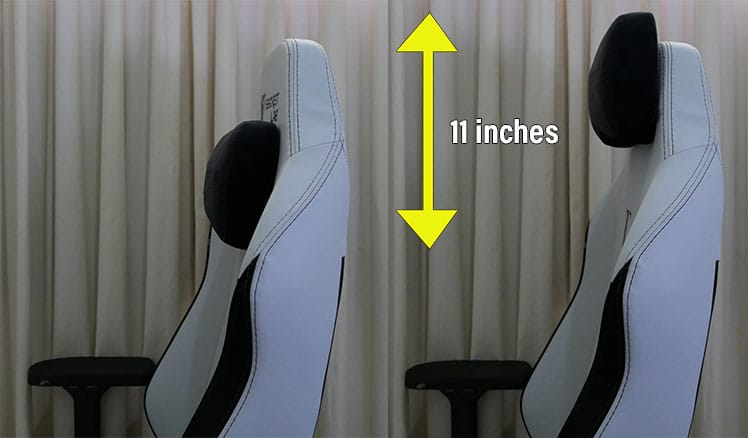 The strapless design looks amazing. It gives the chair a clean, sleek, unique design that's unlike any other gaming chair on the market. It also delivers a much wider adjustment range than a pillow with straps.
Upholstery
Out of all the 2022 Series upgrades, the upholstery improvements are among the most impressive. That said, the 2020 Series upholsteries are excellent. Working in tropical climates, I had zero issues with breathability in either chair.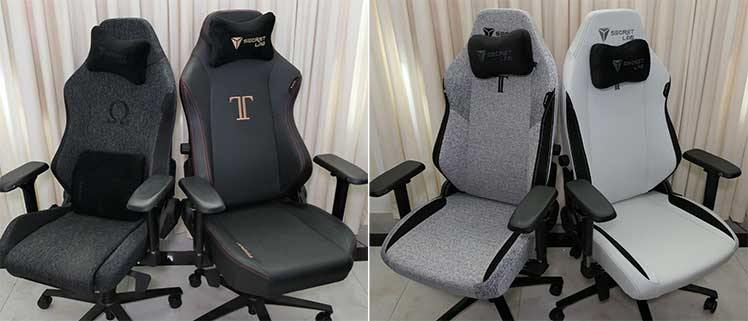 Nonetheless, as is tradition, Secretlab made upholstery upgrades a major factor in its 2022 Series.
Neo Hybrid Leatherette
In 2019, Secretlab created PRIME 2.0 PU leather. It took three years of research and development in collaboration with scientists at Singapore's Agency for Science, Technology and Research (A*STAR). 4x more durable than regular PU leather, it was designed to thrive in warm, tropical climates.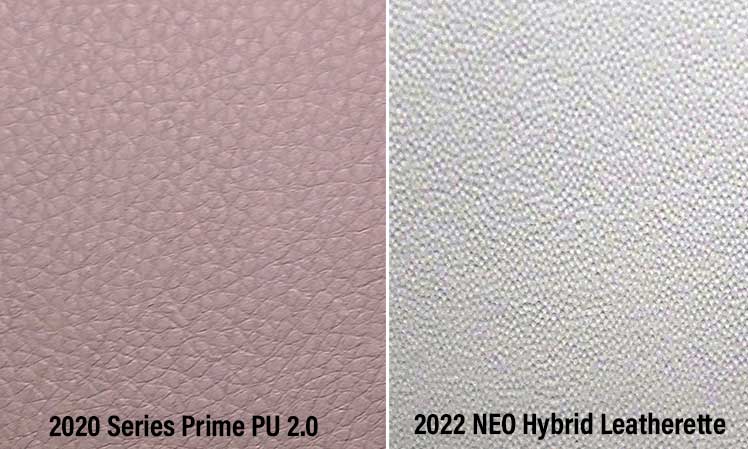 2022 Series Neo Hybrid Leatherette is smoother, softer, and more durable. It replicates the supple feel and glossy luster of genuine NAPA leather, with 12x the durability of regular PU leather.
You can feel the difference between versions. Run your hands over the leather and you'll find it significantly smoother than Prime 2.0.
SoftWeave Plus
My 2020 Series Omega Triple Black has one of the best fabric chair upholsteries I've ever tried. It's soft, ultra-breathable, and aesthetically complex. Tiny white specs interspersed in the weave adds action and variety to every stitch.
2022 Series SoftWeave introduces a new weaving process. It uses interlacing loops of high-strength yarn fibers that allow more air to pass through. Beyond enhanced breathability, it's also 3.5x more durable than its predecessor. You can see the difference under a macro lens: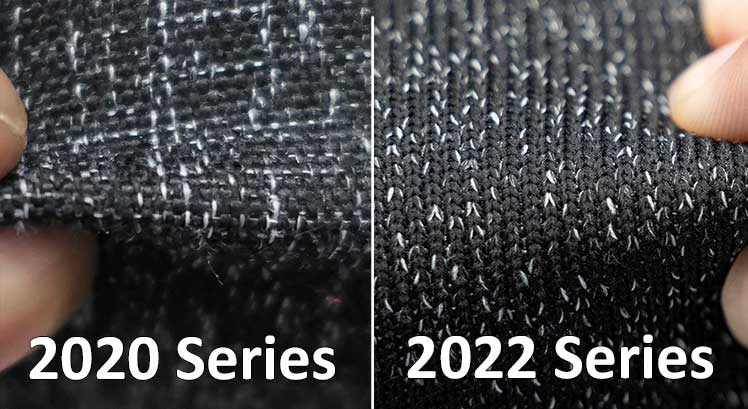 The result looks a lot more complex than the 2020 Series versions. You can also feel the difference when running your hands over the fabric — the 2022 Series feels more textured.
That said, sitting in 2020 vs 2022 SoftWeave feels the same. No matter how much I try, I can't tell the difference.
Worth Upgrading?
Not really. 2022 Series Softweave and Leatherette look and feel spectacular. Even so, after sitting for a while, they feel similar to 2020 upholsteries.
Seat Styles
Here's a quick comparison of 2020 vs 2022 Series chairs:
2020 Series Seat Styles
The 2020 Series Titan has a flat seat style with mild edges. This design provides gentle guidance to keep the legs straight. Sitting cross-legged isn't a problem in this chair.

In contrast, the Omega has bladed seat edges that restrict leg movement. You're essentially confined to the inner width of the seat edges (18″).
Titan Evo 2022 Seat Style
The Titan Evo 2022 seat merges the best qualities of Omega and Titan 2020 seats. It softens the sharp edges of the Omega seat to provide gentle guidance to keep the legs straight.

The edges are a bit more pronounced than Titan 2020 chairs. However, they're still mild enough to not restrict leg movement.

Another upgrade in the 2022 Series is a waterfall seat edge. The 2020 Series model had a seat lip with a sharp dropoff. Secretlab refined this by adding a gentle downward slope. That helps to reduce pressure on the back of the thighs while you sit.
Worth Upgrading?
Sort of. If you're not a fan of bladed seat edges, it's worth upgrading from an Omega to a small Titan 2022.
Pros and Cons of Buying a 2022 Series
The only downside of buying a 2022 Series is the price. In my experience, both series offer high-quality back support. I see two big advantages in paying extra for a 2022 Series:
More precise fit: both series offer good back support. 2022 Models have better adjustability for greater precision.
Wider range of styles: 2022 Series chairs are available in 43+ styles. Older models have limited availability — while supplies last.
If styling is a priority, buying a 2022 Series is the way to go. See this Secretlab Showroom Tour for an eye-popping trip through the best 2022 Series styles.
Are 2020 Series Chairs Still Worth It?
Is it worth buying a Secretlab 2020 Series to save a few dollars? In my experience, if your budget is tight, it's definitely worth it. I had a wonderful time using Secretlab Titan 2020 Series chairs.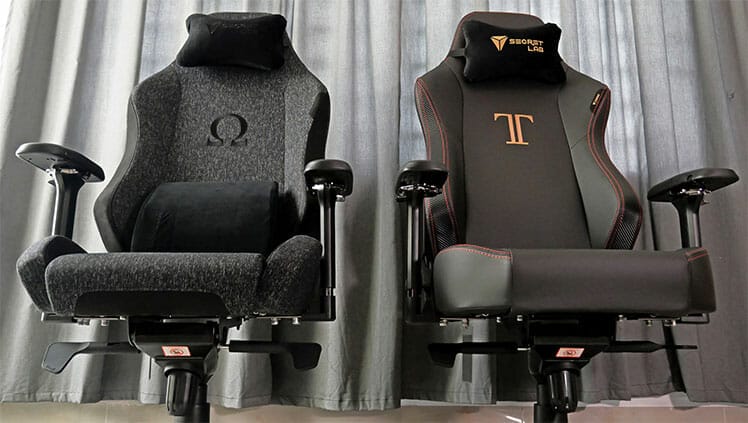 Since upgrading to 2022 Series medium and XL chairs, it's been (a bit) better. Besides enjoying a slightly better fit, both series offer a similar sitting experience.
Secretlab chairs are also available on Amazon: