The Secretlab Titan is the only gaming chair in the world designed to evolve over time. Every two years, the company releases an updated version. Tweaks come via in-house innovations plus crowdsourced user feedback. Here's a study in cutting-edge gaming chair evolution. Check out the differences between 2020 and 2022 Series Titan gaming chairs.
Secretlab releases a new Titan Series every two years. Upon each new release, the company's data collection team kicks into gear. Head of Industrial Design Vincent S. shared that process with ChairsFX.
Direct suggestions, complaints, and requests get logged into a ticket system. The data collection team also scours social media and review sites for more feedback and user suggestions.
Concurrently, a team of 30+ industrial designers tests new techniques in-house. Over two years, the best ideas are flushed out, refined, and released as part of the next iteration.
Titan 2020 vs 2022 Series Comparison
I spent the past year working full-time in a pair of Titan 2020 Series chairs and a 2020 Omega. Today, all three models look and work like new. The sitting experience in each model was superb.
My only reason for ordering Titan 2022 Series chairs was for comparison testing. Otherwise, I would have gotten the most out of my 2020 Series chairs until the 2024 Series upgrade.
Even so, it's been a pleasant experience. The 2022 Series upgrades are impressive. If you were delighted by the 2020 Series, the new iteration will blow you away. On this trajectory, the 2024 Series will surely be spectacular.
Titan Chair Pricing
2022 Series Titan chairs are available in three sizes and two upholstery styles:
2022 Series chairs come in Omega, Titan, and Titan XL variants. These models come in a choice of Prime 2.0 PU leather or SoftWeave fabric:
Assembly Process
Assembling a Titan 2020 Series is almost the same as setting up a 2022 Series chair. See our Titan assembly guide for a detailed walkthrough.
The process is almost the same with both versions:
Open the box, remove the backrest, and set it aside.
Attach the wheels and gas lift to the 5-pointed base.
Bolt the backrest to the seat.
Bolt the multifunction tilt mechanism under the seat.
Attach the seat and backrest to the gas lift.
However, with 2022 Series chairs, there are two extra things to do. First, attach the (replaceable) CloudSwap armrest caps.
After that, unwrap and attach the magnetic headrest pillow and attach it to the backrest. Now your 2022 Series Titan gaming chair is ready to use!
Sizing
The Titan 2020 Series comes in a single size rated for users from 5'9″ to 6'7″. Because its lumbar support isn't height-adjustable, you should stick with this rating. I stand 5'9″ and found the lumbar just barely fit my lower back curve.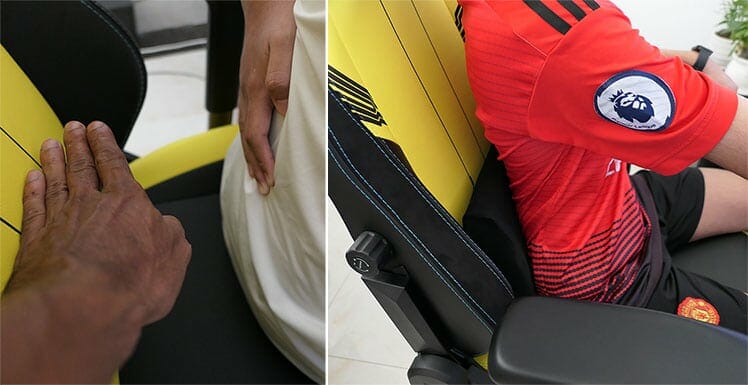 Upon testing with a smaller user standing 5'5″, the lumbar support hit too high in his back, resulting in pain instead of sitting support. However, by reducing the depth and using a lumbar pillow instead, he found the chair perfectly usable.
In comparison, 2022 Series chairs come in small, medium, and XL sizes. Here are the specs:
| | Titan EVO Small | 2022 Series Medium | 2022 Series XL |
| --- | --- | --- | --- |
| Seat | 17.7" (W) x 18.9" (D) | 18.5" (W) x 19.3" (D) | 19.3" (W) x 19.7" (D) |
| Backrest | 20" (W) x 32.3" (H) | 21" (W) x 33.5" (H) | 22" (W) x 35" (H) |
| Seat height | 17.7" to 20.5" | 17.7" to 20.5" | 18.1" to 21.9" |
| Size rating | 4'11" to 5'6"; 285 pounds | 5'7" to 6'2"; 285 pounds | 5'11" to 6'9"; 395 pounds |
| Price | $449 | $469 | $499 |
Choosing the right size simply means adhering to the size ratings. However, shorter users wanting the widest seat might prefer a larger size. I stand 5'9″. That puts me in a perfect range for a medium-sized Titan. Indeed, it fits like a glove!
However, I'm two inches shorter than the recommended Titan XL minimum of 5'11". Even so, the fit is pretty good for my size. The huge adjustment range of the magnetic headrest and height-adjustable lumbar support gives solid support for my size.
The one downside is the extended depth of the seat. In a Titan medium, there's a small gap between the seat and the back of my knees. In the Titan XL, the back of my knees almost touch the seat.
Nonetheless, my Titan Ash XL is too gorgeous to set aside. Luckily, there are workarounds to ensure a better fit for smaller sizes. I'll be testing those out over the coming months. Check out our Titan XL review for details:
Lumbar Support
The Titan 2020 Series comes with a depth (but not height) adjustable lumbar support. For my 5'9″ size, it just barely fits enough to deliver comfortable support. Even so, I often wished I could lower the height by just a touch.
The new Titan Evo 2022 Series lumbar system addresses such desires by adding height adjustability. Turn the dial on the left side of the chair to toggle the height. Turn the knob on the right side to adjust the depth.
My medium-sized Titan chair's lumbar support was at the perfect height out-of-the-box. To make use of the support in the TItan XL, I needed to lower it by around an inch. Now, it fits perfectly!
Beyond the height-adjustability, Secretlab added another twist. Laid over the unit is a matrix of 63 hinges. According to Secretlab, these are supposed to pivot left or right as you move in the chair.
It works well! Once your lumbar support is configured, twist right or left with pressure in your lower back. You'll feel the hinges cradle your lumbar spine and take it for a ride!
Magnetic Headrest
2020 Series Secretlab chairs come with velour headrest pillows stuffed with memory foam. There's also a flyer of cooling gel under the velour to ensure that the back of your neck stays cool.
Like most gaming chairs, it attaches to the headrest using straps. After a year of using these headrest pillows, I found no complaints. They're easy to adjust, easy to use, and extremely comfortable.
Even so, Secretlab found a brilliant path of improvement. 2022 Series chairs come with magnetic headrest pillows. Instead of straps, magnets hold the pillow in place for two big advantages.
First, the strapless design looks amazing. It gives the chair a clean, sleek, unique design that's unlike any other gaming chair on the market.
More importantly, it delivers a much wider adjustment range than a pillow with straps. As a result, even if you're shorter than the recommended height for a model, you should be able to lower the headrest enough to fit your size.
Upholstery
Out of all the 2022 Series upgrades, the upholstery improvements are among the most impressive. That said, the 2020 Series upholsteries are excellent. Working in tropical climates, I had zero issues with breathability in either chair.
2020 Series Prime 2.0 PU leather is smooth, supple, easy to clean, and attractive. 2020 Series Softweave chairs aren't as flashy, but much softer against the skin, sort of like luxury pajamas.
Nonetheless, as is tradition, Secretlab made upholstery upgrades a major factor in its 2022 Series.
Neo Hybrid Leatherette
In 2019, Secretlab created PRIME 2.0 PU leather. It took three years of research and development in collaboration with scientists at Singapore's Agency for Science, Technology and Research (A*STAR). 4x more durable than regular PU leather, it was designed to thrive in warm, tropical climates.
The upgraded Neo Hybrid Leatherette is designed to be smoother, softer, and more durable. It was engineered to recreate the supple feel and glossy luster of genuine NAPA leather, with 12x the durability of regular PU leather.
Out-of-the-box, you can feel the difference right away. Run your hands over the leather and you'll notice it's significantly smoother than Prime 2.0.
SoftWeave Plus
My 2020 Series Omega Triple Black has one of the best fabric chair upholsteries I've ever tried. It's soft, ultra-breathable, and aesthetically complex. Tiny white specs interspersed in the weave adds action and variety to every stitch.
For its 2022 Series version, Secretlab added a new weaving process. It uses interlacing loops of high-strength yarn fibers that allow more air to pass through. Beyond enhanced breathability, it's also 3.5x more durable than its predecessor.
The new method also allows for more visual complexity. Designers have control over every pixel. That allows them to map complex designs using different layers of color. Secretlab shows this off on the 2022 Series with gradient fade effects of each chair's side wings.
Under a macro lens, you can see the older version has a tighter weave that creates small air holes. In comparison, the 2022 Series SoftWeave Plus material has a looser, fluffier weave.
To the touch, I find 2020 Series SoftWeave a bit smoother. The newer stuff has a slightly more textured yet softer feel. Over the next few months, I'll be adding notes as I further test my SoftWeave Plus Cookies and Cream. Check our SoftWeave feature for updates:
Seat Styles
Another upgrade in the 2022 Series is an upgraded Pebble Seat with a waterfall edge. The pebble seat base has gently sloping side wings. These guide users toward the middle of the seat to promote good posture.
At the same time, they provide enough room to sit cross-legged. Then, the slightly bulging side wings are almost unnoticeable. Thus, users enjoy effective posture support without the limitations of bladed racing wings.
Another enhancement is a new waterfall seat edge. The 2020 Series model had a seat lip with a sharp dropoff. Secretlab refined this by adding a gentle downward slope. That helps to reduce pressure on the back of the thighs while you sit.
Early 2022 Series Chair Impressions
Over the past year, I've had a wonderful time using Secretlab Titan 2020 Series chairs. My one quibble was the sizing was less than perfect for my 5'9″ size. I fit ok in the Titan 2020, but just barely. I fit well in the Omega, but it delivers a more snug, body-hugging sitting experience than the Titan.
As I break in my new 2022 Series chairs, it feels like a similar sitting experience, albeit with more refinement. Here are some early impressions:
Upgrading From a 2020 Series Isn't Worth It
My only reason to upgrade from 2020 to 2022 Series chairs was for ChairSFX review purposes. Otherwise, I would have continued enjoying my 2020 Series chairs while waiting for the 2024 Series update.
Secretlab chairs come with a 5-year warranty. Every two years, they release an upgraded Titan Series. To get the best value out of a 2020 Series investment, it makes sense to skip the 2022 update and pick up a 2024 Series model when it comes out.
2022 Series Sizing Is Flexible
Based on my early tests with the Titan XL, it's possible for shorter people to use larger chairs. With a height-adjustable lumbar and magnetic headrest, you should be able to lower the support to meet your spine's curves.
The one factor you want to look watch out for is the seat depth. I stand 5'9″, which is two inches shorter than the recommended 5'11" height. My spinal support fits, but the seat is a touch too deep.
To assess, sit down and then measure the length from the back of your butt to the tip of your kneecap. If your measurement matches or is less than my 20.4″ hip-to-knee length, the Titan XL's seat is too deep for you. Luckily, there's a workaround:
To buy me more space, I dialed down the integrated lumbar support and used an Omega memory foam lumbar pillow instead. That added extra depth between my spine and the backrest. As a result, my knees extend out far enough to enjoy the chair!
Key findings:
The magnetic headrest and height-adjustable lumbar make it possible for small sizes to use larger Titan chairs.
If your feet are too short in a larger Titan chair, add an ergonomic footrest.
If the seat is too deep for your hip-to-knee ratio, add an Omega memory foam pillow.
Secretlab Memory Foam Lumbar Pillow $59
See our Lumbar Support Tutorial to optimize your use of an Omega lumbar pillow.
SoftWeave and Leatherette Are Both Superb
Should you choose a Titan SoftWeave or Neo Hybrid Leatherette chair? In my experience, you can't go wrong with either choice. I work in tropical conditions of average humidity but have never suffered breathability issues. Beyond that, each upholstery type has advantages.
Neo Hybrid Leatherette has the soft, supple feel of genuine leather. On top of that, it looks amazing. As an example, my Titan Ash Leatherette chair lights up the room with crisp, clean elegance.
Will the light color hold up over time, or will it get scuffed and stained? I'll report back on this matter in a few months.
On the other hand, SoftWeave Plus has plenty of merits as well. For one thing, although not as flashy as leatherette, the complex gradient designs are alluring. For another, the material is soft and welcoming.
The first thing you'll feel when sitting down in a SoftWeave chair is pleasure. It has a soothing effect that makes you feel good with a touch.
Getting Started With A New Secretlab Chair
I've had the pleasure of breaking in five Secretlab gaming chairs over the past year. As such, I've got the starting formula down with precision. Here are the basics:
Step 1: Troubleshoot For Malfunctions
During your first few days with a 2020 or 2022 Series chair, make sure that everything works. In particular, focus on the adjustable parts:
Test the 4D adjustability of the armrests.
Try out the reclining and rocking functions.
Use the lever under the left side of the seat to test the multifunction tilt-lock.
Assuming everything works as it should, you should next focus on the 'breaking in' process.
Step 2: Break In Your Gaming Chair
Over the past five years, I've had the pleasure of breaking in several brand-new gaming chairs. Every single time, I've experienced mild stiffness in my back, neck, and shoulders that goes away after a few days.
Secretlab advises giving the chair a few days of full-time use to 'break in'. The process is similar to breaking in a new pair of leather boots. At first, it feels stiff and painful. But with time, the material adapts to your body.
Your back, leg, and shoulder muscles also need time to acclimatize. If you adhere to strict neutral sitting positions, the process should take a few days. My experience usually works like this:
Day 1: stiffness and inability to get comfortable. Wishing to go back to my old chair.
Day 2: able to sit with a straighter posture with less stiffness and increasing comfort.
Day 3: find my comfort zone and forget that I'm sitting.
If it's your first time using a gaming chair, this process might take a few days longer. If you're still suffering discomfort after a week, check your sitting techniques in the next section.
Step 3: Focus on Forging Neutral Sitting Habits
While breaking in your gaming chair, it's a perfect time to master healthy sitting habits. Like all ergonomic chairs, the Titan is designed to support neutral sitting positions.
That involves a few basic steps:
Plant your feet firmly into the floor.
Tuck your hips deep into the seat pan.
Rest your spine directly against the backrest.
Adjust the lumbar support to comfortably fill your lower back curve.
Focus on sitting in this style until it becomes habitual.
This video uses Titan 2020 Series chairs. It shows how to configure your chairs, and how to maintain neutral sitting positions:
To learn more about healthy sitting techniques, check this tutorial:
Conclusion
Secretlab's new 2022 Series collection comes with some fantastic upgrades. Even so, if you already own a 2020 Series chair, we suggest that you save your money. Instead of buying a new model, enjoy your 2020 Series chair for another few years.
Two years from now, Secretlab will release its 2024 Series. By then, your 2020 Series model should be nearing its end of life, making it the perfect time to upgrade.
That said, if this is your very first Secretlab gaming chair, the 2022 Series is well worth investing in. But if money is tight, you can cut corners with a 2020 Series chair and still enjoy a fantastic experience!
Related Articles