Over two billion people around the world play video games. Tens of millions also watch top esports tournaments. There, the best players compete in popular games for big money prizes. Many top esports teams and tournaments use Secretlab gaming chairs. This article summarizes the Secretlab brand with a review of their gaming chairs.
Product line basics
Secretlab has an easy-to-understand collection. There are dozens of styles, but only four core models.
That makes it easy to choose a chair. The Titan and Omega are for average to large sizes. The Throne and Titan XL are specialty models, for extra small or extra large users.
Pro Esports
As the most mainstream sizes, the Titan and Omega are Secretlab's flagship models. Many of the top names in the esports industry use these chairs. With Titan and Omega options, users can choose the model that best fits their needs.
As a duo, the Titan and Omega are the official chairs for two of the biggest esports tourneys in the world:
The International: Dota 2 finals, watched by 1.1 million users in 2019
League of Legends: Secretlab chairs power all championship tourneys. 21.8 million tuned in to watch the 2019 finals.
Secretlab is also the official partner for a growing list of pro esports teams. Most pro models come in both Titan and Omega editions.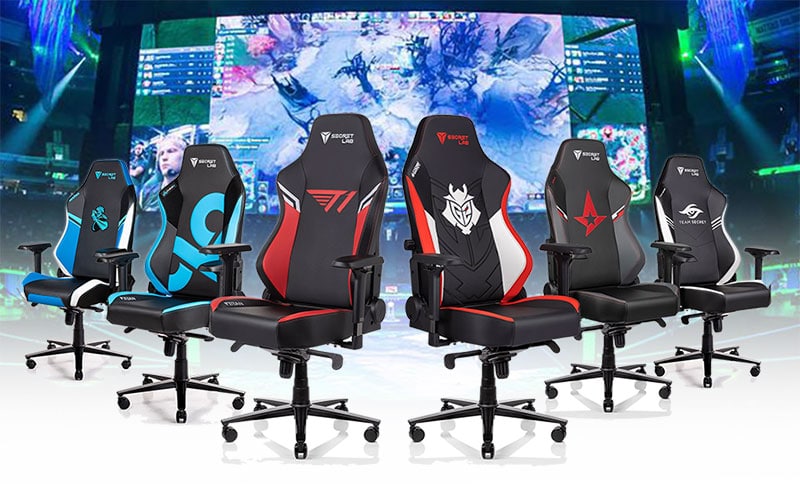 At present, seven of the world's best teams using Secretlab special editions. Click the button to read out review of all special edition models.
Secretlab Titan vs Omega
There are three differences between the Titan and Omega. First, the Titan supports larger sizes. Second, the Titan uses an internal lumbar support (the Omega uses a traditional pillow). Third, the Titan has a flat, wide seat with enough room to cross your legs.
In contrast, the ridged edges on the Omega's seat keep legs pressed close together. This encourages better posture practices, but less wiggle room.
Secretlab Features
Secretlab chairs look great in photos, but testing them out in person will blow you away. As soon as you touch the seat, you can feel the quality of the leather and padding. Switching settings feels crisp. Sitting feels rock solid.
The build starts with a robot-welded, carbon steel frame. Over top goes ultra resilient cold foam padding and high quality mesh of faux leather covers.
All Secretlab models come with these features:
Functionality: 4-directional armrests; recline from 85° to 165°; multi-angle tilt-lock.
Upholstery: Choice of premium PU leather, Softweave Fabric or genuine NAPA leather.
Padding: enhanced cold cure foam padding
Free shipping & discounted prices when you buy direct.
2020 Series upgrades
Every two years, Secretlab releases upgraded versions of all models. The most recent upgrade was from 2018 Series models to 2020 Series. In total, 2020 Series chairs got 20 upgraded features over 2018 models.
Summary of 2020 Series upgrades:
Extended warranty, up from two years to five years (best tin the industry).
Improved Prime 2.0 PU leather blend that's four times more durable than the previous leather.
Upgraded cold cure foam padding (better resistance and durability).
Revamped full-metal 4-directional armrests.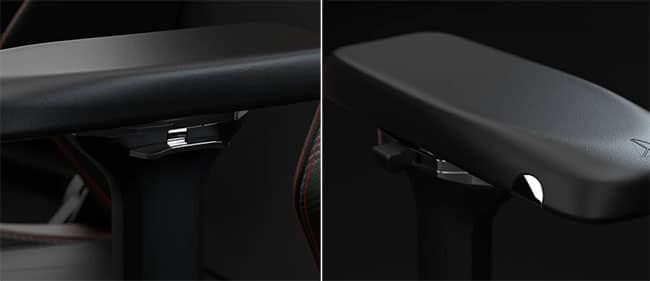 Chair Sizes
The Titan is the tallest chair with widest and deepest seat. The Omega has an equally wide seat but narrower backrest. The Throne has the narrowest seat and is the lowest to the ground.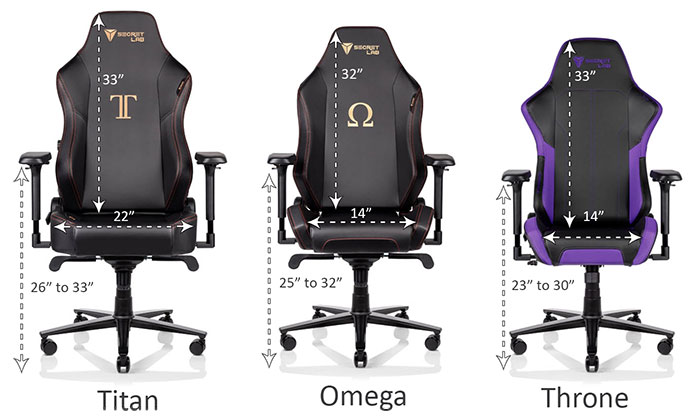 Here's how the dimensions of all three chairs stack up:
| | Secretlab Titan | Secretlab Omega | Secretlab Throne |
| --- | --- | --- | --- |
| Outer seat width & depth | 20.5" (W) x 19.7" (D) | 22" (W) x 19.3" (D) | 20" (W) x 18" (D) |
| Backrest height & width | 33" (H) x 21.7" (W) | 31.5" (H) x 21" (W) | 32.3" (H) x 23" (W) |
| Floor to Seat Range | 18.7" to 22.4" | 18.9" to 21.9" | 16.1" to 19.9" |
| Overall height | 51.7" to 55.4" | 50.4" to 53.4" | 48.4" to 52.2" |
| Weight support | Up to 290 pounds | Up to 240 pounds | Up to 220 pounds |
| Height support | 5'9" to 6'7" | 5'3" to 5'11" | 4'9" to 5'3" |
Titan XL (NEW)
In late 2019, Secretlab also released a super-sized version of the Titan. The Secretlab Titan XL is a heavyweight model able to support up to 390 pounds. Here's how the Titan compares with the Titan XL:
For an average-sized user around 5'10", the Titan will feel roomy. The Omega and Throne models will give a snug fit, like sitting in an F1 cockpit. Choices for users 5'10":
If ergonomics is priority: choose an Omega or Throne.
If comfort is priority: choose a Titan.
For extra-wide or extra tall users, the Titan XL is the obvious choice.
Warranty
All Secretlab 2020 Series chairs come with a three-year warranty. That's one year longer than the coverage on 2018 models.
In case of issues, their customer support is excellent. Use the contact form on secretlab.co if you need help with your purchase.
There's also an easy way to extend the warranty to five years. Post a photo of your chair on social media and share it with Secretlab. For more information, check out Secretlab's Redeem Program.
Secretlab Gaming Chairs
Below is a quick look at each chair in the Secretlab product line. Each mini-profile also links to detailed reviews of each model.
Titan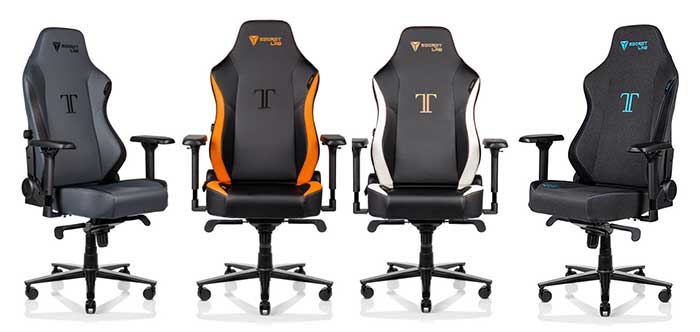 The Secretlab Titan is our pick as the best gaming chair in the world. It shares the same high quality padding and upholstery as other Secretlab models. But a few features make it stand out.
First, the Titan uses an internal lumbar device instead of a cushion. That provides more precise back support while giving the chair a cleaner look.
Second, the Titan has a flat seat that gives lots of room to cross your legs while sitting. The Omega makes you feel locked in, as if in an F1 racing seat. That's because legs pressed together distributes body weight across the seat.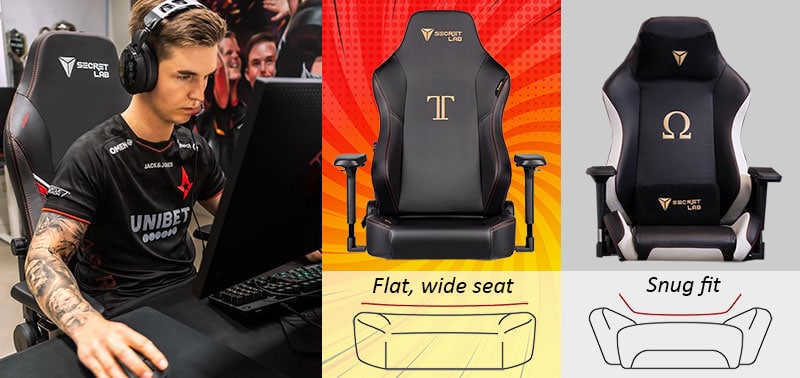 The downside of the Omega is you get a smaller range of leg motion. That means you'll need to take breaks every 30 minutes or so. In a Titan, you can space breaks longer by using the extra width to keep your body comfortable.
Detailed Secretlab Titan review
Buying direct from Secretlab gets you the best prices with no middleman fees. Check the latest Secretlab Titan prices.
Omega
The Secretlab Omega gaming chair is a smaller version of the Titan, but not an exact copy. The Omega uses a traditional lumbar cushion instead of an internal one like the Titan.
Otherwise it's the same chair, in a smaller sized package. There's not much wiggle room once you sit in an Omega – it feels like you're strapped into a race car cockpit.
It's a snug fit that shows off the quality of the padding. The seat and backrest padding has enough flex to indent to your body shape. Yet, with enough resistance to keep the ergonomics on point.
For small sized users, the Secretlab Omega is one of the best luxury options. As a working chair it provides excellent ergonomics for long periods of sitting. The dense padding and narrow seat ensures that users maintain healthy posture while sitting.
This is a great option power users who often spend long periods sitting in front of a computer.
Detailed Secretlab Omega review
Buy the Omega from Secretlab. Check latest Secretlab Omega prices.
Throne
The Secretlab Throne is the smallest chair in the Secretlab product line.
Other than the sizing, it offers the same high end features as the other Secretlab chairs. These include high quality upholstery, 4-directional armrests and a whopping five-year warranty.
The key thing to understand about the Throne is that it fits very small sizes.
The Throne stands out with its quality of build. Although designed for small bodies, this is not a toy for kids. Rather, it's a high-end working chair that provides perfect ergonomics for short bodies. In fact, it is our #1 ranked gaming chair for small sizes.
ChairsFX Secretlab Throne review
Buy the Throne direct from Secretlab. Check the latest Secretlab Throne prices.
Titan XL
The Secretlab Titan XL was just released in November 2019. It's 25% bigger than the Titan and supports very large sizes. To support bigger bodies, the core components of the Titan XL use sturdier materials molded into larger sizes. Then the final design went through 200,000 stress test cycles to make sure it holds up to Secretlab's 5-year warranty.
Both the Titan and Titan XL fit average to large users. The Titan XL also fits extra-large users.
An average-sized person will find the XL very spacious. A user 6'3″ weighing 250 pounds will find it moderately spacious. Someone at the max (6'10" and 390 pounds) can expect a snug but sturdy fit.
Beside sizing, another difference between the Titan and Titan XL is the upholstery options. The Titan XL has four choices: two PU leather styles and two Softweave fabric styles.
Buy direct from Secretlab for the best prices. Check the latest Secretlab Titan XL prices.
Secretlab gaming chairs FAQ
This section covers lingering questions you may have about the Secretlab gaming chair company.
Who is Secretlab?
Secretlab is a Singaporean company based out of a headquarters in central Singapore, Southeast Asia. With a small team of less than 50 people they provide direct product shipping to North America, Europe, the UK and Australia. In SE Asia, they service Malaysia, the Philippines, Thailand and Indonesia.
The company was born as an idea in Singapore in 2014. Founders Ian Ang and Alaric Choo were competitive StarCraft II gamers. At the time, the duo decided to invest their savings into building the ultimate gaming chair.
Over the next four years, the Secretlab brand sold over 200,000 chairs, for an estimated $15 million USD in sales. In 2019, the company secured a round of funding from Heliconia Capital Management.
Today, Secretlab is one of the leading names in the gaming chair industry. According to Forbes, their annual sales are over $15 million.
What upholstery options do Secretlab offer?
All three models come with upgraded Prime 2.0 PU leather. This material is breathable, durable and easy to maintain. Each chair has different color options. Here are the Omega's five options:
Both the Titan and the Omega shares a Cookies and Cream Softweave Fabric option. The Throne's Softweave option is 2-tone gray with pink trim.
Finally, both the Titan and Omega chairs offer a genuine NAPA leather option:
How long do Secretlab gaming chairs last?
Based on our own durability tests, ChairsFX expects PU leather gaming chairs to last for around two years. Most gaming chairs have steel frames that don't degrade. Rather, breakdown happens with the leather and padding.
With their 2020 Series upgrades, Secretlab bumped up their warranty from two years to five years. Secretlab frames feel very solid – they should last that long, if not longer. But will the PU leather hold up?
If it doesn't, Secretlab will replace it within five years of purchase.
Where can I buy Secretlab gaming chairs?
There are three options. First, buy direct from Secretlab. This eliminates middleman fees, which gives you the lowest possible price.
The second option is to buy Secretlab chairs on Amazon. Note this this eliminates the discount from buying direct. Thus Amazon prices are higher. For example, this Secretlab Titan on Amazon is almost $50 more expensive than the direct price.
The third option is for users in Southeast Asia. There, Secretlab offers its products via Lazada and Shopee. As with Amazon, buying from either is more expensive than buying direct.