Secretlab is a Singapore-based maker of high-end gaming chairs. Their collection has a small, large and extra-large model. Many of the world's top esports teams use these chairs for full-time training. This Secretlab gaming chair review analyzes the qualities of the Omega, Titan and Titan XL gaming chairs. All offer superb ergonomic features, incredible comfort, and excellent back support.
Secretlab chairs come in Omega, Titan, and Titan XL variants. The Omega is a slim-fitting chair, the Titan a large one. Among these two models, there are 36 different styles to choose from.
The Titan XL is a super-sized version of the Titan. It comes in three fabric designs and two leather ones.
Secretlab chair overview
Each Secretlab model has different dimensions, ranging from small to extra-large. Another difference between chairs is the back support. The Omega uses a traditional lumbar pillow. The two Titan chairs use a slick internal lumbar device instead. Summary of similarities and differences:
| | Omega (S) | Titan (L) | Titan XL |
| --- | --- | --- | --- |
| Size rating | 5'3" to 5'11"; 240 pounds | 5'9" to 6'7"; 290 pounds | 5'11" to 6'10"; 390 pounds |
| Functionality | 4D armrests; seat angle tilt-lock; backrest recline from 85° to 165°. | Same functionality as the Omega. | Same as the Omega. |
| Back support | Adjustable neck and lumbar pillows. | Internal lumbar + adjustable neck pillow. | Same as the Titan. |
| Price | $359 to $419 | $399 to $459 | $454 to $499 |
Chair features
Secretlab chairs use the highest quality materials and the most advanced production techniques. Each build starts with a robot-welded, carbon steel frame.
Over the steel frame goes a thick slab of cold foam. Following that is a faux leather or woven fabric cover. Completing the build is a suite of rich ergonomic features. These let you customize your seating experience as you desire. Here are the feature highlights:
Secretlab has its own patent-pending cold-cured foam mix and foaming process. It produces a material that delivers consistent, highly-durable firmness.
Even after five years of full-time use, you can expect your chair's padding to look and feel like new.
Be warned: those accustomed to chairs with soft, fluffy padding might find Secretlab seats unreasonably firm. According to Secretlab, firm foam is necessary to help a seated body maintain good posture.
When the padding is too soft, the body can easily fall out of balance, placing undue stress on the spine and surrounding muscles.
Secretlab chairs come in both faux leather and woven fabric designs. There are 31 leather designs, but only four fabric ones. Both types of upholstery have advantages.
Prime 2.0 PU leather: this luxurious faux leather is buttery-soft and odor-free. It's a premium, breathable blend that will stay cool over long sessions in hot weather. Prime 2.0 PU leather is more visually striking than fabric, and a lot easier to clean.
Softweave fabric: it's more breathable than PU leather, and a lot more durable. On the downside, PU leather looks flashier. Softweave is a tightly-woven short-yarn designed to maintain high-tensile strength over long periods. To enhance comfort, a grinding process then renders the weave into a soft, fluffy texture.

All three Secretlab chairs include these features:
Adjustable lumbar support: Titan and Titan XL chairs have a depth-adjustable internal lumbar. Omega chairs come with a memory foam lumbar support pillow.
Armrests: 4-directional adjustability; comes with chrome metal plating and firm PU plastic caps. The armrests caps are very firm with only slight give.
Backrest recline: back recline from 90° to 165°; forward-tilt from 90-85 degrees.
Seat angles: rocking and locking function; multi-angle tilt-lock (lock the seat in 12 different angled positions).
Headrest: memory foam headrest with cooling gel; insert and soft velour cover.
The forward recline of the backrest to 85° is a nice touch that few other chairs offer.
For intense computer work or gaming, many people tend to lean forward in their chairs. With Secretlab chairs, you can angle the backrest to 85° to support your body when you lean.
Secretlab chairs are available for sale in North America, the UK, Europe, Singapore, Malaysia, South Korea, Australia, and New Zealand. Click the button to access the appropriate store for your area.
Chair sizes
Secretlab chairs range from the compact, slim-fitting Omega to the super-sized Titan XL. Choosing the right model for your needs is easy: stick with Secretlab's size ratings to ensure the best fit.
Here are the dimensions of all three chairs:
| | Secretlab Omega | Secretlab Titan | Secretlab Titan XL |
| --- | --- | --- | --- |
| Outer seat width & depth | 22" (W) x 19.3" (D) | 20.5" (W) x 19.7" (D) | 22.6" (W) x 19.9" (D) |
| Backrest height & width | 31.5" (H) x 21" (W) | 33" (H) x 21.7" (W) | 33.5" (H) x 22" (W) |
| Floor to Seat Range | 18.9" to 21.9" | 18.7" to 22.4" | 19.1" to 22.8" |
| Chair height | 50.4" to 53.4" | 51.7" to 55.4" | 52.6" to 56.3" |
| Size rating | 5'3" to 5'11", up to 240 pounds | 5'9" to 6'7", up to 290 pounds | 5'9" to 6'10", up to 390 pounds |
2020 Series upgrades
Every two years, Secretlab releases upgraded versions of all models. The most recent upgrade was from 2018 Series models to 2020 Series. In total, 2020 Series chairs got 20 upgraded features over 2018 models.
Summary of 2020 Series upgrades:
Extended warranty, up from two years to five years (best in the industry).
Improved Prime 2.0 PU leather blend that's four times more durable than the previous leather.
Upgraded cold cure foam padding (better resistance and durability).
Revamped full-metal 4-directional armrests.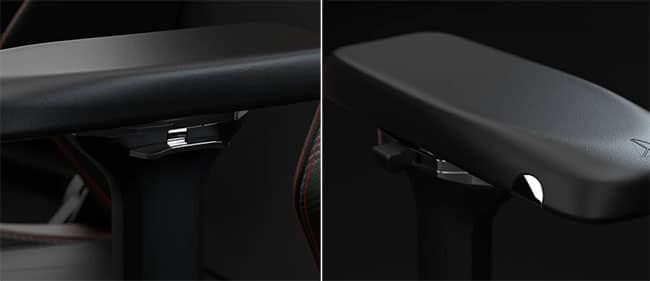 5-year warranty
All Secretlab 2020 Series chairs come with a three-year warranty. That's one year longer than the coverage on 2018 models.
In case of issues, their customer support is excellent. Use the contact form on secretlab.co if you need help with your purchase.
There's also an easy way to extend the warranty to five years. Post a photo of your chair on social media and share it with Secretlab. For more information, check out Secretlab's Redeem Program.
Secretlab chair models
This section takes a closer look at each of the three chairs in the Secretlab collection. There are three differences between the Titan and Omega. First, the Titan (and Titan XL) support larger sizes. Second, both Titan chairs come with an internal lumbar support system.
Third, Omega seats have bladed edges that restrict leg movement. Titan editions differ with flat, wide seats providing enough room to sit cross-legged.
For a closer look at the differences, check our Secretlab Omega vs Titan chair comparison feature.
Secretlab Omega
Price: $359-$419
The Secretlab Omega is a compact gaming chair for slim, average-sized bodies. Its snug dimensions combined with Secretlab's ultra-firm padding deliver superb back support.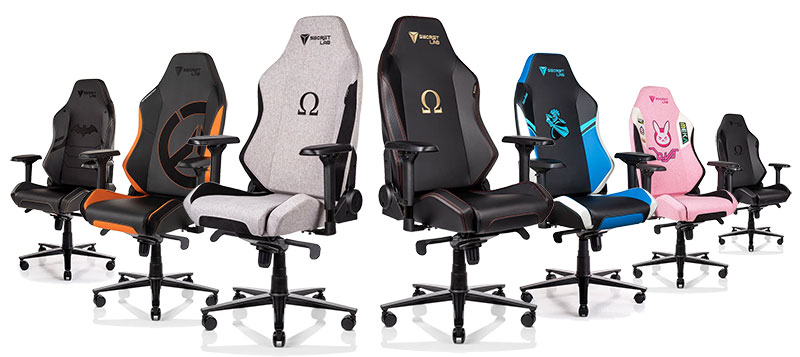 Average-sized users can choose between the Omega or the larger Titan. If you prioritize comfort and legroom, choose a Titan. But with more free space, there's a greater chance of sitting with sloppy posture.
As a result, those who prioritize a healthy posture while sitting should choose an Omega. Its padding and contoured edges keep your muscles relaxed, with your arms supported and your head in perfect position.
Available from Secretlab for buyers in North America, the UK, Europe, Singapore, Malaysia, Oceania, and South Korea.
Key Omega qualities
The Omega is a compact chair that provides a snug fit with body-hugging dimensions. Its seat has bladed edges designed to restrict leg movement. The point is to provide a key pillar of support to power a straight posture.
With feet constrained, the natural reaction is to plant them firmly. That provides the power to maintain a healthy posture while sitting.
Omega sizing specs
The Omega is our top-ranked gaming chair for small sizes. Users taller than 5'9″ who prefer a roomier fit should consider a Titan chair.
Seat width & depth: 22″ (W) x 20″ (D)
Backrest height & width: 32″ (H) x 21″
Size rating: people 5'3″ to 5'11" tall; up to 240 pounds
Omega advice
Most gaming chairs with lumbar support pillows take a while to get used to. That's because most have small lumbar pillows that need to fit just right. In comparison, the Omega's is a velour-covered block of memory foam.
All you need to do is chuck the pillow behind you and then lean back into your Omega chair. The memory foam will compress around your lower back while filling your lumbar curve with soft foam. That provides gentle resistance to power a straight upper back.
At the same time, the bladed seat edges keep the legs constrained. Combined, slight lumbar pressure plus planted feet makes it easy (and comfortable) to sit with a healthy posture. For a detailed look at the Omega chair, check out this review:
Detailed Secretlab Omega review
The Omega comes 25 different styles made with PU leather chair, mesh fabric or genuine NAPA leather. Buy from $359 direct from Secretlab.
Secretlab Titan
Price: $399 to $459
The Titan is (in my opinion) Secretlab's best gaming chair. Like the Omega, it comes in 26 style variants, including four fabric models.
It's a large chair with a flat, wide, seat and spacious (but not cavernous) dimensions. Secretlab rates the chair for users from 5'9″ to 6'7 tall; up to 290 pounds.
Key Titan qualities
The Titan's standout feature is its depth-adjustable lumbar support system. This feature rivals the adjustable lumbar systems on $1000+ ergonomic task chairs. Turn the knob on the side of the backrest to increase or decrease lumbar depth. Doing so gives you precision and depth control well beyond what a conventional lumbar pillow offers.
It's also a lot more comfortable than a lumbar pillow. Play around with various depths until you find your sweet spot. That will deliver firm, gentle pressure into your lower back as you sit.
The other notable feature of this chair is its flat, wide seat. Most gaming chairs use bladed edges to keep the legs together. In a Titan chair, there are no limits. You can sit with legs splayed, or even cross-legged.
Available from Secretlab for buyers in North America, the UK, Europe, Singapore, Malaysia, Oceania, and South Korea.
Titan sizing specs
Those shorter than 5'9″ (175 cm) will find the Titan's back support mediocre. The support is depth-adjustable, but not height-adjustable. As a result, users under 175 cm will find that the support hits too high, causing discomfort instead of support.
Seat width & depth: 20.5″ (W) x 19.7″ (D)
Backrest height & width: 33″ (H) x 21.7″ (W)
Size rating: people 5'9″ to 6'7 tall; up to 290 pounds
Conversely, users 5'9″ and up will enjoy the lumbar support's full potential. I stand 5'9″ (177 cm) and find that it fits perfectly. But if I were an inch shorter, it wouldn't.
Titan advice
The Secretlab Titan is one of the best gaming chairs in the world. It powers several of the world's top esports teams. For 1/3 the price of a Herman Miller chair, this chair can power your computing needs as it does for the pros.
To learn more, we have three Titan reviews to peruse. This Titan Stealth review looks at the original Titan design. This Cyberpunk chair review covers a brilliant yellow model.
The button below takes you to a comprehensive review of the entire Titan collection:
Detailed review: Secretlab Titan collection
Buy a Titan from Secretlab from $399. Available for buyers in North America, Europe, the UK, Oceania, and SE Asia.
Secretlab Titan XL
Price: $454 to $499
The Titan XL is 25% bigger than the Secretlab Titan. Aside from the super-sized dimensions, both models are exactly the same. it's the exact same chair as the Titan.
The Titan XL also has an internal lumbar system, 4D armrests, multifunction tilt-lock, and other features common to Secretlab chairs. It differs from other Secretlab chairs in three ways.
First, there are only five XL versions to choose from: three fabric models and two leather ones. Second, with limited design options, XL chairs usually sell fast. As a result, they sometimes go out of stock. Third, the TItan XL isn't available in New Zealand or Malaysia stores.
Buy the Titan XL from $539 to $559
Available from Secretlab for big and tall buyers in America, Canada, the UK, Europe, Singapore, Australia, and New Zealand.
Titan XL Sizing
This is a chair for heavy bodies with thick legs and wide hips. Because they carry more weight, heavy people suffer worse effects from poor posture. The Titan XL is a healthy solution to that problem.
This chair will support long periods of comfortable sitting. At the same time, it will help you maintain a healthy posture. The result is less stress on the neck, back, hips, legs, and joints.
With less stress on your body, your brain's cognitive abilities improve. That's why the world's top esports players use gaming chairs for training.
Seat width & depth: 22.6″ x 19.9″ (D)
Backrest height & width: 33.5″ (H), 22″ (W)
Size rating: 5'11" to 6'10" and up to 390 pounds
Titan XL
The Secretlab Titan XL is a very versatile chair for heavyweights. Use it for PC computing, gaming, or even as a living room chair. Having one around can provide heavy bodies with relief under various conditions.
The combination of dense padding, a tall backrest, and an internal lumbar provides the key to crisp and effective back support. Turn a dial on the side to expand or deflate the lumbar support into the small of your back. Then lean into the backrest. Doing so will put your hips, spine, and upper body muscles into a healthy sitting alignment.
With a consistent, healthy sitting posture, benefits include boosted energy levels and greater productivity.
Detailed Secretlab Titan XL Review
The Secretlab Titan XL is available for $454 to $499 from Secretlab. There are two PU leather options and three Softweave fabric ones.
Titan and Omega style options
Secretlab Titan and Omega chairs come in 34 leather or fabric design styles. This section summarizes the best design options for all models.
Prime 2.0 Premium PU leather is the most well-rounded and popular option. This material is soft and flexible with a premium leather feel. It's also durable, resistant to liquids, and fairly easy to clean with a damp cloth or vacuum.
SoftWeave Fabric is a custom upholstery blend of premium 350gsm short yarn. This material has a softer, cozier feel than PU leather. It's also the most breathable blend — no matter how long you sit, your Softweave chair will stay cool.


Softweave strands are woven together for high-tensile strength. That ensures the fabric doesn't lose form, even after a couple of years of use.
The downside of Softweave is that it's you need to be more careful drinking coffee, wine, or grape juice. Stains will ruin the look of these chairs! To clean, use a vacuum or damp cloth with a commercial fabric cleaner.
Standard PU leather designs
There are five standard leather designs. These come in 2-tone color schemes with a Titan or Omega symbol plus the Secretlab logo on the front and back.
These models offer a sleek, executive style well-suited to both a gaming room and a boardroom. Consider these models if you prefer a more muted, conservative style.
Omega base designs: $359 | Titan base designs: $399 | Titan XL: $479
Softweave fabric
Softweave chairs are breathable, durable, and very comfortable to sit in for long periods. Many customers clamor for more Softweave design options. At present, both the Titan and Omega come in just four different styles.
Softweave models are a little more expensive than PU leather ones, and also more luxurious. The soft, breathable fabric is pleasant to the touch and always stays cool. The material is also pet-friendly and easy to clean with a damp cloth.
To compare these models with other soft fabric chairs, check this review:
Best breathable fabric gaming chairs
Omega Softweave: $359-$399 | Titan Softweave: $404-$449 | Titan XL Softweave: $499
Pro esports team chairs
Secretlab partners with many of the top pro esports team in the world. Some partner chairs (like the 100 Thieves edition) aren't available for public sale. Luckily, there there are eight designs available.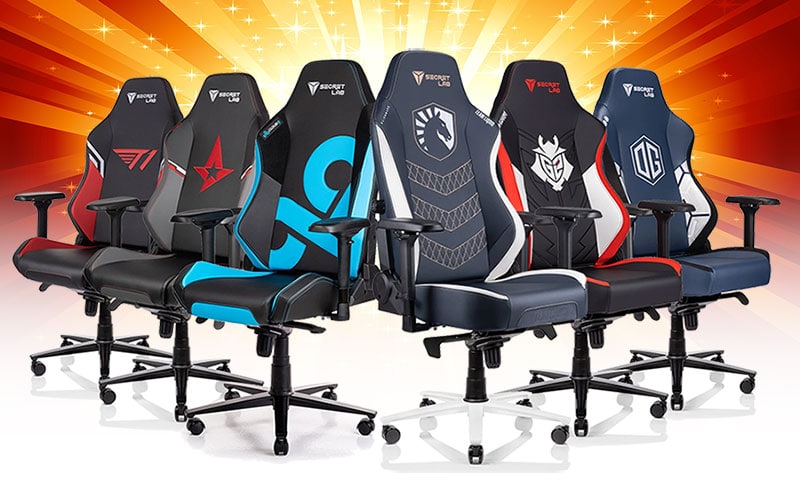 Included in the Secretlab collection are custom designs for Team Liquid, Evil Geniuses, OG Esports, G2 Esports, Cloud9, T1, and more. Check out the entire collection of team-branded chairs in this report:
Secretlab pro esports team chairs
Omega Team Liquid: $389 | Titan Evil Geniuses: $429
League of Legends chairs
League of Legends is one of the world's most popular esports games. Secretlab has been partnered with the game's publisher Riot Games for over two years. There are now six chairs in the Secretlab League of Legends collection.
The complete collection includes a World Finals chair, two K/DA models, and three Ionia chairs (paying tribute to Yasuo, Ahri, and Akali). Here are some popular models:
Ahri: deep red leather with white trim. Ahri's foxfire shows on the front of the chair. Her nine tails are embroidered on the back. (Omega $389 | Titan $429)
K/DA All Out: a new album's visual concepts come to life with fractal embroidery and shimmering iridescent accents. (Omega $389 | Titan $429)
Yasuo: a navy blue chair with a katana embroidered on the front. On the back is a veritable tempest embroidered in the ukiyo-e art style of Yasuo's armor. (Omega $389 | Titan $429)
Check out the evolving collection in detail:
Other video game chairs
Beyond League of Legends, Secretlab also offers custom chairs for many other top games. Those include Cyberpunk 2077, Dota 2, Overwatch, and Rust.
Here are some popular models:
Check out all branded video game chair designs in this feature:
Entertainment collaborations
Beyond esports-related partnerships, Secretlab also has entertainment alliances resulting in branded chairs. For instance, through a partnership with HBO, Secretlab offers three Game of Thrones gaming chairs.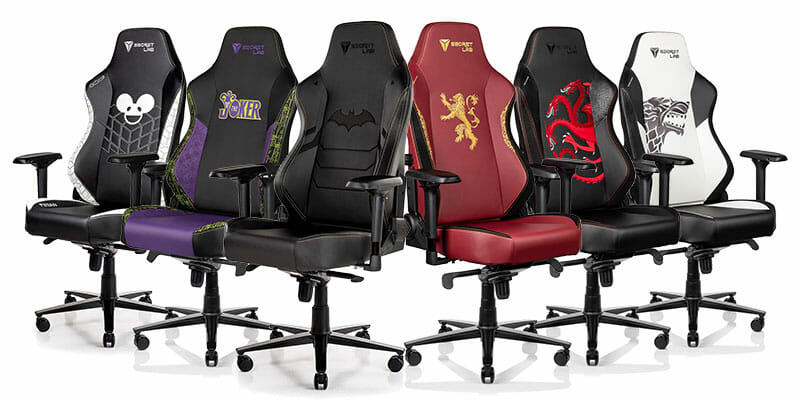 A partnership with Warner Brothers entertainment resulted in a Batman, Joker, and limited edition Harley Quinn chair. Here are some popular models in this category:
House Lannister: recently made famous by the leader of the GameStop rebellion. It's a red leather chair with a golden embroidered House Lannister sigil. (Omega $389 | Titan $429)
Batman Dark Knight: pays homage to Batman with black leather in an armored style with carbon trim and yellow embroidered accents. (Omega $389 | Titan $429)
Who are Secretlab chairs for?
Secretlab chairs are ergonomic. That is, they adapt to the needs of the user, rather than the user having to adapt to the chair. They are also comfortable and support good posture. Several studies show that good posture has a positive effect on mood, energy levels and even the ability to concentrate.
By the same logic, with poor sitting posture, users tend to suffer stiffness, pain, varicose veins, and worse.
The fact is that everyone can benefit from using these chairs. To prove that point, Secretlab has made pro esports team partnerships a priority.
Full-time esports pros
Many of the world's top pro esports teams use Secretlab chairs. Most teams have licensed chairs in both Omega and Titan variants.
Pro esports players work under stressful, mentally taxing conditions. A typical training day lasts 10-12 hours. During that time players will engage in solo play, team play, and conference calls. Pro-level gameplay demands lightning-fast reflexes and rapid-fire decision-making.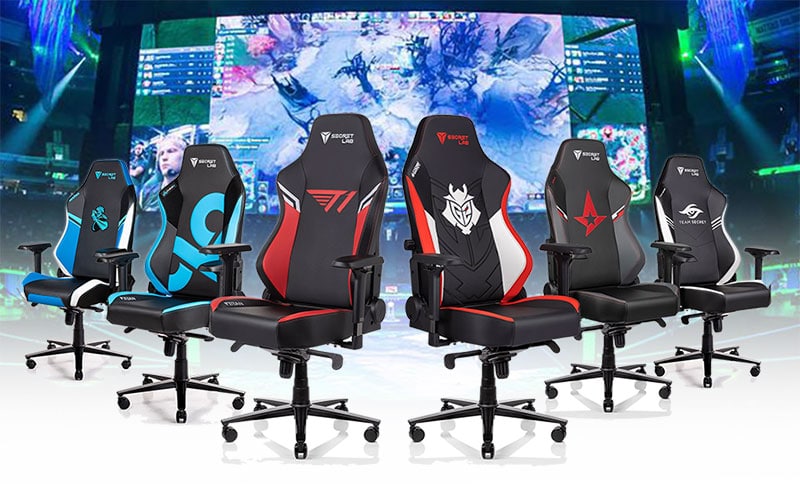 This is how Secretlab proved the value of their chairs, for the whole world to see.
Here's what the pros have to say about Secretlab chairs:
General computer users
What's the difference between a professional esports player and an office worker? Both sit full-time in front of a computer for a living.
But esports players tend to work longer hours under more intense conditions. So if Secretlab chairs can meet the needs of the pros, imagine what they can do for the average computer user.
If you are a pro esports player, rest assured that these chairs will meet your needs. If you're a run-of-the-mill desk jockey, these chairs will exceed your needs.
So why not get the same level of comfort and support that the pros use? Doing so will let any computer user sit longer, work smarter and be more productive.
Conclusion
Secretlab makes some of the best gaming chairs in the industry. The company's global shipping operation is also the most advanced in the industry.
As of 2021, Secretlab services countries in North America, Europe, Oceania, and Southeast Asia. In all regions, customers can order online and have chairs delivered to their door.
The unboxing and assembly process is a joy. Rolling your assembled chair up to your desk for the first time will ascend your workstation aesthetics.
For best results using your chair, focus on sitting with a neutral posture. That involves planting your feet, tucking hips deep into the seat pan, and using the lumbar to support your back. Learn the steps in this simple Titan user guide.
Browse the entire Secretlab collection
Available from Secretlab for buyers in North America, the UK, Europe, Singapore, Malaysia, South Korea, and Oceania.