Secretlab stands firmly on the top of the gaming chair mountain in 2022. The company offers an array of gaming chairs, office chairs, desks, and accessories. Some stand out as must-haves for hard-core power users; others are more frivolous — nice to have but pricey and impractical. This Secretlab brand review highlights the company's must-haves in 2022.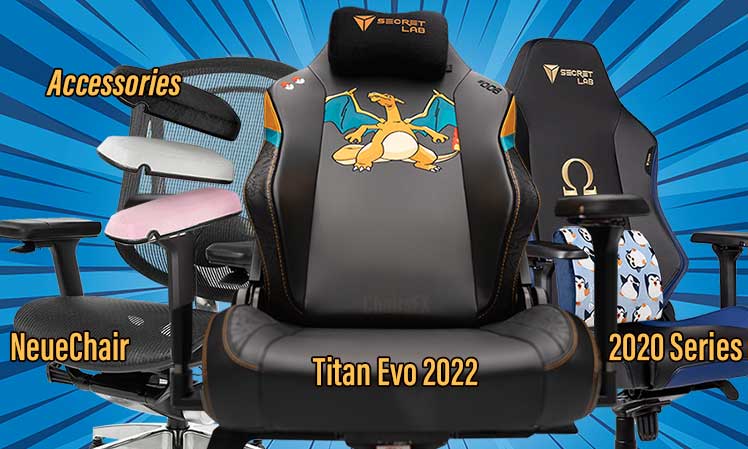 Secretlab has evolved from making gaming chairs to providing complete workstation furnishings. In 2022, its highlight product is the Titan Evo 2022 Series gaming chair.
Serving as alternatives are the office-styled NeueChair and legacy 2020 Series chairs. Beyond seating, Secretlab offers an array of gaming accessories and a slick (but pricey) gaming desk.
If you're already a loyal Secretlab fan, there are plenty of upgrades to consider. But if you're just getting started with Secretlab gear, this article points to the most essential options.
Secretlab 2022 Ergonomic Chair Roster
Here's a quick look at the three series of chairs Secretlab offers in 2022. For a deeper look, each section links to comprehensive reviews.
Secretlab Accessories
Beyond chairs, Secretlab offers a growing list of gaming accessories. Here are some of the standouts circa mid-2022:
Conclusion
The point of this article is to give a broad view of what Secretlab offers to consumers in 2022. Beyond gaming chairs, they offer an office chair, a desk, and several accessories.
Even so, chairs are the stars of the show. Here's a recap of the main rides to consider in 2022:
If you're having trouble deciding on a model, check out our Gaming Chair Selector Flowchart. It uses comfort ranking factors covering both physiological and psychological perspectives.
Using those, it's easy to nail down your priorities to uncover the best ergonomic chair for your particular needs! On the flipside, if you've already decided, shop the Secretlab store right now: