Secretlab is a Singapore-based maker of high-end gaming chairs. Their collection has a small, large and extra-large model. Many of the world's top esports teams use these chairs for full-time training. This Secretlab chair review summarizes the Omega, Titan and Titan XL gaming chairs. All offer superb ergonomic features, incredible comfort, and excellent back support.
Secretlab chairs come in dozens of styles, but there are only three models. The Omega is a slim-fitting chair, the Titan a large one and the Titan XL is super-sized. Each comes with 4D armrests, multifunction tilt-lock, and backrest recline from 85° to 165°.
Secretlab chair overview
Beyond dimensions, the other difference between the three chairs is the back support. The Omega uses a traditional lumbar pillow. The two Titan chairs use a slick internal lumbar device instead. Summary of differences:
| | Omega (S) | Titan (L) | Titan XL |
| --- | --- | --- | --- |
| Size rating | 5'3" to 5'11"; 240 pounds | 5'9" to 6'7"; 290 pounds | 5'11" to 6'10"; 390 pounds |
| Back support | Adjustable neck and lumbar pillows. | Internal lumbar + adjustable neck pillow. | Same as the Titan. |
| Regular price | $359 from Secretlab | $399 from Secretlab | $479 from Secretlab |
Chair features
Secretlab chairs use the highest quality materials and the most advanced production techniques. Each build starts with a robot-welded, carbon steel frame. Over top goes ultra-resilient cold foam padding and high-quality fabric or leather covers.
All three Secretlab chairs have these features:
Functionality: 4-directional armrests; recline from 85° to 165°; multi-angle tilt-lock.
Upholstery: Choice of premium PU leather, Softweave Fabric or genuine NAPA leather.
Padding: enhanced cold cure foam padding
Free shipping & discounted prices when you buy direct.
The forward recline of the backrest to 85° is a nice touch that few other chairs offer. For intense computer work or gaming, many people tend to lean forward in their chairs. With Secretlab chairs, you can angle the backrest to 85° to support your body when you lean.
Chair Sizes
Secretlab chairs range from the compact, slim-fitting Omega to the super-sized Titan XL. Here are the dimensions of all three chairs:
| | Secretlab Omega | Secretlab Titan | Secretlab Titan XL |
| --- | --- | --- | --- |
| Outer seat width & depth | 22" (W) x 19.3" (D) | 20.5" (W) x 19.7" (D) | 22.6" (W) x 19.9" (D) |
| Backrest height & width | 31.5" (H) x 21" (W) | 33" (H) x 21.7" (W) | 33.5" (H) x 22" (W) |
| Floor to Seat Range | 18.9" to 21.9" | 18.7" to 22.4" | 19.1" to 22.8" |
| Chair height | 50.4" to 53.4" | 51.7" to 55.4" | 52.6" to 56.3" |
| Size rating | 5'3" to 5'11", up to 240 pounds | 5'9" to 6'7", up to 290 pounds | 5'9" to 6'10", up to 390 pounds |
Warranty
All Secretlab 2020 Series chairs come with a three-year warranty. That's one year longer than the coverage on 2018 models.
In case of issues, their customer support is excellent. Use the contact form on secretlab.co if you need help with your purchase.
There's also an easy way to extend the warranty to five years. Post a photo of your chair on social media and share it with Secretlab. For more information, check out Secretlab's Redeem Program.
Titan vs Omega differences
There are three differences between the Titan and Omega. First, the Titan supports larger sizes. Second, the Titan uses an internal lumbar support (the Omega uses a traditional pillow). Third, the Titan has a flat, wide seat with enough room to cross your legs.
In contrast, the ridged edges on the Omega's seat keep legs closer together. That provides better posture support for your back but gives less wiggle room for your legs.
Secretlab chair reviews
Below is a quick look at each chair in the Secretlab product line. Each mini-profile also links to detailed reviews of each model.
Secretlab Omega
RSP: $359
The Secretlab Omega is a compact gaming chair for slim, average-sized bodies. Its snug dimensions combined with Secretlab's ultra-firm padding deliver superb back support. Enjoy long periods of high-octane computing in this chair — it's good for your back!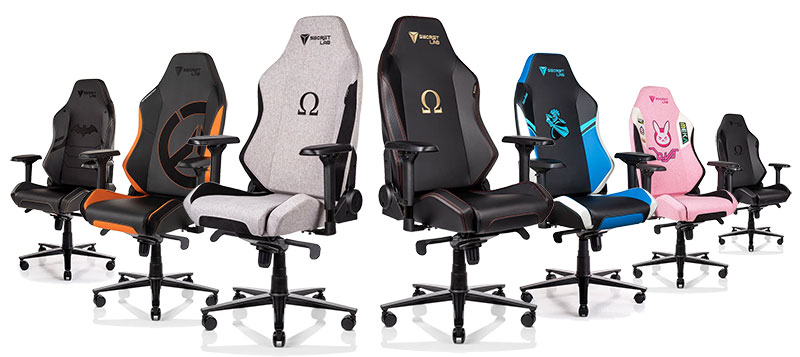 Average-sized users can choose between the Omega or the larger Titan. If you prioritize comfort and legroom, choose a Titan. But with more free space, there's a greater chance of sitting with sloppy posture.
As a result, those who prioritize a healthy posture while sitting should choose an Omega. Its padding and contoured edges keep your muscles relaxed, with your arms supported and your head in perfect position.
Secretlab Omega from $359 direct from Secretlab
Omega features
There are two key differences between the Secretlab Omega and Titan chairs. First, the Omega supports the lower back with an extra-large adjustable lumbar pillow. In contrast, the Titan does away with the pillow and adds an internal lumbar system instead.
The other key difference between the two chairs is the seat design. The Titan has a flat wide seat. The Omega's seat is narrower, with ridged edges that restrict leg movement. Beyond those differences, the Omega has the same rich features as the Titan chairs.
Omega sizing
Seat width & depth: 22″ (W) x 20″ (D)
Backrest height & width: 32″ (H) x 21″
Size rating: people 5'3″ to 5'11" tall; up to 240 pounds
Learn more
Several of the world's top pro esports teams use either Titan or Omega chairs. The choice usually comes down to size or preference. But in the case of Team Newbee, all members are average-sized. As a result, they only use Omega chairs for their full-time training sessions.
Note that — like all Secretlab chairs — the Omega's padding is very stiff. That is by design. In a post on their blog, Secretlab explains. In brief, firm padding does a better job of keeping your body sitting with a healthy, aligned posture. As a result, it's a better choice for long-term health.
When you sit in the Omega, the padding will give only enough to take the shape of your legs and buttocks. When you stand up, the padding will pop back into its original shape. Even with years of use, this padding will look and perform like new.
For a detailed look at the Omega chair plus a broader look at the style variations, check out our in-depth review:
Detailed Secretlab Omega review
The Omega comes 25 different styles made with PU leather chair, mesh fabric or genuine NAPA leather. Buy from $359, direct from Secretlab.
Secretlab Titan
RSP: $399
The Titan is (in our opinion) Secretlab's flagship gaming chair. It comes in 24 variants that use either Softweave mesh fabric, PU leather or genuine NAPA leather.
Features
On top of the standard Secretlab features, the Titan also has an innovative internal lumbar support system. That feature rivals the internal lumbar systems on $1000+ ergonomic task chairs. Turn the knob on the side of the backrest to increase or decrease lumbar depth. Doing so gives you precision and depth control than a conventional lumbar pillow.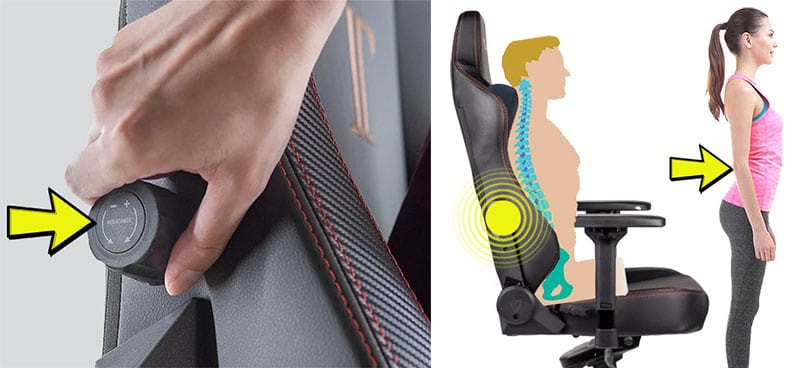 %0
The Titan also has a flat, wide seat with enough room to cross your legs while sitting.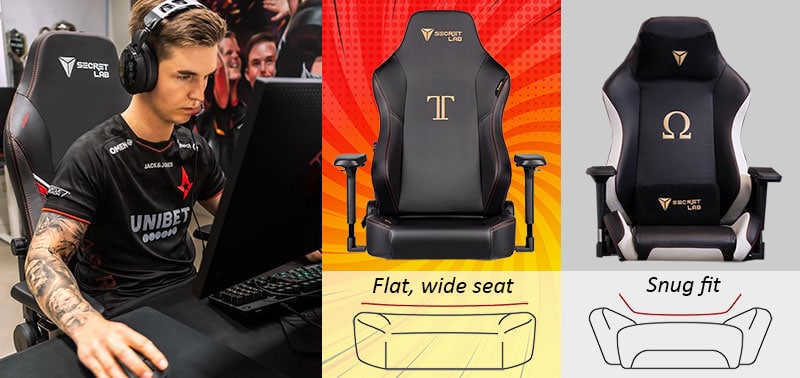 Feature summary:
Functionality: padded 4D adjustable armrests; recline to 165°; multifunction tilt-lock.
Padding: blended cold cure foam.
Upholstery: real leather, Softweave Fabric or Secretlab Prime 2.0 PU leather.
Support: steel frame, cold foam padding, Class 4 gas lift; 5-star aluminium base; extra-large PU casters.
Extras: memory foam neck pillow with cooling gel insert.
Buy the Titan for $399 from Secretlab
Titan sizing
Seat width & depth: 20.5″ (W) x 19.7″ (D)
Backrest height & width: 33″ (H) x 21.7″ (W)
Size rating: people 5'9″ to 6'7 tall; up to 290 pounds
Learn more
The Secretlab Titan is one of the best gaming chairs in the world. It powers several of the world's top esports teams. For a third the price of a Herman Miller chair, this chair can power your computing needs as it does for the pros.
For a detailed analysis of the Titan chair plus a broader look at the style variations, check out our in-depth review:
Detailed Secretlab Titan Review
Choose a Titan PU leather chair, mesh fabric chair, pro esports team chair and more. Buy the Titan from Secretlab from $399.
Secretlab Titan XL
RSP: $479
The Secretlab Titan XL is 25% bigger than the Secretlab Titan. Aside from its super-sized dimensions, it's the exact same chair as the Titan. It also has an internal lumbar system, 4D armrests, multifunction tilt-lock and other features common to Secretlab chairs.
Buy the Secretlab Titan XL from $479
Titan XL Sizing
This is a chair for heavy bodies with thick legs and wide hips. Because they carry more weight, heavy people suffer worse effects from poor posture. The Titan XL is a healthy solution to that problem.
This chair will support long periods of comfortable sitting. At the same time, it will help you maintain a healthy posture. The result is less stress on the neck, back, hips, legs, and joints.
With less stress on your body, your mind's cognitive abilities improve. That's why the world's top esports players use gaming chairs for training. If you are heavy or wide,
Seat width & depth: 22.6″ x 19.9″ (D)
Backrest height & width: 33.5″ (H), 22″ (W)
Size rating: 5'11" to 6'10" and up to 390 pounds
Learn more
The Secretlab Titan XL is a very versatile chair for heavyweights. Use it for PC computing, gaming or even as a living room chair. Having one around can provide heavy bodies with relief under various conditions.
The combination of dense padding, a tall backrest and internal lumbar provide the key to crisp and effective back support. Turn a dial on the side to expand or deflate the lumbar support into the small of your back. Then lean into the backrest. Doing so will put your hips, spine and upper body muscles into a healthy sitting alignment.
With a consistent, healthy sitting posture, benefits include boosted energy levels and greater productivity.
Detailed Secretlab Titan XL Review
The Secretlab Titan XL is available for $479 from Secretlab. There are two PU leather options and two Softweave fabric ones.
Secretlab chair FAQs
This section covers lingering questions you may have about Secretlab chairs and the people who make them.
Who is Secretlab?
Secretlab is a company founded and headquartered in Singapore. Their team provides direct shipping to North America, Europe, the UK, and Australia. In SE Asia, they service Malaysia, the Philippines, Thailand, and Indonesia.
The company was born as an idea in 2014. Founders Ian Ang and Alaric Choo were competitive StarCraft II gamers. Like many gamers of that era, the suffered back pain from gaming in cheap office chairs. That led them to develop the ultimate gaming chair solution.
In their first four years, Secretlab sold over 200,000 chairs for around $15 million USD in sales. In 2019, the company secured a round of venture capital funding.
Today, Secretlab is one of the leading names in the gaming chair industry. According to Forbes, their annual sales are over $15 million.
Chair cover options
The Secretlab Omega and Titan chairs come in a choice of PU leather, Softweave mesh fabric or genuine NAPA leather. The Titan XL only comes in PU leather or Softweave options.
Prime PU leather
Prime 2.0 Premium PU leather is the most well-rounded and popular option. This material is soft and flexible with a premium leather feel. It's also durable, resistant to liquids and easy to clean with a damp cloth.
Softweave fabric
SoftWeave Fabric is a custom upholstery blend of premium 350gsm short yarn. This material has a softer, cozier feel than the PU leather. It's also the most breathable blend — no matter how long you sit, your Softweave chair will stay cool.


Softweave strands are woven together for high-tensile strength. That ensures the fabric doesn't lose form, even after a couple of years of use.
The downside of Softweave is that it's you need to be more careful drinking coffee, wine or grape juice. Stains will ruin the look of these chairs! To clean, use a vacuum or damp cloth with commercial fabric cleaner.
Genuine NAPA leather
NAPA leather is a general term for leather that is soft, smooth and chrome tanned. Secretlab's version for Titan and Omega chairs is a black, ultra-luxurious variant. This stuff has a cool, buttery-soft feel. Choose this option for the ultimate level of luxurious, decadent comfort.
2020 Series upgrades
Every two years, Secretlab releases upgraded versions of all models. The most recent upgrade was from 2018 Series models to 2020 Series. In total, 2020 Series chairs got 20 upgraded features over 2018 models.
Summary of 2020 Series upgrades:
Extended warranty, up from two years to five years (best in the industry).
Improved Prime 2.0 PU leather blend that's four times more durable than the previous leather.
Upgraded cold cure foam padding (better resistance and durability).
Revamped full-metal 4-directional armrests.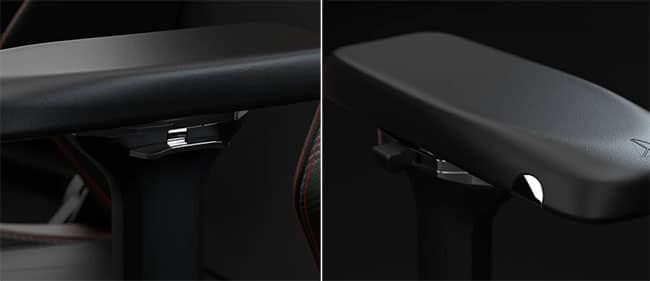 Who are Secretlab chairs for?
Secretlab chairs are ergonomic. That is, they adapt to the needs of the user, rather than the user having to adapt to the chair. They are also comfortable and support good posture. Several studies show that good posture has a positive effect on mood, energy levels and even the ability to concentrate.
By the same logic, with poor sitting posture, users tend to suffer stiffness, pain, varicose veins, and worse.
The fact is that everyone can benefit from using these chairs. To prove that point, Secretlab has made pro esports team partnerships a priority.
Full-time esports pros
Many of the world's top pro esports teams use Secretlab chairs. Most teams have licensed chairs in both Omega and Titan variants.
Pro esports players work under stressful, mentally taxing conditions. A typical training day lasts 10-12 hours. During that time players will engage in solo play, team play, and conference calls. Pro-level gameplay demands lightning-fast reflexes and rapid-fire decision-making.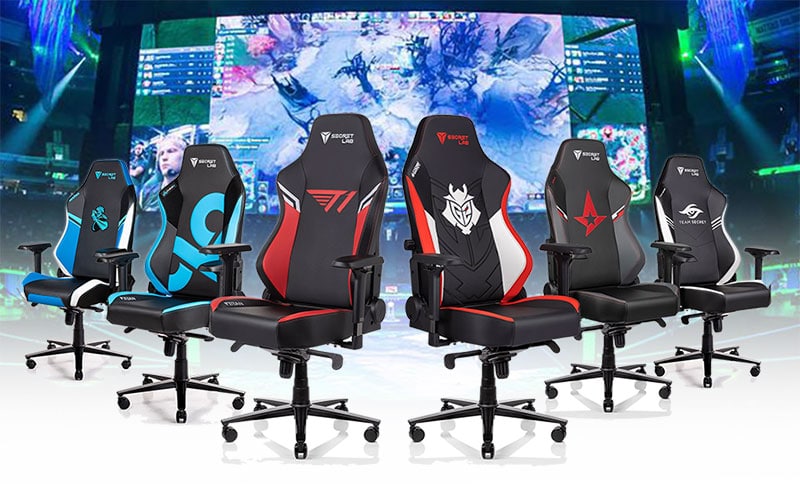 This is how Secretlab proved the value of their chairs, for the whole world to see.
Here's what the pros have to say about Secretlab chairs:
General computer users
What's the difference between a professional esports player and an office worker? Both sit full-time in front of a computer for a living.
But esports players tend to work longer hours under more intense conditions. So if Secretlab chairs can meet the needs of the pros, imagine what they can do for the average computer user.
If you are a pro esports player, rest assured that these chairs will meet your needs. If you're a run-of-the-mill desk jockey, these chairs will exceed your needs.
So why not get the same level of comfort and support that the pros use? Doing so will let any computer user sit longer, work smarter and be more productive.
Where to buy Secretlab chairs
There are three options. The best option is to buy from Secretlab. That eliminates middleman fees, giving you the lowest possible price.
You can also buy Secretlab chairs on Amazon, but then you lose the direct-buy discount. As a consequence, Amazon prices are around $50 higher.
A third option exists for users in Southeast Asia. There, Secretlab offers its products via Lazada and Shopee. As with Amazon, buying from third parties is more expensive than buying direct.