Gaming chairs are trending upwards, with 5% global growth expected in coming years. It's a young industry with a few top brands, including Secretlab. This article summarizes the quality of Secretlab gaming chairs. It also shows why Secretlab has emerged as one of the leading names in the industry.
Competing gaming chair companies take a scattershot approach. They release dozens of models with minor variations.
Secretlab keeps it simple. They only produce three gaming chairs.
A smaller product line means more focused R&D. In 2019, all models upgraded to 2020 Series models. The result of three years of R&D, upgrades included upholstery, padding and armrests.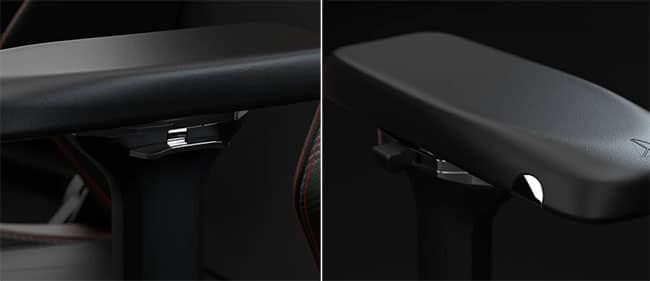 Today, Secretlab is one of the leading names in the gaming chair industry. According to Forbes their annual sales are over $15 million. From their base in Singapore, they've expanded to North America, the UK, Europe and Australia.
Secretlab is also strong in Southeast Asia. They already distribute to Malaysia. Recently they expanded distribution into the Philippines, Thailand and Indonesia. Shoppers in those countries can buy Secretlab products via Lazada and Shopee.
About the Secretlab Company
Secretlab was born as an idea in Singapore in 2014. Founders Ian Ang and Alaric Choo were competitive StarCraft II gamers. They suffered wrist and back strain spending long hours sitting at computers.
At the time, the gaming chair was still young, with DXRacer the only viable option. The duo decided to invest their savings into building the ultimate gaming chair.
After launching their first chair in in May 2015, they broke even within a month. Since then things have snowballed.
Over the next four years, the brand sold over 200,000 chairs for an estimated $15 million USD in sales.
This year, the company secured a round of funding from Heliconia Capital Management. Today, Secretlab is worth over $200 million.
Moving forward, they plan to focus on research, procuring supplies and hiring talent.
A closer look at Secretlab Gaming Chairs
Secretlab only makes three gaming chair models. The Titan is the flagship model. It's the only one with internal lumbar support. This works like a pneumatic lumbar insert in a sports car seat. Twist the dial to set the lumbar support in precise position for your needs.
The Omega and Throne both use traditional lumbar support cushions. Here's how lumbar cushions look on Omega chairs:
All models share the same upholstery, padding, armrests, and functions. The main difference between each chair is the sizing.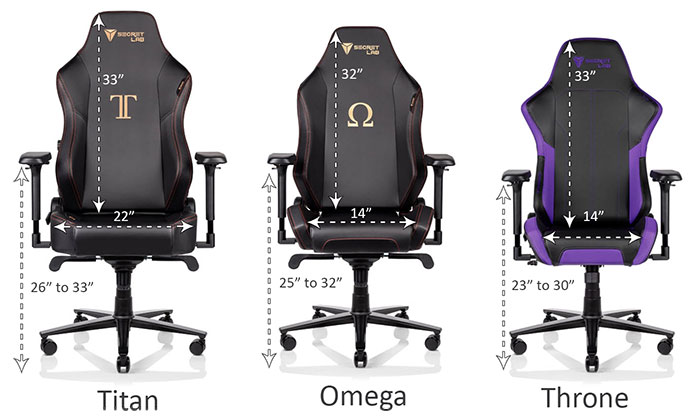 The Titan is the tallest chair with widest and deepest seat. The Omega has an equally wide seat but narrower backrest. The Throne has the narrowest seat and is the lowest to the ground.
| | Secretlab Titan | Secretlab Omega | Secretlab Throne |
| --- | --- | --- | --- |
| Inner Seat Width | 14.5" | 14" | 14" |
| Seat Depth | 21" | 20" | 18" |
| Backrest Width | 23" | 21" | 23" |
| Backrest Height | 33" | 32" | 33" |
| Floor to Seat Range | 19.5" to 23" | 18" to 21.5" | 16" to 19.5" |
| Overall height | 52.5" to 56" | 50" to 53.5" | 49" to 52.5" |
| Weight support | Up to 270 pounds | Up to 240 pounds | Up to 220 pounds |
| Height support | 5'9" to 6'7" | 5'3" to 5'11" | 4'9" to 5'3" |
This is how it looks when a person 5'10" tall sits in each of the chairs:
Below is a quick look at each chair in the Secretlab product line.
Secretlab gaming chairs FAQ
What upholstery options do Secretlab offer?
All three models come with upgraded Prime 2.0 PU leather. This material is breathable, durable and easy to maintain. Each chair has different color options. Here are the Omega's five options:

Both the Titan and the Omega shares a Cookies and Cream Softweave Fabric option. The Throne's Softweave option is 2-tone gray with pink trim.
Finally, both the Titan and Omega chairs offer a genuine NAPA leather option:

Where is Secretlab located?
Secretlab is a Singaporean company based out of a headquarters in central Singapore, Southeast Asia. With a small team of less than 50 people they manage orders and provide direct product shipping to North America, Europe, the UK and Australia. In Southeast Asia they service Malaysia, the Philippines, Thailand and Indonesia.
How long do Secretlab gaming chairs last?
Based on our own durability tests, ChairsFX expects PU leather gaming chairs to last for around two years. Most gaming chairs have steel frames that don't degrade. Rather, breakdown happens with the leather and padding.
With their 2020 Series upgrades, Secretlab bumped up their warranty from two years to five years. Secretlab frames feel very solid – they should last that long, if not longer. But will the PU leather hold up?
If it doesn't, Secretlab will replace it within five years of purchase.