The Secretlab Titan 2022 Series comes in small, medium, and XL sizes. All boast the same industry-leading features and styling options. That makes the 2022 Series Secretlab Titan XL the best big and tall gaming chair money can buy.
For an in-depth look at the latest and the greatest, see this Titan EVO 2022 Series Introduction. In this Secretlab Titan XL review, we summarize key features for heavyweight sizes.
On paper, the Titan 2022 XL is unmatched. No other big and tall gaming chair offers better ergonomic features. None come in a growing collection of 30+ design styles either.
But how does the Titan XL measure up in practice for big and tall users? Further, how does it compare in value with other XL chairs on the market? Below we answer those questions.
Secretlab Titan XL chair review
The Secretlab Titan is the flagship model from one of the best gaming chair brands in the world. In late 2019, the Titan XL made its debut as a super-sized version of the Titan 2020 Series.
Recently, Secretlab released the Titan EVO 2022 Series. As a result, the Titan XL is currently available in both 2020 and 2020 Series editions.
Titan XL 2020 and 2022 Series sizing
Compared to the medium-sized Titan 2022 Series, the XL version has a wider seat, a taller backrest, and higher seat height. It's also made with extra-large reinforced parts to support over 100 pounds more weight.
| | Titan 2022 medium | Titan XL 2022 | Titan XL 2020 |
| --- | --- | --- | --- |
| Seat | 22" (W) x 19.3" (D) | 22.8" (W) x 19.7" (D) | 22.6" (W) x 19.9" (D) |
| Backrest | 21" (W) x 33.5" (H) | 22" (W) x 35" (H) | 22" (W) x 33.5" (H) |
| Seat height | 17.7" to 20.5" | 18.1" to 21.9" | 19.1" to 22.8" |
| Size rating | 5'7" to 6'2"; 285 pounds | 5'11" to 6'9"; 395 pounds | 5'11" to 6'10"; 390 pounds |
| Secretlab price | $469 | $499-$519 | $479-$499 |
2020 and 2022 Series Titan XL chairs have almost identical dimensions. If you're looking for a similar seating experience for a slight discount, that one's for you.
Chair features
The 2022 Series Titan comes with several big improvements over the previous version. Three stand out.
4-Way L-ADAPT Lumbar Support System
The older Titan XL came with a depth-adjustable integrated lumbar. The 2022 Series Titan XL comes with an integrated system that is both depth and height-adjustable.
Use a dial on either side of the chair to toggle both the height and the depth. The goal is to provide gentle support to your lower back area. With 2-way control, extra-large gamers can customize their back support to near-perfect precision.
Magnetic Headrest Pillow
2020 Series headrest straps are outdated. 2022 Series Titan XL chairs come with a Magnetic Memory Foam Head Pillow instead.
The magnets hold in place well. The adjustment range goes from the top of the "T" to the top of the chair. As a result, users enjoy easy adjustment with a wide range, plus a much cleaner look.
Pebble Seat With Waterfall Edge
The Titan 2020 Series rose to fame with its flat, wide seat style. In comparison, the 2020 Series Omega has a bladed seat style. The new 2022 Series Titan XL combines both concepts into what Secretlab calls a 'Pebble Seat'.
A flat seat provides more legroom, and thus more comfort. In contrast, a bladed seat style coaxes the legs forward. That helps to maintain good posture while you sit.
The new style features gently ridged wings. You can still sit cross-legged, but you'll feel the ridges under your thighs. As well, extra-wide sizes might not fit within the ridged seat space. In that case, consider a Titan 2020 XL instead.
Finally, the new seat style also features a downward-sloping seat lip. Heavy users in particular will appreciate how this reduces pressure on the thighs while sitting.
Summary of features
Functionality: 4D armrests; multifunction tilt-lock; recline from 85-165°.
New 2022 Series Features: integrated 3D-adjustable lumbar support; magnetic headrest pillow; pebble seat base with waterfall edge.
Sizing: small 4'11" to 5'6″; medium 5'7″ to 6'2″; XL 5'11" to 6'9″.
Warranty: five years.
Titan XL chairs are available from Secretlab in North America, the EU and UK, Oceania, Singapore, and Malaysia.
Titan XL Warranty
All Secretlab Titan XL 2020 Series chairs come with a 3-year warranty. But you can extend your coverage to five years after you receive your chair.
Once you set up your new Titan XL. post a photo of it on social media. Then share your post with Secretlab. That's all you need to do to receive an official 5-year extended warranty. Check out Secretlab's Redeem Program to learn more.
Recommended Titan XL designs
While the old Titan XL only came in four designs, 2022 Series versions are available in over 30. Here's a quick look at some of our favorite Titan XL chair styles:
Standard NEO Leatherette Designs
For its time, 2020 Series Prime PU 2.0 faux leather was the best in class. 2022 Series chairs take over the top spot with a material called Neo Hybrid Leatherette.
The new leatherette is 4 times more durable than the previous one. It's produced by bonding a resin top laminate onto a base layer. That gets rendered into a premium faux leather that resembles an ultra-smooth top hide.
This stuff delivers a breathable, buttery-soft, leather-like experience. It's easy to clean, extremely attractive, and very durable.
For a closer look at each Neo Leatherette design, see this Titan EVO Design Review.
2022 Series XL Leatherette $499
2020 Series Prime 2.0 PU leather Titan XL chairs are also available from Secretlab for $479.
SoftWeave Plus XL Designs
Find here the best XL fabric gaming chairs on the market. 2022 Series SoftWeave Plus is softer, more visually complex, and more durable than the old version.
Secretlab has devised a new weaving process to produce SoftWeave Plus. It interlaces loops of resilient yarn fibers to improve airflow and breathability.
It also lets designers craft complex, multi-layered designs. On 2022 Series editions, you can see advanced effects like 3D gradient layers on the side wings.
There are now seven Titan fabric XL gaming chairs to choose from. For a closer look at each design, see this Titan EVO SoftWeave PlusGaming Chair review
2022 Series XL SoftWeave Plus $519
2020 Series SoftWeave Titan XL chairs are also available from Secretlab for $499.
League of Legends Designs
For several years, Secretlab has partnered with Riot Games. Riot is the publisher of League of Legends, one of the world's major esports titles. Big and tall users can now choose from eight brilliant League of Legends designs.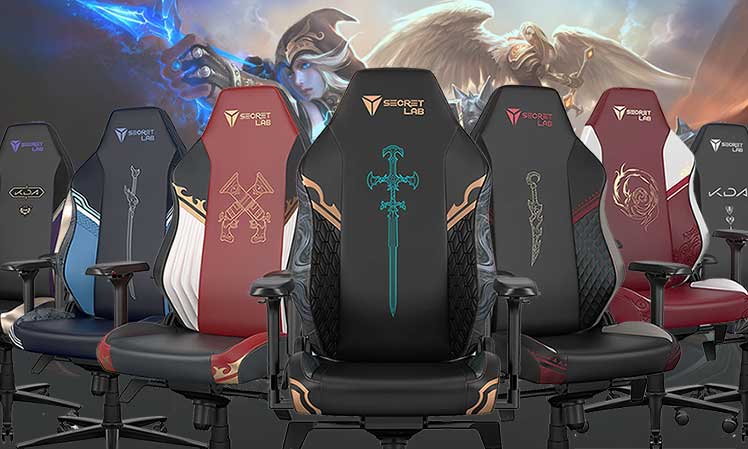 Secretlab recently added a Ruination Series to the collection. It includes designs for Pyke, Miss Fortune, and Viego the Ruined King.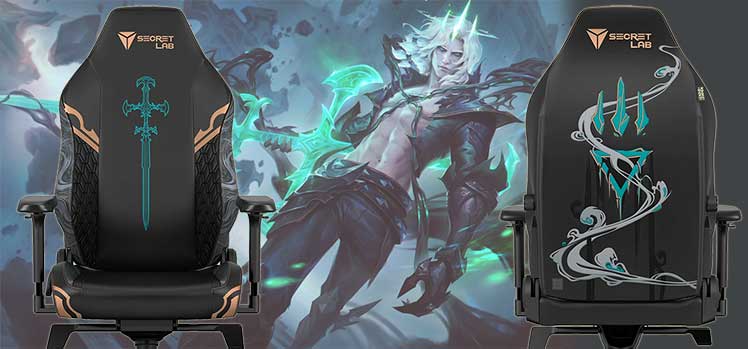 All LoL designs have intricate embroidery detailing game lore. The Viego edition shows the Blade of the Ruined King on the front side in crisp green. On the back end, the Ruined King's crown hangs above ominous wisps of black mist.
To browse all eight XL designs, see this League of Legends and K/DA chair review.
Pro Esports Team Designs
Many of the best esports teams in the world use Secretlab chairs. Now, extra-large gamers can do the same. The Titan XL 2022 Series now comes in custom editions representing Team Liquid, Evil Geniuses, G2, Team Secret, and others.
These teams use their Secretlab chairs for full-time training. Whether you play video games or do office work, you can now enjoy the same level of support. XL team chairs are only available in 2022 Series editions.
Check out all seven XL team designs: Review of Secretlab Pro Esports Team Chairs
Game of Thrones Designs
Sit like a super-sized king in a choice of three Game of Thrones Titan XL gaming chairs. Pledge your allegiance to House Stark, Targaryen, or Lannister.
Each comes with brilliant detailing. For instance, the House Targaryen model comes with Dragonscale side wings against rich black leatherette. Targaryen sigils embroidered on the front and back add brilliant pops of crimson contrast.
Titan XL Targaryen Edition $529
Check out all designs in this Secretlab Game of Thrones chair review.
Titan XL Alternatives
Most big and tall gaming chairs offer similar dimensions as the Titan XL. One stands out as a viable competitor. Within the ergonomic office chair genre, Herman Miller's Aeron is the best high-end alternative.
| | Titan XL 2022 | Masters Series Max | Aeron size C |
| --- | --- | --- | --- |
| Seat | 22.8" (W) x 19.7" (D) | 23.25" (W) x 20.5" (D) | 28.25" (W) x 18.5" (D) |
| Backrest | 22" (W) x 35" (H) | 24.25" (W) x 34.25" (H) | 22.75"(W) x 23" (H) |
| Seat height | 18.1" to 21.9" | 14.4" to 17.25" | 16" to 20.5" |
| Size rating | 5'11" to 6'9"; 395 pounds | 5'6" to 6'6"; 390 pounds | 5'2" to 6'6"; up to 350 pounds |
| Price | $499-$519 | $450.00 | $1445 |
The Aeron's Size C offers one of the widest seats anywhere in the ergonomic seating industry. Head-to-head with the Titan XL, both offer strong buying incentives. See this Titan 2022 Series vs Herman Miller Aeron comparison to learn more.
AKRacing's Master Series Max differs from the Titan with a wider seat and much lower seat height range. Extra-wide users with short legs will find this configuration a better fit.
Learn more about the Master Series Max and other XL alternatives in this roundup:
Titan XL Benefits For Big And Tall Users
Several big and tall gaming chairs are available for less than $300. What's the point of paying a premium for a Titan XL chair?
The bottom line is that no other gaming chair on the market comes as well-equipped. The Titan XL is the only one with a 4-way lumbar support system. Its new ergonomic seat is also designed to provide better posture support over longer periods.
Is it worth it for big bodies to pay a premium? This section explains why the answer is a resounding "yes".
How poor posture affects big bodies
The spine holds the body up against gravity. When aligned, it reduces stress by distributing loads to different body parts. But when people carry more weight, the spine must absorb the extra burden.
One area of the spine most vulnerable to the effects of obesity is the lower back — the lumbar spine. Out-of-shape big bodies tend to have poor flexibility and weak muscles in the back, pelvis, and thighs. That combination increases the curve of the lower back, forcing the pelvis to tilt too far forward.
Trying to relax on a fluffy sofa puts even more strain on your back. So will a cheap office chair, which forces static sitting and promotes slouching.

Slouching puts a strain on five discs in the lumbar area. These are fluid-filled cushions that protect the vertebrae from rubbing together. Strained lumbar discs will degenerate into serious issues if not addressed.
If discs tear, they can't heal. The soft material under the cushions could then protrude and compress a nerve root. That is degenerative disc disease, which sends permanent pain radiating down your limbs.
Corrective Posture Therapy While Sitting
Movement requires brain activity. Over time, repeated movements trigger patterns in the brain responsible for motor skills. This is called muscle memory. It allows the body to perform complex motor tasks with little or no conscious effort.
When you sit with poor posture, the body adapts. Stomach muscles weaken, quads tighten, and the lower back locks up. The Titan XL reverses these effects by supporting users into neutral sitting positions.
Gaming Chair Posture Therapy
The consensus healthiest way to sit for long periods is in a neutral position. This involves sitting with planted feet in a chair offering lower back support.
That combination makes it easy to sit straight. Sitting this way in a Titan XL lets the chair do the heavy lifting instead of your muscles. Follow these steps:
Adjust the seat height so your feet plant on the floor.
Tuck your hips deep into the seat pan and sit down.
Toggle the lumbar support height and depth. Play around until you feel comfortable pressure in your lower back.
Lean your body weight into the backrest.
Adjust the headrest to support the curve in your neck.
All you need to do to correct posture is follow the steps and sit down. At first, it may feel awkward; after a few days, muscle memory will kick in.
Then, sitting this way becomes effortless. For XL users, this has the potential to drastically improve their quality of life.
Studies show that obese young adults suffer from poor postural stability. That places excess stress on muscles bearing heavier than normal loads.
With a healthy supported posture, muscles and joints find relief. With less energy spent on muscle support, more becomes available for healthy computing.
To learn the specifics of neutral sitting in a Titan, see this video guide:
Physical & Mental Benefits
The rewards of developing good posture include improved comfort and mobility. When you're able to sit this way, your muscles work more efficiently. That helps Titan XL users to sit longer, feel better, and be a lot more productive.
Good posture boosts energy levels
A misaligned spine forces muscles to work harder to hold the body up against gravity. On the flip side, good posture balances muscles around the spinal column. Then they work more efficiently, burning a lot less energy.
This means that using a Titan XL to sit in neutral positions can have a direct effect on productivity. Dr. Roger Sperry (1980 Nobel Prize recipient for brain research) famously noted that when the body is tired, the brain falters:
Better than 90 percent of the energy output of the brain is used in relating the physical body in its gravitational field. The more mechanically distorted a person is, the less energy available for thinking, metabolism, and healing.
The gist is that sitting with poor posture consumes most of a person's energy. With strained muscles, only 10% of energy reserves must power thinking, metabolism, and healing. With the help of a Titan XL, you can 'hack' this ratio.
Using one will acclimatize your body to a neutral sitting style. That will take massive pressure off of the back, neck, and shoulders. That leaves a huge energy reserve that the brain can take advantage of.
More brain power supercharges productivity
Sitting with poor posture overworks muscles, draining energy levels. This defeats the purpose of sitting down to 'work' at a computer. At the same time, sitting with a slouch also compresses the rib cage.
That reduces oxygen intake by up to 30%. Less oxygen slows computational speed in the prefrontal cortex. That part of the brain is where "thinking" happens.
As a result, slouching leads to brain fog and a lack of focus. Many studies show that poor posture crushes motivation into listlessness and apathy.
In comparison, people with good posture show a higher level of brain activity. That's why good posture is often associated with confidence, power, and assertiveness.
Titan XL Gaming Chair Conclusion
Big and tall computer users who spend long hours sitting have a great opportunity. In the work-from-home era, demand for ergonomic furniture skyrocketed. That forced many of the world's top chair brands to raise their games.
With its 2022 Series, Secretlab has reached a higher level well beyond competitors. No other big and tall gaming chair on the market comes as loaded as a Titan XL chair. If you're looking for the very best big and tall gaming chair support, here it is!
Buy direct from Secretlab in North America, the UK, Europe, Oceania, Singapore, and Malaysia.
Related Articles