The 2022 Series Titan XL is a gaming chair for big and tall users. It supports up to 395 pounds with an extra-large seat and backrest. It's not the largest big and tall gaming chair, but one of the most luxurious. This Titan XL 2022 review assesses its value for both large and medium-sized users.
The first thing most want to know about any big and tall gaming chair is its fit. The Titan XL is rated for fit sizes 5'11" to 6'7″. Here's a 6'5″ user sitting in a Titan 2022 XLK Ash edition: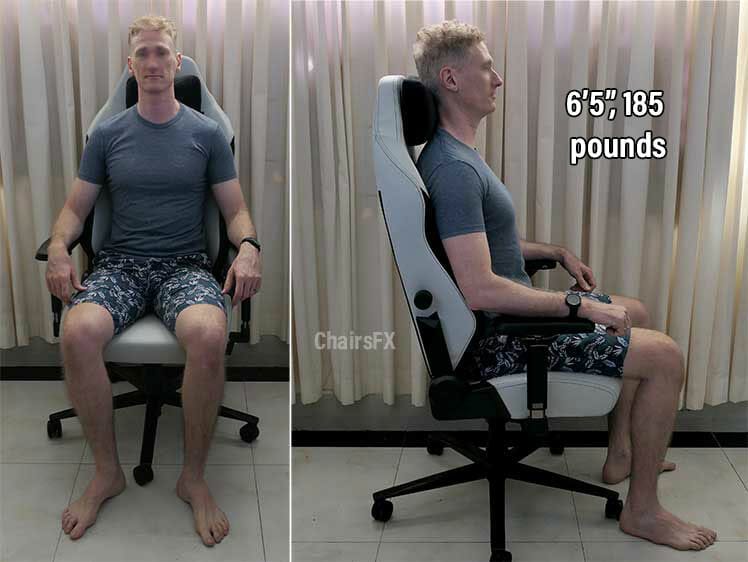 It's a great fit. The XL backrest provides generous coverage for his size. The flat seat style also provides ample space for his legs. Next, here's my (slim) 5'9″ figure in the same chair.
He also enjoys a great fit! The Titan XL's lumbar support and headrest are adjustable enough to suit shorter sizes. The seat works for slim sizes, but also provides plenty of space for thicker ones.
The Titan XL 2022 ranks as the best big and tall gaming chair available today. It's a comfortable, fully-adjustable, luxury gaming chair.
Secretlab Titan XL Chair Review
The Secretlab Titan 2022 Series is a luxury gaming chair with streamlined ergonomic features. The XL edition is a super-sized version that suits both tall and wide bodies.
Titan XL Sizing
The XL edition is the largest Titan 2022 chair. Our seat width measurements cover the total inner width. That's the total amount of space between the soft edges available for the legs to use.
The XL edition has a 14.9″ flat inner seat. That extends to soft edges with 19.3″ of space in between. Because the edges are mild, thicker legs can spill beyond the 19.3″ space without issue.
Titan Sizing Specifications
These measurements cover 2022 Series medium and XL chairs, plus the 2020 Xl edition:
| | | | |
| --- | --- | --- | --- |
| Specification | 2022 Medium | 2022 XL | 2020 XL |
| Seat (total inner width) | 18.5″ (W) x 19.3″ (D) | 19.3″ (W) x 19.7″ (D) | 22.6″ (W) x 19.9″ (D) |
| Backrest | 21″ (W) x 33.5″ (H) | 22″ (W) x 35″ (H) | 22″ (W) x 33.5″ (H) |
| Seat height | 17.7″ to 20.5″ | 18.1″ to 21.9″ | 19.1″ to 22.8″ |
| Size rating | 5'7″ to 6'2″; 285 pounds | 5'11" to 6'9″; 395 pounds | 5'11" to 6'10"; 390 pounds |
The 2022 Xl is rated for sizes 5'11" and up. Even so, my 5'9″ size found a pretty good fit in both medium and XL editions:
Look closer and you'll see the Titan XL's seat depth is too close to the back of my knees. Luckily, that's easy to fix with a footrest or lumbar pillow. See this sizing guide for details:
Chair features
The 2022 Series Titan comes with several big improvements over the previous version. Three stand out.
The Titan Evo 2022 Series looks like the final form of the classic racing-style gaming chair. There are three key improvements:
4-Way L-ADAPT Lumbar
Magnetic Headrest
Waterfall Pebble Seat
The Titan XL comes with an integrated lumbar that's depth
and
height-adjustable.

Use this to apply light pressure to your lower back. With full control, you can set the perfect depth and height for your needs.
Beyond full adjustability, the unit also has a matrix made of 63 adaptive hinges. These flex left or right as you move.

The Magnetic Memory Foam Head Pillow has a more aggressive upper curve than the old version. That provides more support for the base of the head while
sitting in neutral position2
.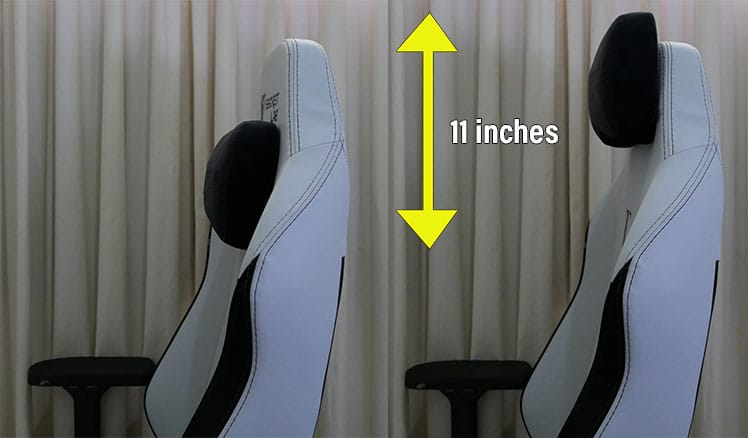 It also holds in place with magnets instead of straps. That provides a massive 11″ adjustment range of use to extra-tall or extra-short sizes.
To encourage movement, the Titan XL 2022 also has a Pebble seat base with a waterfall edge. This blends 2020 Series Titan and Omega seat styles into a fusion concept.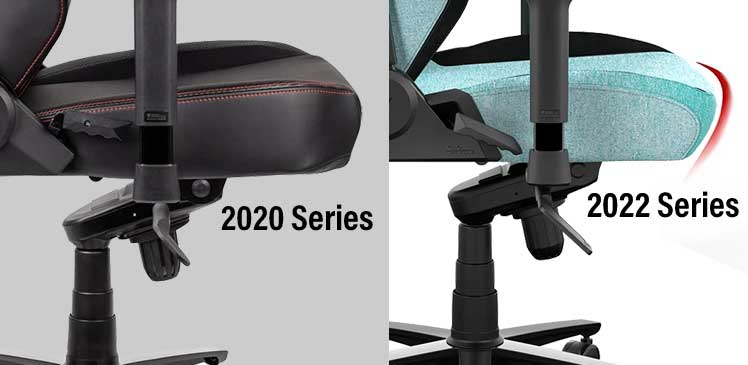 A waterfall seat edge reduces pressure on the thighs and knees. That gives users the freedom to position their feet under the chair.

As well, gentle side wings mildly guide the user toward the middle of the seat. That provides comfortable support without the restriction of bladed seat edges.
Summary of Features
Functionality: 4D armrests; multifunction tilt-lock; recline from 85-165°.
New 2022 Series Features: integrated 4-way adjustable lumbar support; magnetic headrest pillow; pebble seat base with waterfall edge.
Warranty: five years.
Titan XL chairs are available from Secretlab in North America, the EU and UK, Oceania, Singapore, and Malaysia.
Likes And Dislikes
There's plenty to like about the Titan Evo 2022 XL, but a few quibbles to be aware of.
Pros
4-way lumbar support
Strapless magnetic headrest with 11″ range
43 leatherette and fabric styles
5-year warranty
Flat, wide, spacious seat
Cons
Very expensive!
The flat seat can degrade posture (if you let it)
Titan XL Likes
The Titan Evo 2022 XL is the perfection of the racing-style gaming chair. In my experience, the back support adjustability is the most impressive. My 5'9″ size is actually shorter than the 5'11" minimum that Secretlab advises.
By lowering the lumbar support and headrest to the lowest points, I found a great fit!
Titan XL Likes
First, Secretlab recently raised prices because of skyrocketing shipping costs. Standard leatherette XL chairs are now $599. SoftWeave fabric ones are $619. Special editions cost $674!
In comparison, there are several big and tall gaming chairs with similar features priced under $300. Are you willing to pay twice as much for the Titan XL's luxuries?
Second, the ultra-spacious Titan XL seat has a downside. Gaming chairs with bladed seat edges intentionally restrict legroom. The point is to force users to sit with their feet firmly planted on the floor.

The Titan XL seat removes that barrier. That makes the sitting experience very comfortable. However, many studies show a link between work stress and poor lifestyle habits(1).
When the pressure's on, people tend towards binge eating, excessive drinking — and sloppy sitting! Then, the Titan's flat seat may encourage poor sitting habits. If those persist, your muscles will adapt so that your posture gets worse!
Esports doctor solutions to degrading posture include regular exercise and frequent breaks. Another option is to use two chairs: a flat seat for comfort, and a bladed one for posture correction.
Recommended Titan XL Designs
2020 Titan XL chairs are available in four styles. 2022 Series Titan XL chairs are available in 43+ SoftWeave and Leatherette styles! In-house, I've tested five Secretlab styles over the past two years.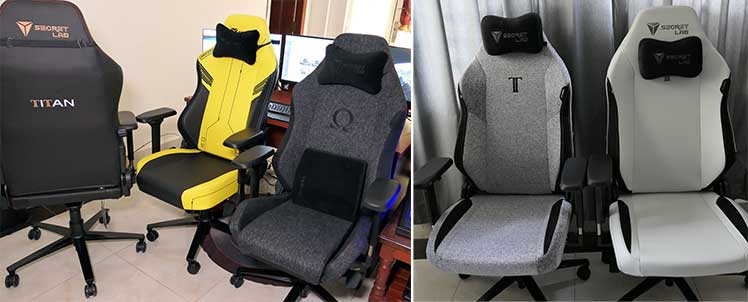 For a broader look, I also conducted a recent tour of Secretlab's Singapore showroom. There, I got an up-close look at most of the 43 available styles.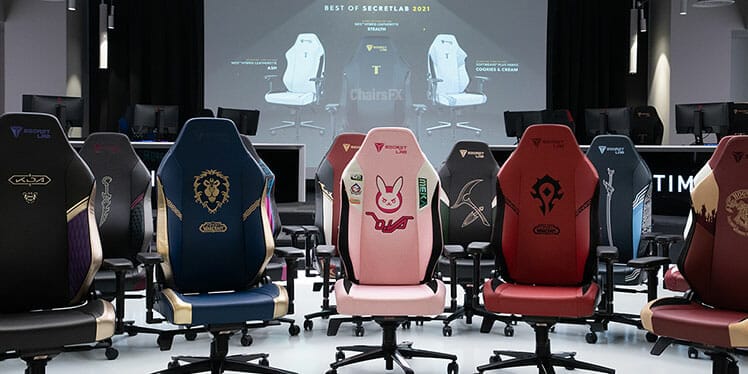 Here's a quick look at some of the most popular 2022 Series Titan XL designs:
Standard Neo Hybrid Leatherette
These are the cheapest Titan XL chairs. There are five standard designs with conservative office styling. The 2022 Series leatherette is 4 times more durable than the previous one.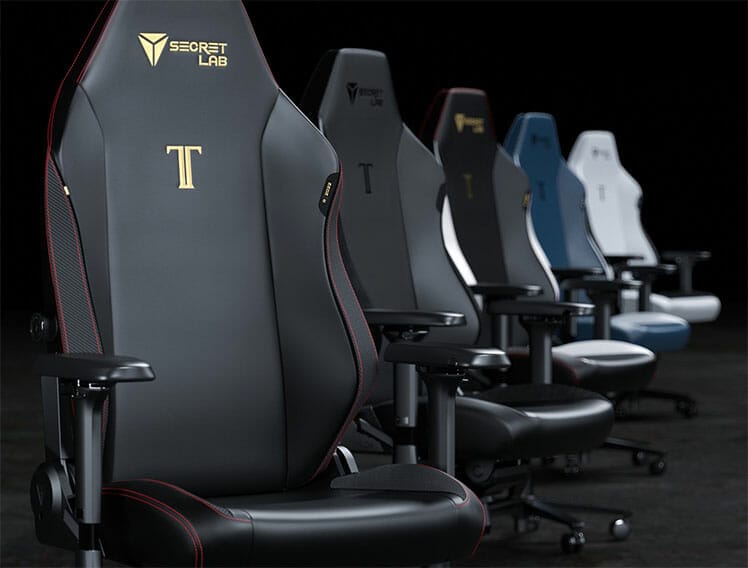 On my Ash XL edition, I've found this upholstery amazingly smooth and buttery soft. At the same time, it's stain-resistant and easy to clean. As well, despite its delicate looks, it's proven (so far) to be very tough and durable.
2022 Series XL Leatherette $599
2020 Series Prime 2.0 PU leather Titan XL chairs are also available from Secretlab for $579.
SoftWeave Plus
Behold the absolute best gaming chair fabric upholstery on the market. The 2022 Series SoftWeave Plus is softer, more visually complex, and more durable than the old version. Here's the old vs new Triple Black fabric up-close: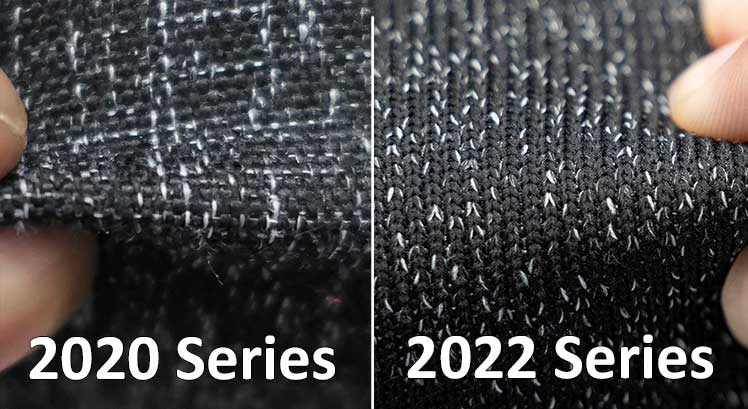 There are eight SoftWeave styles to choose from. In-house, I use a Cookies and Cream medium-sized edition. I've found it as soft and comfortable as advertised.
The downside is that SoftWeave is prone to staining. To keep it looking new, you'll need to do a deep clean every few months. That involves a vacuum cleaner, some baking soda, and a fabric stain-removal solution.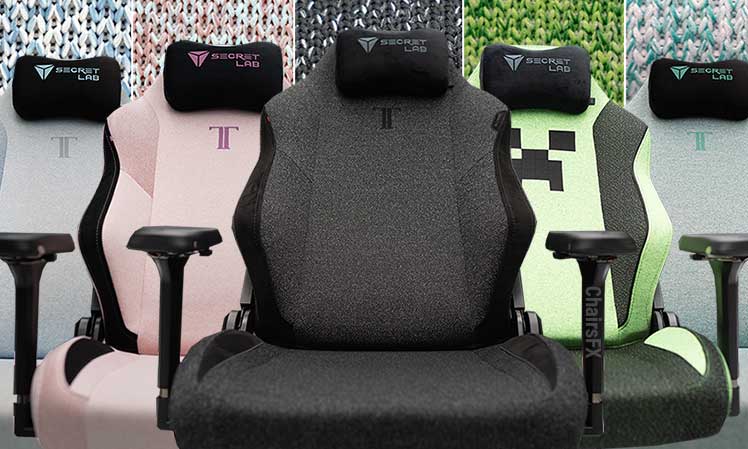 Up-close look at all styles: Titan SoftWeave 2022 Series Review.
2022 Titan SoftWeave Plus (medium) $519
Titan SoftWeave Plus (small) $519 | Titan SoftWeave Plus (XL) $569
Special Designs
Beyond the standard designs are dozens of specialty ones. For instance, check out these eye-popping Warcraft gaming chairs: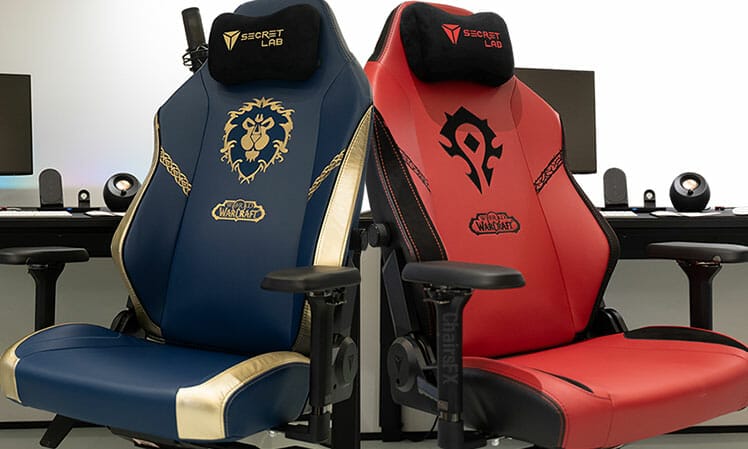 Secretlab also makes a growing collection of League of Legends gaming chairs. At present, there are eight models in the collection.
Note that all specialty designs come at a premium price. Titan XL specialty chairs are the most expensive in the Secretlab collection.
Xl special editions are only available as 2022 Series versions.
Titan XL Alternatives
For other premium alternatives, check these Big And Tall Gaming Chair Reviews. That list ranks the Titan XL as the #1 big and tall chair.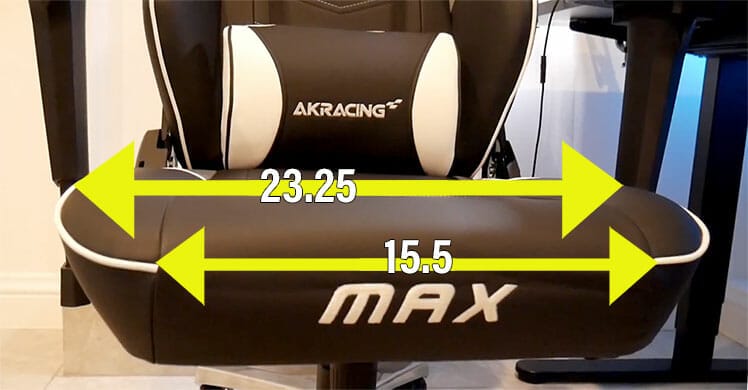 Ranking #1 is the AKRacing Master Series Max. It has a wider seat than the Titan XL, a lower price, and a similar 5-year warranty. The main downside is that it has an old-school lumbar pillow and headrest straps.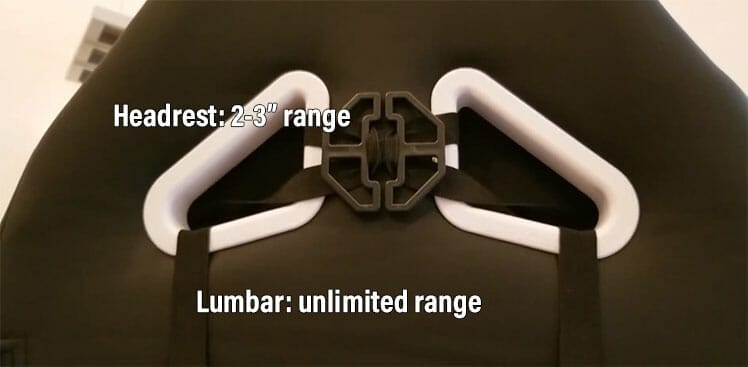 These aren't as flashy as what the Titan XL offers. Even so, they do a similar job.
Masters Series Max from AKRacing $569
The Master Series Max is also available on Amazon for $473.60.
Titan XL Gaming Chair Conclusion
I'm writing this review while using a Leatherette Ash Titan XL chair. Even though it's rated 2″ too large for me, I'm enjoying a great fit.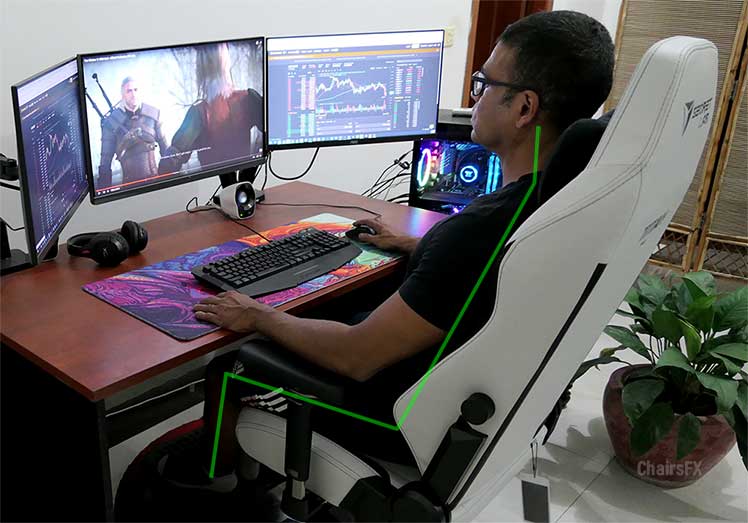 That's because the Titan XL comes with better adjustability than any other gaming chair. You can adjust the lumbar support's depth and height until it fits you perfectly. The headrest has a massive adjustment range suitable for all needs.
On top of that, the upholsteries are exquisite. Whether you choose leatherette or SoftWeave, you're in for a treat!
Bottom line: it's the best luxury gaming chair on the market — with a premium price to match. Make use of it for a full five years and you'll get great value.
Buy direct from Secretlab in North America, the UK, Europe, Oceania, Singapore, and Malaysia.
Footnotes
Karen Angelo. 'New Research Links Stress at Work to Unhealthy Lifestyles', Umas Lowell, 2 Feb. 2016, https://www.uml.edu/news/stories/2016/workerstress.aspx, (accessed 19 Feb. 2022).