Secretlab's flagship Titan gaming chair is one of the best pro computing chairs in the world. The Secretlab Titan XL is an exact replica of the Titan chair, supersized to support up to 390 pounds. This Secretlab Titan XL review explains why this model is our top pick for big and tall users.
We've already done an in-depth Secretlab Titan review. That article pores over every detail that makes the Titan our top-rated chair.
But why do we rank the Titan XL as the best pro-quality big and tall gaming chair? This Titan XL review focuses on its features most relevant to big and tall users. Then it compares the Titan XL to two other top-ranked big and tall gaming chairs. The results of our investigation show why the Titan XL is the best (but not only) choice for extra-large users.
Secretlab Titan XL chair review
The Secretlab Titan is the flagship model from one of the best gaming chair brands in the world. The Titan XL blows up the dimensions of the chair to suit big and tall sizes. Details below.
Titan XL sizing
The only difference between the Titan and Titan XL is the dimensions — the Titan XL chair is 25% larger. The seat on the Xl model is almost a full two inches wider. On top of that, the Titan XL's extra-large reinforced parts support 100 pounds more weight.
Here's how the dimensions of the Titan XL chair compares to the original:
| | Titan | Titan XL |
| --- | --- | --- |
| Seat width x depth | 20.5" (W) x 19.7" (D) | 22.6" (W) x 19.9" (D) |
| Backrest width x height | 21.7" (W) x 33" (H) | 22" (W) x 33.5" (H) |
| Floor to seat range | 18.7" to 22.4" | 19.1" to 22.8" |
| Overall height | 51.7" to 55.4" | 52.6" to 56.3" |
| Size rating | 5'9" to 6'7"; 290 pounds | 5'11" to 6'10"; 390 pounds |
| Secretlab price | $399-$429 | $479-$499 |
Chair features
Compared to other chairs for big and tall users, the Titan XL sets itself apart with some advanced pro features. The standout is its integrated lumbar support. Instead of a traditional pillow, there's a dial on the side. Turn that to increase or decrease the depth of lumbar support. On big and tall bodies, this provides delightful precision that you can set, forget, and enjoy.
Another feature ideal for wide sizes is the Titan XL's flat, wide seat. Many chairs (such as the Secretlab Omega) have seats with ridged edges that restrict the legs. For extra-wide bodies, the Titan's flat seat lets you spill your legs over the edges of the chair. That provides ample legroom for even the widest of bodies.
A third highlight of the Titan XL chair is the rich suite of adjustable features. You can adjust the backrest backward to 165° and forward to 85°. The forward recline lets you enjoy back support even when you lean forward in your chair. You can also rock the chair and adjust rocking tension. On top of that, the Titan XL has a multifunction tilt-lock device. That lets you lock the seat at different angles independent of the backrest.

Combined, these features combined make it easy to change positions while sitting in a Titan XL. Doing so shifts the pressure of your body weight onto other parts of your back. That improves blood circulation. It also reduces strain in your back and upper body muscles.
Summary of features
Each Titan XL chair begins with a robot-welded, heavy-duty carbon steel frame. Over the frame is a thick coating of super-resilient cold foam padding.
Big and tall users will enjoy the same rich adjustment features of the Titan chair. But the core parts on the Titan XL are larger, heavier, and upgraded with extra-sturdy material. Also, Titan XL prototypes went through endurance tests of 200,000 repetitions. That was to ensure they hold up to Secretlab's stringent standards.
Functionality: 4-directional armrests; recline from 85° to 165°; multi-angle tilt-lock.
Cover options: Choice of premium PU leather or Softweave Fabric.
Comfort: cold cure foam padding; memory foam neck pillow with cooling gel insert.
Warranty three year warranty, extendable to five years by making a social media post.
Cover options
The Secretlab Titan XL comes in four styles. Two use Prime 2.0 PU leather, a high-end faux leather that looks and feels like the real thing. Beyond stunning good looks, Prime 2.0 is buttery soft, easy to clean and doesn't get sticky.
Two models use Softweave fabric. Secretlab's signature fabric blend uses dense 350GSM short-yarn. Through a process of meticulous grinding, the yarn softens to a fluffy texture. This blend is breathable, ultra-durable, and very comfortable.

Which to choose depends on your preferences. Softweave is more breathable and durable, but a bit harder to clean. It's stain-resistant to a degree, but a red wine or coffee spill may never come out. Whichever you choose, don't smoke while using these chairs! Working smoke-free will help you maintain a clean workstation. It will also keep your Secretlab chairs looking like new.
Further, the Titan XL will make you forget you're sitting as you immerse in your work. Idle smoking could drop a cherry that will burn through Softweave Fabric or damage PU leather.
Titan XL Warranty
All Secretlab Titan XL 2020 Series chairs come with a 3-year warranty. But you can extend your coverage to five years after you receive your chair.
Once you set up your new Titan XL. post a photo of it on social media. Then share your post with Secretlab. That's all you need to do to receive an official 5-year extended warranty. Check out Secretlab's Redeem Program to learn more.
Where to buy a Titan XL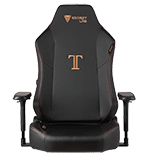 The best place to buy a Titan XL is direct from Secretlab. Buying direct gets you the cheapest prices.
Secretlab sells two Titan XL 2020 Series versions. PU leather models cost $479. The two Softweave models cost $499. Through the year, Secretlab runs several discounts. So it's worth checking prices often.
Titan XL alternatives
Most companies make smaller batches of big and tall gaming chairs. That's because there's usually less demand for them. But this year has seen a huge increase in demand for ergonomic work from home chairs.
As a result, several big and tall gaming chairs are out of stock. With many factories still closed, it could be a while before stocks replenish. Luckily several of the top brands have stepped up. Beyond the Titan XL, AKRacing and Anda Seat also have superb models for big and tall heavyweights.
For a full list of both premium and affordable options, check our big and tall chair buying guide:
Best Gaming Chairs That Support 400 Pounds
AKRacing Masters Series Max
Direct buy price: $519
The AKRacing Masters Series Max is a super-sized version of the Masters Series Pro. The Master Series Max comes with the same rich features as the Titan XL. Out-of-the-box, it also comes with AKRacing's industry-leading 5+10 warranty. That means five-year protection on parts, plus ten years on the steel frame. On top of that, this model has the thickest padding out of all the heavyweight chairs. AKRacing says it has seventy percent more padding than their base Core Series EX chair.
Functionality: padded 4D adjustable armrests; recline to 180°; multifunction tilt-lock.
Comfort: extra wide seat; 70% more cold foam padding; lumbar cushion & neck support pillows.
Upholstery: breathable perforated PU leather in black or white with colored trim.
Warranty: 5 years on parts; 10 years on frame.
Anda Seat Dark Knight
Current price: Price not available
Unlike the other two models, the Anda Seat Dark Knight isn't a blown-up version of a smaller chair. Instead, it's a dedicated gaming chair for people up to 7'1″ tall and weighing up to 400 pounds. This black PVC leather model has decent features and extra-large support pillows.
Functionality: padded 4D adjustable armrests; recline with tilt lock to 160°.
Comfort:  two layers of padding . Also included are extra large neck and lumbar cushions.
Upholstery: high-quality PVC leather in pure black. This fabric is attractive, easy to clean and durable.
Warranty: lifetime coverage on parts and also the steel frame (details)
Comparing all three models
Here are the dimensions of the three chairs. All three provide extra-large seats with plenty of room.
| | Titan XL | AKRacing Masters Series Max | Anda Seat Dark Knight |
| --- | --- | --- | --- |
| Seat width x depth | 22.6" (W) x 19.9" (D) | 23.25" (W) x 20.5" (D) | 22.83″ (W) x 21.65″ (D) |
| Backrest width x height | 22" (W) x 33.5" (H) | 24.25" (W) x 34.25" (H) | 23.23″ (W) x 34.21″ (H) |
| Overall height | 52.6" to 56.3" | 51.4" to 54.4" | 52.5" to 54.8" |
| Size rating | 5'11" to 6'10"; 390 pounds | 5'6" to 6'6"; 390 pounds | 5'9″ to 7'1″; 441 pounds |
Below a chair features breakdown. All models come with 4D armrest and multifunction tilt-lock. The Dark Knight is the cheapest chair, the AKRacing the most expensive.
| | Titan XL | AKRacing Masters Series Max | Anda Seat Dark Knight |
| --- | --- | --- | --- |
| Backrest recline | 165° | 180° | 160° |
| Pro functions | 4D armrests; tilt-lock; forward recline | 4D armrests; tilt-lock | 4D armrests; tilt-lock |
| Back support | Internal lumbar device | Pillow | Pillow |
| Upholstery options | Choice of PU leather or mesh fabric; 4 styles | Perforated PU leather; 5 styles | Black PVC leather |
| Warranty | Up to 5 years | 5 years on parts; 10 years on frame | Lifetime |
| Price | $479-$499 (direct from Secretlab) | $519 (direct from AKRacing) | Price not available (Amazon) |
As the table shows, all chairs have similar dimensions and features. But the Titan XL stands out with advanced ones.
First, only the Titan XL's backrest has a forward recline to 85°. That means people who lean forward in the chair can still enjoy optimal back support. Second, only Titan Xl arms are metal-plated. As a result, moving the arms to different angles gives a satisfying "click" when they lock into place.
A third nice touch is that most chairs have neck pillows that loop through holes in the backrest. That limits how high or low you can set the pillow. On Titan chairs, the backrest has no holes. Instead, you loop the neck pillow over the top of the backrest. As a result, big bodies can adjust the neck pillow with a greater range to find their sweet spot.
On top of it all, only the Titan XL comes with an internal lumbar support system. Turn the dial on the side of the chair to increase or decrease the lumbar depth. This beats a lumbar pillow in a few ways. For one thing, pillows always move around. With an internal lumbar, you can set, forget, and enjoy the support. Also, you can't control the depth with lumbar pillows. If the support is too deep or too narrow, you will need to live with it.
Finally, because of the lumbar configuration, it's easy to add a Secretlab lumbar pillow if you need more depth.
In conclusion, all three chairs match up very well. At a glance, all offer rich features and solid value for money. But upon closer inspection, the Titan XL comes out on top with its extra touches of thoughtful luxury.
How posture affects big bodies
The spine holds the body up against gravity. When aligned, it reduces stress by distributing loads to different body parts. But when people carry more weight, the spine must absorb the extra burden.
One area of the spine most vulnerable to the effects of obesity is the lower back — the lumbar spine. Out-of-shape big bodies tend to have poor flexibility and weak muscles in the back, pelvis, and thighs. That combination increases the curve of the lower back, forcing the pelvis to tilt too far forward.
Trying to relax on a fluffy sofa puts even more strain on your back. So will a cheap office chair, which forces static sitting and promotes slouching.

Slouching puts a strain on five discs in the lumbar area. These are fluid-filled cushions that protect the vertebrae from rubbing together. Strained lumbar discs will degenerate into serious issues if not addressed. If discs tear, they can't heal. The soft material under the cushions could then protrude and compress a nerve root. That is degenerative disc disease, which sends permanent pain radiating down your limbs.
Benefits of buying a Titan XL
Among the best big and tall chairs, we've established that the Titan XL offers the best value for money. Next, this section looks at what benefits to expect from a Titan XL for big and tall users.
Posture therapy while sitting
So the Titan XL offers the best features and value among the top big and tall gaming chairs. With many now confined to working from home, their quality of seating becomes more important. If you spend all day at home sitting on the couch, you can wreck your back.
In a cheap office chair, you can expect better back support than a sofa. But chairs in that price range offer few adjustable features. As a result, the force the body into static sitting positions. When you're overweight, that puts even more stress on your lumbar area.
Gaming chairs are better than office chairs because they are adjustable. The chair supports your body's weight and keeps your spine aligned. The adjustable features let you switch up active back muscles. That helps to boost circulation and free your body from fatigue while sitting.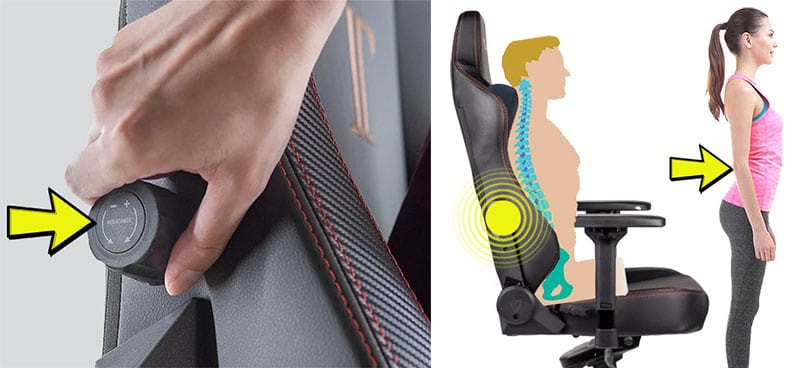 The Titan XL chair's adjustable features are top of the line. What's more, Secretlab's patent-pending cold foam padding supports long periods of sitting. That means you can sit in a Titan XL all day long and the padding will hold up. In fact, every time you step out of your Titan XL, the padding will pop back to its original shape. For five years, you can expect it to feel and work like new.
Physical & mental benefits
Poor posture is habit-forming — the body gets used to it and then feels most comfortable that way. Using a professional quality gaming chair can reverse that process. But if you have bad posture, expect the transition to a Titan XL to be a bit uncomfortable at first. That's because the body needs time to adjust. Usually, after a week, you should get accustomed to sitting with a healthy posture. Over time, that will become your default alignment when sitting or standing.
Users suffering from chronic pain cannot perform at their best. Distracted minds are prone to mistakes. In contrast, when big bodies learn to sit with a healthy posture, great things start to happen. Expect reduced pressure on the back, neck, arms, and hips.
That leaves a lot of excess energy for other pursuits. So instead of fidgeting in discomfort, using a Titan XL will make you forget that you're sitting. That leaves you comfortable, in front of your computer, locked, loaded, and ready to perform.
These things happen when you start sitting with a healthy posture:
Comfortable support keeps your posture aligned.
Reduced physical fatigue in the back and upper body.
More energy available for mental pursuits.
Improved focus, concentration, and productivity.
Conclusion: buy a Secretlab Titan XL
This article explains in detail why the Titan is one of the best chairs for big and tall users. As a gaming chair or office chair, nothing beats the Titan XL's features or value.
If you are looking for the very best supersized gaming chair, consider the Secretlab Titan XL. It has the size, padding, and features that big and tall full-time professionals need.