Fabric gaming chairs are soft, breathable, and very comfortable. Secretlab fabric gaming chairs use a specialized "Softweave" fabric. There are four designs, available as Omega, Titan, or Titan XL versions. This review covers the functional and aesthetic merits of each Softweave fabric gaming chair.
Gaming chair upholsteries have come a long way in the past few years. As such, breathability isn't an issue with faux leather blends like Secretlab's Prime 2.0 PU. Even so, Softweave fabric provides even better breathability, plus other benefits.
Secretlab fabric gaming chair overview
Secretlab designed its SoftWeave Fabric with softness and breathability as priorities. The process starts as an ultra-dense short yarn weave with high tensile strength.
The woven fabric then goes under a grinding process. Bound against the firm cold-cured padding, it produces a soft, firm, semi-smooth sensation against the skin.
Softweave fabric chairs come in small (Omega), large, (Titan), and extra-large (Titan XL) versions. Here's a quick look at each model's specs, before getting into Softweave design reviews.
Omega vs Titan functionality
Titan and Omega chairs come in four Softweave designs, including a brilliant pink D.Va chair. Super-sized Titan XL chairs come in three designs, minus the pink one.
Slim, bladed seats vs wide, flat ones
The first difference between Omega and Titan chairs is the seat style. The Omega has bladed edges that restrict leg movement. That helps to encourage better posture, but feels a bit restrictive.
In comparison, Titan chairs have flat, wide seats spacious enough to sit cross-legged.
Lumbar pillow vs integrated lumbar
The pink D.Va chair only comes in Omega and Titan versions (not XL). We use it to show the second fundamental difference. Omega chairs come with memory foam lumbar pillows. Titan chairs have a depth-adjustable integrated lumbar.
Both work well, but the Titan's is more precise and effective. Turn the knob on the side of the chair to increase or decrease the depth.
It provides firmer support than a lumbar pillow. The depth control lets you adjust it to perfection. What's more, unlike a pillow, the support always stays fixed to support the right spot.
Functionality summary
Omega and Titan chairs differ in seat styles and lumbar support types. Otherwise, all chairs share the same ergonomic features:
| | Omega (S) | Titan (L) | Titan XL |
| --- | --- | --- | --- |
| Size rating | 5'3" to 5'11"; 240 pounds | 5'9" to 6'7"; 290 pounds | 5'11" to 6'10"; 390 pounds |
| Functionality | 4D armrests; seat angle tilt-lock; backrest recline from 85° to 165°. | Same functionality as the Omega. | Same as the Omega. |
| Back support | Adjustable neck and lumbar pillows. | Internal lumbar + adjustable neck pillow. | Same as the Titan. |
| Price | $379 to $399 | $429 to $449 | $499 |
Check our Secretlab brand review for a detailed look at all three models.
Omega vs Titan vs Titan XL dimensions
Here are specific sizing specs for all three chairs:
| | Secretlab Omega | Secretlab Titan | Secretlab Titan XL |
| --- | --- | --- | --- |
| Outer seat width & depth | 22" (W) x 19.3" (D) | 20.5" (W) x 19.7" (D) | 22.6" (W) x 19.9" (D) |
| Backrest height & width | 31.5" (H) x 21" (W) | 33" (H) x 21.7" (W) | 33.5" (H) x 22" (W) |
| Floor to Seat Range | 18.9" to 21.9" | 18.7" to 22.4" | 19.1" to 22.8" |
| Chair height | 50.4" to 53.4" | 51.7" to 55.4" | 52.6" to 56.3" |
| Size rating | 5'3" to 5'11", up to 240 pounds | 5'9" to 6'7", up to 290 pounds | 5'9" to 6'10", up to 390 pounds |
Five-year warranty
All Secretlab chairs come with a standard three-year warranty. In reality, they're designed to last much longer. As a result, Secretlab also offers a warranty extension to five-year protection.
There are two ways to extend. First, you can buy a 2-year warranty extension from Secretlab for $50. The other method is free, fast, and easy:
Take a photo of your chair.
Post it publicly on social media, using the hashtag #Secretlab. You can use Facebook, Twitter, Reddit, Youtube, Twitch, or Instagram.
Copy the post URL and then fill out the form on the Secretlab Redeem Program page.
Besides making great chairs, Secretlab also runs an impeccable after-service program. The company is responsive on all social media channels, and also via direct email.
Quick primer in color theory
Designers use color theory to divide colors into a spectrum of warm and cool hues. One side contains cool colors, the other side warm ones. Black, grey, and white are off the color wheel spectrum as neutral colors.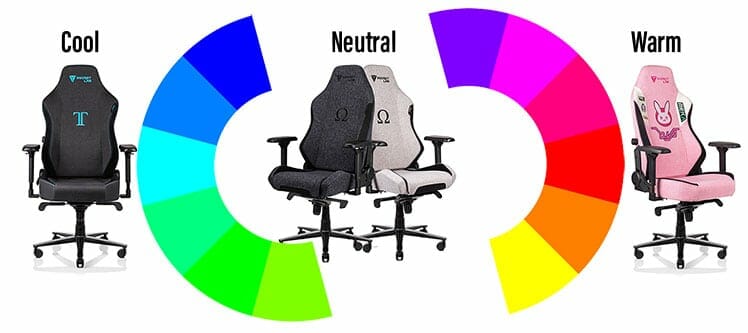 Neutral grey mixed with blue produces a cool color. Neutral greys with a pinkish tone (such as taupe) are warm colors. Typically, greys mixed with cool colors give a room a sense of stability and calm.
Many studies show that different colors have unique physical effects on humans. When light strikes the retina, it converts to electrical impulses. Different hues convert into different types of inputs to the hypothalamus. That part of the brain governs body temperature, appetite, sleeping patterns, and more.
Warm vs cool colors: warm colors reflect more light and energy. They are known to stimulate appetites (such as McDonald's colors) and evoke energetic optimism. In comparison, cool colors tend to stimulate creativity and a sense of calm.
Chromatic vs achromatic colors: achromatic (neutral) colors slow the heart rate. Chomatic (color wheel) hues increase it. Room design studies show chromatic rooms as more dynamic and attractive for working in. Meanwhile, achromatic colors give off a more formal and harmonious dynamic.
Secretlab Softweave chair design variations
Triple Black
The most recent Softweave design released in August 2020. It's a custom tri-color fabric weave blending three different shades of black. According to Secretlab, Triple Black has a stylish symmetry reflecting the urban streetwear style of modern gamers.
I've got an Omega Black here at ChairsFX HQ. I still haven't quite figured out the color. Under darker lighting, it looks like a dark charcoal color. Under sunshine, tiny white accents pop like a light misting of white rainfall.
From certain angles, it looks like a modern take on 80s-style acid-wash denim. From a distance, the material looks textured. Up close, it feels smooth to the touch.
The one consistent is its ability to blend in. It's a timeless classic design, with a subtle-yet-striking hint of enigmatic flair.
Bottom line: a sleek, sexy design that will blend seamlessly into both conservative and colorful workstations.
Charcoal Blue
Grey is a popular base color in interior design, while blue is an all-time favorite. Charcoal Blue chairs feature dark grey fabric contrasted with azure color-accent stitching.
The azure contrasts against the dark base are striking. Blue encourages intellectual activity, reason, and logical thought. It's a soothing, calming color that encourages reflection.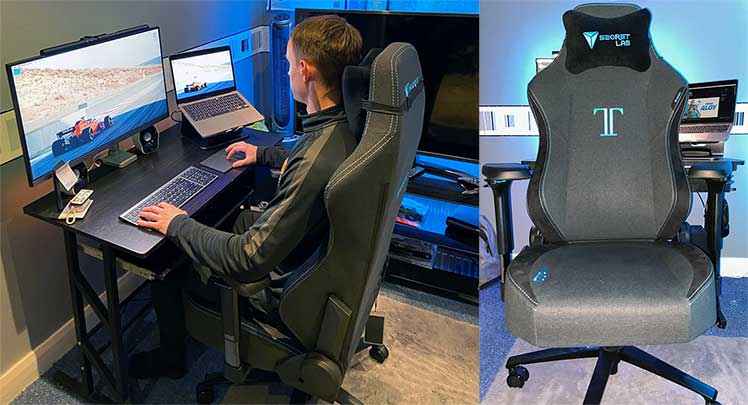 We reached out to Charcoal Blue user Jamie from the UK for aesthetic feedback. "The all-black was never an option for me — it looks too basic.
The Cookies and Cream was too bright and 'in-your-face'. The charcoal was the perfect medium. Also, it went with the color scheme of my room!"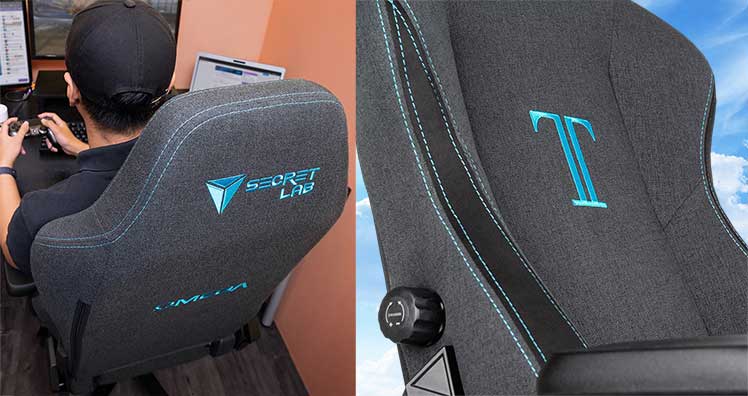 Compared to the Triple Black, the Charcoal Blue has a smoother, non-textured look. The splash of blue gives it more character, with plenty of glimmers (front, back, side wings) to catch your eye.
Bottom line: the urban grey with a splash of azure make this model ideal for work-from-home. Pros in intensive fields will blend into Zoom meetings with style. During long shifts, the blue accents can help to keep the mind focused and engaged.
Available from Secretlab in North America, the EU, UK, Australia, New Zealand, Singapore, Malaysia, and South Korea.
Cookies and Cream
This model comes in cool grey with black suede accents. Black embroidered Secretlab logos adorn the front and back of the chair. As a nice extra, the headrest on this model comes with steel-grey embroidery.
Gray is a controlled color. It has a steadying effect on other colors it combines with. In this chair's case, the starkness of the black dampens against the light fabric for a cohesive whole.
The Cookies and Cream is a bolder choice than the safer dark fabric chairs. For one thing, many worry about sweat stains destroying the clean cool look. For another, light colors send more visual stimulation to the brain. Some people might find that distracting.
Neither concern should be an issue. First, the fabric is ultra-breathable. Unless you're working in a heatwave, sweating should not be a problem.
Second, I've spent long periods working full-time in a brilliant yellow Cyberpunk chair. The bright colors were never an issue. Only the seat's edges show while you sit.
On the Cookies and Cream chair, the base is light, while the side wings are dark. As a result, you won't notice the bright colors while sitting in the chair!
Bottom line: it's a cool, sophisticated design with a touch of sweet playfulness. It can help brighten up dark decor or bring stability to colorful rooms. This model is ideal for corporate creatives and casual desk workers. It also reflects RGB lights, making it a sweet option for gamers as well.
Overwatch pink D.Va
Pink was considered a color for boys in the early 1900s. In the 1940s, media trends helped push pink as a color for girls. These days, the Overwatch D.Va chair is a great example of unisex color appeal. Although inspired by a female character, this model appeals to all with a fun yet soothing design.
Pink tempers the energy of red with the purity of white. The result connotes feelings of tenderness and affection. The lighter the pink, the cooler the effect.
Pink has a soothing quality that tones down emotions. Beyond its mood regulator qualities, it's also refreshing. Traditionally, pink symbolizes youth, good health, and playfulness.
This design pays tribute to D.Va, a South Korean mecha pilot in the Overwatch video game. D.Va's in-game Overwatch decals appear on white leather side wings. Her bunny logo is embroidered on the front. On the back, a large strip of white leather shows off her name, plus a tiny Overwatch logo.
Bottom line: this design is energetic, joyful, and warm. It's a good pick for indie creatives and gamers alike. Because of its striking looks, it's also a good showpiece lounger to spice up any decor.
The Omega D.Va chair is also available for $399. Both models are available from Secretlab in North America, the EU, UK, Australia, New Zealand, Singapore, Malaysia, and South Korea.
More about Secretlab fabric gaming chairs
Still undecided if a Softweave chair is right for you? This section adds more context beyond chair aesthetics.
Softweave fabric vs Prime 2.0 PU leather
Gaming chair upholsteries have come a log way in recent years. Secretlab upgraded its PU leather blend in with its current 2020 Series. The upgraded version has enhanced breathability and durability.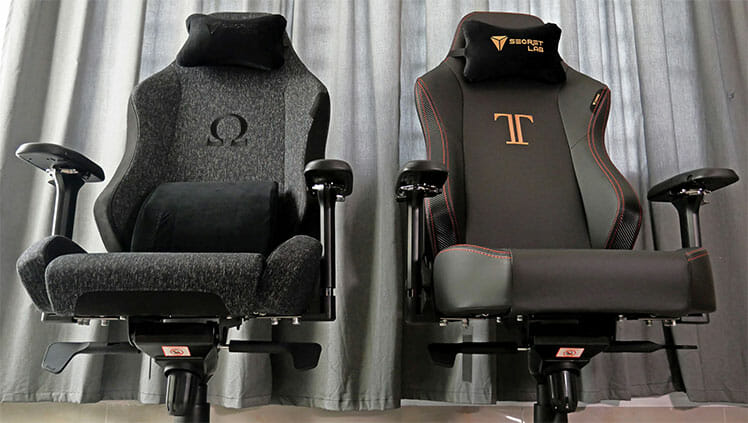 Head-to-head, both chairs keep cool in warm conditions. Softweave is a bit more breathable, but the difference (to me) feels negligible.
On a tactile level, Softweave comes out ahead. It's soft, smooth, and pleasant against the skin. The sensation is like sitting on a high-quality natural fiber sofa.
Ideal work-from-home chairs
The tactile resemblance to a luxury sofa makes these great work-from-home chairs. Secretlab chair versatility enhances the effect. Instead of locking you into an upright posture, you can also enjoy deeper reclines for more casual activities.
During intensive gaming or desk work, it makes sense to sit upright. For passive work like watching videos or reading, you may prefer lounging in a relaxed recline.
That versatility plus the soft sensation of the fabric makes it easy to sit in a Softweave chair all day. The experience feels cool, supportive, and as comfortable as wearing luxury pajamas.
How to clean Softweave chairs
Unlike PU leather, SoftWeave fabric isn't liquid-resistant. Grape juice or wine will definitely leave stains. Maintenance is easy. Wipe down with a damp cloth every day or so. Then, run a vaccuum over it once per week.
Finally, pick up a bottle of Secretlab Softweave fabric cleaner. This formula removes dirt and stains. It also contains deodorizing agents.
Spay a small amount onto a damp cloth and wipe down the chair. That will remove any light stains, while leaving your chair smelling clean and fresh.
Conclusion
Secretlab Omega and Titan chairs come in 35 different designs. With so much choice, choosing the perfect design is almost impossible.
For testing purposes, I ended up with two leather Titans and an Omega Triple Black. Having variety is a luxury. Swapping between the Titan and Omega keeps my body alert with two sitting styles.
During less intensive work, I often prefer the soft feel of the fabric chair. The tactile sensation feels a bit more conducive to slacking off. Between the neutral Triple Black and brilliant yellow Cyberpunk chair, I love them equally.
Switching between the extremes gives a definite tingle of different energies. I find it a refreshing way to kickstart a fresh work mindset.
If you're up for two chairs, buy one leather and one fabric edition. If you're only looking for one, there are four Softweave options.
Consider the color psychology behind each design. You should also factor in the aesthetics of your current setup.
Whichever you choose, look forward to long periods of luxurious and comfortable sitting support.