The Secretlab Titan EVO 2022 Series offers every luxury you need from a fabric gaming chair. It's available in three sizes and six SoftWeave fabric designs. Features include integrated 3D-adjustable lumbar support, enhanced pebble seats, and a 5-year warranty. Find your dream seat in this Titan Evo SoftWeave Plus gaming chair review.
The Titan 2022 Series is the latest iteration of Secretlab's flagship gaming chair. In the new collection are six SoftWeave Plus fabric gaming chairs.
SoftWeave Plus is an advanced technical knit using interlacing loops of high-strength yarn fibers. It has two advantages. First, it's 3.5 times more durable than 2020 Series fabric.
Second, it also allows for unprecedented control over every thread and pixel in a design. No other gaming chair brand offers such nuanced control over its fabric designs.
In the 2022 Series, Secretlab shows off this technology on all SoftWeave Plus chairs. Each design includes a 3D layered gradient on the left and right side wings. There are six styles to choose from:
All models also come packed with upgraded 2022 Series features. Find below reviews of the new SoftWeave Plus designs and 2022 Series functionality.
2022 Titan SoftWeave Plus (medium) $469
Titan SoftWeave Plus (small) $449 | Titan SoftWeave Plus (XL) $519
Available from Secretlab in North America, Europe, the UK, Oceania, Singapore, and Malaysia.
2022 Series SoftWeave Plus Designs
Each 2022 SoftWeave Plus design combines multiple layers with varying shades. For instance, the Cookies and Cream chair combines black, white, and various grey shades.
The finished product adds a pop of personality to a workstation. As you look closer, the detailing reveals even greater complexity.
Here's a look at each of the six SoftWeave Plus designs now available:
Triple Black
The Triple Black chair fuses three shades of black threads into a nuanced finish. That delivers an executive design with a dynamic pop.
According to Secretlab, the stylish symmetry is designed to reflect the urban streetwear style of modern gamers. I've spent a few months testing a 2020 Series Triple Black.
It integrates well into all types of workstations, with some unique twists. Under darker lighting, it has a more ominous look.
From a distance, the material looks textured. Up close, it feels smooth to the touch. From certain angles, it resembles 80s-style acid-wash denim.
In both colorful and executive environments, a Triple Black will blend in seamlessly. If you can't decide which color to choose, consider Triple Black as a failsafe default pick.
Titan SoftWeave Triple Black (medium) $469
2022 Series Triple Black (small) $449 | 2022 Series Triple Black (XL) $519
Cookies and Cream
Cookies and Cream is the original Secretlab SoftWeave Design. The old version has a smoother look that varied between beige and grey depending on the lighting.
The 2022 Series blends loops of white, black, and various greyscale yarn fibers. That yields a steel-grey effect with dynamic qualities.
Tiny flecks of white, black, and grey jostle for attention. Under different lighting conditions or angles, you'll always get a unique look.
The gradient effects also stand out on the side wings and seat edges. These add depth and complexity to the design to keep your brain guessing.
On one hand, the overall effect invokes a feeling of soothing calm. But on a micro-level, the gradients and multicolored looping fibers connote dynamic activity.
The net effect is like drinking a shandy. It's cool, and refreshing, with a tiny buzz that keeps things interesting.
Titan Cookies and Cream (medium) $469
Titan Cookies and Cream (small) $449 | Titan Cookies and Cream (XL) $519
Arctic White
One of the joys of a pure white gaming chair is its reflective qualities. At a workstation with RGB lighting, a white chair comes alive when reflecting colors.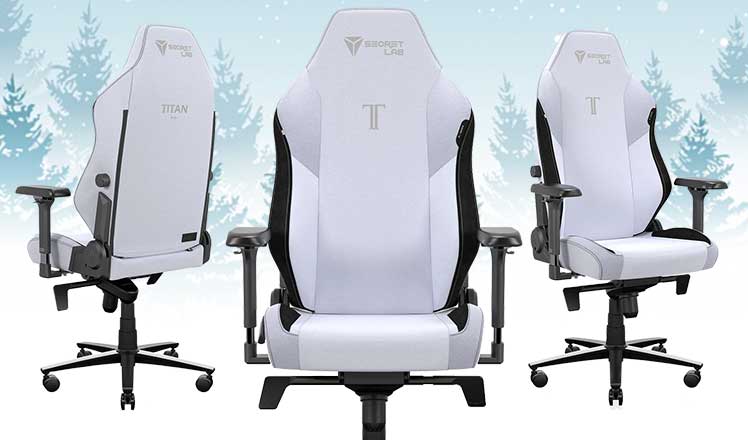 The problem is that stark white is very bright, which can be hard on the eyes. Secretlab's Article White SoftWeave Plus solves this issue. It fuses several pale shades into a steely-blue finish with pure white specs.
That delivers a stunning off-white effect that's easy on the eyes but also stimulating. From a distance, the gradients add visual complexity. As you draw closer, the white flecks add a shimmering quality.
Under RGB lighting, this design absorbs colors, with hints of diamond glitter. The jewelled effect resembles sunshine reflecting off a body of water.
Titan Arctic White (medium) $469
2022 Series Arctic White (small) $449 | 2022 Series Arctic White (XL) $519
Plush Pink
Plush Pink replaces the 2020 Series D.Va edition as the world's only pink fabric gaming chair. The former design's soothing bubblegum hue was a hit, but its gaudy video game decals were jarring.
The Plush Pink design continues the soothing theme, without the flashy extras. Several shades of pink mixed with flecks of white delivers a smooth hue with a calming finish.
This design serves as a reminder that pink has unisex appeal. For instance, a Plush Pink chair can serve as the perfect centerpiece in a teen girl's pink bedroom. It could also remind people of a gruff male executive's urban hip-hop influences.
Like the 2020 Series D.Va chair, we predict this model will be a hit among all genders. Rather than girliness, Plush Pink connotes colorful trendiness with an urban edge.
Titan Plush Pink (medium) $469
2022 Series Titan Plush Pink (small) $449 | Titan Plush Pink (XL) $519
Frost Blue
Cool colors like green and blue reflect less light while giving off a calming effect. Secretlab's Frost Blue ramps up the coolness factor with a scintillating pastel design.
Blue threads of varied saturation plus white flecks deliver a glimmering, icy-cool effect. It resembles the Artic White edition, but with an even frostier effect.
In general, pastel colors are soft, soothing, low saturation hues. Common pastels include blue, mint, lavender, and lilac. Pastel blue hit the mainstream during the Miami Vice era. Today, it's a staple in contemporary interior design.
On a 2022 Series chair, pastel blue also delivers a hyper-modern contemporary look. It's sleek and attractive, with baked-in soothing qualities.
Titan Frost Blue (medium) $469
2022 Series Frost Blue (small) $449 | 2022 Series Frost Blue (XL) $519
Mint Green
We predict that Mint Green SoftWeave chairs will become one of the stars of the new collection. This color has soothing, restful qualities and recalls nature. It's also one of the hottest hues on the fashion scene.
Green fits in the center of the color spectrum and serves as a key color of balance. It strikes the eyes in a way that needs no adjustment. That makes it restful on a sensory level.
In nature, green connotes an abundance of food and water. As a result, it also delivers reassurance on a primal level.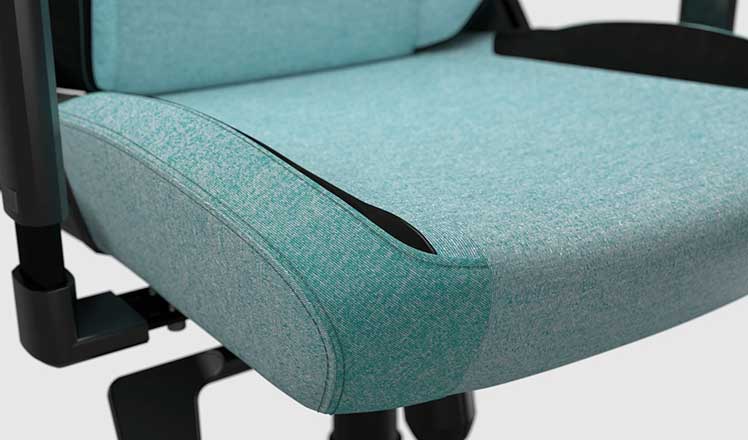 Secretlab's Mint Green fuses different shades of green fibers with white ones. It's a positive, upbeat design with fresh minty vibes.
By some accounts, mint green is one of the hottest trends of 2021. "It makes us feel like we've gone to the spa for a really nice massage and bubble bath… resulting in a huge wave of calm washing over us. … this is exactly the energy we need right now!"
Titan Mint Green (medium) $469
2022 Series Titan Mint Green (small) $449 | Titan Mint Green (XL) $519
Overwatch D.Va Edition
In the Overwatch video game, monsters attack. Skilled gamers get called in to pilot mech defenders. South Korean gamer Hanna Song pilots Tokki, a nimble mech with fierce abilities.
In battle, Tokki blasts twin fusion canons that autofire at short range. When the time is right, booster rockets barrel D.Va over enemies to launch deadly counter-attacks.
The Pink D.Va chair is one of Secretlab's most popular designs. It's clad in strawberry milkshake-colored pink fabric, with plenty of Overwatch enhancements.
D.Va's logo and pink bunny icon are embroidered on the front of the chair. On the side wings are several of D.Va's in-game decals.
This is the only specialty SoftWeave chair in the 2022 Series collection. If you're looking for a design with more character than the stock fabric chairs, the D.Va edition is a great choice.
The small (4'11" to 5'6″) Pink Titan D.Va chair is also available for $499.
SoftWeave Plus Gaming Chair Specs
The Titan 2022 Series is designed to deliver a perfect fit for almost every size and body type. Chairs come in small, medium, and XL models.
Each comes with an integrated 3D-adjustable lumbar support. A new pebble seat style with waterfall edge enhances comfort.
Everyone from ages 12 and up can find a perfect fit here.
Three Chair Sizes: S, M, XL
Secretlab has broadened the appeal of Titan gaming chairs. The 2022 Series comes in small, medium, and large sizes.
All have the same features and upholstery options. For new buyers, this makes the Secretlab buying process a lot easier.
Simply choose a size and then use the customization features to ensure a perfect fit. Here are the dimensions of each Titan 2022 Series SoftWeave Plus size:
| | Titan EVO Small | 2022 Series Medium | 2022 Series XL |
| --- | --- | --- | --- |
| Seat | 17.7" (W) x 18.9" (D) | 18.5" (W) x 19.3" (D) | 19.3" (W) x 19.7" (D) |
| Backrest | 20" (W) x 32.3" (H) | 21" (W) x 33.5" (H) | 22" (W) x 35" (H) |
| Seat height | 17.7" to 20.5" | 17.7" to 20.5" | 18.1" to 21.9" |
| Size rating | 4'11" to 5'6"; 285 pounds | 5'7" to 6'2"; 285 pounds | 5'11" to 6'9"; 395 pounds |
| Price | $449 | $469 | $499 |
Integrated 3D Adjustable Lumbar Support
The 2020 Series Secretlab Titan came with integrated, depth-adjustable lumbar support. Titan EVO 2022 Series chairs improve on this with a unit that's both depth and height adjustable.
Choosing a small, medium, or XL Titan will give you a basic good fit. The 2D adjustability of the new lumbar unit lets you customize the fit ever further.
Turn the dial on the left side of the chair to adjust the height of your lumbar support. Play with the settings until it hits the small of your back.
Then, toggle the depth-adjustment dial to find your sweet spot. From there, Secretlab has added a third layer of dynamic adjustability.
Layered over the lumbar unit is a support matrix made of 63 adaptive hinges. These flex left or right as the user changes positions. As a result, users enjoy perfectly fitting lumbar support that dynamically responds to micro-movements.
Pebble Seat With Waterfall Edge
In the 2020 Series, Secretlab Titan chairs had flat seats, while Omega models had bladed ones. Titan EVO 2022 Series chairs combine the two styles a "proprietary pebble seat base."
The pebble seat base has three objectives. First, its seat pan is spacious enough to accommodate various sitting positions.
Second, a gentle slope on each side helps guide the user to the middle of the seat. As a result, users enjoy plenty of legroom without restrictive bladed seat edges.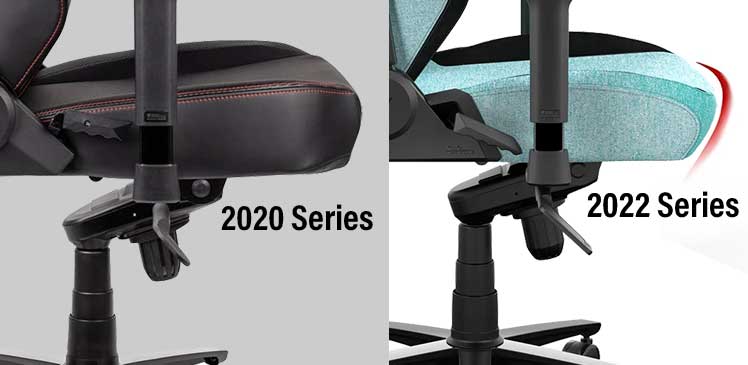 Third, a gentle waterfall seat slope reduces pressure on the thighs and knees. It also gives users more options to position their feet under the chair.
Magnetic Memory Foam Headrest
A choice of three sizes plus 2D-adjustable lumbar support lets you customize the fit of your TItan chair. To top things off, Secretlab raises customization to an even higher level with a refined magnetic headrest pillow.
The 2022 Series pillow has a more aggressive upper curve than its predecessor. That provides better support for the base of the head while sitting in a neutral posture.
It also lacks fastener straps. Instead, a magnet system holds the pillow in place, letting you adjust the pillow over a wider range.
Summary of Titan 2022 Series Specifications
Functionality: 4D armrests; multifunction tilt-lock; recline from 85-165°.
New 2022 Series Features: integrated 3D-adjustable lumbar support; magnetic headrest pillow; pebble seat base with waterfall edge.
Warranty: five years.
| | Titan EVO Small | 2022 Series Medium | 2022 Series XL |
| --- | --- | --- | --- |
| Seat | 17.7" (W) x 18.9" (D) | 18.5" (W) x 19.3" (D) | 19.3" (W) x 19.7" (D) |
| Backrest | 20" (W) x 32.3" (H) | 21" (W) x 33.5" (H) | 22" (W) x 35" (H) |
| Seat height | 17.7" to 20.5" | 17.7" to 20.5" | 18.1" to 21.9" |
| Size rating | 4'11" to 5'6"; 285 pounds | 5'7" to 6'2"; 285 pounds | 5'11" to 6'9"; 395 pounds |
| Price | $449 | $469 | $499 |
More about Secretlab fabric gaming chairs
Still undecided if a Softweave Plus chair is right for you? This section adds more context to help you decide.
Softweave Plus vs Neo Hybrid Leatherette
As part of its 2022 Series upgrades, Secretlab has also enhanced its upholsteries. SoftWeave is an advanced technical knit that allows for precise detailing.
In comparison, Neo Hybrid Leatherette uses a new bonding process. That delivers a super-smooth grain with the rich, lustrous feel of genuine leather.
SoftWeave Plus is 3.5 times more durable than its 2020 Series predecessor. Neo Hybrid Leatherette is 12 times more durable than conventional PU leather.
In-house, ChairsFX has tested both types of 2020 Series chairs in tropical conditions. Both offer superb breathability in hot weather. Thus, you can expect the 2022 Series to be even better.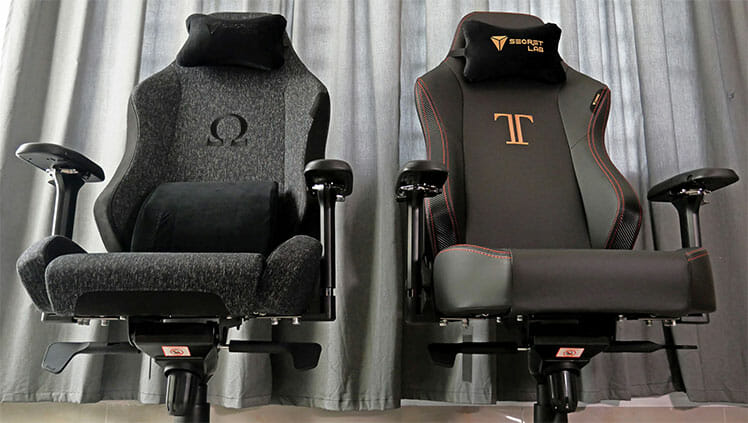 Broadly, Neo Hybrid Leatherette is easier to clean, but shows footprints. SoftWeave Plus is more breathable and softer to the touch. It's also pet-friendly, suffering no wear and tear under dog or cat claws.
On the downside, while stain-resistant, SoftWeave Plus isn't stain-proof. If you spill coffee or red wine on your chair, expect permanent discoloration.
SoftWeave Plus Color Theory Tips
Designers use color theory to divide colors into a spectrum of warm and cool hues. One side contains cool colors, the other side warm ones. Black, grey, and white are off the color wheel spectrum as neutral colors.
Neutral grey mixed with blue produces a cool color. Neutral greys with a pinkish tone (such as taupe) are warm colors. Typically, greys mixed with cool colors give a room a sense of stability and calm.
Many studies show that different colors have unique physical effects on humans. When light strikes the retina, it converts to electrical impulses. Different hues convert into different types of inputs to the hypothalamus. That part of the brain governs body temperature, appetite, sleeping patterns, and more.
Warm vs cool colors: warm colors reflect more light and energy. They are known to stimulate appetites (such as McDonald's colors) and evoke energetic optimism. In comparison, cool colors tend to stimulate creativity and a sense of calm.
Chromatic vs achromatic colors: achromatic (neutral) colors slow the heart rate. Chomatic (color wheel) hues increase it. Room design studies show chromatic rooms as more dynamic and attractive for working in. Meanwhile, achromatic colors give off a more formal and harmonious dynamic.
How to clean Softweave chairs
Unlike Neo Leatherette, SoftWeave fabric isn't liquid-resistant. If you spill water on your SoftWeave chair, don't worry about it.
However, if you spill grape juice or wine, it will definitely leave stains. If you spill soda, prepare for ants.
Otherwise, SoftWeave Plus maintenance is easy. Wipe down with a damp cloth every day or so. Then, run a vacuum over your chair every so often.
Finally, pick up a bottle of Secretlab Softweave fabric cleaner. This formula removes dirt and stains. It also contains deodorizing agents.
Spay a small amount onto a damp cloth and wipe down the chair. That will remove any light stains, while leaving your chair smelling clean and fresh.
Conclusion
Secretlab's 2020 Series SoftWeave gaming chairs skyrocketed in popularity during global lockdowns. Over long sitting hours, this material is soft, smooth, and pleasant against the skin. It nails the relaxation sweet spot with a texture like plush luxury pajamas.
Over the past year, fans have clamored for new SoftWeave designs. Secretlab has answered the call in spectacular fashion.
With three sizes to choose from, there's a Titan EVO SoftWeave Plus chair for everybody. That includes everything from 12-year-olds standing 4'11" to 350-pound giants.
The new integrated lumbar lets you adjust the height and depth of support as you need. You also get a pebble seat base, magnetic headrest, and a 5-year warranty.
On top of that, Secretlab operates the best customer service team in the business. If you have any issues with your 2022 Series Titan, count on a fast and fair resolution.
The bottom line is that the Titan 2022 Series offers the best fabric gaming chairs on the market. In terms of sizing, functionality, designs, etc, no other fabric gaming chair matches up.
2022 Titan SoftWeave Plus (medium) $469
Titan SoftWeave Plus (small) $449 | Titan SoftWeave Plus (XL) $519
Available from Secretlab in North America, Europe, the UK, Oceania, Singapore, and Malaysia.
Related Articles