There are now fifteen Softweave fabric gaming chair styles. Last year, Secretlab added a Soda Purple edition and a pair of Naruto chairs. In mid-2023, four Demon Slayer Softweave chairs were added to the collection. These join a lineup that includes Triple Black, Mint Green, Frost Blue, Plush Pink, and other standard designs. This article lets you browse the entire Secretlab Titan SoftWeave collection at a glance.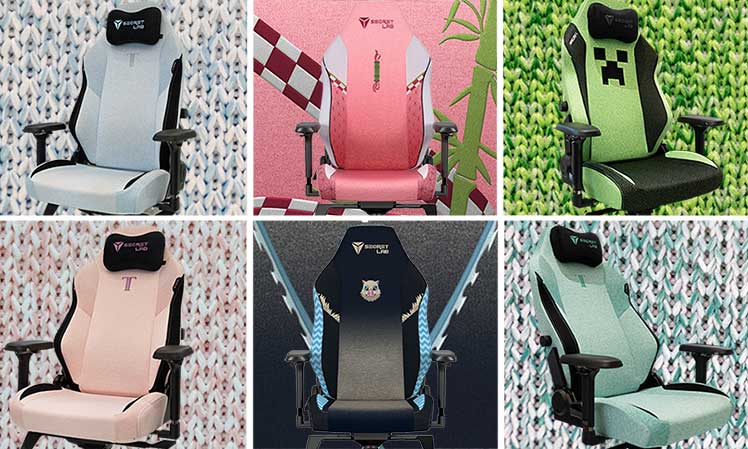 A fabric chair provides a softer, more breathable sitting experience than faux leather. Among all options, Secretlab makes the best fabric gaming chairs that money can buy. A big reason for that is scheduled updates.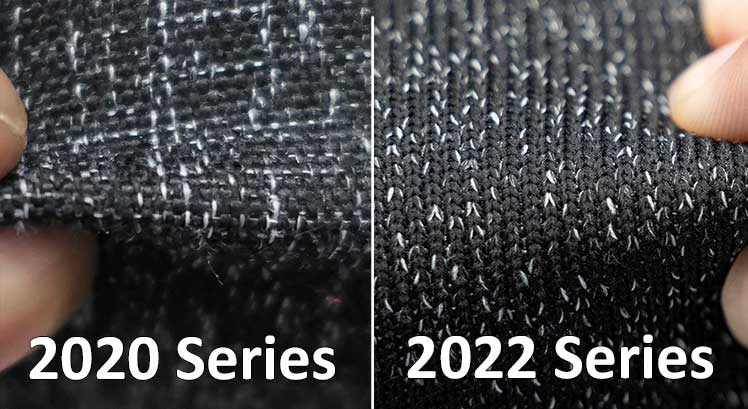 Other brands pump out the same mass-produced chairs for years. In contrast, Secretlab revamps the Titan's ergonomics and upholsteries every two years. The 2022 edition SoftWeave upgrade was significant.
2022 Series SoftWeave Plus debuts a new technical knitting method that achieves two ends. First, instead of a basket weave, it loops resilient yarn fibers in a looser weave that lets more air pass through.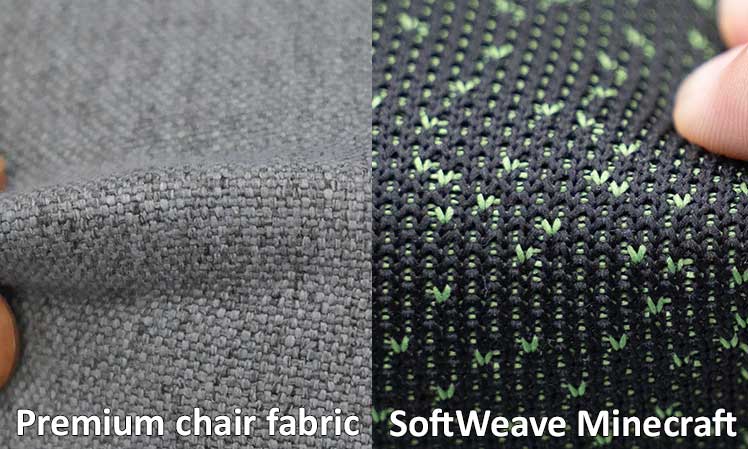 Second, the new process allows for greater control over every pixel in a design. You can see the difference compared to other fabrics under a macro lens. As we go through each style, you'll see how each takes advantage of this technology.
For instance, the new Demon Slayer chairs push design boundaries with more complex base fabric blends. They also layer embroidered extras on top for added effects.
Standard Softweave 2022 Series Designs
The Secretlab Titan Evo 2022 Series is the most ergonomically-advanced gaming chair on the market. Its highlights include a 4-way integrated lumbar system, strapless magnetic headrest, and an ergonomic seat that provides all-day sitting support.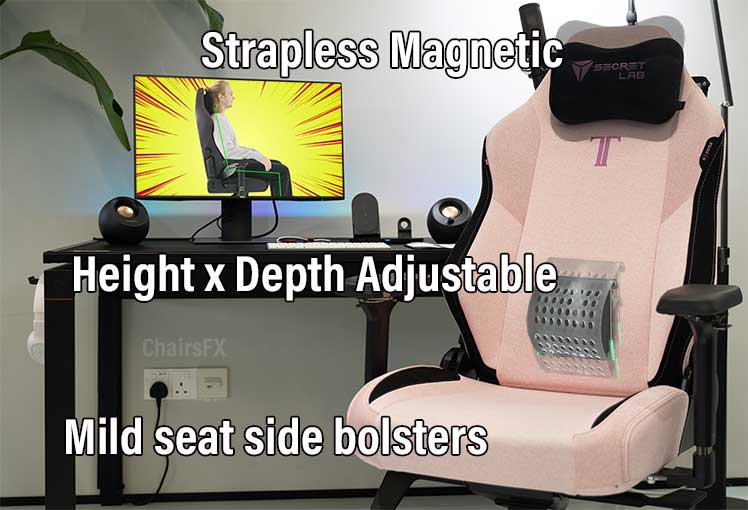 Chairs come in small, medium, and XL sizes, suiting all sizes between 4'11" and 6'7″. For fabric upholstery fans, there are now seven standard Softweave styles. There are three neutral options.
Black absorbs all light energies; white reflects. There are also four base colors. These fall onto the cool and warm parts of the color spectrum.
I've got a few years of experience using neutral Softweave chairs. The Triple Black and Cookies and Cream versions are the safest picks in the collection. These blend seamlessly into any type of workspace.
The Arctic White is also a stunner — but is more likely to show stains. Beyond the neutral options, the appeal of the warm and cool options are subjective. These rankings are based on my own impressions:
Special Edition Softweave Chairs
The Demon Slayer collection has four chairs; the Naruto collection has two. Adding Minecraft and D.Va chairs makes eight special edition Softweave chairs in total.
Demon Slayer Softweave Chairs
Demon Slayer: Kimetsu no Yaiba is a Japanese anime. Season 3 premiered earlier this year on Crunchyroll. The concluding episode 11 dropped on June 18. At around the same time, Secretlab released four Demon Slayer Softweave chairs.
At present, all are available in medium size only (no small or XL versions). The pink Nezuko edition is available worldwide. The others are currently only available in North America and Australia.
SoftWeave Gaming Chair Advice
To get the best value (and happiness) from your SoftWeave chair investment, follow these steps:
Conclusion: A Long-Term Love Affair
I've been working full-time using a medium Cookies and Cream chair for around two years. So far, I've found the ergonomic back and neck support to be almost flawless. Against the elite ergonomic office chairs, I've found no reason to 'upgrade'.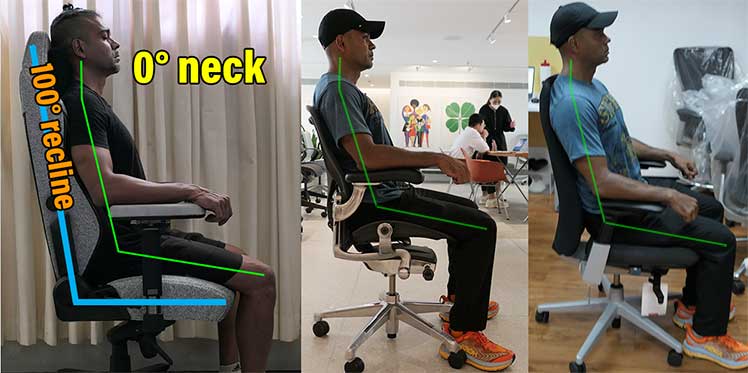 The only downside to the experience so far is no fault of Secretlab. For long-term enjoyment, it's necessary to do a deep fabric cleaning every six months or so.
That's a small price to pay. In two years, I've done four cleanings. After each, my chair looks brand new. In sum, that has yielded 24+ months (so far) of plush, breathable, attractive and hygienic support.
2022 Titan SoftWeave Plus (medium) USD $569
Titan SoftWeave Plus (small) USD $569 | Titan SoftWeave Plus (XL) USD $619
Footnotes