Which is the best Secretlab Titan Softweave fabric 2022 Series style? There are now eleven options to consider! In late 2022, Secretlab added a Soda Purple edition and a pair of Naruto chairs. These join a lineup that includes Triple Black, Mint Green, Frost Blue, Plush Pink, and others. This article lets you browse the whole Secretlab Titan SoftWeave collection with macro fabric shots plus Magnus desk setup poses.
A fabric chair provides a softer, more breathable sitting experience than faux leather. Among all options, Secretlab makes the best fabric gaming chairs that money can buy. A big reason for that is scheduled updates.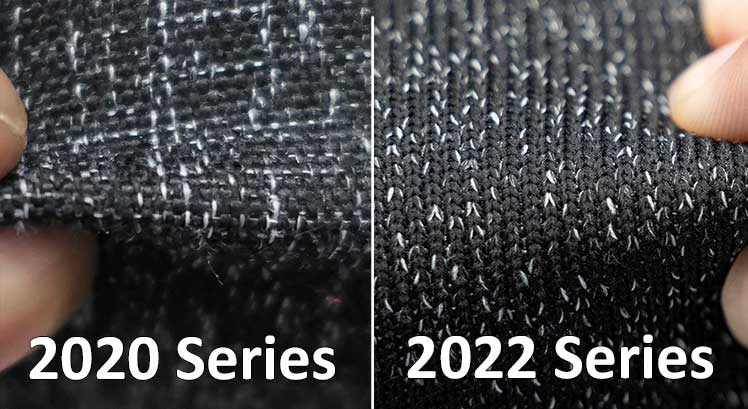 Other brands pump out the same mass-produced chairs for years. In contrast, Secretlab revamps the Titan's ergonomics and upholsteries every two years. The 2022 edition SoftWeave upgrade was significant.
2022 Series SoftWeave Plus debuts a new technical knitting method that achieves two ends. First, instead of a basket weave, it loops resilient yarn fibers in a looser weave that lets more air pass through.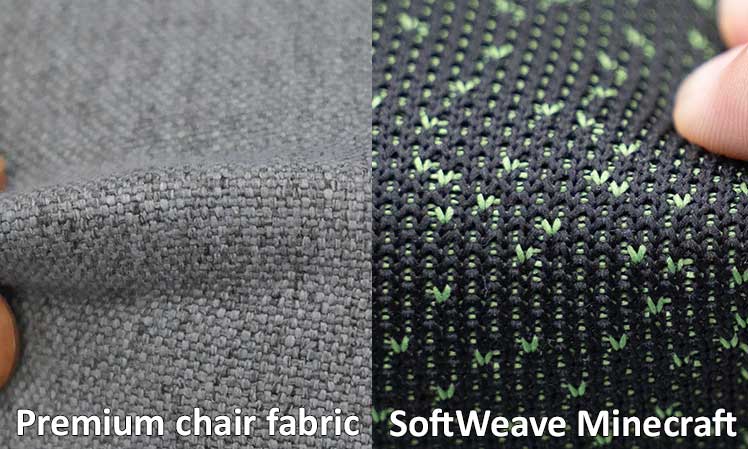 Second, the new process allows for greater control over every pixel in a design. You can see the difference compared to other premium fabrics under a macro lens. As we go through each style, you'll see how each takes advantage of this technology.
Titan 2022 SoftWeave Style Reviews
The Secretlab Titan Evo 2022 Series is the most ergonomically-advanced gaming chair on the market. Its technical highlights include a 4-way integrated lumbar system, strapless magnetic headrest, and an ergonomic seat that provides all-day sitting support.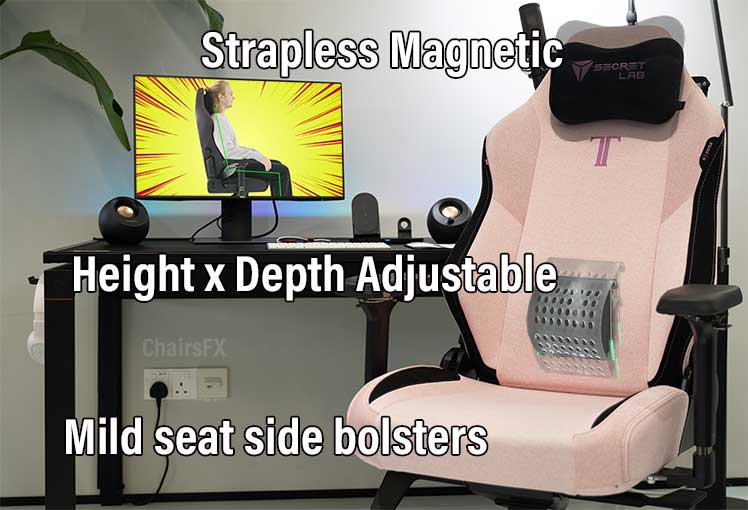 2022 Series chairs come in small, medium, and XL sizes, suiting all sizes between 4'11" and 6'7″. For fabric upholstery fans, there are eight 2022 Softweave styles to choose from.
Research For This Review
I've been using Softweave chairs in my home office for around three years. I started with an Omega 2020 Black, then added a Titan Evo 2022 Cookies and Cream. I chose these designs to test light vs dark fabric aesthetics, appeal, and maintenance.
As further research for this review, ChairsFX sent a pro photographer to Secretlab's Singapore showroom. There, he captured closeups of all Softweave styles in stunning macro detail.
From his closeups, we can see that every style blends different thread colors into a stunning dual or tri-colored weave.
But with eight Softweave styles to choose from, which one is the best?
I've been using a Cookies and Cream 2022 Series for around 1.5 years and love it. But some may find it too bland. Therefore, I've ranked each model based on mainstream visual appeal. Here are my subjective rankings of the best Secretlab Titan 2022 Series SoftWeave designs:
Triple Black
Rated #1
Triple Black SoftWeave fuses three shades of black threads into a sleek finish with some subtle pop. According to Secretlab, this combination shows a stylish symmetry that reflects the urban streetwear style of modern gamers.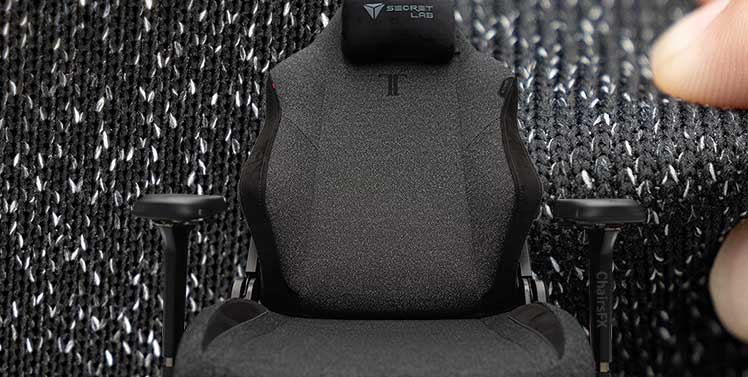 Chromatic colors reflect light, sending more information to the eyes. Black does the opposite. It absorbs all color wavelengths, reflecting nothing back to the eyes. Based on my experience with the 2020 version, this style will slide seamlessly into any type of setup. It doesn't stand out — it blends in.
From a distance, the 2022 Triple Black has a similar effect. Tiny specks of white against two shades of black make the Triple Black come alive with visual energy.
If you squint, details disappear. Look closer and more details emerge. These qualities make the Triple Black the safest pick in the SoftWeave collection.
In an office, it can serve as power executive chair. In a gaming room, it slides in as a stylish battle station centerpiece. All-round, expect it to blend into a room's decor, rather than stand out.
Rated #1: the safest option for all tastes. The sleek black style integrates well in formal offices. At the same time, flecks of white add stimulation in colorful gaming rooms. If you can't decide on a design, choose Triple Black for assured happiness.
Titan SoftWeave Triple Black (medium) $569
2022 Series Triple Black (small) $569 | 2022 Series Triple Black (XL) $619
Minecraft Special Edition
Rated #2
The Triple Black ranks first as the most versatile chair in the SoftWeave collection. The Minecraft chair ranks #2 as (by far) the most spectacular design. Three factors make it so.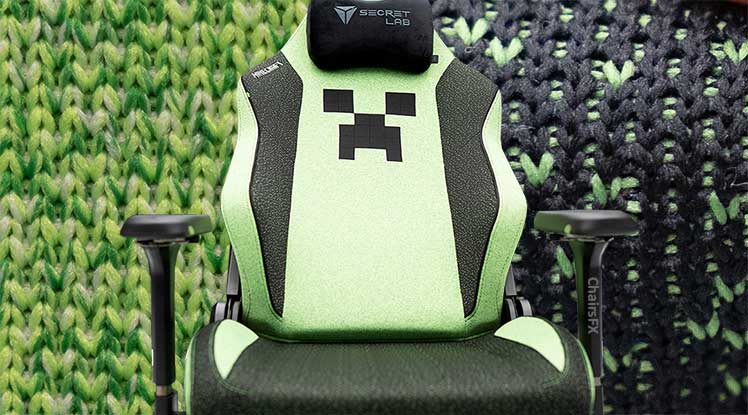 First, this is the only fabric gaming chair in the world blending two types of upholstery. The backrest and side wingtips is a tangy lime fabric (blending three shades of green thread). On the seat and side wings, there's a black fabric weave with flecks of green.
Second, this combination absolutely crackles with energy. Like the Minecraft game, it's a vast expanse with limitless possibilities. No matter what angle you look from, you'll see something new.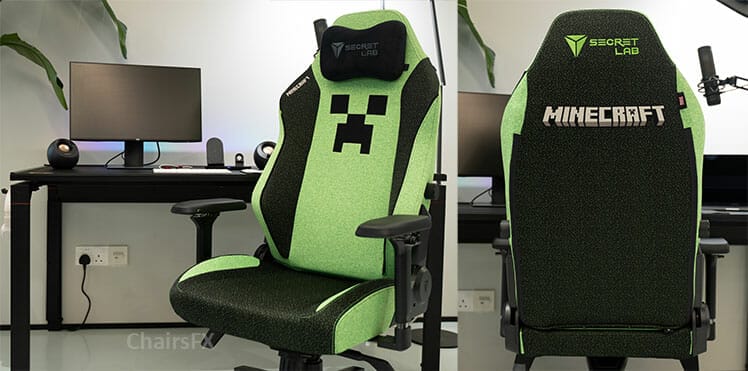 Third, despite the intense detailing, the effects are surprisingly mild at a workstation. The lime green gives the chair a refreshing feel. From the rear, the black speckled base tones down the intensity seen from the front.
Learn more: Minecraft Gaming Chair Review.
Rated #2: lime green meets speckled black for buzzing visual activity from up-close. From a distance, the combination looks subtle and refreshing. It's the most unique fabric chair on the market. Have fun with cool, calming stimulation peppered in!
Titan Minecraft Edition (medium) $644
Naruto Shippuden Chairs (NEW)
Rated #3 & 4
Secretlab's Naruto collection pays homage to one of the most popular anime series of all time. Each comes upholstered in a speckled black base color. The Naruto edition has orange accents; the Akatsuki version's accents are maroon.
On the backside, each features unique artwork, plus a metal plated logo tag. These are inspired by the forehead protectors worn by Naruto and some members of the Akatsuki.
Like the Minecraft chair, I (subjectively) rank these above the standard Softweave colors. If you find the standard styles too bland, the extras splashes of color should inspire even non-Naruto fans to consider these styles.
Rated #3 & 4: the world's first-ever anime-inspired chairs blend sophisticated Softweave styling with splashes of manga-inspired color. Choose one or the other based on your allegiance or aesthetic preference.
Naruto Shippuden Chair (medium) $644
Soda Purple editions also available in small ($644; $35 off) and XL sizes ($694; $55 off).
Soda Purple (NEW)
Rated #5
The new Soda Purple Softweave chair joins Frost Blue and Mint Green on the cool side of the color spectrum. From a color psychology perspective, cool colors slow the heart rate and produce a calming effect. This produces a state of mind that's ideal for creative work.
Purple sits at the extreme edge of the color spectrum. It mixes the passion of red with cooling blue energies for a nice balance of stimulation and serenity(1).
Rated #5: cool color spectrum fans now have three soothing Softweave styles to consider. If you prefer a mild jolt of energy mixed in, Soda Purple is the perfect style for you!
Titan Soda Purple (medium) $569
Soda Purple editions also available in small ($569; $40 off) and XL sizes ($619; $60 off).
Cookies and Cream
Rated #6
Last year, I logged hundreds of hours in a Triple Black Omega 2020. This year, I've done similar while working in a (medium-sized) Cookies & Cream chair. On paper, black absorbs color while white reflects it. In practice, that's exactly how it's worked out.
White is one of the most reflective colors. It reflects all wavelengths of light back to the eyes. Those white specks do a brilliant job at lighting up a workspace, without overwhelming it.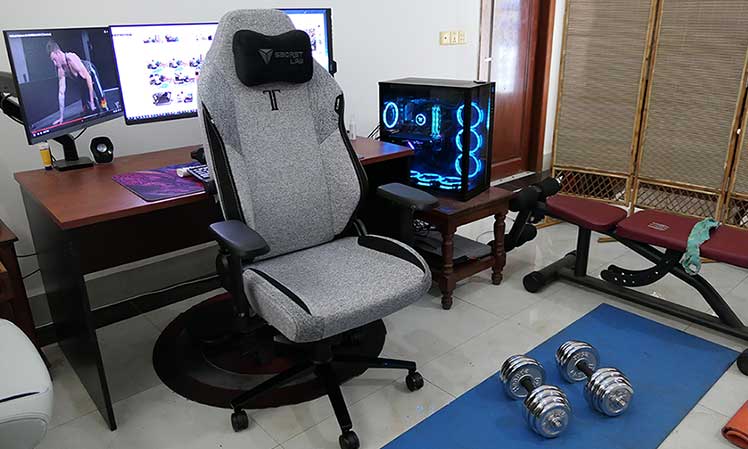 This gave me a brighter but otherwise similar vibe as the Triple Black. Tiny monochrome flecks jostle for attention as they reflect ambient light. In brighter conditions, the chair comes alive with visual activity.
Even so, the monochrome hues add a neutral vibe to any type of workspace. That means you can brighten things up while adhering to strict corporate design expectations. If looking to get just a little bit daring, Cookies and Cream is a great choice.
Learn more: Hands-on Cookies And Cream Chair Review
Rated #6: brighten things up while adhering to corporate design rules. A silvery base dampened with black flecks adds subtle stimulation. Works great in both the bedroom and the boardroom.
Titan Cookies and Cream (medium) $569
Titan Cookies and Cream (small) $569 | Titan Cookies and Cream (XL) $619
Plush Pink
Rated #7
Color saturation refers to the amount of white mixed with a hue. Higher-saturation colors like red have less white light. In its purest form, red is an ultra-warm color with a fiery intensity. Adding white lowers the saturation to create a more soothing, comforting pink.
Secretlab's Plush Pink upholstery amplifies this concept. It blends pure white threads with a smaller quantity of soft pink ones. Up-close, subtle detailing includes suede side wings and color accent stitching.
As you step away from the chair, the white threads in the fabric soften the pink ones even further. From a distance, the soothing pink hue gets even milder. As part of a high-end computing workstation, its soft hue conveys comfortable happiness.
Secretlab makes the only pink fabric gaming chairs. The hot pink D.Va chair is for funsters. In comparison, the Plush Pink is for anyone wanting a warm and comfortable vibe while computing.
Compare with other pink chairs: Best Pink Gaming Chairs Reviewed.
Rated #7: a warm, soothing, subtle design. Plush Pink adds positive warmth to a workspace while maintaining formality.
Titan Plush Pink (medium) $569
2022 Series Titan Plush Pink (small) $569 | Titan Plush Pink (XL) $619
Mint Green
Rated #8
From a color theory perspective, the Mint Green edition is the easiest on the eyes. Red is the warmest color and violet is the coolest. On the color spectrum, green fits between those two extremes as a 'balanced' color.
To comprehend shorter or longer wavelengths, the brain must process them first. In contrast, it comprehends green inputs as soon as they strike the eyes(2). That makes it a restful color that mitigates eye strain.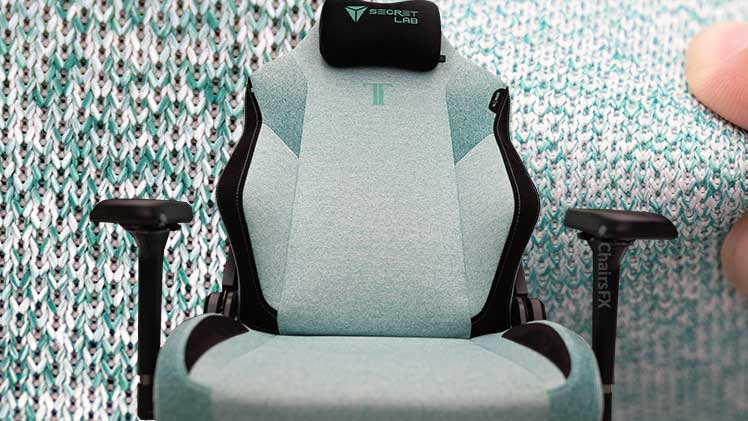 The Titan Mint Green blends a weave of white threads with a mild, soothing green. Up close, it looks a bit darker than a classic Mint Green (#98FB98). In my opinion, it looks closer to Jungle Green (#29AB87).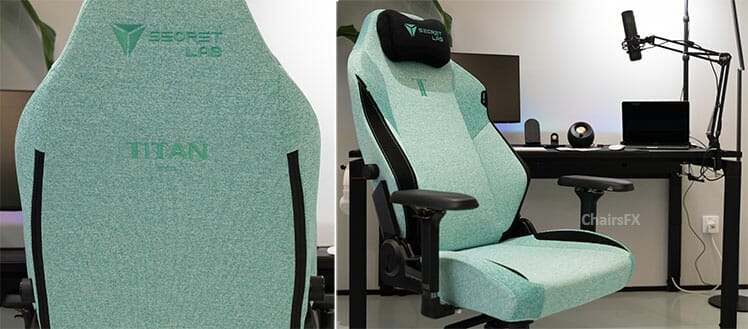 Regardless, it's a cool, soothing design that recalls nature. In nature, green connotes an abundance of food and water. Its presence delivers reassurance on a primal level(3).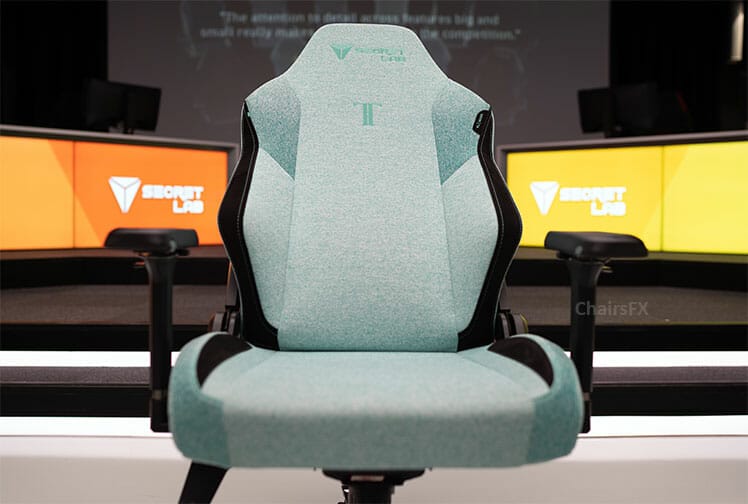 Besides the funky Minecraft edition, this is the only green fabric chair on the market. Despite its cool, soothing, natural connotations, it's a fairly new concept.
Once more people catch on to the merits of a green chair, I predict this design will explode in popularity.
Rated #8: a cool, calming design that recalls nature. It ranks lower because green fabric seating is a new concept. As the concept catches on, the Mint Green chair's popularity should skyrocket.
Titan Mint Green (medium) $569
2022 Series Titan Mint Green (small) $569 | Titan Mint Green (XL) $619
Frost Blue
Rated #9
Pokimane used to stream atop a Herman Miller Aeron. But recently, she upgraded her gaming setup with a Frost Blue Softweave chair. As a result, interest in this design has surged.
Blue is a cool hue thought to stimulate the intellect. That's because of the physiological responses it evokes. Red colors raise blood pressure. Higher blood pressure helps with detail-oriented tasks like proofreading(4).
In contrast, blue hues lower blood pressure. That slows the heart rate while reducing stress. Concurrently, associations with water and the sky stimulate openness and tranquility. This leads to a sense of safety which stimulates out-of-the-box thinking. Then, creativity blossoms.
Secretlab's Frost Blue edition serves up a very mild effect. Baby blue threads get dampened by pure white ones into a soft and soothing hue.
At a workstation, Frost Blue lives up to its name with an almost imperceptible blue hue. If you squint, this chair looks almost gray-ish!
Rated #9: a softer, cooler alternative to the Mint Green chair. It rates lower because the blue is extremely mild. Even so, for out-of-the-box creatives, it can serve as a subtle-yet-stimulating centerpiece.
Titan Frost Blue (medium) $569
2022 Series Frost Blue (small) $569 | 2022 Series Frost Blue (XL) $619
Arctic White
Rated #10
White contains all the wavelengths of the visible spectrum. As a result, when colors bounce off of a white surface, all get reflected, with none getting absorbed.
The problem is that stark white is very bright thus hard on the eyes. Secretlab's Article White SoftWeave blend solves this issue in a clever way. To tone down the brightness factor, it mixes light gray threads with the white ones.
Up-close, it looks like an off-white fabric with a very light soft gray dusting. That subdues the starkness of pure white with a tiny hint of visual noise.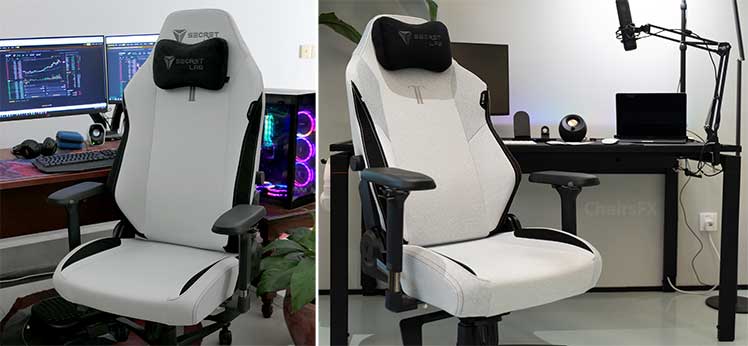 The Arctic White is the fabric version of the Titan Ash leatherette chair. Head-to-head, the fabric version adds subtle visual noise while the Ash chair is smooth.
That aside, both are ultra-reflective. If you have an RGB-heavy setup, a pure white gaming chair makes a nice centerpiece. See our Hands-On Ash Leatherette Chair Review for details.
Rated #10: like white jeans, white chairs aren't for everyone. Thus the Arctic White ranks lower as a niche design. For fans of light colors, the Arctic White and Ash chairs both convey crisp sophistication. Between the two, Arctic White is softer, more breathable, and more visually stimulating.
Titan Arctic White (medium) $569
2022 Series Arctic White (small) $569 | 2022 Series Arctic White (XL) $619
Overwatch D.Va Special Edition
Rated #11
Here's a high-energy variation of the Plush Pink for thrill-seekers and Overwatch gamers. The D.Va gaming chair pays tribute to Hanna Song, an Overwatch mecha pilot defending her homeland.
This design dials up the energy levels with hot pink D.Va logos and her fierce bunny icon. White leatherette strips on the sides of the chair add several of D.Va's in-game decals.
Even if you're not into Overwatch, this model has appeal. Within the SoftWeave collection, it's by far the most playful and energetic design.
Rated #11: a colorful niche design for fun lovers. Other SoftWeave chairs have a conservative style. In contrast, the pink D.Va conveys free-spirited fun. Works well as a bedroom or gaming room chair.
The small (4'11" to 5'6″) Pink Titan D.Va chair is also available for $644.
SoftWeave Gaming Chair Advice
To get the best value (and happiness) from your SoftWeave chair investment, follow these steps:
Choose a S, M, or XL size
The Titan Evo 2022 Series comes in small, medium, and XL sizes. All come with flat, wide seats suitable for both slim and thick figures. The point of a gaming chair is to support your spine's natural curves while you sit.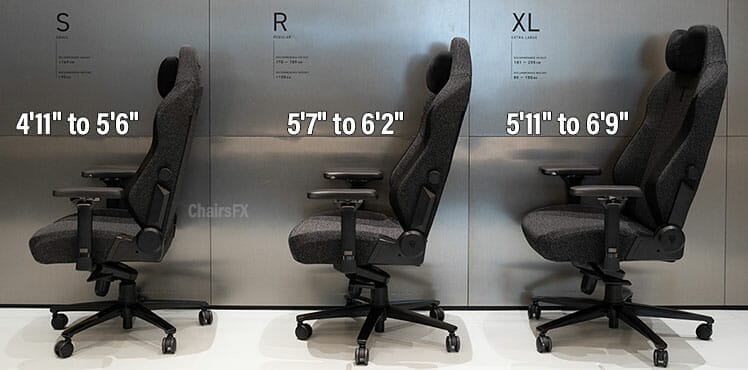 To achieve that, it's important to choose the right chair size. The Titan Evo 2022 makes it easy for most people. Simply choose the size rating that matches your height:
| | | | |
| --- | --- | --- | --- |
| Specification | Titan 2022 Small | Medium | XL |
| Seat | 17.7″ (W) x 18.9″ (D) | 18.5″ (W) x 19.3″ (D) | 19.3″ (W) x 19.7″ (D) |
| Backrest | 20″ (W) x 32.3″ (H) | 21″ (W) x 33.5″ (H) | 22″ (W) x 35″ (H) |
| Seat height | 17.7″ to 20.5″ | 17.7″ to 20.5″ | 18.1″ to 21.9″ |
| Size rating | 4'11" to 5'6″; 285 pounds | 5'7″ to 6'2″; 285 pounds | 5'11" to 6'9″; 395 pounds |
In most cases, choosing the size rating that matches your height will yield great results. However, it's also possible to super-size. For instance, I stand 5'9″.
To test Titan size limits, I've tried out both medium and XL sizes. Because of the Titan's superior adjustability, I was able to find a good fit in both models. Learn more about optimal Titan fitting for your size:
Choose a Color That Matches Your Vibe
Designers use color theory(5) to divide colors into a spectrum of neutral (monochromatic) colors vs warm vs cool. Secretlab's SoftWeave collection covers the spectrum.
The warm and cool versions are pastel colors. Pastels lower the saturation of primary colors by adding white. Bright green becomes mint. Rich blue turns to frost. Hot pink becomes 'plush' pink.
Black, gray, and white are off the color wheel spectrum as neutral colors. These are conservative designs for executive tastes.
How Colors Influence A Workspace
Different colors generate unique physical effects in humans. When light strikes the retina, it converts to electrical impulses. Different hues convert into different types of inputs to the hypothalamus(6).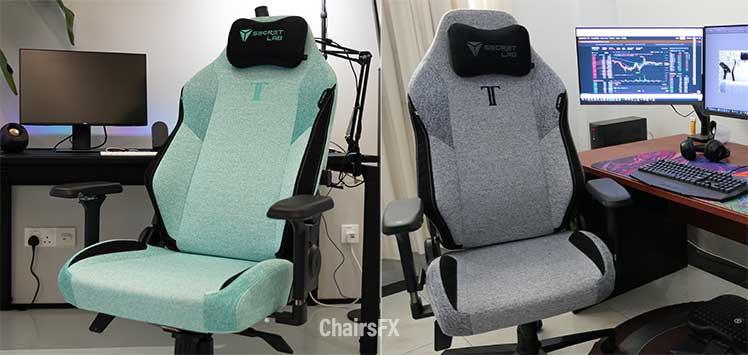 That part of the brain governs body temperature, appetite, sleeping patterns, and more. As a result, brilliant reds raise blood pressure. In contrast, cool blues foster calm.
We posed various Secretlab chairs at Magnus desk workstations to illustrate color effects. Check this feature to become an interior design color expert in a hurry:
How To Clean A Titan SoftWeave Chair
While you sit, your body sheds dead skin cells and secretes body oils. No matter what colored fabric chair you choose, it will absorb body oils and leave stains.

Dark-colored chairs are better at hiding stains. That can be counterproductive. For instance, I left my 2020 Triple Black unkempt for almost a year before noticing its poor hygiene!
On a lighter-colored SoftWeave, I've found it takes around 3 months of (full-time) use for staining to appear. That's a good thing. Stains that are easier to spot will grab your attention and incite action.
Easy Stain Removal And Deodorization
Chemical fabric cleaners are not necessary to keep a fabric chair clean. After testing several methods, ChairsFX has perfected two cleaning techniques that use common household ingredients.
To remove stains, you'll need a scrubbing pad, some laundry detergent, water, a towel, and a hard brush. After just a few minutes of scrubbing, your chair will look brand new.
To deodorize, cover your upholstery in baking soda. Work it into the fabric then let it for 30 minutes. Then vacuum up and enjoy the fresh, 'brand new chair' smell. Learn more:
Softweave vs Leatherette
The Titan 2022 comes in SoftWeave Plus fabric and Neo Hybrid leatherette upholsteries. I've tested a SoftWeave Cookies and Cream and leatherette Ash chair. I'm working in tropical conditions with average humidity.
In my experience, both offer a good level of breathability for hot conditions. Quick take:
Breathability: both stay cool over long sessions. Even so, SoftWeave is more porous and definitely the more breathable of the two.
Tactile sensation: SoftWeave has a soft, plush feel like luxury sofa fabric. However, leatherette has more of a 'wow' factor. It's stunningly smooth, buttery soft, and gorgeous!
Maintenance: leatherette is tough, stain-resistant, and easy to clean. If you spill any food or drink, wipe it off. In contrast, eating or drinking in SoftWeave chairs is problematic. Crumbs can burrow deep into the fabric. Red wine or coffee will seep in, stain, and stink! You should also vacuum a SoftWeave chair weekly to keep it pristine.
These points suggest leatherette as the more practical choice. It's breathable, comfortable, attractive, and easy to maintain. Even so, among both 2020 and 2022 Series chairs, I've always felt a bit happier when using SoftWeave chairs.

Leatherette feels crisp and formal. For streamers and web conferences, it also delivers a sharper look. In comparison, SoftWeave has a cozy, homey aspect. Using one feels like lounging around in luxury pajamas. If work-from-home comfort is your priority, SoftWeave is the comfier, more soothing option.
Conclusion (with video summary)
Secretlab's Titan Evo 2022 Series SoftWeave gaming chairs are the height of luxury. High-quality SoftWeave fabric upholstery delivers a plush, cool, airy sitting experience. Check out all eight styles in 38 seconds:
I rate the Triple Black #1 because it's a great match for all tastes and workstations. However, from an aesthetic perspective, the Minecraft edition blows me away. In comparison, my Cookies and Cream chair looks a bit boring. Even so, I'm thrilled with it.
Bottom line: no matter which SoftWeave design you choose, you're in for a treat. Once you've had a good look at each style, go with your instincts and prepare for joy.
Available from Secretlab in North America, the EU and UK, Oceania, and Singapore.
2022 Titan SoftWeave Plus (medium) USD $569
Titan SoftWeave Plus (small) USD $569 | Titan SoftWeave Plus (XL) USD $619
Footnotes