The best Herman Miller ergonomic office chairs of 2023 cost between $640-$2300. Up front, each seems a large investment. But spread over the 12-year warranty, these chairs are a bargain. There are 28 office chairs in the current Herman Miller lineup. Here we review the six best Herman Miller office chairs you can buy online.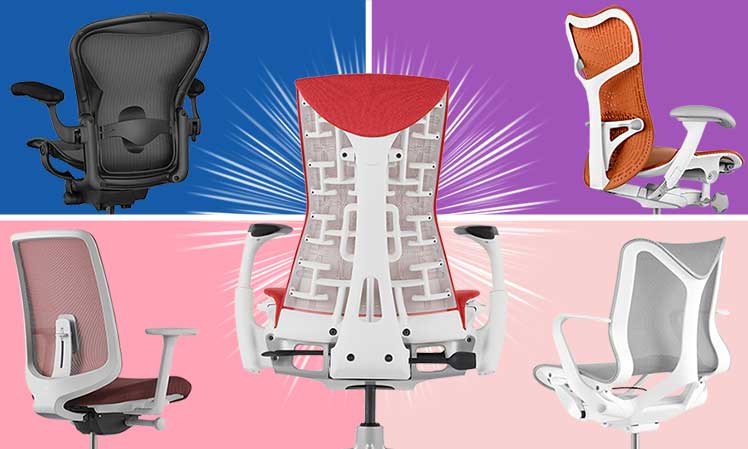 Herman Miller kicked off the ergonomic seating revolution with the Aeron chair in 1994. Circa 2023, it's the flagship brand of MillerKnoll, the world's largest office furniture corporation.
These days, Herman Miller's Embody and Aeron get most of the hype. These rank on ChairsFX #1 and #2 among this year's best premium office chairs. Both stand out with unique back support concepts. They work well — assuming that users grasp the concepts and use them effectively.
Herman Miller also offers conventional lumbar-powered ergonomic models like the Verus Task Chair. While not as conceptually spectacular, these work as most people expect. Adjusting the seat height (hips slightly higher than knees) and lumbar support (above the beltline) is all it takes to achieve a healthy sitting posture.
Best Herman Miller Ergonomic Chairs 2023
There are 28 chairs in the Herman Miller collection. Most have unique support concepts.
This article breaks down the top 6 models with clear specs and functionality breakdowns. Look closely at the lumbar support, backrest recline, and synchro-tilt. Each chair has slight variations that impact the sitting experience.

Aeron Remastered Office Chair
$1745-$2095 from Herman Miller
Since 1994, Herman Miller's iconic flagship has reigned as the world's best at supporting good posture. In fact, its groundbreaking design makes it tough to sit in any positions other than healthy ones!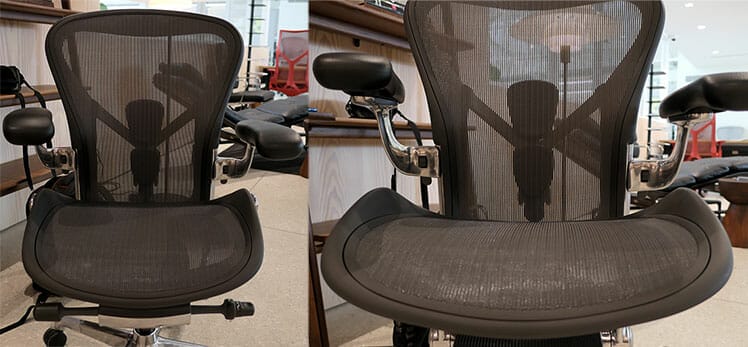 The Aeron's 8Z Pellicle mesh is its star feature. Its suspension concept was conceived in 1996 when an Indy 500 driver broke his back. Instead of hammering his spine with lumbar support, the mesh kept him in a state of floating suspension. That design helped Buddy Lazier win the 1996 Indy 500.
Circa 2023, lumbar support continues to play a minor role. Modern-day Aeron chairs come with a choice of a Posturefit or a height-adjustable lumbar pad.
Thanks to Buddy Lazier, neither provides significant lumbar support. The Posturefit (not height adjustable) provides a general fit.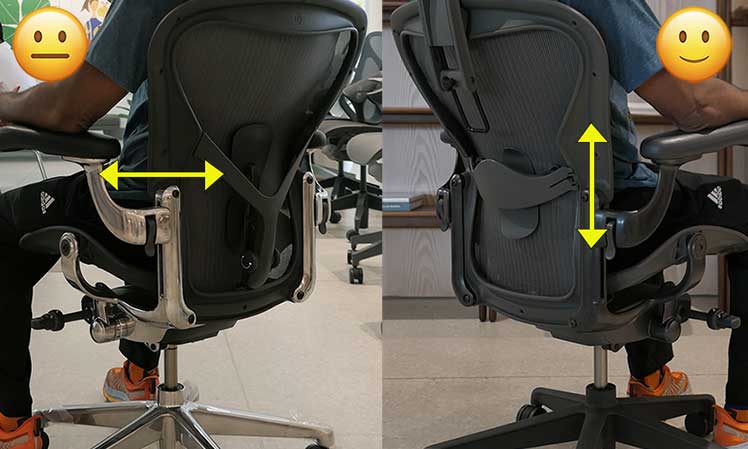 The height-adjustable sliding lumbar does allow a good fit, but it's flimsy — moderate pressure will pop it out of its sockets. I find the sliding lumbar the better option.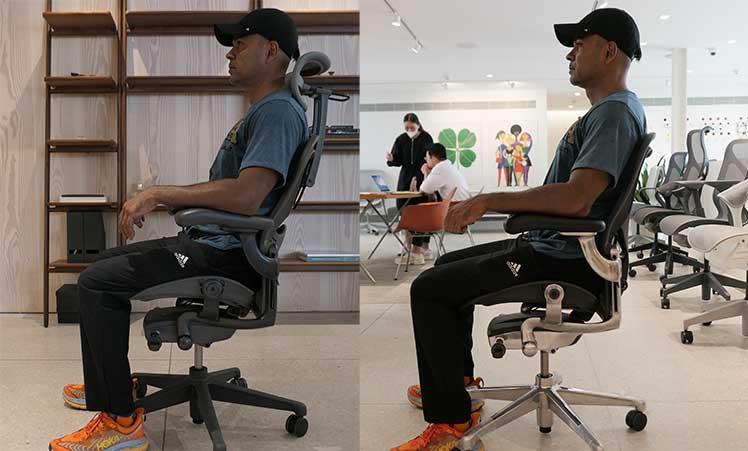 Both provide mild support — the suspension mesh does the work to keep the user in perfect postural balance. As a result, regardless of which type you choose, the posture support is impeccable.
Key Features
Buying an Aeron from the Herman Miller store is tricky. There are seven options to go through to build your own. For a walkthrough, see this Aeron Remastered Ergonomic Chair Review. Here are the highlights:
Bladed Seat
8Z Mesh
Adjustable Lumbar
Sync-Tilt
7 Styles
The Aeron has a seat with ridged edges that dissuade putting your feet up. That leaves sitting with planted feet as the
only
way to use this chair.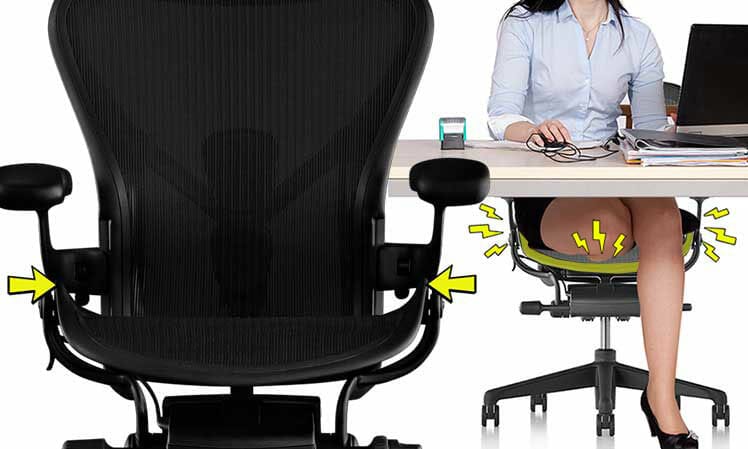 That's by design. Planted feet provide the power to hold the torso upright. Without that, back muscles must do the work instead.
8Z Pellicle mesh has a soft feel with amazing adaptive qualities. On the backrest, it's tighter along the edges and looser in the middle. The seat has four tension zones.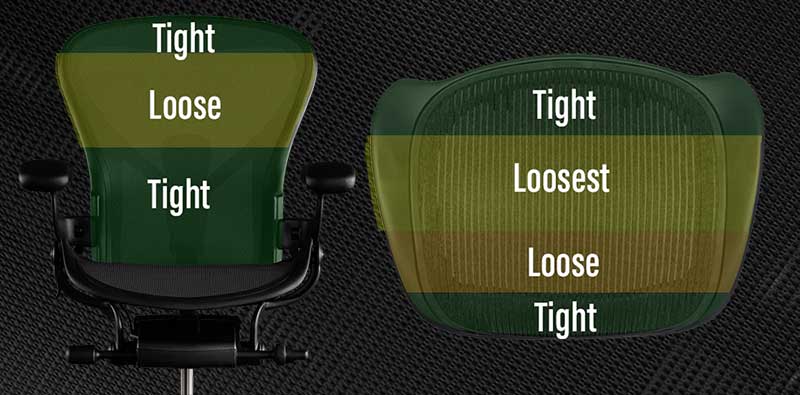 These adapt to micro-movements as the user shifts positions. That keeps body weight evenly distributed through all possible ranges of motion.
There are two lumbar support options.
Posturefit
hads dual pads that support the lumbar (lower back) and sacral spine (near the tailbone). You can adjust the depth but
not the height
.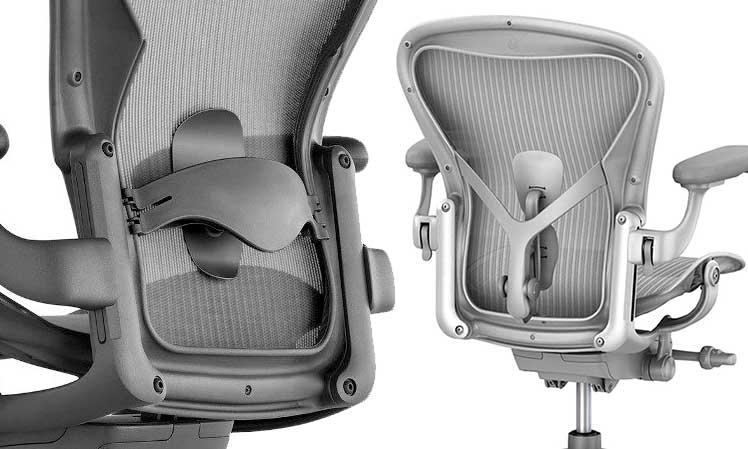 The dual-pad system works great. But because it's not height-adjustable, it won't fit everyone perfectly. Then, these pads can hit your spine like bricks. To avoid that, make sure to test out a Posturefit system in a Herman Miller showroom. If that's not possible, choose the height-adjustable lumbar support instead:
Learn more: Aeron Posturefit Vs Lumbar Pad Comparison
The Aeron's
Tilt Limiter with Seat Angle
lets you recline, tilt the seat up or down, and rock the whole chair.
You can also merge seat and backrest motions into a synchronous tilt. When you recline, the seat tilts up by 16°. When you lean forward, it tilts down by -1°. These angles keep the thighs parallel to the floor through all recline modes.
The Aeron is available in
six Remastered styles
and one gaming edition.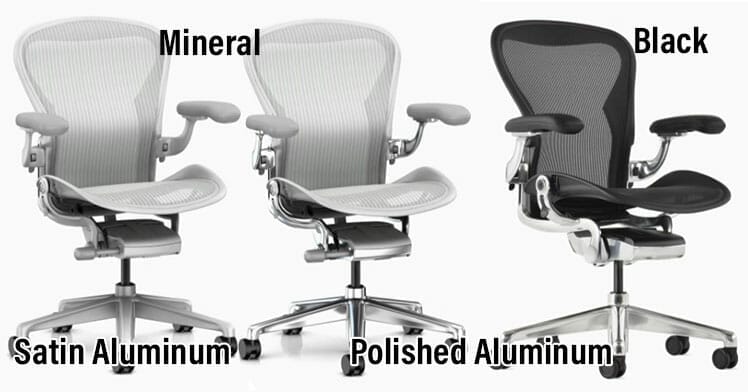 Features Summary
Synchro-tilt: seat pan angle -1° to 16°; backrest 93° to 104°
Upholstery: Pellicle 8Z mesh provides eight zones of varying tension for ultra-responsive support..
Seat: adjust the height; limit the tilt range; adjust the tilt tension; sync-tilt with the backrest.
Backrest: forward tilt option; height and depth adjustable PostureFit lumbar support.
Armrests: 3D adjustable.
Warranty: 12 years.
Sizing
The Aeron comes in three size options. Here are the dimensions of all three versions:
| | | | |
| --- | --- | --- | --- |
| | Aeron Size A | Size B | Size C |
| Seat | 15.75″ (W) x 16.75″ (D) | 17″ (W) x 16.75″ (D) | 18.25″ (W) x 18.5″ (D) |
| Backrest | 20.25″(W) x 21″ (H) | 21.5″ (W) x 22″ (H) | 22.75″(W) x 23″ (H) |
| Seat Height | 14.75″ to 19″ | 16″ to 20.4″ | 16″ to 20.5″ |
| Size Rating | 4'10" to 5'9″; 300 pounds | 5'2″ to 6'6″; up to 350 pounds | 5'2″ to 6'6″; up to 350 pounds |
Aeron Chair Advice
In the Herman Miller Store, the base Aeron chair (all sizes) normally sells for $1275. That comes with no lumbar support, no synchro-tilt, and fixed armrests. In comparison, the fully-loaded model adds Posturefit lumbar support, full synchro-tilt, and fully adjustable arms for $1487.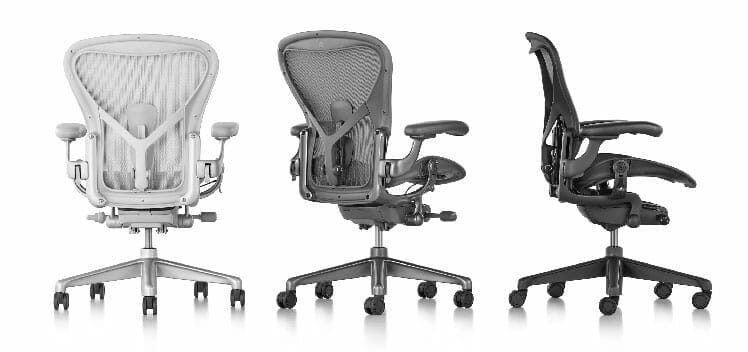 It makes little sense to get the basic model. That will give you a traditional office chair with only the 8Z mesh providing support. In contrast, paying for the fully-loaded edition will give you one of the most ergonomically spectacular chairs in the world.
Pros
Extremely comfortable
Best-in-class mesh upholstery
Best synchro-tilt in the industry
Elegant, timeless design
Cons
Limited recline to only 104 degrees
Expensive
Mediocre lumbar support options
There are only minor downsides. Beyond the price, the Aeron only reclines to 104 degrees. That locks you into an upright position, without any deep recline functionality.
The limited recline may perturb slackers, but it's perfect for productivity. Sitting in an Aeron feels like floating on a cloud. It keeps users comfortable, rested, and primed for high-octane productivity.
Aeron from Herman Miller $1745-$2095
The Aeron Gaming Chair edition is also available for $1805.
Herman Miller Embody
$1830-$2300 from Herman Miller < In 2008, Herman Miller released the Embody chair as a specialty model for computer users. It differs from all other chairs with a unique Pixelated Backrest that provides upper-back (thoracic spine) support.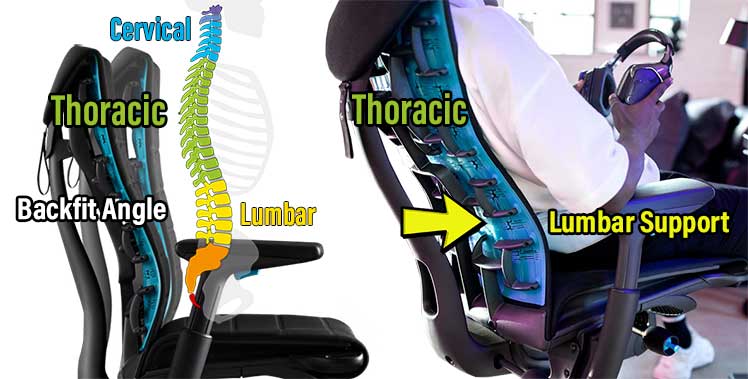 My 5'9″ (177 cm) size found that this concept works spectacularly well — assuming proper usage. A Backfit dial only lets you toggle the angles of the backrest. Turning it forward tilts the upper part of the backrest forward.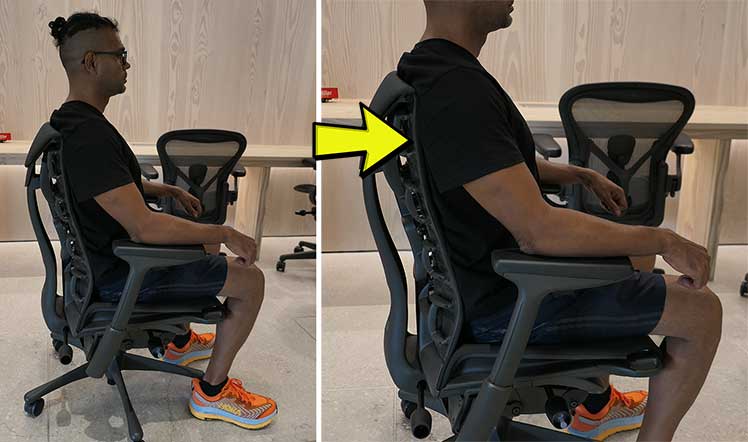 Keep twisting the Backfit dial until it fully cups your upper spine. Then, it 'hugs' your upper back curve to suspend your entire spine up against gravity. This part may be tricky for first-timer ergo chair users.

Getting your Backfit angles wrong can flatten your lower back curve and actually force your upper spine to slouch! Here's a quick primer: if it looks too complex, you may prefer the Aeron instead (much easier to use for beginners).
Key Features
The Embody has a built-in lumbar support curve that's set too low for most users. Luckily, the Backfit dial lets you angle it away from your spine. That yields a lumbar-less support style.

Other feature highlights:
Multi-layered Seat
Pixelated Backrest
Synchro Tilt
The Embody's seat is made up of two spring layers, a padding layer, and a polyester fabric skin.
Instead of thighs pressing into the seat, the flexible layers adjust to enhance weight distribution.
The Embody's "Pixelated" backrest has a human-like spine with "ribs" attached to a central pillar. As the user moves, the ribs adjust and the whole unit flexes with different tension levels.
With a proper Backfit configuration that hugs your upper spine, this ultra-adaptivity is outstanding. No matter what position your move into, the backrest will stick to your spine like glue.
The Embody's seat only tilts up; when the user leans forward, the seat remains flat.
Its seat pan has a 3-15° tilt range; that syncs with a backrest recline range of 94-120°.
Summary of Embody Specifications
Here's a summary of the Embody's features and dimensions:
Summary of Features
Sizing
Synchro-tilt: seat pan angle 3° to 15°; backrest 94° to 120°
Pixelated back support: the backrest has a central spine with flexible ribs. Each rib adjusts when you lean back to support the natural curve of your spine.
BackFit angle adjustment: this lets you position the back of the chair to fit the curvature of your back.
Seat adjustments: adjust the seat's height and depth.
Armrests: 2D-adjustable
Backrest: adjust recline tension; 3-position tilt-lock; synchro-tilt
The Embody chair is one-size-fits-all, designed to fit Herman Miller designed to fit 95% of adults. It offers ample adjustment ranges in seat height, arm width, and seat depth.
Seat: 21.25″ (W) x 15″-18″ (D)
Backrest: 14″ (W) x 23.5″ (H)
Armrests: 11.5-21″ width range; 4-8.75″ height range.
Seat height range: 16-20.5″
Size Rating: 5'4″ and 6'2″; 300-pound weight capacity
Advice
Many people tout the Embody as the most attractive chair in the Herman Miller collection. Its ribbed backrest and spacious dimensions make it look like the captain's chair in a spaceship.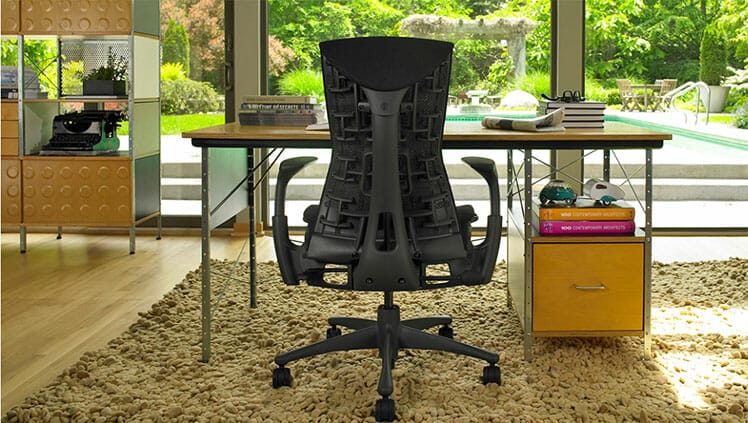 Beyond the styling is some impressive functional substance. The Embody has the most adaptive backrest in the collection, plus the widest armrest adjustability. But the armrests are only 2D — annoying for such a pricey chair.
Pros
Ultra-adaptive backrest
Spacious dimensions
Impressive armrest width range
Stunning modern design
Cons
Smaller sync-tilt range than the Aeron
Armrests are only 2D
The built-in lumbar support is useless
Is the Embody worth it? For fans of the classic lumbar-powered support, it isn't. Without proper usage of the Backfit dial, the lumbar-less support style does little to help your back muscles support good posture.

On the flip side, those who buy into the upper back support style will enjoy stunning support.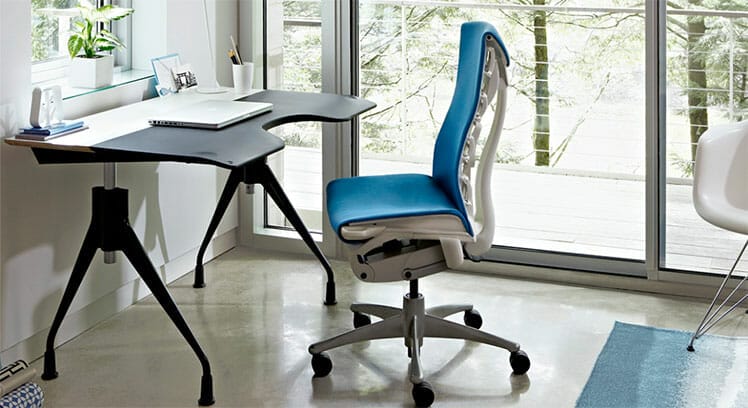 With proper settings, the Backfit will 'hook' your upper spine curve to hold your torso up against gravity.
Embody from Herman Miller $1830-$2300
The Embody x Logitech Gaming Chair is also available for $1695.
Herman Miller Cosm
$1360-$1835 from Herman Miller
The Cosm supports seated movement similar to the Aeron chair, simplified. Released in 2018, this was Herman Miller's first task chair with an automatic tilt. Instead of the user having to mess with complex settings, the chair (and gravity) does the work. A year after its release, it made the Time Magazine list: best inventions of 2019.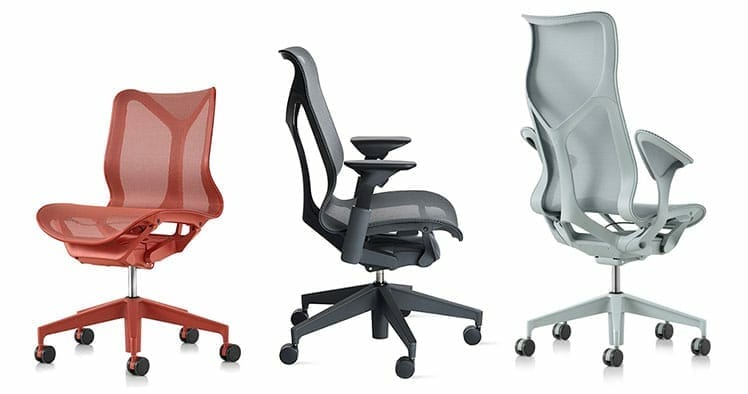 The three backrest options have different price ranges in the Herman Miller store:
Low-back: $1095 (basic); $1195 with adjustable arms.
Mid-back: $1395 (basic); $1495 with adjustable arms.
High-back: $1595 (basic); $1695 with adjustable arms.
The only adjustable feature among all variants is the seat height. The tilting support is weight-based, adjusting based on the user's level of recline. As the user leans back, the plastic frame flexes. That angles the seat up while adding more resistance to the backrest support.

Given the high price, this model seems ideal for a certain class of work-at-home executives and high-end gamer/ PC enthusiasts. That is the class willing to pay a premium for fast results instead of complexity. In contrast, experienced ergonomic chair users will likely find the lack of adjustments (and high price) frustrating.
In either case, the buyer will end up with a robust office chair that's comfortable, easy to use, and good for your back.
Summary of Cosm Specifications
Summary of Features
Sizing
After an easy assembly, the Cosm chair is good to go. Sit down and adjust the seat to match the height of your desk. After that, lean back when you feel like it and let the chair make adjustments on its own.
Auto-harmonic tilt: seat pan angle 1.2° to 14°; backrest 94.1° to 106.9°
Lumbar support: height-adjustable (7.5-8.7″)
Frame and upholstery: flexible polymid plastic frame; breathable suspension mesh, Intercept suspension (gapless transition between the backrest and seat).
Armrests: choice of height-adjustable (1D) t-arms or fixed "leaf" arms (they act as a hammock to cradle the forearms).
For an average-sized person of around 5'9″ (177 cm), the low-back model's backrest would end just above the lumbar curve. On the other end, the high-back model fits as a typical gaming chair backrest would. It has a built-in curve to support the back of the neck. For a 177 cm user, the high-back would reach to around the crown of the head.
Seat width x height: 20.5″ (W) x 15.9″(D)
Backrest width:: 18.25″(W)
Backrest height: 19.6″ (low back); 24.1″ (mid-back); 30.1″ (high-back).
Seat height range: 14.8-21.4″
Size rating: 5'3″ to 6'1″; maximum weight capacity 350 pounds
Cosm Chair Advice
Gaming chairs first emerged in 2006. Early designs appealed to the masses with simple features and vivid color schemes. Cosm chairs seem to use a similar strategy.

These are stylish, colorful chairs with self-adjusting ergonomic features. Any Cosm model would shine on the cover of Cosmopolitan or Style magazine. As shared corporate staff chairs, these are ideal. They lack adjustable parts and support good posture regardless of the user's intentions. With good posture, workers enjoy higher energy levels and improved focus. As a result, productivity will improve.
As a work-from-home or gaming chair, the model with the adjustable T-arms provides adequate support. However, for those who love to tinker (such as PC builders), the lack of chair controls may be annoying.
Pros
Sharp contemporary design
User-friendly ergonomics
Cool, breathable mesh upholstery
Cons
Basic armrest adjustability
No manual tilting controls
Do you need ergonomic support but can't be bothered fiddling with controls? Is style a high priority for you? The Cosm chair checks both of those boxes, and more. Expect superb support, exceptional comfort, and 12+ years of rock-solid ergonomic performance.
Herman Miller Mirra 2
$1045-$1675 from Herman Miller
Herman Miller ships its Mirra 2 chairs fully assembled. Simply crack open the box, roll out the chair, and it's ready to go. The first impression is striking.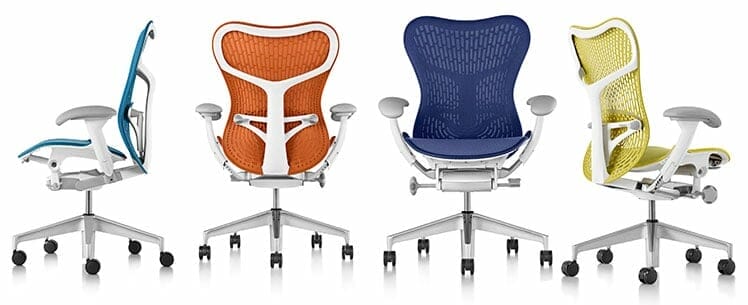 This is Herman Miller's best lumbar-powered desk chair. It's the only model with a height x depth-adjustable lumbar support.
Set it to hit slightly above your beltline and toggle the depth until it feels perfect. Then you're good to enjoy healthy posture with plenty of extras under the hood.
Features
There are a few highlights. First, the poly backrest is breathable, flexible, and comfortable. Lower back support feels great with the adjustable lumbar addon. That comes with separate 1″ depth adjustments to the right and left of the central backrest spine.
Second is the Harmonic tilt, with two recline modes. In tilt-lock mode, you can lock the backrest at 95, 99, 122°. In free recline mode, you get a range of 94.3 to 106.8°. Both modes combine with a 5-degree seat tilt. The point of the Harmonic (synchro) tilt is to keep the feet flat and the thighs parallel to the floor.

That provides a strong postural foundation for the upper body to stay straight. At the same time, the user enjoys a pleasant range of seated movements.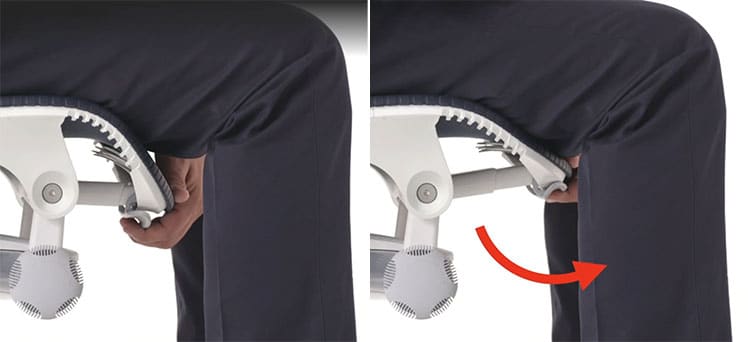 Another unique feature is the depth-adjustable seat. Instead of sliding, the edge can curl down to shorten the depth.
Summary of Features
Sizing
Backrest: Harmonic tilt with 3-position tilt-lock (95, 99, 122 degrees); triflex back.
Synchro-tilt: 5° seat angle tilt + recline range of 94.3 – 106.8°.
Posturefit lumbar support: 4.5″ height-adjustment range; 1″ depth adjustment.
Seat: 5° seat angle tilt; height and depth adjustment.
Armrests: 4D adjustable (5″ height range, 2″ width range)
Upholstery: Airweave mesh over a flexible plastic frame.
Mirra 2 chairs are one-size-fits-all, suitable for most users of moderate size.
Seat width x height: 19.25″ (W) x 16.25-18″ (D)
Backrest (mid-back): 21″(W) x 23″ (H)
Floor to seat range: 16-20.5″
Size rating: 5'3″ to 6'1″; maximum weight capacity 350 pounds
Mirra 2 Advice
There's a lot to like here. The Mirra 2 serves up Herman Miller's most adjustable lumbar support. Its flexible backrest mimics the Embody's ultra-adaptivity.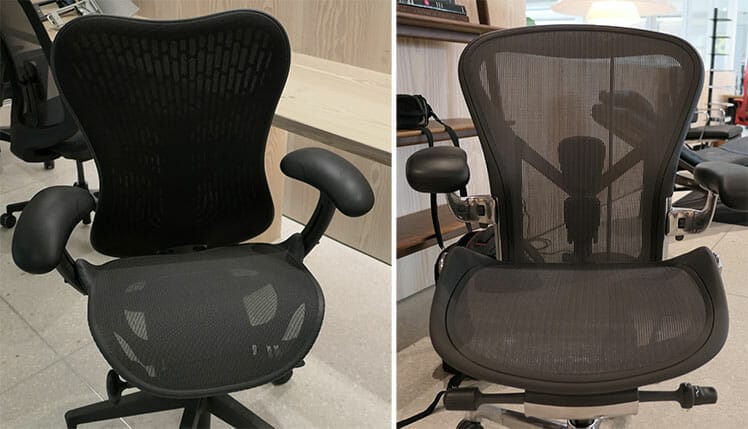 The seat is also very comfortable. It uses breathable mesh stretched over a plastic frame. The result feels firm yet adaptive as the user moves in the chair.
The fully-loaded model comes with every high-end component you need. That includes adjustable lumbar support, 4D armrests, tilt-limited with seat angle, and an adjustable seat depth.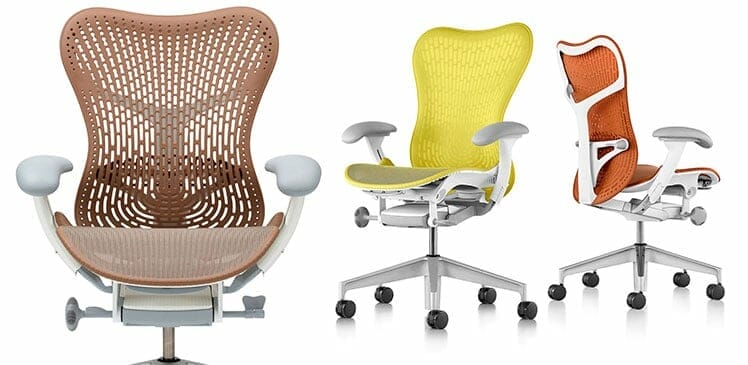 On the downside, the armrests are set too wide for shorter users. The width range is 18.5-20.5″. In comparison, the Embody chair's range is 11.5-21″.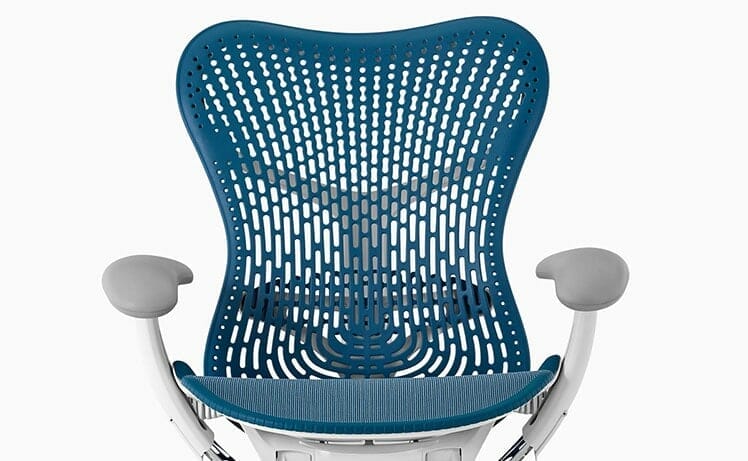 Having such wide arms might be an issue for shorter people (under 5'6″). Ideally, arms should fall freely from the shoulders. If the armrests are too wide, the shoulders will jut out at an angle, placing pressure on the entire limb.
Pros
High-end ergonomic features
Good sync-tilt range
Backrest is attractive, breathable, and adaptive
Cons
The recline only locks in three positions
Armrests are too wide apart for users under 5'6″
If you're 5'6″ or taller, the armrest width range should serve well. Then, the Mirra 2 qualifies as a more modern and affordable version of the Aeron.
Verus Task Chair
Unlike Herman Miller's fancy concept chairs, the Verus (released in 2019) is a straightforward lumbar-powered ergonomic chair. Instead of flashy gimmicks, it serves up a classic height-adjustable lumbar support style.
If looking for a flashy showpiece, this isn't it. It looks like a run-of-the-mill mass-produced office chair. Even so, Herman Miller's touch is evident in the rock-solid build that's guaranteed for 12 years.
Verus Specifications
The Verus comes fully loaded with a seat slider, adjustable lumbar, tilt-limiter, and synchronous tilt. Herman Miller hasn't published the exact recline range. Based on my tests, I guess it's around 94-115°.
Backrest: 3-position tilt limiter; triflex or interweave back.
Synchro-tilt: 5° seat angle tilt + recline.
Lumbar support: built-in sacral support; 4.5″ height-adjustment range.
Seat: 5° seat angle tilt; height and depth adjustment.
Armrests: 3D adjustable (4″ height range, 2″ front-to-back; 1.25″ horizontal)
Upholstery: mesh backrest, fabric padded seat.
Seat width x height: 19.6″ (W) x 15.5-18.3″ (D)
Floor to seat range: 16.75-20.75″
Size rating: 5'6″ to 6'1″; maximum weight capacity 350 pounds
Verus Advice
The Verus chair is one of Herman Miller's cheapest and easiest to use. It also comes in a choice of attractive backrest styles.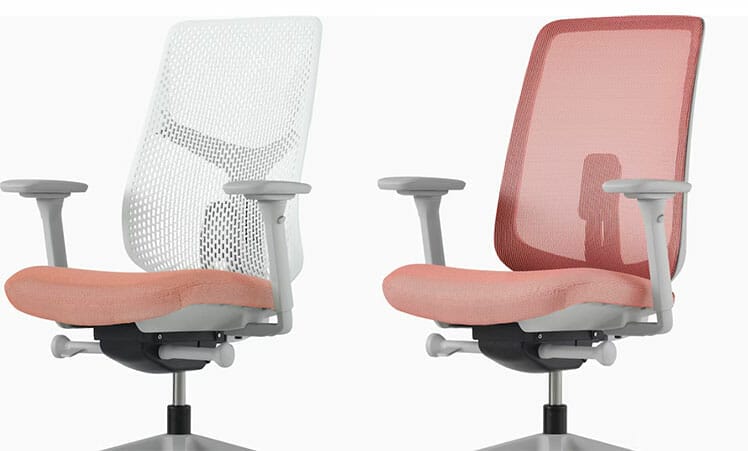 On the downside, Verus aesthetics won't blow people away like the jaw-dropping Embody or Aeron chairs. Rather, it looks like a run-of-the-mill office chair.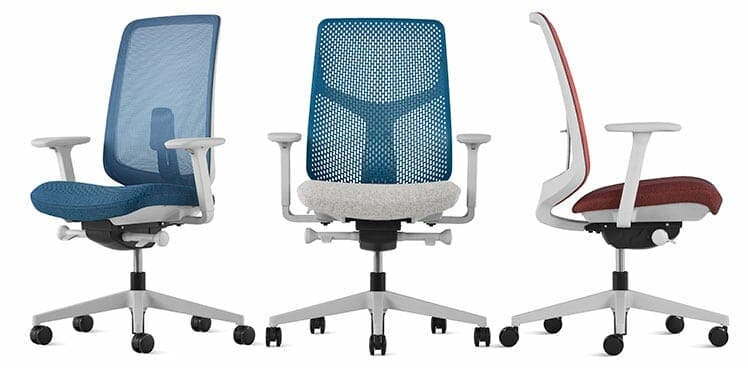 Thrill seekers looking for something flashy may find this underwhelming. But bargain hunters looking for affordable Herman Miller quality should consider this chair.
Sayle Ergonomic Office Chair
The Sayl chair smashes together elements from the Aeron and Embody chairs into a cheaper but powerful package.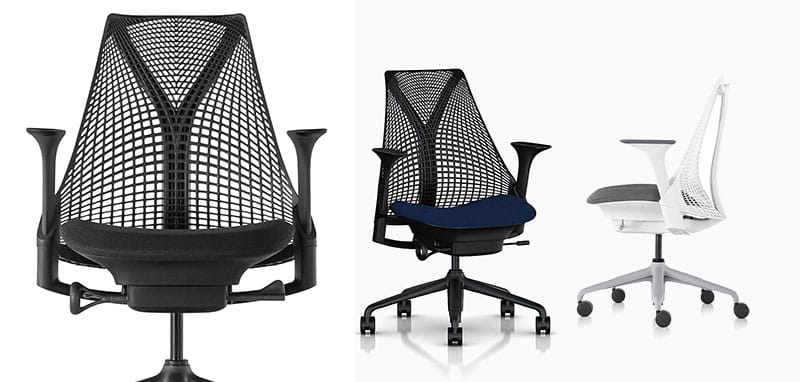 Like the Aeron, the Sayle has a robust synchronous tilt range. Its seat pan angles from -3° to 13°, while the backrest reclines in three positions: 91°, 101°, or 124°. Like the Embody, it has an adaptive plastic polymer backrest.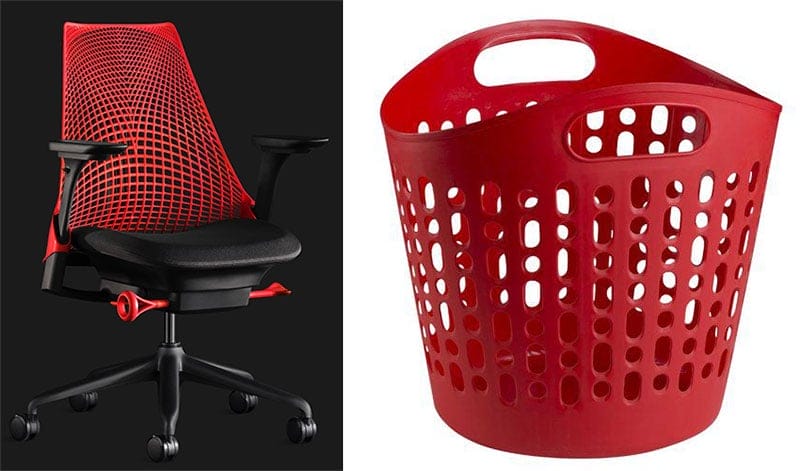 The plastic backrest is unique. At a glance, it might remind you of a laundry basket. Don't be put off: this is a potent ergonomic chair with superb features.
Features
The Sayle offers powerful ergonomic features for a low price. Features almost match the Aeron chair, with a few cutbacks. For example, the sync-tilt feature also works like the Aeron's, with limitations.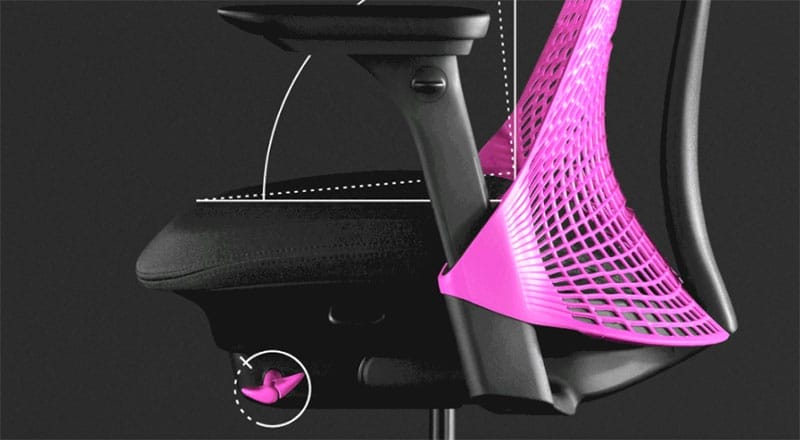 With a recline of 91°, the seat remains flat. However, you can manually angle it down to -3° for better forward-leaning support. When reclining deeply, the seat auto-syncs into a gentle upwards tilt.
Once you get over the aesthetic shock, the backrest is also a highlight. The adaptive flexibility delivers great support, no matter how you sit in the chair.
Summary of Sayle Specifications
Summary of Features
Sizing
Synchro-tilt: seat pan angle -3° to 13°; backrest reclines to 91°, 101°, or 124°.
3D Intelligent backrest: an unframed 3D Intelligent back stretches or contracts to support the back as the user moves.
Posturefit: a unit at the rear of the backrest supports the sacrum (lowest point of the spine) to reinforce the pelvis. That prevents slouching and sitting fatigue.
Seat adjustments: contoured seat pad; adjust the seat's height and depth; downwards tilt to -3°.
Armrests: 4D adjustable (adjust height, angles, width, and depth).
Warranty: 12 years.
Like most Herman Miller chairs, the Sayle is one-size-fits-all. Among all Herman Miller chairs, this model has the widest seat and backrest dimensions. That makes it a good option for extra-large users with very thick legs or wide hips.
Seat: 24.5″ (W) x 16-18″ (D)
Backrest: 16.8″ (W) x 20.9″ (H)
Floor to seat range: 15″ to 20″
Chair height: 33.75″ to 40.75″
Size rating: 5'3″ to 6'7″; 350 pounds
Sayle Chair Advice
Physically, the Sayle delivers ultra-adaptive world-class support as you'd expect. But psychologically, I can't shake the association with a laundry basket.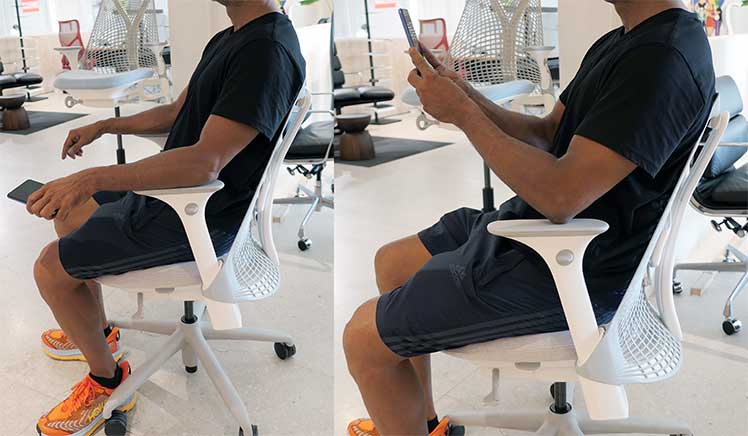 I do not like the plastic backrest (despite its adaptive, supportive merits). That's subjective. On the flip side, many may find the bold, modern backrest styling a delight.
Pros
Adaptive, breathable backrest
Excellent synchro-tilt range
Superb PostureFit lumbar support
Cons
Backrest is an acquired aesthetic taste
The recline only locks at three angles
Functionally, it offers the best of both the Aeron and Embody chairs, with one cutback: a limited backrest recline that only locks at three angles.
So the only issue (for some people) may be the styling. Those who appreciate it can get you a high-end performance chair for half the price of an Aeron or Embody.
Sayle from Herman Miller $750-$1400
The Sayle Gaming Edition is also available in the Herman Miller Gaming Store for $1020.
Who Are Herman Miller Chairs For?
Herman Miller chairs are ideal for two different groups:
Power User Professionals
Back in 2010, the Herman Miller Aeron became the best-selling chair in America. That success was partially driven by the dot-com bubble of the 1990s. Its modern design was hailed as a triumph compared to the stiff office chairs of the old economy.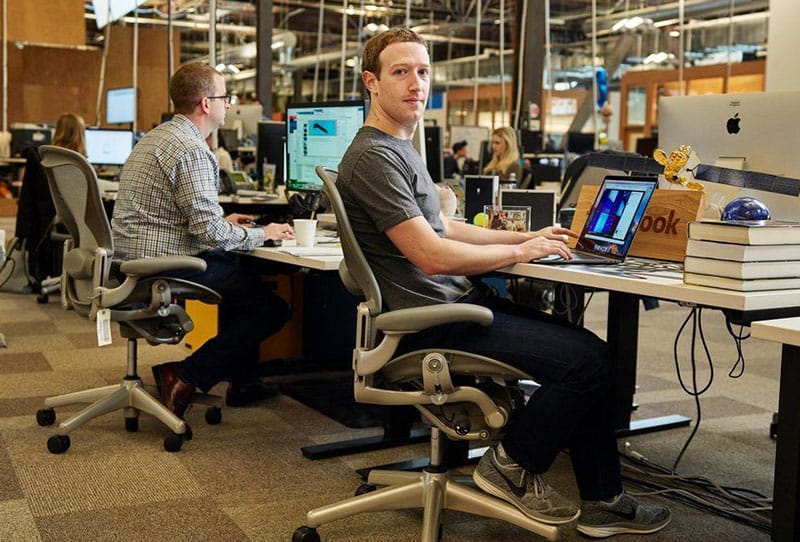 When the dot-com bubble burst, Herman Miller remastered the Aeron in 2017 and it has remained an icon. Today, Aeron chairs hold a similar appeal as they did in the Silicon Valley culture of the 1990s. These chairs are ideal for senior executives and power-using pros who spend long periods sitting.
Hardcore PC Gaming Enthusiasts
High-end computing enthusiasts
Today, around 40% of the global population plays video games. 48% of players play on personal computers.
In 2020, building computers has become almost as popular as playing them. To play games at the highest settings these days, need a custom PC workstation costing around $3000 and up.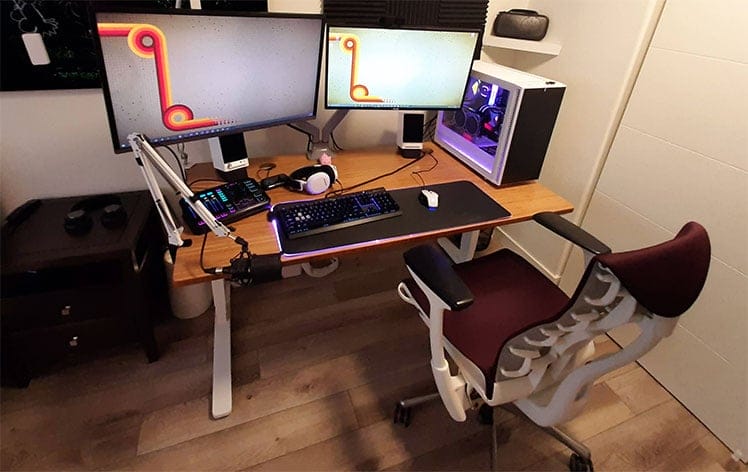 As a result of such high prices, enthusiast gamers likely have few issues paying $1500 for a Herman Miller chair. Check out r/battlestations on Reddit for plenty of enthusiast setups that include pricey Herman Miller chairs.
Conclusion
Is it worth paying a premium for a Herman Miller chair? For those on a budget, it isn't. In 2023, back support for long periods of sitting isn't expensive.

Among ergonomic office chairs, there are two cheaper options:
Best under $250: these models feature fabric seats, mesh backrests, and basic ergonomics. Most models offer 1D armrests, a tilt-locking backrest recline, and adjustable lumbar support.
Best under $600: these almost match the complex ergonomics of Herman Miller chairs. The one thing missing is synchro-tilt. If you don't mind losing that feature, these models offer excellent value for money.
But if money is no object and you want the very best, Herman Miller chairs should be at the top of your list. In fact, beyond the initial price shock, Herman Miller chairs offer exceptional value for money.
Spring Sale
All Herman Miller products are now 15% off. Use the coupon code EXTRA5 to get an extra 5% off (20% total discount). The sale ends on May 16.
All models offer the highest levels of comfort and support. They also come with a 12-year, 3-shift warranty. That means 3-shift, round-the-clock use.
Bottom line: those seeking premium ergonomics, aesthetics, and durability need look no further. Browse the entire Herman Miller chair collection below: