The world's first gaming chairs came out in 2006. At around the same time, pro esports began to emerge as a global entertainment juggernaut. The two industries have a symbiotic relationship that has disrupted several legacy ones. This article covers the history of gaming chairs from 2006-2020. Learn how gaming chairs grew from humble beginnings into a thriving direct-sales global business.
The gaming chair origin story starts with a Korean economic crash in 1997, then a USA one in 2001. In Korea, waves of jobless youth filled their free time with Starcraft. Spending so long sitting, back problems arose. In America, desperate luxury car seat makers took notice. They slapped wheels onto car seats and gaming chairs were born.
The earliest gaming chairs were affordable and effective. They exceeded healthy ergonomic seating standards and were well-received by gamers. In hindsight, it was a stroke of genius that filled a serious gap in the ergonomic chair market.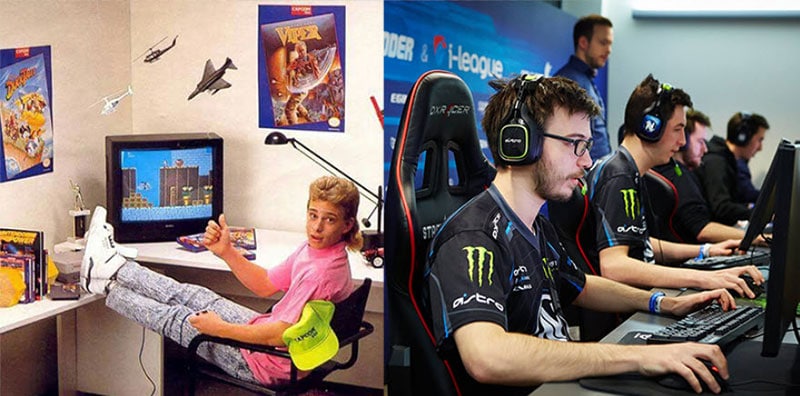 Before 2006, the only ergonomic chairs on the market were pricey Herman Miller-style models. Car seats on wheels provided an ergonomic solution for the masses. As competitive esports grew, players turned to gaming chairs for a performance edge. Eventually, gaming chairs became staples among most top teams and tournaments.
History of esports
The rise of pro esports created the need for a new type of seating. This section explains how pro esports grew into a billion-dollar juggernaut between 2006-2020.
The esports origin story begins in 1980. That year, Atari released Space Invaders for the Atari 2600. To promote the game, the company held a national championship. A total of 10,000 people turned up to the finals in New York, making it the first large-scale esports tournament.
As pictured below, the gaming ergonomics of the time were horrendous. Players sat on fixed steel chairs while craning their necks to see TVs positioned too high.
Esports simmered on low for 20 years after the Space Invaders tournament. Then, in the early 2000s, things heated up in South Korea.
History of gaming chairs
The preceding section summarized the history of pro esports. That began in South Korea during the 1997 South Korean financial crisis. In 1998, Blizzard Entertainment released Starcraft. The game became wildly popular among jobless Korean youth. Local TV stations cashed in on the craze by broadcasting tournaments.
The history of gaming chairs starts with economic turmoil in America. First came a 2001 recession, followed by the Sept. 11 attacks. The result was a stock market decline that crippled the auto industry. During the 2000s, America lost 5.7 million, or 33% of its manufacturing jobs. It was a pandemic of industrial plant closings. Here's the Packard Automotive Plant, on East Grand Boulevard on Detroit's east side, 2006:
Also in 2001, an American startup company called DXRacer began making luxury car seats. Their timing was terrible. That same year, Chrysler discontinued its Plymouth brand. In 2004, GM canceled its Oldsmobile division.
In 2005, oil prices began rising. Sales of gas-guzzling American cars plummeted. Facing dwindling returns in a shrinking market, desperate engineers at DXRacer took action.
2006-2020 recap
In 2020, the gaming chair industry turns fourteen years old. Once dismissed as gimmicks for nerds, gaming chairs have become essential to esports.
Here's a summary of the whole story:
Prologue
1997: South Korean financial crisis.
1998: Blizzard releases Starcraft. Jobless Korean youth make the game a huge hit that marks the birth of pro esports.
2000: American recession.
2001: DXRacer launches as maker of luxury car seats.
2001: American auto industry crashes. DXRacer's luxury car seat market evaporates.
2006-2020 bullet points
2006: DXRacer launches the world's first gaming chair with an industry-defining blueprint.
2008: AKRacing expands on the DXRacer blueprint with their own brand of gaming chairs.
2009: DXRacer responds to the challenge by developing pro esports partnerships.
2012: Homall and GTRacing release cheap but sturdy versions of DXRacer's blueprint. These models introduced gaming chairs to the masses.
2014: esports enjoyed one of its biggest years to date. Two new major players emerged. Secretlab and Maxnomic took gaming chairs to the next level with new pro features.
2015: Vertagear and Noblechairs launch as rivals to Secretlab, Maxnomic and DXRacer.
2019: the pro esports industry generates $1 billion in revenue. Viewership numbers break records. Secretlab steps forward as a dominant brand, forging powerful global partnerships.
2020: the global lockdown resulted in a massive spike in demand for gaming chairs. This makes the end of gaming chairs as a niche item for gamers, and the start of mainstream appeal.
Conclusion
In March 1998, Blizzard Entertainment released StarCraft, a science fiction video game. Success required strategic thinking and clever execution. This provided the perfect means for jobless, over-educated Korean youth to spend their time.
As a result, many flocked to the game. Big business began to take notice. At the same time in America, the auto industry was imploding.
Three seemingly unrelated factors provided the spark. First, Starcraft-crazed Korean marathon gamers. Second, an auto industry crash in America. Third, a DXRacer warehouse full of unsold luxury car seats. These factors led to the birth of the gaming chair industry.
The entire story resembles a classic story plotline. It begins with the introduction of a problem (poor seating). Then it leads to a climax. What follows is a lower-intensity resolution.
Moving forward from 2020, we predict steady, consistent growth without many more new developments. Episode II looks to be shaping up already: mega-corporations are descending on the gaming chair market.
The benefit for consumers is a wider range of gamer-friendly, work-from-home products. As a result, we can look forward to a buyer-friendly ergonomic chair market.
The cap to the story is that 2020 was the most successful year in gaming chair history. To see which chairs and brands performed the best during this breakthrough, check this article: