esports began in the smoky pinball arcades of the 1970s and is now a thriving industry. Today, players compete for huge prize pools, while tens of millions watch the live streams. In the early days, as players complained of back pain, gaming chairs emerged to ride the esports wave. This article tells the unofficial history of gaming chairs.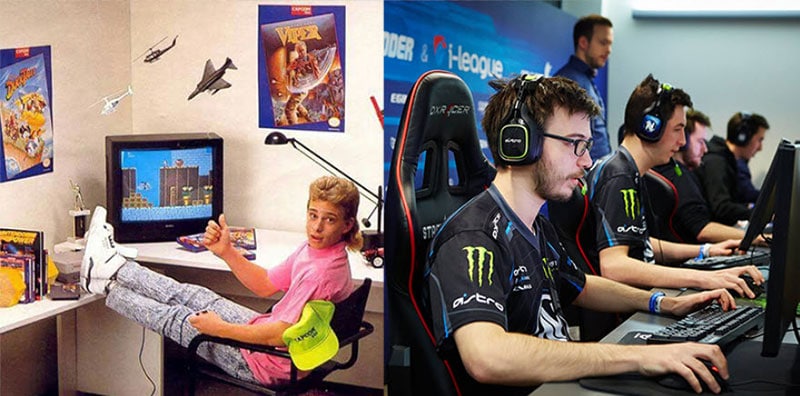 History of esports
The story begins in 1980. That year, Atari released Space Invaders for the Atari 2600. To promote the game, Atari held a national championship. A total of 10,000 people turned up to the finals in New York, making it the first large-scale esports tournament.
As pictured below, the gaming ergonomics of the time were horrendous. Players sat on fixed steel chairs while craning necks to see TV screens positioned too high.
Esports simmered on low for 20 years after the Space Invaders tournament. Then, in the early 2000s, things heated up in South Korea.
1998: Starcraft in S. Korea
At the start of 1997, South Korea was an Asian tiger with swagger. Dozens of stock trading rooms popped up around Seoul. Locals could spend the day smoking, trading stocks and chatting with their pals. By the end of that year, the dream shattered.
In late 1997, many big Korean companies were unable to pay off their loans. The stock market crashed, and the Korean currency lost half its value.
A year after the economic crash, Blizzard released Starcraft. It was an intelligent strategy game that appealed to the hordes of jobless South Korea youth of the time. Many stock trading rooms converted to PC gaming rooms.
Starcraft exploded in popularity and big business cashed in. In 2002, big companies like Samsung and SK Telecom began to put money into pro esports teams. Korean TV channels Ongamenet and MBCGame started running Starcraft tournaments.
Players competed for cash prizes, with games broadcast live on each channel. Record audiences tuned in as their idols played their favorite games for high stakes. Despite all the buzz, player ergonomics remained an afterthought.
Early esports ergonomics
As the South Korean Starcraft frenzy took esports to new highs, ergonomics were brutal. Pictured below is the setup for the 2005 Cyber games, with white plastic chairs for the players.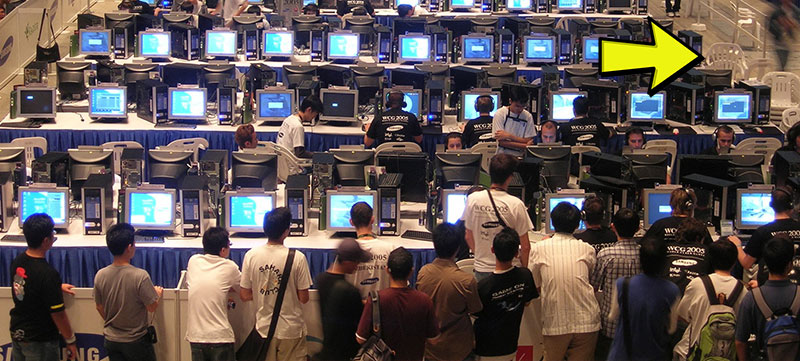 When Call of Duty came out in late 2005, interest in esports surged yet again. Despite this, the gaming ergonomics of the time were still primitive.
In 2005, a study of UK internet users found that the average time spent online had increased to around 10 hours. As seated computing time went up, so did back pain cases.
That's because as esports grew in popularity, gamers spent longer periods sitting at computers. With the crude seating of the era, back pain was inevitable.
Big business ignored this opportunity until the recession of 2001. As car sales crumbled, many in the auto industry began twiddling their thumbs…
History of gaming chairs
During the 2000s, America lost 5.7 million, or 33% its manufacturing jobs.
It was a pandemic of industrial plant closings. Here's the Packard Automotive Plant, on East Grand Boulevard on Detroit's east side, 2006:
The decade began with a recession in 2001. Then, the Sept. 11 attacks caused a stock market decline that crippled the auto industry.
Also in 2001, a startup company called DXRacer began making luxury car seats. Their timing was terrible. That same year, Chrysler discontinued their Plymouth brand. In 2004, GM cancelled their Oldsmobile division.
In 2005, oil prices began rising. Sales of gas guzzling American cars dropped off. Facing dwindling returns in a shrinking market, thumb-twiddlers at DXRacer took action.
Historical recap
In 2020, the gaming chair industry turns fourteen years old. Once dismissed as gimmicks for nerds, gaming chairs have become essential to esports.
Here's a summary of the whole story:
Prelude
1997: South Korean financial crisis.
1998: Blizzard releases Starcraft. Jobless Korean youth make the game a global phenomenon.
2000: American recession
2001: DXRacer launches as maker of luxury car seats.
2001: American auto industry crashes. DXRacer's luxury car seat market evaporates.
Summary
2006: DXRacer launches the world's first gaming chair with an industry-defining blueprint.
2008: AKRacing expands on the DXRacer blueprint with their own brand of gaming chairs.
2009: DXRacer responds to the challenge by dominating esports partnerships.
2011: Twitch launches their revolutionary streaming service. Soon after, they start streaming esports tournaments.
2012: Homall and GTRacing release cheap but sturdy versions of DXRacer's blueprint. These cheap chairs introduced gaming chairs to the masses.
2014: esports enjoyed one of its biggest years to date. Two new major players emerged. Secretlab and Maxnomic took gaming chairs to the next level with new pro features.
2015: Vertagear and Noblechairs plunge in as rivals to Secretlab, Maxnomic and DXRacer.
2019: the gaming chair industry generates $1 billion in revenue. Viewership numbers break records. Secretlab steps forward as a dominant brand, forging powerful global partnerships.
Conclusion
In 1998, the world's top esports game was Quake II. This was a first-person shooter game. Players needed fast reflexes and muscle memory to succeed.
In March 1998, Blizzard Entertainment released StarCraft. It was a science fiction real-time strategy game, set in a distant part of the Milky Way galaxy. While Quake demanded athletics, Starcraft required brain power.
Success required strategic thinking and clever execution. This provided the perfect means for jobless, over educated Korean youth to spend their time. So many flocked to the game that big business began to take notice.
At the same time in America, the auto industry was imploding.
In hindsight, three seemingly unrelated factors provided the spark. Hordes of slouching Koreans, an American recession and a DXRacer warehouse full of unsold luxury car seats. These three factors led to the birth of the gaming chair industry.
Esports relies on user generated content. Gaming chairs let users sit better, work harder & game longer. As esports takes off, gaming chairs have become an integral part of the ride.