Riot Games publishes League of Legends, one of the world's most popular video games. Since 2018, Secretlab has partnered with Riot on a growing collection of LoL designs. This article keeps track of all League of Legends gaming chairs available from Secretlab in 2021.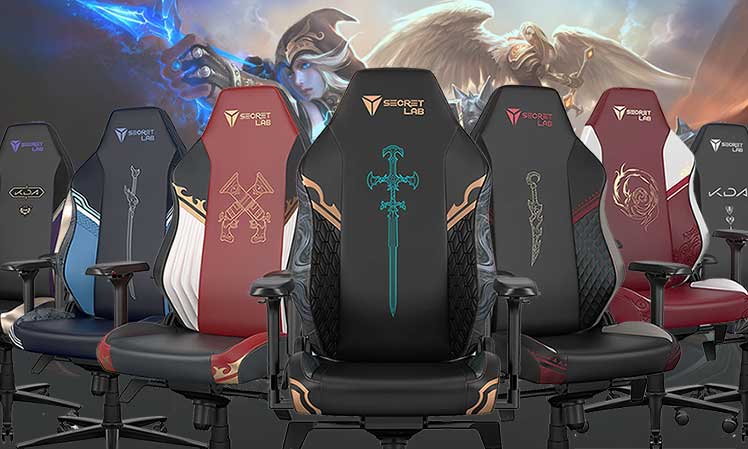 League of Legends runs an annual tournament involving some of the best esports players in the world. Each year, elite squads in North America, Europe, and Asia battle it out in regional tournaments. Regional champs then meet for a lavish Finals tournament every autumn.
Secretlab has been providing the official chairs at all LOL tournaments since 2018. Last year, the company added an Ionia Collection of three chairs. Each pays tribute to a different LOL Champion. On top of those are a pair of K/DA designs focused on LoL's virtual pop star girl group.
Secretlab Ruination Collection
There are now eight Secretlab League of Legends gaming chairs. Last year, Secretlab released an Ionia collection plus two K/DA chairs. Recently, they also dropped a Ruination Collection with three chairs.
League of Legends Ionia Collection
Secretlab released the Ionia collection in mid-2020. It contains three models paying homage to three popular Champions.
League of Legends K/DA Collection
The K/DA series currently contains two models. Both pay tribute to Riot's mega-popular virtual pop music group.
About League of Legends
League of Legends is one of the most popular video games in the world. It's also one of the most lucrative titles for pro esports players. In 2019, the game had over 100 million players worldwide, with 8 million daily peak concurrent players.
About the Titan EVO 2022 Series
The Secretlab Titan EVO 2022 Series is the most advanced gaming chair money can buy. For a closer look at its merits, check out this Titan EVO 2022 Series Review. Here is a summary of its highlights:
Other Secretlab Special Designs
Between the 2020 and 2022 Series, Secretlab now offers ninety chair variants. There are a handful of standouts to compare League of Legends designs with.
Conclusion
On a technical level, the Secretlab Titan EVO 2022 Series beats every other gaming chair on the market. On an aesthetic level, Secretlab's League of Legends gaming chairs are also unmatched.
Among all Secretlab designs, the LoL collection features the most intricate details. A big reason for that is the rich game lore designers have been able to tap into. The entire game is built on magic and mythology.
Each character has an elaborate back story and several potential redemption arcs. To flush out concepts, Secretlab worked directly with Riot designers to bring these designs to life.
As a result, these models deliver superb ergonomics with stunning detail. Even if you're not a League of Legends fans, these designs are sure to delight and inspire.
For a deep technical dive into the Titan chair, see this review: