Secretlab has partnered with Riot Games to release four League of Legends chairs. Three chairs capture the aesthetics of a particular champion. The fourth chair is inspired by Riot's K-Pop star style skin line. All models come in Titan and Omega variants and are now available for sale.
The new "Ionia collection" has designs inspired by Akali, Yasuo, and Ahri. The front of each chair has the champion's weapon embroidered. The back of each chair shows off the champion's main features. There's also a K/DA, paying tribute to LOL's virtual K-pop girl group.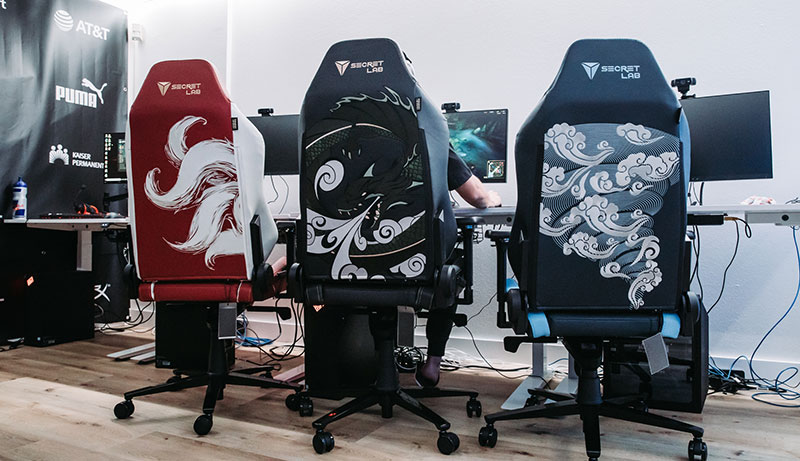 Secretlab partner Cloud9 already received test editions, which they rave about in this Twitter post.
Browse all LOL designs on Secretlab
Secretlab and Riot Partnership
Riot Games has been working with Secretlab for a few years. They already use Secretlab gaming chairs at their premier global tournaments. Those include the LOL World Championships, LCS, LEC.
Riot is preparing to celebrate the 10th anniversary of League of Legends. Thus, these become are the first official chairs in the history of the game.
Secretlab League of Legends chairs
Here is a quick look at each of the four new designs. All models are available in Omega (small-sized) and Titan (large) variants. The Omega models cost $389, while Titan versions cost $429.
Check our Omega vs. Titan comparison to see the differences between the two models.
Secretlab Titan 2020 Series Review
To learn more about the Omega, check out our detailed Secretlab Omega 2020 Series review.
League of Legends K/DA Edition
K/DA is a virtual K-pop girl group. At the 2018 League of Legends World Championship, Riot presented an augmented reality live performance of their only song, "Pop/Stars". That went viral, reaching 300 million views and topping Billboard's World Digital Song Sales chart.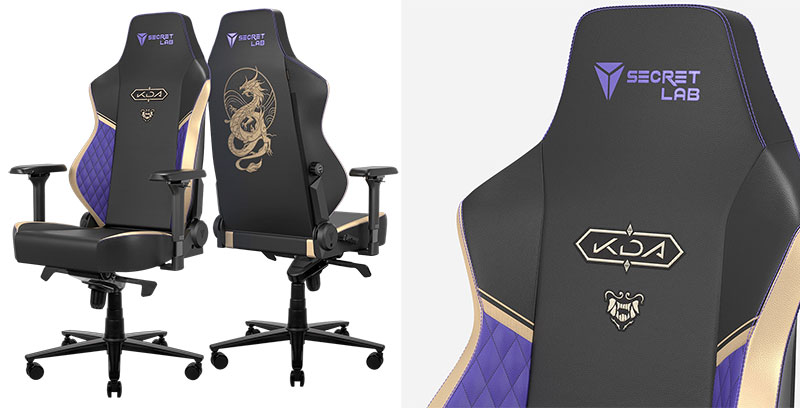 The K/DA Edition is inspired by Akali, the group's rapper. Upholstered in lush purple and gold, it pays tribute to Akali with diamond-quilted side wings. On the back is Akali's signature dragon, embroidered with gold thread.
League of Legends Akali Edition
Akali is also a rogue assassin. The Akali special edition shows off her kama blade and kunai dagger on the front of the chair.
On the back, a sprawling dragon tattoo is embroidered with incredible detail. The wings and seat base also show off details drawn from Riot Games' 2018 rework of Akali's classic skin.
League of Legends Ahri Edition
This decadent red wine-colored chair shows off Ahri's foxfire on the front of the chair, with her nine tails on the back.
League of Legends Yasuo Edition
This deep navy blue chair shows off the master swordsman's katana on the front and a veritable tempest on the back. The wings are embellished with the wind and clouds in the traditional ukiyo-e art style of Yasuo's armor.
Browse all LOL designs on Secretlab
Titan League of Legends chairs are available from Secretlab for $429. Omega League of Legends chairs are also available from Secretlab for $389.