A firm grasp of good body mechanics can help the mind train the body to adopt healthy postures. Neutral postures are the best to use when sitting at a computer. These align the spine so that users can sit for long periods without strain. This article focuses on full-back chair neck mechanics. Learn how to use your gaming chair headrest to support a perfect 0° neck posture.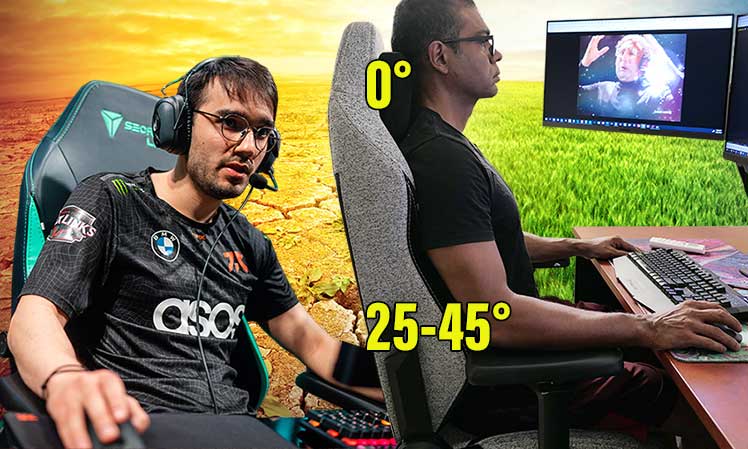 The human body is designed out of the box to work with peak efficiency. That's why most children have excellent body mechanics — until they adopt unhealthy habits.
By the time they're adults, most will have forgotten what good body mechanics are! This is because the body stores its most frequently-held positions in muscle memory.
Muscle memory helps the brain by automating repetitive tasks. If you have poor posture habits, muscles and fascia will remember. Then, when you sit, the subconscious slides your body into slouched postures on auto-pilot. But this concept works both ways.
With an understanding of good body mechanics, muscle memory can be 'programmed' to work in your favor. Teach your mind first and the body will follow.
For example, three famous esports doctors helped me achieve textbook sitting mechanics in a Secretlab Titan chair. Using their advice, I've developed a 0° neck posture as a regular habit while computing: Find below a longer version of the story outlined in the video.
Test: 0° Gaming Chair Neck Tilt
I've been using gaming chairs for several years with great results. However, in following mainstream ergonomic science, I've been focusing purely on keeping my spine in alignment.
My neck posture usually looks pretty good, but that's been a lucky coincidence.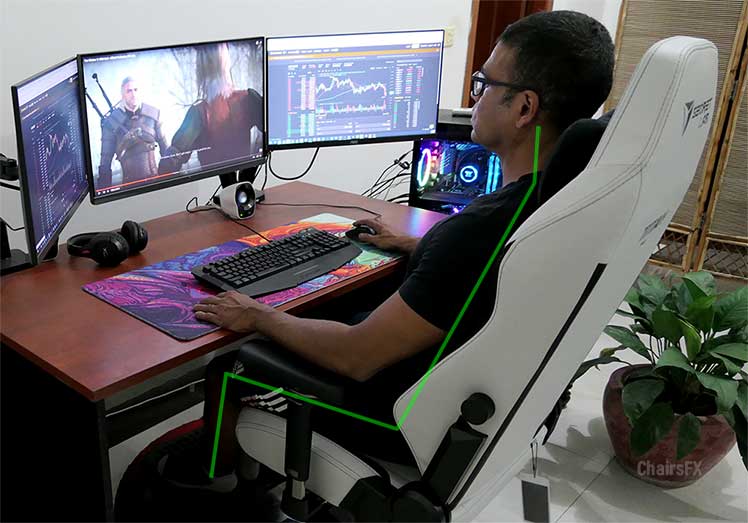 Ergonomic science unilaterally endorses neutral sitting positions as the healthiest for long periods. In a perfect neutral posture, the seated spine adopts the same alignment as a healthy standing one.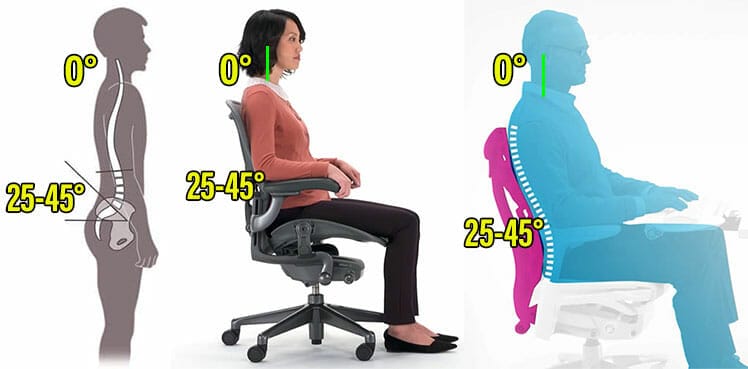 In a recent ChairsFX article on Text Neck Syndrome, a 0° tilt emerged as the ultimate neutral posture for the neck. A 25-45° seated lumbar curve replicates a healthy standing one.
Herman Miller chairs support these numbers out of the box. Here's how perfect posture looks in an Embody chair through all ranges of motion:

Since gaming chairs are also designed to support neutral postures, a 0° should also be possible.
Expert Esports Doctor Advice
To verify my tests, I reached out to three prominent esports doctors. All three had previously contributed to an article on healthy pro esports gamer habits.
Doctor Jordan Tsai: founder of Respawn Therapy (works with Evil Geniuses, Cloud9, TSM, etc); Secretlab Ergonomics Advisory Board member(2).
Dr. Elliot Smithson: DPT, PT, MS, ATC, EMT-b; physical therapist with 1-HP.org (works with G2, Team Liquid, 100 Thieves, Fnatic, etc); fitness freak. (3)
Dr. Willian Duncan: Doctor of Physical Therapy; owner of Southeast Physical Therapy; powerlifter; works with esports and traditional athletes(4).
Below, I serve as the guinea pig. My objective is to achieve perfect neutral posture targets (25-45° lumbar curve + 0° neck tilt) in a full-back gaming chair. For postural analysis, the good doctors chime in.
Test A: 0° Neck Tilt With NO Headrest
Recently, ChairsFX published an article about the problem with headrests on mid-back ergonomic chairs. Herman Miller insists that a headrest ruins posture on a mid-back chair.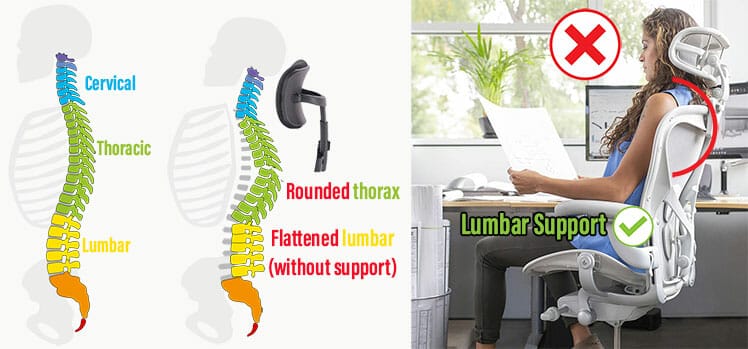 This could explain why most mid-back chair headrests are ill-fitting. In fact, from a biomechanical perspective, a mid-back chair headrest distorts the upper back and neck.
So headrests on mid-back chairs distort posture. Is this why so many pro esports players sit in gaming chairs without using one? But why do many players at the LEC Spring Split 2022 in Berlin(5) look to have terrible neck posture?
Result: Neutral Posture With No Headrest
In my first test, I copied the pros at LEC Spring Split 2022 and removed my headrest. Then, I tried to hold perfect neutral postures — with a 0° head tilt.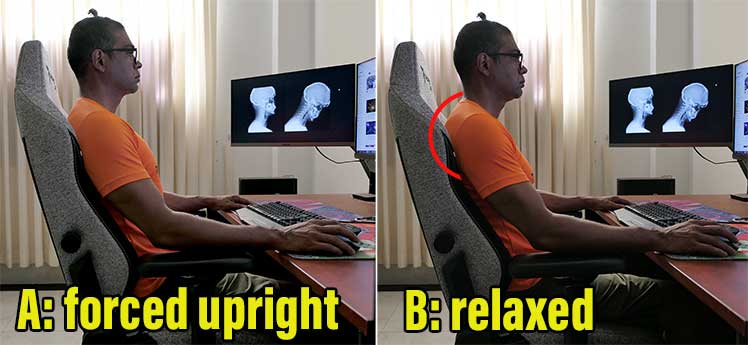 Position A felt comfortable enough to hold for long periods. But it also felt forced, making me worry about overworking back muscles.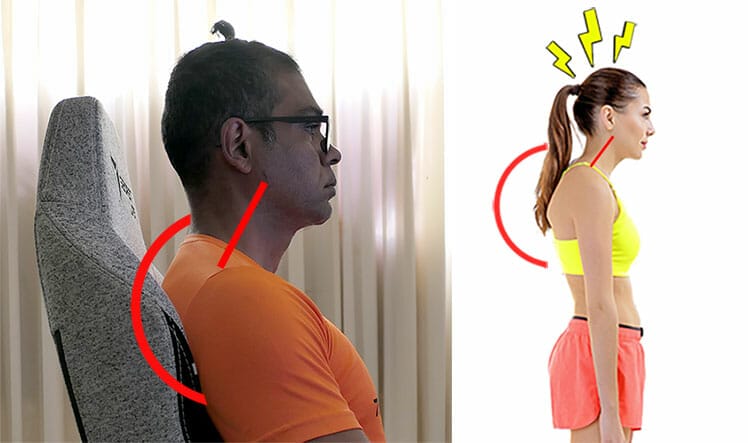 Position B felt comfortable, but the picture tells a different story. My upper back looks rounded and my neck looks ready to tilt forward.
Esports Doctor Feedback
Here is feedback from the three esports doctors on Positions A and B.
Dr. Smithson: Good Posture Needs a Strong Back
Dr. Elliot Smithson calls Position A a good reference for resetting your posture — with frequent movement breaks (5 minutes every hour). However, those with poor posture may find that posture unachievable.
"It might be difficult to maintain Position A because most people have decreased endurance of their deep back flexor muscles. That causes the head to drift forward naturally.
Strengthening these muscles is the best way to improve posture long term."
Dr. Duncan: Position B Is More Comfortable
Dr. William Duncan runs Southeast Physical Therapy in Georgia. It serves both esports and traditional athletes with an emphasis on optimal body mechanics.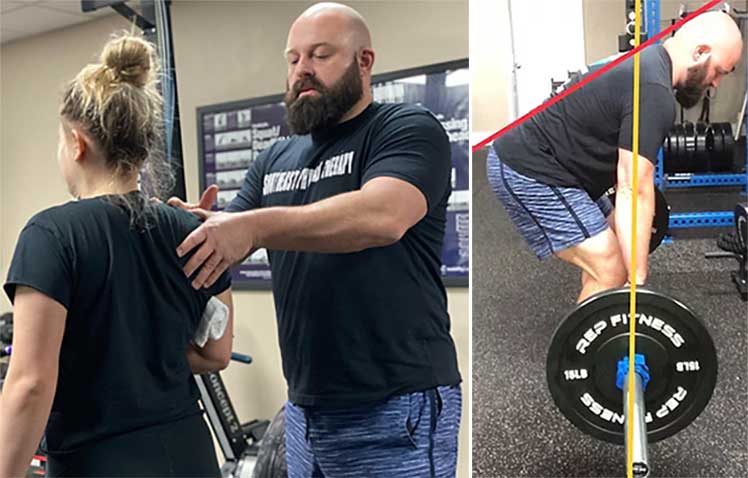 He agrees that A technically looks like the better position., However, he touts B as the more comfortable option (I agree).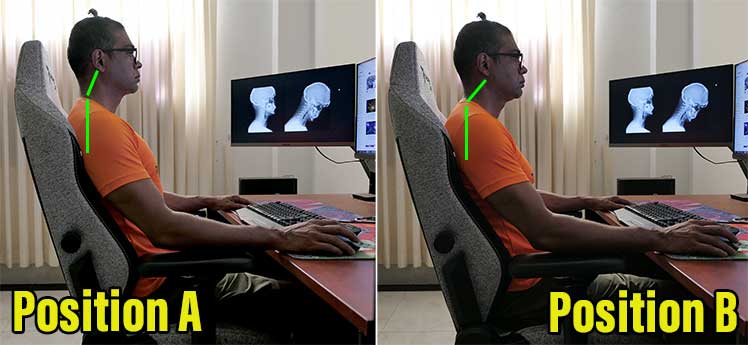 The reason: "As you utilize more cervical extension (increasing the curve), you're resting more on the shape of the joints/bones rather than using soft tissue (muscles, tendons, ligaments) to actively create support."
Active Vs Passive Back Support
Using muscles to support the spine is what Dr. Duncan calls an active support strategy. Using passive support by leaning on bones and joints is only useful in the short term. But should it become the primary strategy for sitting and working?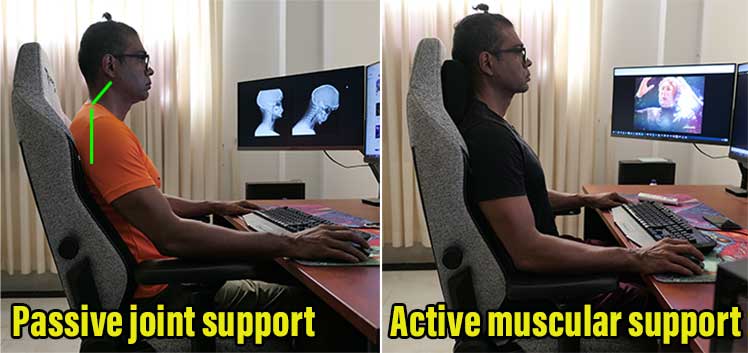 "Hell no! If a short-term strategy migrates into becoming your primary strategy it is going to cause compensatory patterns (tissues over or underperforming their tasks). If these patterns go on long enough they'll eventually result in pain."
Dr. Tsai: Secretlab Chairs Support A 0° Neck Tilt
When I reached out to Dr. Tsai, he was at the North American League of Legends Spring Finals in Los Angeles. There, he was working with Evil Geniuses, who went on to win their first LCS trophy. Even so, he took time out of his schedule to share some insights.
Dr. Tsai is also on Secretlab's Ergonomic Advisory Board. That makes him the perfect person to clarify the issue. He says that a zero-degree head tilt "is perfectly achievable using a neck pillow."
But with a deeper recline, a "slouched neck angle feels more natural". He advised me to reduce my backrest recline angle and try to hit a 0° neck angle again — with the pillow.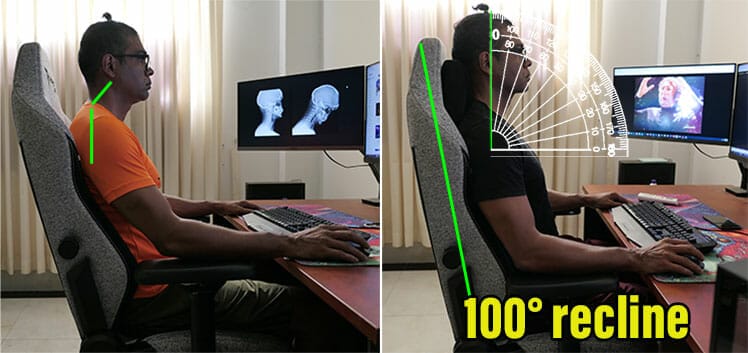 It works! With an almost-upright 100° recline, the headrest provided perfect support to keep my neck at a crisp 0° tilt. The position felt very comfortable right away.
Test B: 0° Neck Tilt WITH A Headrest
A zero-degree tilt is the ultimate neutral posture for the neck. Herman Miller chairs are designed to support this position at all times.

The purpose of this study was to see how well a full-back gaming chair could support similar postures. After five days of using a Secretlab Titan chair with Dr. Tsai's methods, the results have been great!

Here's a summary of my early impressions, plus feedback from the doctors.
Usage Report: Promising Early Benefits
A gaming chair with a 100° backrest tilt + headrest supports a 0° neck posture. After five days, this position has more or less become my default.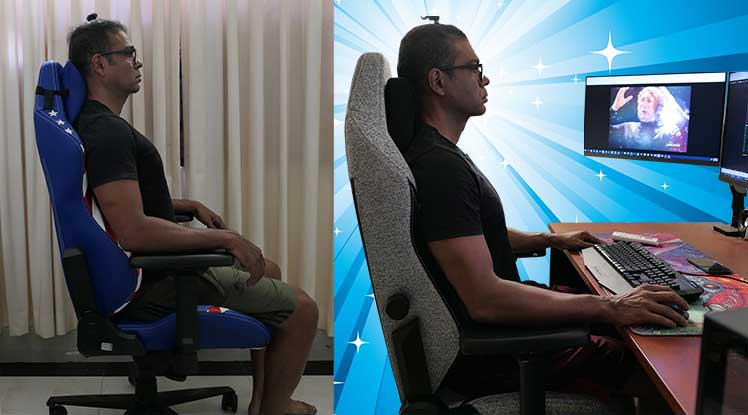 By day five, it's pretty much become a habit. Here's a day-by-day summary:
Day 1: very comfortable. But my head kept tilting forward every few minutes.
Day 2: still comfortable; head-tilt frequency down by 20%.
Day 3: head tilt frequency down by around 50%. I feel mild DOMS in my upper back and stomach muscles.
Day 4: head tilt is getting easier to catch and correct.
Day 5: I'm standing 1cm taller and my shoulders feel more open. I still need to keep attention on my neck posture.
In summary, after five days of practice, the experiment looks like a success. Beyond an annoying impulse to tilt my head forward, mild delayed onset muscle soreness (DOMS) was the only negative side effect.
DOMS is a mild soreness that athletes suffer from after a long activity break(6). For instance, if you lift weights after months of inactivity, your muscles will feel sore and tender for a few days.
I took this as a great sign. Exercising muscles using healthy motions lengthens them. That process creates microtraumas. To recover, the body produces new muscle cells. These make muscles stronger and better attuned to their intended tasks.
I felt mild DOMS for around a day in my upper back and stomach muscles. At the same time, my shoulders felt more open. Meanwhile, my lats were popping like after doing deadlifts.
Esports Doctor Feedback
Here is esports doctor feedback on a neutral posture with a 0° head tilt in a gaming chair:
Forward Head Tilt
I've found the biggest problem with this position is the tendency to tilt your head forward. If you don't keep that under control, trying to sit in this position might actually harm your neck!
Dr. Smithson: "Unless they're leaning back far enough to where gravity is letting them rest on the pillow, I think most gamers will inevitably start the forward head drift."
Dr. Duncan suggested using the pillow on the back of my neck as a 'tactile cue'. By day five of my practice, this has become my most important cue. When my head tilts forward, the back of my neck feels bare. When it's straight, I can feel the headrest cushion.
How To Self-Check Your Postures
I use three methods:
Screen method: set the top of your computer screen to your eye level (or slightly higher). In a perfect posture, your eyes line up with the top of the screen. If your eyes hit a lower point, it means your neck has sagged.
Tactile method: keep the headrest pressed to the back of your neck. If your neck tilts forward, you'll feel the headrest fall away.
Side profile photos: take photos of your posture from the side (as I've done for this article).
Dr. Duncan: "The most objective way to check the angle is to have a super friend or super spouse take a picture from the side when you're in your working/gaming position. Ideally, the picture is taken when you're not expecting it. Then, it will be your natural position rather than a potentially scripted/idealized position."
Other Factors To Consider
Earlier in this article, Dr. Smithson warned that you'll need strong back muscles to sit in perfect neutral postures. If you don't have those, try deadlifts and pullups in the gym for a month or so first.
But even then, he warns that the chase for 'perfect posture' never ends. "There's no such thing as a 'best' posture — everything will eventually cause pain. We say your next posture is your best posture."
Dr. Duncan also warned me to not get too excited about achieving an easy 0° neck tilt. "That's only part of the battle. To address head position and all of its influencing factors you must also address thoracic spine, shoulder, arm positioning, as well as your desk/monitor configuration.
Beyond your chair and body mechanics, the position of your computer screens has the biggest impact. "Make sure you have your monitor set up in such a way that places the middle of the monitor directly in front of your line.
You should then sit up tall with the head/neck in a good position. You should be able to scan the entire screen with your eyes and very slight head turns."
Esports Physical Therapy Help Online
If you suffer pain while working at a desk, check our Ergonomic Advice Library for help. For professional guidance, you can try online esports therapy. All three doctors who helped with this article take online bookings.
This article demonstrates how to get a diagnosis going with any of the three. Do the same as I did: take a side photo of your posture problem. Then, send it to them, explain your problem, and see if they can take on your case:
Doctor Jordan Tsai: founder of Respawn Therapy (works with Cloud9, TSM, Evil Geniuses, etc); Secretlab Ergonomics Advisory Board member. @DrJordantsai
Dr. Elliot Smithson: DPT, PT, MS, ATC, EMT-b; physical therapist with 1-HP.org (works with G2, Team Liquid, 100 Thieves, Fnatic, etc). @1HP_Medic
Dr. Willian Duncan: Doctor of Physical Therapy; owner of Southeast Physical Therapy; powerlifter; works with esports and traditional athletes.
How To Use A Gaming Chair Headrest
This article sought to test the veracity of an ergonomic rehabilitation concept:
Recipe: Biomechanical Targets + Muscle Memory = Perfect Posture + Benefits
It works! Using it, I've been able to 'program' my muscles to adopt a desired habit. Here is how to use a gaming chair headrest pillow to achieve a healthy 0° neck tilt:
First, set your backrest to a 100° recline angle. Then, focus on sitting in strict neutral postures. Plant your feet, support your lumbar curve, and sit with a straight upper back.
Then, the headrest should fit neatly into the nape of your neck. That will provide mild cushioning — plus a tactile cue to keep your head straight.
With a few days of practice, muscle memory will kick in to automate this process. So far, my early benefits include consistent comfort and a slightly taller, more robust standing posture.
Finally, if you have a mid-back ergonomic chair, you should find it even easier to maintain a 0° neck tilt.
The trick is somewhat counter-intuitive. You need to remove your chair's headrest to make it happen! Learn more:
Headrests On Mid-Back Chairs Distort Comfort And Posture
Karen Gerberry. 'How Avoiding Back Pain Could Be As Basic As Muscle Memory'. July 23, 2019. https://blog.vingapp.com/how-avoiding-back-pain-could-be-as-basic-as-muscle-memory, (accessed 20 April 2022).
Elizabeth Quinn. 'Understanding Delayed Onset Muscle Soreness (DOMS)'. March 10, 2022. https://www.verywellfit.com/muscle-pain-and-soreness-after-exercise-3119254, (accessed 20 April 2022).
LoL Esports Photos, 'LEC Spring Split Final 2022 – Berlin'. Flickr. https://www.flickr.com/photos/lolesports/page1, (accessed 22 April 2022).