Sitting with perfect back and neck posture in a gaming chair is possible. Last year, three esports doctors helped me achieve that in a Secretlab Titan. A year later, I'm still sitting with sharp neutral postures as a habit. That includes a 25-45° lower back curve and a consistent 0° neck tilt. This article simplifies full-back chair neck mechanics. Learn how to use your gaming chair headrest to support a perfect 0° neck posture.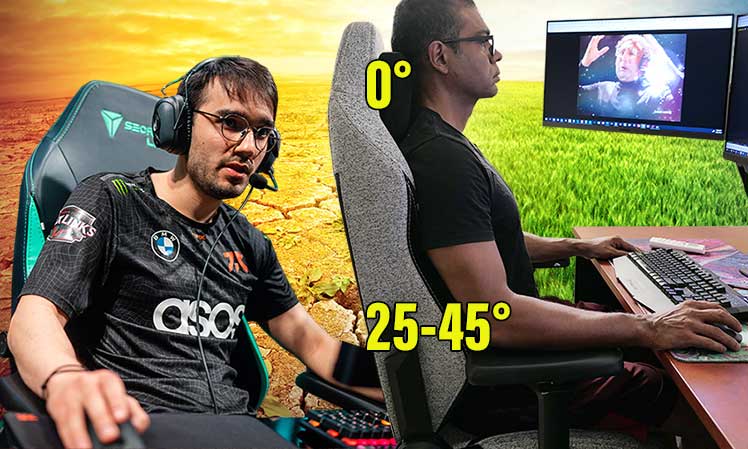 In March 2022, I started researching Text Neck Syndrome. The gist is that excessive mobile phone usage forces a severe forward neck tilt. Over time, that has the potential to distort the upper spine into an ugly kyphotic state.
To test my own upper back status, I removed the headrest on my Secretlab Titan Evo 2022 gaming chair. Then, I took two side photo poses. In the left shot, I'm consciously straining my muscles to sit as straight as possible. In the right one, I'm totally relaxed. That exposed me as a text neck syndrome victim!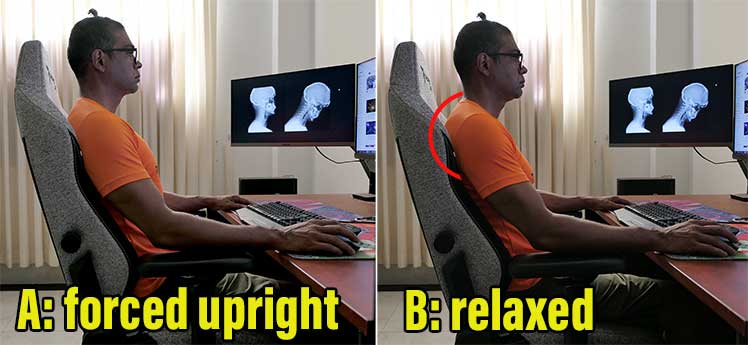 One esports doctor helped me fix this by properly configuring my chair. I then followed up with two other doctors to evaluate my new and improved 'perfect neck posture'.
Achieve A 0° Gaming Chair Neck Posture
Headrests on mid-back chairs distort posture. Meanwhile, many pro esports gamers compete in gaming chairs without headrests. As a result, many (like the pictured players at LEC Spring Split 2022(1)) have terrible upper back and neck posture.
So are gaming chairs (like mid-back office chairs) better without headrests? For an answer, I reached out to Dr. Jordan Tsai.
Dr. Tsai: Use A Headrest + 100° Recline
Dr. Tsai is an LA-based esports doc that works with top teams like Evil Geniuses and Cloud 9. He also serves on Secretlab's Ergonomics Advisory Board(2).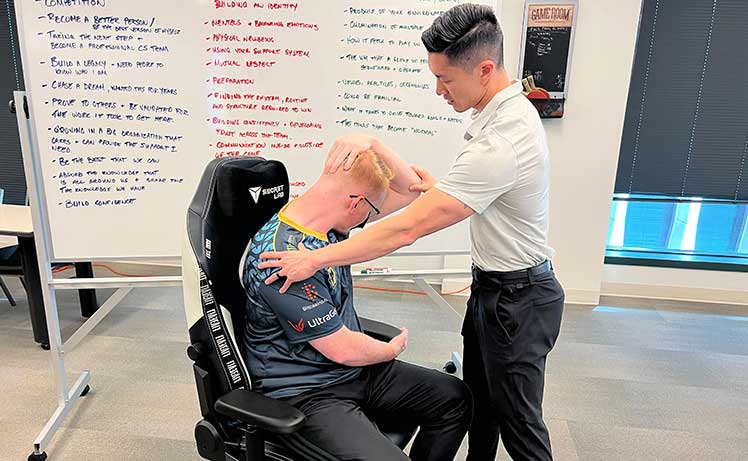 I sent him my ugly posture photos with two questions: "Does the Secretlab Titan support a 0° neck posture? Assuming yes, does it do so with or without a headrest?"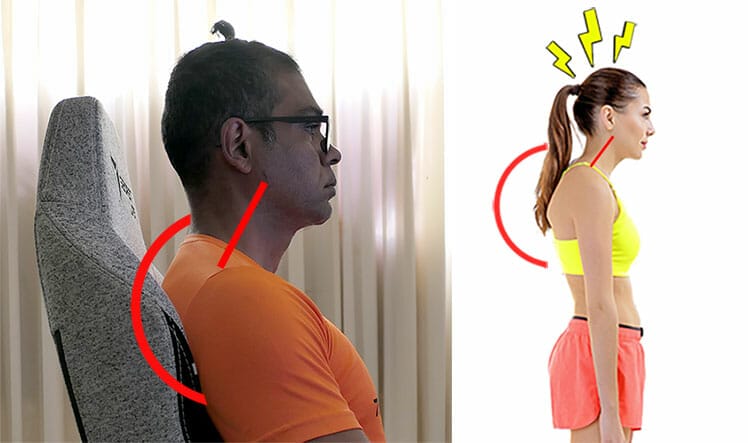 Dr. Tsai says that a zero-degree head tilt "is perfectly achievable using a neck pillow." Deeper reclines held for long periods cause issues. He advised me to reduce my backrest recline angle to 100° and try to maintain a 0° neck angle again — with the pillow.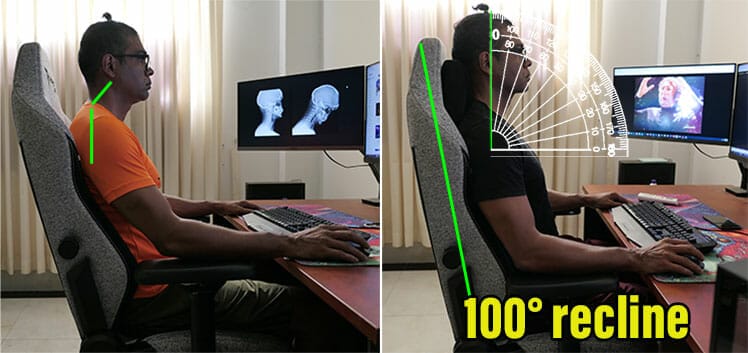 It works! With an almost upright 100° recline, the headrest provided perfect support to keep my neck at a crisp 0° tilt. The position felt very comfortable right away.
Dr. Smithson: You Need A Strong Back
Dr. Elliot Smithson works with 1-HP.org, one of the top esports therapy operations in America. He calls the 100° recline + headrest = 0° neck a good formula for resetting your posture — assuming frequent movement breaks (5 minutes every hour). However, those with poor posture may find that posture unachievable.
"It might be difficult to maintain because most people have decreased endurance of their deep back flexor muscles. That causes the head to drift forward naturally."
If you find the 100° recline + headrest = 0° neck method too strenuous, consider that a symptom. "Strengthening these muscles is the best way to improve posture long term."
Dr. Duncan: Active (good) Vs Passive Support
Dr. William Duncan runs Southeast Physical Therapy in Georgia. It serves both esports and traditional athletes with an emphasis on optimal body mechanics.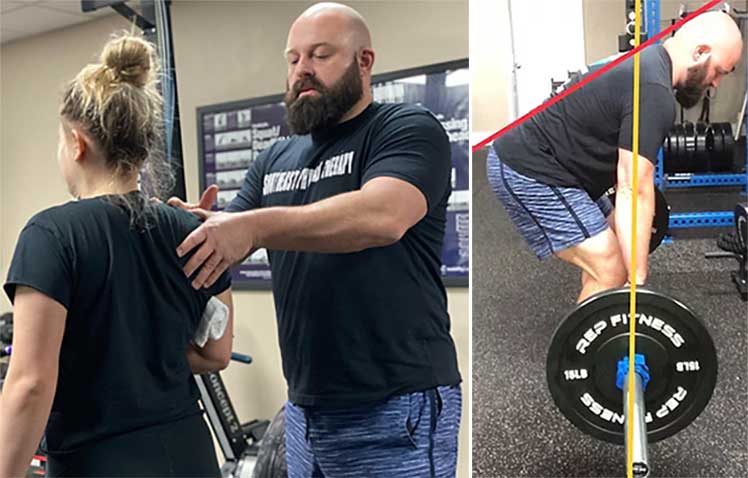 He diagnosed my original posture photos by noting most people would find Position B more comfortable. "As you utilize more cervical extension (increasing the curve), you're resting more on the shape of the joints/bones rather than using soft tissue (muscles, tendons, ligaments) to actively create support."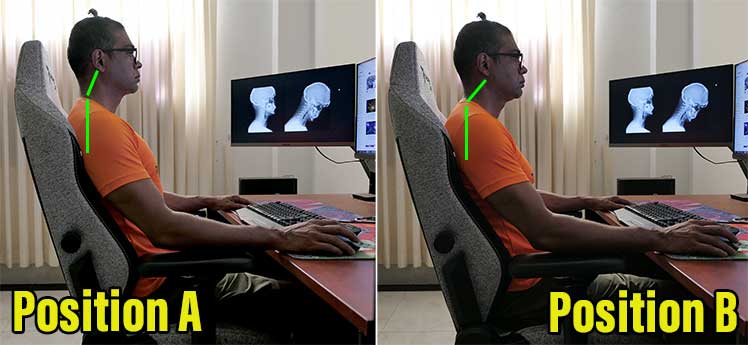 However, using Position B as one's primary sitting strategy may lead to a health disaster. "It is going to cause compensatory patterns (tissues over or underperforming their tasks). If these patterns go on long enough they'll eventually result in pain."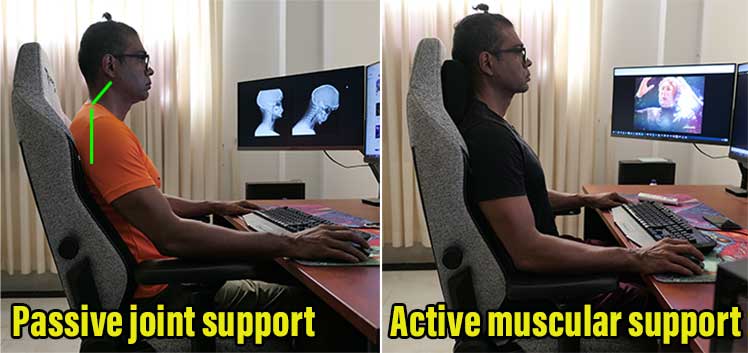 Instead, he gave the same advice as Dr. Smithson: if sitting up straight feels too strenuous, hit the gym to strengthen your back muscles.
Warning: 100° Recline = Forward Tilt
Sitting with a steep 100° recline helps me to maintain a clean 0° neck tilt. In my first few weeks sitting this way, preventing my head from tilting forward was the biggest challenge. Two of the esports docs agreed:
Dr. Smithson: "Unless they're leaning back far enough to where gravity is letting them rest on the pillow, I think most gamers will inevitably start the forward head drift."
Dr. Duncan suggested using the pillow on the back of my neck as a 'tactile cue'. By day five of my practice, this has become my most important cue. When my head tilts forward, the back of my neck feels bare. When it's straight, I can feel the headrest cushion.
How To Self-Check Your Postures
I use three methods:
Screen method: set the top of your computer screen to your eye level (or slightly higher). In a perfect posture, your eyes line up with the top of the screen. If your eyes hit a lower point, it means your neck has sagged.
Tactile method: keep the headrest pressed to the back of your neck. If your neck tilts forward, you'll feel the headrest fall away.
Side profile photos: take photos of your posture from the side (as I've done for this article).
Dr. Duncan: "The most objective way to check the angle is to have a super friend or super spouse take a picture from the side when you're in your working/gaming position. Ideally, the picture is taken when you're not expecting it. Then, it will be your natural position rather than a potentially scripted/idealized position."
BONUS: Smart Fitness > Chair Posture
Doctors Jordan Tsai, Elliot Smithson, and William Duncan are all doctors who specialize in esports/ athletic performance optimization. Another thing they have in common is that they all tout smart fitness as more important than ergonomic chair support.
The first two are dismissive of striving for perfect postures — in whichever type of chair you use:
Dr. Tsai: "Rest/nutrition/exercises > breaks > good posture > good chair. Developing healthy habits is the most important thing to work on."
Dr. Smithson: "Strengthening these muscles is the best way to improve posture long term."
Meanwhile, Dr. Duncan suggests that striving for 'perfect' posture is neverending and complicated. Beyond a 0° neck tilt, "you must also address thoracic spine, shoulder, arm positioning, as well as your desk/monitor configuration."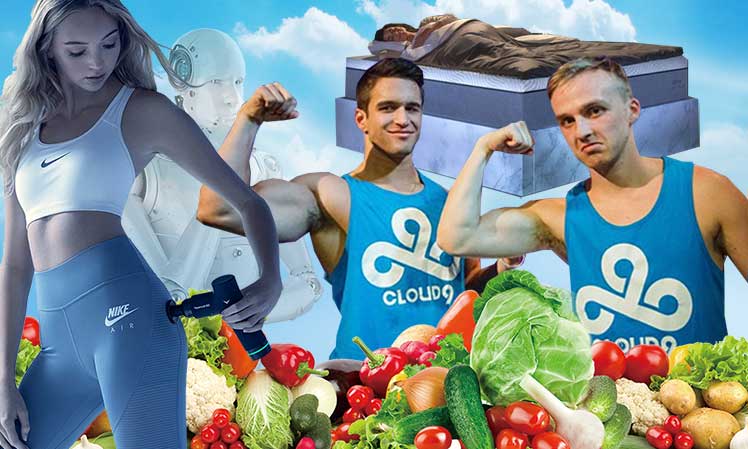 These ideas are consistent with modern concepts in pro esports performance. While a good chair + proper usage helps, exercise + nutrition + proper sleep super sweetens computing performance.
Esports Physical Therapy Help Online
If you suffer pain while working at a desk, check our Ergonomic Advice Library for help. For professional guidance, you can try online esports therapy. All three doctors who helped with this article take online bookings.
This article demonstrates how to get a diagnosis going with any of the three. Do the same as I did: take a side photo of your posture problem. Then, send it to them, explain your problem, and see if they can take on your case:
Doctor Jordan Tsai: founder of Respawn Therapy (works with Cloud9, TSM, Evil Geniuses, etc); Secretlab Ergonomics Advisory Board member. @DrJordantsai
Dr. Elliot Smithson: DPT, PT, MS, ATC, EMT-b; physical therapist with 1-HP.org (works with G2, Team Liquid, 100 Thieves, Fnatic, etc). @1HP_Medic
Dr. Willian Duncan: Doctor of Physical Therapy; owner of Southeast Physical Therapy; powerlifter; works with esports and traditional athletes.
Office Chair Headrests HARM The Spine!
A 0° neck tilt while standing and sitting perfectly balances the head atop the shoulders. This reduces muscle activity in the Cervical Erector Spinae (CES) and Upper Trapezius (UT).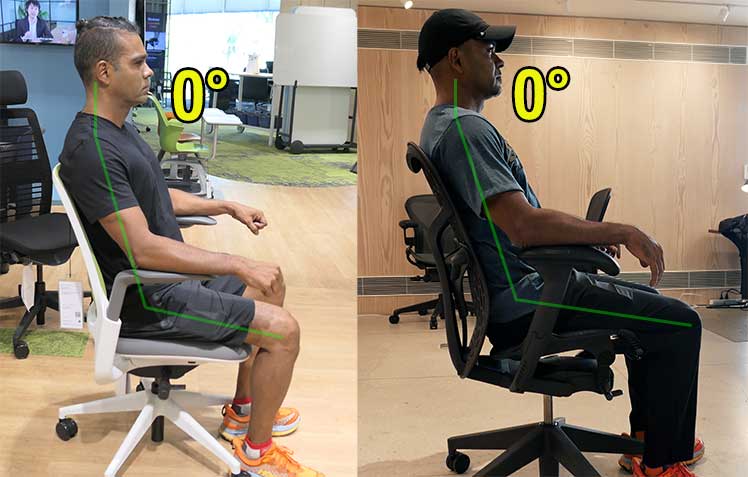 Mid-back ergonomic chairs support perfect neck posture without headrests. With planted feet and a supported lower back, the head naturally balances evenly above the shoulders.
Adding a headrest to a mid-back chair distorts posture by tilting the head off the centerline. For instance, when set to its most upright recline angle, the Steelcase Leap headrest forces the head slightly forward.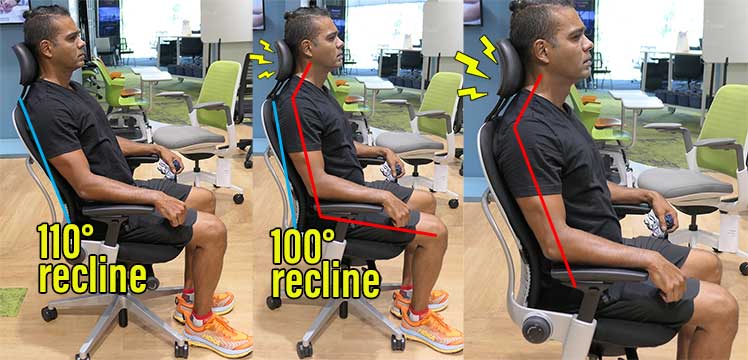 That amount of slight tilt (forward or rearward) forces the thoracic spine to curve outward more than normal. That sets off a chain reaction.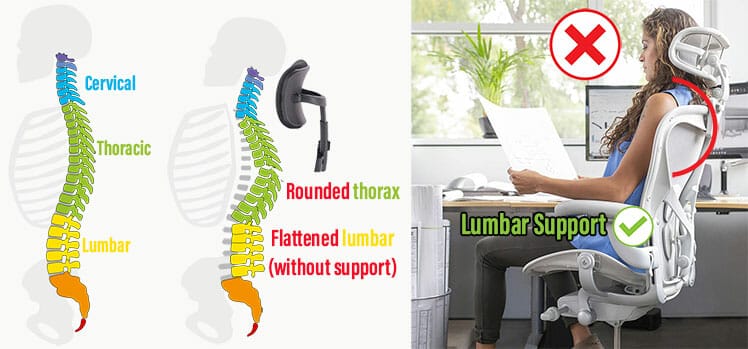 A hyper-extended thorax flattens the lower back curve by 6.6°. A 30° recline + headrest – lumbar support = a 17° lumbar curve reduction. Learn more:
0° Neck Gaming Chair Posture: Worth It?
Is it worth sitting in a gaming chair with a 0° neck tilt? Dr. Smithson warns that you'll need strong back muscles to even consider it. But even so, the search for 'perfect posture' never ends.
There's no such thing as a 'best' posture —
everything
will eventually cause pain. We say your next posture is your best posture.​
Dr. Elliot Smithson
Dr. Duncan also warned not to get too excited about achieving a 0° neck tilt. "That's only part of the battle. To address head position and all of its influencing factors you must also address thoracic spine, shoulder, arm positioning, as well as your desk/monitor configuration."
Meanwhile, Dr. Tsai dismissed my efforts as overkill. He touts a "range of motion exercises, strengthening, and stretching" as more important than a good chair to maintain a gamer's computing health.
In fact, my sharp upright style is one of nine neutral posture variations available to desk workers. Several are more relaxed and arguably more 'natural' than my 0° neck style.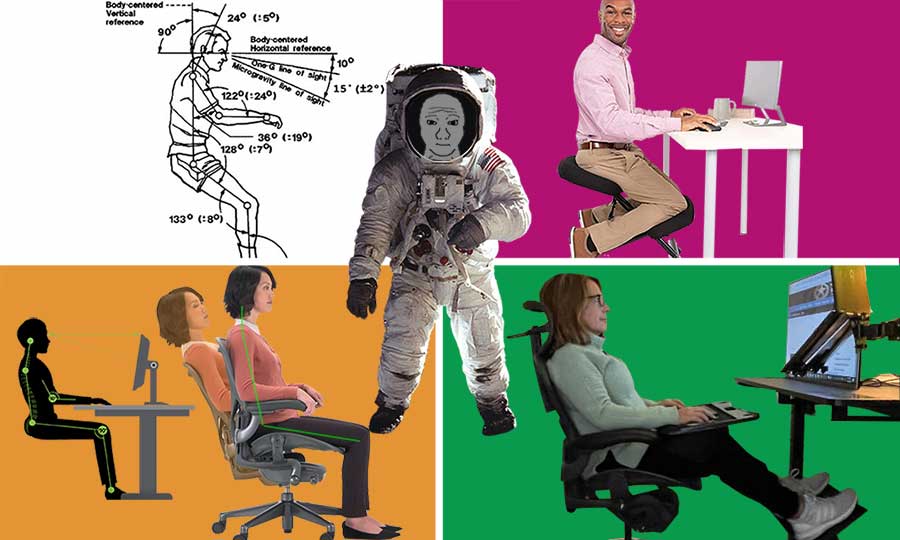 The constant: all demand dynamic movement and frequent breaks for the best results. So no matter what neutral style you choose, disciplined use that keeps your muscles active is essential.
Neutral Posture Biomechanics & Variations
Personal Benefits Testimonial
I've now been sitting with a 100° recline + 0° neck tilt for one full year. The adjustment period took a disorienting two weeks. During that time, I constantly fought the urge to tilt my body forward.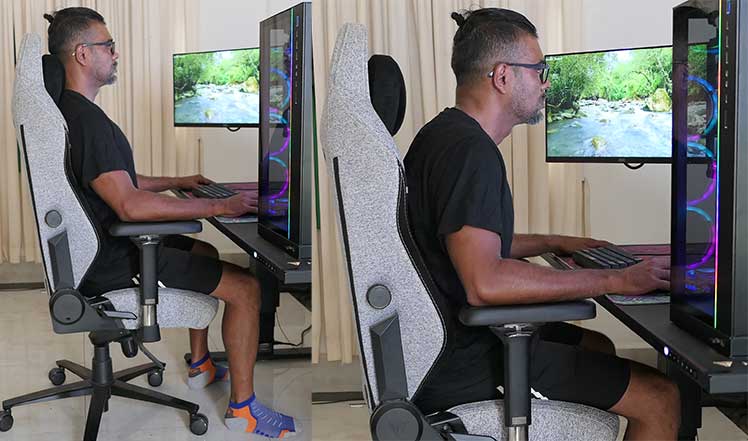 But the original mission was a text neck syndrome remedy. Once I had reprogrammed my seated muscle memory, I added a Magnus Pro sit-to-stand desk to help preserve it while mobile computing and standing.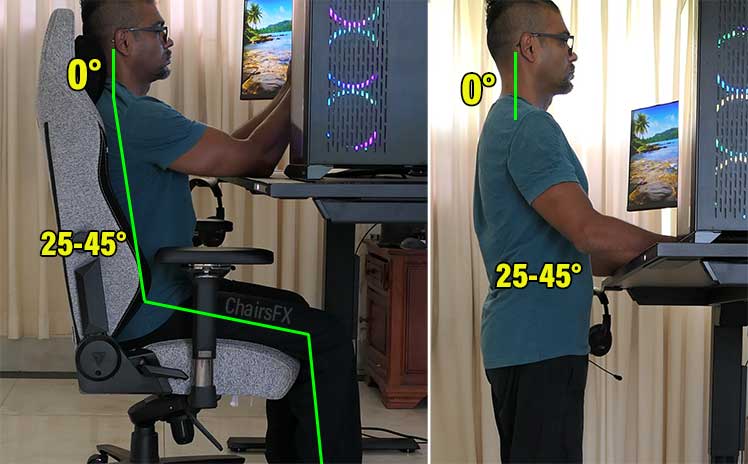 Over the past 12 months, it's been an educational ergonomic adventure. The early benefits I noticed were similar to the initial benefits earned by using a gaming chair (for good lower back posture only). Versus my old text neck posture, I gained more energy and sharper focus while computing.
After 60 days or so, I started noticing cosmetic standing posture improvements. With my upper back posture ironed out, my standing height grew by 2 cm. That broadened my shoulders and gave my stomach a flatter look.
I've also noticed that sitting with a 0° neck in my Secretlab gaming chair looks similar to sharp neutral postures in much pricier chairs.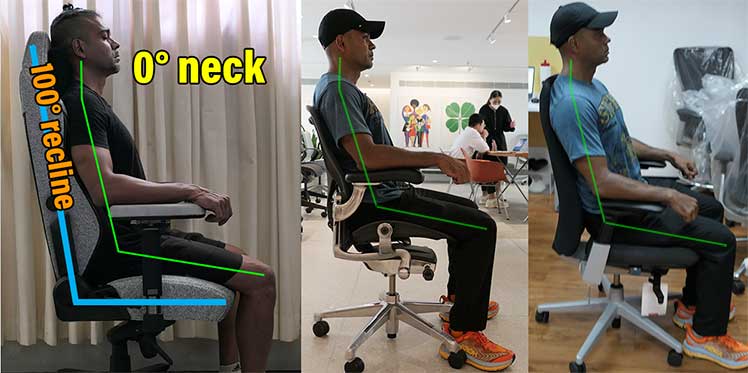 In my experience, striving for a 0° neck tilt gaming chair neutral posture habit is worthwhile. For one thing, doing so in a gaming chair delivers the same neutral posture + 0° neck tilt as fancy office chairs 3 times the price!
For another, the benefits of sitting this way are obvious. Beyond avoiding back and neck pain, you'll gain more energy, sharper focus, and some cosmetic posture improvements as well!

Bottom line: gaming chairs with headrests and office chairs without headrests both support perfect postures with a 0° neck tilt. Success depends on proper chair configuration and then proper usage. Master all steps below:
How To Sit: Gaming / Ergonomic Office Chair Neutral Posture
LoL Esports Photos, 'LEC Spring Split Final 2022 – Berlin'. Flickr. https://www.flickr.com/photos/lolesports/page1, (accessed 22 April 2022).
Secretlab.co. 'Ergonomics Advisory Board'. https://secretlab.co/pages/technology