Back in 2017, my first gaming chair gifted me a deluge of life-changing benefits. Six years later, this article re-validates those benefits from a first-time user's perspective. Recently, I gave away a gaming chair to a desk worker — with some predictions. First, it would improve his sitting posture. Second, improved posture would supercharge his energy levels. Third, excess energy would give him razor-sharp cognitive focus. Fourth, he'd gain a greater awareness of his body and its surroundings. These are the key gaming chair benefits for everyone (who uses proper technique). So let's put these supposed benefits to the test.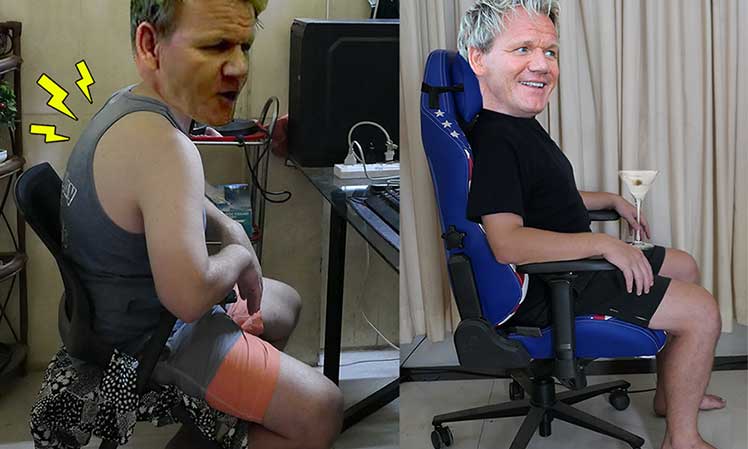 According to the WHO, around 22% of adults worldwide suffer from musculoskeletal disorders (MSDs). Lower back pain is the leading cause of disability in 160 countries.
Even so, many people still sit for long periods without proper support. Then, they suffer consequences. Other common MSDs linked to unhealthy sitting habits:
Chronic fatigue: a misaligned spine overworks muscles, leaving users perpetually exhausted.
Migraines: forward head posture strains neck muscles until pain explodes in the skull.
Wrist pain: 4 million Americans suffer from carpal tunnel syndrome.
Neck pain: the fourth-leading cause of disability in America.
Shoulder pain: causes around 4.5 million USA doctor visits per year ($3 billion cost).
Poor circulation: poor posture restricts blood flow, causing varicose veins (especially in women).
Fast forward again to 2023. We gifted a DXRacer Craft Series to a full-time desk worker with poor posture. With the chair we gave him these predictions:
His posture would improve.
He'd experience a noticeable surge in his energy levels.
With more energy, he'd enjoy sharper focus and greater desk work productivity.
He'd gain a greater awareness of his body and its surroundings. The first sign of that would be a cleanliness obsession.
Excess energy would power new physical fitness routines.
Benefits of Using An Ergonomic Chair
Englishman 'Gordan Ramsey' is a chef who does online consulting. He's got various aches and pains that he's learned to live with. He stands 5'7″ tall (170 cm). After hearing his story, ChairsFX decided to gift him a DXRacer Craft Series (rated for sizes 5'2″ to 5'7″).
Before he sat down, I adjusted the seat height so he could sit with a 90° knee bend with firmly planted feet. Then I set the backrest recline to a steep 100° angle. After that, I gave him these instructions:
Tuck your hips deep into the seat.
Plant your feet firmly on the floor.
Use the lumbar support to brace your lower back.
Prop your torso up by using the armrests.
Focus on sitting upright comfortably (without strain).
I also played him this video clip to make sure he locked down the basics:
After a couple of days, he started reporting early benefits. After three weeks, he's achieved 4/5 predicted benefits (no new physical fitness routines). Here's a summary of his early benefits and the science that predicts it:
Gaming AND Ergo Office Chair Benefits
Most of the world's most famous ergonomic office chairs use the same lumbar-powered support principles. First, adjustable lumbar support aligns the spine. Second, adjustable arms provide extra bracing to hold the spine upright.

Third, a reclining backrest lets you customize support angles. For upright desk work support, a recline between 100-110° works best. Combined, these components support neutral sitting postures.
All chairs that use these components provide similar end results. See for yourself:

So it doesn't matter if you use a full-back gaming chair or a mid-back ergonomic office chair. Regardless of your pick, proper usage matters. Then, everyone can enjoy the stated benefits (more energy, sharper focus, greater spatial awareness, etc).
Even so, there are a few special benefits for men, women, and kids to especially look forward to:
Conclusion
What are the benefits of using a gaming chair? Back in 2017, I found several. However, to freshen things up, I recently gifted a gaming chair to a desk worker with some benefit predictions.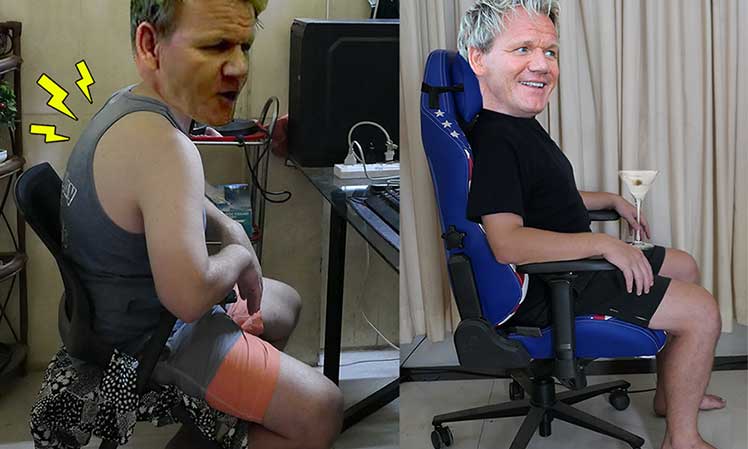 Improved posture.
A noticeable surge in energy levels.
More energy yields sharper focus and greater desk work productivity.
More energy also yields a greater awareness of one's body and its surroundings. That often leads to a newfound cleanliness obsession.
Excess energy eventually powers new physical fitness routines.
After two weeks, 'Gordan Ramsey' reported that four of the five benefits had already kicked in. But since he has a bad knee, a physical fitness expansion isn't likely.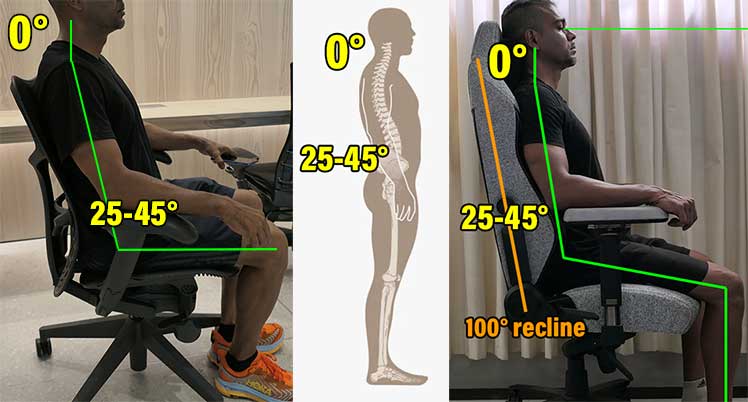 In conclusion, these are the benefits to expect from a gaming chair. With proper usage, you'll enjoy more energy, sharper focus, and greater spatial awareness. Very often, excess energy may also lead to healthy lifestyle improvements.
Bottom line: any chair with adjustable lumbar + arms + a reclining backrest = neutral posture support. With proper usage, gaming chair benefits emerge. Learn more:
Gaming & Ergonomic Office Chair Neutral Posture QuickStart
Footnotes