The 'leaning forward' gamer meme gained traction because so many gamers can relate. When it's 'go time', gamers lean forward to maximize focus and alertness. The meme gained traction in 2021 when a University of Leeds study confirmed the assumption. In a study of gamers playing FIFA, those leaning forward scored twice as many goals! But there are postural drawbacks. So what's the consensus on forward-leaning gamer postures in 2023? Here, three top esports doctors argue for and against the forward-leaning gamer posture style.
The leaning forward gamer meme inspired a 2021 survey. The University of Leeds polled 1,000 gamers(1) and found:
76.9% of players lean forward while playing video games.
54.7% believe a forward lean improves their gaming ability.
Only 9.3% of gamers consciously lean forward; the rest do so instinctively.
Based on these findings, Dr. Andrea Utley conducted a study. Her aim: to determine whether forward positions actually improve FIFA gameplay. It did!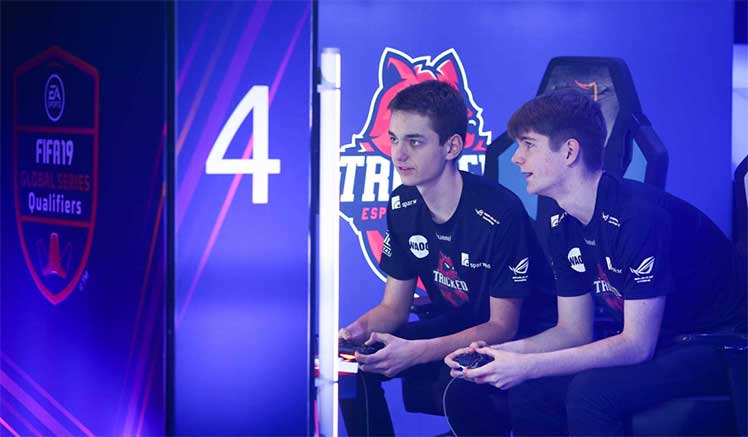 Players in the study who leaned forward scored twice as many goals as those who didn't (110 vs 52). But Dr. Utley's conclusion(2) came with a warning:
Moving your main sensory system closer will help your focus and concentration, but
without full postural support
, especially from the trunk and neck muscles,
you will get fatigued
.​
Dr. Andrea Utley
A year after Dr. Utley's findings were published, Herman Miller released the new Vantum Gaming Chair — specially designed to support forward-leaning postures!
Vantum: Forward-Leaning Gamer Chair
Herman Miller is the flagship brand of MillerKnoll, the world's largest office furniture corporation.
In October 2022, the company paid tribute to the forward-leaning meme in its Vantum Chair press release: (3)
The Vantum Gaming Chair supports the
active-gaming-forward posture
, a position proven to
fuel focus
and
faster reaction times
.​
Vantum Chair Press Release
To support forward-leaning postures, the Vantum Chair does a few things:
A shorter seat pad forces users into active/ upright postures as soon as they sit down.
Adjustable posture support reinforces the lower back and pelvis to prevent slouching.
Tilt adjustments and a headrest enable reclined movement.
Herman Miller Gaming GM Jon Campell noted that "gamers require versatility. A strong active posture is critical for gameplay, but having an equally supported, reclined position for moments of relaxation is key."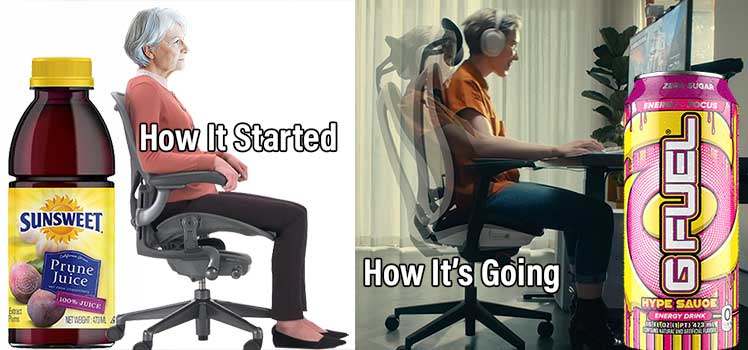 The end result looks like a relaxed version of a classic strict neutral posture. It compares well with the Respawn Flexx, another gaming/ office-style chair made by the HNI Corporation.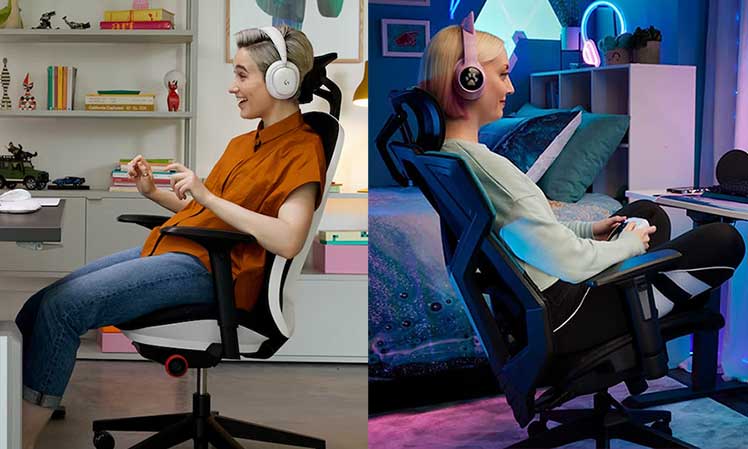 Both support casual postures rather than enforcing strict ones. Are these chair concepts viable in 2023? To find out, the next section brings esports doctor and physical therapist expertise to the discussion.
Esports Therapist Forward-Leaning Tips
Last year, ChairsFX got sitting pain relief advice from Doctors Jordan Tsai and William Duncan. Recently, Dr. Tsai posted his own forward-leaning gaming style on Twitter.
I copied his method, took photos, and asked two other esports docs to critique my posture. That yielded a goldmine of forward-leaning postural insights.
Dr. Jordan Tsai: forward active gaming posture + passive support resting version.
Jeannie Koulizakis (ErgoX): reclined postures + raised feet > forward-leaning postures.
Dr. Willian Duncan: active gamer lean + passive support breaks + movement breaks are good. Adjustable workstations (standing desks and monitor arms) help to mix things up — to keep muscle tissues guessing.
Significantly, all three viewpoints are consistent with shifting institutional ergonomic trends. The World Economic Forum's '4th Industrial Revolution' seeks to connect the world to a massive Internet of Things (IoT).
But to make that happen, institutional ergonomic design has shifted away from the cubicle-era back support concept. Instead, multi-device support with sedentary solutions takes precedence.
From that perspective, all of the advice proffered below has merit:
Dr. Jordan Tsai: Upright Active + Passive
Dr. Tsai is the Gigachad of the LA Physical therapy scene. He founded Respawn Therapy(4) and works with many of the world's top esports teams.
He's also a former marine who is absolutely shredded (check out his 8-pack on Twitter). On top of that, he's also a Secretlab Ergonomics Advisory Board Member(5).
Recently, in honor of World Health Day, he posted his preferred forward-leaning and relaxed sitting styles on his Twitter(6), using a Titan Evo 2022 gaming chair.
Before sitting, he advises you to make sure your chair is properly adjusted. In brief, that means a proper seat height + lumbar support height + backrest recline angle. Then, he suggests switching between active and passive postures: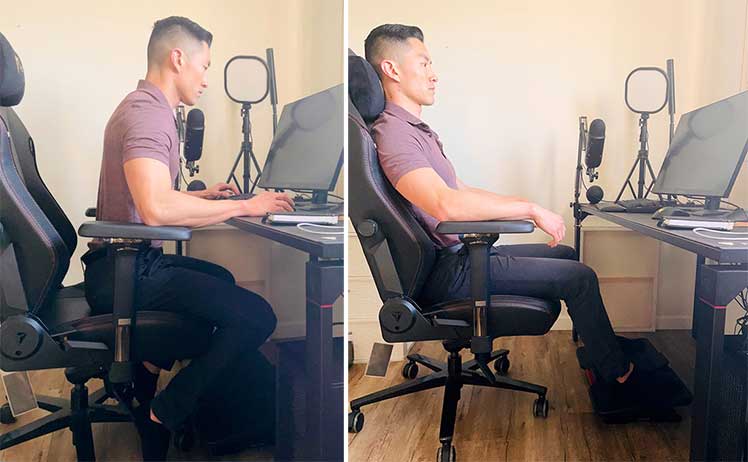 Active postures support healthy forward-leaning gaming. Passive postures give your muscles a break by using the chair for postural support instead. His summary:
Active posture: sit at the front half of the seat, knees down and elbows supported. This is your typical "gaming position". A straight lower back = a straight neck.
Passive Posture: use reclined sitting positions for full offloading of muscles between games. Make sure to scoot all the way back in the seat, use a footrest, and keep the neck pillow at the back of the neck (not your head!). This is the "watching videos or playing casual TFT position".
I tried to copy Dr. Tsai's forward-leaning style. After a few minutes, I found a similar position that I could comfortably hold for more than 10 minutes.
It felt ok-ish. Holding my back super-straight didn't feel strenuous. However, the harsh curl it forced on my toes felt extreme.
Jeannie Koulizakis: Reclined Postures Better
Jeannie Koulizakis is a physical therapist, ergonomics researcher, inventor, and corporate consultant. She founded ErgoRX.com and the Ankorite System, an ergonomic workspace planning system(7). Her clients include NASA, the Department of Defence, and the U.S. Coast Guard.
Jeannie's Linkedin comments(8) yield a goldmine of information about Ankorite builds. These are customized workstations that position users into reclined postures with elevated feet.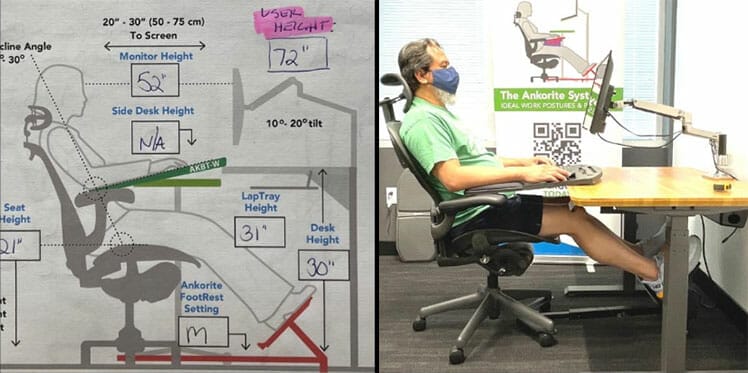 The end result mimics the posture car drivers need to operate gas pedals. This is by design:
Angled, articulating pedals allow for the knee to be at a more open, 120° angle. That's the knee power position that allows the glutes and quad muscles to fire even in a seated recline… and help decompress the spine while seated.​ ​
Jeannie Koulizakis, ErgoX.com
The Ankorite System emphasizes reclined postures. I sent her a pic of my forward gaming posture and asked for feedback.
Forward Vs Reclined Postures
Jeannie dismissed my forward-leaning posture outright. "There is no forward-leaning, on tippy toes, like you demonstrate in your pic. That is simply unhealthy on so many levels."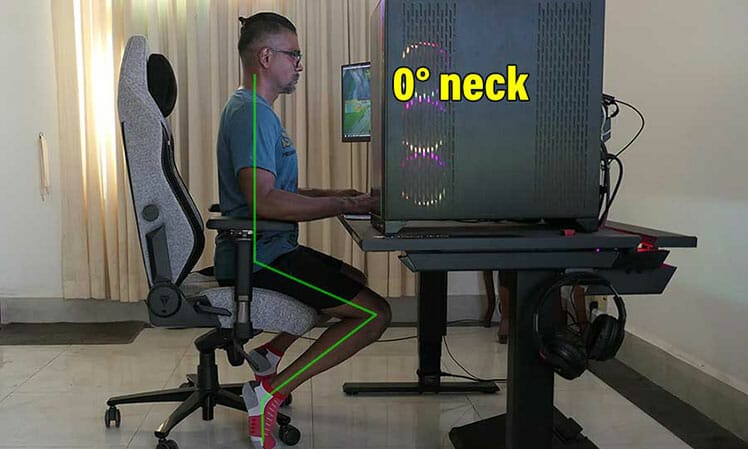 Indeed, many studies have endorsed Ankorite-style reclines. Sitting with slightly elevated feet and knees bent beyond 90° reduces the total power absorbed by the seat.
Then, instead of gravity pulling your body downward, it curls through the hips and into the spine. As a result, desk workers can enjoy healthy postures by working in sync with gravity, rather than against it.
Forward-Leaning Postures Are Bad For You
Forward-leaning postures conflict with reclined Ankorite System ones. Given that perspective, Jeannie was strongly opposed to all types of forward-leaning posture.

Summary of her critique:
There is no such thing as a healthy "forward-leaning" posture during computer-based work.
The only reason gamers choose to lean forward: they've never had the luxury of gaming at a desk that supports them while they lean back.
Once a person experiences an ideal posture to optimize focus, they don't ever go back.
From her view, a proper workstation (chair + desk + accessories) that supports leaning back + foot compression is king.
"Once gamers experience that, forward-leaning goes away completely.

The trick: having the right equipment that can be adjusted. "Like a suit, a good-fitting workstation requires that things be the right size and tailored to the unique physical attributes of the individual user."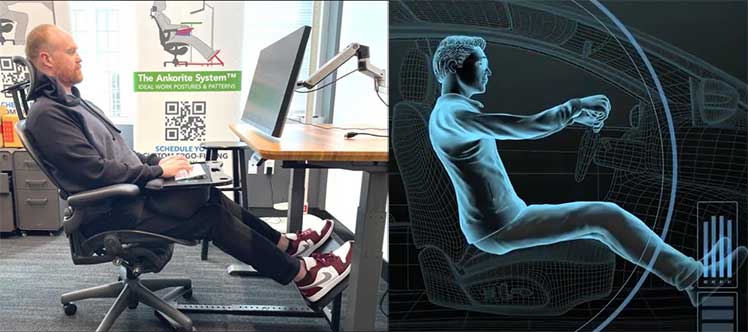 From a historical perspective, the Ankorite system resembles the neutral posture car seats Nissan developed in 2005.
These days, a mild recline + elevated foot posture is also the norm for long-distance commercial pilots. Learn more:
Dr. Duncan: Mixed Postures + Movement
Dr. William Duncan runs Southeast Physical Therapy in Georgia(9). His clinic serves esports and traditional athletes with an emphasis on optimal body mechanics.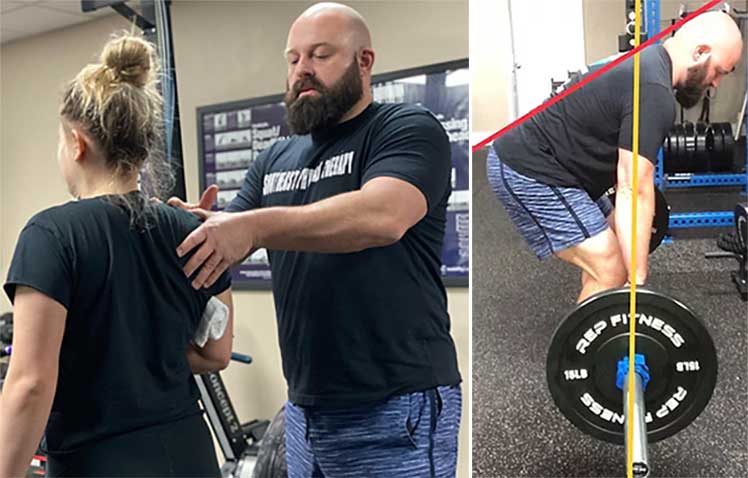 Dr. Duncan had previously advised me about achieving a zero-degree gaming chair neck tilt. In the process, he brought up the concept of active vs passive sitting support.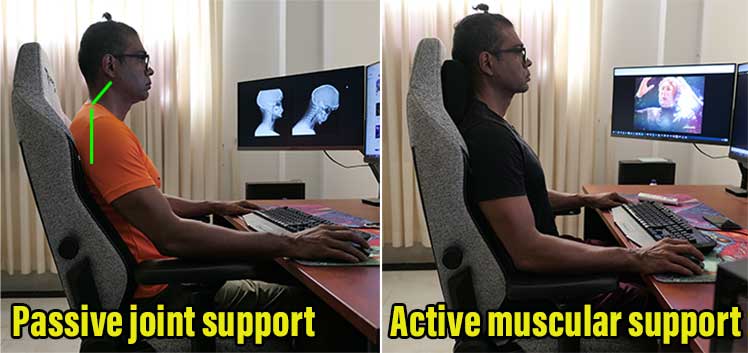 In the above-left photo, I'm relaxing my back muscles. That forces my neck and shoulder joints to hold my head up against gravity. In the right photo, I use my back muscles to hold my torso upright (good posture). The problem: back muscles get tired.
Move Your Body Between Sessions
I sent Doctor Duncan four photos and asked for his feedback. These were Dr. Tsai's active + passive postures, my forward-leaning attempt, and a forward posture in a Herman Miller Vantum:
He found Dr. Tsai's active and passive postures spot-on. Having a passive support fallback is essential to offload tissue stress between games. "Even relaxing back while waiting to respawn can be beneficial in prolonging your capabilities.
If there's more significant time between rounds, you can also stand up, kneel down on both knees, or half kneel on a single knee as if you're lunging.
If I feel myself getting tight during a longer game, I'll kneel in front of my desk. I make sure to manage the necessary desk adjustments to accommodate this new position. Then it's often helpful in keeping my back, hips, and knees from getting tight while sitting for extended periods of time."
Forward-Leaning Critiques
Doctor Duncan then focused on my forward-leaning posture attempt and the Herman Miller Vantum example: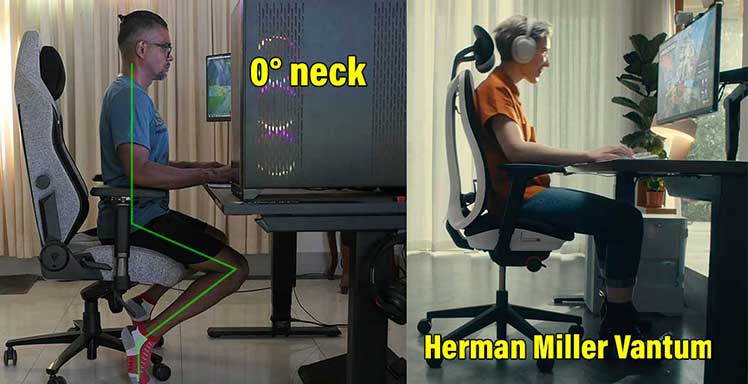 My forward-leaning posture: looks good: neutral and supported. But you'll hit a postural fatigue "wall" if you maintain that for an extended period. Taking breaks or changing positions is the only way to avoid this wall.
Vantum chair forward posture: not good. The player is slumped into the chair; low back rounding, upper back rounding, head drawn forward (possibly crowded by the headrest). I'd argue that raising the monitor height would address some of these flaws.
Versatile Workstations Help A Lot
Dr. Duncan then echoed the benefits of using an Ankorite-style workstation. That basically involves stacking a sit-to-stand desk + adjustable monitor arms + a good desk chair.
A 3-piece kit (standing desk + chair + screen arms) enables myriad options. For instance: "If a player prefers to lean in close for more control and accuracy, I'd encourage them to bring their monitor (not their face) closer.
Split the distance: instead of leaning your head 12″ towards the monitor, bring the screen forward 2-6″. The distance to 'close the gap' decreases and you end up working less to accomplish the same thing."
Movement Beats The Need For Perfect Postures
These days, it's widely accepted in pro esports circles that movement beats posture as a performance booster. For example, Dr. Tsai had previously advised ChairsFX not to overthink sitting postures:
Rest/nutrition/exercises > breaks > good posture > good chair. Developing healthy habits is the most important thing to work on.​
Dr. Jordan Tsai
Dr. Duncan agrees, with an emphasis on movement: "Posture is more about changing positions frequently. For example, as I'm typing this response, I'm at my standing desk in my office and shifting weight.
I'm placing one foot up onto a filing cabinet beneath my desk, standing in a position as if attempting side/front splits… and even standing on one foot.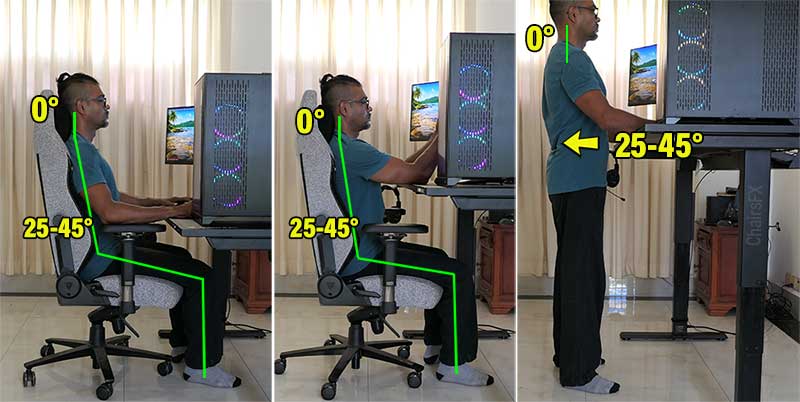 It's about keeping tissue pliable and never allowing it to get too familiar with one specific position."
Modern Computing Workstation Trends
A major shift from cubicle-era desktop computing to multi-device perpetual computing is underway. The World Economic Forum calls this the 4th Industrial Revolution. Its aim is to plug the masses into an Internet of Things (IoT).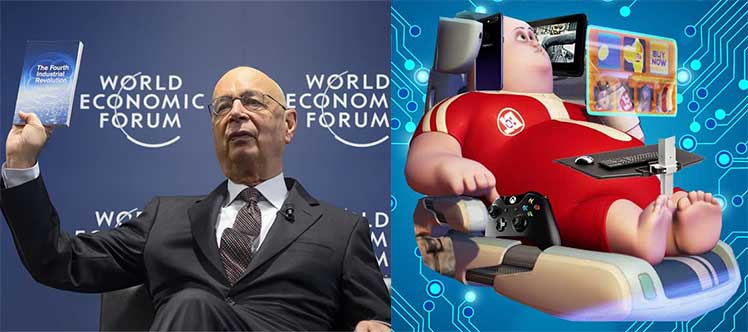 There, future humans will supposedly exist in a state of perpetual, near-virtual reality. For this to happen, institutional ergonomists must figure out how to equip humans to fit comfortably into the plan.
Since 1994, the Handbook of Human Factors and Ergonomics (HFE) has been documenting institutional workplace design standards. In late 2021, its 5th edition update was released.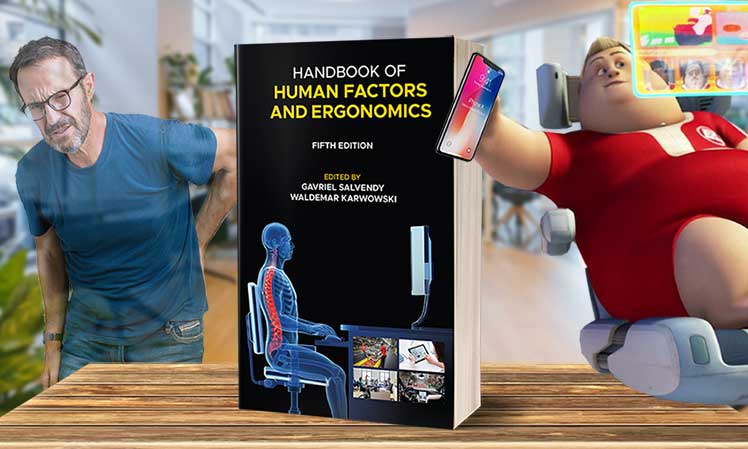 It aligns with the 4th Industrial Revolution concept by identifying two major technostress hurdles:
Musculoskeletal technostress: excessive desktop computing stresses the lower back; mobile computing causes text neck (bent neck and rounded upper spine).
Mental technostress: humans are not equipped to handle constant flows of digital information. Techno-addiction (inability to unplug), depression, and mental burnout are common problems needing solutions.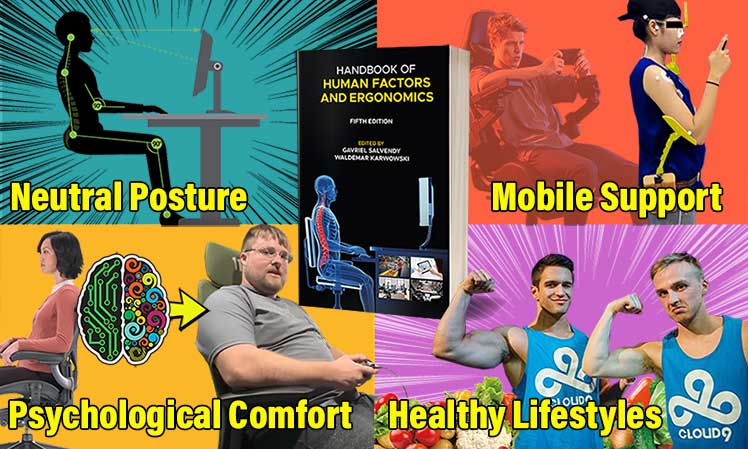 These developments are already manifesting in several broad ways. Key 2023 trends include:
Smaller ergonomic chair role: supports good posture while desktop computing.
Mobile support demands: multi-device computer users need back, neck, and sedentary support solutions.
Esports pros prioritize fitness over chairs: healthy lifestyles and movement > chair ergonomics.
Standing desks are essential: these support multi-device computing while supercharging movement.
Remarkably, the 'workstation of the future' looks to have already arrived. Standing desk + ergo chair + active postures + movement is the blueprint of the moment. Learn more:
Conclusion: Movement > Fixed Postures
Do forward-leaning postures help gamers perform better? A University of Leeds study shows that it does. The recently-released Herman Miller Vantum Gaming Chair is also designed for 'active' postures:
The Vantum Gaming Chair supports the
active-gaming-forward posture
, a position proven to
fuel focus
and
faster reaction times
.​
Vantum Chair Press Release
Meanwhile, Dr. Jordan Tsai (one of the most active docs on the elite pro esports scene) is also on the bandwagon with an active upright + passive reclined combo.

On the flip side, Jeannie Koulizakis of ErgoX insists there's no such thing as a healthy forward-leaning posture. Instead, a reclined posture + elevated feet lets gravity do the work (not your back muscles).
Dr. William Duncan repeats what many top esports docs are saying: movement supports gamer wellness better than perfect postures ever will.
Posture is more about
changing positions
frequently…
keeping tissue pliable
and never allowing them to get
too familiar with one specific position
.​
Dr. William Duncan
Dr. Tsai's active neutral posture and the ErgoX reclined one are two extremes. Between them are seven other neutral posture variations to consider.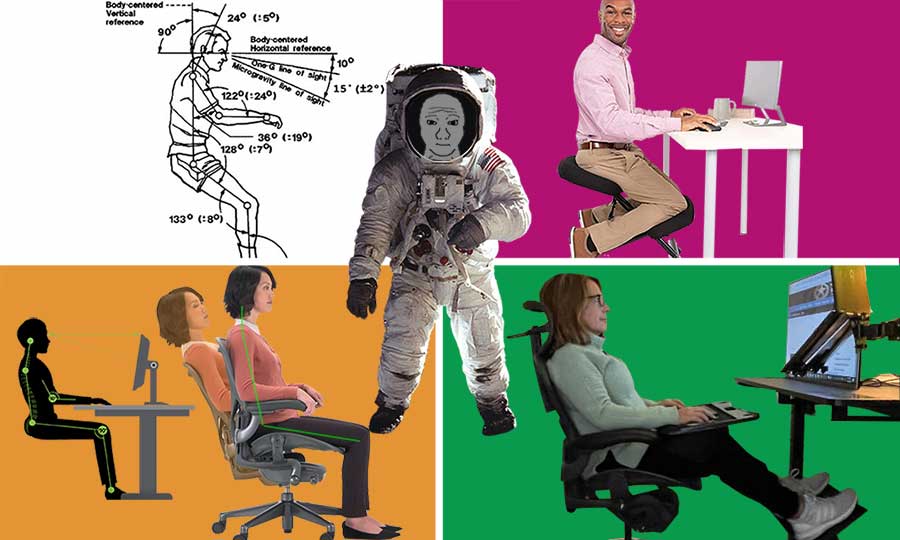 Each variation has merits and drawbacks. The 'best' will likely come down to subjective preferences. Which do you find the most effective and pleasurable to use?
Regardless of your choice, movement between sitting sessions is key. Then, any of the nine variations can help you to sit longer, feel better, and be more productive. Learn more:
Neutral Sitting NASA Origins + 9 Healthy Neutral Posture Styles
Related: Esports Fitness + Movement + Ergo Setup Blueprint
Footnotes