Ergonomic science adapts to technological demands. In the deskwork era, that meant ensuring good spinal support for seated computer operators. Circa 2022, fitting humans to better merge with machines is the emergent milestone. To reach there, technostress becomes the driving ergonomic priority of our time. Most have already felt its effects. Here are the most common technostress symptoms faced by modern computer operators.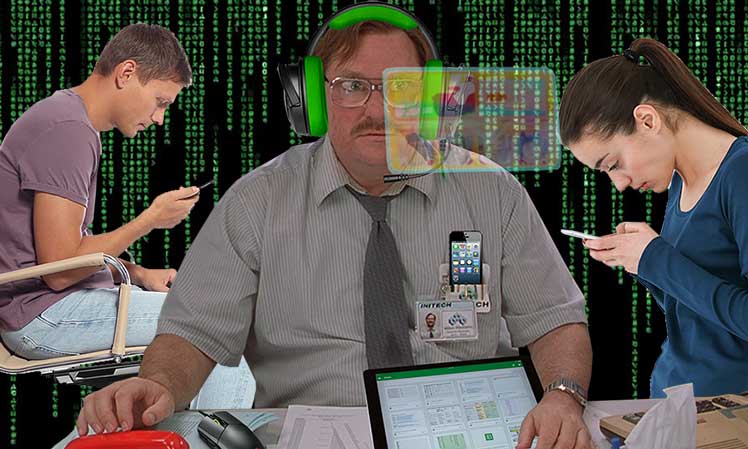 The term 'technostress' was first conceptualized in the early 1980s as an "inability to cope with new technologies in a healthy manner".(1). When the Internet emerged a decade later, the term acquired a new meaning.
People are now immersed in huge amounts of information. Daily work involves finding, absorbing, managing, and sharing data. Constant inputs across multiple devices keep the brain stressed. Over time, this can cause cardiovascular, mental, and even neurological disorders(2).
The Technostress Problem In A Nutshell
The basic problem is like jamming a square peg in a round hole. The World Economic Forum describes it as the Fourth Industrial Revolution. It will see "billions of people connected by mobile devices, with unprecedented processing power, storage capacity, and access to knowledge…"
Add to this "breakthroughs in artificial intelligence, robotics, the Internet of Things, autonomous vehicles, 3-D printing, nanotechnology, biotechnology, materials science, energy storage, and quantum computing."(3)
This shift is reflected in the latest Handbook of Human Factors and Ergonomics. It once listed good back support as the key to healthy office work.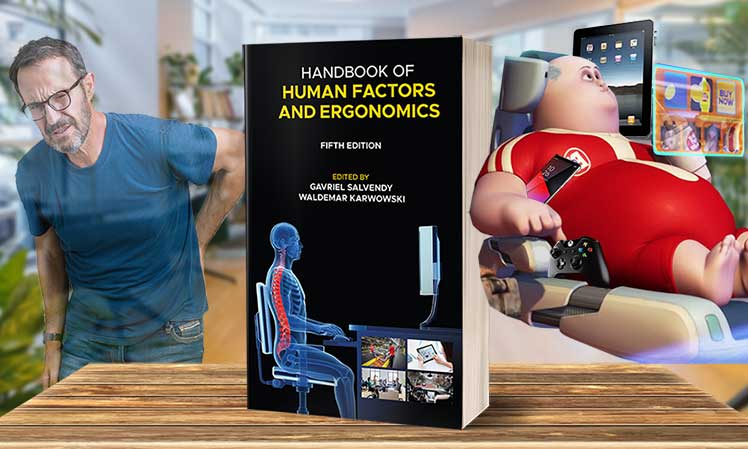 Its 2021 update now lists technostress as the great ergonomic challenge of our time. That hurdle must be cleared to place humans in a perpetual state of near-virtual reality. There are three types of technostress to consider in these times:
Physical technostress: extended use of laptops, tablets, and smartphones increases the risks for musculoskeletal disorders.
Mental technostress: cognitive overload comes from using too many complicated gadgets at once.
Techno-addiction: inability to disconnect from work. Techno-addicts compulsively perform work-related tasks outside of business hours.
Common Technostress Symptoms
Technostress is a modern adaptation disease caused by an inability to cope with computer technologies in a healthy way.
Technostress Solutions
Technostress solutions are already getting worked out on two fronts. The first has a long history of failing to address human factors. The second looks like a blueprint that could solve technostress for many.
Conclusion
Global architects at the World Economic Forum want to corral humans into a state of perpetual near-virtual reality. However, as tech creeps deeper into lives, it causes more technostress.
That's why the Handbook of Human Factors now cites technostress as the biggest ergonomic challenge of our time. For a ubiquitous computing business world to emerge, this must be addressed.
Meanwhile, many streamers, esports stars, creatives, and the self-employed are managing technostress just fine — and thriving. Theirs is a simple formula that everyone can follow:
Healthy lifestyle: ensure regular exercise, good nutrition, and sound sleep.
Healthy workstation: get a good ergonomic chair and use it correctly.
Frequent breaks: regular breaks away from the computer keep your mind and body fresh.
In conclusion, the best physical technostress alleviant of this era is a good ergonomic chair. I recommend a fabric one.
The best mental technostress remedy has existed for 200,000+ years. Thanks to our streaming and esports friends, the dominant lifestyle in human history is back on the table.
If you're suffering from technostress, work on getting good nutrition, exercise, and sleep. Then add an ergonomic chair and use it correctly.
2022 Deskwork Priorities: Fitness + Posture Beats Technostress
Footnotes