Fear drives people to take action. A UK company Furniture@Work recently tried to exploit that. They talked to some 'doctors' and then rendered a 3D hunchback named Anna. She was supposed to scare people — at the apparent behest of office building landlords — into believing that working from home is unhealthy . But Anna was roasted so hard that they erased her from the internet. ChairsFX archived her story(1) to pursue the truth. What will the desk worker of the future really look like? Generational computing trends provide clear answers.
In 2023, companies are demanding that workers return to the office. According to Forbes, it's for financial reasons: permanent work-from-home will hurt landlords and big city businesses:
If workers continue to work remotely, it will further disrupt the ecosystem of restaurants, bars, clubs, gyms, nail salons… and an array of other businesses in urban areas. ​​
Jack Kelly, Forbes
Fear, uncertainty, and doubt (FUD) is a propaganda tactic used to influence perception. FUD marketing disseminates dubious information to create fear. Then, it corrals consumers into accepting a predefined solution.
This story is about how corporate FUD backfired. It's a rare case where propagandists got roasted as less informed than their intended audiences.
Is Work From Home Bad For Health?
In December 2019, a UK furniture company called Fellowes kicked off(2) the 3D model scare trend with 'Emma'. She targeted ergonomically ignorant office workers.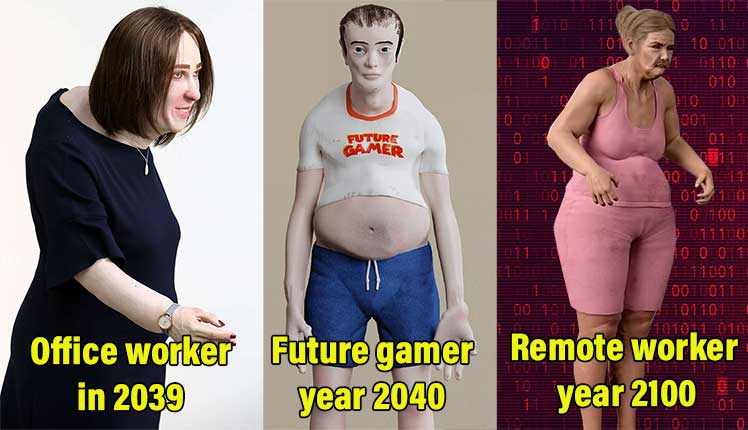 In April 2020, a Canadian casino website went viral with 'Michael'. He targeted locked-down gamers(3) with warnings of excessive sedentary behavior. In June 2023, UK outfit Furniture@Work went (negatively) viral with the hunchback 'Anna'. She targeted home-based desk workers(1).
Each was an attempt at FUD marketing propaganda targeting desk workers. But behind the FUD angles, the central message of each campaign was legit: "Sitting too much is bad for your health."
That message isn't new. The health problems caused by desk work are well-documented — as are the solutions. In fact, most solutions that mitigate desk work health issues are cheap and easy to deploy.
FUD: Anna, Mutant Home Desk Worker 2100
Furniture@Work collaborated with 'researchers' who warned that humans will devolve into freaks if they continued working from home.
Then, they published an article featuring a 3D model named Anna. Anna was supposed to represent what humans will look like by 2100 if they continue working from home:
Anna displays many physical effects because of consistent use of technology, screen exposure and poor posture, as well as highlighting potential mental health issues. ​​
Furniture@Work
Instead, the article got savaged online(4). Social media derided it as shameless corporate propaganda meant to drive a return to office work.
[/caption]
The derision went so viral that Furniture@Work deleted their article. We archived a copy(1). To be fair, the Furniture@Work article does make some salient points. ChairsFX covered those last year. See the next section for details.
Documented WFH Problems & Solutions
During the early 2020 COVID lockdowns, a team of researchers surveyed the habits of 843 suddenly-remote desk workers(5). Only 7 of those surveyed were younger than 30 years old (Gen Z).
Among all age groups, the survey found two clear WFH problems:
Corporate ignorance: many companies only provided staff with a laptop after assigning them to WFH. However, people also need a good chair, desk, and accessories for healthy support.
Ergonomic ignorance: the majority of desk workers older than 30 have no idea what healthy sitting posture is. Many use 'makeshift desks' like beds or sofas.
The surveyors concluded their report with two obvious solutions:
Equipment: companies must equip remote workers with an ergonomic chair, a desk, an external keyboard & mouse, and an external monitor screen.
Training: the majority of workers are ignorant about ergonomics. After providing their equipment, companies must also train staff on proper usage.
Proper equipment (in support of neutral postures) + usage training = healthy work from home. The onus is on companies.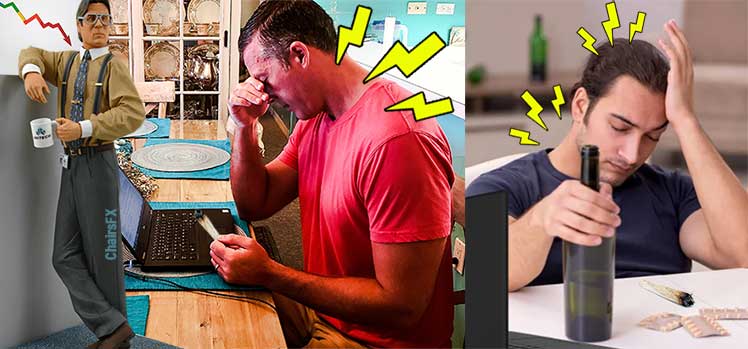 In both office and remote scenarios, companies must provide healthy work environments. Learn more:
Future Desk Workers By Generation
So what will the desk worker of the future actually look like? Through a generational lens, there's plenty of data on the table to paint a clear picture. ChairsFX uses Pew Research Center(6) definitions:
Generation X: born between 1965 to 1980 (ages 43-58 in 2023)
Millennial: born between 1981 to 1996 (ages 27-42 circa 2023)
Generation Z: born between 1997 and 2012 (ages 11-26 in 2023)
Each of these generations grew up at different stages of ergonomic history. Most Gen X ages grew up before Herman Miller kicked off the ergonomic era (with the Aeron chair) in 1994.
In contrast, Gen Z digital natives have grown up in an esports-centric world teeming with ergonomic office and gaming chairs.
Gen Z: Esports Fitness Domination
Definition
Born 1997-2012 (aged 11-26 in 2023)
Gen Z ages are the first digital natives born into an era of ergonomic parity. More than half of them are obese. In contrast, over 40% work out regularly. Among the fit ones, many of their seating and lifestyle choices were likely learned from esports stars.
The earliest of the Gen Z group were born in 1997. When they were 9 years old, the world's first gaming chair emerged (2006). When they were 14 (2011), the Twitch streaming platform went live.
Gen Z Grew Up With Esports & Gaming Chairs
At TwitchCon 2016 in San Diego, DXRacer debuted on stage as the event partner. Soon after, almost every famous streamer powered their rise atop a DXRacer chair. This clip shows how gaming chairs exploded in popularity among Gen Z Twitch users of the time:
Over the next few years, esports popularity — and revenue — began to skyrocket. As tourney prize pots increased, teams started investing in ways to boost player performance.
Esports Fitness Model
Cira 2023, almost every famous streamer and esports player prioritizes fitness as an essential part of their routine. Ergonomic seating remains relevant — as a secondary support priority.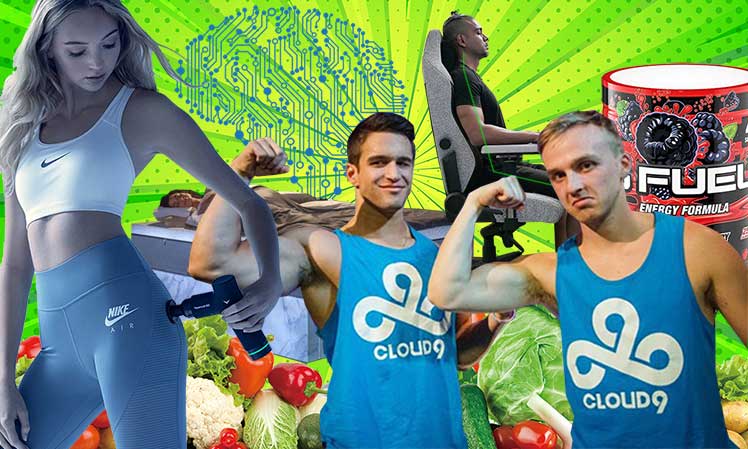 This approach was corroborated in a major 2021 study(7). It notes that around 34.5 million Americans suffer from chronic musculoskeletal pain (MSK). But clinical reviews support the esports method as a solution. That is: exercise reduces pain & depression — while boosting quality of life.
Esports Deskwork 2023: Fitness + Posture Beats Technostress
Relevant Gen Z Statistics
These come from an article explaining why cheap gaming chairs are worth it for Gen Z buyers. Relevant trends:
Gen Z knows how to address pain: a 2020 survey found that 36% of Gen Z (ages 11-26 in 2023) experience back pain between the ages of 11-15. 44% addressed their pain with natural methods like stretching.
Gen Z prioritizes fitness: 48% work out several times per week; around 1/3 of those lift weights. 60% of Gen Z ages jog (vs 26% among other generations). 42% wear fitness trackers.
Despite these trends, a 2021 Johns Hopkins study found that 56% of young Americans aged 18-25 are obese(8). In contrast, around 48% hit the gym regularly.
This suggests a widening divide between healthy and unhealthy Gen Z employees in the coming years: fats vs fits.
What Will The Gen Z Desk Worker Of The Future Look Like?
Today, Generation X (ages 43-58 in 2023) makes up 35.5% of the U.S. workforce. By 2030, Baby Boomers will clear out, while Gen Z (ages 11-26 in 2023) constitute about 30% of the workforce(9).
Gen Z's ideas about work and technology will thus have growing relevance in the coming years. In fact, this generation is most likely to spearhead a mass return to the office.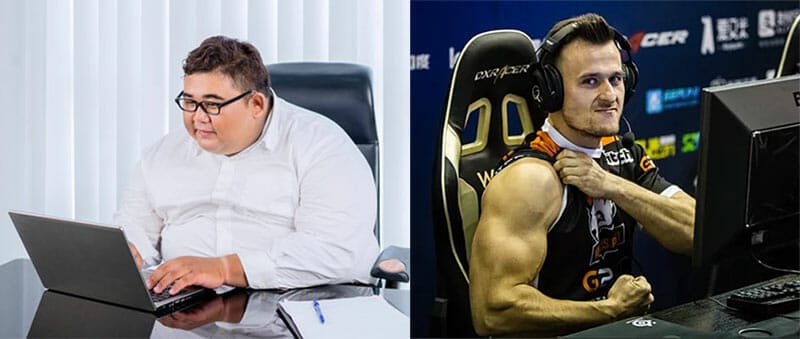 A Steelcase global research study(10) found that 25% of Gen Z workers want to return to the office — to socialize. 18% want to be in the office to access learning opportunities.
In exchange, they want three things:
Work-life balance and learning opportunities rank highest when choosing an employer.
Making connections and professional development are more important to Gen Z when done in the office.
Gen Z wants assigned workspaces that are larger and more private. This perk will have the biggest impact.
Millennials: Weak & Anxious But Active
Definition
Born 1981-1996 (aged 27-42 in 2023)
Millennials were hit hardest by the pandemic era(11). Since COVID, they've suffered more anxiety and PTSD than other generations. In fact, ages 27-42 suffer greater disease burdens than older Gen X ages.
Notably, Millennials also generate 22% more back disorder ER visits than other generations. Given the seating standards that they grew up gaming with, sloppy sitting in their youth may have caught up with them.
Poor Posture In Childhood Manifests In Adulthood
The oldest Millennial is 42 in 2023. In 1996 (27 years ago), they were 15 years old. At this point, the ergonomic seating era was in its infancy. It began only two years earlier (1994) when Herman Miller released the Aeron chair.
However, early Aeron chairs were marketed towards Silicon Valley CEOs — out of reach for 15-year-old 1996 video game players. Instead, PC gamers of that era tended to use whatever cheap seats they could find.
Here's the problem: health problems caused by slouching are asymptomatic in young people. They don't manifest as physical issues until the late teens to early 30s.
Millennials were the first digital natives. They grew up playing video games without any ergonomic support. Spinal problems accrued manifest between 18-35 years as these common symptoms:
Chronic fatigue.
Frequent back pain or headaches.
Shoulders or shoulder blades are at different heights.
The head bends forward more than the rest of the body.
Tight muscles in the back of the thighs.
Millennial Desk Worker Of The Future
Modern Millennials are mentally and physically sicker than other generations. According to Cancer Research UK, 70% will be obese by the time they reach middle age(13).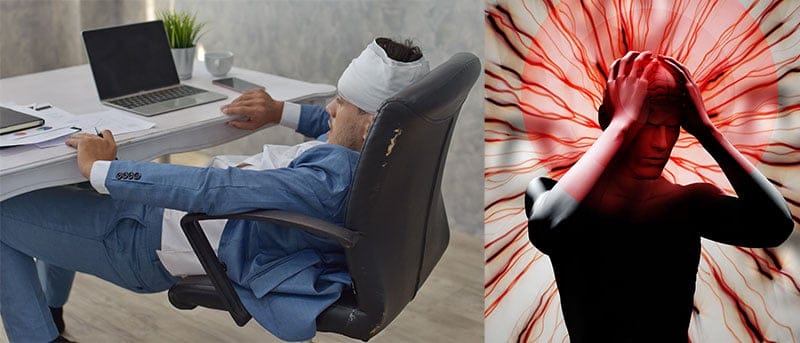 But there's still hope for this generation. A 2021 Statista survey(13) found that 70% of millennials participated in fitness sports — more than any other generation.
How Non-Ergonomic Seating Damages The Spine
Turn things around: Neutral Posture QuickStart For Gaming AND Ergo Office Chairs
Gen X: Extremely Fat Or Fit
Definition
Born 1965-1980 (aged 43-58 in 2023)
Millennials generate 22% more back disorder ER visits than Gen X. It's probably not a coincidence that Gen X grew up in a golden age without internet or cell phones.
Today, this generation's biggest issue is obesity. This is likely computer-related. Windows 1.0 was released in 1985. In 1993, the World Wide Web went live for the masses. Around the same time, childhood obesity levels skyrocketed.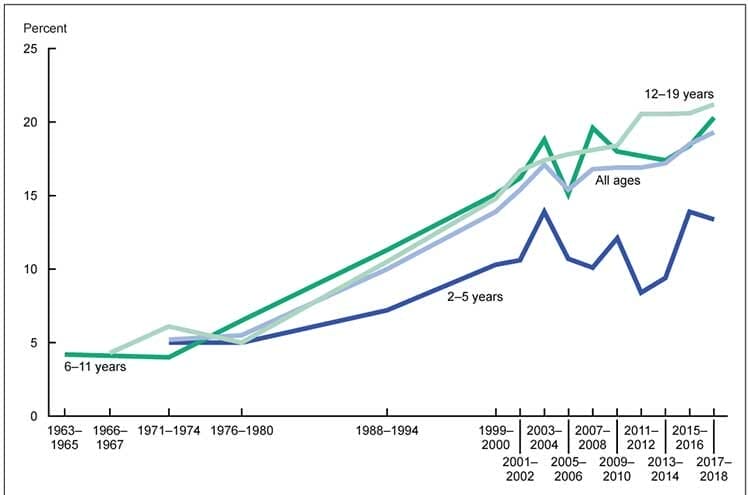 By the year 2001, youth obesity levels were endemic. Today, obesity remains one of the biggest issues faced by Gen X ages. In 2022, the CDC reported(14) that people aged 45-55 (the heart of Gen X ages) have the highest prevalence of obesity (39.3%).
Obese Person Sitting Challenges
Taller people grow longer spines to support their size. In comparison, fat people do not develop thicker spines as they gain weight. Instead, lugging around extra weight causes weak joint strength and chronic musculoskeletal pain.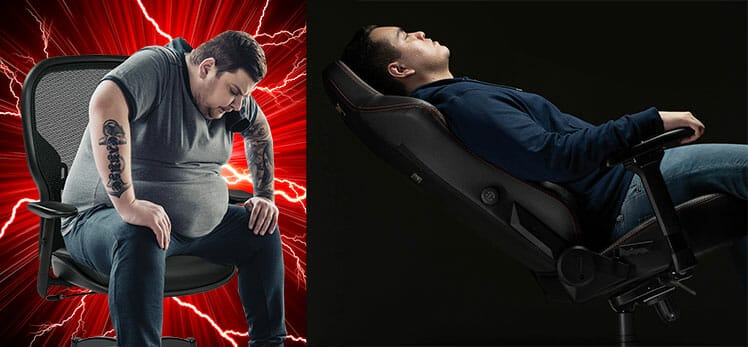 Because of that, many obese sizes struggle to sit upright in mid-back ergonomic office chairs. Common problems suffered by fat desk workers include:
Weak spines and knees. Those with a BMI (body mass index) over 35.0 are 63.1% weaker in lower joint strength than slimmer figures.
Tender feet. Carrying more weight degrades shock-absorbing elasticity in the feet. This affects the entire body's posture and mobility.
Weak knees. Adults 18-29 with a BMI over 35 are 80% more likely to suffer knee pain later in life.
Greater musculoskeletal burdens. The prevalence of musculoskeletal pain is 26% higher among obese kids. The link between obesity and musculoskeletal pain has been reported in children as young as 2.
Musculoskeletal Challenges For Fat Desk Workers
Gen X Desk Worker Of The Future
In 2023, the CDC estimates 39.3% of Gen X (ages 43-58) group is obese. Meanwhile, among the U.S. population, it's estimated that 0.9–2.9% of males take testosterone replacement therapy(15).
That's a growing trend driven by UFC culture and pop culture figures like Joe Rogan. Instead of wasting away, these guys have learned how to 'hack' the aging process. This suggests two divergent possibilities for Gen X desk workers of the future:
A small percentage will rely on fountain of youth trickery (TRT, botox, nutritionists, gym coaches, etc) to keep themselves spry.
On the flip side, the majority are likely to melt into their sofas, suffering from chronic lethargy and pain until the end of their days.
Future Desk Work Trends
Three trends point to a future that prioritizes physical fitness. In an AI-powered, IoT-driven world, those with peak mental performance will have the best chance to thrive. But to achieve peak mental performance, you'll need good physical fitness.
Then, fit, ergonomically savvy workers will be best positioned to tackle these trends:
4th Industrial Revolution: end of the desk work era; start of the multi-device ubiquitous computing era.
The AI Revolution demands sharp minds: only the savviest will be able to surf the big data waves washing in.
Good sitting posture sharpens the brain: stacked with regular exercise, healthy sitting relieves muscles. That leaves more energy available for focused brainwork.
4th Industrial Revolution / IoT
For all generations, future desk work prospects will likely be dependent on health. This is because of a major transformation now underway: the 4th Industrial Revolution.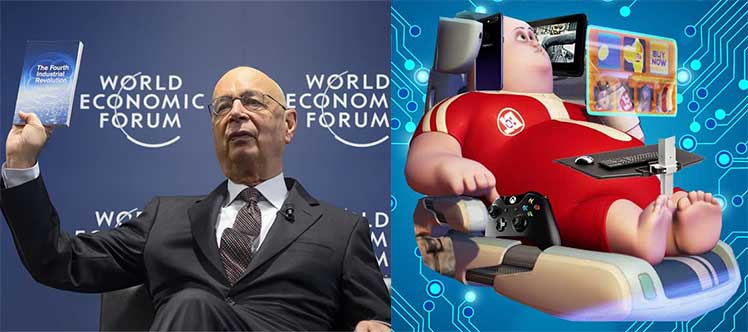 This is a planned Internet of Things (IoT) engineered by the World Economic Forum (WEF). Its goal is to create a perpetual state of semi-virtual reality.
A major kink in this plan is humanity. People are not designed to be plugged into computers all the time. Doing so yields two types of technostress:
Musculoskeletal technostress: excessive desktop computing stresses the lower back; Mobile computing causes text neck (bent neck and rounded upper spine). In a multi-device workplace, both must be addressed concurrently.
Mental technostress: humans are not equipped to handle constant flows of digital information. Techno-addiction (inability to unplug), depression, and mental burnout are common problems needing solutions.
As the IoT era emerges, failing to address technostress can have disastrous consequences. Those who succeed will find new opportunities within an arising 'prosumer' class.
In contrast, those who fail to keep up are at risk of getting left behind. Learn more:
IoT Era Will Force Big Sedentary to Active Lifestyle Shift
Updated Handbook of Human Factors and Ergonomics
The Handbook of Human Factors and Ergonomics (HFE) documents institutional ergonomic design trends every decade or so. Its 5th edition dropped in August 2021 with a major update.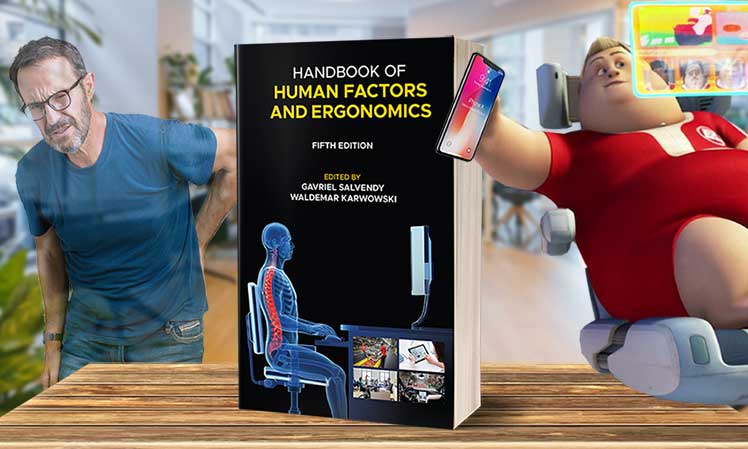 In response to the emerging IoT landscape, HFE reframed desktop computing seated back support as a secondary priority. To address the prevalence of device computing, multi-device computing support now takes precedence.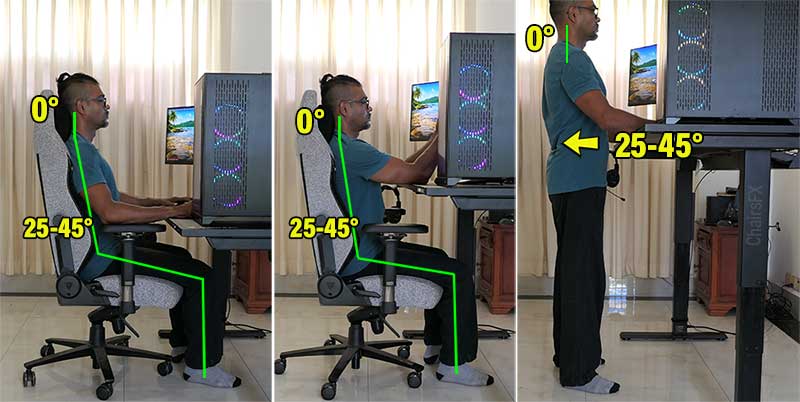 On that front, sit-to-stand desks have already emerged as a viable multi-device solution. However, that only addresses the physical challenges of multi-device computing.
The Handbook cites mental challenges as the most pressing issue. More devices pumping out more data will place greater strains on the human mind.
Here's a summary of the 5th edition HFE updated Human Factor Fundamentals for the multi-device era:
Sensation & Perception
Selection and control of action
Information processing
Decision-making models & problem-solving
Mental workload
Social and organizational ergonomic foundations (multi-level systems)
Emotional design
Cross-cultural design
These factors assume an IoT future with sensors reading data all around 'smart cities'. The key challenge: get people to consume and process more data in less time — without overloading their senses.
Infinitely More AI Data To Process
The Internet of Things has already expanded the amount of data flowing online. These include sensors in your phone and wearable activity trackers like Fitbit. These record, collect, and share information.
As more IoT devices start generating data, AI is emerging as a way to process and share what's relevant. For instance, marketers now use AI-powered text analytics to track customer trends online.
This brings us back to the topic of the future desk worker. To manage multiple data streams, they'll need a sharp mind. But to ensure a sharp mind under a data deluge, they'll need a strong body as well.
Good Sitting Posture Sharpens The Brain
Maintaining a healthy sitting posture is one of the most powerful ways to boost computing performance. When your spine is out of balance, muscles must work harder to hold the body up against gravity.
In contrast, an aligned body operates with better efficiency. That leaves more available energy to power sharper cognitive functioning.
In fact, the less mechanically distorted a person is, the less energy is available for thinking, metabolism, and healing. The opposite is also true. While poor posture amplifies apathy, good posture makes people more alert.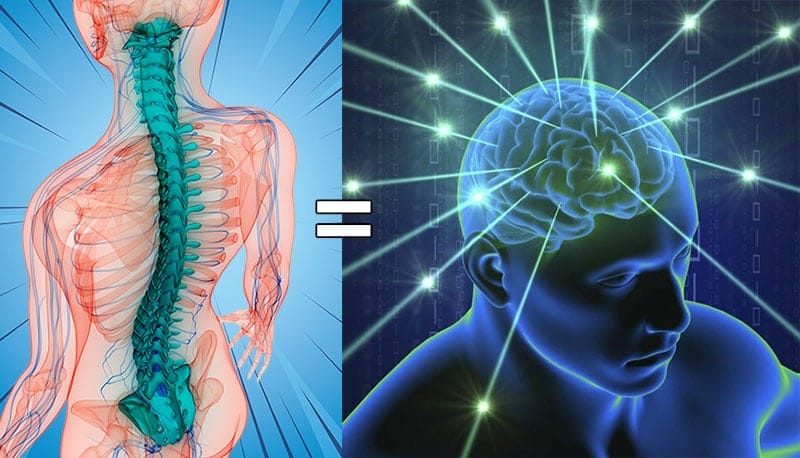 As an example, slouching compresses the rib cage, reducing oxygen intake by up to 30%. Less oxygen slows computational speed in the prefrontal cortex (the brain's central processing center).
That explains why people who slouch struggle to concentrate. In contrast, good sitting posture yields these desk work benefits:
Comfort instead of pain: good posture reduces neck and lower back tension.
More oxygen: good sitting posture opens the chest cavity and increases oxygen intake.
More energy and focus: an aligned body works muscles efficiently. That leaves more energy for brainwork.
Improved digestion: efficient bodily operation speeds metabolism and waste passage.
Learn more about how good posture improves your physical and mental well-being:
Gaming Chairs Are Good For Your Back, Neck, Posture & Productivity
The Future = Survival Of The Fittest
So what will the desk worker of the future actually look like? This article makes a few things clear. First, by 2030, Gen Z will make up around 30% of the workforce. They will take over from retiring boomers.
Second, Gen Z will be entering a corporate American meat grinder. Morale and salaries are down. Inflation is up. Quiet quitting is a thing.
Third, the traditional desk work paradigm is coming to an end. In a multi-device computing scenario, workers must maintain good back and neck posture.
However, as computing times rise, so does health-destroying sedentary time. That makes physical fitness of paramount importance for future desk workers.
Desk Worker Of The Future: Fat Vs Fit
For all generations, there are two possible outcomes. As AI runs wild, an Internet of Things (IoT) is arising. That means a deluge of information headed toward workers for handling. Those with the sharpest brains will be best able to keep up.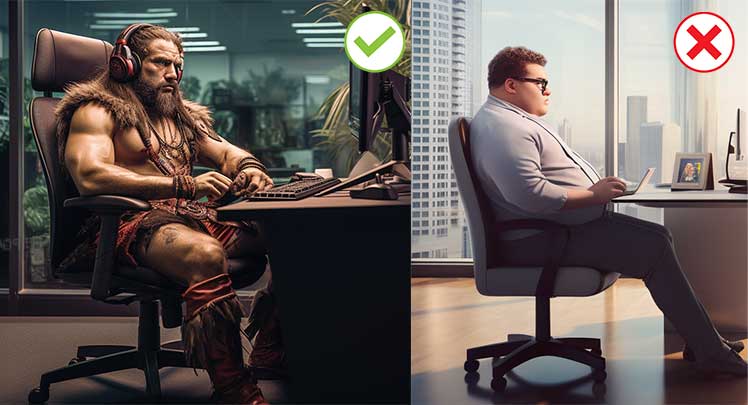 Not counting drugs, the surest way to ensure a sharp brain while computing is with physical fitness. An active lifestyle + short sitting sessions is ideal but not practical. That's where ergonomic furniture comes in.

To support long periods of desk work, you need a good ergonomic chair. It doesn't matter what type — any model with the requisite features can provide the support you need.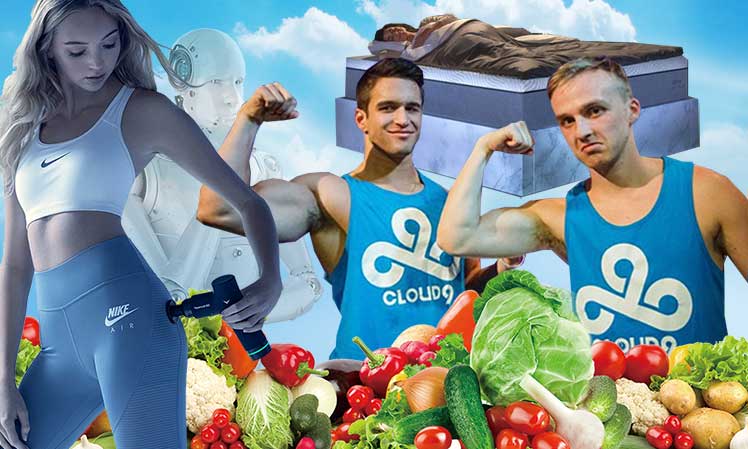 What does matter is usage. First, you need to maintain a healthy and active lifestyle when away from the computer.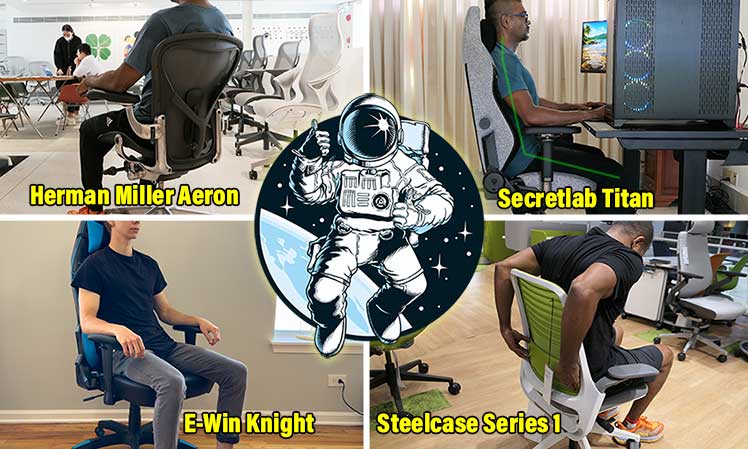 Second, while at the computer, you need to maintain healthy dynamic neutral postures. Beyond a healthy baseline posture, it's important to change positions often. Learn more:
How To Sit In A Gaming Or Ergonomic Office Chair
Related: Supercharged Movement With A Sit-Stand Desk: Is It Worth It?
Footnotes