Buying an ergonomic chair for a child can gift them healthy posture habits that last a lifetime. A good chair, mentoring, and plenty of breaks can teach a child healthy deskwork routines at a very young age. The key to the scheme is a good computer chair for kids. Here we review the best height-adjustable desk chairs for children aged 4-12.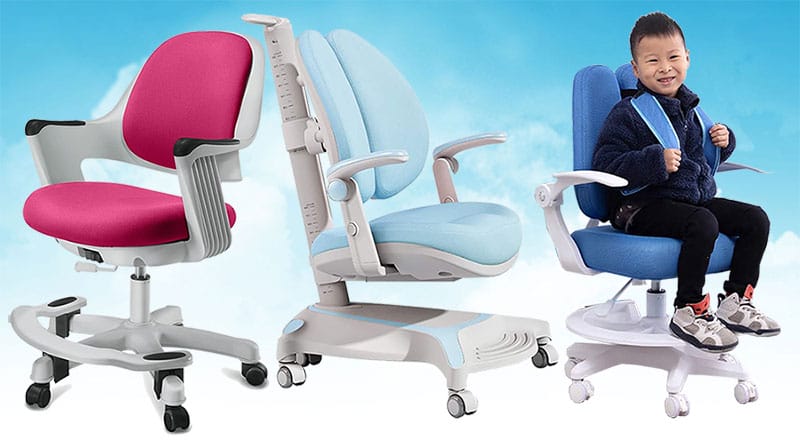 Most children are born with amazing flexibility and perfect posture. Over time, improper sitting habits can compel kids to slouch. If not addressed, that can lead to abnormal spine growth and spinal disc degeneration.
Typically, children with spinal development issues are asymptomatic. Symptoms don't appear until the late teens. Then, serious long-term issues can emerge like chronic back pain, lethargy, arthritis, osteoporosis, etc.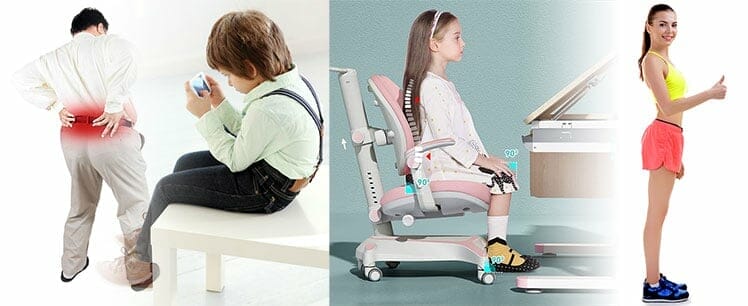 The simple solution to this problem is to implement a healthy sitting routine at a young age. Follow three steps for best results:
Get an adjustable desk chair for kids.
Mentor a child to adopt neutral sitting tactics while they sit.
Encourage frequent breaks to stand up and move.
Babies usually start sitting at around eight months old. Before they can sit, they must learn how to crawl. That builds strength in their legs, arms, shoulders, and back. In doing so, they develop the balance and postural strength needed to hold the seated body upright.
By age of three, a child will double in height and quadruple in weight. During those years, there is rapid growth of the spine and nervous system. By the age of four, they're ready to start sitting to do tasks.
That is the best and easiest time to lay down a strong postural foundation for a child.
Ergonomic specs for American kids
Choosing the right-sized chair for kids is crucial. An ill-fitting one will negate back support benefits. In contrast, a good fit makes it easier for kids to develop healthy sitting habits.
Best Ergonomic Chairs For Kids 4-12 (K1-7)
The following chairs are suitable for children age 4-12 (Kindergarten to grade 7). All are designed to ideal to establish a neutral sitting posture as a child's default sitting position.
Best Adjustable Study Desks For Kids
Amazon's best-selling kids' desks is a wasteland of cheap, ugly, plywood or plastic desks. Flexispot saves the day with two of the best kids' computer desks on the market!
For a close look, check this Flexispot Height-Adjustable Kids' Desk Review. Here's a quick look at both desks:
Benefits of good posture for kids
Awareness of healthy sitting habits doesn't exist in the U.S. education system. This is despite the obvious health, wellness, and cognitive issues caused by poor posture.
Even so, the science is clear. Children who sit with good posture are more engaged, alert, and confident than those who slouch. As a result, those who sit straight enjoy a higher level of cognitive processing ability.
How poor posture hinders students
Students who sit with poor posture suffer from back pain, brain fog, and lethargy. In such a state, putting full effort into studies becomes impossible.
Conclusion
Children respond well to ergonomic interventions. When provided the right sitting equipment and taught how to use it, they adapt.

Leaving your child's posture development to the public education system can be disastrous. Schools buy furniture in bulk, using one-size-fits-all principles. In elementary schools, children in the first grade use the same desks and chairs as fifth graders.
The practical solution is to teach good posture habits at home. First, buy an ergonomic chair designed for children. Second, teach your child how to use it. Third, monitor them.
Science supports the idea of working in 25-minute bursts. After 25 minutes, the brain tires and cognitive functioning slows.
Using that as a guideline, give the child a task like homework or a video game. If the chair has anti-hunchback straps, hook your child into them. 25 minutes later, unstrap your kid and let them run around. In short order, your child will get used to sitting upright. At the same time, they will get accustomed to the idea of working in 25-minute bursts. That will also teach them the importance of taking regular movement breaks between sitting sessions.
A child should outgrow their ergonomic chair in middle or high school. By then, they should have superb posture, strong core muscles, and plenty of vitality.
At that point, consider upgrading from a children's chair to an adult-sized gaming chair. Those will help your teen to maintain their good posture habits as they enter adulthood.