Secretlab created a prototype of its iconic Titan gaming chair for kids as an April Fool's joke. They thought the idea would make people laugh. Instead, it highlighted a big gap in the market — there are zero kid-sized gaming chairs available! Masses clamored for the joke to become reality. In response to the demand, Secretlab has obliged. Here's a first look at the Secretlab Titan Extra Extra Small (XXS) gaming chair for kids.
The Secretlab Titan XXS is for kids aged 5 and up with a max height range of 5'2″. Based on the average sizes of American kids, the typical 5-year-old is around 3'5″ tall (104 cm). Meanwhile, the average 14-year-old is around 5'2″. That makes the Titan XXS suitable for kids aged 5-14 — from a sizing perspective.
But how about from an ergonomic perspective? Is the Titan XXS a legitimate back support tool to help kids develop good posture? Maybe.
Consider some facts. First, this is the only kid-sized gaming chair on the market. Second, there are already several computer chairs designed specifically for kids aged 5-12. Backed by years of ergonomic research and testing, these all have similar functionality.
In contrast, the Titan XXS was inspired by an April Fool joke. Secretlab alludes to this in its XXS promotions. It started as a "fun internal project". Now, it's the "first-ever collectible made especially for our community".
So let's investigate its potential as a posture tool for kids.
Titan XXS from Secretlab $299-$319
Available from Secretlab in the USA, Canada, the EU and UK, Australia, and Singapore.
Titan XXS Technical Review
The Titan XXS comes in three styles. There's a Stealth leatherette edition ($299), and two SoftWeave fabric versions ($319). No doubt it's an attractive package that kids will absolutely love.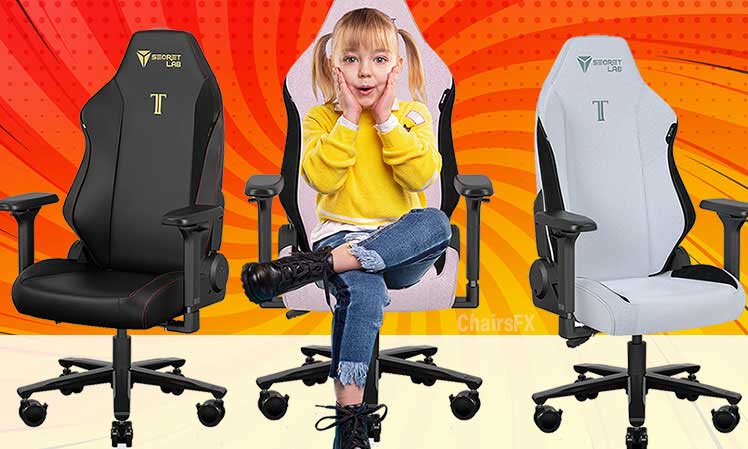 On a technical level, it's more proof that Secretlab is literally a 'lab'. The company runs its own industrial design lab a few steps from its corporate office.
As a holiday gift for any kid aged 5-12 who plays video games at a desk, the XXS is an aesthetic dream come true!! But as a viable back support tool over the long term, it's an experiment — from a secret laboratory. Is it worth running your child through some ergonomic trials? Let's find out:
Titan XXS Functionality
To qualify as 'ergonomic', a chair needs three adjustable components. Those are adjustable lumbar support and armrests, plus a reclining backrest.
The Titan XXS only offers one of the three. You can adjust the armrests up or down. However, there's no lumbar support. The backrest is also fixed, with no reclining functionality.
Clearly, the Titan XXS is not an ergonomic chair. Secretlab doesn't describe it as such. They call it a "1:2 scaled-down replica" for collectors. Here's how the XXS chair's ergonomics compare with the adult-sized Titan Evo 2022:

| | | |
| --- | --- | --- |
| Function | Titan XXS | Titan Evo 2022 |
| Lumbar support | Optional Plushie | Integrated 4-way adjustable |
| Backrest recline | Non-adjustable | 85-165° |
| Tilt lock | Rock or lock | Rock or lock |
| Armrests | Height-adjustable 1D | 4D |
| Headrest | Memory foam pillow with straps | Strapless magnetic with memory foam |
| Warranty | 5 years | 5 years |
| Price | $299-$319 | $499-$549 |
The 5-year warranty is significant. This chair is meant to be used, not sat in a corner. From a kid's perspective, it's built to the same quality standards as Secretlab's adult chairs. But for adults, the Titan XXS qualifies as a non-ergonomic chair.
Without lumbar support or a reclining backrest, this chair will ruin the back of adults who use it full-time! Do not buy for anyone older than 14!
On the flip side, kids have different ergonomic needs than adults do. For children, the Titan XXS features show promise.
Titan XXS vs Other Kids' Chairs
To make sense of Titan XXS suitability for kids, let's compare it with a proven industry leader. The Sidiz Ringo has long reigned as the best ergonomic desk chair for kids. In fact, all Ringo competitors offer a similar build and functionality.
None of the top kids' computer chairs come with a reclining backrest. None come with adjustable armrests either. Standard features include height-adjustable seats and backrests. You also get a seat depth slider and in some cases a footrest.
Here's how the Titan XXS compared with the top-ranked Sidiz Ringo:
| | | |
| --- | --- | --- |
| Function | Sidiz Ringo | Titan XXS |
| Lumbar support | None | Optional Plushie |
| Backrest recline | None | None |
| Tilt lock | None | Rock, lock, or lock at angles |
| Armrests | Non-adjustable blocks | Height-adjustable 1D |
| Back support | Mind-back | Full back |
| Headrest | None | Strapless magnetic with memory foam |
| Warranty | 3 years | 5 years |
| Price | $229.00 | $299-$319 |
Kids Have Different Ergonomic Needs Than Adults
Kids have different ergonomic needs than adults on two fronts. First, kids aren't able to sit for long periods like adults can. The average 4-year-old has an attention span of around eight minutes.
By age eight, the average attention span is 16 minutes. Thus, ergonomic chairs for children are meant to support short periods of sitting.
Second, children are still developing the bone structures that will serve them in adulthood. Instead of lumbar support and a reclining backrest, they need a supportive seat that teaches them to sit straight.
From this perspective, the Titan XXS measures up well with the ergonomics of competing kids' chairs. A child needs only to adjust the seat height and then tuck their hips deep into the bucket seat.
That will provide a similar level of back support as competing chairs, stacked with five delicious extras.
World-class cold-foam padding on the seat and backrest.
The world's most advanced leatherette and fabric upholsteries.
Pebble seat with gently-sloping waterfall seat edge.
Adjustable armrests.
Rocking chair function.
No other kids' chair offers these luxuries. Before you get too excited, be warned: there's a (surmountable) ergonomic downside.
Plushie Pillow Addon
Thus far we've established that the Titan XXS is not an option for adults. On the other hand, it's an exciting option for kids. With proper usage, it will deliver a level of comfort no other kids' chair offers. So what's the deal with the Plushie?
From Secretlab: "Soft, squishy, and oh-so-cute — made for hugs and cuddles all around. It's the perfect companion for any Secretlab chair." Kids don't need lumbar support, so this can be used as seat or backrest padding.
It has a microbead filling and plush exterior in green, pink, or blue. According to Secretlab promos, it's super cuddly and fun to hug.
Bottom line: it has no ergonomic purpose and you don't need it. Even so, it's soft, cute, pretty, and squishy. It's the perfect stocking-stuffer for anyone who sits for long periods at a desk. I ordered all three!
Available from Secretlab in North America, the EU and UK, Australia, New Zealand, Singapore, and Malaysia.
Titan XXS Sizing
Here's how the Titan XXS compares with the Titan Evo 2022 small-sized edition:
| | | |
| --- | --- | --- |
| Spec | Titan XXS For Kids | Titan Evo 2022 (S) |
| Seat size (excluding side wings) | 10.6″ (W) x 15.4″ (D) | 17.7″ (W) x 18.9″ (D) |
| Backrest | 17.3″ (W) x 26.2″ (H) | 20″ (W) x 32.3″ (H) |
| Seat Height | 12-14″ | 17.7″ to 20.5″ |
| Armrest height range | 3″ | 3″ (plus 3 other directions) |
| Size rating | 3'5″ to 5'3″ (ages 5-14); 155 pound weight capacity | 4'11" to 5'6″; 285 pounds |
Titan XXS: Key Takeaways
Based on its specs, there are two certainties about the Titan XXS. First, it's not an option for adults. Second, it's potentially a good option for kids, with some precautions.
The Titan XXS Is NOT For Adults!
We've seen plenty of chatter online among short adults excited to buy a Titan XXS. That's because their legs are too short to reach the floor in a Titan Evo small chair (rated for sizes 4'11" to 5'6″).
Let's be clear: addressing short adult legs by buying a Titan XXS for kids is foolish! Why lose ergonomic functionality built for adults when you can just buy a $26.99 footrest?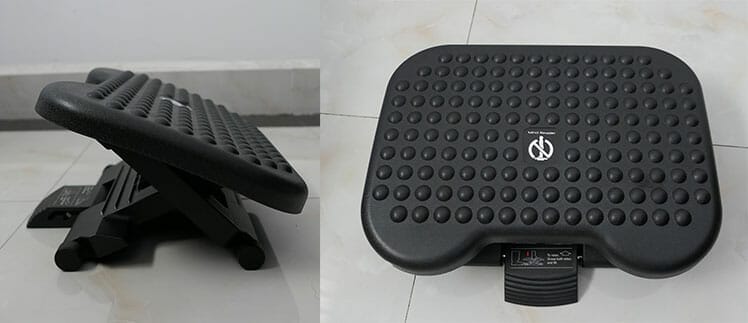 For instance, the Mind Reader Ergonomic Footrest adds as much as eight inches of height to your workspace. Beyond boosting your height, it reduces pressure on the thighs, enhances lumbar support effects, and adds more opportunities to move while you sit.
Mind Reader Footrest on Amazon $26.99
Learn more in our Ergonomic Footrest Guide.
Titan XXS Ergonomic Downside
Standard ergonomic kids' chairs come with mid-back support that forces users to sit straight. In contrast, the Titan XXS chair's full-back support makes slouching an option.
The problem is that even when sitting in the wrong positions, gaming chairs are insanely comfortable. Unsupervised, kids could easily develop sloppy sitting habits with serious long-term consequences.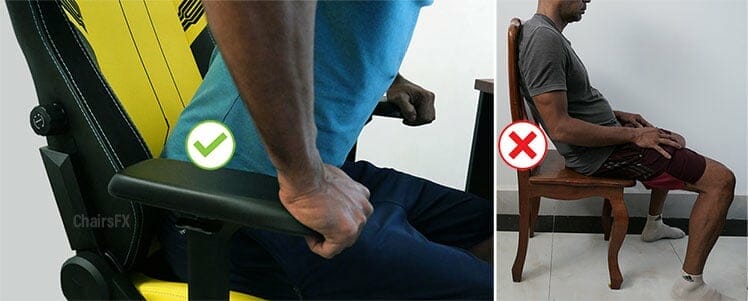 Luckily, studies show that kids respond well to ergonomic mentoring. In the Titan XXS, there are two keys to healthy sitting:
Tuck the hips deep into the seat pan.
Keep the feet planted firmly on the floor (or on a footrest).
To use the Titan XXS with an adult-sized desk, add an ergonomic footrest. That will help the child sit taller in the chair while still keeping their feet planted.
If you prefer a custom fit, Flexispot makes the best height-adjustable kids' desk by far.
Conclusion
The Secretlab Titan XXS is a 2:1 replica of a full-sized Titan gaming chair. Secretlab touts it as a collectible. However, based on its features, it's also a viable ergonomic chair for kids.
It follows the same concepts as other kids' chairs (adjustability and straight sitting support). But it differs with an array of luxury extras. These include premium padding and upholstery, adjustable armrests, and a rocking function.
Its 5-year warranty indicates it's built to last. The downside is that gaming chairs are very comfortable, even when you slouch. Keep your eye on your kiddies while they sit in their new Titan XXS.
Make sure they tuck their hips and sit with feet planted firmly on the floor. Then, let years pass as they develop crisp posture habits that rocket them into adulthood!
Titan XXS from Secretlab $299-$319
The Titan Plushie add-on costs $39. It's available in Mint Green, Plush Pink, or Frost Blue.