Gaming chairs come with adjustable lumbar support systems. Some chairs have integrated support while others use pillows. In both cases, proper usage is essential for healthy, pain-free healthy sitting. Conversely, improper usage promotes slouching. That leads to lower back pain. Luckily, lumbar support best practices exist to boost energy and avoid pain. These harness biomechanical realities to make good sitting posture feel natural and effortless.

Every desk worker and hard-core gamer faces the same problem. Sitting for long periods without lumbar support is bad for your health. Doing so will tilt the pelvis and flatten the lower back curve. Over time, the body will adapt to this mutated position.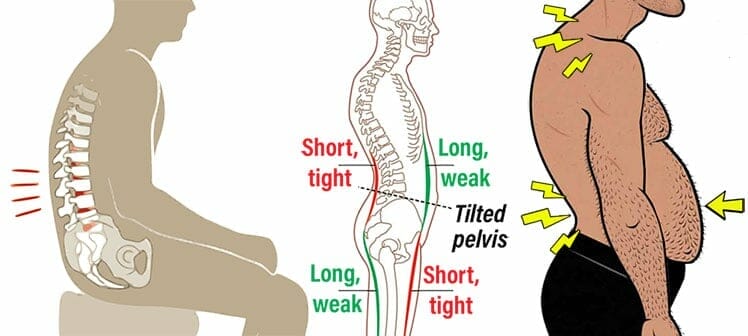 Then, muscles in the back and shoulders that hold the spine straight get underworked. As a result, they atrophy. That shortens hip flexors, curls the spine into a 'c' shape, and hunches the shoulders.
In contrast, sitting with pressure applied to the lower back triggers a reflex. For example, a doctor can tap your patellar tendon to elicit a knee-jerk reflex reaction. In a similar fashion, lower back pressure in a seated position reflexively straightens the upper back!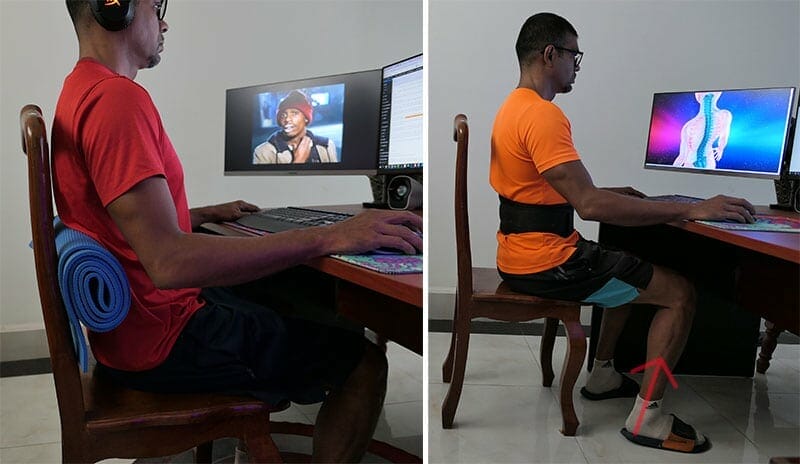 However, many new gaming chair users struggle to use their lumbar support properly. When set too high, a pillow will bend your upper back into a slouch. If set too low, it will curl your hips forward until your spine looks like a banana peel!
In contrast, proper usage will straighten the back, strengthen the core, and supercharge performance. Here's the gist:
Gaming Chair Lumbar Usability Tips
Like all types of ergonomic chairs, gaming chairs are designed to support neutral sitting positions. To achieve a neutral posture, you first need to plant your feet firmly on the floor. Then, use the armrests to support your arm and shoulder muscles.

Most importantly, position the lumbar pillow to support your lower back. Setting too high or low will encourage slouching. Setting it properly will reflexively straighten your spine, making it easy to sit in a neutral position.

Among all sitting positions, neutral ones exert the least stress on the lower back, shoulders, and neck(1). That reduces muscle strain.
As a result, users can sit comfortably for long periods without issue! Then, health, happiness, and productivity can skyrocket!
The Biomechanics Of Healthy Sitting
The human body is not designed to sit for long periods. Doing so without support will tilt the pelvis forward and shorten the hip flexors. Over time, the body adapts to this position. As a result, users develop a perpetual slouch while sitting or standing.
Lumbar pressure applied to the small of a user's spine counteracts pelvic rotation. This is why all types of ergonomic chairs come standard with adjustable lumbar support.
That's why a healthy neutral posture looks the same in all types of ergonomic chairs. It doesn't matter if you choose a gaming or office-style model.
In all types of chairs, properly-placed lumbar support triggers the same reflexive actions. Below we explain reflexive lumbar support aspects from practical and physiological perspectives.
Office Chair Lumbar Support Types
If you don't like racing-style gaming chairs, an ergonomic office chair is the best alternative. Within the entire genre, two types of lumbar support systems stand out.
Conclusion
When standing, the normal lumbar lordotic angle (LLA) in men and women is between 20-45 degrees(6). Unsupported sitting reduces lumbar lordosis by 50%. At the same time, it increases intradiscal pressure at the third lumbar vertebra by 40%.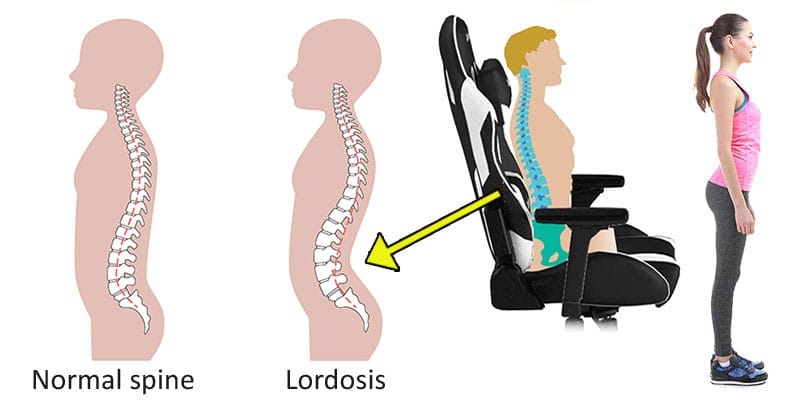 By combining a mild recline with lumbar support, users can achieve a healthy lumbar curve. Research suggests the ideal as a 110° backrest recline plus lumbar support 4 cm deep. That results in an optimal seated lumbar curve of 47°.
That is slightly more than the optimal standing lumbar curve. Since humans aren't designed for long periods of sitting, the extra lumbar support helps to compensate.

The bottom line is that lumbar support is essential for anyone who spends long periods sitting. A healthy curve in the lower back keeps the spine straight and in a healthy alignment. Whichever type of chair you use, use the same methods.
First, adjust the lumbar support to fit into your lower back curve. Then sit as far back as possible in the chair so that the lumbar support fills your lower back curve. That puts you in the perfect position to deploy a neutral sitting position:
Feet planted on the floor.
Knees bent at around 90° with thighs parallel to the floor.
Back straight.
Elbows bent at 90° with forearms parallel to the floor.
Footnotes