For good back support, institutional guidelines have a clear consensus. Any chair with adjustable lumbar + arms + reclining backrest qualifies. For example, all Steelcase chairs use a classic lumbar-powered support concept. But regardless of the chair, two things are necessary for the best results. First, the chair's settings should sync with the user's proportions. Second, the user should apply the right techniques to achieve a neutral posture end. As proof, here's a healthy posture quickstart tutorial for the Steelcase Series 1.
The Series 1 is the cheapest Steelcase ergonomic office chair. It supports sizes from 5'4″ to 6'1″ (162-185 cm). Unlike its pricier siblings, it lacks tilt-locking backrest angles.
Instead, you can only lock the Series 1 at a 100° angle, or unlock it to rock between 100-120°. Luckily, a locked 100° backrest is the sweet spot to support picture-perfect postures.
The above picture tells the story from a Steelcase perspective. Any chair set to a 100° recline + adjustable lumbar + arms can technically support perfect posture. Caveat: the user needs proper settings and techniques to achieve the best results.
Proper usage means tucking your hips deep into the seat; planting your feet on the floor; bracing your lower back with lumbar support; propping up your torso via the armrests.
However, proper usage gets negated by a misconfigured chair. In the following left image, the seat, armrests, and lumbar support are all set too low. As a result, my seated posture looks terrible.

In the right image, I set the seat, armrests, and lumbar support appropriately. Then, using proper technique yields excellent results.
The Series 1 is also available from SmartFurniture for $561.
Steelcase Series 1 User Quickstart
If good posture support is your goal, the Series 1 is a steal. It lacks extraneous tilting functions of pricier Steelcase chairs. Even so, it supports good upright working postures with equal effectiveness. Summary of specs:
Height-adjustable lumbar: 6.5″ to 8.75″
Recline + Sync tilt: 100-124° rocking range; 2° seat sync-tilt during recline
Adjustable arms: 6.5″ to 11″ height range; 40° pivot left or right
Seat: 15.75″ to 18″ adjustable depth
Warranty: 12 years
Seat width x depth: 19.2″ (W) x 15.75″ to 18″ (D)
Backrest width x height: 21.5″ (W) x 21.5″ (H)
Floor-to-seat range: 16.5″ to 21.5″
Size rating: 5'4″ to 6'1″; up to 300 pounds
The Series 1 chair's feature set provides everything you need to support crisp, effortless neutral postures. With proper usage and chair settings, the results are impressive.
After receiving your Series 1, make it a priority to master these steps:
Set Lumbar Support Above The Beltline
The 2009 paper Seeking the Optimal Posture of the Seated Lumbar Spine calls for a lumbar support depth of around 4 cm (1.5″). Regarding height, the general rule is to set the lumbar to provide support just above your beltline.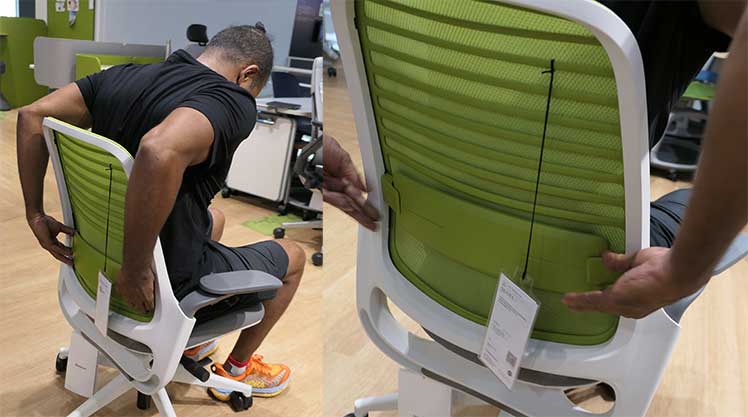 For average-sized men (5'8″to 6'2″), 'above the beltline' is around 7.5″ above the seat. For average women (5'4″ to 5'7″), it should be around 5.5″ above the seat. Using these guidelines, simply play around with the Series 1 lumbar slider until you find your sweet spot.
Set An Optimal Seat Height + Depth
The optimal seat depth should allow 1-2 inches of space between the back of your knees and the seat lip. The optimal seat height varies. A standard recommendation is to shoot for 90-degree or greater angles of your knees, hips, and elbows(1).
Meanwhile, a seated knee bend of less than 100° (with hips slightly above the knees) is reported to reduce lower back pressure(2). In practice, I've found that claim accurate.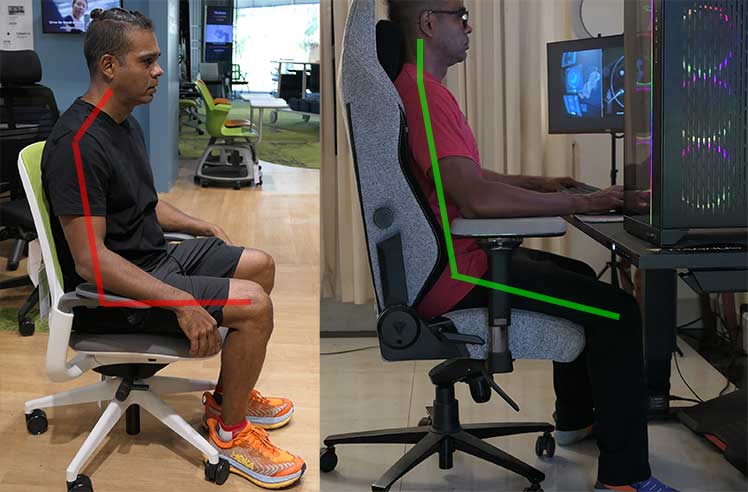 In my experience, the ideal seat height places your hips slightly higher than your knees. At the same time, it allows for a knee bend of between 90-120°.
Lock The Backrest At 100°
Famous ergonomist Dr. Alan Hedge (Cornell) has stated that lumbar disc pressure and back muscle activity are lowest with a supported recline angle of 110° – 130°. In practice, I found sitting with a 110° recline easy and insanely comfortable.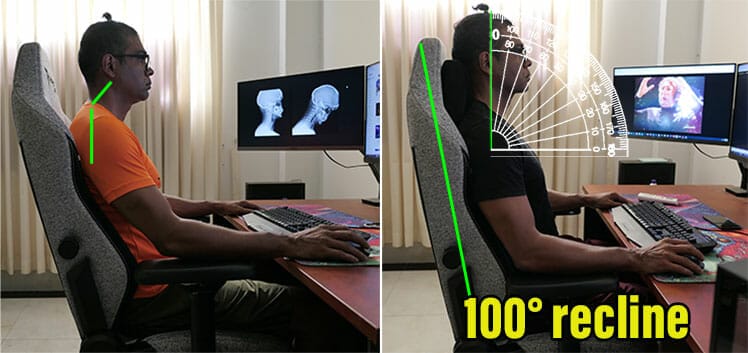 However, while researching text neck syndrome, I found my 110° recline angle problematic. While it did support good lower back posture, it also induced a rounding of the upper spine.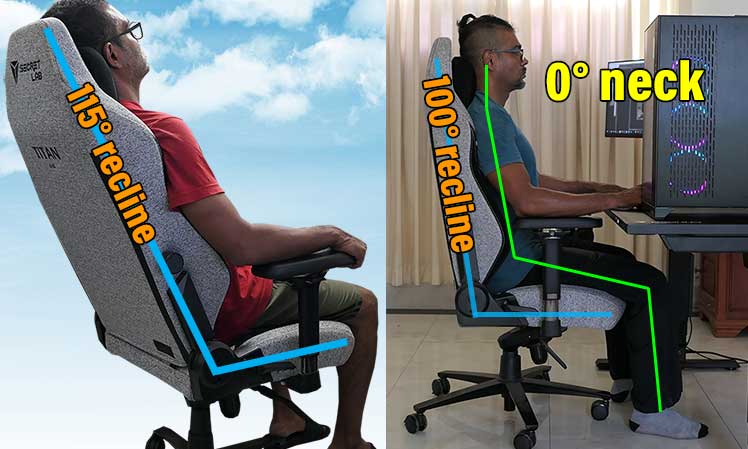 These days, I prefer sitting with a steep 100° backrest recline. I find that doing so best supports good back and neck posture. Steelcase engineers seem to agree. Here are the upright and recline positions of the best Steelcase chairs:
Gesture: 98°-116°; 5-position backstop
Leap: 96-120°; 5-position backstop
Think: 98-116°; 3-position backstop
Series 1: 100-120° rocking with tension
Bottom line: the Series 1 comes with a 100° recline angle as its default. To master neutral postures, simply lock it in place. Once you've got the gist, unlocking it will add a rocking function.
Apply Neutral Sitting Techniques
The point of an ergonomic chair is to support neutral sitting postures. These replicate the lower back and neck angles of healthy standing postures.
As a result, users can sit comfortably for longer periods — without suffering from musculoskeletal stress. Good sitting posture yields many benefits. These include supercharged energy levels, sharper cognitive focus, enhanced spatial awareness, and more.
To unlock these benefits, configure your Series 1 chair's settings:
Set the lumbar to support your back just above your beltline.
Adjust the seat height to allow for a 90° (or greater) hip and knee bend.
Lock the backrest angle at its default 100° recline.
Once you've got the settings down, apply these techniques:
Adjust your seat height so you can plant your feet firmly on the floor.
Tuck your hips as deeply as possible into the seat.
Adjust your lumbar support to apply mild pressure to your lower back curve.
Rest your forearms on the armrests.
Push up with your forearms until your back is straight.
To see how these techniques apply to various gaming and office chairs, see this:
Proper Settings & Usage = Elite Support
What does 'ergonomic' actually mean? In seating terms, OSHA, BIFMA, the Handbook of Human Factors and Ergonomics, and other institutional leaders have similar definitions. Any chair with adjustable lumbar + arms + a reclining backrest qualifies.

Acquiring an ergonomic chair with this trio of adjustable components is a good start. But to make the most of it, the chair's settings should be customized for the user. Then, the user should apply proper neutral sitting techniques.
With proper settings and technique, any chair can support healthy neutral postures. It doesn't matter whether you use a $448.20 Series 1, $1700+ Herman Miller Aeron, or $1700 Fern.
You can see for yourself that the $448.20 Series 1 supports picture-perfect sitting postures as well as pricier chairs.
Significantly, spending more does not buy you objectively better back support. Instead, you get a similar lumbar-powered support style plus luxury extras.

As one example, the Haworth Fern has a funky viewing window that shows off an ultra-adaptive backrest. The adaptive backrest is fun to flop around in; the viewing window is amusing.
As another example, most elite ergonomic office chairs justify high prices with elaborate sync-tilting seats. While technically spectacular, flopping around in a chair to 'move your body' is inefficient.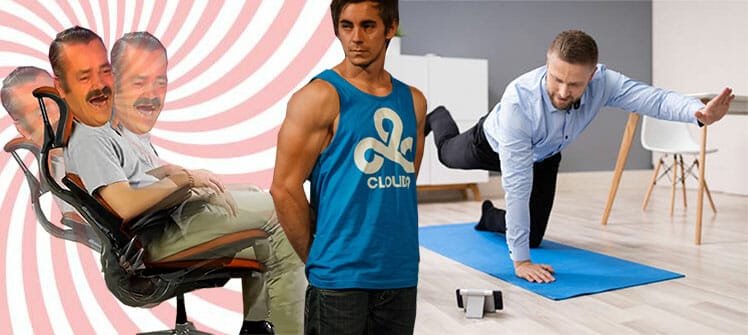 For much better results, simply stand up from your chair and stretch your legs. For more price-jacking extraneous luxury extras, read 4 Overblown Ergo Office Chair Selling Points: 2023 Update.
Bottom line: with proper chair settings and usage, the Steelcase Series 1 offers fantastic value for money. Enjoy 12+ years of elite back support — minus fancy frills you don't need anyway.
The Series 1 is also available from SmartFurniture for $561.
Footnotes
Canadian Centre for Occupational Health and Safety. 'Working in a Sitting Position'. Ergonomic Fact Sheet, revised September 28, 2022. https://www.ccohs.ca/oshanswers/ergonomics/sitting/sitting_position.html, (accessed April 2, 2023).
Physio Med. 'Correct Sitting Posture: Office'. Access the PDF, (accessed April 2, 2023).