Gaming chairs provide the tools to enjoy long periods of healthy sitting. But proper usage of a chair's ergonomic components is essential for success. Many new gaming chair users struggle in the early going to find their sweet spot. Learn how to sit in a gaming chair, and how do correctly helps.
The simple definition of 'ergonomic' is adjustable. In all types of ergonomic chairs, there are three essential ergonomic components. Proper adjustments in lumbar support, armrests, or backrest recline yield the best results.
Video: How to sit in a gaming chair
Learning how to sit in a gaming chair becomes easier with a clear objective. In all cases, healthy use of a gaming chair involves sitting in fluid, neutral postures. Neutral posture means feet flat on the floor; lumbar support pressed into the lower back; straight spine. Fluidity involves slight position changes using the chair's backrest or seat tilt.
Chapters:
Ergonomic back health realities
In brief, neutral postures minimize spinal and muscular strain. Dynamic neutral postures relieve fatigue, work core muscles, and boost circulation.

The following sections explain the physiological realities in greater detail.
Peer-reviewed guidelines for healthy sitting
Here's a summary of the studies that define healthy sitting fundamentals.
Seeking the optimal posture of the seated lumbar spine
This 2001 paper reviewed existing posture studies and reached a firm conclusion. (source)
A lordosed seated posture, regularly interspersed with movement, is the optimal sitting posture to maintain lumbar postural health and prevent low back pain.
It highlights lumbar support and a reclining backrest as essential ergonomic supports.
When standing, a healthy lumbar curve has an angle of 20-45 degrees. Sitting without support reduces the curve by around 50%.
Lumbar support decreases disc pressure and reduces lower back pain.
Sitting in a 110° recline with lumbar support 4 cm deep produces a lumbar curve angle of 47 degrees. This is ideal.
Handbook of Human Factors and Ergonomics
The fourth edition of The Handbook of Human Factors and Ergonomics came out in 2012.
This book is the reference for ergonomic researchers, graduate students, and product designers.
Each chapter posts clear concepts backed by hard science useful for real-world applications. On Amazon, this edition is priced like a textbook for $293.34.
Here are the key ergonomic bits we've condensed from the book:
Adjustable seat height: adjust so that the feet rest flat on the floor (not dangling). If the operator is too short, add a footrest.
Seat depth: the seat should be deep enough so the user can sit far enough back to use the backrest. At the same time, it should be short enough to not put pressure on the back of the knees.

Best practice: sit against the backrest without placing pressure on the inside of the knees.

Backrest height: the backrest provides back support in various postures. For full support, the top of any ergonomic backrest should be at least 18″ higher than the compressed seat height.
Lumbar support: this maintains a natural curve in the lower spine. The lumbar support area of the backrest should be roughly 6-10 inches (15-25 cm) above the seat height.

The point of lumbar support is to induce mild seated lordosis.

Backrest angle: using a variety of recline angles reduces fatigue. An ergonomic backrest should recline to at least 115 degrees.
Armrest height: armrests set to the right height provide crucial support for the neck and shoulders. Armrests should be height adjustable with an adjustment range of at least 4 inches (10 cm).
Summary of studies
For long periods, neutral sitting postures are ideal. To support those, an ergonomic chair needs three adjustable components.
Small adjustments in your lumbar support, armrests, or backrest recline can make a huge difference. Learn more about these and other ergonomic studies from Cornell, BIFMA, etc:
How gaming chairs boost productivity
Lumbar support keeps the back straight. Armrests provide spinal, neck, and wrist relief. A reclining backrest adds regular position changes. Cold foam padding provides adaptive comfort. A seat angle tilt-lock lets you work your hips.
Sitting this way for long periods of work will change your posture habits for the better. In time, the body will adapt, so that neutral sitting becomes a habit.
Good posture habits yield many productivity-boosting benefits. For one thing, good posture saves energy, which sends more power to the brain.
For another, when users are rested and comfortable, they perform better. Thus, using a gaming chair correctly will yield these benefits:
More energy and brainpower: an aligned body doesn't need to work as hard. As a result, the brain gets more power to play with. That enhances cognitive functioning.
Fewer headaches: good posture reduces neck and shoulder tension (the source of migraines).
Reduced muscle strain: misaligned postures force the muscles to work harder. Proper alignment reduces that strain.
More oxygen: good sitting posture opens the chest cavity and increases oxygen intake.
Better digestion: slouching compresses organs. That slows down the passage of waste.
Learn more about productivity-boosting benefits below:
Step-by-step user-guide
Beyond our video guide, we also have a step-by-step written guide. Here are the steps:
Adjust the seat height so the knees bend at 90 degrees. At the same time, feet should plant firmly on the floor.
Tuck your hips deep into the seat of your chair. This ensures proper contact with a chair's lumbar support.
Sync the armrests with your desk height. If the desk is too high, add an ergonomic footrest.
Adjust the height of your lumbar support to comfortably fill your lower back curve.
Use the recline or rocking function to keep your body moving. Avoid sitting in fixed, rigid positions.
Avoid crossing your legs, dangling your legs, or scooting your hips forward. After a few days of practice, your body will adapt to sitting this way.
Then, you can sit comfortably for long periods without health issues or fatigue. If you need more help, check this tutorial:
Best ergonomic chairs for your back
Any chair with adjustable lumbar, adjustable armrests, and a reclining backrest qualifies as 'ergonomic'. As this guide explains, proper usage is more important than the type of chair.
Gaming chairs are not the only ergonomic option. Many prefer ergonomic office chairs instead of racing-style designs. Both provide comparable support for neutral sitting.
As well, cheap and expensive ergonomic chairs are functionally the same. Pricier models add more luxury, but a comparable level of back support.
Given these realities, here are some of our favorites across three different categories:
High-end ergonomic task chairs
Herman Miller's ergonomic task chairs are widely regarded as the best in the world. They're also among the most expensive.
Like all ergonomic chairs, these chairs support the back with lumbar support, adjustable armrests, and a reclining backrest. Beyond those are luxuries (not necessities) that take comfort to another level.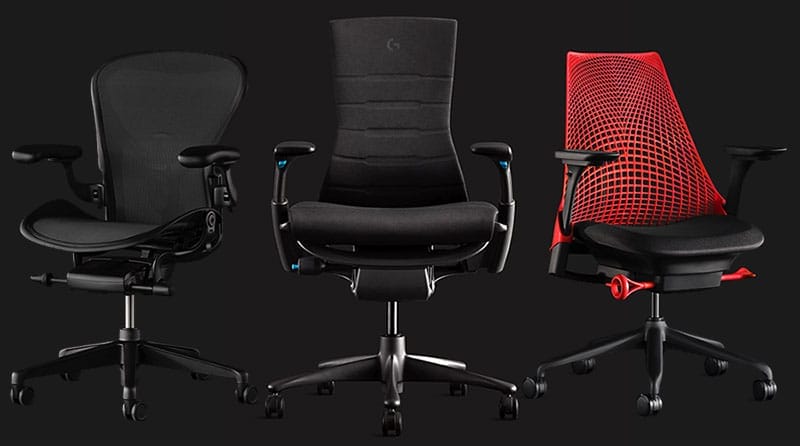 This brand offers both classic office-style chairs, and 'gamified' ones. Herman Miller gaming chairs have the same features, with minor aesthetic differences.
Herman Miller Embody
The Embody is the most expensive Herman Miller chair. On paper, it offers less adjustability than the Aeron. The reason for the higher price is its ultra-adaptive backrest support system. It works like a human spine, flexing in response to micro-movements. It's the most stylish option out there. It's also the most preferred by world-famous streamers.
Embody gaming chair review | Buy from Herman Miller $1495
Herman Miller Aeron
In its 27-year history, the iconic Aeron has had only one minor revision (lumbar support tweak). It comes upholstered in an ultra-adaptive mesh. It also has the most robust synchro-tilt in the industry. When you recline, the seat tilts up. When you lean forward, it tilts down. The net effect feels like a party in your hips as you move.
Aeron gaming chair review | Buy from Herman Miller $1445
High-end gaming chairs
Many established brands offer high-end, full-featured gaming chairs. Standard features in this class: cold-foam padding, 4D armrests, multifunction tilt-lock. Prices range from around $300 to $550.
Secretlab gaming chairs stand out. They have longer warranties, better features, and the most diverse range of styles.
Secretlab Titan
Instead of bladed edges, the Titan has a flat, wide, spacious seat. Instead of a lumbar pillow, it has a depth-adjustable internal lumbar support system. These tweaks deliver one of the most comfortable sitting experiences on the market. For users between 5'9″ to 6'8″ (the lumbar support won't fit shorter bodies).
Titan chair review | Buy from Secretlab $399-$459
Secretlab Omega
The Omega has bladed edges, a traditonal lumbar pillow, and smaller dimensions. Otherwise, it shares the same ergonomic features (and design styles) as the Titan. This is our top-rated gaming chair for small sizes. It fits users from 5'3″ to 5'11", with a 240-pound weight capacity.
Omega chair review | Buy from Secretlab $359-$419
Affordable ergonomic office chairs
The best high-end ergonomic task chairs cost between $600 to $1500. Those cost more because they come with complex synchro-tilt mechanisms. Without that feature, the next range of ergonomic chairs are priced between $350-$600.
Below are two of our favorites in the affordable ergonomic chair price class.
Sidiz T50
The T50 offers every ergonomic feature you need in a sleek, affordable package. It comes with 3D armrests, recline to 115 degrees, and a 3-year warranty. The lumbar support is height and depth-adjustable. This model also comes with a height-adjustable headrest.
Sidiz T50 review | Buy from Amazon $359.00
Flexispot Soutien Office Chair
This new product from Flexispot is almost perfect. Its main drawback is a limited seat height range. That negates effectiveness for taller users. Otherwise, its features are impressive. The Soutien chair comes with 4D armrests, 135-degree recline, and mesh upholstery. It also comes with a 1-year warranty.
Soutien chair review | Buy from Flexispot $269.99
Cheap gaming chairs (for students)
There are pros and cons to cheap gaming chairs. The main issue is that sloppy usage can cause back problems.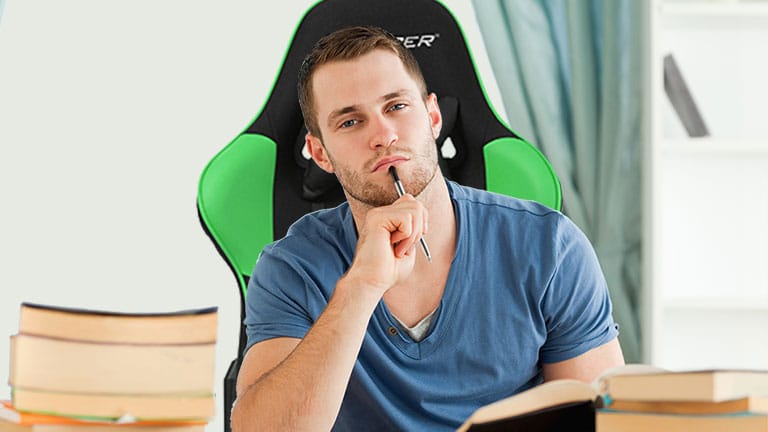 However, studies show that youth respond well to ergonomic interventions. Because of the fancy racing-style designs, adolescents and teens love gaming chairs. Thus, they need little convincing to spend long periods sitting in one.
With guidance, it's possible to help youth develop strong posture habits in a cheap gaming chair.
Cheap gaming chairs are less adjustable than premium chairs. But they are affordable, rugged, and ergonomically sound. Below are two cheap, durable models worth considering.
GTRacing Ace S1
The Ace S1 gaming chair offers the best features under $200 in the industry. It has 4D armrests, a deep recline to 170 degrees, and several fabric and leather styles. This brand has a well-deserved reputation for making rugged, comfortable gaming chairs.
Ace S1 chair review | Buy from Amazon $154.99
Autofull Sword
China's biggest gaming chair brand recently began selling chairs in America. The Autofull Sword has 2D armrests, deep recline, and an impressive 3-year warranty. This chair is comfortable and built like a tank.
Autofull Sword review | Buy from Amazon Price not available
Ergonomic chairs for kids 4-12
Many 'gaming' chairs marketed to kids provide the opposite of good back support. For instance, a classic floor rocker will curl the spine into the shape of a boiled shrimp.
For children aged 4-12, we suggest a specialty kid's chair instead. Those models teach essential neutral sitting habits from a very young age.
By the time a child is old enough for a gaming chair, they should already have rock-solid posture habits. Below are two of the leading ergonomic chairs for kids aged 4-12.
Sidiz Ringo
Designed for kids aged 6-13, the Ringo grows as the child's body does. The seat is depth-adjustable. The backrest has 4 adjustment levels to ensure a perfect fit. The Ringo also teaches kids to keep feet planted with a height-adjustable footrest.
Sidiz Ringo review | Buy from Amazon $199.00
SitRite ergonomic chair
The SitRite chair works similarly to the Ringo, but with smaller dimensions. This model fits average-sized kids from age 4-9+. Smaller children can use a built-in, adjustable footrest. Taller kids can remove the footrest and use the chair standalone.
SitRite chair review | Buy from Amazon $185.95
Conclusion: ergonomic posture therapy
The conclusion of the video lists my own 4-year experience using gaming chairs. Before that, I had spent over a decade working full-time in cheap office chairs.
I had a chronic slouch and very tight hamstrings. The longer I sat in neutral postures, the better my posture became. After around a week of sitting that way, my body became used to it.
Another path to posture improvement is through physiotherapy. Posture correction physiotherapy uses movement exercises, physical therapy, education, and advice. Usually, it takes around 6-12 weeks of therapy to achieve results.
In my experience, gaming chairs can achieve the same ends as posture therapy (not medical advice!!). Here's how I filled physiotherapy objectives with my gaming chair:
| Posture physiotherapy objectives | Reason for objective | Gaming chair posture therapy |
| --- | --- | --- |
| Normal muscle length | Tight muscles curl the spine into a 'c' shape. | Sitting for long periods in a neutral posture will loosen muscles. |
| Core muscle strength | Stronger core muscles make it easier to maintain good posture. | Using seat tilt angles works hips and stomach muscles. |
| Muscular endurance | Postural muscles must work for long periods every day. Without endurance, the back can wilt into a slouch. | Regular movement keeps muscles active and engaged. |
| Improve spatial awareness | Therapists provide verbal and visual feedback to 'coach' patients into better habits. | Use tactile sensation of the pillows to gauge your positioning. |
This shows how it's possible to improve posture and wellness by playing video games. Any chair with an adjustable lumbar, armrests, and backrest can provide the support you need.
Choose the right model for you based on budget and aesthetic preferences. No matter which type you use, maintaining neutral postures is the key to success.