When people sit in non-ergonomic chairs, they often slouch. Over time, slouching misaligns the spine. That overworks back muscles, causing chronic pain and fatigue. Like all ergonomic chairs, gaming chairs are designed to prevent pain and fatigue. But how to sit in a gaming chair? The answer: in a choice of active or passive neutral postures. Keep reading to master neutral sitting techniques in any type of ergonomic chair.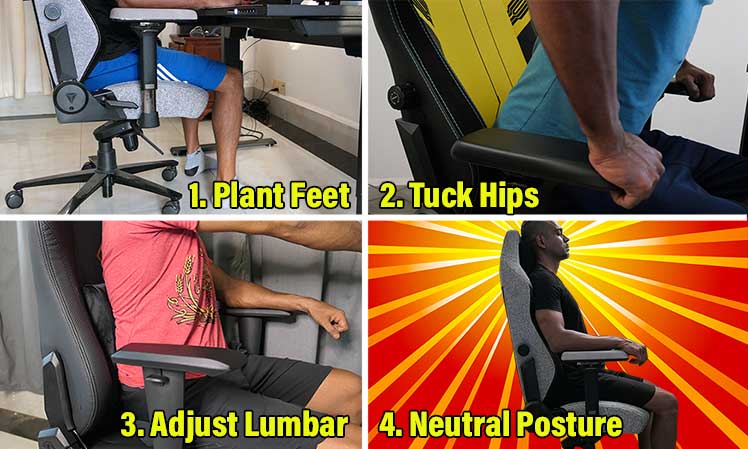 A gaming chair is a type of ergonomic chair. All ergonomic chairs have the same purpose: to support neutral body postures (NBP). NASA discovered these in outer space back in 1973.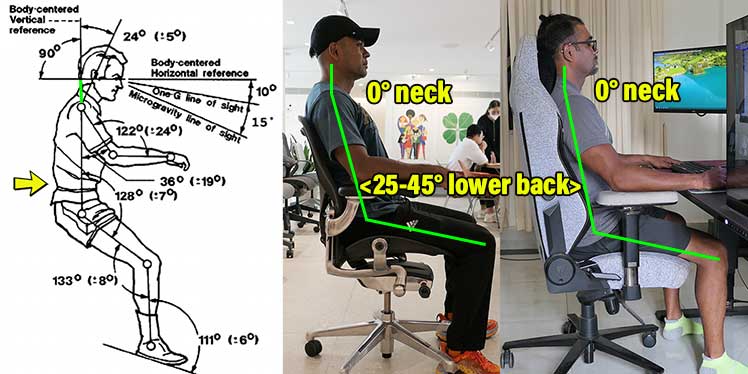 While observing astronauts in zero gravity, researchers noticed a pattern. While upright, astronauts would always fall into active neutral body postures. These align the spine while engaging back muscles to hold the torso upright.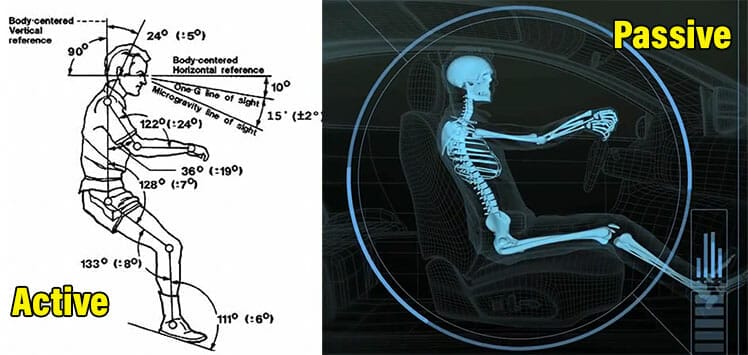 Soon after NASA shared its findings, the car seat industry popularized passive neutral postures. These recline the user to relieve back muscles. Then, the backrest does the work of aligning the spine and holding the torso up against gravity.
Active and passive neutral posture concepts also apply to gaming chairs. In any type of seat, you can engage your back muscles to sit in an active neutral posture.
Once your back muscles tire, you can revert to a chair-assisted active neutral posture. Finally, when it's time for a break, kick back in a passive-neutral posture. This will rest your back muscles, letting the chair do the work of holding you up against gravity.
How To Sit In A Gaming Chair
Plant your feet, tuck your hips deep into the seat, support your lower back, and sit upright. That's the gist of sitting in a neutral posture. Before trying, it helps to grasp two concepts. The first: neutral posture biomechanics.
These are simple: strive for a 0° neck tilt and a 25-45° lower back curve. Those numbers replicate the angles of a healthy standing spine. When they deviate, myriad musculoskeletal issues can emerge.
The second: all ergonomic chairs support neutral postures using the same trio of components. Adjustable lumbar support aligns the spine. Adjustable arms provide extra upper body bracing. A reclining backrest lets you customize angles.

After grasping these concepts, follow these steps to sit with a healthy neutral posture in your gaming chair:
Adjust Your Chair's Seat Height
The optimal seat height varies. Many experts advise aiming for 90-degree or greater angles of your knees, hips, and elbows.
However, sitting with a 100°+ knee bend with hips slightly higher than the knees has been found to reduce lower back pressure(1).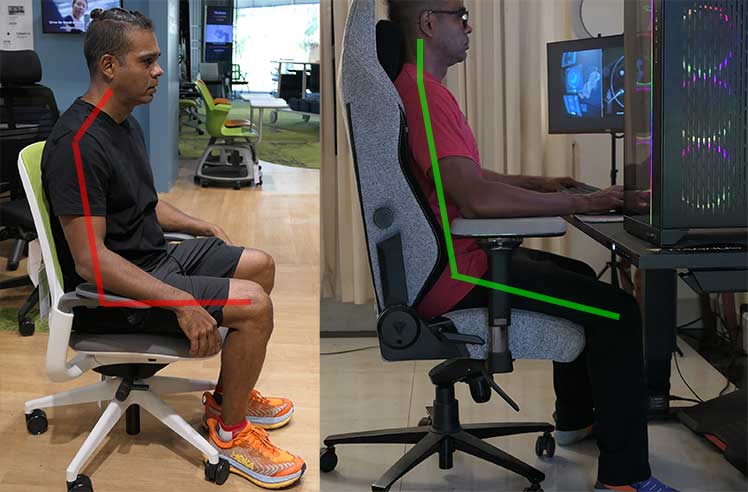 In practice, I find this accurate: it feels easier to maintain good posture when sitting with the hips slightly higher than the knees.
Adjust Your Chair's Lumbar Support
When standing, the normal lumbar lordotic angle (LLA) in men and women is between 20-45 degrees. Unsupported sitting reduces lumbar lordosis by 50%. Lumbar set to the right spot support prevents this reduction from happening.
It's recommended to target your lumbar support slightly above your beltline, with a depth of around 1.5″ (4 cm). If you've never used a gaming chair before, play around with these targets until you find your sweet spot.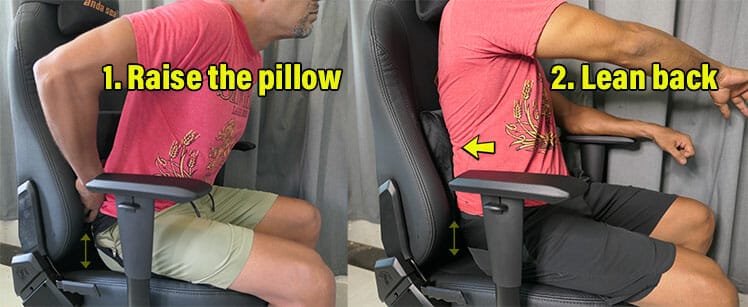 For instance, if your gaming chair has an external lumbar pillow, aim for the support to hit slightly above your beltline. That should raise your pillow a few inches higher than the seat.
Once you've found your sweet spot, you'll internalize it. That will make lumbar-supported sitting a key part of your healthy deskwork routine. Learn more about lumbar support concepts:
Manage Your Recline Angles
Most gaming chairs have backrests that recline from around 90-160°. To simplify things, first-time gaming chair users can refer to three different angles.
While working at a desk, most people will set their recline angle to 100-110°. A 100° lets your chair support a sharp active neutral posture. Popping back to 110° recline keeps you upright, but with less effort needed from your back muscles.
In both cases, your spine should maintain the recommended neutral angles: a 25-45° lower back curve and a 0° neck tilt.
Mitigating Text Neck Syndrome
Sitting with a clean 0° neck tilt is becoming a greater priority in the mobile computing era. These days, the average person spends around 3 hours daily using a cell phone(2). Most do so with a sharp forward head tilt.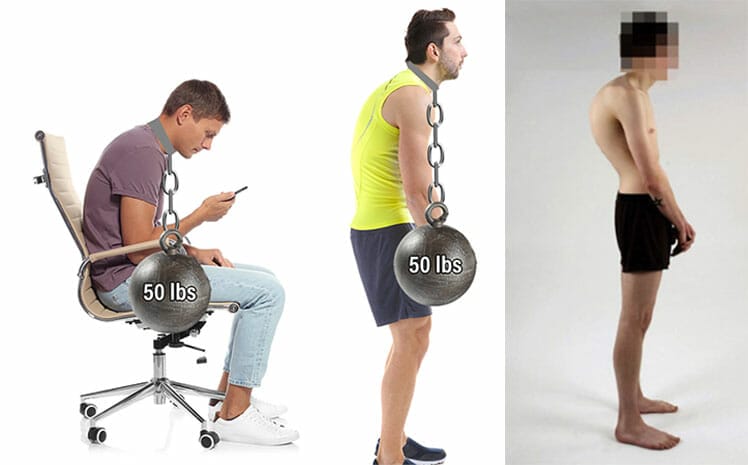 Sitting with a 45° forward neck tilt adds 50 pounds of extra pressure to the neck. Over time, this leads to upper body pain, neck pain, and migraines. If you're suffering such symptoms, focus on maintaining neutral neck postures while you sit!
Text Neck Syndrome Problems & Solutions
Related: How To Sit With A 0° Neck Tilt In A Gaming Chair With A Headrest
Keep Feet Planted Flat On the Floor
The first step to healthy sitting in a gaming chair is to adjust your seat height. Set it so that you can keep your feet planted firmly on the floor. This provides all of the power your back muscles need to hold the torso upright.
If used to dangling your feet or curling them under the seat, you'll need practice and discipline. Expect around 2-3 days of effort for that habit to lock in as muscle memory.
If your desk is too high to sit with planted feet, add an ergonomic footrest. That will let you sit taller in your chair and reduce pressure on your thighs as you sit.
Another big benefit is that ergonomic footrests make it easy to move while you sit. Imagine the blood-boosting benefits of working your ankles and calves while you play video games!
Maintain Neutral Sitting Postures
Follow these steps to achieve a neutral posture:
Adjust your seat height so you can plant your feet firmly on the floor. Hips should be slightly above the knees.
Tuck your hips as deeply as possible into the seat.
Adjust your lumbar support to provide support slightly above your beltline.
Rest your forearms on the armrests.
Push up with your forearms until your back is straight.
This 30-second clip shows this method being applied to a Secretlab Titan gaming chair and Herman Miller Aeron office chair:
Neutral Posture Wellness Benefits
Buying an ergonomic chair and using it to support neutral postures yields benefits that might blow your mind.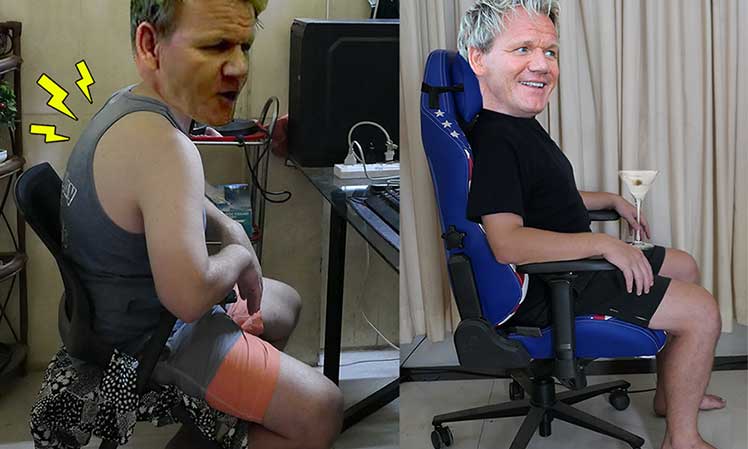 Beyond improved posture, users expect supercharged energy levels, sharper cognitive focus, greater spatial awareness, and more.
Neutral Posture Physical Benefits
Mastering neutral sitting techniques yields physical and then cognitive benefits. First, practitioners will be able to sit for long periods without discomfort. Then, those with poor posture will notice cosmetic changes.
As muscles adapt to neutral sitting postures, standing postures will also improve. Then comes a slew of noticeable physical benefits:
Fewer headaches: good posture reduces the neck tension that causes migraines.
Reduced joint stress: awkward sitting misaligns the hips. That puts stress on the joints.
More oxygen: good sitting posture opens the chest cavity and increases oxygen intake.
More energy and focus: an aligned body works muscles efficiently. That leaves more energy for brainwork.
Improved digestion: efficient bodily operation speeds metabolism and waste passage.
Neutral Sitting Mental Benefits
Sitting unsupported for long periods places a massive strain on the musculoskeletal system. A good ergonomic chair + proper sitting technique can reverse that. Then, expect your energy levels to soar.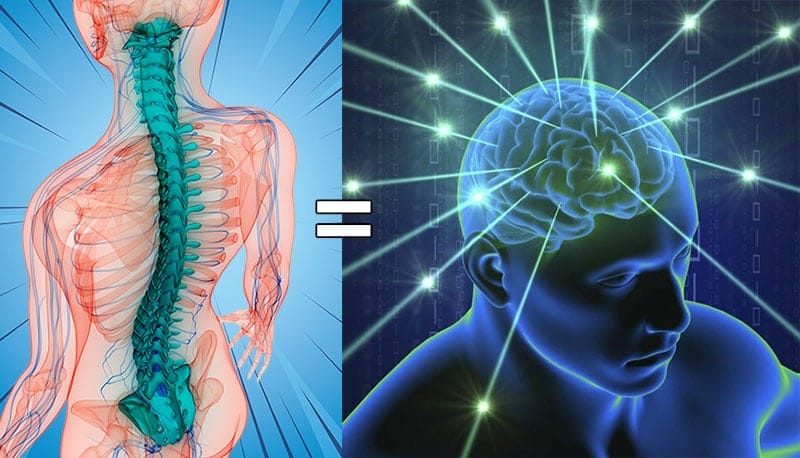 This is the biggest neutral posture benefit of them all. A body with excess energy powers a sharper brain. As a result, users also enjoy sharper focus — and enhanced productivity — while computing.
Esports Blueprint: Posture + Movement
A good ergonomic chair used properly relieves musculoskeletal stress. That leaves more energy on the table for other pursuits. Having more energy segues perfectly into the esports performance blueprint.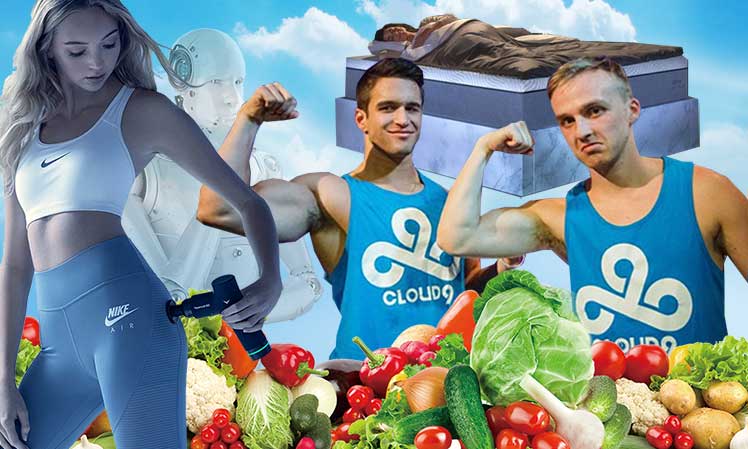 Beyond using good ergonomic chairs, elite players take frequent standing breaks to keep muscles active. When away from the computer, exercise, clean eating, and sound sleep give high-achievers a performance edge.

For example, after mastering neutral postures, I gained the energy to hit the gym, eat clean, and lose my beer belly. In fact, these side projects are an integral part of the modern esports performance optimization formula.
Conclusion
Mastering good neutral sitting techniques is easy and intuitive. After a few days of sitting this way, expect your muscles to adapt. Then, long periods with near-perfect neutral form will feel effortless.
The above photo shows myself (an experienced ergo chair user) using standard neutral form in a $1300 Herman Miller Mirra. Next to me is a first-time user in a DXRacer Craft gaming chair. With proper technique, we're both easily able to maintain healthy neutral postures.
The bottom line is that proper usage is more important than the type of chair being used. With good form, any chair with adjustable lumbar + arms + recline can do a similar job.
Gaming Chairs Vs Office Chairs: Comfort vs Focus
Footnotes
Physio Med. 'Correct Sitting Posture: Office'. Read the PDF, (accessed April 2, 2023).
Pablo Robles. 'Why your smartphone is causing you text neck syndrome'. January 25, 2019. https://multimedia.scmp.com/lifestyle/article/2183329/text-neck/index.html, (accessed 10 April 2022).