Every ergonomic chair has three essential features. These are adjustable lumbar support and armrests & a reclining backrest. With proper use, this combo supports healthy neutral sitting postures. These relieve stress on the spine and surrounding muscles. As a result, users enjoy long periods of comfortable sitting. With less muscle energy burned, the brain gets more to play with. That sets the foundation to supercharge performance. Here's documented proof. Learn how to sit in any type of ergonomic chair to boost health, happiness, and productivity.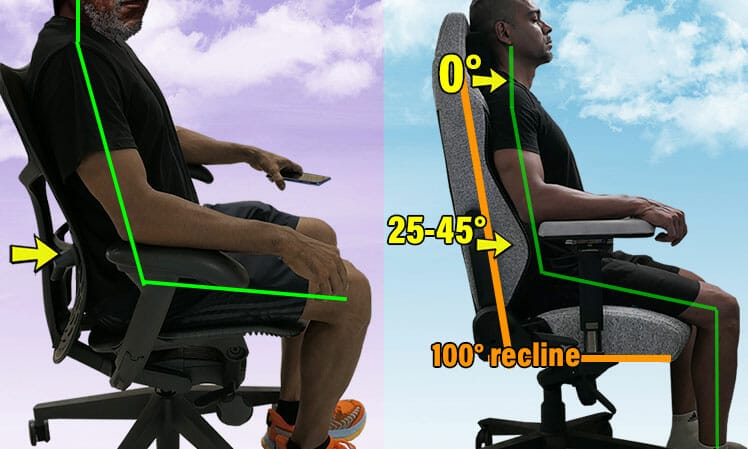 Every ergonomic chair is designed to support healthy neutral sitting positions. With proper support and technique, this will ideally produce a 25-45° lower back curve and 0° neck tilt.
Achieving a 25-45° lower back curve while sitting will align the entire spine. In mid-back office chairs, that should leave the head balanced atop the shoulders with a 0° neck tilt.
In full-back gaming chairs, a 100° backrest recline + a supported lumbar curve lets the neck maintain a 0° neck tilt by bracing against the headrest.

In both types of chairs, using proper technique yields similar results.
A well-executed neutral posture aligns the spine as if it were in a healthy standing position. Then, the musculoskeletal system works efficiently to hold the body up against gravity.
Gaming & Office Chair Sitting Quickstart
It doesn't matter if you use a gaming chair or an ergonomic office chair. In both cases, usage is the same. To get started, adjust the seat height so your feet can plant firmly on the floor. Then, tuck your hips deep into the seat.

Tucking the hips maintains a lower back curve. It also puts your spine in direct contact with your chair's lumbar support. In contrast, curling your hips forward will flatten your lower and upper spine into a 'c' shape.
With tucked hips and planted feet, the chair's ergonomic components kick in. Adjustable lumbar support maintains a 25-45° lower back curve (the same as a healthy standing posture).

Then, adjustable armrests provide extra bracing to hold the spine upright. Meanwhile, a tilt-lock reclining backrest lets you customize angles. For upright support, 100-110° recline angles work best.
Neutral Sitting Posture Technique 101
Adjust your seat height so you can plant your feet firmly on the floor.
Tuck your hips as deeply as possible into the seat.
Adjust your lumbar support to apply mild pressure to your lower back curve.
Rest your forearms on the armrests.
Push up with your forearms until your back is straight.
Neutral Posture Physical Benefits
Mastering neutral sitting techniques yields physical and then cognitive benefits. First, practitioners will be able to sit for long periods without discomfort. Then, those with poor posture will notice cosmetic changes.
As muscles adapt to neutral sitting postures, standing postures will also improve. Then comes a slew of noticeable physical benefits:
Fewer headaches: good posture reduces the neck tension that causes migraines.
Reduced joint stress: awkward sitting misaligns the hips. That puts stress on the joints.
More oxygen: good sitting posture opens the chest cavity and increases oxygen intake.
More energy and focus: an aligned body works muscles efficiently. That leaves more energy for brainwork.
Improved digestion: efficient bodily operation speeds metabolism and waste passage.
Neutral Sitting Mental Benefits
Sitting unsupported for long periods places a massive strain on the musculoskeletal system. A good ergonomic chair + proper sitting technique can reverse that. Then, expect your energy levels to soar.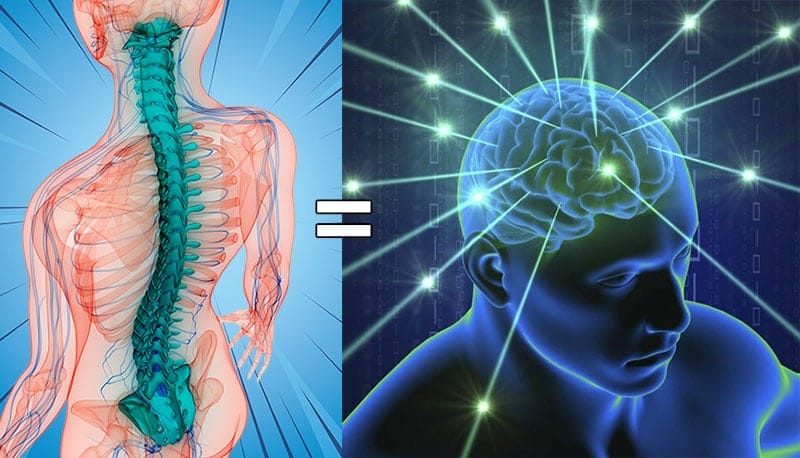 This is the biggest neutral posture benefit of them all. A body with excess energy powers a sharper brain. As a result, users also enjoy sharper focus — and enhanced productivity — while computing.
But excess energy also supercharges discipline. That can be parlayed into maintaining neutral postures. It can also power self-improvement projects beyond the computer.

For example, after mastering neutral postures, I gained the energy to hit the gym, clean up my lifestyle, and lose my beer belly. In fact, these side projects are an integral part of the modern esports performance optimization formula.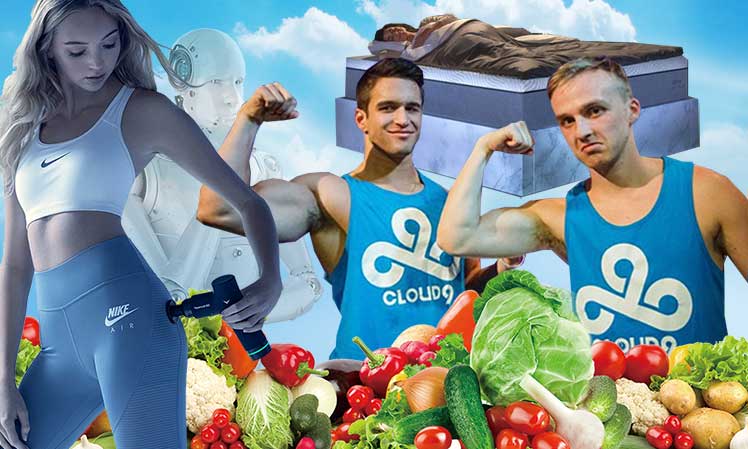 Beyond using good ergonomic chairs, elite players take frequent standing breaks to keep muscles active. When away from the computer, exercise, clean eating, and sound sleep give high-achievers a performance edge.
Neutral Sitting Posture Fundamentals
Here's a breakdown of each step in the neutral sitting process:
Keep Feet Planted Flat On the Floor
The first step to healthy sitting in a gaming chair is to adjust your seat height. Set it so that you can keep your feet planted firmly on the floor. This provides all of the power your back muscles need to hold the torso upright.
If used to dangling your feet or curling them under the seat, you'll need practice and discipline. Expect around 2-3 days of effort for that habit to lock in as muscle memory.
If your desk is too high to sit with planted feet, add an ergonomic footrest. That will let you sit taller in your chair and reduce pressure on your thighs as you sit.
Another big benefit is that ergonomic footrests make it easy to move while you sit. Imagine the blood-boosting benefits of working your ankles and calves while you play video games!
Tuck Hips Deep Into The Seat
The fundamental problem when sitting without support is that the back flattens and the hips curl forward. When upgrading to a gaming chair, muscle memory causes many to continue sitting this way!
Break this habit by replacing it with a new one. Every time you sit down in your chair, make it a habit to tuck your hips as deep as possible into the seat.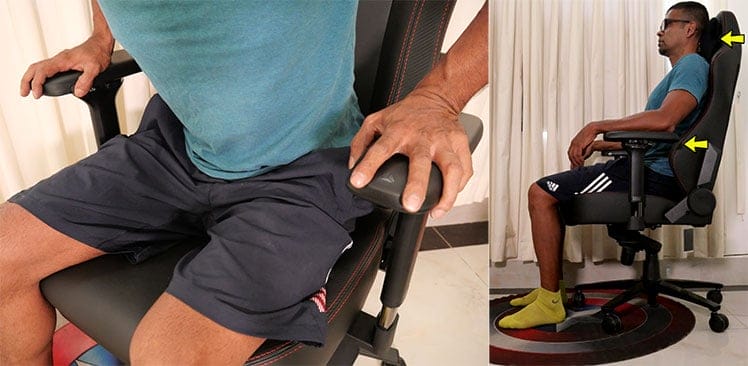 That will keep your hips in a healthy alignment while you sit. It will also ensure that your spine makes optimal contact with the backrest. That's where the posture magic happens!
Apply Lumbar Support
Based on the feedback we've received over the years, this is the part people struggle with the most. Most people make the mistake of setting their lumbar pillow too low or too high.

In both cases, those positions will curl the hips forward and curl the upper spine. The trick is to position your lumbar support to fill your lower back curve.
Lumbar support set too low will curl your hips forward. Lumbar support set too high will encourage upper body slouching. Aim to adjust your lumbar several inches higher than the seat pan.
The textbook definition suggests you place your lumbar support around 4 cm deep into the lower back curve. But at what height? A fully-grown adult spine averages 30″ long for men and 24″ long for women.

To reach the lower back curve, an average man should position his lumbar support around 7.5″ above the seat. In comparison, an average-sized woman should set her support around 5.5 higher than the seat. Learn more about the technicals:
Ergonomic Lumbar Support Biomechanics For Beginners
Best Lumbar Support Types
In 2022, ergonomic chair shoppers have several types of lumbar support systems to consider:
| | | |
| --- | --- | --- |
| Lumbar Type | Positive | Negative |
| Height x Depth Adjustable | Most precise support type | Tricky for some beginners to figure out |
| Height-adjustable | No depth-adjustability means less precision | Easier to use than 4-way systems |
| External memory Foam Pillows | Super-easy to use and effective | Needs constant readjusting |
| Gaming chair pillow | Cheap and effective | Tricky for ergonomic beginners to master |
Get a closer look at the pros and cons of each type (plus some gimmicks to avoid):
Recline and Tilting Functionality
Based on updated 2022 ergonomic parameters, these are the key recline angles that health-conscious desk workers should be using:
100°: ensures good back support and a straight neck. Best for intensive deskwork.
110-120° recline: delivers a more relaxed posture with a slight rearward neck tilt. Good for casual gaming or web browsing.
135° or deeper: for napping, resting, and non-computing tasks.
Updated Institutional Ergonomic Standards
Ergonomic standards were recently updated at the institutional level. Since the early 1990s, the focus had been on providing good back support to desk-bound PC users.
However, the average person now spends around 3 hours daily using a cell phone(1). Most do so with a sharp forward head tilt.
Recently, while researching the harmful effects of Text Neck Syndrome, I was shocked to discover myself a victim of it!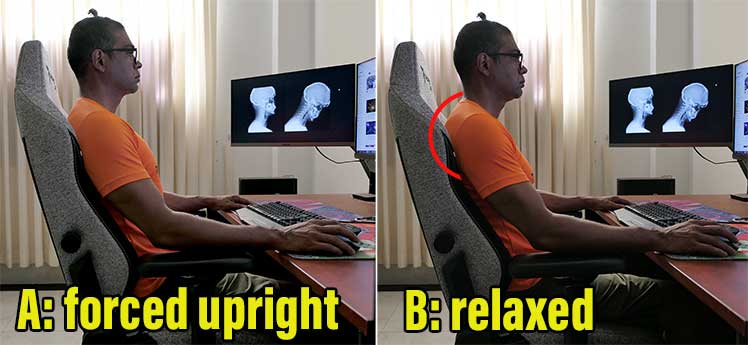 With the help of three famous esports doctors, I was able to address this condition using a Secretlab Titan 2022 Series chair.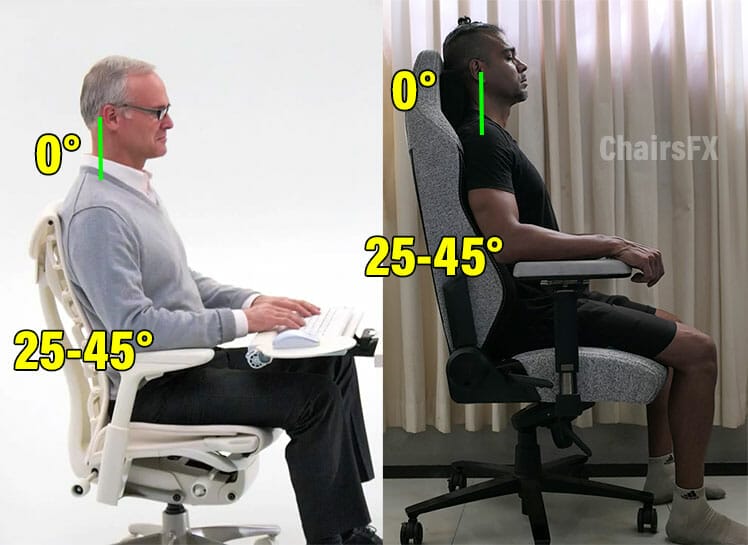 The trick: tuck your hips, plant your feet, adjust the lumbar, and set the backrest recline to 100° degrees. Then, the Titan provides the same level of biomechanically-precise support as a $1700 Herman Miller Embody!
How To Achieve Perfect Neck Posture In A Gaming Chair
Deeper recline angles
A sharp 100° backrest recline supports a 0° neck tilt. Even so, most people tend to use their gaming chairs with a relaxed 110-120° recline. This creates a slight loss of postural accuracy plus a mild rearward head tilt.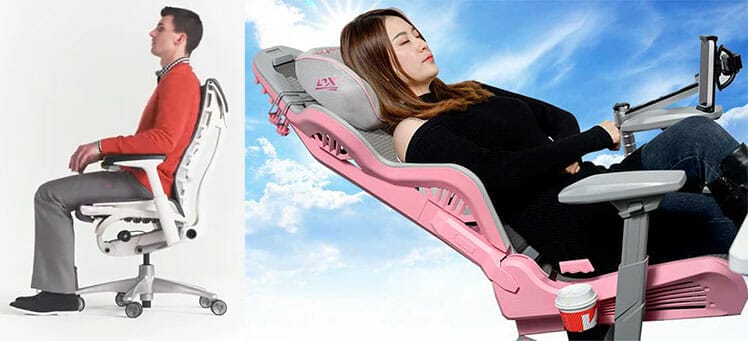 Despite the loss of postural integrity, deeper gaming chair reclines are insanely comfortable. While working from home, this delivers all-day support for a range of activities. Beyond upright deskwork, users can also kick back for casual computing or even napping!

The problem: using deeper, less posturally-accurate positions too often can degrade your posture. The body adapts to the positions it holds most often. By sitting willy-nilly too often, a gaming chair might cause pain instead of support!
Luckily, since the body adapts to frequently-held postures, it's possible to fix pain issues using a postural reset. That means forcing yourself to sit in strict upright postures for 2-3 days until new muscle memories develop. Learn more:
Troubleshooting: Fix Gaming Chair Back Pain
Seat tilting functionality
Seat tilting functionality isn't useful while mastering a neutral sitting technique. Rather, it's a relaxation method that lets you work your hips. Office chairs typically come with a feature called 'synchronous tilt'.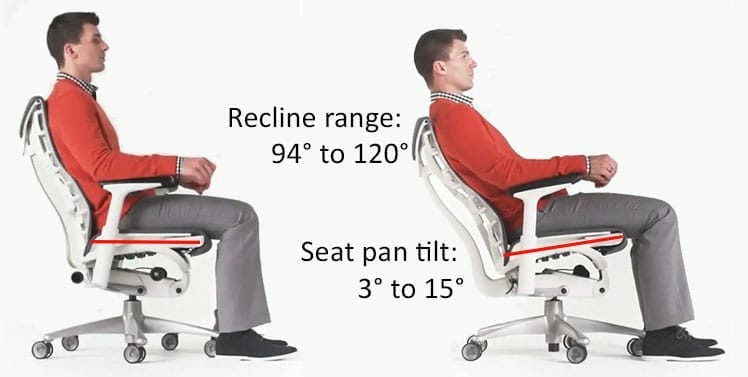 Sync-tilt automatically tilts the seat as the user reclines. In contrast, premium gaming chairs usually come with a manually-activated multi-function seat tilt.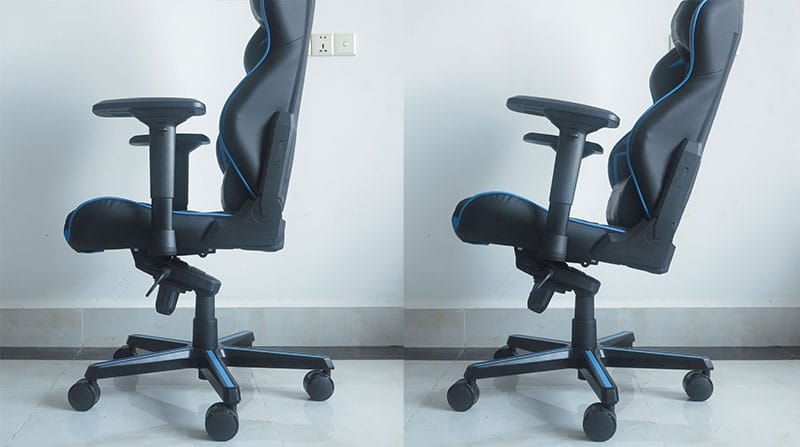 Like office chair sync-tilt, this lets you tilt and lock the seat at upward angles. Significantly, both seat tilting systems angle the user away from a work surface. That means disengaging from your work in order to use it.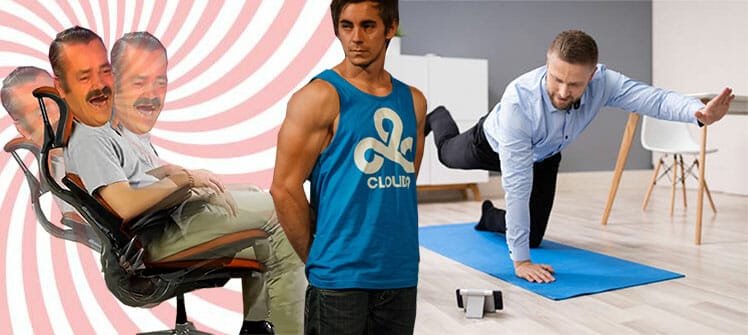 However, circa 2023, if disengaged from work, walking breaks breast flopping around in a chair. Thus, new users should focus on mastering neutral sitting techniques before fiddling with extraneous luxury tilt functions.
Conclusion
Mastering good neutral sitting techniques is easy and intuitive. After a few days of sitting this way, expect your muscles to adapt. Then, long periods with near-perfect neutral form will feel effortless.
The above photo shows myself (an experienced ergo chair user) using standard neutral form in a $1300 Herman Miller Mirra. Next to me is a first-time user in a DXRacer Craft gaming chair.
With proper technique, we're both able to use the chair's support to maintain good-looking neutral postures.
The bottom line is that proper usage is more important than the type of chair being used. With good form, any chair with adjustable lumbar + arms + recline can do a similar job.
So it ultimately doesn't matter which type of chair you use. With proper support and neutral sitting techniques, any model can do the job just fine.
In brief, mid-back office chairs better preserve good postures by limiting recline options. In contrast, beyond supporting upright postures, full-back gaming chairs also let you kick back and relax.
Gaming Chairs Vs Ergonomic Office Chairs: Comfort vs Focus
Related: Gaming Vs Ergonomic Office Chairs: Neutral Postures Compared
Footnotes
Pablo Robles. 'Why your smartphone is causing you text neck syndrome'. January 25, 2019. https://multimedia.scmp.com/lifestyle/article/2183329/text-neck/index.html, (accessed 10 April 2022).