For healthy computing, a good ergonomic chair is essential. Or is it? Recently, a former tech lead at Google and Facebook did a review. He brought together chairs from Herman Miller, Autonomous, Staples, Costco, and others. It's the most complete ergonomic chair review we've ever seen. Are you a new ergonomic chair buyer? Watch this video to get ergonomically educated in 15 minutes.
Patrick Shyu runs a popular Youtube channel for programmers called TechLead (993k subs). CNBC wrote about him back in 2019 when his channel had around 500,000 subscribers.
The TechLead channel gives aspiring programmers career development advice. If you're looking for help landing a software engineering job, he also provides mentorship at TechInterviewPro.com.
A cheap $100 Costco chair has his go-to for a decade. For this review, he added five more:
*** Video spoilers below ***
Video summary
By the end of the video, TechLead opted to go for a two-chair approach. The Staples Hyken was his top work-from-home choice. "How can you really justify $1500 for a chair when a $200 chair pretty much does the exact same thing?"
He likens the Hyken chair to a traditional, old-school wife: "It's the practical choice." But you also need something that "inspires you… something you keep on the side for a little bit of fun."
For his side-piece, he chose the Herman Miller Aeron. But he warns that "it's going to be expensive fun, and it's not very practical…"
Here's a summary of the 5 chairs reviewed, listed in his order of preference:
| Chair | Pros | Cons |
| --- | --- | --- |
| 1. Staples Hyken | Complete ergonomic features; comfortable. | Boring design, questionable durability. |
| 2. Herman Miller Aeron | Firm mesh upholstery; excellent features; easy to use; inspiring aesthetics and build quality. | Only allows formal postures. The Staples Hyken is just as comfortable, and more versatile. |
| 3. Steelcase Gesture | Attractive design; amazing armrest adjustability; easy to use. | Too expensive and delicate. The foam padded seat isn't as comfortable as mesh seats. |
| 4. Ergochair 2 | Good adjustability. | The padded foam cushion is uncomfortable over long periods. |
| 5. Herman Miller Embody | Very comfortable; consistent back support. | Armrests don't move easily. Slippery upholstery encourages slouching. Works better with big bodies. |
Exclusive TechLead insights
ChairsFX reached out to TechLead to get more ergonomic advice for programmers. Answers slightly edited for brevity.
Poor posture is common in big tech
In general society, chronic health issues caused by poor sitting habits are endemic. For example, 80% of Americans suffer from anterior pelvic tilt.
Other common issues caused by poor sitting habits include:
Chronic fatigue
Migraine headaches
Chronic depression
Weight gain
Constipation
Big tech ergonomic illiteracy
Inside typical big tech companies, TechLead says that ergonomic education is non-existent.
"When I first entered the cafeterias at Google and Facebook, I was shocked to see hunched backs, curved necks, and terrible postures. It seemed no one could sit up straight anymore, just to even eat!"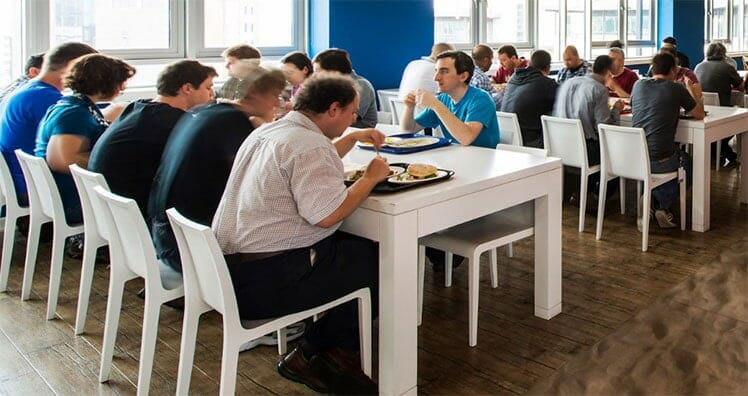 Self-discipline is essential: "Programmers need to actively take care of themselves because the company won't be looking out for you. You can binge on sodas and snacks freely if you want."
Build your own workstation: "It's up to you to identify whether you need a more ergonomic chair, desk, leg rest, wrist pad, etc."
Plan for a marathon: "For a successful long office career, you have to proactively take care of your health. Otherwise, it's likely you will destroy your health in a few years and then get discarded by the company."
Invest in yourself: "Never hesitate to take time to set up your working environment and invest in your own sustained health."
Day in the life of a big tech programmer
Long sitting periods: "Programmers can easily spend 12+ hours a day sitting in a chair. You might work for 8+ hours a day and then come home to surf the internet, play games, or watch movies."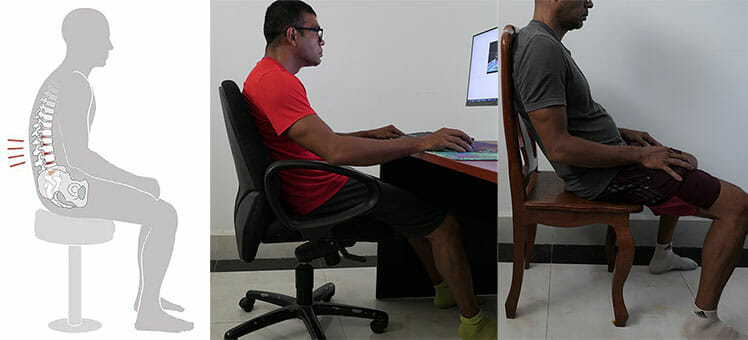 Ill health from sedentary habits: "Most programmers are obese. Many have terrible vision. For most office workers, it's only a matter of time until their health declines due to sitting for long periods of time."
Common symptoms: "Your body falls asleep when you sit this long: poor blood flow, hemorrhoids, loss of vision, weight gain, lack of Vitamin D, terrible posture, and high blood pressure are all common."
Superstar level-up success hack
"The veteran programmers who last long in this game have actively made health a #1 priority. Just like how a professional football athlete takes care of their body, programmers must take care of theirs because the profession is so straining on physical health."
Best chairs for young programmers
Are gaming chairs good for young programmers? "I think gaming chairs are made to look 'cool', oftentimes with stylish headrests. It's certainly a better choice than any typical chair… gaming chairs are often made to last long hours. However, if you want to maximize your choices for ergonomic chairs, then it's worth expanding your options to office chairs."
Mesh chairs are more comfortable: "Mesh style chairs have better airflow and are softer to sit on compared to the faux leather in a lot of gaming chairs. Lately, we've seen office-chair companies like Herman Miller create "gaming versions" of their chairs which is a trend I'd like to see more of as gaming takes off."
Best ergo office chairs under $300 | Best between $350 to $600 | Best between $600 to $1600
Benefits of a dual-chair workstation
At the end of the video, TechLead decided to keep two chairs. The Staples Hyken became his main chair, with the Aeron as his 'side-piece'. Three months after the video, we asked how his dual-chair system was working out.
Dual-chair benefits: "I love having two chairs; the different seating positions help me move my body around to avoid stagnating. I think everyone could benefit from having multiple chairs."
Morning routine: "I usually start the day with the Aeron, which has an upright ergonomic seating position. It looks and feels premium, which mentally prepares me to put in my best work for the day."
Evening routine: "By evening, I switch to the Staples Hyken chair, which is also ergonomic but also allows me to lean back comfortably or sit cross-legged. That gives a more relaxed position for gaming, movies, or light web surfing."
Conclusion
This TechLead video review is the only one we've seen not trying to sell chairs. In the intro, TechLead host Patrick Shyu made sure to note his multimillionaire status. He has no interest in selling chairs.
The point of his channel is to promote his TechInterviewPro.com mentoring service.
That gives us a sweeping, authentic review of the modern ergonomic landscape. Here are the factors that make this such an authoritative review:
The reviewer isn't a chair salesman.
TechLead is legitimately qualified to assess the chairs from a big tech programming perspective.
The reviewer actually sits in the chairs to demonstrate his points.
No one as qualified has ever reviewed such a big collection in under 15 minutes.
It's hard to argue with any of his (well-illustrated) points.
Thanks to Patrick Shyu for collaborating on this article. For more programmer insights, subscribe to the TechLead Youtube channel.