A former tech lead for Google now runs a popular Youtube channel for programmers. Recently, TechLead reviewed the best office chairs for programmers. His picks cover five of the most well-known models on the market. To compile this report, we reached out to him for more info. Then, we added a few wrinkles of our own. Looking for the ultimate desk chair for full-time tech work? Keep reading to find your perfect ride.
Patrick Shyu runs a popular Youtube channel for programmers called TechLead (993k subs). The channel gives aspiring programmers career development advice. If you're looking for help landing a software engineering job, he also provides mentorship.
Best Ergonomic Chairs For Programmers
For most of the past decade, TechLead worked on a $100 Costco office chair. For this review, he added five more:
Herman Miller Aeron
The Aeron ranks as the best ergonomic chair on this website. Three months after TechLead published his video, it became his choice for full-time daily work.
"I usually start the day with the Aeron, which has an upright ergonomic seating position. It looks and feels premium, which mentally prepares me to put in my best work for the day." Here's the gist of his assessment:
TechLead Pros
Firm mesh upholstery
Excellent, easy-to-use features
Inspiring aesthetics and build quality
TechLead Cons
Only allows formal postures
The Staples Hyken is just as comfortable
Aeron Overview
The Aeron comes in both gaming and classic office editions. The former is a singular all-black design available in medium and XL sizes. The latter comes with a choice of frame colors in small, medium, or XL.
Key features include the world's most adaptive mesh, the world's most robust sync tilt, and a 12-year warranty. Highlights:
Key Features
For a detailed review of all features, see this Aeron chair review. Here are some highlights:
8Z Pellicle Mesh
Synchro-tilt
PostureFit Lumbar
This is the most advanced mesh chair upholstery money can buy. 8Z Pellicle mesh has incredible durability, next-level adaptability, and a luxurious feel.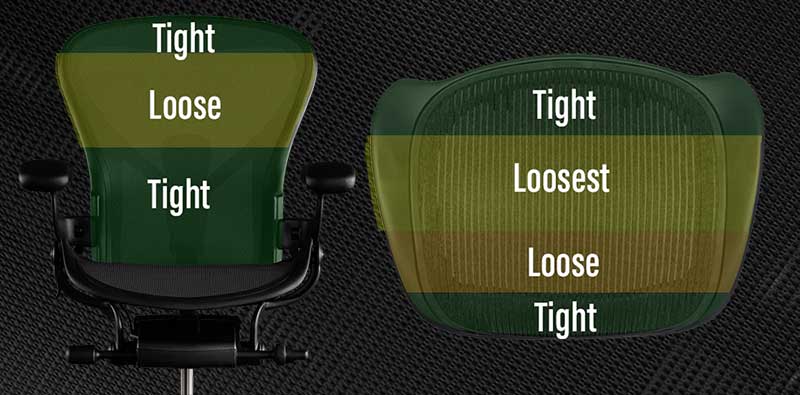 Both the seat and backrest mesh have differing tension zones. These provide varying levels of resistance as the user moves. That ensures consistent support that's perfectly balanced as the user moves around.
The Aeron has the most robust synchronous-tilt functionality in the industry. This tilts the seat up or down and the user in response to backrest angles.
During recline, the seat tilts at a 2:1 ratio (1° of tilt for every 2° of backrest recline). At the full recline of 104°, the seat tilts up by 16°. When leaning forward, it tilts down to -1°.
It's a cool feature, but not a necessary one. It's too unsteady for computing, and better used as a break. Use it to rock back and forth, invigorating your hips with movement. It's a nice rush that gets the blood flowing.
Unless other lumbar systems, the Aeron's PostureFit supports two parts of the spine. Twin pads in the unit flex independently of each other.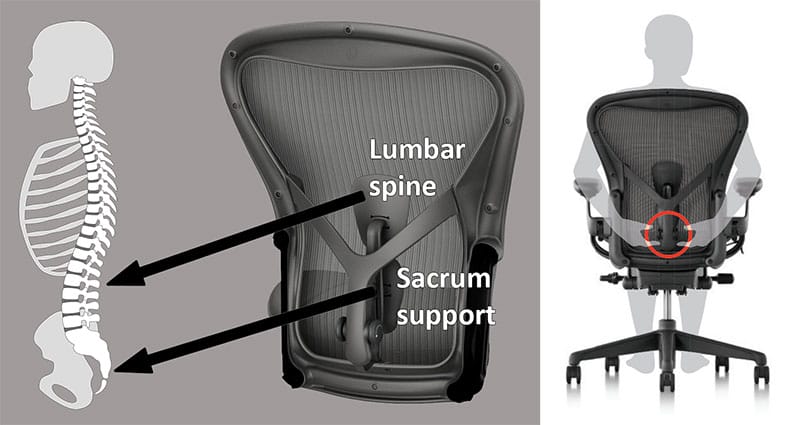 The top one supports the lumbar area. The bottom one supports the sacral spine (near the tailbone). You can adjust the depth of support, but the height is fixed.
To make sure the lumbar will fit your spine, choose the right size (small, medium, or XL). With a proper fit, this support works better than most you'll ever try.
Summary of Features
Synchro-tilt: seat pan angle from -1° to 16°; backrest 93° to 104°
Upholstery: Pellicle 8Z mesh provides eight zones of varying tension for ultra-responsive support.
PostureFit Lumbar: depth–adjustable support for the lumbar and sacral spine.
Seat: adjust the height; limit the tilt range; adjust the tilt tension; sync-tilt with the backrest.
Backrest: forward tilt option; height and depth adjustable PostureFit lumbar support.
Armrests: 3D adjustable.
Warranty: 12 years.
Aeron Sizing
The Aeron Remastered (classic edition) comes in small, medium, and XL sizes. The Gaming Edition is only available in medium (size B) and XL (size C).
[table "107" not found /]
Aeron Advice
The Aeron is one of the best chairs money can buy to enforce good posture. The hard ridges on the seat make it difficult to sit with crossed legs or feet up. As well, the ultra-adaptive 8Z Pellicle mesh keeps your posture on-point.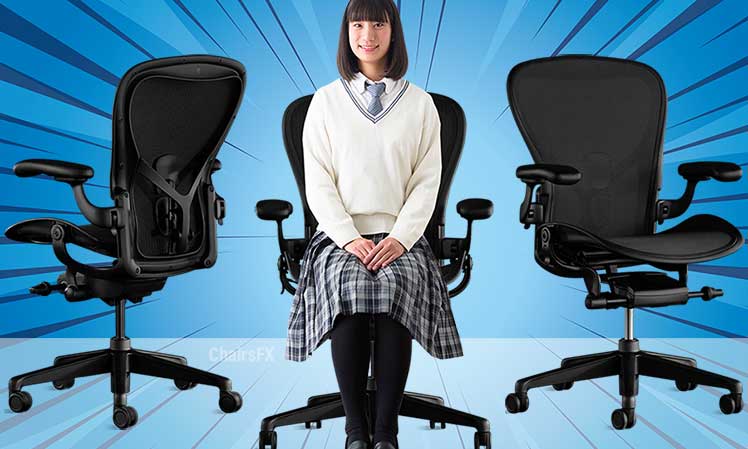 No matter how you move around, expect an aligned spine with perfect positioning for desk work. But its strongest point is also its weakness. It's hard to chill out and relax when locked in perfect posture.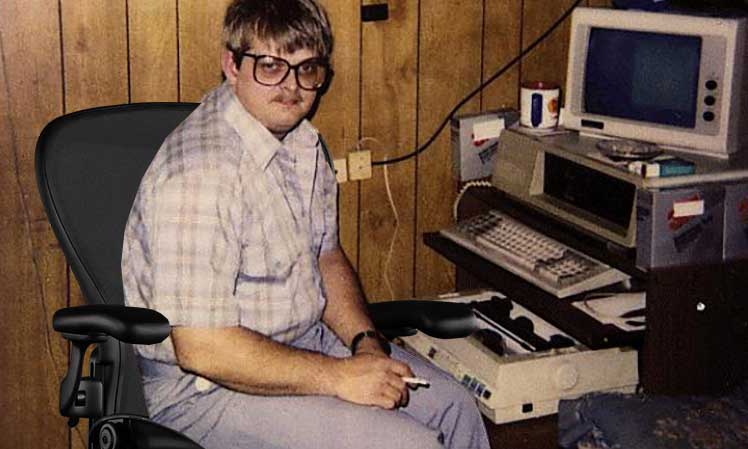 To address that, TechLead is one of many who endorse a 2-chair approach. Choose one for relaxing and one for work. As a chair for strictly work purposes at a desk, the Aeron is unmatched!
Aeron from Herman Miller $1495
Learn more in this Herman Miller Aeron Gaming Chair Review.
Herman Miller Embody
The Herman Miller Aeron made its debut in 1994 as a general-purpose task chair. In 2008, Herman Miller released the Embody as a specialty option for computer users. Compared to the classic styling of the Aeron, it's a sleek, sexy, futuristic showpiece.
However, the Embody is harder to configure than the Aeron is. For instance, it lacks a dedicated lumbar support system. In its place, you twist the angle of the backrest until it hits your lower back. Getting it just right takes a lot of trial and error!
Our assessment reflects TechLead's experience with the Embody. He found it very comfortable, but hard to configure optimally:
TechLead Pros
Very comfortable.
The Pixelated backrest provides consistent support.
TechLead Cons
The upholstery is slippery and encourages slouching.
The seat feels too wide for slim sizes.
Armrests adjustability is awkward.
Embody Overview
The Embody comes in both gaming and classic office editions. The Herman Miller x Logitech G gaming editions are all-black with a choice of blue or black accents.
The classic Embody chair comes in a choice of four frame variations. These are Graphite; White + Graphite; White + Titanium; Graphite Titanium. The Graphite version is the cheapest at $1695. White + Titanium is the most expensive at $1915.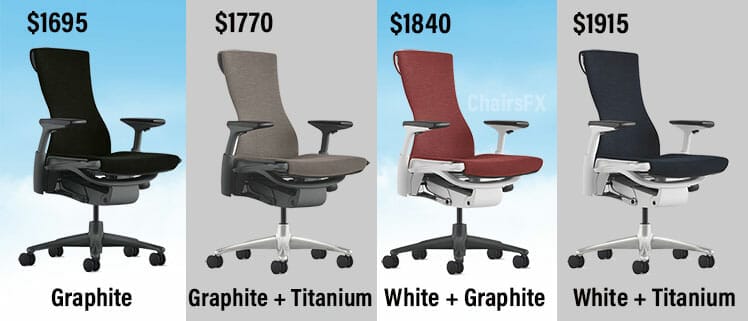 All models come in one size rated for users 5'4″ to 6'2″. In reality, I find that only users 5'8″ and taller will find a good fit. If you're shorter, the Embody's backrest will cup you the wrong way and encourage slouching!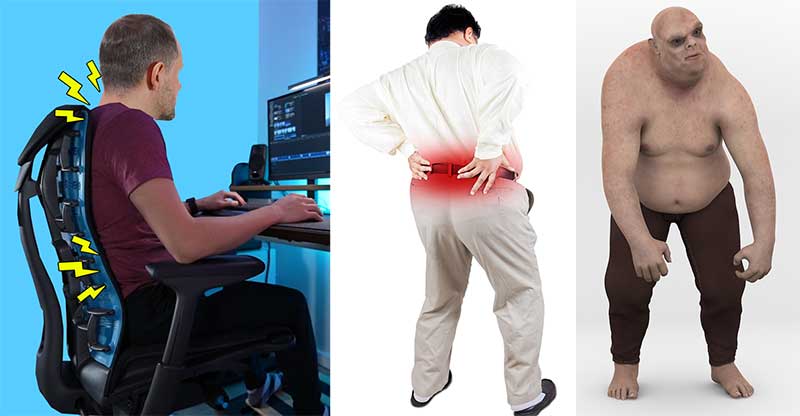 The Embody is proof that paying more doesn't guarantee the best back support. In fact, it's a complex chair best suited to experienced power users. If you've never used an ergonomic chair before, the Embody is a complicated one to start with!
Key Features
The Embody has a flexible backrest contoured to the shape of a human spine. The bottom curve targets the lumbar area; the upper one targets the thoracic spine.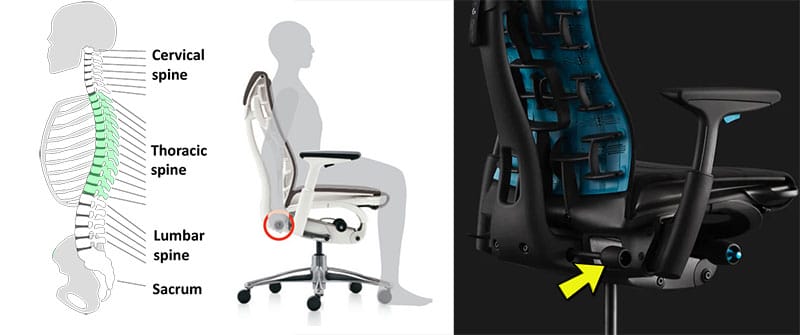 You can't adjust the height of the unit, only its angle. Turn the BackFit dial under the seat to tilt the angle until it fits your particular spinal curves. Once you've got it set, the full power of the 3D Pixelated Backrest becomes apparent.
The flexible central spine holds the unit in place. Each 'rib' pivots in response to movements. These guide the user towards a balanced, upright posture, no matter how they move in the chair.
Summary of Features
Beyond robust backrest functionality, Embody highlights include sync-tilt and a good armrest width adjustment range. Key specs:
Summary of Features
Sizing
Synchro-tilt: seat pan angle 3° to 15°; backrest 94° to 120°
Pixelated back support: the backrest has a central spine with flexible ribs. Each rib adjusts when you lean back to support the natural curve of your spine.
BackFit angle adjustment: this lets you position the back of the chair to fit the curvature of your back.
Seat adjustments: adjust the seat's height and depth.
Armrests: 2D-adjustable
Backrest: adjust recline tension; 3-position tilt-lock; synchro-tilt
The Embody chair is one-size-fits-all, designed to fit Herman Miller designed to fit 95% of adults. It offers ample adjustment ranges in seat height, arm width, and seat depth.
Seat: 21.25″ (W) x 15″-18″ (D)
Backrest: 14″ (W) x 23.5″ (H)
Armrests: 11.5-21″ width range; 4-8.75″ height range.
Seat height range: 16-20.5″
Size Rating: 5'4″ and 6'2″; 300-pound weight capacity
Embody Chair Advice
It's the most attractive Herman Miller chair with the most adaptive backrest. On the downside, the Embody is the most expensive Herman Miller chair, and the trickiest to configure.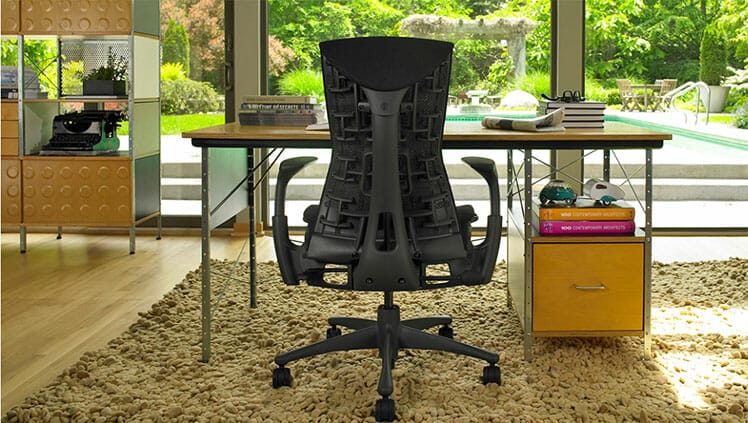 Even so, users 5'8″ or taller who get the configuration sorted are in for a treat. As the backrest fuses to your spine, you become one with the chair. Then, sitting upright at a computer becomes extremely easy and insanely comfortable.
Embody from Herman Miller $1695
Learn more in this Herman Miller Embody Gaming Chair Review.
Steelcase Gesture
Steelcase is the world's largest office furniture company, with annual revenues of over $3.5 billion. The company focuses mainly on B2B markets. The Gesture is its flagship ergonomic chair.
TechLead loved the Gesture's contemporary design and ease of use. Even so, he had some quibbles:
TechLead Pros
Amazing aesthetics
Excellent armrest adjustability range
Easy to use
TechLead Cons
Feels very delicate like it needs to be babied
The padded fabric seat isn't as comfortable as the Aeron's full mesh.
Gesture Overview
Among its solid ergonomic features, the Gesture has three highlights. The first is its 3D LiveBack system. When the user leans back, the backrest flexes to provide consistent support. That makes it easy to maintain a healthy spinal curve with your hips in the right alignment.

The second is its ultra-adjustable armrests. These have a larger adjustment range than other chairs. You can adjust them high enough for mobile computing, or even out of the way if you want more space!
The third is a nifty sync-tilt feature. When activated, the seat tilts up by one degree as you recline. The one quibble we have with its feature set is its height-adjustable lumbar support.

It's just a simple piece of plastic that slides up or down. When you pay over $1000 for a chair, it's a bummer to get lumbar support that looks worth a few dollars!
That said, adding lumbar support only costs $24 extra. As well, with the 3D Liveback providing flexion, the lumbar unit provides secondary support. In the end, it's nice to have, but not essential.
Summary of Specifications
For a closer look, see this Steelcase Gesture Review. Specs:
Synchro-tilt: seat angle 1°; backrest recline from 98° to 116°
Seat: height and depth adjustments.
Armrests: 4D armrests. Height range 7.25-11.5 inches; width range 10.25-22.5 inches.
Back support: adjustable lumbar support; adaptive 3D Live Back system; 3-position seat and backrest tilt lock.
Warranty: 12 years.
Seat width x depth: 19.25″ (W) x 15.75 to 18.75″ (D)
Backrest height x width: 24″ (H), 16.25″ (W)
Floor to seat range: 16-20.5″
Chair height: 38.5-43.5″
Size rating: 5'4″ to 6'2″; up to 400 pounds
Gesture Chair Advice
TechLead's biggest complaint about the Gesture chair was that it felt too fragile. For instance, he felt scared to put his feet up for fear of staining its pristine looks.
In fact, his biggest complaint is one of the Gesture's strongest assets. Aesthetically, it's drop-dead gorgeous. On a functional level, it does everything you need it to with a solid, high-quality feel.
The back support gets most of the hype with this chair. Indeed, it's on par with the best that Herman Miller has to offer. But over time, the ultra-adjustable armrests really shine. They move in any direction you could possibly need while sitting at a desk.
The biggest downside is the buying process. Steelcase doesn't sell directly to consumers, using third-party vendors instead. ChairsFX works with SmartFurniture.com. There, you're able to customize the features and colors of your chair.
You can also buy on Amazon. However, Steelcase Amazon offers limited color options and no customizations. Learn more in this review of the Best Steelcase Office Chairs.
Gesture from SmartFurniture $1183
The Gesture is also available on Amazon for $2,209.00.
Autonomous Ergochair 2
A tier below the Herman Miller and Steelcase classics are mid-range ergonomic chairs priced under $600. Among these, the Autonomous Ergochair 2 is a cult classic revered by PC gaming enthusiasts.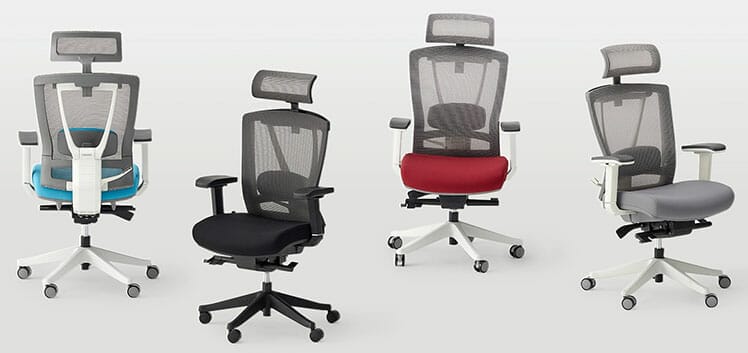 Autonomous started out on Kickstarter in 2015 with a SmartDesk. A year later, they released the Ergochair 2, which sold over a million units. Like most chairs in this price range, you get complete ergonomic features, a padded fabric seat, and a mesh backrest.
Although a big step (in price) down from the other chairs, TechLead was happy with this chair:
TechLead Pros
Comfortable
Good adjustability
TechLead Cons
The padded seat feels uncomfortable after long periods.
Ergochair 2 Features
This is a classic ergonomic office chair with all the trimmings. It has a reclining mesh backrest, height-adjustable lumbar support, and 2D armrests.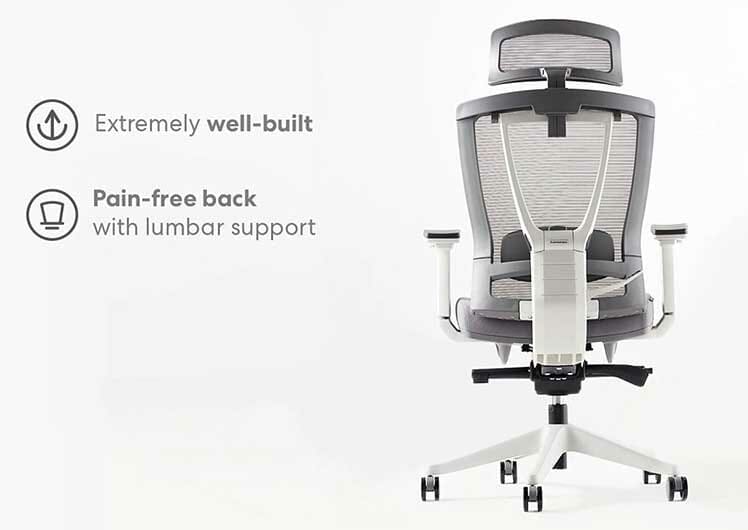 It also comes with a padded fabric seat and a headrest that's both height and depth-adjustable. Summary of specifications:
Backrest: 90-110 recline range; rocking with tilt-tension.
Headrest: height-adjustable with a 3-inch range.
Lumbar support: height-adjustable.
Seat: the 16.25″ seat can adjust forward or back with a range of 3″.
Armrests: height and width adjustable.
Warranty: two years.
Seat width X depth: 20″ (W) x 20″ (D)
Backrest width X height: 21″ (W) x 22″ (H) (without headrest)
Floor to seat range: 18″ to 20″
Chair height: 46″ to 50″
Size rating: 5'6″ to 6'4″; up to 350 pounds
Ergochair 2 Advice
Among affordable ergonomic chairs, the Autonomous Ergochair 2 is a solid pick. It covers all the ergonomic bases in an attractive, well-built package.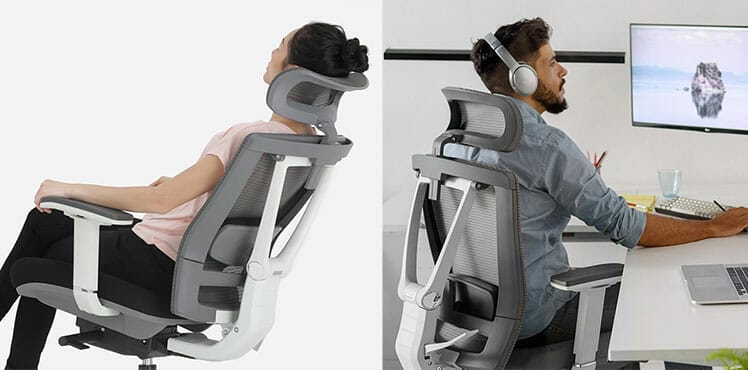 Compared with Herman Miller chairs, its biggest drawback is durability. Instead of steel frames, Ergochairs have plastic ones. Over time, these flex. As JayzTwoCents reported in this review of the original ergo chair, that loosens the build. After three years of use, his chair had become "a noisy, creaky mess".
Even so, compared to a $1500 Herman Miller chair, it's a great value pick. Compared to fancier chairs, the only missing feature is a fancy sync-tilt. If you can live without such luxuries, the Ergochair 2 offers great value for money.
Ergochair 2 on Amazon Price not available
Learn more in this review of the Best Ergonomic Office Chairs Under $600.
Staples Hyken
By the end of his video, TechLead opted to go for a two-chair approach. The Staples Hyken was his top work-from-home choice for programming work. "How can you justify $1500 for a chair when a $200 chair pretty much does the exact same thing?"
He likens the Hyken chair to a traditional wife: "It's the practical choice." But you also need something that "inspires you… something you keep on the side for a little bit of fun." For his side-piece, he chose the Herman Miller Aeron. But he warned, "it's not very practical…"
TechLead Pros
Complete ergonomic features
Comfortable
TechLead Cons
Boring design
Not very durable
Staples Hyken Features
As TechLead noted, the Hyken has everything you need to support healthy computing. You can adjust the armrest and lumbar support, recline the backrest and adjust the seat height. What's missing here are luxuries. Expect a basic, comfortable seat that does the job.
Backrest: recline and lock with a 90° to 140° range (4 lock positions); synthetic mesh upholstery.
Lumbar support: height-adjustable.
Headrest: non-adjustable.
Seat: padded fabric covering; fixed (not depth-adjustable).
Armrests: 1D adjustable (up and down).
Warranty: 30-day return policy; 7-year limited warranty.
Seat width x depth: 19.3″ (W) x 16.5″ (D)
Backrest width x height: 16.2″ (W) x 23.2″ (H)
Seat height: 16.9-19.7″
Size rating: 5'3″ to 5'10"; 250-pound weight capacity.
Hyken Chair Advice
Why pay more when a cheap Hyken does the same job? After his review, TechLead decided to use the Hyken chair full-time. After three months, he switched to the Aeron.
Indeed, both chairs do a similar job at supporting good posture at a desk. The difference is the level of luxury. Over longer periods, having more luxury makes a subtle difference.
If looking for any edge you can find, it's worth paying more. But if you just want something that's cheap and good for your back, the Hyken does the job.
Staples Hyken on Amazon $200.81
Learn more in this Staples Hyken Desk Chair Review.
TechLead WFH Tips For Programmers
ChairsFX reached out to TechLead to get some ergonomic advice for programmers. Answers are slightly edited for brevity.
Poor posture is common in big tech
In general society, chronic health issues caused by poor sitting habits are endemic. For example, 80% of Americans suffer from anterior pelvic tilt.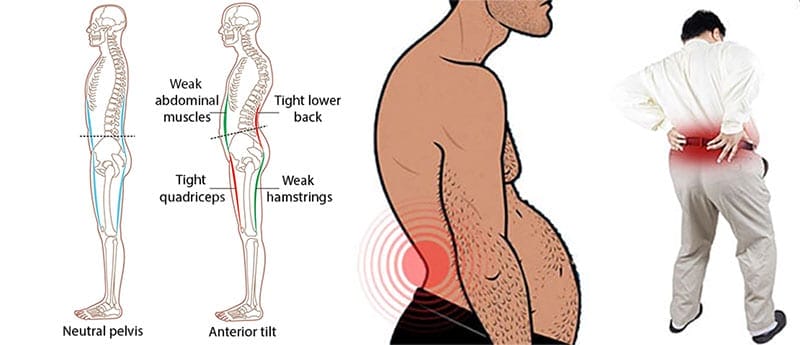 Other common issues caused by poor sitting habits include:
Chronic fatigue
Migraine headaches
Chronic depression
Weight gain
Constipation
Big tech ergonomic illiteracy
Inside typical big tech companies, TechLead says that ergonomic education is non-existent.
"When I first entered the cafeterias at Google and Facebook, I was shocked to see hunched backs, curved necks, and terrible postures. It seemed no one could sit up straight anymore, just to even eat!"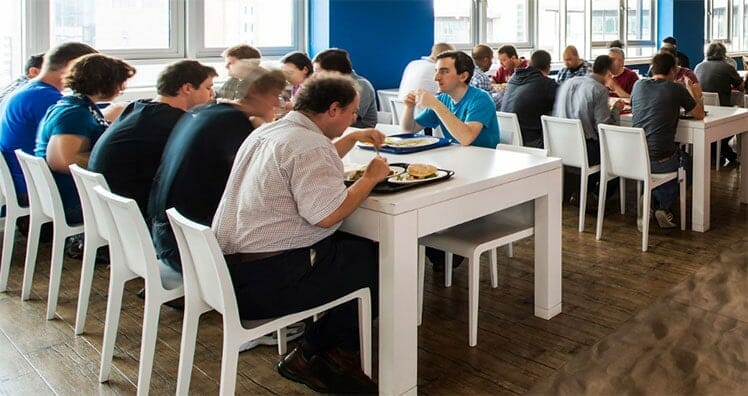 Self-discipline is essential: "Programmers need to actively take care of themselves because the company won't be looking out for you. You can binge on sodas and snacks freely if you want."
Build your own workstation: "It's up to you to identify whether you need a more ergonomic chair, desk, leg rest, wrist pad, etc."
Plan for a marathon: "For a successful long office career, you have to proactively take care of your health. Otherwise, it's likely you will destroy your health in a few years and then get discarded by the company."
Invest in yourself: "Never hesitate to take time to set up your working environment and invest in your own sustained health."
Day in the life of a big tech programmer
Long sitting periods: "Programmers can easily spend 12+ hours a day sitting in a chair. You might work for 8+ hours a day and then come home to surf the internet, play games, or watch movies."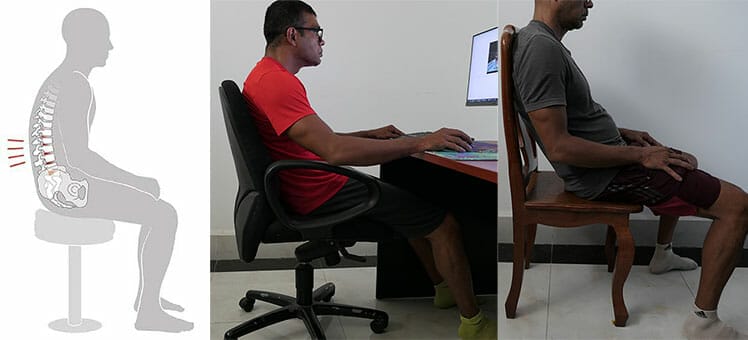 Ill health from sedentary habits: "Most programmers are obese. Many have terrible vision. For most office workers, it's only a matter of time until their health declines due to sitting for long periods of time."
Common symptoms: "Your body falls asleep when you sit this long: poor blood flow, hemorrhoids, loss of vision, weight gain, lack of Vitamin D, terrible posture, and high blood pressure are all common."
Superstar level-up success hack
"The veteran programmers who last long in this game have actively made health a #1 priority. Just like how a professional football athlete takes care of their body, programmers must take care of theirs because the profession is so straining on physical health."
Best chairs for young programmers
Are gaming chairs good for young programmers? "I think gaming chairs are made to look 'cool', oftentimes with stylish headrests. It's certainly a better choice than any typical chair… gaming chairs are often made to last long hours. However, if you want to maximize your choices for ergonomic chairs, then it's worth expanding your options to office chairs."
Mesh chairs are more comfortable: "Mesh style chairs have better airflow and are softer to sit on compared to the faux leather in a lot of gaming chairs. Lately, we've seen office-chair companies like Herman Miller create "gaming versions" of their chairs which is a trend I'd like to see more of as gaming takes off."
Best ergo office chairs under $300 | Best between $350 to $600 | Best between $600 to $1600
Benefits of a dual-chair workstation
At the end of the video, TechLead decided to keep two chairs. The Staples Hyken became his main chair, with the Aeron as his 'side-piece'. Three months after the video, we asked how his dual-chair system was working out.
Dual-chair benefits: "I love having two chairs; the different seating positions help me move my body around to avoid stagnating. I think everyone could benefit from having multiple chairs."
Morning routine: "I usually start the day with the Aeron, which has an upright ergonomic seating position. It looks and feels premium, which mentally prepares me to put in my best work for the day."
Evening routine: "By evening, I switch to the Staples Hyken chair, which is also ergonomic but also allows me to lean back comfortably or sit cross-legged. That gives a more relaxed position for gaming, movies, or light web surfing."
Conclusion
This TechLead video review is the only one we've seen not trying to sell chairs. In the intro, TechLead host Patrick Shyu made sure to note his multimillionaire status. He has no interest in selling chairs.
The point of his channel is to promote his TechInterviewPro.com mentoring service.
That gives us a sweeping, authentic review of the modern ergonomic landscape. Here are the factors that make this such an authoritative review:
The reviewer isn't a chair salesman.
TechLead is legitimately qualified to assess the chairs from a big tech programming perspective.
The reviewer actually sits in the chairs to demonstrate his points.
No one as qualified has ever reviewed such a big collection in under 15 minutes.
It's hard to argue with any of his (well-illustrated) points.
Thanks to Patrick Shyu for collaborating on this article. For more programmer insights, subscribe to his TechLead Youtube channel.