Affordable ergonomic task chairs cut some luxuries to keep prices reasonable. These are prosumer chairs for buyers wanting high-end ergonomics for under $600. While high-end gaming chairs suit this purpose, some prefer traditional office chair styling. This article reviews the best mid-range ergonomic office chairs of 2021. All come with robust ergonomic features, contemporary styling, and solid after-care protection.
Since the start of the work-from-home era, ergonomic chair sales have skyrocketed. In the ultra-competitive seating industry, many brands have beefed up their products to meet increased demand.
As a result, consumers looking for an ergonomic chair in 2021 are spoiled for choice. For full-time power users, luxury task chairs from top brands like Herman Miller and Steelcase are the top-of-the-line. A tier below, pro esports gaming chairs provide comparable ergonomic support for under $550. However, not everyone likes racing-style designs.
As a result, mid-range ergonomic task chairs are the best alternative to high-end gaming chairs. Most chairs in an emerging mid-range class share these common features:
Dynamic seat: height and depth adjustable.
Adjustable lumbar: some models offer height and depth-adjustable lumbars. Other models let you adjust the backrest height instead.
Adjustable armrests: at least 2D adjustable.
Lockable backrest recline: tilt and lock from 90° to at least 120°
Warranty: at least two years.
Best affordable ergonomic task chairs
Affordable ergonomic task chairs are an emerging class. There's no clear market leader. There are only a few established brands in this genre, plus several recent startups.
We rank the 'best' based on a few factors. These include technical features, company credibility, durability/ warranty, service team responsiveness.
Work-from-home ergo chair alternatives
This article covers the best mid-range task chairs costing between $250 to $600. This category flanks more expensive and cheaper options. THere's also a specialty task category for XL users. Here is a summary:
Conclusion
The best ergonomic chairs from top companies like Herman Miller and Steelcase cost over $1000. Two high-end features add to the expense of a chair. First is synchronous tilt, which tilts the seat in sync with the backrest. The second is an ultra-adaptive backrest that responds to micromovements.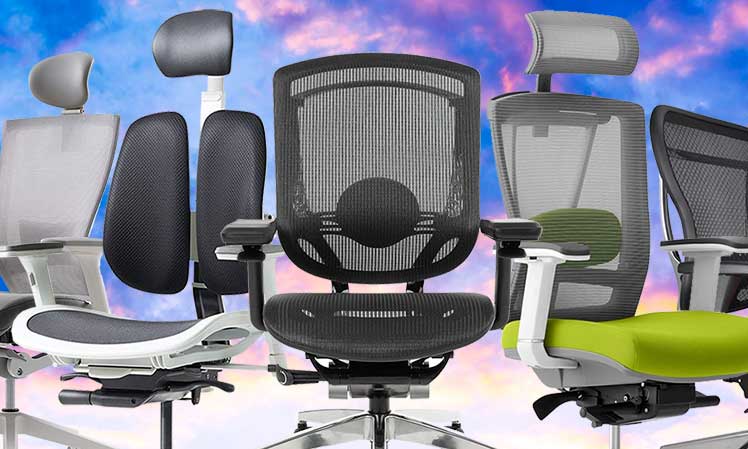 Dropping those luxuries results in affordable ergonomic task chairs. As of this writing, the best mid-range ergonomic chairs cost between $359 and $599. All models come with a tilt-lock reclining backrest, adjustable lumbar support, and adjustable armrests.
For deeper insights into the biomechanical aspects of good lumbar support, see here: