This article previously rated mid-range ergo chairs priced under $600. However, inflation has pushed many of our top picks over that threshold. As a result, the 2023 version of this article summarizes the best ergonomic office chairs priced between $350 and $700.
In a nutshell, the best ergonomic office chairs under $700 share similar pros and cons. On the positive side, all come with solid ergonomic functionality. On the downside, none of these chairs (functionally or aesthetically) will blow you away.
For example, the Steelcase Series 2 is the top-ranked chair in this review. Like cheaper ergo chairs in the sub-$350 range, it supports neutral postures with adjustable lumbar support and arms, plus a tilting backrest.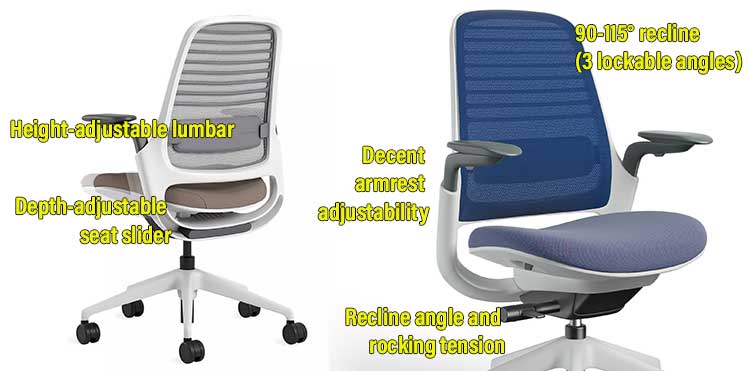 Beyond the basics, it also comes with fancy synchronous tilt functionality (the seat tilts up during recline), a mega-adaptive '3D Liveback' backrest, and a 12-year warranty. Other chairs in the $350 to $700 price range will get you similar features. These typically include:
Seat slider: height and depth adjustable.
Adjustable lumbar: most have either height or height x depth-adjustable lumbars.
Adjustable armrests: at least 2D adjustable.
Lockable backrest recline: tilt and lock from 90° to at least 120°
Warranty: between 2-12 years.
However, if you can do without sync tilt and a seat slider, why pay more? Several models priced under $350 will deliver a similar quality of back support — minus fancy frills.
Best affordable ergonomic task chairs
These best chair rankings assess technical features, company credibility, durability/ warranty, and service team responsiveness. Here's a summary, including pros and cons for each chair:
Affordable Office Chair Alternatives
This article covers the best mid-range task chairs costing between $350 to $700 — for people of average height and weight. In 2023, average sizes wanting similar functionality with prices under $350 have four few solid options.
Meanwhile, smaller and larger than average sizes have a few affordable alternatives to consider.
Conclusion
The office chairs listed in this review are worth considering for first-time ergonomic chair buyers. Instead of spending over $1000 on a world-class Herman Miller or Steelcase beauty, cheaper models mitigate the risk.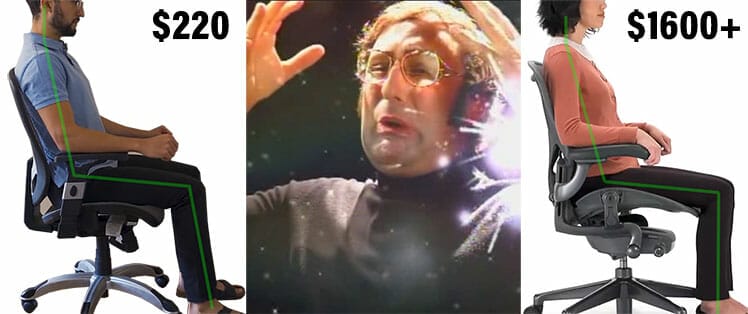 However, if the price is your priority, why pay more than $350 for a fully-ergonomic office chair? The only things gained by doing so: non-essential frills (like sync tilt) and longer warranties.
Therefore, these chairs work best as low-risk tester models for first-time ergonomic chair users.
But if you're not a first-time ergo chair buyer, why waffle? Save money with a sub-$350 model, or pay a premium for a world-class one.
If still undecided, check this primer on physiological vs psychological comfort factors: