Professional esports players spend full-time hours at a computer. They undergo intense training to compete for millions in prizes at top esports tournaments. Success requires long sitting sessions at peak performance. Under these conditions, the quality of chair is a crucial factor. In 2020, the best pro esports chairs are the ones the top pros rely on the most.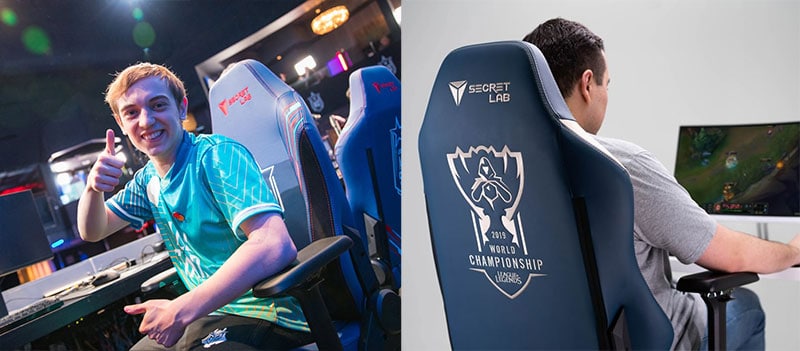 The history of esports began in 1998. During that early era, gaming ergonomics were horrible. As people gamed longer, many suffered back pain. Gaming chairs emerged to address that problem in 2006. In short order, gaming chairs became an essential part of the burgeoning esports industry.
There were two reasons gaming chairs succeeded. First, they are comfortable. Second, they help players sit for longer periods while gaming at peak performance.
Like $1000 ergonomic chairs, top gaming chairs provide superb comfort and posture support. But gaming chairs use common-sense features, instead of space-age futuristic ones. As a result, the best pro-quality gaming chairs cost a third of what the best ergonomic chairs cost.
Gaming chairs are also better tailored to real-world users. Esports players spend around 10-12 hours of training at their computers every day. That gives chair manufacturers lots of user data to work with. No other type of seating has undergone as much user testing over the past decade. The result has been rapid evolution — based on user feedback by pro esports players.
That explains why gaming chairs blew by office chairs to become a thriving global industry.
Pro esports chair overview
A pro esports chair supports full-time sitting at a computer workstation. Pro chairs hold up under full-time loads for three reasons.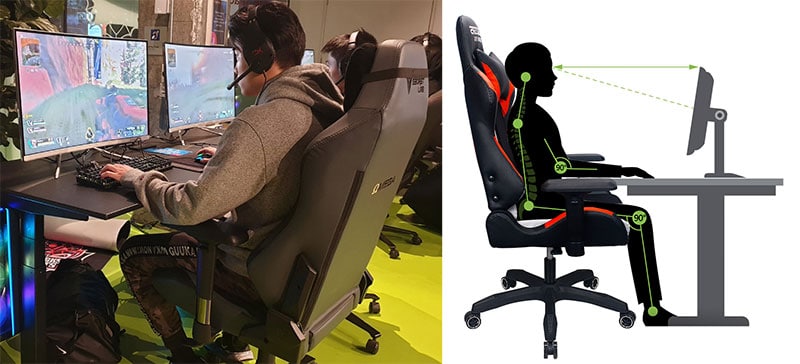 First, the dense foam padding on pro chairs holds up well under heavy use. Second, pro-class cover fabrics provide optimal breathability without getting clammy. Finally, a range of adjustments let players change position on the fly. Changing positions is a dynamic sitting tactic. By moving the body while sitting, players stay fresh without stopping gameplay.
Important features in pro chairs
Before getting into reviews of the best chairs, here's a quick look at the most important pro features.
Summary of pro esports chair features
Armrests: full 4-directional or 3-directional.
Recline: between 90° up to 180° (110° is the optimal upright working angle)
Tilt lock: most models have tilt lock, which lets you adjust the angle of the seat for enhanced spine support.
Padding: high quality cold cure foam.
Upholstery: most chairs use high quality faux leather. Some use nylon mesh fabric. Other models also offer a genuine leather option.
Warranty: all models offer at least a 2-year warranty on parts. Some models guarantee parts for up to five years.
Feature analysis: expensive vs. cheap gaming chairs
Best large pro esports chairs
To get an idea which pro chairs are best, look at which models the pros use most often. Among the top teams and global tournaments, a few chairs stand out.
Traditional gaming chairs force the legs into a narrow position. This is helpful to maintain optimal posture, but some find it too restrictive. In contrast, these models all offer plenty of legroom as one of the many luxuries.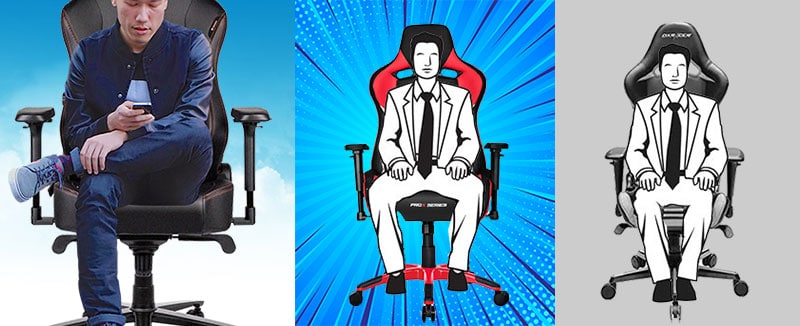 Below we summarize our top five recommended large-sized pro chairs.
Best compact pro chairs
These are the compact equivalents of the best large esports models. Compact pro chairs are slim-fit, with curved edges that keep the legs pressed in.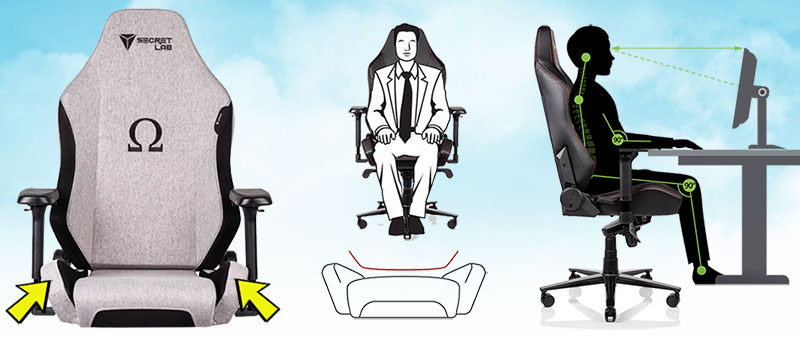 The purpose of a slim fit is to better balance body weight between your legs, the backrest and the base of the chair.
None of these models have internal lumbar support. All use traditional back pillows.
These are the only differences, compared to the large pro chairs. Otherwise, these compact picks boast the same quality and features, plus lower prices.
Pro esports chair FAQ
This section answers common questions people face when thinking of buying an expensive gaming chair.
CONCLUSION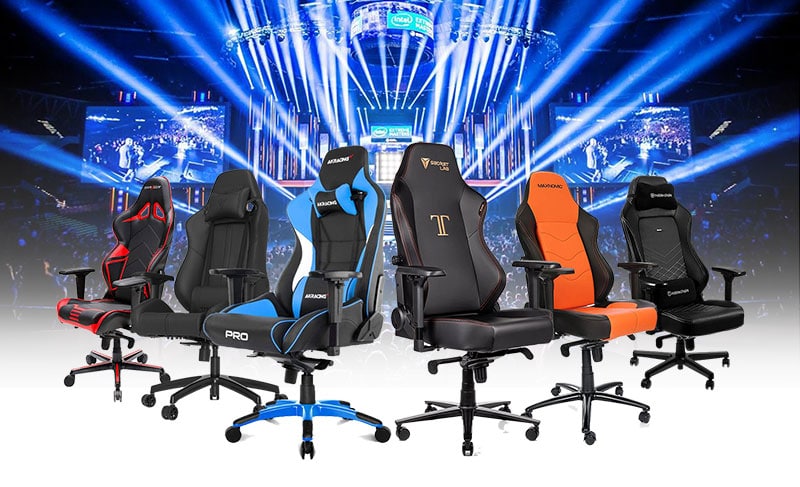 The average office worker spends around eleven hours sitting every day. If you sit full-time and suffer from chronic back problems, pro esports chair can help. Both pro and cheap gaming chairs will support the back for long hours of sitting. But pro gaming chairs to do with plenty of extras.
These chairs use better materials, have more customization options and provide longer warranties. All gaming chairs in this guide come with at least a 2-year warranty. That assures they can hold up under full-time loads for at least that long.
Pro gamers, students and office workers can gain a performance edge with these chairs.
These models will fix your posture, support your back and improve your vitality. This means more energy to focus on productivity and winning. In that sense, pro esports chairs are an excellent investment for high achievers.