Pro esports players sit for hours on end – under intense pressure to perform at the highest levels. That's why a premium gaming chair is one of the most important pieces in a pro gaming setup. The best models provide consistent comfort while preventing soreness after long sessions. That keeps players fresh, motivated, and performing at peak levels. Want to perform like the pros? Here we review the best pro esports gaming chairs on the market in 2021.
The best way to know the qualities of a good computing chair is to test one out. That requires using it full-time for at least a few months. Luckily, top esports pros have already done that work for us.
Esports players spend around 10-12 hours of training at their computers every day. That has given gaming chair manufacturers lots of user data to work with. No other type of seating has undergone as much user testing over the past decade.
These chairs aren't only for esports players. Anyone who sits full-time for a living can rely on these chairs the same way the pros do. If you're looking for a spark, premium seating can help.
Reviews: Best Pro Esports Gaming Chairs
All gaming chairs that qualify as 'premium' come with fully adjustable features. At the least, these include 4D armrests and a multifunction tilt-lock.
However, the best models in this class go beyond the minimum with functional or aesthetic extras. These come from leading gaming chair brands with a proven track record on the pro esports scene.
Here are our picks as the best pro esports gaming chairs of 2021:
More About Racing-Style Pro Esports Chairs
All types of ergonomic chairs have two primary objectives. Those are to support a neutral posture and movement while sitting for long periods. The former exerts the least amount of stress on a seated body. The latter mitigates health risks caused by sedentary behavior.
Combined, posture support plus movement helps users to sit longer, feel better, and be more productive.
Office-style esports chair alternatives
Several office-style ergonomic chairs for gamers have emerged in recent years. If the top-rated racing-style chairs don't impress, here are some popular office-style gaming alternatives.
CONCLUSION
The chairs listed in this review are for hard-core power users. That includes serious video gamer players and full-time computer users. Examples of serious computer users include full-time office workers, content creators, and students. Among gamers and non-gamers alike, the gaming chairs listed in this article are the best on the market.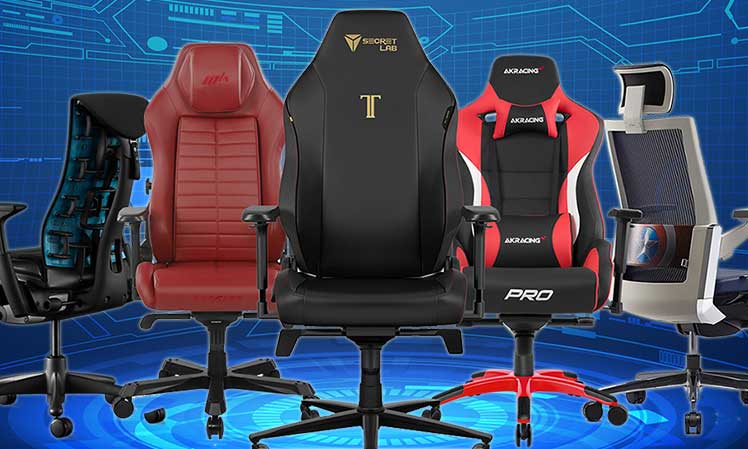 These rank among the best for the quality of features, reliability, and aesthetic appeal. The most important thing that these chairs do is support a healthy posture while sitting. From all models reviewed, expect superb back support plus incredible comfort.
To ensure the best results while using your chair, it's important to use it correctly. That involves adjusting to sitting in a neutral posture, which places the least stress on a seated body over long periods.
No matter which chair you buy, sitting in this manner will yield spectacular results. Expect improved posture, focus, energy levels, and more.
To master the basics, check out this step-by-step tutorial. Following the steps will help you to sit longer, feel better, and be more productive.
Gaming chair user guide: supercharge your ergonomics
Related Articles