Pro esports players spend full-time hours sitting at a desk. To stay fresh over long sessions, many use high-end, pro-quality gaming chairs. That's because these models provide comfortable posture support for long computing periods. Full-time office workers can also benefit from this ergonomic technology. Looking for a boost in health, wellness, and computing productivity? Check out our picks: the best pro esports gaming chairs of 2021.
The best way to know the qualities of a good computing chair is to test one out. That requires using it full-time for at least a few months. Luckily, top esports pros have already done that work for us. Esports players spend around 10-12 hours of training at their computers every day. That has given gaming chair manufacturers lots of user data to work with. No other type of seating has undergone as much user testing over the past decade.
As a result, these gaming chairs hold up well under full-time sitting loads. All models support good posture and movement over long periods. That combination keeps players feeling fresh, focused, and primed for high-intensity computing.
Pro esports chair overview
All types of ergonomic chairs have two primary objectives. Those are to support a neutral posture and movement while sitting for long periods. The former exerts the least amount of stress on a seated body. The latter mitigates health risks caused by sedentary behavior.
Combined, posture support plus movement helps users to sit longer, feel better, and be more productive.
Best large pro esports chairs
When shopping for a pro esports chair, it's important to choose an appropriate size for your body type. Generally, users shorter than 5'9″ (175 cm) should go for a compact chair with body-hugging dimensions. In contrast, thicker users and those taller than 5'9″ should look into large-sized models.
Our top-rated models in both large and compact classes come from Secretlab. The Omega is our top-rated compact pro chair, while the Titan tops our large-chair rankings. Check out our Titan vs Omega comparison to see how the two models measure up.
Below are our top-rated large-sized pro chairs. In previous years, we ranked chairs based on which models pro esports players use.
However, in 2020, several top brands struggled with availability. As a result, our 2021 ranking criteria now include a chair's quality, reputation, value for money, and availability. The following rank among the best quality-wise, and also the most consistently available.
Best compact pro gamer chairs
These are the compact equivalents of the best large esports models. Compact pro chairs are slim-fit, with curved edges that keep the legs pressed in.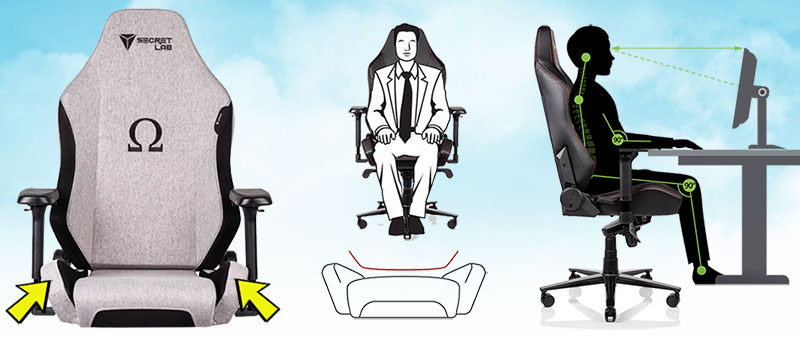 The purpose of a slim fit is to better balance body weight between your legs, the backrest and the base of the chair.
None of these models have internal lumbar support. All use traditional back pillows.
These are the only differences, compared to the large pro chairs. Otherwise, these compact picks boast the same quality and features, plus lower prices.
CONCLUSION
The chairs listed in this review are for hard-core power users. That includes serious video gamer players and full-time computer users. Examples of serious computer users include full-time office workers, content creators, and students. Among gamers and non-gamers alike, the gaming chairs listed in this article are the best on the market.
These rank among the best for the quality of features, reliability, and aesthetic appeal. The most important thing that these chairs do is support a healthy posture while sitting. From all models reviewed, expect superb back support plus incredible comfort.
To ensure the best results while using your chair, it's important to use it correctly. That involves adjusting to sitting in a neutral posture, which places the least stress on a seated body over long periods. No matter which chair you buy, sitting in this manner will yield spectacular results. Expect improved posture, focus, energy levels, and more.
To master the basics, check out this step-by-step tutorial. Following the steps will help you to sit longer, feel better, and be more productive.