What's the best premium full-back gaming chair on the market? In 2023, the Secretlab Titan Evo 2022 is the technical and aesthetic benchmark. It's also the most popular (by far). This year's contenders as the second-best bring various selling points to the table. The DXRacer Master and Anda Kaiser 3 replicate the Titan's best features — with mixed results. AKRacing's flagship qualifies with industry-leading durability. Herman Miller also joins the party with a flamboyant full-back gaming chair endorsement.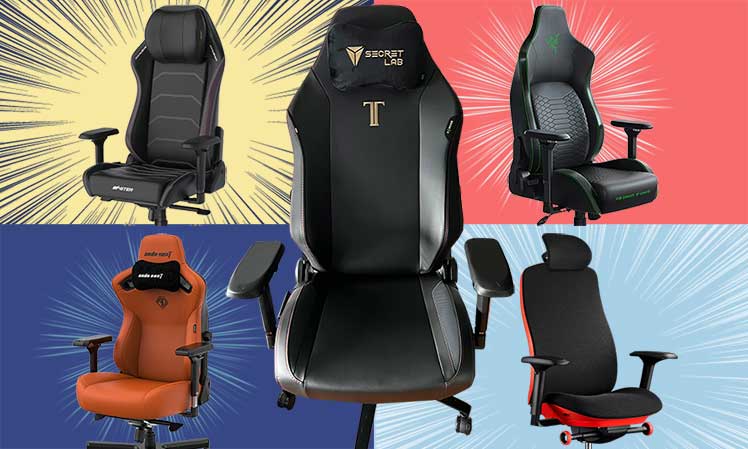 Like cubicle-era office chairs, the best full-back gaming chairs support good sitting posture. Both types of seating use a lumbar-powered support concept. With proper usage, either type can produce healthy neutral sitting positions.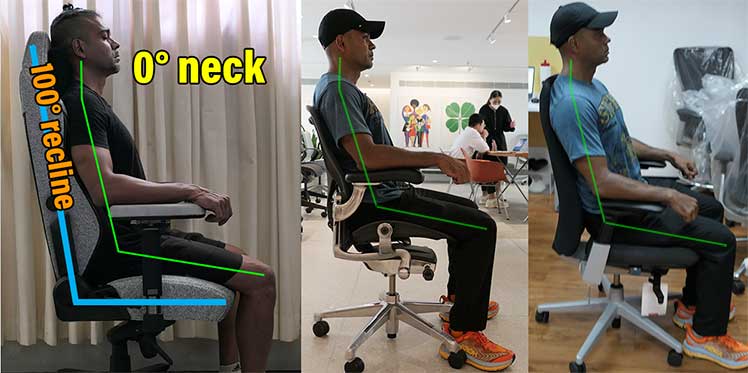 But many studies show that the comfort of a chair involves more than physical support. Psychological factors also affect perceived physical comfort. There, full-back gaming chairs go beyond mid-back office ones with more flexibility.

But with more sitting freedom comes greater responsibility. To counteract sloppy sitting moments, it's important to keep clean neutral postures as your default.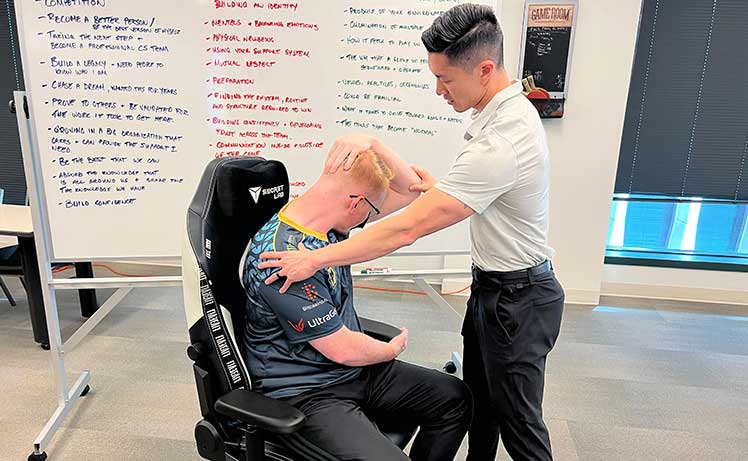 For even better performance results, maintain professional esports-style user habits as well.
That means taking frequent breaks to keep seated muscles active at the computer. It also means eating right, resting & hitting the gym to iron out musculoskeletal kinks when away from the computer.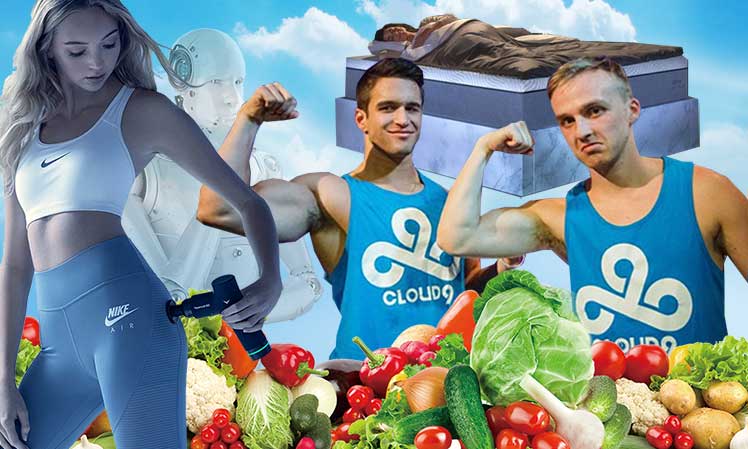 As part of a healthy, active computing life, full-back gaming chairs are a superb lifestyle enhancement tool.
Esports Deskwork 2023: Fitness + Posture Beats Technostress
Best Premium Full-Back Gaming Chairs
The best full-back gaming chairs of 2023 are multi-purpose. They support healthy upright postures and more relaxed, casual ones. Each model also boosts happiness with psychological extras (sweet aesthetics, guaranteed durability, fancy functions, etc) to justify its high price.
Based on these factors, here are our top-rated full-back gaming chairs of 2023:
There's also a seventh pick. Herman Miller entered the full-back arena last year with the Vantum Gaming Chair. Its unique features are designed to 'force' a 'new style of sitting'.
Given its experimental nature, we've included it in this review as a wild card:
Wild Card: Vantum gaming Chair
Conclusion: Cutting-Edge Ergo Tech
Over on the office side of the equation, the best models of 2023 cost between $1300 to $2300. But evolution stalled long ago. The best from Herman Miller, Steelcase, and Haworth have designs that are at least 10 years old.

In fact, since the 1990s, evolution has wholly been driven by full-back gaming chairs. That explains why big brands like Herman Miller and Haworth have recently decided to enter the market.
Compared to the stagnant office furniture industry, evolution with the times is a gaming chair benchmark. Secretlab pushes the boundaries with biannual Titan Series upgrades. DXRacer follows close behind by replicating Secretlab's best innovations.

Meanwhile, Herman Miller, Haworth, and the HNI corporation are now fully on board the gaming chair bandwagon. These multinational mega-corporations have fat R&D budgets to drive innovation even further.
Bottom line: the full-back gaming chairs in this review are the most cutting-edge innovations the ergonomic seating industry has to offer. With proper usage and good habits, each has the potential to make you feel happier and healthier while computing at a desk.
For a closer look at the flexible benefits full-back gamers have over cubicle-era mid-back chairs, see this: