Professional esports players spend full-time hours at a computer. They undergo intense training to compete for millions in prizes at top esports tournaments. Success requires long sitting sessions at peak performance. Under these conditions, the quality of chair is a crucial factor. In 2020, the best pro esports chairs are the ones the top pros rely on the most.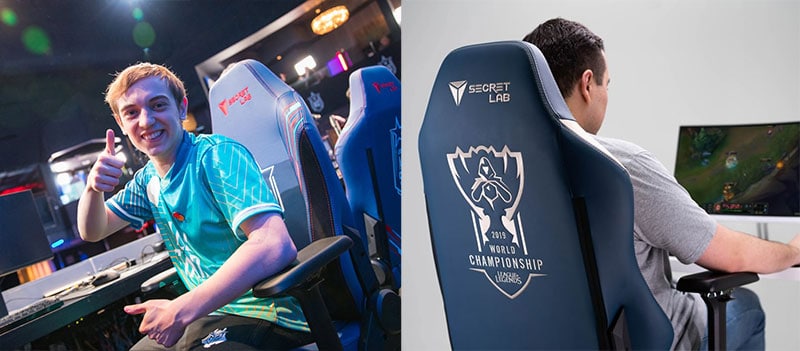 The history of esports goes back to 1998. During that era, gaming ergonomics were horrible. As people gamed longer, many suffered back pain. Gaming chairs first appeared in 2006 and quickly became a key component of pro esports.
No other type of seating has undergone as much user testing over the past decade. The result has been rapid evolution based on intense user feedback. As a result, gaming chairs have blown by office chairs and become a thriving global industry.
Keep reading to learn how the best pro chairs let users sit longer and perform better while sitting at a computer.
Pro esports chair overview
A pro esports chair is one that supports full-time sitting at a computer workstation. Pro chairs hold up under full-time loads for three reasons.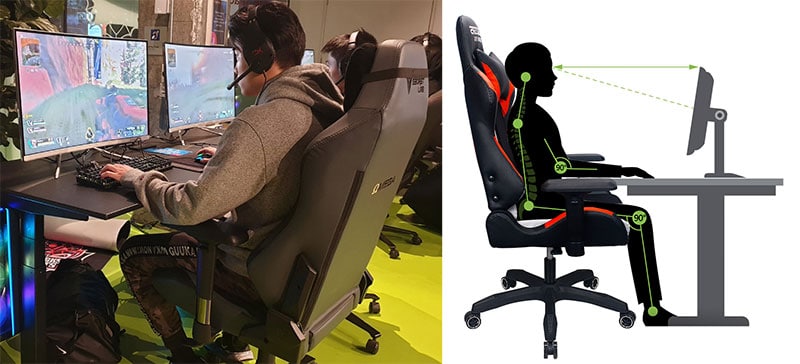 First, dense foam padding holds up well under heavy use. Second, pro-class cover fabrics provide optimal breathability without getting clammy. Finally, a range of adjustments let players change position on the fly. That lets players remain loose and fresh without stopping the game.
Pro training demands
Today, esports is a billion dollar industry. At top tournaments, millions of dollars are on the line. Pro players lead a grinding lifestyle of rigorous training and intense tournament schedules.
That's why the most successful teams maintain holistic training programs. Players now have physical training routines, strict diet guidelines and proper ergonomic workstations.
Esports chair appeal for non-gamers
The common-sense approach that the pros use is relevant for everyone who sits at a computer for a living.
When away from the PC, all computer users need proper rest, nutrition and exercise. When sat down full-time for work, the quality of the chair has a huge impact on performance.
Important features in pro chairs
Before getting into reviews of the best chairs, here's a quick look at the most important pro features.
Sturdy build
In the beginning, gaming chairs started with steel frames. Over time, manufacturers refined methods. For example, today, many use robot welding. This requires less manual operation, fewer operators and a more consistent result.
Another big improvement is the use of high-density cold-cured foam padding. This is the premium padding choice in the furniture industry, used for the best luxury car seats. Cold-cured foam mixes plastic polymers with isocyanate, water, and additives. This pours into a mold where it rises and sets. The result is soft, firm and designed to provide comfort for long periods of sitting.
As the above image shows, over the life of a premium chair, high density cold foam padding will hold its original shape. That means you get consistent support every time you sit.
Adjustable armrests
When sat down working for many hours at a time, multi-directional armrests are invaluable. These have a range of settings that provide perfect support for your arms and wrists.
Pro-quality gaming chairs come with 3D or 4D armrests. Without this level of support, the back strains to hold up the arms. Over time, this can compress the median nerve in the wrist.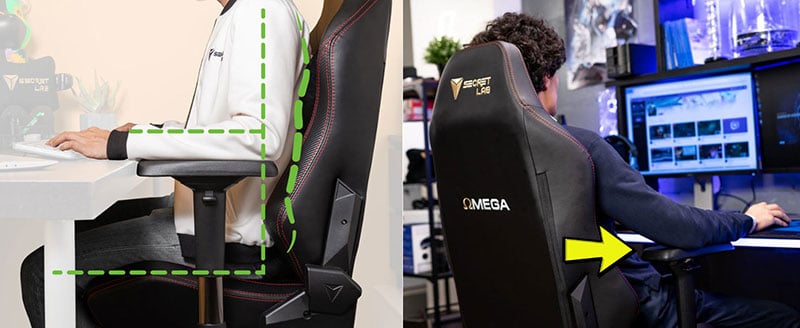 The result is prolonged strain is numbness, tingling or pain in the hand. This is a common condition called carpal tunnel syndrome.
Adjustable seat
All chairs also come with backrest recline. This is a common feature. Many cheap chairs offer 180° recline.
But only premium chairs come with tilt lock. This allows you to shift the seat to different angles. In some cases, tilt lock is useful to sit at an optimal angle in relation to your desk. In other cases, you can adjust the tilt to turn your gaming chair into a rocker.
Summary of key features
Armrests: full 4-directional or 3-directional.
Recline: between 90° up to 180° (110° is the optimal upright working angle)
Tilt lock: most models have tilt lock, which lets you adjust the angle of the seat for enhanced spine support.
Padding: high quality cold cure foam.
Upholstery: most chairs use high quality faux leather. Some use nylon mesh fabric. Other models also offer a genuine leather option.
Warranty: all models offer at least a 2-year warranty on parts. Some models guarantee parts for up to five years.
Feature analysis: expensive vs. cheap gaming chairs
Best large pro esports chairs
We get an idea of which pro chairs are best by looking at which models the pros use most often. Among the top teams and global tournaments, a few chairs stand out.
Traditional gaming chairs force the legs into a narrow position. This is helpful to maintain optimal posture, but some find it too restrictive. In contrast, these models all offer plenty of legroom as one of the many luxuries.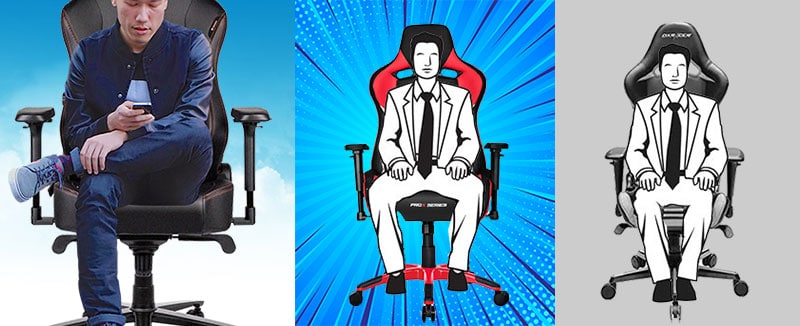 Below we summarize our top five recommended large-sized pro chairs.
Secretlab Titan
Rated #1
RSP: $399
The Titan is Secretlab's flagship. Over the past two years, it has rocketed to the top of the pro esports chair industry. First, it took over as sponsor of two of the world's biggest esports tournaments. Then, Secretlab improved all models with an impressive 2020 Series refresh.
The result was massive exposure and chairs that stood up to the scrutiny. Secretlab now has six of the world's top-50 teams on their roster, with more expected to sign.
Buy the Titan for $399 or less
Here's what the pros have to say about the Titan:
REVIEW: all Secretlab Titan pro team chairs
Secretlab Titan features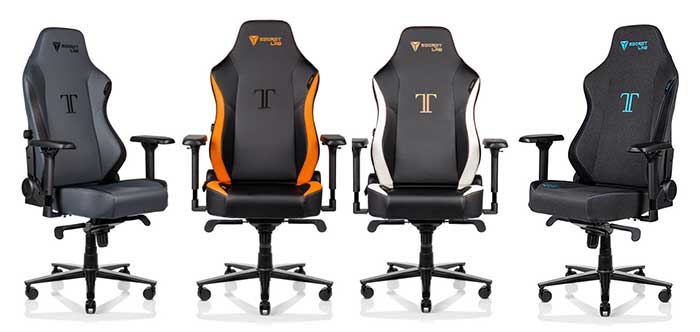 The Titan stands out with an integrated lumbar support device. This provides a cleaner look and more precise support for your lower back.
It also has a flat, wide seat with enough room to cross your legs while sitting. Other key features:
Functionality: padded 4D adjustable armrests; recline to 165°; tilt lock.
Padding: blended cold cure foam.
Upholstery: real leather, Softweave Fabric or Secretlab Prime 2.0 PU leather.
Support: steel frame, Class 4 heavy duty lift; 5-star aluminium base; extra large PU casters.
Extras: memory foam neck pillow with cooling gel insert.
Warranty: 5-year warranty
Detailed Secretlab Titan Review
Our detailed Secretlab Titan review provides sizing info, design options and more. To compare the Titan with other Secretlab chairs, check our Secretlab Brand Review.
Titan summary
The Titan's internal lumbar provides the most precise back support in the industry. That plus the high quality and glowing industry feedback make it our top-rated chair.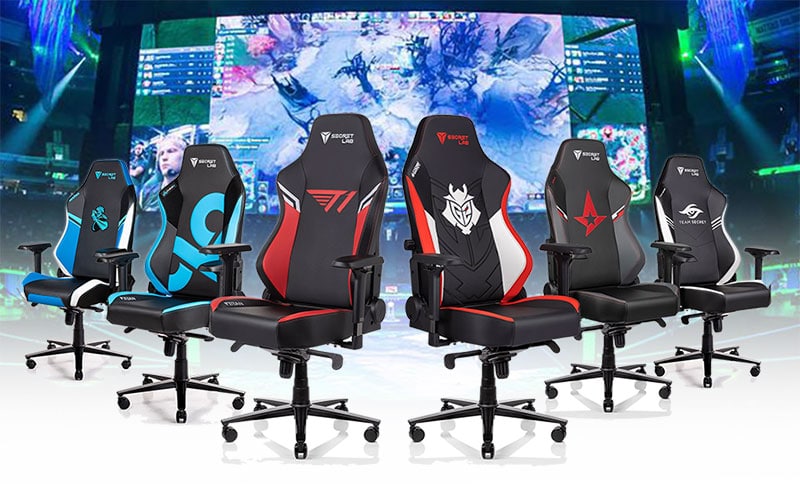 Expect impeccable ergonomic support and ultimate luxury for as much as 10 hours per day. For your investment, the Secretlab Titan will last hard-core power users five years or longer.
Maxnomic Office Comfort
Rated #2
Current Price: $479.00
Maxnomic has a lot in common with Secretlab. They both launched in 2014. Both make large and compact pro chairs. Also, like Secretlab, Maxnomic is a huge name on the esports scene.
That's partly because they partner with big names in the industry. It's also because the Maxnomic OFC matches the quality and features of the Titan.
Detailed review of Maxnomic esports chairs
Maxnomic OFC features
The Maxnomic Office Comfort (OFC) has an internal lumbar instead of an external pillow. It also has a flat, wide seat with lots of legroom.
These models are popular with Twitch streamers. A big reason is that for an extra fee, you can custom embroidered logos to make it unique.
Besides the internal lumbar, the OFC Series also has recline from 83° (forward tilt) to 139°. A forward tilt to 83° lets you benefit from back support even when leaning forward. All models also come with 5-click tilt of the seat, with a range of 11°.

On top of that, you also get luxurious 4D armrests and super thick cold foam padding over a steel frame.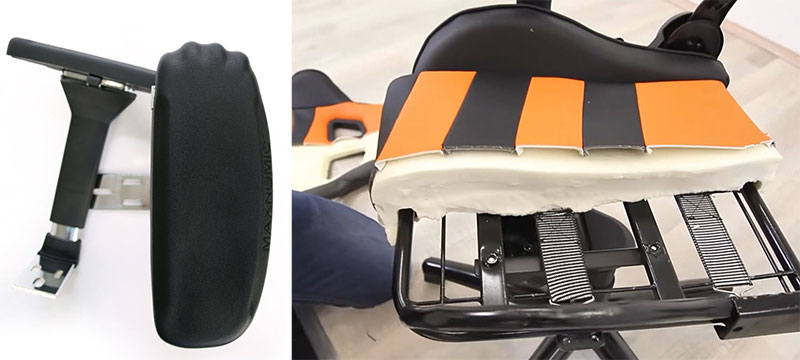 Summary of features:
Functionality: recline from 83° to 139°; 4D adjustable armrests
Comfort: internal lumbar support; neck pillow; high density cold foam padding.
Upholstery: high quality PU leather (stain-proof, easy to clean, durable).
Support: aluminum base with scratch resistant matte gloss finish; gas lift; smooth rolling casters.
Warranty: 2-year warranty on parts; 30 days return policy.
Free shipping: included.
Maxnomic Leader OFC on Amazon $479.00
OFC summary
Maxnomic partners with Ninja, the world's top streamer. They also partner with Team Liquid, the world's top team.
They've been a mainstay on the esports scene for years. That's because the OFC Series is an elite chair. It matches the Titan's comfort, quality, and features.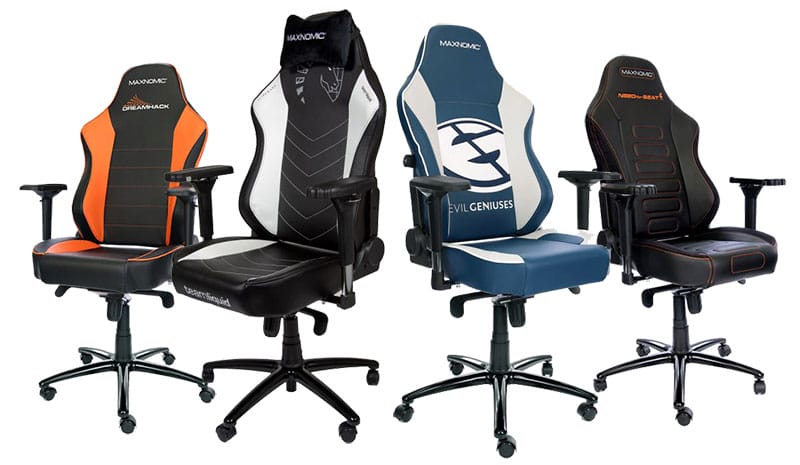 But the Maxnomic brand has lost ground lately. Several tournaments and pro teams have switched to Secretlab chairs. The OFC chair itself falls behind the Secretlab Titan with a higher price and shorter warranty.
That said, no other model on this list comes close to matching the Titan's quality. If you need an ultra-high-end alternative to the Titan, the Maxnomic OFC is worth a look.
AKRacing Master Series Pro
Rated #3
Current Price: $369.99
The AKRacing Master Series Pro is more luxurious than both the Titan and Maxnomic OFC. It has similar features to both, plus a longer warranty and thicker padding.
The reason it ranks #3 is because none of the top-50 pro esports teams use this chair. The Master Series Pro is also the most expensive of the three.
Aside from cost, this is a superb, top of the line gaming chair. Among the highlights is seventy per cent more padding than their entry-level Core Series Ex.
Another key feature is the ultra high-quality PU leather upholstery. What makes it stand out is the subtle perforations along the contact spots. This helps the chair keep cool in even the hottest weather.
A third standout is the warranty. Like the Titan, the Master Series Pro comes with 5-year coverage. This chair is built to last!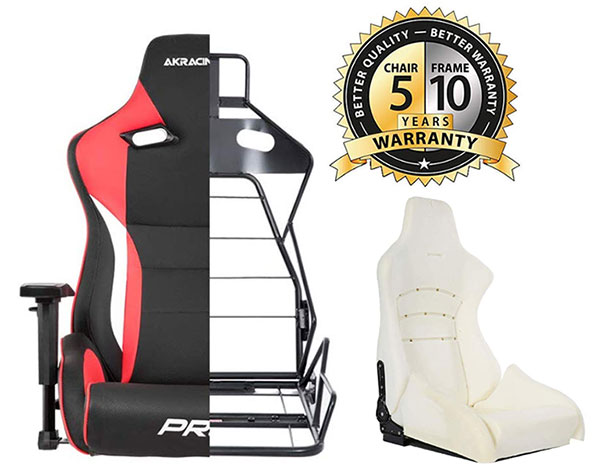 Master Series PRO on Amazon $369.99
Master Series Pro features
The Master Series justifies its high price by stacking in numerous luxury features.
Functionality: 4D armrests; deep recline to 180°; 12° tilt-lock.
Padding: cold cure foam padding guaranteed to maintain shape and density for five years. Density: 55 kg/m³ (seat) 50 kg/m³ (back)
Upholstery: perforated PU leather in five color combinations.
Support: single-piece steel frame; molded aluminum base (10x stronger than steel). It also has a class 4 gas lift and 2.5″ PU wheels.
Extras: neck and lumbar support cushions.
Warranty: 5-year warranty on parts, 10-year warranty on the steel frame.
Free shipping: included.
Detailed Master Series Pro Review
Master Series Pro summary
The AKRacing Master Series Pro is one of the best – and most expensive – gaming chairs you can buy. To justify its price, it packs in 70% more padding than other chairs. It jams in one premium feature after another, topped with a 5-year warranty on parts.

The longer you sit, the worse wrist and back fatigue can throw you off your game. People who sit full-time for a living can give themselves a luxurious advantage with these chairs.
Noblechairs HERO
Rated #4
Current Price: $439.99
Noblechairs is a German company founded in 2016. They focus all of their R&D on three high-end gaming chairs. The Noblechairs HERO is their flagship model.
Like the Secretlab Titan and Maxnomic OFC, the HERO has an internal lumbar device instead of a back pillow.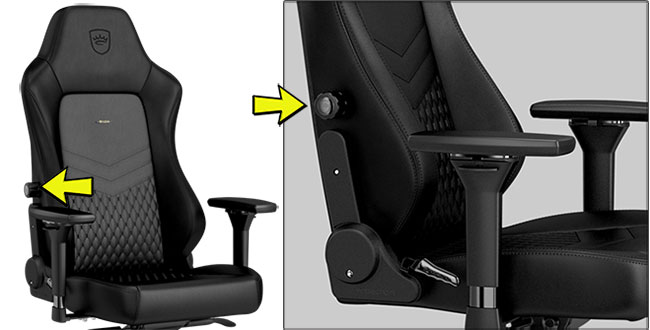 As an improvement over the other brands, the HERO includes both a neck and lumbar cushion. That means you're not forced to use the internal lumbar and can use a pillow if you wish. It's a nice little extra.

The HERO also stands out with perforations in the seat and backrest. Perforated PU leather ensures optimal breathability. That means the seat always stays cool, even in hot weather. It's a clever mod that adds an extra bit of luxury.
Buy the HERO on Amazon $439.99
Noblechairs HERO features
Unique feature: integrated lumbar support (no lumbar cushion needed, although one is provided).
Functionality: extra large padded 4D adjustable armrests; recline to 125°; tilt lock.
Comfort: cold cure foam padding; removable neck and lumbar pillows included.
Upholstery: premium perforated PU leather. This material is durable, easy to clean and breathable.
Support: steel frame; powder-coated, corrosion resistant aluminium base; extra large PU casters.
Warranty: 2-year warranty.
Detailed Noblechairs HERO Review
Noblechairs HERO summary
Germany is strong in esports and Noblechairs is the preferred brand for two top-50 teams. Current partners are SK Gaming and mousesports, who both use custom HERO chairs.

The HERO's padding and upholstery are among the best. Also, the internal lumbar gives it an edge over traditional chairs.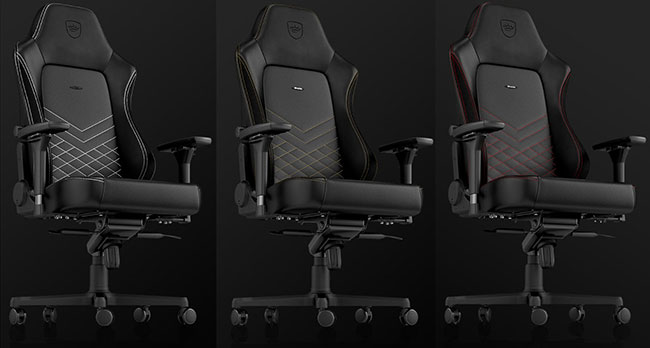 If you're looking for a pro chair with style, the HERO supports Germany's best esports players. It looks great in a boardroom and can transform any home office into an upscale studio.
Even better, it helps boost performance. If you spend full-time hours at a PC, buy a HERO to enjoy luxurious computing ergonomics.
DXRacer Racing PRO Series
Rated #5
Current Price: $369.00
DXRacer released the world's first gaming chair in 2006. Since the early days, they've spread the word about gaming chairs by partnering with pro teams. The DXRacer Racing Series PRO is their flagship esports chair.
The Racing Series comes in both regular and PRO versions, with the PRO boasting a few extras. Both versions offer a compact racing style seat that's perfect for computing. The PRO is a bit wider, but still the most narrow seat on this list.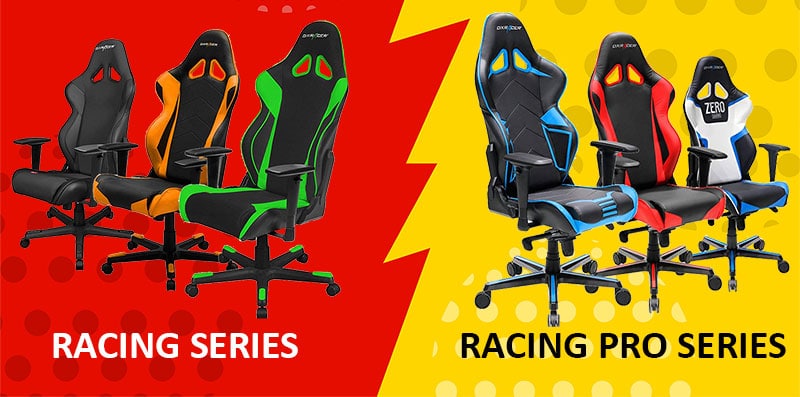 DXRacer is the original and oldest gaming chair company. They've also been a leading esports presence since their early days. The Racing Series has the richest history and deepest development out of all chairs on this list.
Browse ALL Racing Series models on Amazon
Racing PRO Series features
The Racing PRO Series adds 4-directional armrests instead of 3D ones. It also comes with a Multi-Functional Tilt Mechanism. This allows users to adjust the seat angle from 0° to 15°.
The sum of 4D armrests plus Multi-Functional Tilt is that users have more support options while sitting. That lets users sit for longer periods while keeping their bodies fresh. As a result, users can shave down break times while increasing productivity.
Functionality: recline from 90° to 135°; 4D adjustable armrests.
Comfort: high density foam padding; neck and lumbar pillows.
Upholstery: high quality PU leather (stain-proof, easy to clean, durable).
Support: aluminum base; Class 4 gas lift; 3″ PU casters.
Warranty: 2-year warranty on parts, excluding normal wear and tear.
Free shipping: included.
Detailed DXRacer Racing Series Review
DXRacer Racing Series summary
The Racing PRO Series is DXRacer's flagship esports chair. It has high-end features that pros demand and hobbyists will appreciate. Yet the Racing Series only ranks #5 on our list. That's because the other models feature innovations like internal lumbars and perforated leather.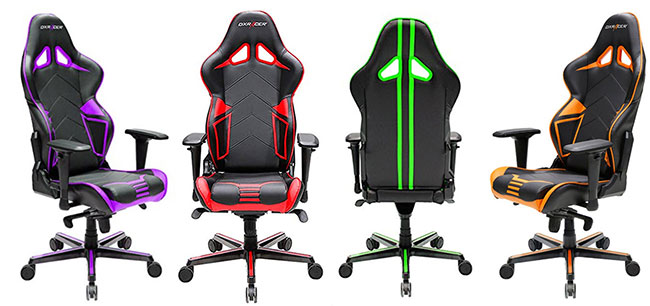 What you get from the Racing Series is a classic racing design. In fact, DXRacer designs haven't changed much since their original blueprint in 2006.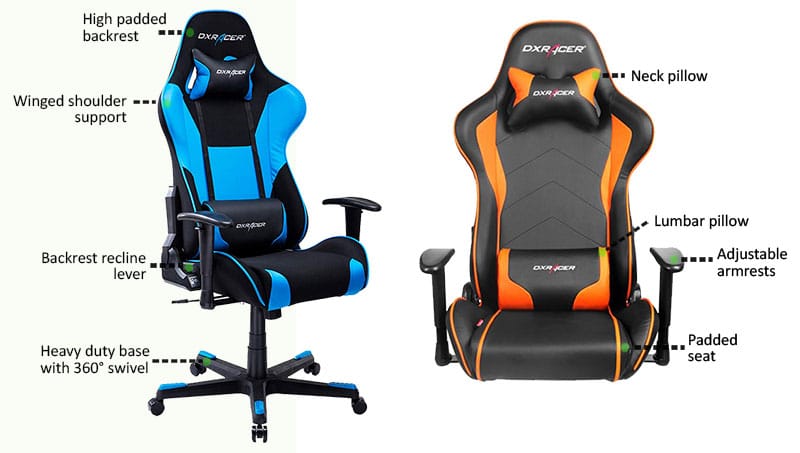 If you're looking for solid reliability from the industry pioneer, consider buying a Racing Series.
Racing Series PRO on Amazon $369.00
To learn more about the Racing Series and explore all models, check out our Racing Series Review. To browse DXRacer's entire product line, check out our DXRacer Brand Review.
Vertagear SL5000
Rated #5
Current Price: $356.81
Vertagear is also one of the oldest and most established brands in the industry. Based in Los Angeles, they make five gaming chairs spread over two product lines. The S-Line is for average sizes and the P-Line is for larger bodies. The Vertagear SL5000 is the highest priced and most luxurious model in their S-Line. It's a versatile gaming chair that will fit most normal sizes within reason.
All Vertagear gaming chairs come with a 2-year warranty on parts and 10 years on the metal frame. All chairs also use the same upholstery and padding.
The premium PVC leather uses an open-cell structure. This gives the ultra durability of PVC with the breathability of PU leather. The padding is high-density foam with resiliency of 4lbs per cubic foot. This is firm to the touch but pliant enough when you sink your body weight into the chair.
Vertagear SL5000 on Amazon $356.81
Vertagear SL5000 features
This is a high-end product with first-class features across the board:
Functionality: 4D adjustable armrests; recline to 140°; 4-angle tilt-lock.
Comfort: high density cold cure foam padding.
Upholstery: high quality PVC leather with open cell structure for advanced breathability.
Support: heavy gauge welded steel frame; aluminium base; class 4 gas lift; PU casters.
Warranty: 2-year warranty on parts, 10-year warranty on the steel frame.
Free shipping: included.
Detailed Vertagear SL5000 Review
Vertagear SL5000 summary
The SL5000 is the most luxurious model in Vertagear's product line. Vertagear touts it as a chair that "will hit the sweet spot for extreme gamers".
In fact, everyone who spends long periods sitting full-time will find this chair a delight. The Vertagear SL5000 is a rugged, stylish and ultra-comfortable gaming chair.
Rest assured that this model compares well to higher-ranked, more expensive chairs. If you like the styling, the SL5000 is a great choice.
Vertagear SL5000 on Amazon $356.81
To learn more about the SL5000, read our Vertagear SL5000 chair review. To compare all Vertagear models, check our Vertagear Brand Guide.
Best compact pro chairs
These are the compact equivalents of the best large esports models. Compact pro chairs are slim-fit, with curved edges that keep the legs pressed in.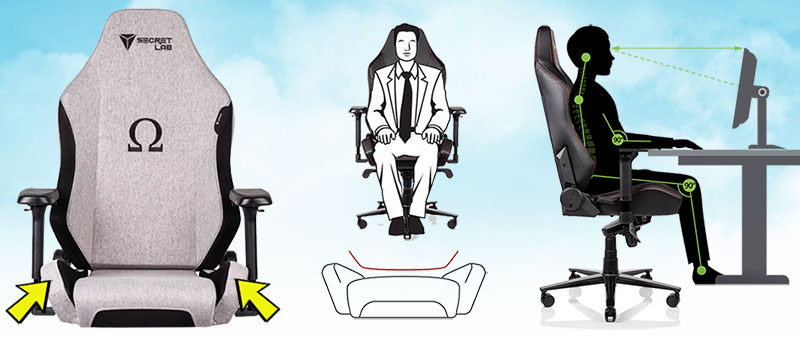 The purpose of a slim fit is to better balance body weight between your legs, the backrest and the base of the chair.
None of these models have internal lumbar support. All use traditional back pillows.
These are the only differences, compared to the large pro chairs. Otherwise, these compact picks boast the same quality and features, plus lower prices.
Secretlab Omega
RSP: $359
The Secretlab Omega is the compact version of the Titan. Larger users and those who prioritize comfort should choose a Titan. Short, slim users and those wanting the best posture support should choose an Omega.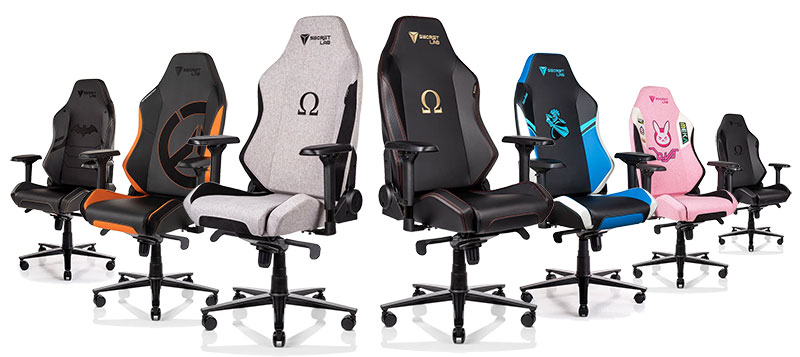 Aside from smaller dimensions, there are only two differences between the Omega and the Titan.
First, instead of an internal lumbar, the Omega uses a traditional lumbar pillow. Second, the Omega's seat edges restrict leg movement as a means of extra back support. Otherwise, the Omega boasts the same features, padding and design options as the Titan.
Omega buying advice
The Omega is a solid, compact chair with superb sitting support for full-time users.
The padding is very stiff. Many new users may feel panic after testing. It feels stiff like a rock. Don't worry. Stiff padding is part of the plan.
After a few days of full-time use, the padding will adapt to the shape of your body. The stiffness will subside just enough to marshmallow your body with comfort.
After that, you'll forget that your sitting while blasting our high-octane work.
Buy the Omega direct from Secretlab
To learn more about this chair, read our Detailed Secretlab Omega Review. To compare the Omega to the Titan, check out our Secretlab Brand Guide.
Maxnomic Pro Series
Current Price: $389.00
The Maxnomic Pro Series is the compact version of the OFC Series. Pro models are for small, slim users wanting a compact fit and the best posture support.
The relationship between Pro and OFC is the same as with Titan and Omega. The Pro has smaller dimensions, a narrow seat and traditional lumbar pillow. Otherwise, Pro models have the same qualities as OFC ones.
Maxnomic Pro buying advice
If you're looking for the best small-sized pro esports chair, the Maxnomic Pro is a top pick. So many streamers and top esports players use these chairs because they work very well.
Are you into esports? Do you want to game like the pros? Look deeper into the Maxnomic Pro. It supports long computing sessions with plush, comfortable ergonomic support.
Maxnomic Pro on Amazon $389.00
To learn more about Maxnomic Pro Series chairs, this chair, read our Detailed Maxnomic Esports Chair Review.
DXRacer Formula Series
Current Price: $299.00
The Formula Series OH/FH11 is DXRacer's original gaming chair. It comes with super-durable mesh fabric and PU leather trim. Priced at less than $300, this model has 3D armrests instead of 4D. It also has a conventional tilt (basic rocking) instead of tilt with locking function.
Otherwise, this offers the same padding and ergonomic support as the higher-priced DXRacer Racing Series.
Formula Series buying advice
This writer used an F-Series for over 2.5 years of hard-core, full-time work. The chair held up and performed like a beast. If you're looking for solid ergonomics without flashy frills and hype, the F-Series OH/FH11 is the perfect option.
Formula Series OH/FH11 on Amazon $299.00
To browse all model variations, read our Detailed Formula Series Chair Review.
Noblechairs EPIC
Current Price: $354.42
The EPIC is Noblechair's compact model, supporting people between 5'5″ and 6'2″ and up to 265 pounds.
It differs from the HERO with a smaller fit, a conventional lumbar pillow, and unique design.
Otherwise it has the same high-end features. These include thick cold foam padding, a range of color options, 4D armrests and more.
EPIC buying advice
At around $50 less than other top brands, the EPIC offers comparable quality with a snug fit.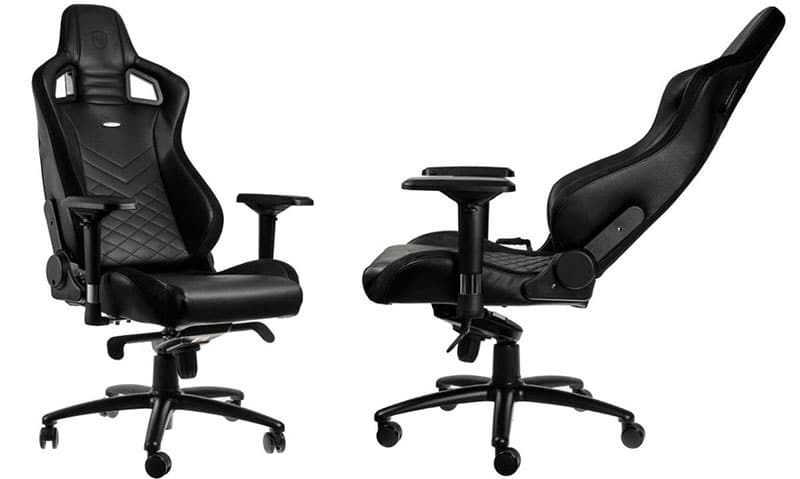 The EPIC provides slick good looks and pro-class features. Are you looking for full-time sitting support and a durable, stylish build? The Noblechairs Epic is a solid choice at a great price.
Buy the EPIC on Amazon $354.42
To Learn more about this chair, read our Noblechairs EPIC review. To compare all Noblechairs models, read our Noblechairs Brand Guide.
Pro esports chair FAQ
This section answers common questions people face when thinking of buying an expensive gaming chair.
Why should I buy a pro gaming chair?
The purpose of a pro gaming chair is to support the back for long periods of sitting. Most people sat long hours in a cheap office chair will suffer back problems. In such cases, a gaming chair is better than an office chair. That's because a pro chair will keep the spine in alignment while sitting. As health improves, more energy becomes available to focus on productivity. In this sense, the main reason to buy a pro-quality gaming chair is as a performance hack. In summary:
Modern work demands require long hours of screen-based sedentary time.
Sitting with poor posture harms your back and leads to health issues.
Good posture leads to increased energy, better concentration and many other wellness benefits.
Why do pro chairs cost more?
The main difference between expensive gaming chairs and cheap ones is the quality of build. Compared to cheap chairs, expensive ones have sturdier bases, higher quality upholstery, and advanced armrests. They also use high-density cold-foam padding that holds up to years of heavy use.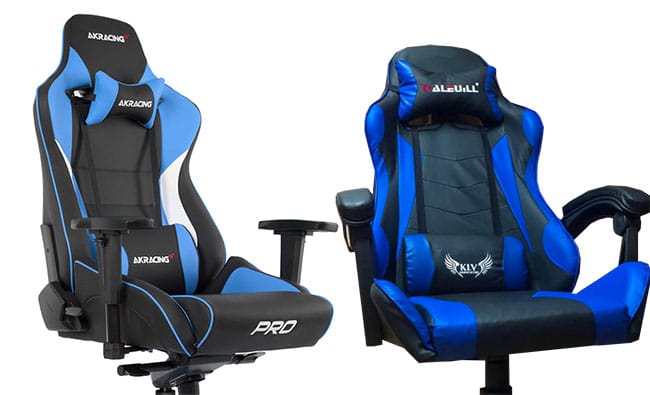 Look at the two chairs in the picture. The difference that quality padding is clear to see.
CONCLUSION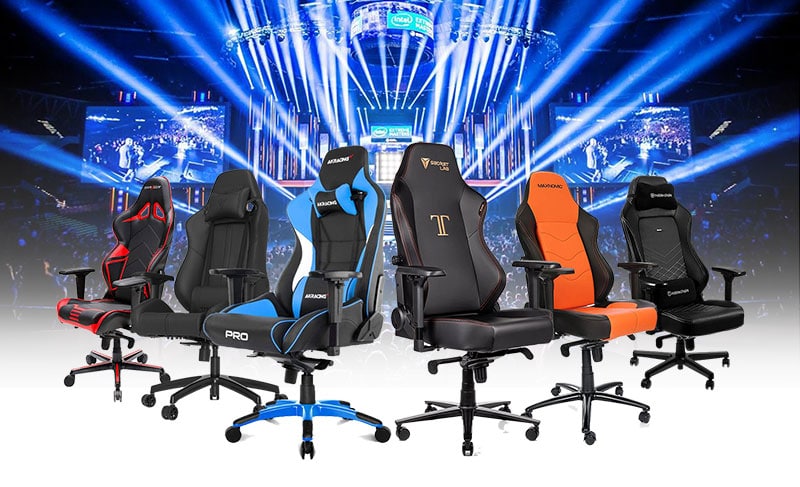 The average office worker spends around eleven hours sitting every day. If you are in this class and suffer from chronic back problems, pro esports chair provides a simple solution. Both pro and cheap gaming chairs will support the back for long hours of sitting. But pro gaming chairs to do with plenty of extras.
These chairs use better materials, have more customization options and provide longer warranties. All gaming chairs in this guide are guaranteed for at least two years of heavy daily use.
Pro gamers, streamers, designers, programmers, accountants and other professionals who spend long hours sitting should buy one of these chairs.
These models will fix your posture, support your beck and spine and improve your vitality. This means more energy to focus on productivity and winning. In that sense, pro esports gaming chairs are an excellent investment for high achievers.