Professional esports players spend full-time hours at a computer. They undergo intense training to compete for millions in prizes at top esports tournaments. Success requires long sitting sessions operating at peak performance. Under these conditions, the quality of chair is a crucial factor. In 2020, the best pro esports chairs are the ones the top pros rely on the most.
The best way to know the qualities of a good gaming chair is to test one out. That requires using it full-time for at least a few months. Luckily, top esports pros have already done that work for us. Esports players spend around 10-12 hours of training at their computers every day. That has given gaming chair manufacturers lots of user data to work with. No other type of seating has undergone as much user testing over the past decade.
That's how we know these gaming chairs hold up well under full-time sitting loads. To keep players performing at their best, these chairs are proven to support good posture and movement while sitting. That helps help players to sit for longer periods — while gaming at peak performance.
Pro esports chair overview
What defines a "pro esports gaming chair"? We define it as a full-featured ergonomic chair that supports full-time sitting at a computer workstation. Pro chairs hold up under full-time loads for three reasons.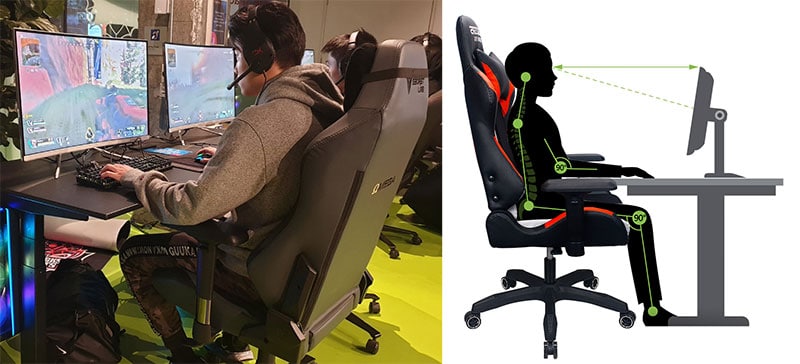 First, the dense foam padding on pro chairs holds up well under heavy use. Second, pro-class cover fabrics provide optimal breathability without getting clammy. Third, a range of adjustments let players change position on the fly. Changing positions keeps the body in motion while sitting.
That improves circulation and oxygen intake while helping to distribute stress across various muscle groups. As a result, players can stay fresh over longer sessions, without needing to pause gameplay.
Best large pro esports chairs
In 2020, consumers have a range of pro esports chairs to choose from. There are large pro esports chairs, compact gaming chairs, and also a few ergonomic task chair options.
Pro-quality gaming chairs are high-end luxury models with a few common features. Those are 4D armrests, a multifunction tilt-lock, and resilient cold-cured foam padding.
Large pro-quality models are the most luxurious gaming chairs you can buy. These chairs have wider seats designed to fit most adults of average to above-average size.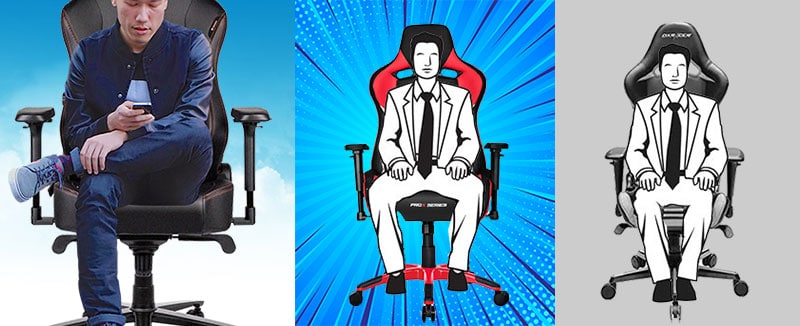 To get an idea which pro chairs are best, we looked at which models the pros use most often. Among the top teams and global tournaments, a few chairs stand out.
Best compact pro chairs
These are the compact equivalents of the best large esports models. Compact pro chairs are slim-fit, with curved edges that keep the legs pressed in.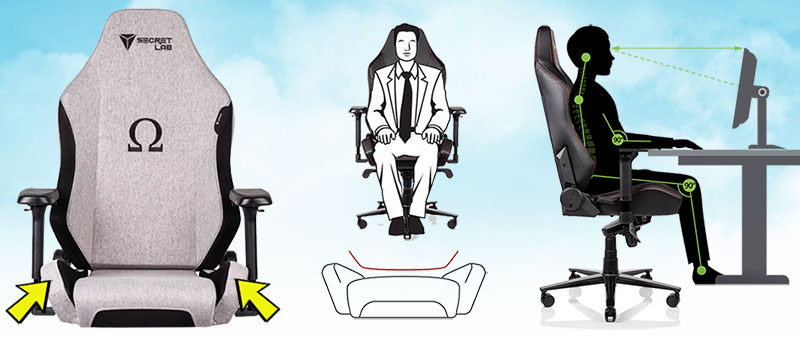 The purpose of a slim fit is to better balance body weight between your legs, the backrest and the base of the chair.
None of these models have internal lumbar support. All use traditional back pillows.
These are the only differences, compared to the large pro chairs. Otherwise, these compact picks boast the same quality and features, plus lower prices.
Best gaming task chairs
In 2020, racing-style gaming chairs aren't the only options for pro esports players. In our updated 2020 version of Gaming Chairs Used by the Pros, ergonomic task chairs have a strong presence.
For instance, top streamers like Shroud, Timthetatman, and loltyler1 use the Herman Miller Aeron task chair. Meanwhile, Dr. Disrespect does his work on a Sidiz T80 task chair. Below we summarize two ergonomic task chairs currently being used by pro esports players and teams.
Pro esports chair FAQ
This section answers common questions people face when thinking of buying an expensive gaming chair.
CONCLUSION
The chairs listed in this review are some of the most expensive gaming chairs on the market. However, they rank among the best because of the quality of features, not price. For long periods of full-time sitting, no other gaming chairs can match these.
These models are the most comfortable, with the richest ergonomic features. Since top esports pros use these chairs, they are also proven to hold up well under heavy use.
Pro gamers, students, and office workers looking for a performance edge should consider these chairs.
These models will fix your posture, support your back, and improve your vitality. This means more energy to focus on productivity and winning. In that sense, pro esports chairs are an excellent investment for high achievers.