German company Noblechairs began as a producer of racing car seats. This Noblechairs review looks at their line of luxury gaming chairs. All models combine exotic car seat design with the crisp ergonomics of high end office chairs.
There are only three chairs in the Noblechairs product line. This keeps their R&D focused and development robust. All models boast luxury features and upholstery.
The Noblechairs EPIC is their original gaming chair. It stands out with excellent ergonomics and racing style aesthetics.
The HERO is a classic styled gaming chair with a larger frame and integrated lumbar support. That eliminates need for a support cushion and provides more precise back support.
Their third chair is the ICON, an elegant model with simple design and luxurious comfort.
Noblechairs brand overview
Before getting into chair reviews, this section looks at shared aspects relevant to all models.
Noblechairs durability
All Noblechairs gaming chairs come with a standard 2-year warranty. This is the same as DXRacer, but less than the 5-year warranties offered by Secretlab and AKRacing.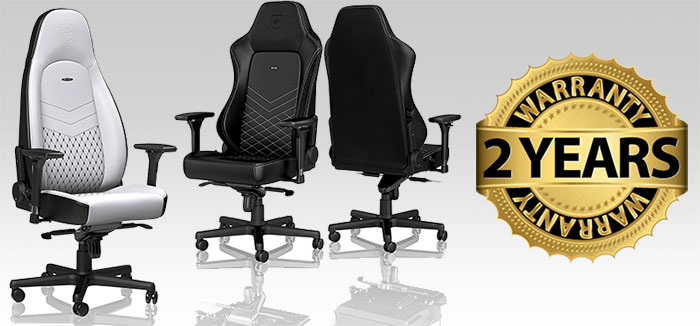 That's our one complaint with these products. If these chairs had 5-year warranties, they would rank among the best.
That said, these chairs are durable. Cold foam padding layers over a steel frame that's topped with high quality PU leather. The result provides consistent support for full-time sitting.
When you sit, the firm foam padding gives slightly to the shape of your body. When you stand, it pops back into original shape. The guarantee ensures it will hold its original shape for two years. That's pretty good, but five years would better help justify the high price of these chairs.
Noblechairs sizing
Noblechairs products support average to large users.
| | EPIC | ICON | HERO |
| --- | --- | --- | --- |
| Seat width & depth | 22" (W) x 22.2" (D)" | 20.3" (W) x 19.3" (D) | 20.5" (W) x 21.7" (D) |
| Backrest height and width | 34.2" (H), 21.4" | 33.8" (H), 20.5" | 35" (H), 22.5" (W) |
| Overall height | 51.6" to 55.5" | 49.8" to 53.7" | 51" to 54" |
| Weight support | Up to 265 pounds | Up to 330 pounds | Up to 330 pounds |
| Height support | 5'5" to 6'2" | 5'5" to 6'4" | 5'5" to 6'4" |
The EPIC is the tallest chair with the widest seat, but supports the least amount of weight. Even so, it provides less seating room than the HERO and ICON models.
That's because the EPIC has ridged edges that keep your legs pressed together. In contrast, both the HERO and ICON models have flat wide seats that provide more leg room in less space.
Upholstery and support
All models come with a durable steel frame and thick cold foam padding along the seat and backrest. Cover material options are PU leather (1.5mm thick) or genuine leather (1.7mm thick). For this review, we stick to the more affordable PU leather versions.
The EPIC and ICON come with luxurious PU leather that feels as soft as real leather. Most users prefer PU leather over fabrics because they look great, last long and are easy to clean.
The one downside to PU leather is that some versions get sticky in hot weather. Higher quality faux leathers like the Noblechairs version are breathable enough to avoid clamminess. However, in extremely hot weather, all PU leathers will get sticky.
The higher-price HERO gets around this by adding perforations around the seat and backrest. This enhances breathability and keeps the chair cool, even in extreme heat.
Noblechairs gaming chairs
This section reviews the three products in the Noblechairs product line, ranging from most to least expensive.
Noblechairs HERO
Current price: Price not available
The HERO Series is the largest Noblechairs gaming chair. It has an expanded backrest and a flat seat design that allows for a wider seat surface. The armrests are also Noblechair's largest, reamining in proportion with the wider backrest.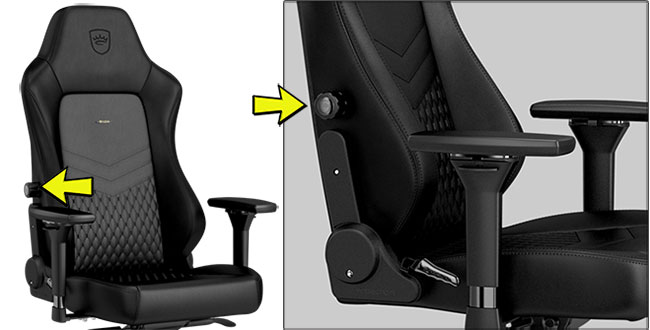 The standout feature is the integrated lumbar support. This feature is usually found in luxury cars. The Secretlab Titan added an internal lumbar in 2016. It went on to become one of the best selling chairs in the world. The HERO is the second chair to add this great feature.
Turn a knob on the side to expand or contract the lower back support. The key is to set it to that it fills the indent in your lower spine.
Unlike traditional lumbar cushions, once you set the HERO's lumbar it stays in place. It's an awesome feature that takes ergonomics to a higher level.
Noblechairs HERO sizing
All Noblechairs models fit average to large users in paper. In reality, everyone from adolescents to chunky adults will find these chairs a great fit.
Seat width & depth: 20.5″ (W) x 21.7″ (D)
Backrest height & width: 35″ (H), 22.5″ (W)
Total height: 51″ to 54″
Noblechairs HERO features
As the flagship Noblechairs luxury model, the HERO has the most impressive features. One oddity is the limited recline to only 125° – most chairs recline to at least 135°. It doesn't affect upright working posture, so most won't have a problem. Those looking for something to double as a napping chair should look at other models.
Unique feature: integrated lumbar support (no lumbar cushion needed, although one is provided).
Armrests: extra large padded 4D adjustable armrests.
Recline: recline to 125°; 11° tilt-lock.
Detailed Noblechairs HERO Review
Buying advice
This is the premier Noblechairs model and one of the best expensive gaming chairs you can buy. There's so much to like about the HERO. For one thing, the internal lumbar system works better than a traditional cushion. For another, the styling is impressive: this chair looks good in both the bedroom and the boardroom. Finally, the thick padding and solid build produce luxurious ergonomics. These are excellent full-time working chairs that will optimize your posture and yield many more benefits.
On the downside, we're bummed about the measly 2-year warranty. Everything about the HERO is high-end, but the warranty is middling. This chair compares to our top-rated luxury models, the Secretlab Titan and AKRacing Master Pro. Both offer 5-year warranties.
Noblechairs EPIC
Current Price: Price not available
The EPIC is the original model that established Noblechairs as an industry leader. This is a masterpiece of German engineering. Its high quality materials provide a plush seating experience with solid ergonomics.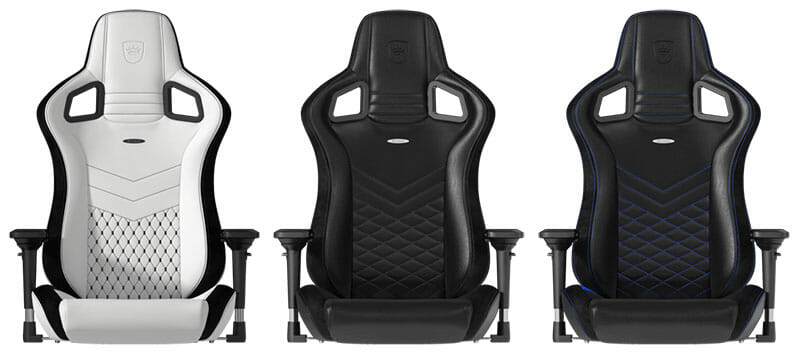 EPIC features
This is tallest Noblechairs product with the widest seat. Even so, its tapered edges keep the legs contained. The result is a tall, slim build best suited to small and average sizes.
Features are comparable to the HERO, with 10° more recline.
Functionality: 4D armrests; recline to 135°; 11° tilt-lock.
Upholstery: PU leather with diamond pattern stitching on the backrest.
Sizing: height 5'5″ to 6'2″; max weight 265 lbs
Noblechairs EPIC on Amazon Price not available
Buying advice
The Noblechairs EPIC gaming chair is well put together. The base feels solid and the casters glide smoothly over both carpet and tiles. The whole chairs is adjustable and the entire package feels very sturdy. As for design, the narrowed backrest crown and diamond-stitched backrest looks sublime.
While the HERO boasts in internal lumbar, the EPIC has no standout features. Instead you get top-to-bottom quality and good looks. If you're looking for cutting edge features, the HERO is a better choice.
If you're after comfortable, consistent, stylish ergonomics, the EPIC is a solid choice.
Noblechairs ICON
Current price: Price not available
This spinoff of the Epic features a modified backrest design and larger dimensions. This model is almost as large as the HERO, supporting users up to 6'4″ and 330 pounds.
The ICON comes with a sturdy 0.08″ steel frame for excellent durability and stability. The cold foam padding is denser than average. Expect a firm seat that's more resiliant against your body weight.
Each ICON comes with high-quality stitching along the backrest for a classy aesthetic. Matching head and lumbar pillows round out the ergonomic support. See our gaming chair user guide to learn more about managing your chair's ergonomics.
ICON features
The ICON is a versatile chair that will fit most average sized users. It fits between the slim EPIC and extra-wide HERO.
Features are comparable to the EPIC, but with a larger frame that support heavier weights.
Functionality: 4D armrests; recline to 135°; 11° tilt-lock.
Upholstery: PU leather with diamond pattern stitching on the backrest.
Sizing: height 5'5″ to 6'4″; max weight 330 lbs
Buying advice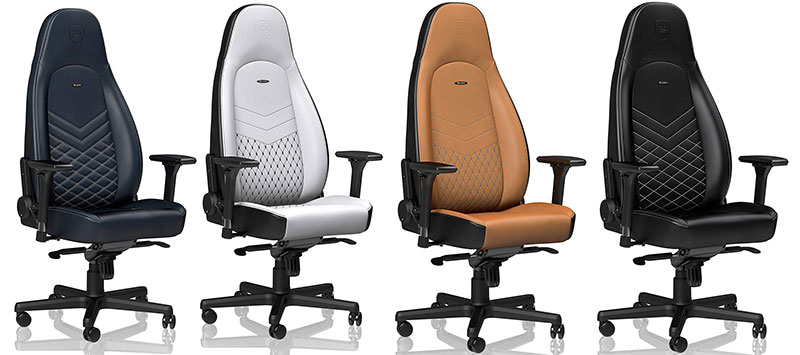 The ICON is the most regal and conservative Noblechairs product. It works well in front of a gaming rig or as the centerpiece of a CEO's office.
This model appeals to those looking for minimalist style and a full feature set. Each ICON has rich customization options on the seat and armrests. These ensure you're able to relax in the position that suits you best.
Noblechairs All Black Editions
Noblechairs' new 'Black Edition' unveils the latest evolution in faux leather technology. Their new blend combines the best elements of both PU and PVC leathers. The result leaves microfine pores in the finish that are permeable to both air and water vapor.
This ensures optimal airflow and unparalleled comfort over extended sitting periods. No matter how long you sit, the surface will prevent stickiness and discomfort.
The new material is also more durable. It has superior tear and abrasion resistance and is also easy to clean.
All Black features
The new all-black models were just released and should be available for sale on Amazon shortly. Expect prices around $50 higher than the other Noblechairs models. The new models also come with ugraded 4D armrests and a new powder coated solid aluminium base.
Noblechairs Alternatives
Noblechairs ranks among the best luxury gaming brands. Two brands that rank better are Secretlab Secretlab and AKRAcing.
Noblechairs stands up to both brands in terms of luxury and features. But they lag behind on the warranty. Noblechairs models come only a 2-year warranty. Secretlab and AKRacing both have 5-year warranties.
That aside, these are gorgeous chairs with the best luxury features. If you like the styling, consider this brand.
Conclusion
Noblechairs products stand out with excellent ergonomics and German racing style aesthetics.
Their flagship HERO offers a larger frame and integrated lumbar support. That ICON is another large chair with classy conservative styling. Slim builds will prefer the EPIC, a tall chair that feels most like sitting in a race car seat.