German manufacturer Noblechairs only produces three gaming chairs. The Noblechairs Hero is its premier gaming chair for average to tall sizes. It comes with integrated lumbar support, 4D arms, and a range of stunning styles. Looking for one of the most stylish premium gaming chairs on the market? This Noblechairs Hero review covers one of the most popular options.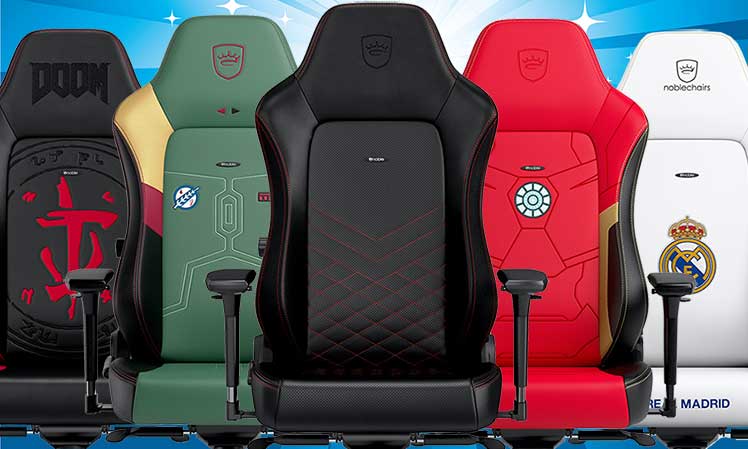 The top-rated luxury gaming chair on ChairsFX is the Secretlab Titan 2022 Series. The Hero is one of its most stylish competitors. Here's how they compare head-to-head:
| | | |
| --- | --- | --- |
| | Hero | Titan |
| Core features | 4D arms, multifunction tilt, 85-165° recline | 4D arms, multifunction tilt, 90-125° recline |
| Integrated Lumbar | Height-adjustable | Height and depth-adjustable |
| Headrest | Memory foam pillow on straps | Strapless magnetic memory foam headrest |
The Titan also comes in a larger array of styles. Even so, several Hero versions are just as stunning. The bottom line is that the Hero is a (slightly) less ergonomically-refined version of the Titan.
On the positive side, Hero models are cheaper, almost as luxurious, and equally as attractive!
Here are
three reasons
to
choose a Hero over a Titan
chair:
Softer padding: The Hero's 60 kg/m³ padding is squishier than the Titan's (65 kg/m³). That's not as good for posture preservation, but a bit more comfortable in the short term.
Cheaper prices: the standard Hero models are $90 cheaper than Titan ones.
Unique styles: the Hero's 20 unique styles provide gorgeous alternatives to what the Titan offers.
Noblechairs HERO Gaming Chair Review
The Noblechairs Hero has three standout features. The first is its exquisite styling. Standard editions come draped in black perforated PU leather. The perforations enhance breathability.
All standard models also come with diamond-stitched backrest patterns. These are available in a choice of black, blue, red, white, or golden threads.
The second is its internal lumbar support, which fits under the backrest padding. Turn a knob on the side of the chair to expand or deflate the support level.
Just in case, standard Hero editions also include a headrest and lumbar pillow. If you don't like the integrated one, use the external one instead.
Finally, the Hero currently comes in 10 dazzling styles. All are available on the Noblechairs websites — Amazon's Noblechairs Store usually has a smaller selection.
Buy the HERO on Amazon $589.00
Buy the Hero from Noblechairs for $459-$539.
Summary of Hero Features
The HERO offers a range of high-end features but curiously only offers limited recline, from 90° to 125°. Otherwise, it has all the features one should expect from a top-of-the-line gaming chair.
Unique feature: integrated lumbar support (no lumbar cushion needed, although one is provided).
Functionality: extra large padded 4D adjustable armrests; recline with tilt lock to 125°.
Comfort: cold cure foam padding; removable neck and lumbar pillows included.
Upholstery: premium perforated PU leather. This material is durable, easy to clean and breathable.
Support: steel frame; powder-coated, corrosion resistant aluminum base; extra large PU casters.
Warranty: 2-year warranty.
Noblechairs HERO sizing
The Noblechairs HERO gaming chair is a mid-sized chair suitable for average sizes. It has a narrower seat than the Noblechairs EPIC but a wider backrest.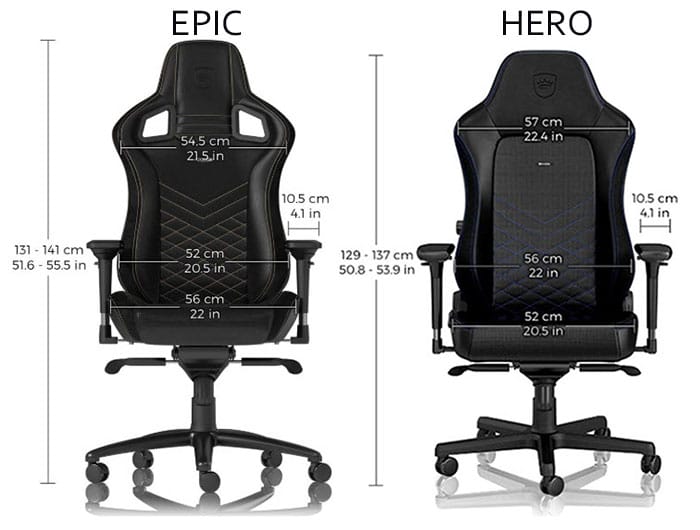 Hero sizing specs:
Seat width & depth: 20.5″ (W) x 18.9″ (D)
Backrest height & width: 22.4″ (W) x 35″ (D)
Floor to seat range: 18.9″ to 22.4″
Size rating: people 5'9″ to 6'2″ tall; up to 330 pounds
Noblechairs Hero Pros and Cons
The Hero is a well-built premium chair with good ergonomic features and exquisite styling. In fact, the styling is the most impressive aspect. Hero chairs come in a choice of 20 styles (in PU leather, high-tech faux leather, real leather, and fabric upholsteries).

However, based on our 2022 gaming chair buying guidelines, aesthetics are a temporary pleasure. Even the most vibrant design will start blending in rather than standing out after a few weeks.
Beyond the Hero's flashy designs are some quibbles. First, these chairs are only guaranteed for two years. Second, while Secretlab upgrades its chair technology every two years, the Hero's functions haven't evolved in over five years.
These aspects make the Hero's high price a tough sell — unless you prioritize aesthetics over all else.
Best Noblechairs HERO Design Picks
Hero chairs come upholstered in PU leather, high-tech faux leather, real leather, or fabric. Here are my favorite styles across all cover types:
Standard Editions
Standard Hero designs come in black perforated PU leather with a choice of threads. Accent your chair with black, red, blue, gold, or white stitching.
Like all Hero editions, standard ones come with an integrated lumbar. As a bonus, they also ship with a headrest and lumbar pillow set.
Hero Standard editions on Amazon $589.00
Buy a standard edition Hero from Noblechairs for $459.
Boba Fett Edition
The most recent Hero design is a stunning Boba Fett edition. At present, it's only available from the Noblechairs website for European customers.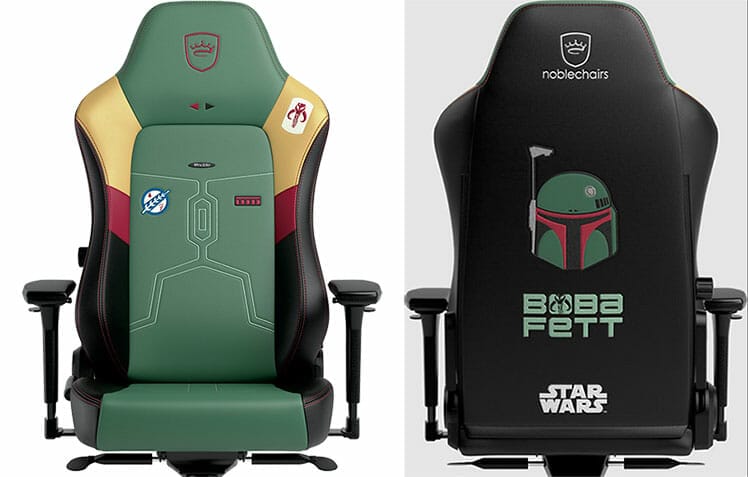 It pays tribute to the Boba Fett character with a clever recreation of his multicolored armor. The green olive seat and backrest is complemented by side strips of black, maroon, and yellow.
The embroidered detailing on the front depicts Boba's armored breastplate with extra-wide stitching lines. Boba Fett decals also play a prominent role.
A mythosaur symbol adorns the upper left front side, while his iconic helmet decorates the back. Check out these Boba Fett chair release notes for more details.
Hero Boba Fett from Noblechairs UK £424.99
At present, the Boba Fett edition is only available from Noblechairs European stores.for customers in Europe.
Far Cry 6 Edition
Sliding into this seat puts you in the role of the Dani Rojas character from Far Cry 6. It takes inspiration from Dani's love for the Las Guerrillas baseball team.
The team's menacing logo decorates the front of the chair. On the backside, Dani's baseball jersey covers the backside in Solar Yellow.
Like other Hero special designs, this model comes without a pillow seat. It's currently only available in Noblechairs European stores.
Iron Man Edition
This brilliant design takes you straight into Tony Stark's top-secret laboratory. The front side shows off Tony's powered exoskeleton with extra-wide stitching lines. Iron Man's Arc Reactor is embroidered in the dead center with tri-colored detailing.
On the backside is a white-stiched Iron Man helmet plus his original signature as depicted in the comic books.
DOOM Special Edition
The Hero DOOM Edition has an all-black base with blood-red side accents. Embroidered on the front is the iconic mark of the DOOM Slayer.
On the back, a massive sphere of embroidered rune markings gets offset with a large DOOM logo. This model is available in the Noblechairs Store for USA and EU customers.
Elder Scrolls Edition
This design was released in 2021 to celebrate the release of the ESO Console Enhanced mode. It has a dark PU leather base with golden side accents.
The Elder Scrolls logo is embroidered on the crest of the headrest. On the back is a white dragon with gold flecks, recalling the vibe of Elder Scrolls V: Skyrim.
Conclusion
The Noblechairs Hero ranked as one of the world's top gaming chairs — in 2018. Since then, other brands like Secretlab and Anda Seat have evolved their features based on customer feedback. In contrast, besides custom skins, the Hero hasn't evolved at all.
The most troubling lack of evolution has to do with the warranty. While the price of Hero chairs has increased since 2018, the pedestrian 2-year warranty remains the same.
That said, the Noblechairs strategy seems purely design-driven. Those who care only about aesthetics will love the Hero collection.