Boba Fett was a bit player in the original Star Wars Trilogy. Once Luke Skywalker dumped him into a sarlacc pit, most assumed him dead. Instead, his sweet armor kit earned him a cult following. Recently, Disney+ has taken his popularity to new heights. Noblechairs has also joined the party with a brilliant new Boba Fett gaming chair.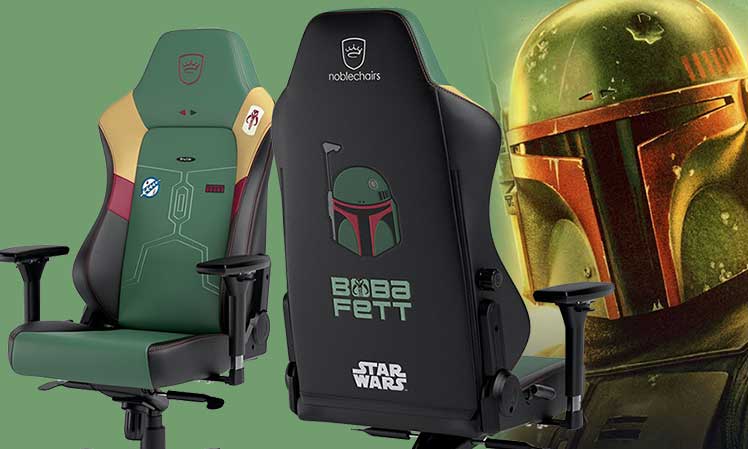 Boba Fett only had four lines of dialogue in the Empire Strikes Back. Then he lost a fight to a blind man and got swallowed by a giant worm. But the delectable color palette of his armor was revered by kids worldwide.
The character enjoyed a resurgence when Disney+ featured him in the Mandalorian Series. Then, he starred in the Book of Boba Fett, a 7-episode series that ended in February.
When the Mandalorian Season 3 comes out at the end of the year, he'll again play a major role. As the hype builds, Noblechairs has released a brilliant Boba Fett Hero edition.
Noblechairs Hero Boba Fett Edition
Noblechairs is a German maker of luxury gaming chairs. The Hero is its midsize luxury chair for sizes 5'9″ to 6'2″. At present, the Boba Fett edition is only available from Noblechairs online stores in Europe.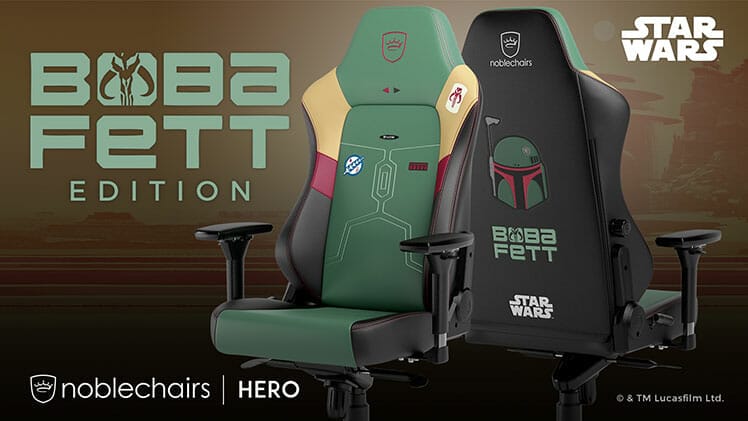 It's the perfect gaming chair adaptation of the Boba Fett character. The main seat is clad in olive green, flanked by strips of black, maroon, and yellow. Embroidery on the front side depicts Boba's stylized breastplate with extra-wide stitching lines.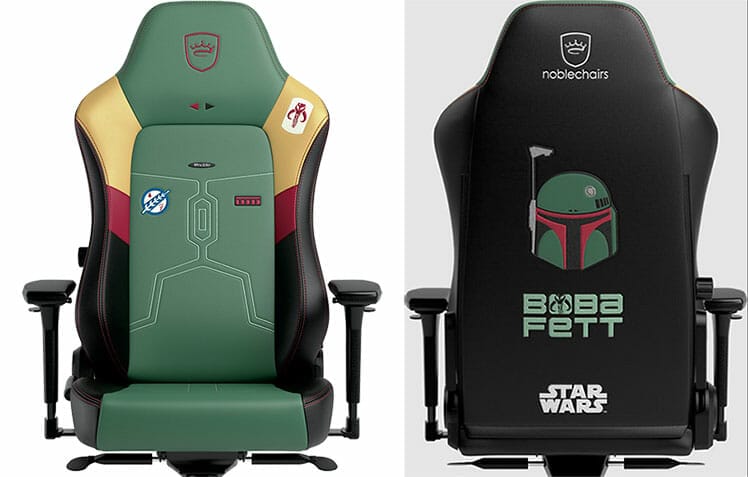 Boba Fett decals are also lavishly embroidered. There's a mythosaur symbol on the upper left front side, plus his entire helmet on the back.
Only Available In Europe
The Boba Fett edition gaming chair is currently only available from the Noblechairs online Store in Europe and the UK. In the Noblechairs UK Store, it's priced at £424.99. In the Noblechairs Germany Store, it costs €489.90. Note that this chair ships without pillows!
The Hero has a (depth-adjustable) integrated lumbar to cover your lower back. But if you want a headrest, you'll have to buy a bundled cushion set for an extra £54.95. That's a real bummer, given the high price of the chair (with only a 2-year warranty).
Hero Boba Fett Edition from Noblechairs UK £424.99
Buy the Hero from Noblechairs for $459-$539.
Hero Chair Specifications
All Noblechairs designs have the same features and dimensions. Check out our Noblechairs Hero review for a closer look. Quick specs:
Unique feature: integrated (height-adjustable) lumbar support.
Functionality: extra large padded 4D adjustable armrests; recline with tilt lock to 125°.
Comfort: cold cure foam padding; neck and lumbar pillows not included!
Upholstery: premium perforated PU leather.
Support: steel frame; powder-coated, corrosion-resistant aluminum base; extra large PU casters.
Warranty: 2-year warranty.
Seat width & depth: 33 cm (W) x 48 cm (D)
Backrest width x height: 57 cm (W) x 89 cm (D)
Floor to seat range: 48-57 cm
Size rating: people 175-187 cm tall; up to 150 kg
Other Noblechairs Designs
Noblechairs has been on a hot streak recently, pumping out several brilliant designs.

Beyond the Boba Fett edition, there's a Fallout chair, Far Cry 6 edition, a crimson Iron Man one, and many others. See our Noblechairs Hero Review to check out more designs — plus an assessment of the Hero chair's merits.
Spoiler: the Hero is very expensive and only comes with a 2-year warranty. Further, none of the special editions come with a headrest pillow. That means you pay a higher price for a custom design, plus an even higher price to add pillows!
Even so, it's definitely worth buying — for some people!