Herman Miller's Aeron chair gives you a choice of two lumbar options. The height-adjustable lumbar pad is easy to use. Simply slide it above your belt line and lean back. But it's flimsy. In contrast, many vendors hype the flashy dual-pad (depth-adjustable only) Posturefit. It provides an imperfect fit by design — with a support style that takes time to appreciate. This Posturefit vs Lumbar Pad comparison explains why I recommend the latter.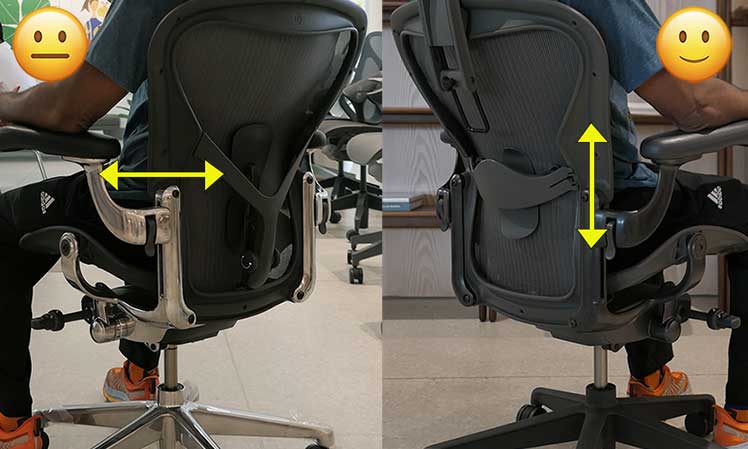 Which is better: the Aeron's Posturefit, or the sliding lumbar pad? If you choose willy-nilly without thought, you might get got – like Pokimane did!
After several rounds of hands-on tests, I reached a conclusion. Both provide mediocre lower back support by design. But the height-adjustable sliding lumbar pad is better.
Contrary to its name, Posture fit is not designed to 'fit' your lower back sweet spot. Instead, it delivers mild pressure to the upper portion only.

If you don't like it, you can reduce the depth to have zero impact. But then you have a pricey ergonomic chair without lumbar support!
On the flip side, the sliding lumbar pad does hit your lower back with mild (non-adjustable) depth. But it's flimsy: with enough pressure applied, it pops out! Many Reddit threads have the same complaint(1).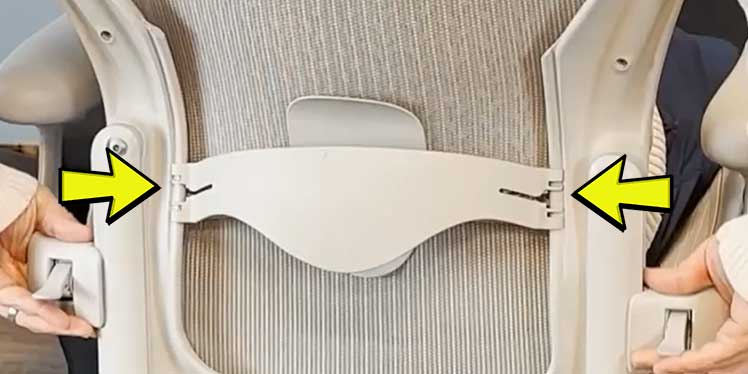 These issues are a deliberate part of the Aeron concept: firm lumbar pressure is better for short-term sitting. For longer bouts, its mesh suspends the body for optimal comfort.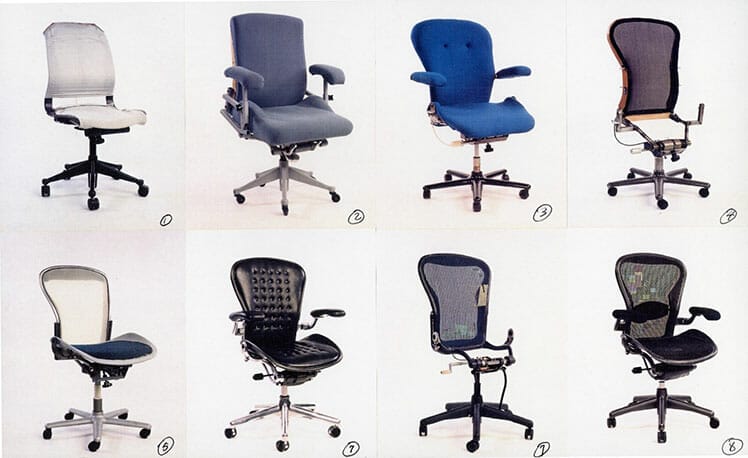 Therefore, it doesn't matter whether you choose a Posturefit or sliding lumbar pad — in theory.
Aeron Remastered from Herman Miller $1275-$2340
Learn more: Aeron Remastered Review
Aeron Posturefit vs Lumbar Support Pad
Does the Aeron chair work better without lumbar support, with a lumbar pad, or with a Posturefit unit? The best way to decide is to vigorously test each out. So that's what I did.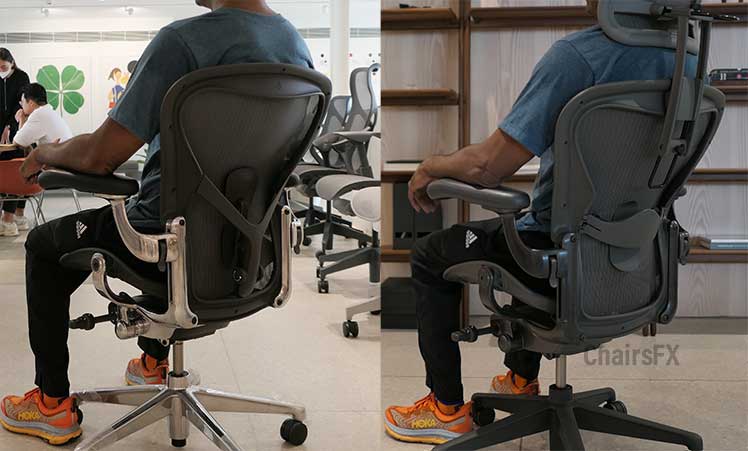 Based on textbook lumbar support biomechanics, every spine has a unique length. For a proper fit, a height-adjustable lumbar is essential.
The height-adjustable sliding lumbar pad follows this concept. Slide it just above your beltline for best results. It works well, but it's flimsy. In my tests, moderate pressure popped it out of its sockets a few times.
But I found the Posturefit not much better. I tried it out in a few medium-sized Aeron chairs (I'm 5'9″ / 177 cm). None provided direct support to my lower back curve.
Instead, I felt a sort of mild pressure applied to the top half of my curve. It felt weird, unlike any lumbar support I've ever tried. Reducing its depth to zero made no difference. What's the point?
Aeron Concept: Balanced Suspension
The first iteration of the Aeron debuted in 1994 as a fancy mesh chair with a sliding lumbar pad. Two years later, it got an ergonomic supercharge from Indy 500 race car concepts(3). That year, an Indy 500 driver named Buddy Lazier crashed and broke his back. He then sought the help of Dr. Brock Walker.
Dr. Walker had built several prototype seats for race car drivers with a unique concept that dismisses lumbar support. From his perspective, a supported lumbar spine only helps people feel comfortable in the moment.
If you're positioned in the right manner and supported in the right places… you'll be able to sustain your position for a longer period of time.​
Dr. Brock Walker
In contrast, firm sacral support (below the belt line where the spinal column connects to the pelvis) tilts the hips into the same angle as when in a healthy standing position.
Walker designed a seat that put Lazier in a state of 'floating suspension'. It distributed Lazier's body weight to minimize pressure on his pelvis and sacrum.
The end result: Lazier went on to win the 1996 Indianapolis 500(4). Soon after, Dr. Walker's support concepts were ported into the Aeron chair.
Bottom line: the Aeron's mesh is designed to suspend the body in a perfect position for maximum long-term comfort. Whichever type of lumbar support you use is designed to provide only mild, complimentary support.
Posturefit Pros and Cons
The Aeron's PostureFit system costs $100. It uniquely delivers support for two parts of the lower spine. As the user moves in the chair, two pads flex independently of each other.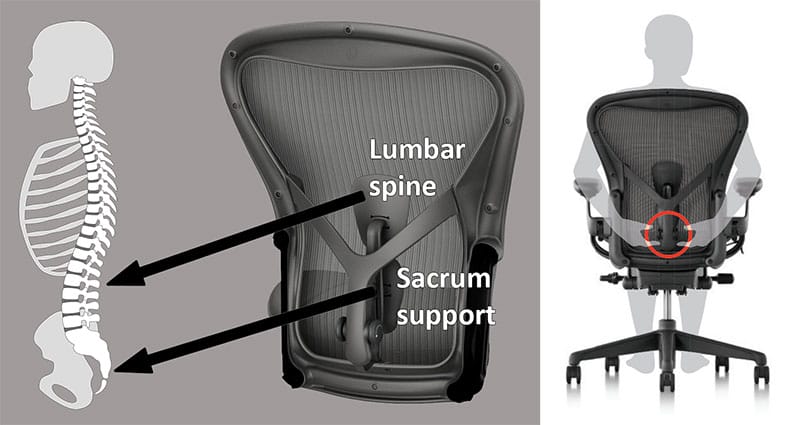 The top pad puts pressure on the lumbar spine like a gaming chair lumbar pillow. The bottom one adds a light touch to the base of your spine.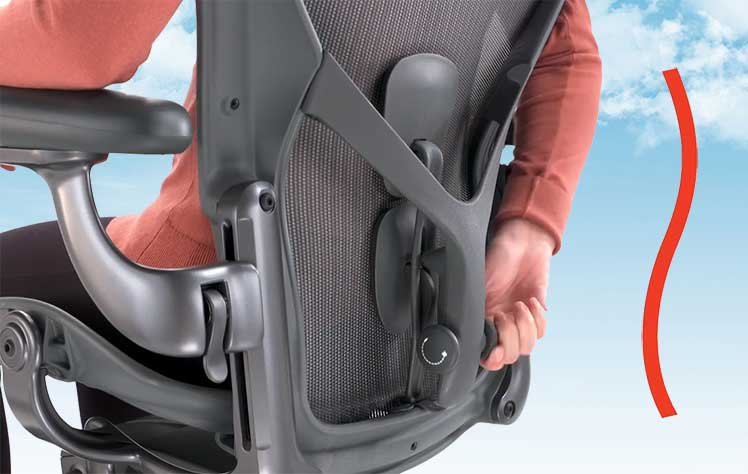 The biggest initial problem users may find is the lack of height adjustability. However, assuming you choose the right-sized model for your body type, a proper fit is not necessary.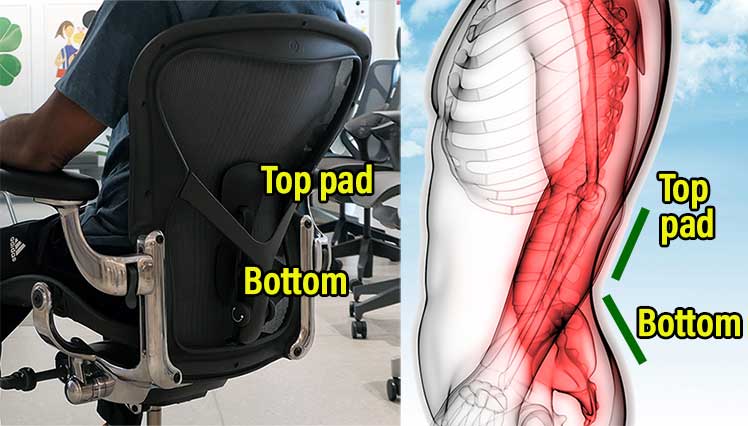 The large upper pad is designed to partially support the upper portion of your lumbar curve. In contrast, standard lumbar support systems target the dead center of your lower back curve.
With an expectation for the Posturefit to provide standard lumbar-powered support, its fit feels off. However, once you grasp that it's only supposed to provide mild, complementary support, that concern fades.
Posturefit Personal Impressions
I found the Posturefit inconsequential. With the depth turned up with full pressure, I only felt very mild support. With it turned down to zero, it didn't make a difference.
In both cases, the Aeron's suspension concept lived up to its hype. I found it extremely easy to sit in clean neutral postures with or without Posturefit support.
Summary of Pros and Cons
Posturefit is not designed to fill your lower back curve. Instead, it provides mild complementary support to the upper portion of your lumbar curve. Once you grasp that concept, it becomes easier to appreciate.
Pros
Hits two parts of the spine
Depth-adjustable control
Provides mild support that complements the suspension mesh
Cons
Costs $100 extra
No height-adjustability
Only provides partial lumbar support
Not swappable with the Lumbar Pad
Bottom line: Posturefit is not supposed to fill your lower back curve. So don't worry about achieving a good fit. If you don't like the support it provides, simply reduce the depth to zero.
Lumbar Pad Pros and Cons
The Aeron's height-adjustable lumbar pad comes in two flavors. There's an older version that fits the original Aeron chair. In 2017, the Aeron Remastered was launched with updated mesh and sync-tilt functionality. Its lumbar unit ($75) is a more refined version of the original.
The Remastered version has an updated look but similar functionality as the old one. The whole unit works as a single piece that slides up or down with a 5-inch range. To adjust, simply reach behind you and pull the unit up or down.
There are downsides. First, you can adjust the height of the unit, but not the depth (which is very mild). Second, if you lean a moderate amount of body weight against the backrest, the entire unit often pops out!
Lumbar Pad Personal Impressions
In my first test, leaning my full body weight against the unit popped it out. Then I tried to gingerly apply pressure. But when I shifted positions, it popped out again! But once I got the feel for its sensitivity, it worked as I expected.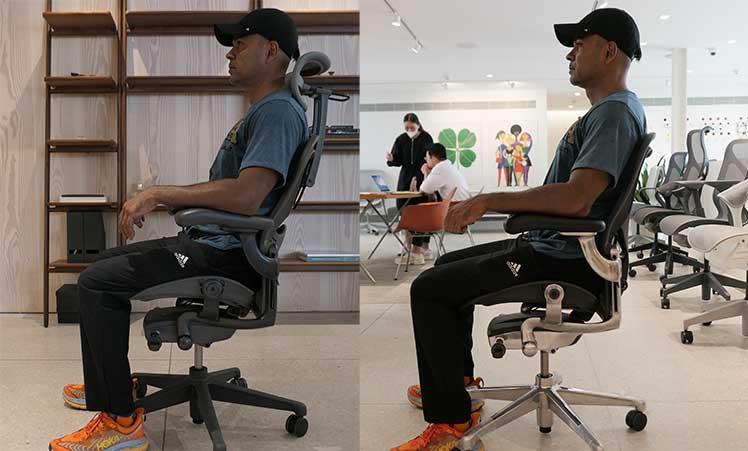 It delivers very mild pressure to the lower back — just enough to do the trick, but never excessive. Once locked in place, the mild pressure it delivers makes it easier to sit up straight.
But sitting in an Aeron with a disabled Posturefit feels almost as supportive. This is because the Aeron is a suspension chair, not a meaty lumbar support one.
Pros
Easy to use
$20 cheaper than a PostureFit system
Cons
No depth-adjustability
Hangs in place with flimsy hinges that often pop loose
Only provides very mild lower back pressure
Bottom line: unlike the Posturefit, the lumbar pad's height adjustability ensures a perfect fit. However, it's a flimsy unit that only provides mild support. But despite these limits, it supports the lower back curve better than the Posturefit does.
Aeron Remastered Build Options
A standard Aeron chair without extras now costs $1275 for small, medium, and large versions. But before checkout, you have seven crucial add-on choices to make in the Herman Miller Store!
Established lumbar support guidelines suggest the sliding lumbar as the smarter choice. Based on my tests, I agree that the lumbar pad is better. Here are my recommendations for all 7 options:
Frame and base colors: six styles; (

graphite

is cheapest, mineral + polished aluminum is $340 extra).
Chair size: choose Size A (small), Size B (medium), or Size C (XL). All are the same price.
Back support: no back support (cheapest);

Adjustable Lumbar Support Pad

($80 extra); Posturefit ($100 extra).
Seat and backrest tilt: Standard Tilt lets you control rocking tension.

Tilt Limiter

($105 extra) lets you lock the backrest and seat at angles.
Armrests: non-adjustable; height-adjustable ($130 extra);

3D adjustable

($270 extra)
Armrest pads:

standard

or leather ($190 extra).
Caster wheels:

casters for carpets

; multi-surface casters with 'quiet roll'($50 extra).
The cheapest configuration (fixed arms, standard tilt, no lumbar support) costs $1275. The most expensive (mineral + aluminum frame + all extras) costs $2340.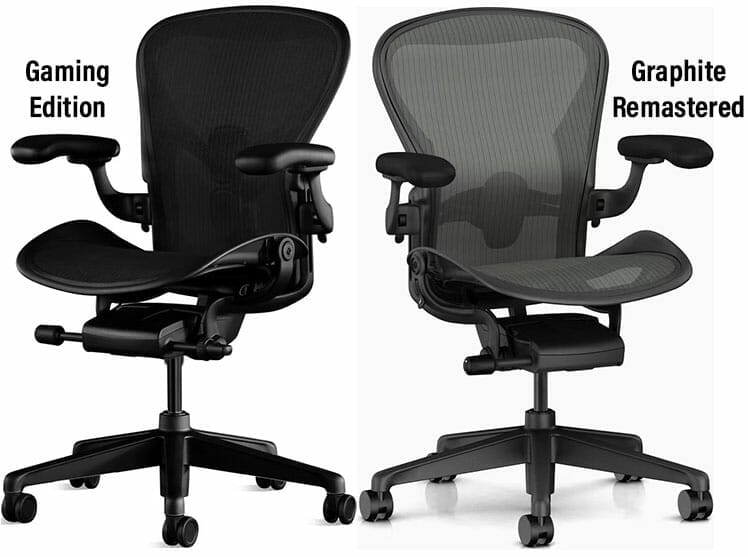 A gaming edition is also available in medium and large sizes, fully loaded, and kitted with Posturefit units.
Aeron Remastered from Herman Miller $1275-$2340
The Aeron Gaming Edition is also available from Herman Miller (preconfigured) for $1805.
Size Options
The most important choice when buying an Aeron Remastered chair is the size. I stand 5'9″. Based on Aeron size ratings, both the Size A and B models are a potential fit for my size.
| | | | |
| --- | --- | --- | --- |
| | Aeron Size A | Size B | Size C |
| Seat | 25.75″ (W) x 16″ (D) | 27″ (W) x 16.75″ (D) | 28.25″ (W) x 18.5″ (D) |
| Backrest | 20.25″(W) x 21″ (H) | 21.5″ (W) x 22″ (H) | 22.75″(W) x 23″ (H) |
| Seat Height | 14.75″ to 19″ | 16″ to 20.4″ | 16″ to 20.5″ |
| Size Rating | 4'10" to 5'9″; 300 pounds | 5'2″ to 6'6″; up to 350 pounds | 5'2″ to 6'6″; up to 350 pounds |
Pick Either; Rely On Suspension Mesh
Buying a Herman Miller Aeron chair means running through a gauntlet of choices. Luckily, even if you make the wrong lumbar support choice, you're still guaranteed 12+ years of world-class comfort.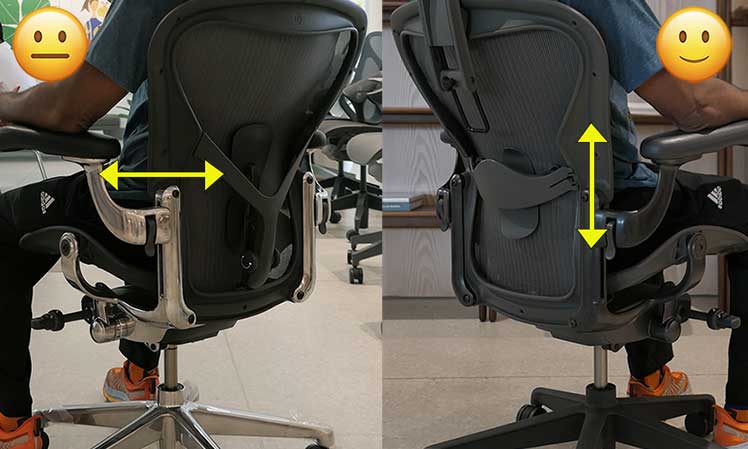 Get your head around the idea of the Aeron as a mesh suspension chair. Even without any lumbar support, it's easy to maintain good posture in this chair.
Even so, I find Posturefit unsatisfying. It delivers a weird fit that doesn't seem to provide any significant support. Meanwhile, the sliding lumbar's tendency to pop off is frustrating.
But once you learn how to treat it gingerly, it works a treat. Slide the unit slightly above your beltline and let the suspension mesh handle the rest.
That makes the height-adjustable lumbar a solid choice for all first-time Aeron chair buyers.
Aeron Remastered Review: Best Mesh Ergo Chair
Buy the Aeron for $1275-$2340 directly from the official Herman Miller Store.
Footnotes