The Herman Miller Aeron comes in Gaming and classic Remastered editions. Remastered chairs come in small, medium, and large sizes. As well, there are five different styles to choose from. On top of that, you need to make a crucial back support decision. Should you choose an Aeron Posturefit system or a lumbar support pad? What's the difference between the two? Let's compare the Aeron's Posturefit vs Lumbar Support pad systems.
To buy a Herman Miller Aeron chair, you must go through a series of choices. The first is whether to buy a Gaming Edition (only available in Size B and C) or a classic Aeron Remastered.
Aeron Gaming Chairs cost the same, regardless of the options. Choose Size B (medium) or C (XL). You can also pick a taller gas cylinder or a regular one. Then, proceed to checkout.
In contrast, buying a Remastered edition is a lot more complex. You have seven choices to make that will impact the price, size, and back support style of the chair.
Aeron Gaming Chair from Herman Miller $1695
The Aeron Remastered is also available from Herman Miller for $1195-$2195.
Aeron Remastered Build Options
Buying an Aeron Remastered is more complicated than buying a Gaming Edition. Before checkout, you have seven crucial choices to make! Here are the choices, with my preferences highlighted.
Frame and base colors: six styles to choose from (

graphite

is cheapest, mineral + polished aluminum is $320 extra).
Chair size: choose Size A (small), Size B (medium), or Size C (XL). All are the same price.
Back support: no back support (cheapest); Adjustable Lumbar Support Pad ($75 extra); Posturefit ($95 extra).
Seat and backrest tilt: Standard Tilt lets you control rocking tension.

Tilt Limiter

($100 extra) lets you lock the backrest and seat at different angles.
Armrests: choose non-adjustable; height-adjustable ($125 extra);

3D adjustable

($255 extra)
Armrest pads: choose

standard

or leather ones ($180 extra).
Caster wheels: choose

casters for carpets

; multi-surface casters with 'quiet roll'($50 extra).
At the time of writing, the cheapest Aeron configuration (fixed arms, standard tilt, no lumbar support) costs $1195. The most expensive version (mineral + aluminum frame + all extras) costs $2195.
My preferred version (graphite frame, 3D arms, tilt limiter) costs $1550 without lumbar support. To finish the build, should I add a lumbar support pad ($75 extra) or Posturefit ($95 extra)? Let's investigate.
Size Options
The most important choice when buying an Aeron Remastered chair is the size. I stand 5'9″. Based on Aeron size ratings, both the Size A and B models are a potential fit for my size.
| | | | |
| --- | --- | --- | --- |
| | Aeron Size A | Size B | Size C |
| Seat | 25.75″ (W) x 16″ (D) | 27″ (W) x 16.75″ (D) | 28.25″ (W) x 18.5″ (D) |
| Backrest | 20.25″(W) x 21″ (H) | 21.5″ (W) x 22″ (H) | 22.75″(W) x 23″ (H) |
| Seat Height | 14.75″ to 19″ | 16″ to 20.4″ | 16″ to 20.5″ |
| Size Rating | 4'10" to 5'9″; 300 pounds | 5'2″ to 6'6″; up to 350 pounds | 5'2″ to 6'6″; up to 350 pounds |
Protip: before picking a size, factor your choice of lumbar support into the equation. With a perfect fit for your body type, the Posturefit lumbar support is ideal. With an imperfect fit, the adjustable lumbar pad is the better option.
Aeron Posturefit vs Lumbar Support Pad
Does the Aeron chair work better without lumbar support, with a lumbar pad, or with a Posturefit unit? The best way to decide is to visit your local Herman Miller showroom and try each type out.
I found the Aeron without posture support feels incomplete. I also tested two PostureFit models (I'm 5'9″). The Size A chair (rated for sizes 4'10" to 5'9″) hit too low in my lumbar curve. The Size B (rated for 5'2″ to 6'6″) hit a shade too high.
If you're an 'in-betweener' size like I am, you might also find a less-than-perfect fit.
Posturefit Pros and Cons
The Aeron's PostureFit system costs $95. It uniquely delivers support for two parts of the lower spine. As the user moves in the chair, two pads flex independently of each other.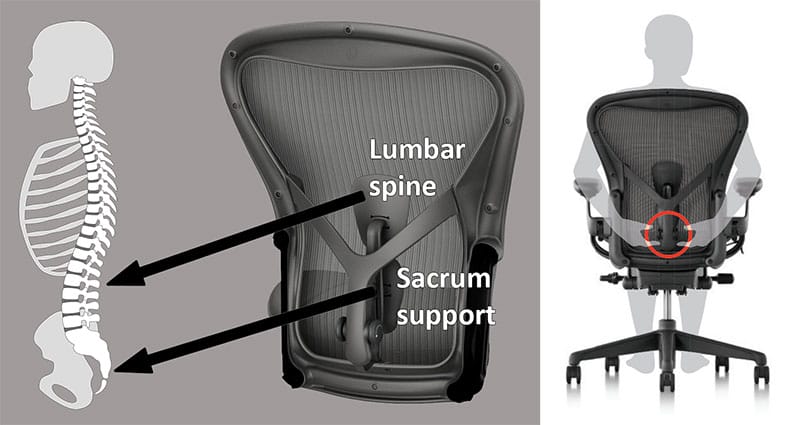 The top pad puts pressure on the lumbar spine like a gaming chair lumbar pillow. The bottom one adds a light touch to the base of your spine. If the hips curl forward, you'll lose contact with the bottom pad. That serves as a tactile reminder to keep your hips tucked.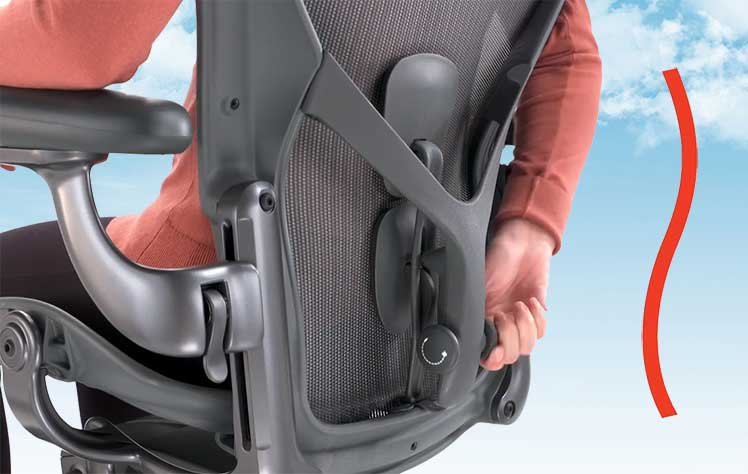 The biggest problem is that you can adjust the PostureFit's depth, but not the height. On the chance it does hit your sweet spot, it works great! However, it's not swappable with the Lumbar pad.
As a result, you could end up with an ill-fitting chair that hurts your back — a pricey disaster!
Pros
Hits two parts of the spine
Depth-adjustable control
Works well — but only if it fits
Cons
Costs $95 extra
No height-adjustability
Ineffective without a perfect fit
Not swappable with the Lumbar Pad
Bottom line: the surest way to know if Posturefit works is to visit a Herman Miller showroom and try it out. If that's not possible, it's a gamble that may or may not pay off.
Lumbar Pad Pros and Cons
The Aeron's height-adjustable lumbar pad comes in two flavors. There's an older version that fits the original Aeron chair. In 2017, the Aeron Remastered was launched with updated mesh and sync-tilt functionality. Its lumbar unit ($75) is a more refined version of the original.
The Remastered version has an updated look but similar functionality as the old one. The whole unit works as a single piece that slides up or down with a 5-inch range. To adjust, simply reach behind you and pull the unit up or down.
There are a few downsides. First, it's not as flashy (or potent) as a well-fitting PostureFit system. Second, you can adjust the height of the unit, but not the depth. Third, if you don't like it, it's not swappable with a PostureFit system.
Cons
No depth-adjustability
Not as flashy as a Posturefit unit
Not swappable with other lumbar systems
Bottom line: the lumbar pad is a much safer pick than the PostureFit, especially for beginners. With an improper fit, PostureFit can feel like a brick against your tailbone! While the single lumbar pad isn't as snazzy, it's guaranteed to adjust exactly as you need it to.
Conclusion
Buying a Herman Miller Aeron chair means running through a gauntlet of choices. With a successful run, your reward will be 12-years of world-class comfort. On the flip side, a few missteps might render your big investment useless!
As an example, mega-streamer Pokimane spent over $2000 on a top-of-the-line Aeron build. However, she quickly gave up on it to revert back to her old gaming chair. Today, her Aeron is a pricey cat bed!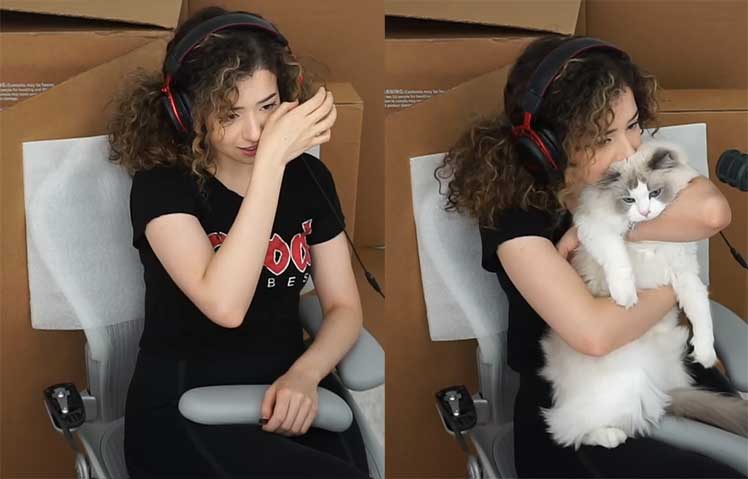 The two most important decisions are the size of the chair and its type of lumbar support. With a perfect fit, a Posturefit system will give you bliss. Without a perfect fit, an adjustable lumbar pad is a better (but less spectacular) option.
Bottom line: to get the best results from an Aeron chair, visit a Herman Miller showroom. After testing configurations in person, choose a size and lumbar support type. Failing that, you can gamble on a PostureFit system, or play it safe with the lumbar pad.
If that's not possible, check out our Aeron Gaming Chair Review. It simplifies the chair's features and options for first-time buyers.
Aeron Gaming Chair from Herman Miller $1695
The Aeron Remastered is also available from Herman Miller for $1195-$2195.