Ergonomic science seeks to fit a workplace to a user's needs. Back in Neolithic times, a tree stump served the sitting needs of cavemen just fine. When the automobile arrived, new adjustments were needed to keep drivers comfortable. When personal computers emerged, an ergonomic chair industry emerged. Here's a timeline of ergonomic evolutions from 1904 to 2022.
The human body is not designed to sit for long periods. Since prehistoric times, fitness was driven by the need to survive. A life of hunting, gathering, and defense made people lean and fit(1). In America, the shift from agricultural to industrial life brought major lifestyle changes.
Primitive Nomads (pre-10,000 B.C.): very high levels of fitness. Tribes often went on 1 to 2-day hunting/ gathering journeys. After successful excursions, groups would travel 6-20 miles to visit other tribes.
American Colonial Period (1700-1776): high levels of fitness. Life revolved around plowing wilderness, hunting for food, and herding cattle.
American Post-Civil War (1865-1900): low levels of fitness. Industrial life replaced an agricultural one as people transitioned to sedentary city living.
The emergence of ergonomic car seat concepts (1906) coincides with the spread of sedentary city living. In a similar fashion, the rise of personal computers in the 1990s spawned the ergonomic seating industry.
Ergonomic Chair Innovations 1904-2022
In 2022, the science is very clear: sitting for long periods is bad for the body. When standing with good posture, the lower back curves inward at a healthy 25-45° angle. Sitting flattens that curve by half.
When back muscles get tired, the spine bends into a 'c' shape. That flattens the lumbar curve to less than 10°.(2) A flattened lumbar curve pleases severe strain on lower spinal discs.
That, in turn, puts intense pressure on tendons, muscles, and skeletal systems. As pressure builds up, the risk of musculoskeletal disorders (MSDs) skyrockets.
Early ergonomic researchers knew none of these facts. Instead, they sought solutions for general complaints of discomfort.
Conclusion: End of The Deskwork Era
This article shows how widespread technological changes affect the ergonomic seating industry. In sum:
Office chair (1900-1994): agriculturalists became office workers en masse. The office chair emerged to serve their paper-pushing needs.
Ergonomic office chair (1994-present): emerged when personal computers became ubiquitous. These provide better support for keyboard + mouse + computer screen needs.
Gaming chair (2006-present): cheaper, more casual ergonomic support for video game players.
Multi-device ergonomic workstation (2022~): in development…
The Handbook of Human Factors and Ergonomics provides guidelines for institutional-level designers. It now demands multi-device support and technostress alleviation atop good back support. This effectively marks the end of the desk + keyboard + screen era.
As a result, desk-related product development will likely fade. Instead, look for more seating innovations geared to solving technostress or multi-device syncing. This explain the recent burst of innovations in the gaming chair industry.
In fact, by cobbling together exisitng innovations, we've made a worthy prototype. It supports mobile, console, laptop, and desktop computing. A Wall-E-inspired 'DisplayBuddy' complements the chair with a modular display concept.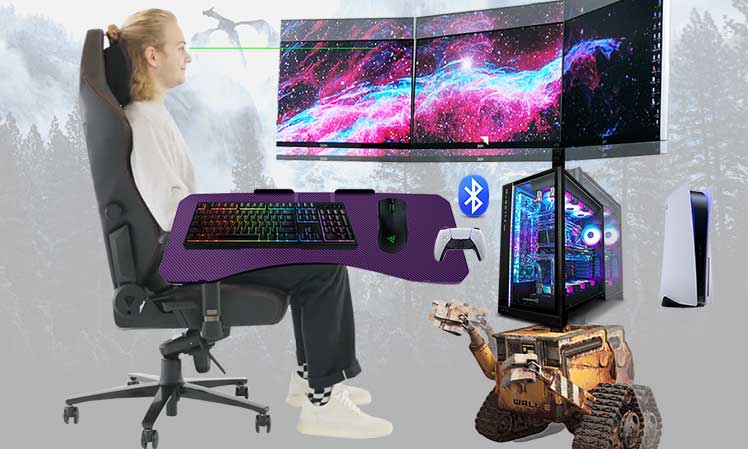 This concept meets all modern ergonomic guidelines. Look for similar concepts to become ubiquitous in the coming years.
Prototype: Multi-Device Gaming Chair For Ubiquitous Computing
Footnotes