Humans are not designed to sit for long periods. Doing so can distort the spine, strain muscles, and drain energy levels. A good ergonomic chair can reverse these effects by supporting healthy sitting postures. Adding frequent short breaks can take things to another level. Learn how microbreaks can supercharge the effects of a healthy ergonomic sitting routine.
Integrating regular breaks into a deskwork routine yields three important benefits. First, frequent walking breaks help to ward off the dangers of sedentary behavior.
Second, the human brain can only process complex tasks in short bursts. If you push your brain beyond its limit, both focus and performance degrade.
Third, downtime is when the brain does its deepest data processing. By stepping away from a task, your brain gets the time it needs to digest its previous work.
Working against these realities makes full-time sitting a drag. By the end of a workday, you will likely feel stiff, sore, and mentally fried.
In contrast, working in sync with these principles yields tremendous benefits:
Get more work done in shorter bursts of intense activity.
Physical activity energizes both the body and the mind.
Mental downtime is when the brain's problem-solving skills work best.
This video clip introduces the Ultradian (90-minute sprint + break) solution – within the context of complementary work-from-home benefits:
To learn more on the current status of the work-from-home standards, see this feature:
Summary Of Ergonomic Desk Work Trends
Benefits of Frequent Work Breaks
This section explains how physical and mental efficiency declines when pushed too hard. By taking advantage of this biological reality, desk workers can boost their health and productivity — with less time spent sitting!
Micro-break Integration Methods
If you're new to the concept of taking frequent breaks, here are two easy methods to help you get started:
ChairsFX method
Five years ago, I switched from a cheap office chair to a gaming chair. It took me around a month to master healthy neutral sitting habits. That yielded a cascade of wellness benefits.
Using a gaming chair helped me to improve my posture.
With improved posture, I gained more energy, which I expended at the gym.
With improved posture and health, my productivity skyrocketed.
These days, I take a walking break every time I finish a complex task. Sometimes that takes an hour; sometimes it takes 10 minutes. In general, I spend around 15 minutes of every hour walking around.
Here are the highlights of my own desk productivity recipe:
Conclusion
In the work-from-home era, the concept of taking many breaks through a workday makes sense. With discipline, arranging your work into chunks can yield incredible results. For one thing, working in short bursts with a primed brain will deliver more efficient production.
For another, regular disengagement from the details helps you to see a project from micro and macro perspectives. As well, regular movement will keep your body and mind feeling vibrant, focused, and alert.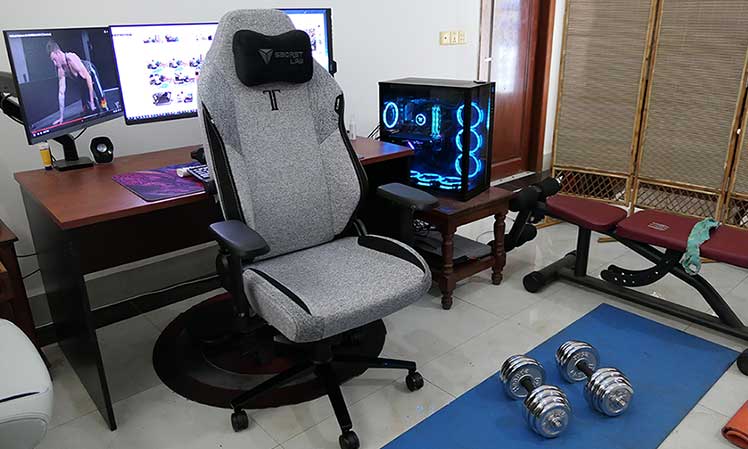 Start your own healthy home office routine with good feng shui, healthy sitting habits, and a good ergonomic chair. Then, make the most of your setup by mixing frequent short breaks into your routine.
Doing so will help you get more work done with less sitting time. On top of that, it will help you to maintain a lithe, lean physique that takes your well-being to a higher level of bliss.
Related Articles