Humans are not designed to sit for long periods, but business forces many to do so full-time. A good ergonomic chair helps to mitigate the damage so that desk workers can be productive. There is no universal definition of how to sit for long periods in a healthy manner. However, most ergonomic studies share a consensus. Using key points from different studies, we end up with clear, easy-to-understand guidelines.
Humans are not designed to sit for long periods. We know this because the lumbar spine falls out of alignment when it moves into a sitting position. When standing, a healthy lumbar spine curves inward at an angle between 20-45 degrees. Sitting without lumbar support cuts that angle in half.
As that happens, the pelvis tilts forward until the lumbar curve flattens. Over time, that shortens hips flexors and pulls the whole body out of alignment. The lower back tightens, while core stomach muscles get longer and weaker. At the same time, quad muscles tighten the front of the leg, while hamstrings elongate and weaken from the rear.
Misaligned bodies caused by poor sitting habits are endemic. In America, some studies estimate that 85% of men and 75% of women suffer from anterior pelvic tilt. Misaligned muscle pairs work against each other to twist the pelvis from a neutral position to a tilted one.
The result of such misalignments is a host of health issues that hinder productivity. Those include muscle pain, chronic fatigue, weight gain, and depression.
Core healthy sitting priciples
The fundamental problem is that humans are not designed for sitting long periods. In particular, sitting without support flattens the lumbar curve, throwing the entire body into misalignment.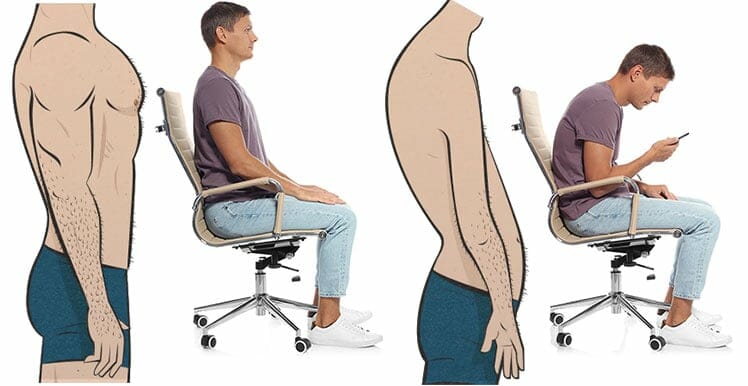 The most effective method of preventing flattening with adjustable lumbar support. Even so, fixed postures slow circulation and strain muscles. As a result, a range of straight postures works better than a single fixed posture.
Here is the gist of all research in this article, boiled down to three core principles:
Leading ergonomic chair guidelines
It took heavy sifting through dozens of studies to find a healthy sitting consensus. First, sitting for long periods in a fluid (moving) neutral posture places the least amount of stress on the body. Second, using a range of neutral postures keeps the seated body active.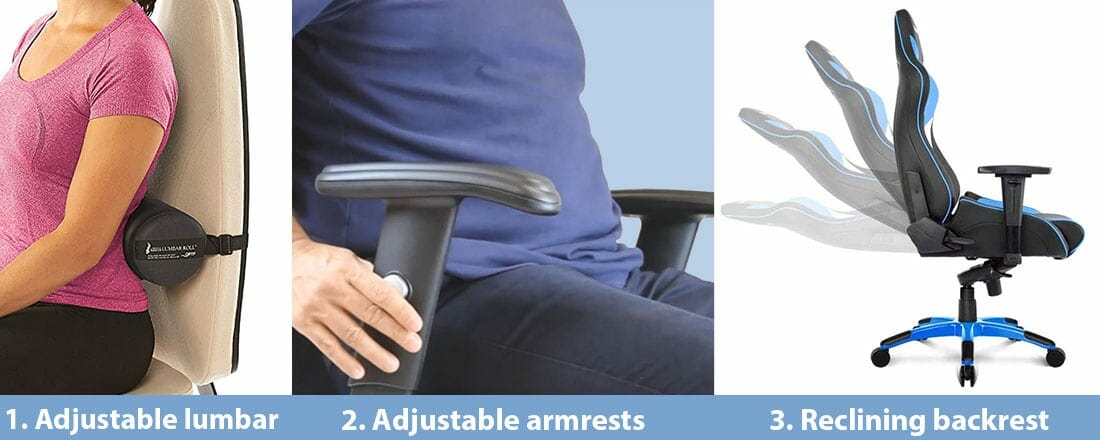 Third, to support dynamic, neutral postures, a chair needs three components:
Adjustable lumbar support.
Adjustable armrests.
Tilt-lock reclining backrest.
Below is a summary of standards from three leading ergonomic science sources. All three lead back to the need for three essential ergonomic components.
Condensed guidelines
Most contemporary ergonomic chair guidelines share the same broad standards. An ergonomic chair should be comfortable, adjustable, and good for your back.
For detailed guidelines, we started with BIFMA ergonomic standards. Then we took standards from the Handbook of Human Factors and Ergonomics. Over those core principles, we layered concepts from Cornell U and Dr. Alan Hedge. All standards are consistent, with no contradicting ideas.
Condensing the gist from all three research sources gives us clear ergonomic chair guidelines. Use these to assess the chairs you're thinking of buying.
Broadly, your ergonomic chair should support a healthy sitting posture. It should also provide consistent comfort — whether sitting or standing. How you feel when getting up from the chair is as important as how you feel while sitting.
But a chair's comfort is subjective. It depends on the type of work you do, your physical proportions, and your sitting style. In his defining paper, Dr. Hedge notes that it's not possible to assess the comfort of a chair by sitting in it briefly. In this writer's experience, it takes at least a week of full-time use to determine how comfortable a chair is — for your needs.
To ensure the most comfortable outcome, look for these essentials when shopping for an ergonomic chair:
Conclusion
Ergonomic seating is red-hot in the work-from-home lockdown era. In the coming months, expect waves of new ergonomic chairs catering to full-time gamers and desk workers. Instead of getting lost in the marketing hype of each new product, put yourself in an informed position to buy the perfect chair. To do that, make sure your prospective new chair meets these basic guidelines:
Adjustable lumbar support: should extend around 4 cm deep from the backrest. It should also be height-adjustable to fill the curve of the lumbar spine.
Adjustable armrests: these should be adjustable so that they sync with the height of your desk. Ideally, they should adjust to support elbows and forearms while positioning hands close to the mouse and keyboard.
Reclining backrest: the scientific consensus is that an ergonomic chair needs a minimum recline range of 90° to 130°.

If the chair meets those basics, then consider other aspects based on your needs. If on a budget, check out cheap gaming chairs under $200. With around $500 to spend, you can get a high-end pro esports gaming chair. At the top of the range are $1500 Herman Miller ergonomic task chairs.

Beyond pricing, there are specialty models for short people, big and tall users, video game fans, and even kids under 4-12 years old. Whichever type of chair you use, the final step is to use it correctly to ensure optimal health benefits. Check out our illustrated, step-by-step Gaming Chair User Guide to learn more: