There are only two premium gaming chairs on the market so good that they come in small, medium, and XL sizes. Each ranks at the top of the industry in its respective class. Here we compare the Secretlab Titan EVO vs Herman Miller Aeron ergonomic chair. First, we compare the ergonomic technology. After that, we compare the value for money that each provides in a work-from-home setting.
Is the Secretlab Titan or Herman Miller Aeron better for gaming or working from home? The truth is that they both rank as the best in their respective classes.
Among racing-style bucket seat gaming chairs, the Titan is unparalleled. Among ergonomic office chairs, the Aeron has been the global gold standard since 1994.
In a corporate setting, the Aeron is almost perfect. It helps users maintain pristine posture while keeping them comfortable and productive.
In a more casual work-from-home setting, the Titan offers greater versatility and better all-day support.
Titan EVO vs Aeron Technical Comparison
Here we compare the Titan vs Aeron based on key features and buying incentives.
Pricing
Head-to-head, the Aeron is 32% more expensive than the medium-sized Titan chair. Its warranty is also 41% longer than the Titan's. Even so, on a cost-per-year basis, it only costs $26.35 more per year than the Titan does.
| | | |
| --- | --- | --- |
| | Secretlab Titan | Herman Miller Aeron |
| Price | $499 (medium) | $1445 (all 3 sizes) |
| Warranty | 5 years | 12 years |
| Price per year | $89.80 | $116.25 |
However, the Titan is only guaranteed for 5 years, while the Aeron is protected for 12. To last as long as the Aeron, you would need at least two Titan chairs (replace one over six years).
That means over a 12-year period, you can invest in one Aeron chair or two Titan ones. Spreading two TItan chairs over 10 years results in the same price-per-year: $89.80.
Winner: Titan
At a glance, there's a massive price difference between the Aeron and Titan chairs. However, on a cost-per-year basis, the Titan works out as only slightly cheaper than the Aeron.
Over the long run, an Aeron will cost you $116.25 per year. You'll save $26.35 annually with a Titan, which costs $89.90 per year.
The price difference gets even smaller if you work out daily prices. Per day, the Aeron will cost you 31 cents; the Titan will cost 24 cents.
The Titan wins, but only by a very small margin.
Sizing
Both chairs come in small, medium, and XL sizes. Titan prices differ based on the size; all Aeron sizes are the same price.
If looking for the best small gaming chair on the market, it comes down to the Aeron and Titan. Both cater to ages 12 and up (based on American averages).
| | | |
| --- | --- | --- |
| Small | Titan EVO small | Aeron size A |
| Seat | 17.7″ (W) x 18.9″ (D) | 25.75″ (W) x 16″ (D) |
| Backrest | 20″ (W) x 32.3″ (H) | 20.25″(W) x 21″ (H) |
| Seat height | 17.7″ to 20.5″ | 14.75″ to 19″ |
| Size rating | 4'11" to 5'6″; 285 pounds | 4'10" to 5'9″; 300 pounds |
| Price | $429 from Secretlab | $1445 from Herman Miller |
The Aeron differs with a much wider seat. Short people with wide hips or thick legs will find a spacious fit. Compared to the Titan, it also has a lower seat height range. That makes it a better fit when paired with a desk 25 cm high or less.

The medium-sized Titan and Aeron size B are both designed to fit average bodies. The Aeron has a significantly lower seat height threshold. That makes it more suitable for a wider range of body types.
| | | |
| --- | --- | --- |
| Medium | Titan EVO medium | Aeron size B |
| Seat | 18.5″ (W) x 19.3″ (D) | 27″ (W) x 16.75″ (D) |
| Backrest | 21″ (W) x 33.5″ (H) | 21.5″ (W) x 22″ (H) |
| Seat height | 17.7″ to 20.5″ | 16″ to 20.5″ |
| Size rating | 5'7″ to 6'2″; 285 pounds | 5'2″ to 6'6″; 350 pounds |
| Price | $449 from Secretlab | $1395 from Herman Miller |
The Aeron is also a better fit for extra-wide sizes. For one thing, it has a larger weight capacity. For another, it has a much wider seat. While both seats offer enough room to sit cross-legged, the Aeron is is around 10 inches wider.

Here are two of the best big and tall gaming chairs on the market. The Titan differs with full-back support for the entire spine and a larger weight capacity.
| | | |
| --- | --- | --- |
| XL | Titan EVO XL | Aeron size C |
| Seat | 19.3″ (W) x 19.7″ (D) | 28.25″ (W) x 18.5 (D) |
| Backrest | 22″ (W) x 35″ (H) | 22.75″ (W) x 23″ (H) |
| Seat height | 18.1″ to 21.9″ | 16″ to 20.5″ |
| Size rating | 5'11" to 6'9″; 395 pounds | 5'3″ to 6'7; 350 pounds |
| Price | $499 from Secretlab | $1395 from Herman Miller |
As with the other sizes, the Aeron XL offers a much wider seat. Super-heavyweights may find the thick padding more reassuring than the Aeron's see-through mesh. Even so, both models offer rock-solid support for heavier than average bodies.

In sum, both models cater to ages 12 and up. Aeron models have wider seats with a lower height adjustment range. Those with shorter-than-average legs may need a footrest for a perfect fit in a Titan.
Lumbar Support
The point of any ergonomic chair is to support neutral postures over long periods. Sitting this way reduces muscle strain while promoting a healthy spinal alignment. As a result, users are able to sit long, feel better, and be more productive.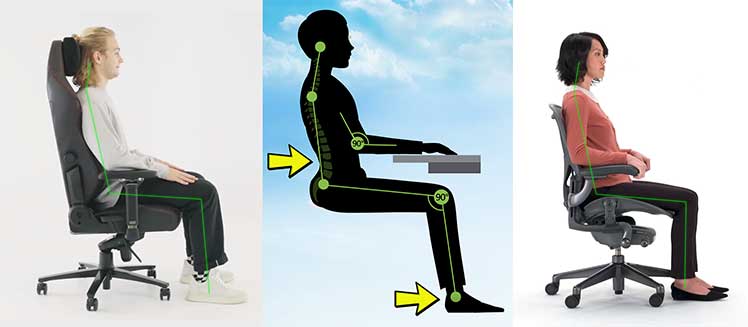 There are two keys to sitting in a neutral position without strain. The first is to plant the feet firmly on the floor. The second is to apply mild pressure to the lower back area.
A healthy standing lumbar curve is between 20-45 degrees. Sitting without support reduces the curve by half. In contrast, a mild recline paired with lumbar support 4cm deep produces a 45-degree curve.
This is why the quality of a chair's lumbar support is so important. Among racing-style chairs, the Titan has the most advanced lumbar support by far. Among ergonomic office chairs, the Aeron's also reigns as the gold standard. Here's how the two compare:
Titan vs Aeron Lumbar Support
Titan 4-Way L-adapt
Aeron PostureFit
There's a few brands offering gaming chairs with a depth-adjustable integrated lumbar support. The Titan EVO is the only one on the market that is both height and depth adjustable.

You can adjust the support up, down, deeper, and shallower. Beyond 4-way adaptability, a matrix of 63 hinges lays over the entire unit. These flex left or right in response to micro-movements. As a result, users enjoy targeted support that adapts as the user changes position.
Among its many industry-leading features is the Aeron's PostureFit lumbar support system. Unlike other types, PostureFit targets both the lumbar and sacral areas.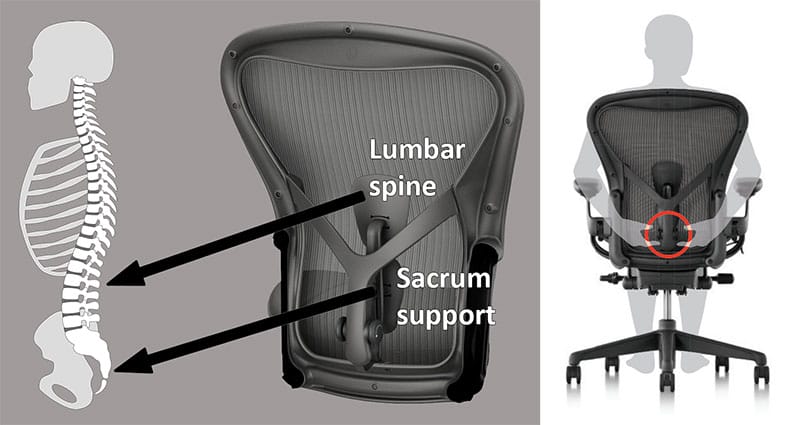 Two pads on the device flex independently as the user moves. The top pad supports the lumbar; the lower one stabilizes the sacrum. Working together, these gently support the spine to maintain a healthy S-shaped position.
Winner: Titan
The Titan wins with a system that is both depth and height-adjustable. In comparison, the Aeron chair's PostureFit only lets you adjust the depth of support.
The lack of height-adjustability is problematic for taller users. On Herman Miller's website, many complain that it hits too low in the spine to be of any use. Titan chairs pose no such problems.
On the flip side, the Titan's lumbar support has more moving parts and greater complexity. In comparison, the Aeron's is a simple piece of plastic with two padded tips. Both work well. However, with more moving parts, breakdowns become more likely.
Overall, both work extremely well (assuming a good fit). Even so, the Titan's superior adjustability gives it the edge.
Backrest Recline
This comparison is no contest – the Titan wins by a large margin. The Aeron chair is designed to support upright sitting positions at all times. As a result, its backrest only reclines from 93° to 104°. That's ideal in a corporate setting, where you don't want workers chilled out in deep reclines.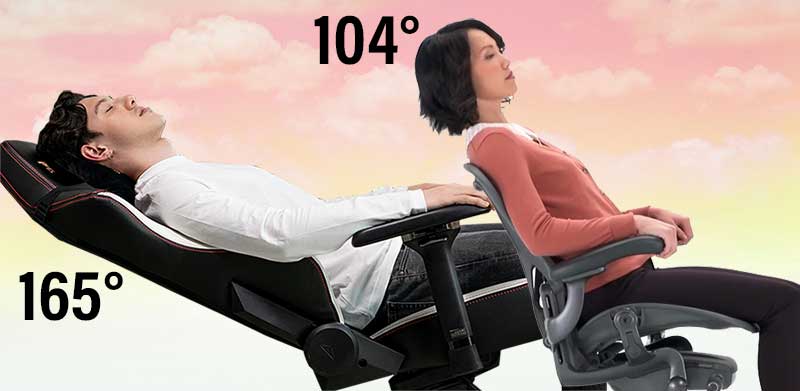 At home, this recline limit can be frustrating. If you want to relax in an Aeron chair, you have to get up from your chair and sit on the couch.
To chill out in a Titan chair, simply pop the recline. It tilts and locks from 85-165 degrees. This provides great versatility for various activities:
100-110 degrees: optimal upright working angle.
135 degrees: great for reading, relaxing, or watching movies.
165 degrees: ideal for power-naps.
Winner: draw
These chairs have different recline ranges for specific reasons. A limited range works best in office settings with workers on the clock.
In a work-from-home setting, a deeper recline supports both work and play. Beyond upright desk work, you can use a Titan chair for napping, relaxing, and watching videos.
That makes it simple. Choose the style that works best for your needs. If you spend all day in your chair at home, the Titan is more useful. If you only need superb posture support for upright office work, the Aeron works better.
Seat Tilt
The Aeron beats the Titan here by miles. The Titan comes standard with a multifunction tilt-lock. That lets you tilt the seat up at various angles and lock, with an 11-degree range.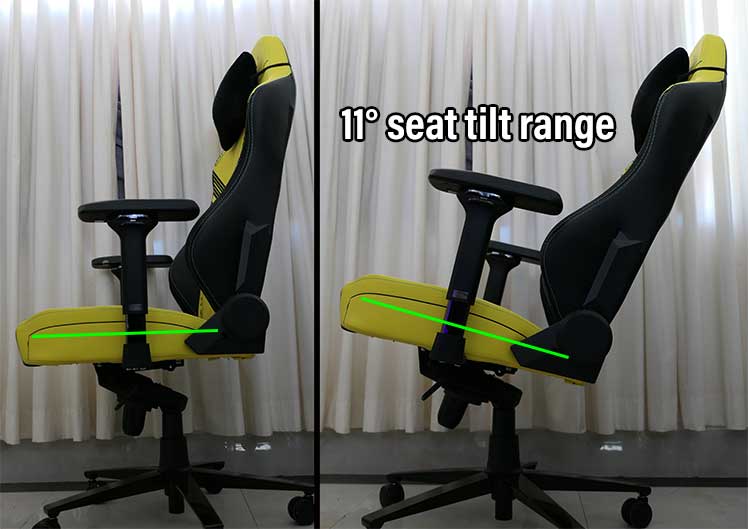 It's a popular way to work your hips while sitting. I find it better for relaxing since it pulls you away from the computer screen. That's not conducive to typing, but a nice break while relaxing.
In fact, the Aeron beats every ergonomic chair on the market with its synchronous tilt capabilities.
Synchro-tilt means that the seat and backrest tilt concurrently, at a 1:2 ratio. For instance, when the backrest reclines by 10 degrees, the seat tilts up by five degrees.
In the entire seating industry, the Aeron boasts the largest synchro-tilt range. The backrest reclines from 93° to 104°; the seat pan angle range is -1° to 16°; backrest 93° to 104°.
Activating the Aeron's synchro-tilt isn't useful while working. It promotes too much movement, making it unsteady for typing.
On the other hand, this is the best break you can take without having to stand up. Lean back and the seat tilts up. Lean forward and it tilts down. Going through a few cycles works your hip, leg, thigh, and back muscles.
It feels like riding a roller coaster in your hips. In just a few seconds, this movement pumps your muscles and circulation for a quick boost of desk-working energy.
Winner: Aeron
In terms of seat-tilt functionality, the Aeron reigns supreme. The closest competitor is the $755 Herman Miller Sayle.
Armrest Adjustability
This is the closest part of the comparison. On the surface, the Titan has 4D armrests, while the Aerons are 3D-adjustable. Even so, the Aeron has a larger adjustment range.
The armrest adjustability range differs by chair size. Small versions have a slightly smaller range; XL versions have a larger one. Here are the armrests specs for the medium-sized Titan and Aeron chairs:
| | | |
| --- | --- | --- |
| Armrest range | Aeron | Titan |
| Vertical range | 4 inches | 3 inches |
| Depth range | 2.5 inches | 1.4 inches |
| Pivot range | 15° out; 17.5° in | 15° in and out |
| Side-to-side | n/a | 0.8″ |
Winner: draw
Both armrest types offer best-in-class adjustability. But no armrests are perfect. In use at a desk, you'll likely find things to like and dislike. Even so, in both cases, there's a lot more of the former than the latter.
Upholstery
There are three types of upholsteries used in ergonomic seating. Every chair on the market comes upholstered in mesh, faux leather, or synthetic fabric.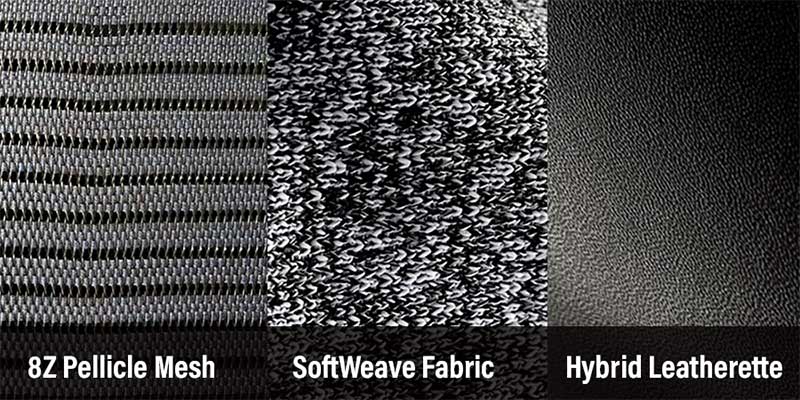 Combined, the Titan and the Aeron boast the three best quality upholsteries in the industry.
8Z Pellicle Mesh
The Aeron chair made its debut in 1994. In 2017, it enjoyed a big upgrade. The 2017 version added PostureFit Lumbar support, sync-tilt enhancements, and 8Z Pellicle Mesh.
This is a breathable suspension material with eight different zones of tension. As the user moves in the chair, the zones provide varied pliability. That ensures an even distribution of bodyweight — no matter how the user moves around.
Mesh upholstery is made from plastic polymers spun into taught, wire-like strands. Mesh office chairs are prized for their breathability. But there are several downsides.
For one thing, mesh office chairs have no padding. As a result, your full body weight presses into the mesh as you sit.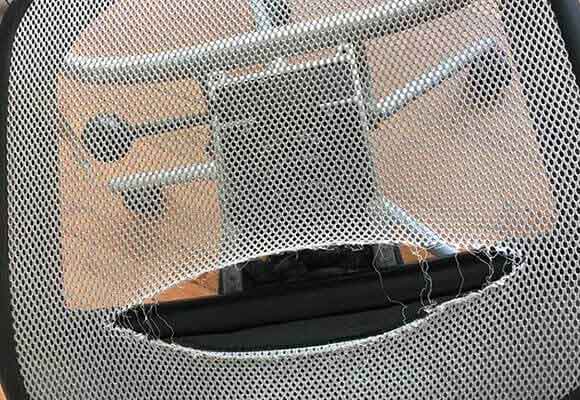 Over long periods, mesh pressed against bare skin feels abrasive. As well, over time, mesh tends to sag, causing an uneven sitting experience. What's more, full mesh chairs aren't very durable. Soon after the mesh sags, it will tear.
The Aeron's 8Z pellicle mesh solves all of these issues. It has a smooth finish that feels soft and luxurious against the skin.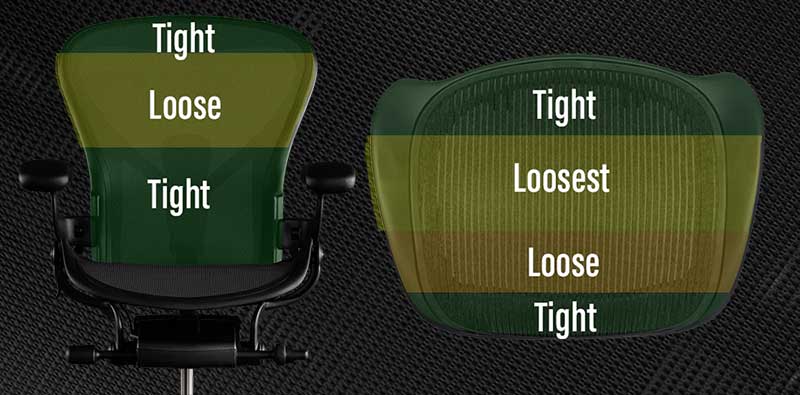 As well, its 12-year warranty is legit. Herman Miller guarantees that it won't sag or tear even if used 24/7 for 12 years straight. If it doesn't, they'll send you replacement parts.
Aeron $1395 from Herman Miller
To learn more, see this Aeron Office Chair or Aeron Gaming chair review.
Secretlab is the only chair brand that upgrades its upholsteries every two years. The company runs its own lab at its Singapore HQ and does regular testing.
It monitors weaknesses in preceding blends, then works on improving them. In 2022, the company released big upgrades to its fabric and faux leather upholsteries.
SoftWeave Plus Fabric
Synthetic fabric upholstery is the gaming chair equivalent of pure mesh. Both types start as plastic polymer threads spun into fabric. Gaming chair fabric upholstery spins thinner threads into a cloth-like weave.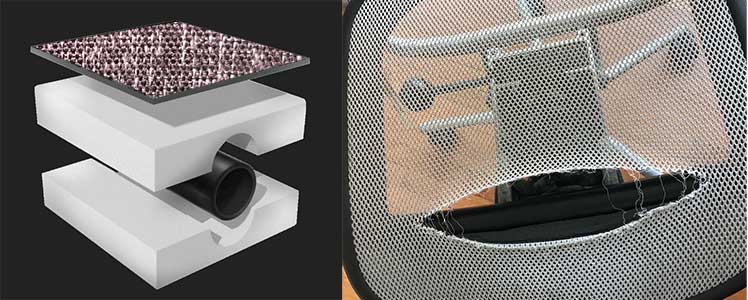 That produces smaller air passage holes, with slightly less breathability. Another difference is that gaming chair fabrics are supported by padding. In comparison, while mesh is self-supporting.
Secretlab's 2020 SoftWeave editions have been replaced by 2022 Series SoftWeave Plus chairs. The new material is softer, more durable, and also more visually complex.
SoftWeave Plus is produced using an advanced technical knitting process. Rather than a straight weave, it interlaces loops of resilient yarn fibers. This produces strands of varied tightness to improve airflow and enhance breathability.
It also allows more precise detailing in every stitch. 2022 Series SoftWeave Plus chairs come with complex, multi-layered designs. For instance, on the side wings, each design adds 3D gradient layers on the side wings.
SoftWeave has a few advantages over faux leather. For one thing, it's almost as breathable as pure mesh. For another, it's a lot more durable. To learn more, see this Titan SoftWeave Plus Gaming Chair Review.
2022 Titan SoftWeave Plus (medium) $469
Titan SoftWeave Plus (small) $449 | Titan SoftWeave Plus (XL) $519
Neo Hybrid Leatherette
Faux leather is the most common type of gaming chair upholstery on the market. It's made by coating a thin layer of fabric with plastic polymers. Once dried, certain blends look and feel like genuine leather.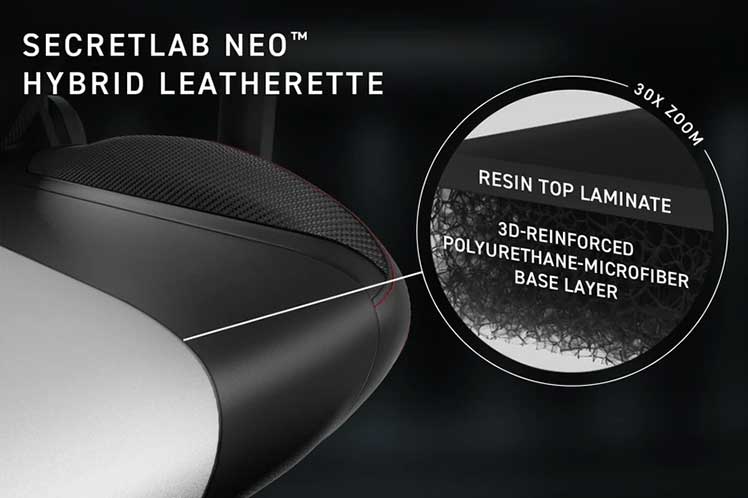 Secretlab's 2022 Series Neo Hybrid leatherette is the most advanced blend in the business. It's made by bonding a resin top laminate onto a base layer. That goes through a finishing process which renders it into an ultra-smooth top hide.
It's odorless, super-soft, breathable, and 4 x more durable than the preceding blend. On the positive side, this material is easy to clean, and very breathable.
On the downside, it will start to flake and degrade at some point. Within the year of your warranty's expiry, you may start seeing cracks appearing in the leather.
2022 Titan Neo Leatherette (medium) $469
Titan Neo Leatherette small $429 | Titan Neo Leatherette XL $499
Comparison Summary
The Titan beats the Aeron in both price and backrest recline functionality. On the flipside, the Aeron has better seat tilting functionality and lumbar support.
| | |
| --- | --- |
| Category | Winner |
| Price | Titan |
| Sizing | draw |
| Lumbar support | Titan |
| Recline | Titan |
| Seat Tilt | Aeron |
| Armrests | draw |
| Upholstery | draw |
That works out to two points apiece, with three categories ending in a draw. Sizing, armrest adjustability, and the upholstery quality are even.
Which Chair Is Better?
The Aeron is a strict chair that forces you to sit in proper posture at all times. The Titan is more casual — it encourages good posture but doesn't enforce it.
In a work-from-home setting, there are pros and cons to each approach. Here is a summary:
Why the Titan EVO is Better
The Titan EVO is a better work-from-home option for those wanting to spend all day in their chairs. Beyond upright work, you can also kick back the recline to enjoy full-body relaxation.
For example, in my current office, there are no couches. When I want a break, I pop the recline on my Titan and go down for a power nap. If I had an Aeron, I would have to relax on the floor.
On the downside, because the Titan doesn't force you, bad posture is still possible. In fact, this chair is so comfortable that you may not notice when your posture goes astray.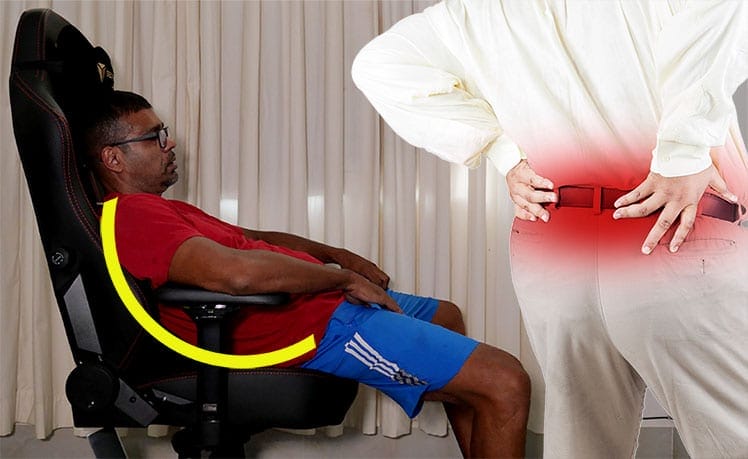 You won't ever find out until you wake up one morning with crippling back pain.
Pros
Good posture support
Deep recline functionality
Affordable
Cons
Has a learning curve
Still possible to sit with poor posture
Another downside is that the Titan has a learning curve. Many people not used to neutral sitting need time to get used to it. In brief:
Keep your feet firmly planted to the floor.
Adjust the seat height to the knees bend at around 90 degrees.
Tuck your hips deep into the seat pan.
Adjust your lumbar support so it fills the small of your back.
Sit up straight with your head balanced atop your shoulders.
Surprisingly, many users struggle to master neutral sitting techniques. As a result, we've written a step-by-step gaming chair user guide. We've also produced a 3-minute video guide titled How to Sit in a Gaming Chair.
Why the Aeron is Better
The Aeron is not a good chair for relaxing in. With a recline to only 104 degrees, it barely lets you lean back. As a result, spending all day in an Aeron chair feels restrictive.
That's usually not a problem if you're working in a corporate office. But when working from home with your pants off, it's nice to loosen up a bit.
Another issue is that it's a complicated chair with lots of dials and knobs. Most people will need a week or more to figure out how to use it.
On the flip side, once you've got the settings figured out, sitting in an Aeron is like a dream. The suspension mesh makes you feel like you're floating on air. The PostureFit lumbar support is intuitive and effective.
Pros
Sitting with good posture is effortless
Intuitive lumbar controls
Feels like floating on air
Cons
Complex tilt and recline controls
Limited backrest recline
The Aeron's biggest WFH downside is also its greatest asset. This chair forces you to sit with good posture at all times. If you need a break for upright sitting, this can be a problem.
Even so, no other chair on the market makes sitting with good posture so easy. In fact, it's harder to sit with a slouch in an Aeron chair than it is to sit with good posture.
Aeron $1395 from Herman Miller
To learn more, see this Aeron Office Chair or Aeron Gaming chair review.
Why Not Both?
If you need strict support, the Aeron is the better option. If you prefer flexibility, go with the Titan. A third option is to consider buying two chairs: one for work, and one for relaxing.
For example, Shroud is one of the world's top streamers and a big Herman Miller fan. He formerly used an Aeron, and currently uses an Embody chair.
In his home workstation, notice that he also has a lounger. His Eames Lounge chair and Ottoman ($6,495 from Herman Miller) does what his Aeron chair cannot — it lets him lie back and relax.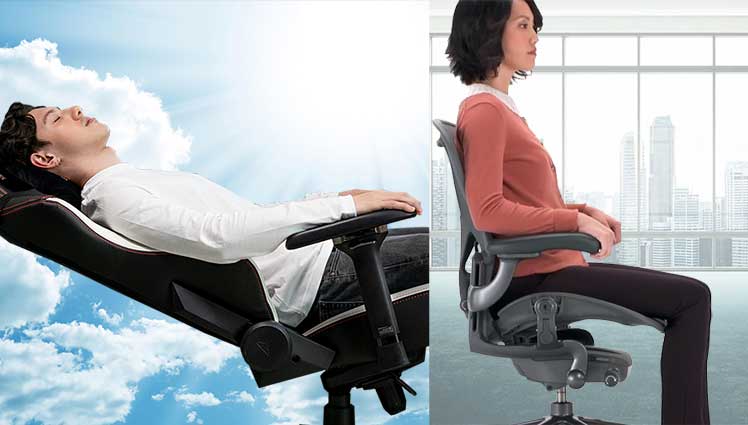 If you want a similar setup, an Aeron paired with any gaming chair will do the job. The Aeron will keep your posture pristine during working hours. When it's time to relax, switch to your gaming chair.
Stacking a Titan with your Aeron chair will work, but might be overkill. If you're only using your second chair a few hours per day, something cheaper will suffice.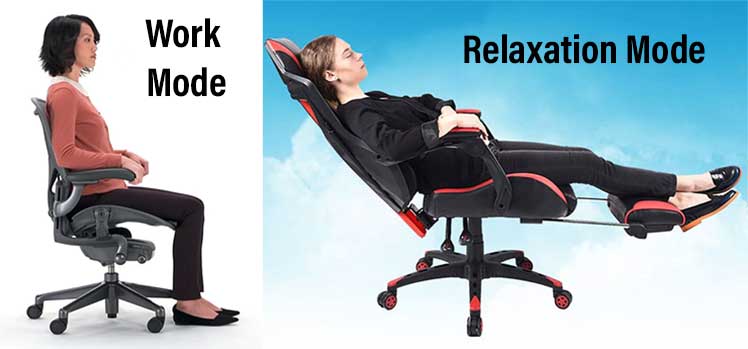 For a similar experience as an Eames Lounger (without the high price), consider a footrest gaming chair. Most cost less than $200 and come with a retractable footrest that folds under the seat.
Conclusion
So which is better, the Aeron or Titan chair? The answer depends on your expectations. If you're looking for strict upright posture support, the Aeron is unparalleled.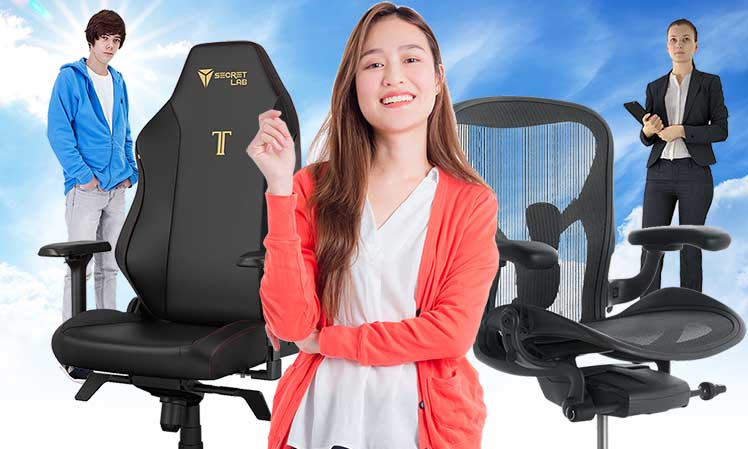 On the other hand, if you want posture support for a range of activities, the Titan will support you better through work, play, and rest.
If you like them both and still can't decide, go for the Aeron. If you find it too limiting, it's easy to add a cheap gaming chair for lounging later on.
Related Articles